Christmas Trees for Sale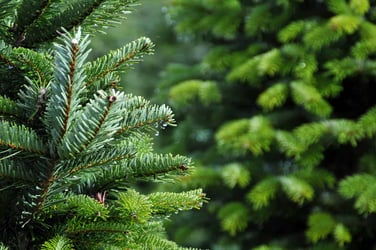 For many people, selecting a Christmas tree each year is an annual tradition for families to take part in, with the tree itself becoming a focal point of decorations and celebrations over the festive period. It's common to choose the same type of tree every year, but did you know how many other options were available to you?
Could you be stuck in a Christmas tree rut?!
Sometimes, it can be overwhelming when faced with the challenge of choosing a tree when visually they all look fairly similar, but different types of Christmas trees do have different pros and cons. Some trees have better needle retention than others, which is an important factor to consider if you have small children around who might pick up stray needles from the floor, or simply if you don't like to be continually sweeping up dropped foliage!
Some trees are highly fragrant, which is a popular trait with many people, while non-fragrant trees will need to be sought out for anyone with allergies or sensitivities to strong smells.
The strength of the branches is also an important consideration based on how you like to decorate a tree. Minimalist tree decoration styles with a select few dainty baubles will be well-suited to almost any tree, whereas if you have accumulated decades of Christmas decorations that you like to hang each year, then a tree with sturdy branches that won't bend under the weight of your trinkets will be necessary. Choose a tree with soft foliage if you have children or pets to prevent injury.
Where to Buy Christmas Trees
Pine Trees
1. Virginia Pine (Pinus virginiana)
Native to the southeastern United States, this pine tree typically grows in poor soil to heights of up to 70 feet. It's bright green, twisted needles make it easily recognizable from other types of Christmas trees, along with the dense foliage along branches which are fairly short in length. The Virginia Pine makes a full and cheery looking Christmas tree and benefits from a medium scent, which is ideal for anyone who doesn't like their home to be overpowered by the aroma of a Christmas tree.
2. Scotch Pine (Pinus sylvestris)
This evergreen conifer is the national tree of Scotland and is native to Northern Europe. It is the best selling Christmas tree in the United States, in part because it has very sturdy branches, which grow in sets of two, making it well-suited to being able to cope with the pressure of heavy decorations or plentiful string lighting. It also does a good job of holding onto its needles, which will make all of the difference once the holidays are over and it's time to clean up. With dark green needles that sometimes have a blue tinge, this is a very traditional-looking Christmas tree to help get you into the festive spirit.
3. White Pine (Pinus strobus)
This mildly scented pine tree is native to eastern North America and is the tallest growing pine in the US, reaching heights of up to 230 feet tall. This tree is soft, with fairly delicate branches that will bend under weight. It is therefore not recommended for scenarios where it would be required to hold up lots of decorations; however, it would make a beautiful simply decorated tree, adorned with just string lighting. The subtle blue hue of this trees needle bundles give it a unique look, and it would look spectacular grown outside in a garden to be lit up each Christmas. This tree is also a sound investment, with a life expectancy of around 400 years!
Fir Trees
4. Grand Fir (Abies grandis)
This tree, as you might expect from its name, grows to great heights of over 200 feet tall. It has a very strong quintessentially Christmassy fragrance and has robust branches which are perfect for decorating. Due to its size, this giant tree makes an ideal Christmas tree in large public areas where it can be proudly displayed and take center stage, such as in shopping malls, theme parks, or outside of churches. The yellow-green needles form along thick full branches, which give the tree a lovely lush look.
5. Noble Fir (Abies procera)
This tree is very commonly used as an indoor Christmas tree, and it's not hard to see why. The dark green foliage has a festive wintery feel to it, and the thick branches fill out the entire length of the tree, giving it a full and symmetrical appearance. The branches also have the added benefit of slightly curving upward, which will help to keep any heavy decorations from sliding off onto the floor. Growing to over 200 feet tall, this is another tree which would be suited to being displayed outside. It also has a strong spicy scent, which has made it a popular choice of Christmas tree.
6. Nordmann Fir (Abies nordmanniana)
This is a popular choice of Christmas tree for a whole host of reasons. First and foremost, it is visually stunning, having a great shape due to its extra long branches at the lower end, which gives it a wide base. Its deep green foliage is both beautiful and practical, as the needles aren't sharp and are therefore suitable for homes with children or pets. This tree has a longer shelf-life than most other Christmas trees, so it will stay looking healthy throughout the festive season and beyond. It has excellent needle-retention even once the tree has dried out, making cleanup quick and easy. It also benefits from a very mild, almost undetectable scent, which would work well for anyone who has allergies or is sensitive to the smell of Christmas trees.
7. Balsam Fir (Abies balsamea)
Native to the United States and Canada, this popular fir tree is often used in Christmas wreaths because of its dense, silvery foliage. Renowned for being the most strongly scented of the Christmas trees, this is the tree to go for if you are a fan of the spicy festive aroma. The conical shape of this tree, along with its full foliage, gives it a decadent feel. The Balsam Fir is one of the shorter types of Christmas trees compared with others, coming in at a maximum height of a little over 60 feet tall. The robust branches of this tree make it well-suited to effortlessly coping with the weight of decorations.
8. Fraser Fir (Abies fraseri)
This tree is native to the Appalachian Mountains and is a popular choice of Christmas tree among presidents of the United States as the Fraser Fir has been the official White House Christmas tree more times than any other type of tree. It has yellow-green foliage on its stems, which reach upward in diagonal angles and are sturdy under the weight of decorations. With a strong and pleasant aroma, this tree is well-suited for use as an indoor Christmas tree, filling the home with the festive scent throughout the holidays.
9. Douglas Fir (Pseudotsuga menziesii)
Well-known for its abundant foliage in a pyramid shape, the Douglas Fir is popularly grown for use as a Christmas tree. It demands a fairly large space within the home, as although these trees come in a vast range of heights, they are typically very wide at the bottom, which is what gives them their appealing shape. This tree benefits from a strong scent and sturdy branches, making it well-suited for displaying festive decorations. The popularity of this tree is undeniable, as shown by the sheer amount of which are specifically cultivated for use as Christmas trees. The Douglas Fir makes up around half of all types of Christmas trees growing in the US.
10. Concolor Fir (Abies concolor)
This tree, also known as a White Fir, is one of the taller varieties of Christmas tree, growing to a maximum of around 195 feet. It is native to western North America, growing mostly in mountain ranges in the US and Mexico. The flattened needles that make up the foliage of this tree are a blue-green color, with some cultivars having strikingly blue leaves, such as the 'Violacea.' These trees are commonly used as Christmas trees because of the fullness of their foliage, the soft needles, impressive needle-retention, strong branches, and medium scent.
Cypress Trees
11. Leyland Cypress (Cupressus × leylandii)
This is a fast-growing tree that typically reaches heights of around 70 feet. It has dainty-looking needles splayed out like a feather, giving it a more soft and delicate style than most Christmas trees. The branches of this tree grow upward, giving it a distinctive shape. The Leyland Cypress does not give off any scent, and this could be considered a positive or a negative depending on your preferences. If you like the aroma of Christmas trees filling your home, then you will be better off choosing an alternative tree. However, some people are simply not keen on the smell, while others may have sensitivities to strong smells or allergies triggered by tree scents. For those people, this tree would make an excellent addition to their Christmas décor.
12. Arizona Cypress (Cupressus arizonica)
These trees feature gray-blue needles growing on conical shaped branches. The lower part of the tree does not branch out very wide, giving the overall effect of a more slender and stretched out cone shape. Growing to around 60 feet in height, the Arizona Cypress is one of the smaller Christmas trees. As you can probably tell from the name, this tree is native to the southwest region of the United States and parts of Mexico. In the wild, it typically grows alone or in small groups rather than in dense forests as is common with many other evergreen conifers. As a Christmas tree, it works well as an outdoor option, either in a pot outside your front door or growing in the garden. It is mildly scented and would look good dressed up in string lights.
13. Mediterranean Cypress (Cupressus sempervirens)
This unusually shaped evergreen has a long life expectancy, with some trees of this kind dating back a thousand years. It is also commonly referred to as the Pencil Pine, which makes a lot of sense from the shape of the tree. Its branches do not extend very far from the trunk of the tree, creating a very slim tree. It can grow to over 100 feet tall and is commonly cultivated for use as an ornamental tree. Recently, it has been used as a Christmas tree in contemporary or minimalist homes, as it has the feel of a traditional Christmas tree with a modern edge.
Cedar Trees
14. Eastern Red Cedar (Juniperus virginiana)
This slow-growing tree has dark green, heavily dense foliage. It is strongly scented and glossy, which are just some of the reasons why it is a much-loved Christmas tree in Arkansas, Missouri, and Oklahoma.
Spruce Trees
15. Blue Spruce (Picea pungens)
This beautiful tree is the state tree of Colorado, so it has also become known as the Colorado Blue Spruce. Its waxy needles are a silver-blue color and give the tree the appearance that it has had a recent light coating of snow. This tree hails from the Rocky Mountains of the US and can grow in excess of 70 feet. It is known for having the ideal Christmas tree shape, along with having very sturdy branches that are perfect for holding decorations. It also has a strong fragrance, which will appeal to many people.
16. Canadian Spruce (Picea glauca)
Also known as White Spruce, this tree has foliage in a pale silvery green color. It is the state tree of South Dakota and the provincial tree of Manitoba. It can grow up to 130 feet in height and has strong branches to withstand the weight of Christmas decorations. Though it is often used as a Christmas tree, the Canadian Spruce is more commonly used in construction and to make paper.
17. Norway Spruce (Picea abies)
This is a fast-growing tree that can reach heights of 180 feet. Like most fast-growing plants or trees, it is fairly inexpensive to buy because it does not take too much time or resources to grow one into a saleable size. The low price point of the Norway Spruce has made it a popular Christmas tree, particularly in Europe, where it grows natively. Unfortunately, the needle retention of this tree is poor, so it will need to be watered well to prevent it from drying out and losing its needles. But even with proper care, you should expect this tree to shed plenty of needles over the festive season, leaving you with quite a cleanup project on your hands.