Best Christmas Tree Farms in Miami, FL
Best Christmas Tree Farms in Miami, FL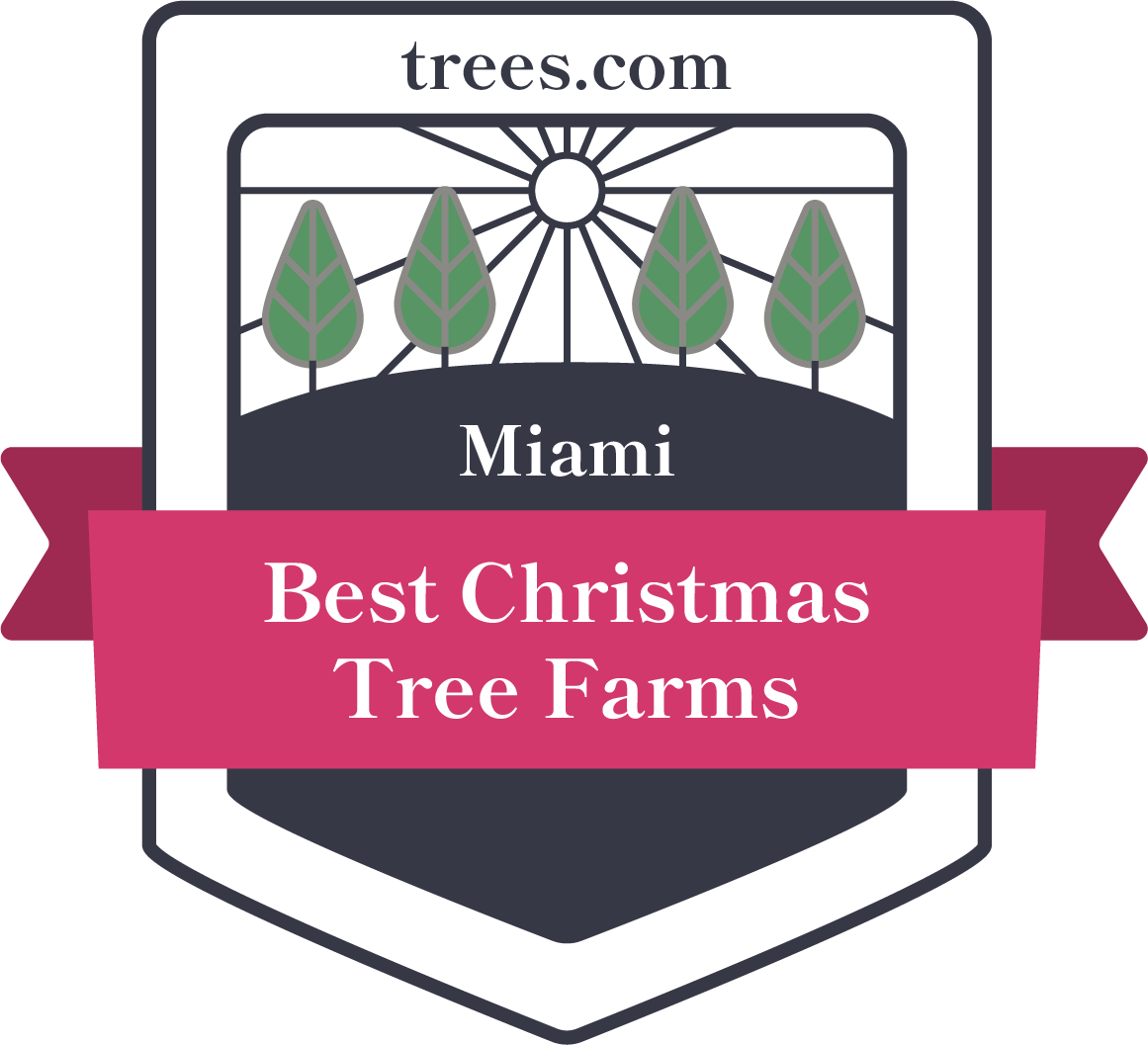 To help you find the best tree for the holidays, we researched every tree farm in Miami, FL and narrowed down to the top 10 Christmas tree farms based on their availability, customer reviews, and other amenities.
Here are the top picks in People of Miami, FL
How We Arrived at Our Top Christmas Tree Farms
Our goal is to connect homeowners with the best Christmas tree farms in the area. To find the top picks in Miami, we scored companies on 25 criteria across five categories and hand-picked a list of the best.
Availability

Responsive communication and convenient scheduling for customers.

Credentials

Years of experience in the field, plus appropriate licensing and awards.

Reputation

A track record of positive customer reviews and outstanding service.

Services

Offers the most important services popular with customers.

Professionalism

A reputation of reliable and honest business practices.
Top Rated Christmas Tree Farms in Miami, FL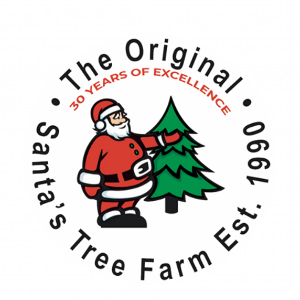 17700 Old Cutler Road Miami, FL 33157
Santa's Tree Farm
Each holiday season, families look forward to visiting Santa's Tree Farm to select from a variety of trees in all shapes and sizes. To save time, attendants from the farm can deliver and set up a tree right in the customer's home or place of business. For added convenience, reusable tree stands are available to fit all sizes of trees. Santa's Tree Farm also sells handmade Christmas wreaths and gorgeous, long-lasting red, white, marble, and pink poinsettias.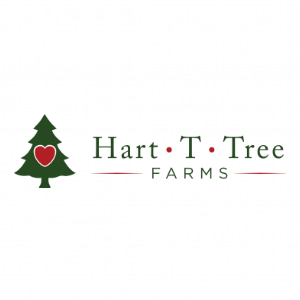 5600 Coral Ridge Drive Coral Springs, FL 33076
Hart-T-Tree Farms
Hart-T-Tree Farms provides families in Broward and Palm Beach with beautiful, fresh Fraser fir and other fragrant trees from its family farms in North Carolina. The farm's tree lots receive a new shipment of trees once or twice a week to ensure a steady supply of fresh trees for customers to purchase. Hart-T-Tree Farms also sells three- to four-foot tabletop trees already fitted in a stand. Customers can buy handcrafted Fraser fir wreaths, tree stands, and magic watering spouts.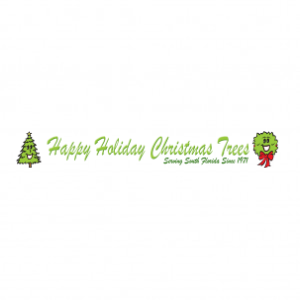 8445 Sunset Drive Miami, FL 33413
Happy Holidays Christmas Trees
In addition to beautiful Noble fir trees from the Pacific Northwest, Happy Holidays Christmas Trees sells precut Fraser fir trees from the mountains of North Carolina and Virginia. The friendly staff is happy to deliver a tree to the customer's location, set it up in a stand, and take it back down after the holidays are over. For those picking up a tree, an attendant is available to bale it and carry it to the family's vehicle. The tree lot is open from Thanksgiving to Christmas.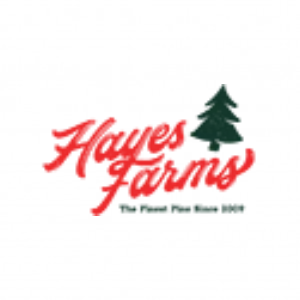 2911 SW 36th Street Fort Lauderdale, FL 33312
Hayes Farms
Families enjoy coming to Hayes Farms to pick out a Fraser fir tree shipped from North Carolina or Tennessee. The farm offers professional delivery and setup services for homeowners and commercial businesses throughout the Tri-County area of Palm Beach, Broward, and Miami Dade. Hayes Farms also sells handmade wreaths, locally grown poinsettias, tree stands, and decorative reindeer. Hours of operation are Monday to Thursday from 9:00 a.m. to 9:00 p.m. and Friday to Sunday from 8:00 a.m to 10:00 p.m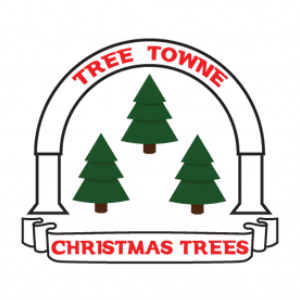 14 N Old Dixie Highway Jupiter, FL 33458
Tree Towne Christmas Trees
Tree Towne Christmas Trees offers a memorable holiday experience for families looking to purchase and take home a precut Douglas fir, Scotch pine, or Blue spruce tree. Personnel from Tree Towne are pleased to deliver trees to homes and businesses, set them up, and remove them once the holidays are over. For the "Just Snowed" look, customers are welcome to choose a pre-flocked Christmas tree. To make the season brighter, Tree Towne sells wreaths, lighted yard decorations, and unique gifts.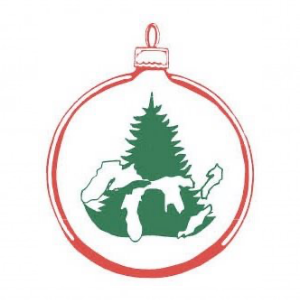 1701 E. 2nd Avenue Tampa, FL 33610
Great Lakes Christmas Tree Farms
For over 30 years, Great Lakes Christmas Tree Farms have sold freshly precut spruce, pine, and fir trees to customers throughout the Tampa Bay area. To add some Christmas cheer, families can purchase handmade wreaths, garlands, and poinsettias. A variety of fun plastic signs are also available for customers looking to announce the arrival of the holidays on their front lawns. The tree farm is open for business seven days a week from 8:00 a.m to 8:00 p.m.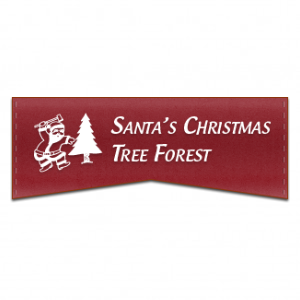 35317 Huff Road Eustis, FL 32736
Santa's Christmas Tree Forest
Santa's Christmas Tree Forest has 17 acres of choose-and-cut trees in a variety of popular types, such as Sand pine, Red cedar, and Arizona cypress. The farm provides a bow saw for families who want to cut down the perfect tree to take home. To save time cutting, a wide selection of precut Northern trees is also available for customers to purchase. Complimentary services at Santa's Christmas Tree Forest include tree shaking, netting, drilling, and loading a tree on top of a vehicle.
3325 Treiman Boulevard Dade City, FL 33523
Ergle Tree Farm
Ergle Tree Farm has plenty of Long Needle pine and Southern cedar Christmas trees for families in Florida to come and cut down. The farm also sells precut Northern trees and live potted Southern cedar, Leyland cypress, and Carolina sapphire trees. At no extra charge, staff shake excess needles from trees and net them for easier transport home. Starting November 20th, the farm is open every day from 9:00 a.m to 7:00 p.m. while trees are available.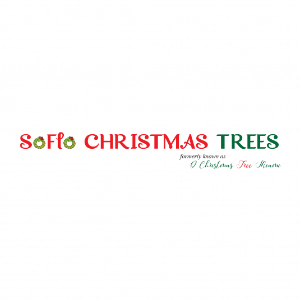 10999 Biscayne Boulevard Miami, FL 33161
Soflo Christmas Trees
Soflo Christmas Trees brings a wonderful holiday experience to families by offering a variety of freshly precut trees, such as Fraser firs from North Carolina. All trees have strong branches for holding plenty of heavy ornaments, and their needles last longer in the warm Florida climate. Flocked trees are also available for homeowners and businesses who want an instant "White Christmas" look. Kids love getting their pictures taken with Santa and enjoying the free popcorn given by the friendly staff each day.