Mexican Flowers for Sale
Mexico has a diverse landscape that is home to a wide range of native plants. Many flowering plants from Mexico have a tropical or exotic look and can bring vibrancy to the home garden. The climate in Mexico tends to be quite hot and dry, so Mexican flowers thrive in similar climates to this, however many Mexican flowers can be grown as annuals in cooler climates. This list details some of the most interesting Mexican flowers that also grow well outside of their native habitat.
1. Coral Vine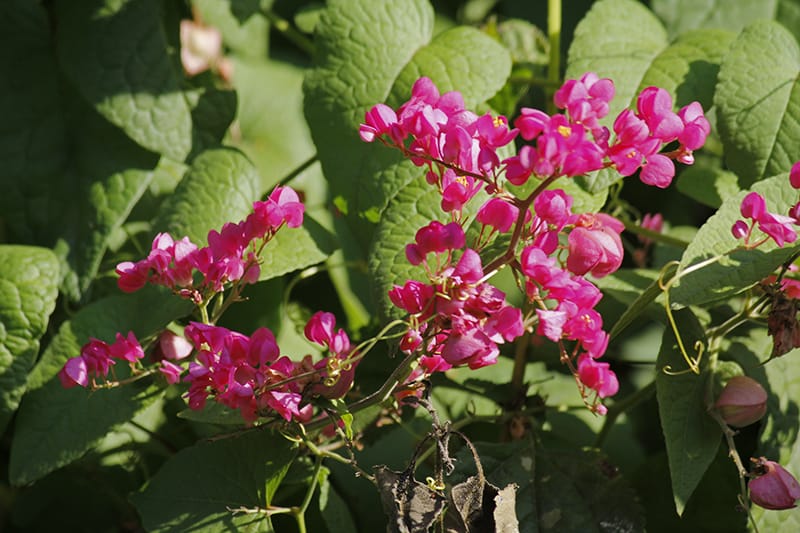 Scientific Name:
Antigonon leptopus
Mature Size: Up to 40 feet long
USDA Hardiness Zone: 9-11
Light: Full sun to partial shade
Water: Average moisture needs
Soil: Well-draining
This plant is also known as 'Mexican creeper' and is a vine that has a vigorous and aggressive growth habit to the point that it is now considered invasive in some places, for example, in Florida. It is an evergreen plant in zones 9-11 but can be grown as an annual elsewhere. It is capable of growing ten feet long in just one season, with a maximum length of about 40 feet in its native environment. This plant produces trusses that are packed with vibrant pink flowers, or less commonly, red or white flowers. In hot climates, it can flower all year round, or as an annual will bloom for several months during summer. Its foliage is medium green and arrow-shaped. It will maintain its color in warm winter zones, or fall from the plant in cool climates.
Due to its ability to grow quickly, this is a good choice for climbing up an unsightly wall or fence that you want to hide. It also works well growing up a trellis, arbors, or the side of houses. It will cling to anything within its reach with its curling tendrils. This plant performs best in full sun, though it will adapt to grow in a wide range of lighting conditions. It can tolerate drought but prefers a well-draining soil that is kept consistently moist.
---
2. Fiddleneck
Scientific Name: Phacelia tanacetifolia
Mature Size: Up to 4 feet tall
USDA Hardiness Zone: 5-10
Light: Full sun
Water: Low moisture needs
Soil: Well-draining, sandy, gritty, poor
This plant also goes by the name of 'purple tansy' and 'lacy phacelia.' It is native to Mexico and the southwestern United States and is most commonly found in desert landscapes. Outside of its natural habitat, it is cultivated as an agricultural plant to attract bees and also as an ornamental plant in home gardens. It is considered to be one of the best plants there is at attracting bees, and it is also known to attract other beneficial insects, making it an excellent addition to any garden. It produces feathery foliage that resembles the leaves of tansy and clusters of flowers that arrive on tall stems.
The purple-blue flowers are very ornamental, with long stamens that protrude far outside of the surrounding petals. They have a long blooming period of around five months, adding color to the garden from spring right through to late fall. This is a low maintenance plant that grows quickly. The leaves form a dense carpet that helps to hold moisture in the soil. It thrives in poor soils, is drought-tolerant, and is resistant to pests and disease.
---
3. Mexican Lily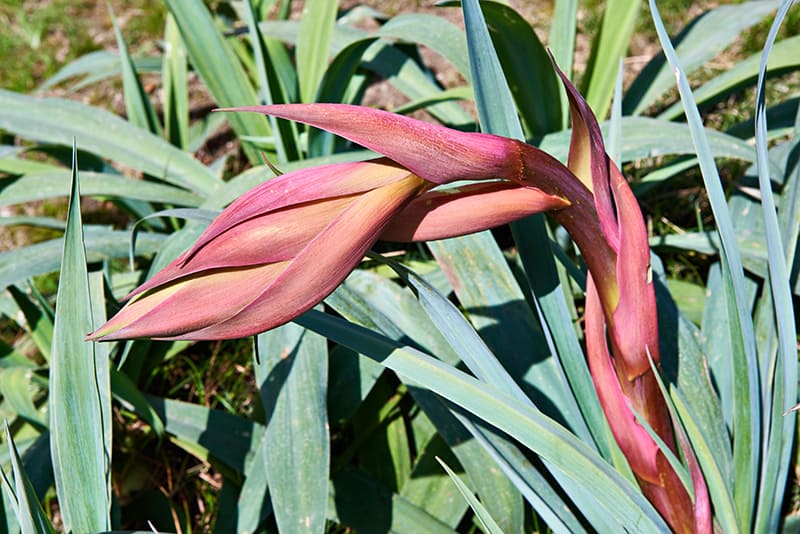 Scientific Name: Beschorneria yuccoides
Mature Size: Up to 7 feet tall
USDA Hardiness Zone: 8-11
Light: Full sun to partial shade
Water: Average moisture needs
Soil: Well-draining, rich, loamy
This is an evergreen perennial that has long strap-like foliage growing in a rosette shape to form clumps. The leaves are smooth but tough, and over time smaller rosettes will grow from the plant as side offshoots. The flowers arrive in late spring or early summer on top of a long flower stalk that emerges from the center of the main rosette. This flower stalk is upright but can sometimes arch over from the weight of the flowers. It rises high above the foliage and can reach heights of up to seven feet. The stalk itself has a red-pink color and bears clusters of bell-shaped flowers that are green with showy red bracts. These blooms have a distinctly tropical look and give an exotic feel to a garden.
The plant is great for providing year-round architectural interest and is ideal for growing in hot and dry areas as it is both heat and drought-tolerant. It thrives in full sun but will appreciate some afternoon shade in very hot conditions. This is a striking plant that is low maintenance and grows easily. It has been the recipient of the Award of Garden Merit from the Royal Horticultural Society.
---
4. Baja Fairy Duster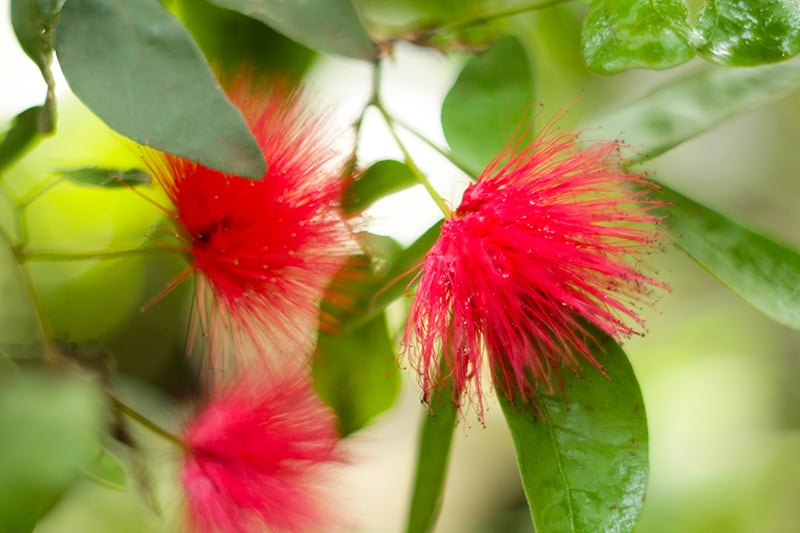 Scientific Name: Calliandra californica
Mature Size: Up to 6 feet tall
USDA Hardiness Zone: 9-12
Light: Full sun
Water: Average moisture needs
Soil: Well-draining
This is a slow-growing evergreen shrub that is also commonly known as 'flame bush,' and upon seeing the fiery red fluffy flowers, it's not hard to see why. The unusual flowers produced by this shrub measure less than two inches across and bloom all year round to provide a splash of color to the landscape. They resemble feather dusters, taking the shape of small bright red powder puffs. They are enormously popular with bees and butterflies, and they provide an attractive contrast against the delicate and uniform foliage of the plant.
The foliage grows in fountain-like sprays that resemble the leaves of ferns. They are a blue-green color and curl up at night. It can be grown in rows to form an informal hedge or privacy screen, but it also works well as a specimen or accent plant. It thrives in a wide range of soil types, including sandy soil. It prefers well-draining soil that is kept evenly moist. Plant it in a full sun position to ensure prolific blooming.
---
5. Desert Willow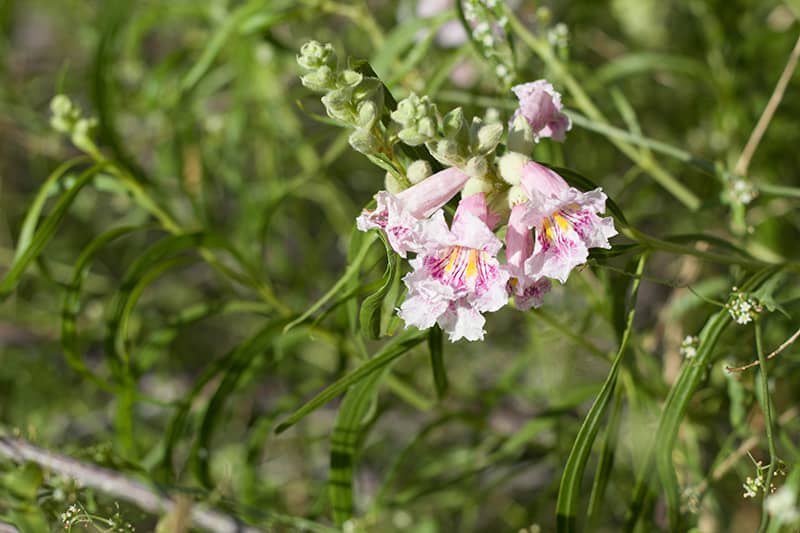 Scientific Name: Chilopsis linearis
Mature Size: Up to 30 feet tall
USDA Hardiness Zone: 7-11
Light: Full sun
Water: Low moisture needs
Soil: Any soil type
This plant is native to Mexico and the southwestern United States. It grows as a medium-sized shrub or small tree. It is fast-growing, producing twisted architectural branches from that willow-like leaves sway elegantly in the gentle breeze. Flowers bloom from the tips of the branches in late spring and persist right through to fall. They arrive in showy clusters of trumpet-shaped blossoms that can be purple or pink, with deep mustard-colored stamens. The flowers develop into large pods that can measure up to ten inches long. They resemble bean pods and remain on the plant until the following spring.
The seeds produced within the pods are popular with a wide range of birds, while the flowers are attractive to pollinators, so the plant is great for luring wildlife to the garden all year round. It spreads easily and will sow seeds readily, so it is not recommended for growing alongside lawns. It is an easy-care plant that will grow in a wide range of soil types, including clay and sand. It needs moisture when young but is very drought-tolerant once established. It is very tolerant of heat and thrives in full sun. The plant can be pruned to grow as a single-trunked tree or as a spreading shrub that works well as an informal hedge. Prune the plant freely because flowers bloom on new wood, and so it will bloom more heavily the more frequently it is pruned.
---
6. Dahlia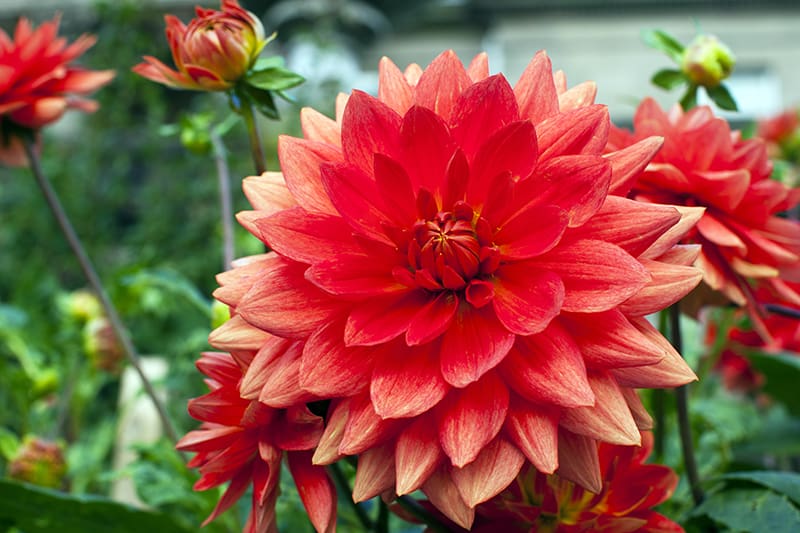 Scientific Name: Dahlia
Mature Size: Up to 6 feet tall
USDA Hardiness Zone: 8-11
Light: Full sun
Water: Average moisture needs
Soil: Well-draining
These plants are native to Mexico and Central America and grow from tubers. The dahlia has been the national flower of Mexico since 1963 and in Aztec times was cultivated as a food source. There are over 42 species of dahlia, with many thousands of cultivars, varieties, and hybrids. These plants are now grown for their striking and showy flowers, which can grow up to one foot across. They are available in almost every color imaginable and can be single, semi-double, or fully double flowers. Flowers bloom on chunky, stiff stems, which can vary in height from one foot to six feet tall. Most often, they will remain erect, but sometimes they will need to be staked as the stems arch or bend under the weight of the large flowers.
These are perennial plants in warm climates, but they are commonly grown as annuals during summertime in cooler climates. They produce large leaves that resemble those of sunflowers, and the foliage is not considered particularly attractive. These plants grow easily in full sun and well-draining soil.
---
7. Naked Coral Tree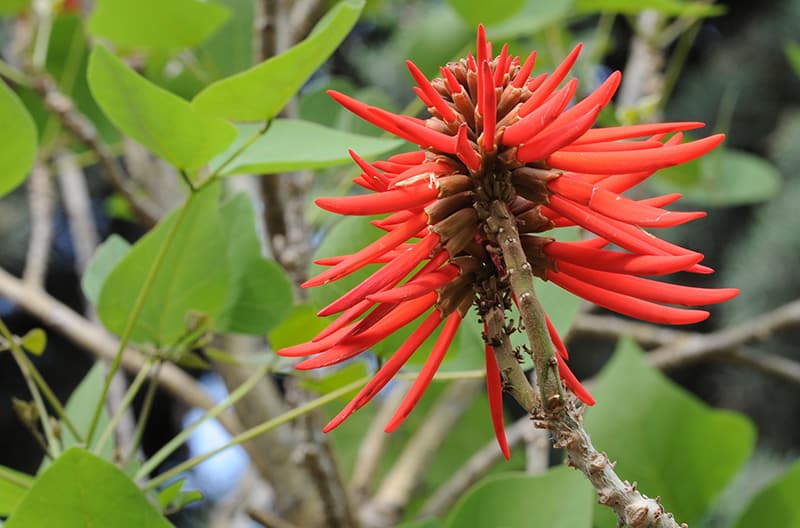 Credit to Zeynel Cebeci
Scientific Name: Erythrina coralloides
Mature Size: Up to 30 feet tall
USDA Hardiness Zone: 9-11
Light: Full sun
Water: Low moisture needs
Soil: Well-draining, sandy
Also known as the 'flame coral tree,' this plant is native to eastern Mexico. It is a small deciduous tree that can grow up to 30 feet tall but commonly does not exceed 20 feet in height. It is interesting because flowers bloom in spring and summer on bare branches, and the foliage does not arrive until the blooming period has ended. The flowers resemble bright red pine cones, and they form on the tips of the twisted, gray branches. Foliage unfurls in late summer and provides a useful canopy of shade. In fall, the foliage turns to vibrant shades of yellow and then drops to the ground, revealing the gnarled and twisted branches that provide interest to the landscape throughout winter.
This tree is wonderful as a specimen tree, being visually striking and ornamental all year round. It is salt tolerant and, therefore, suitable for planting in coastal regions. It grows best in full sun, in well-draining soil, and can tolerate sandy and dry soil. It needs very little water to survive and can cope with long periods of drought. The seeds of this plant are poisonous, so keep them away from curious pets and children.
---
8. Shrimp Plant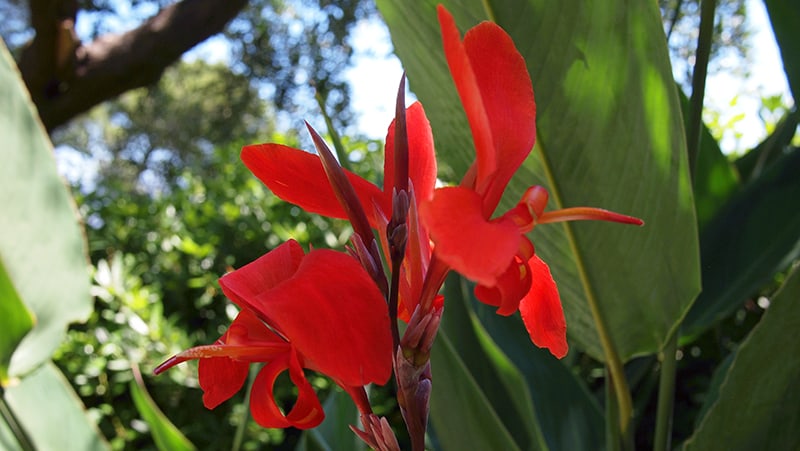 Scientific Name: Justicia brandegeana
Mature Size: Up to 3 feet tall
USDA Hardiness Zone: 9-11
Light: Partial sun
Water: Maintain moist soil
Soil: Well-draining
This evergreen shrub is native to Mexico and produces tropical flowers that bear a close resemblance to peeled and cooked shrimp, hence the name 'shrimp plant.' The flowers are several inches long and are actually curved, drooping, flower spikes, covered in pink and red bracts that overlap one another. They have a long blooming period, putting on a colorful floral display for around ten months each year. The flowers contrast nicely against the lush ovate foliage that is a fresh green color. The plant spreads through suckers and can be pruned back regularly to maintain a more compact shape.
This plant performs best in a well-draining soil that is kept evenly moist. It thrives in partial sun, ideally with shade in the afternoon, so that the flowers do not become bleached and faded.
---
9. Mexican Prickly Poppy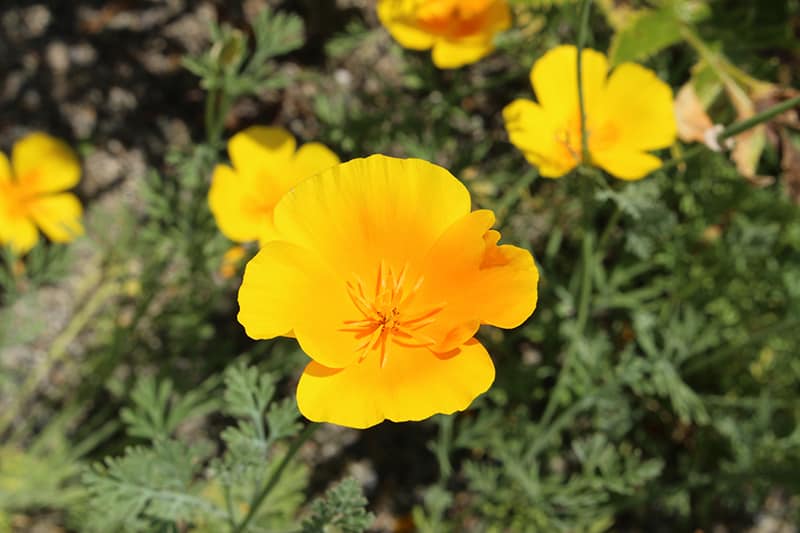 Scientific Name: Argemone mexicana
Mature Size: Up to 32 feet tall
USDA Hardiness Zone: 2-11
Light: Full sun
Water: Low moisture needs
Soil: Sandy, acidic, well-draining
This annual or biennial plant is not technically a poppy but produces poppy-like yellow flowers. The bright, cup-shaped flowers bloom from mid-spring to early summer and sit atop of erect prickly stems. The foliage is dark blue-green and heavily spined, resembling holly leaves. Each leaf has creamy white veining and measures around two inches long.
It is an attractive addition to wildflower gardens and will reseed, and self-sow easily to ensure a new patch of flowers each year. It is native to Mexico, the Caribbean, South America, and Florida in the US. All parts of this plant are extremely toxic, so it should be kept away from pets and children.