Orchids for Sale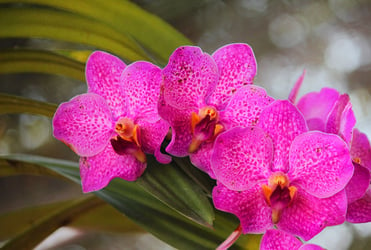 Do you know what is the largest taxonomic group of all living plants?
It is the orchid family. The most diverse flowers on Earth.
To make things more complicated, orchid taxonomy continually changes, and about 150 new species are discovered each year, adding to the known 22,000 species divided into almost 1000 genera.
How did all that diversification happen?
In highly competitive environments such as the tropics, orchids had to develop many novel strategies to attract pollinators. To our joy, that resulted in a fantastic display of fragrances, colors, and shapes unseen anywhere else in the plant world. No wonder that orchids, no matter how demanding, are such popular house plants.
But don't worry, some orchids are fairly easy to grow. The exact demands of your orchid will hugely depend on the genus it belongs to. That is why determining the type of anorchid is a crucial step in providing complete care.
Fortunately, you don't have to remember all 22,000 species. Species that belong to a genus are similar enough so we can look at them as a homogenous group – a type. There is a limited number of orchid types that make great houseplants, so remembering important information and mastering orchid growing is still possible.
Let's learn more about some popular orchid types.
Where to Buy Orchids
We may earn a commission for purchases using our links. Learn more.
Angraecum Orchids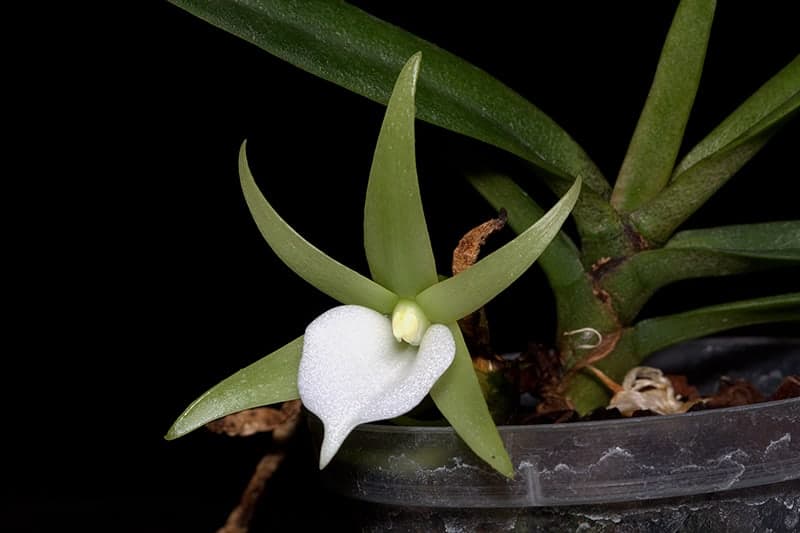 The Angraecum orchid genus consists of over 200 species, mostly growing in Madagascar and adjacent areas. Some of its most popular species can be named Angraecum sesquipedale (the famous Darwin's orchid), Angraecum leonis, Angraecum. bicallosum, etc.
This species has a monopodial growth habit, which means they have a single central leafed stem with alternating leaves and flowers springing up from it. Some species are very small in height while others can reach the height of up to 6ft. Some have several flowers each inflorescence, while others only have one at their inflorescence.
Their flowers have various white and green shades depending on the species and often emit unique smell at night.
Brassia Orchids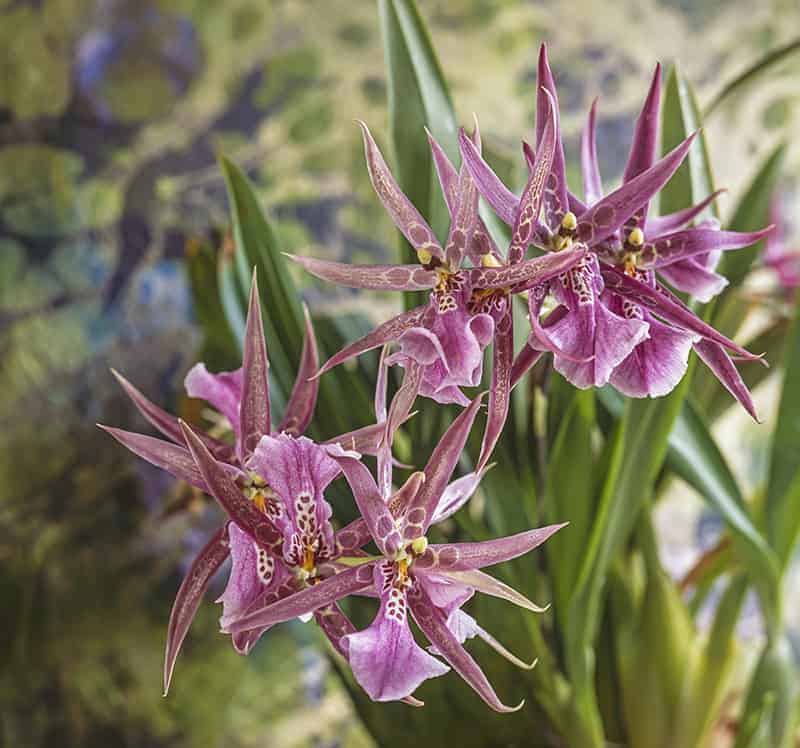 Brassia is a genus known for its spider-like looks. The flowers are special for their fragrance and their long sepals which bring spider legs to mind. The blossoms are numerous, with 8 to 12 flowers stemming from each pseudobulb. The color pattern is also interesting – the upper petals are pale-yellowish-green, the "legs" are a creamy-rosy combo, all topped with maroon markings.
Brassia spider-like appearance is no coincidence. They use it to lure parasitic wasps which hunt for spiders into pollinating them when they attack to lay their eggs.
These orchids are native to rainforests of Central and South America, so they like their moisture. They require humidity of 50-70% and need to be watered regularly, especially during the growing period in spring and summer. However, as with most orchids, you need to ensure they aren't too wet and that air circulation is good. Also, they prefer bright, but diffuse light.
Winter rest is mandatory for Brassia.
Brassavola Orchids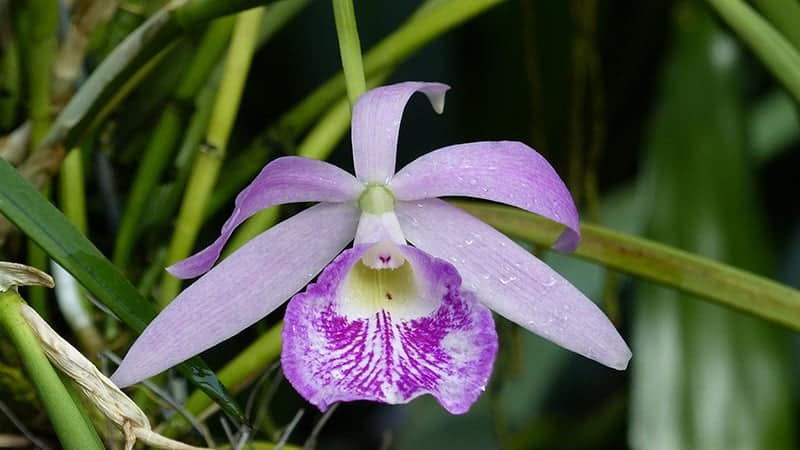 Brassavola genus consists of 21 species. Their natural habitats include Mexico, Central America, South America, and the West Indies.
These are epiphytic orchids, with a few species being lithophytes. The single leaf is apical and succulent. Brassavolas produce elegant white flowers early in the winter. The delicate beauty and the fact that you will be honored by their fragrance in the evening earned Brassavola a nickname "Lady of the night".
Brassavola can be grown in a pot or on an orchid mount.
Catasetum Orchids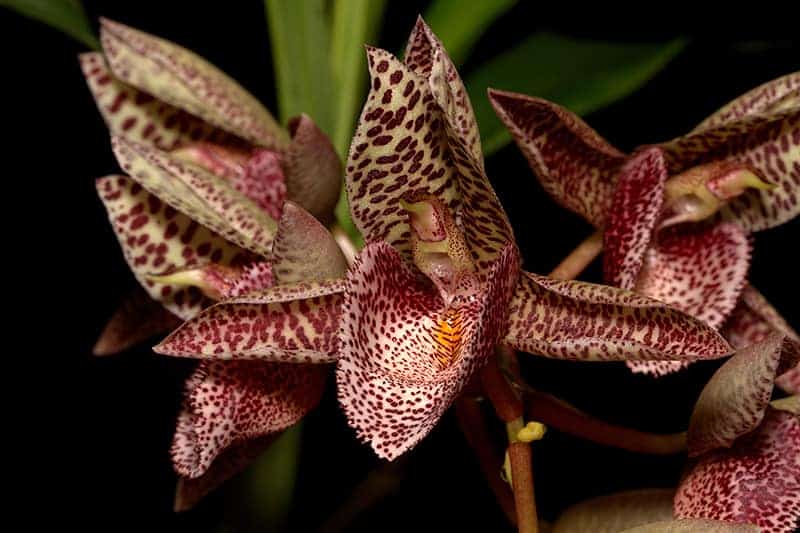 Catasetums are highly attractive and praised orchid genus, characterized by deciduous biology and highly handsome fleshy, waxy flowers.
What is also highly interesting is that Catasetums are unisexual – able to produce both male and female flowers, which is very rare among orchids. Male flowers are usually produced in lower light than female bulbs and are more attractive. They also literally eject the pollen when you touch the flower.
The fact that they are deciduous means that they need a strict dry winter resting period.
Cattleya Orchids
The story about the first Cattleya ever discovered is a touching one. Around 1817, a horticulturalist William Cattley received a shipment of orchids from Brazil, with an unknown species which served as packaging for other orchids. He took one and nursed it back to life, and was rewarded with an amazingly beautiful, pink orchid flower with a distinct "lip." Because of Cattley's dedication, the botanist John Lindley named the entire genus after him, and the species in question was C. labiata.
Cattleya is an easy orchid to grow orchid – it requires intermediate temperatures and intense (but not direct) lighting – like the light from the South or East-facing window. They are adapted to slightly less humid environments than most other orchids – 50-60% will do.
Cycnoches Orchids
These sympodial orchids are related to the Catasetum genus. What's special about these genera is they respond well to the light and temperature environment, whose intensity in hands determine the gender of the plant – either male or female.
Cycnoches orchids own big and thick spindled-shape pseudobulbs where the pendulous inflorescences spring up. The genera have various colors when blooming, including yellow, white, pink, deep red, green.
These orchids enjoy warm to cool temperature, typically 75-80 F (24-27 C) during the day and 10-15 F (6-8 C) at night. When grown indoors, plants should be placed where they do not expose direct sunlight to save them from sunburn. You can be perfectly fine growing them using artificial light (fluorescent, LED light), but make sure that the lights are not too close to the orchids.
Cymbidium Orchids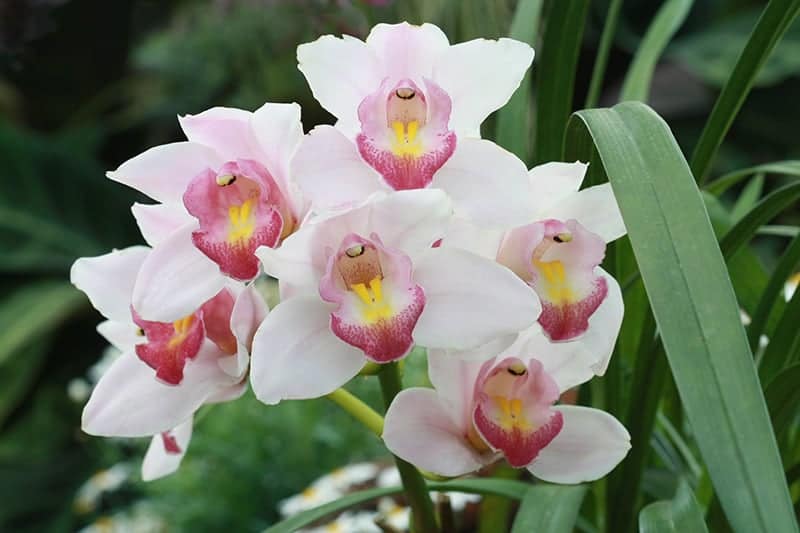 If you are looking for a not demanding orchid to grow in the garden or indoors as a houseplant, cymbidium orchid should be one of them. These orchids are fairly popular decorative plants grown among home gardeners and horticulturists.
This genus belongs to the Orchidaceae family. When they bloom, their flowers can last 6 – 8 weeks. Flowers come in virtually any color but black and blue.
The ideal temperature is warm during the day and a cooler at night. They are cold-tolerant even though frost can kill the plants. For the growth of the flower spikes to happen, you also need to maintain a change in temperature between the day and night of about 20-25 degrees, mostly in the fall. Cymbidium orchids like bright light, not direct sunlight for a long period, which can burn the plants.
Cypripedium Orchids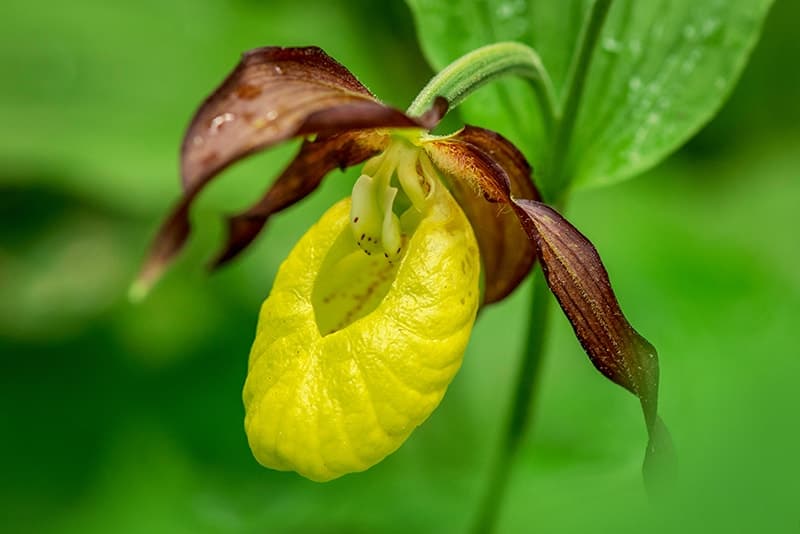 Cypripedium is a genus of 58 highly exotic orchids, so unusual because of their particular shape. They have a large flower pouch (fused petals), which earned them a name "lady's slipper." Also, they are additionally decorated with long, twisting sepals. Other types that have the "lady's slipper" title are the orchids from genuses Paphiopedilum and Phragmipedium.
The pouches of all lady's slipper orchids have a distinct role – they make the flower look like a specific insect – a pollinator that the plant wants to attract.
Cypripediums are quite hardy Northern hemisphere orchids – their range includes North America and Europe, as well as central Central America, Central Asia, and China. Some species are resilient enough to be grown outside.
They can be grown in multi-purpose compost, and need a lot of water during their flowering season.
Dendrobium Orchids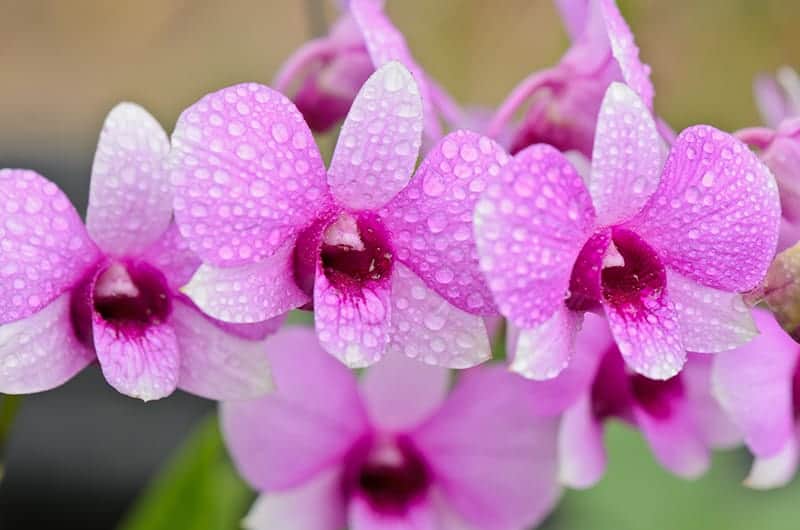 Dendrobium is one of the most popular genera in horticulture, withDendrobium nobile being the most widespread ornamental orchid. Also, there are many notable hybrids.
The genus contains as much as 1800 epiphytic and lithophytic species, with a consequently large areal. Dendrobiums can be found in Asia – China, Tibet, India, and the Himalayas, Vietnam, Thailand, Laos, and Myanmar.
Dendrobiums require cooler temperatures and less humidity than its purely tropical counterparts. Also, they need a seasonal rest starting in autumn and lasting until spring. During this time, they require cool, dry, and well-lit position.
There are more cool facts about this genus and its most well-known representative, D. nobile. It is known to suck harmful substances, toluene and xylene, out of the air; it contains a unique toxin called dendrobine, yet despite (or because of) that it has long been used in traditional Chinese medicine.
Encyclia Orchids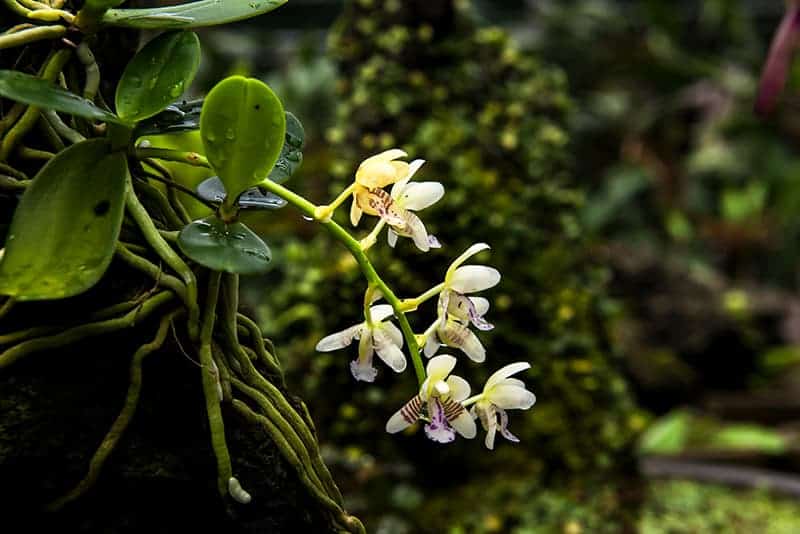 Encyclia orchids, also known as cockleshell orchids, are recognized for their octopus shape and beautiful richly colored pure, vibrant flowers.
Native to tropical America places, these orchids can be found in Mexico, Central America, Northern South America (through Brazil and Argentina). That explains why these orchids vary a lot with respective cultural conditions.
Their flowers ' colors can be purple, green, yellow to brown. Their lip can look flat and broad or ruffled. With over 140 species, different forms, and stunning flower color range, this genus is great for orchid hobbyists and collectors.
Epidendrum Orchids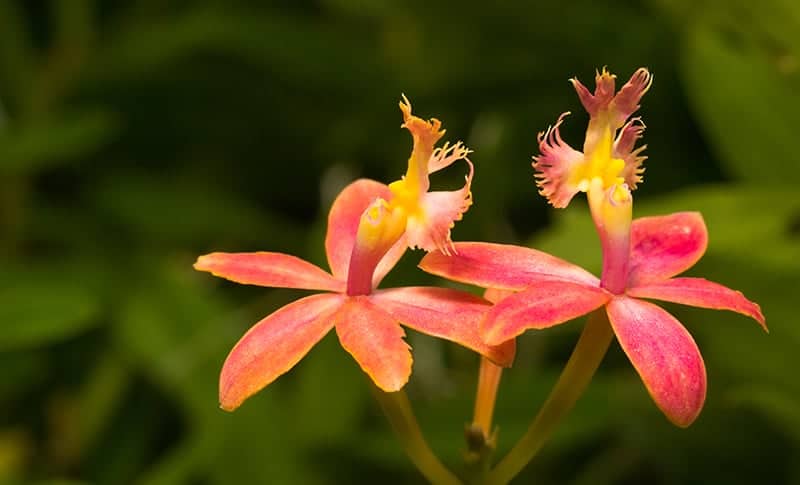 If you are an orchid lover, you must have encountered the Epidendrum orchid somewhere. This is one of the most common and largest types of orchid with over 1000 species, which can be found in subtropical and tropical areas. Some epidendrum species have fragrance.
These orchids typically have a tall reed-like stem which the roots emerge from. Others are pseudobulbs with alternating leaves.
You can see their flowers from their inflorescences, turfs, and sometimes in a corymb. They usually bloom in bunches with different flower color shades, including red, yellow, orange, or lavender.
Intergeneric Orchids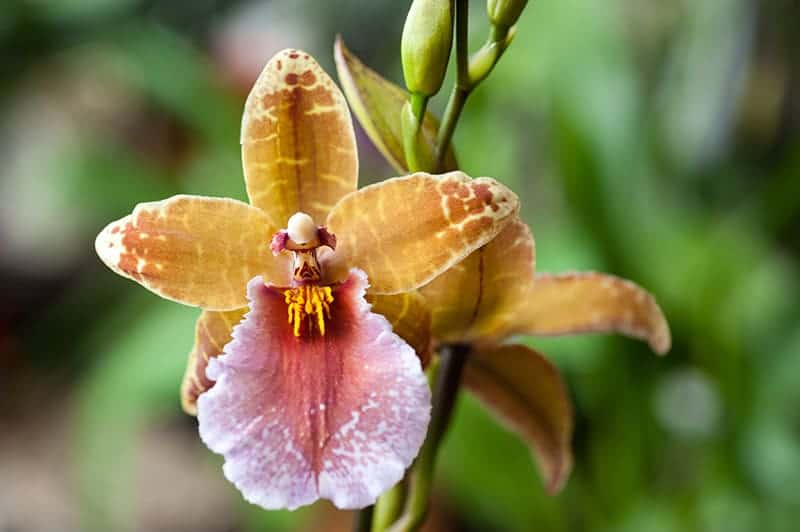 Like their name suggests intergeneric orchids are created by crossing orchids from different genera.
The hybrids from interesting lineages often have striking, surreal flowers.
Since different intergeneric orchids come from different combinations, their demands may vary. It is best to know the parental species and opt on the best approach based on their needs. However, because so much hybridization has taken place, many hybrids have lost this connection to their lineages, and their care can be pinpointed as similar to Oncidiums.
Ludisia Orchids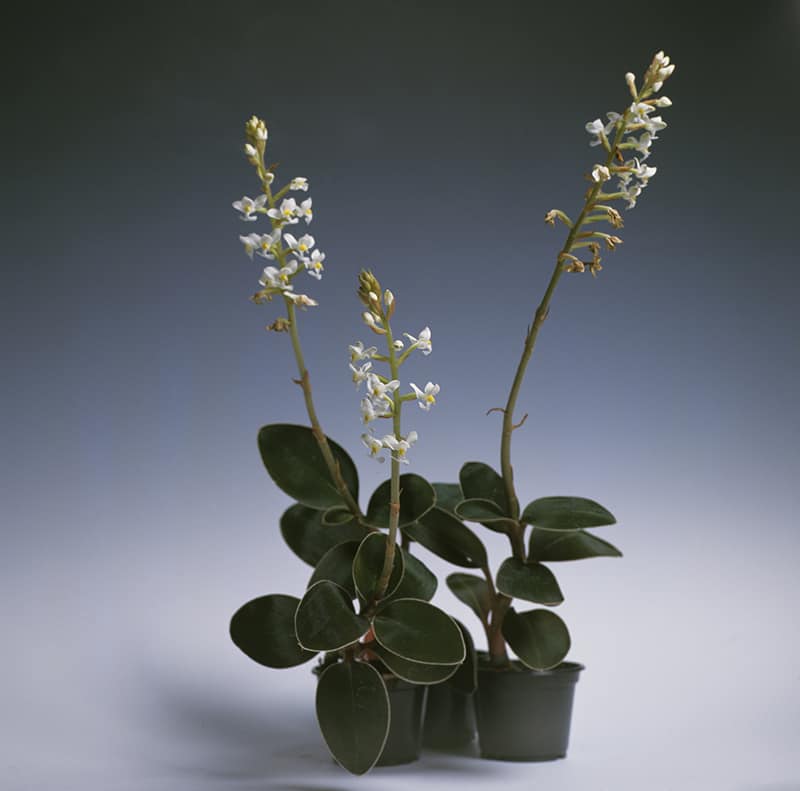 Ludisia orchids, commonly known as "jewel orchids", are a monotype orchid genus that consists of only one species – L. discolor. This exquisite genus has its name for its stunning deep violet foliage, which caught your eye immediately. Meanwhile, their flowers are also beautiful but not really outstanding with small white cluster grown on tall stalks.
Native to East Asian tropics where plants are covered by the thick forest canopy, these orchids do not like much sunlight. That makes this genus can be grown indoors well as a standard houseplant where the natural light is limited. Given their undemanding growing condition and their beautiful look, Ludisia orchids are an ideal orchid choice for orchid hobbyists and sellers as well.
Lycaste Orchids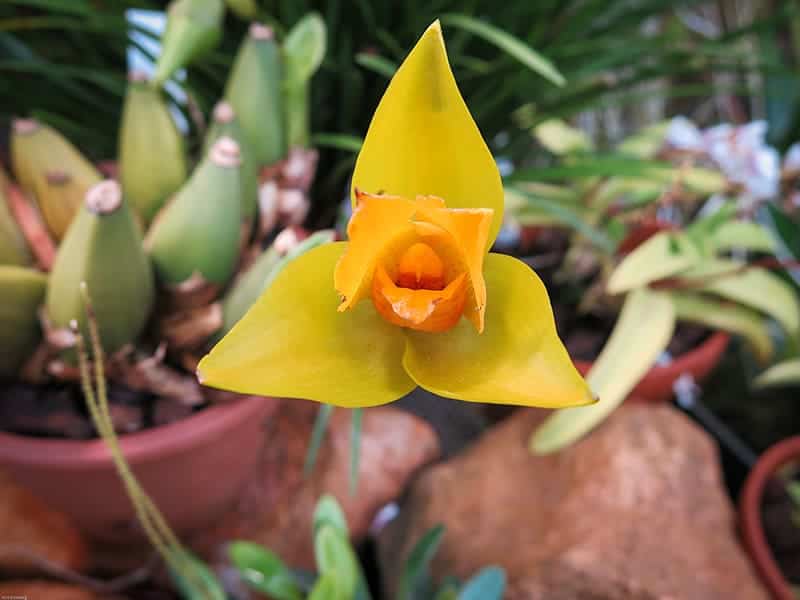 Native to the tropical areas in Central and South America, these orchids are recognized for their multiple flower spikes from their roundish pseudobulbs, and their thin but large & broad petals.
Another distinction is that some Lycaste species emit unique scent, a good point if you are looking for a fragrant orchid. These orchids bloom in different colors with the most common being white, orange, yellow, red, green, and purple. Flowers are medium in size from 5 cm up to 18 cm.
Some popular species of this genus to grow include L aromatica, L tricolor, Lycaste cruenta, and Lycaste lassioglossa.
Masdevallia Orchids
Here's something completely different, and strange – even for an orchid! Masdevallia is a large genus that grows predominantly at high altitude regions of South America – Andes of Colombia and Equator, Peru, and Bolivia. Among Masdevallias, there are terrestrials, epiphytes, and lithophytes.
Because the genus has over 500 species, the morphology varies, but it is highly unusual in most cases.
This is the most cold-loving genus on the list – you should provide the temperature of 20C at most. Also, Masdevallias love moisture, which should be as high as 70-100%. If you manage to ensure these conditions, growing Masdevallias becomes easy.
One of the most notable species is Masdevallia veitchiana, also known as the "King of the Masdevallias". It is considered Peru's national treasure, and it is most well-known for its striking triangular flower, intense orange color, and tiny purple hair on the sepals, which leads to a prismatic effect when viewing the flower moving in the breeze.
Maxillaria Orchids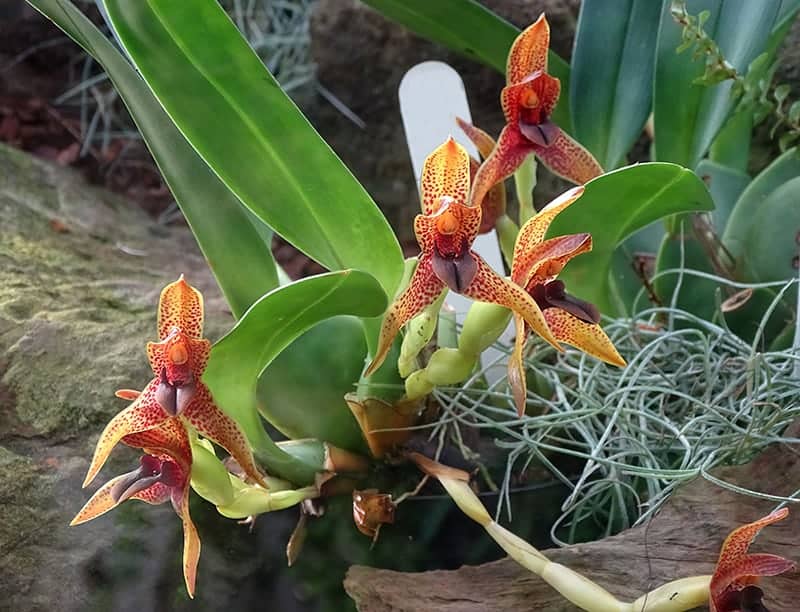 Maxillaria orchids are not a popular genus among orchid enthusiasts even though this is a large genus of orchids with more than 300 species. Some popular Maxillaria orchids can be named – Maxillaria tenuifolia (Coconut pie orchid), Maxillaria schunkeana, and Maxillaria picta.
Their blooms are small and stem from the pseudobulbs' base. They come in different colors including yellow, white, red, purple; some species produce fragrant flowers such as fresh coconut, vanilla smells.
This genus is often found in tropical America areas from Florida to Latin America. With their native location, these plants like bright indirect sunlight and a slight drop temp change from day to night temperature.
Miltonia Orchids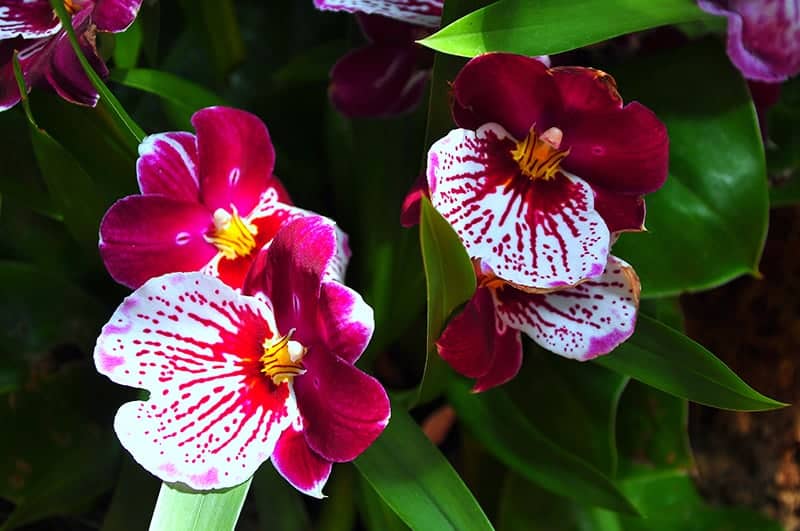 Also referred to as "pansy orchids" because of their similar appearance to the garden pansies. This genus originated from Central America to Peru, but are mostly located in Brazil.
The first species was recorded by John Lindley, in 1834 and they are growing in popularity in the home and greenhouses these days. This is primarily due to the fact that some Miltonia species are easy to grow and make a hybrid. You can find lots of Miltonia Hybrids on the market nowadays.
Miltonia orchids bloom in various colors such as yellow, white, pink, purple, and red. And like other orchids, this genus thrives in bright indirect light and not too hot day temperature with a drop of about 20oC for night temperature.
Oncidium Orchids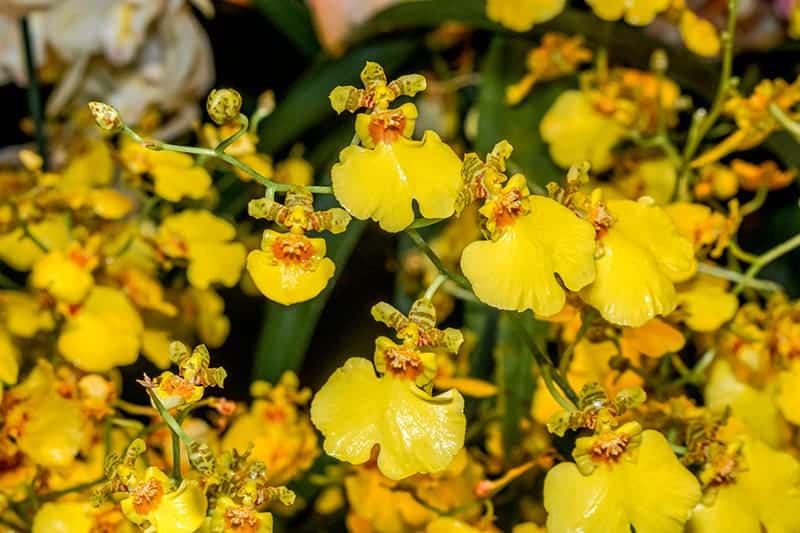 Oncidiums are also called "dancing ladies". And indeed, if you look closely at Oncidium flowers, you might realize where the name came from.
There can be hundreds of flowers on the long, branching sprays of the "dancing ladies" – so much that they can even be mistaken for a swarm of bees!
Oncidiums prefer a cooler environment, a lot of moisture, and well-aerated roots. They usually flower in autumn. Hybrids tend to be easier to grow, and luckily, that is what you will commonly find in the stores. Oncidiums are also related to Brassias, and these two genera are often hybridized.
Paphiopedilum Orchids
This Asian- tropical Paphiopedilum Orchid Genus is an easy-to-care orchid; so many varieties and hybrids make perfect houseplants owing to their basic plant care. It got its name as "lady's slippers" due to their slipper-shaped form in their blooms just like the Phragmipedium and Cypripedium genera.
This genus contains more than 100 species according to the World Monocot Checklist.
From their look, you can notice that these orchids do not possess pseudobulbs. That would mean the plants do not contain water in their bulbs; mind this so that you should keep moisture the soil well.
With various species, they can bloom in multi-flowers or single-flower.
Some popular Paphiopedilum species on the market can be listed such as P. armeniacum, Paphiopedilum callosum, P. delenatii, Paphiopedilum lowii, Paphiopedilum venustum, and etc.
Phaius Orchids
Also called the "Nun's Orchid", Phaius Orchids are highly decorative plants that are among the easiest orchids to grow indoors or in the garden.
Firstly introduced in 1778 by John Fothergill who brought the plant from China to England, these orchids are now distributed throughout China, South-east Asia, Japan, Australia, and Pacific Islands.
These terrestrial orchids come in various flower colors such as white, pinky, and red, purple, and brown. When blooming, their inflorescences can have more than 30 four-inch flowers. Their pseudobulbs are enveloped by the deeply-groove delicate but large leaves.
The Nun's Orchid is not a demanding plant, which probably explains why it's grown popular among orchid enthusiasts and home decorators.
Phalaenopsis Orchids (Moth Orchids)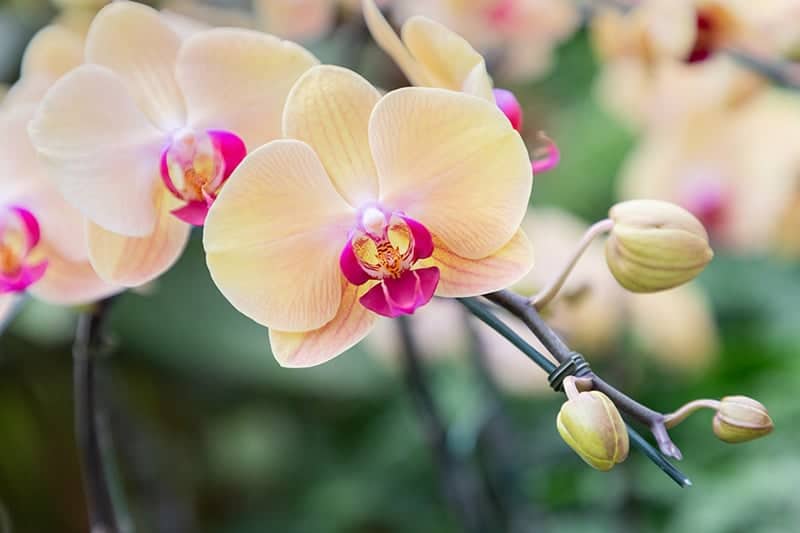 When you imagine "an orchid" – chances are that the picture that first comes to mind is Phalaenopsis. This genus is among the most popular and well-known orchids, often seen even in supermarkets and garden centers. Moth orchids are popular because they are comparatively easy to grow, ideal for beginners, but still very showy. They have large lush flowers that come in a variety of colors.
They should be grown in a special bark orchid medium, under bright and diffuse light and in humid conditions – a kitchen or a well-lit bathroom could be a good solution.
Phragmipedium Orchids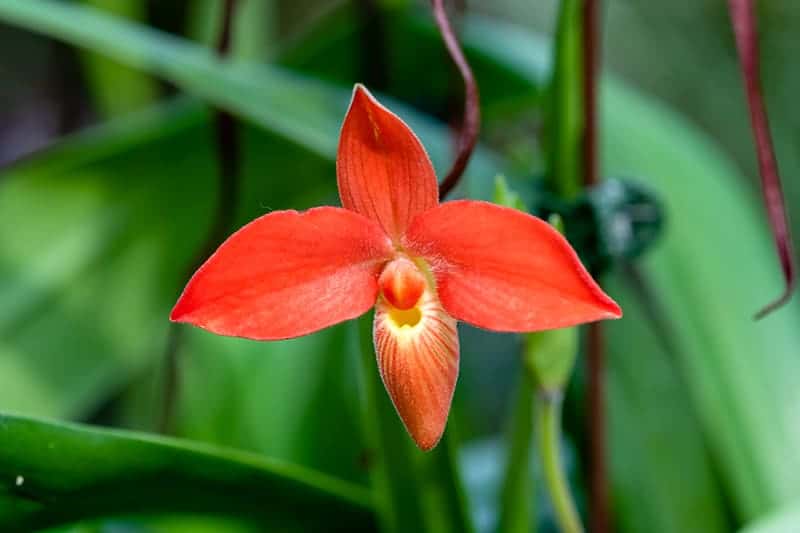 Phragmipedium genus is proof that you can't have a general orchid care sheet. While most orchids are very sensitive about moisture and watering them in enough but not too much is an artform, Phragmipedium orchid likes to be wet all the time. And it is no wonder, because these orchids thrive near streams in their natural habitats.
The colorful Phragmipediums also love warmth, with the drop of 10-15°F (6-8C) during the night.
The most fascinating new orchid discovered in the last 100 years belongs to this genus. It is the Phrag. kovachii, discovered only in 2001. Its flowers measure 5-7 inches (14-18cm), which makes them the largest in the genus.
Vanda Orchids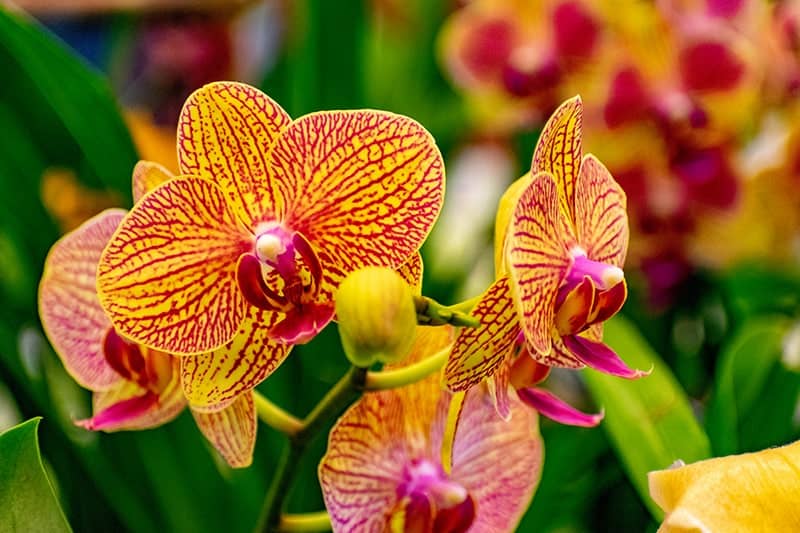 Vandas are Asian orchids known for their large round flowers with interesting patterns and a huge color variety. When you add the fact that some Vandas flower 2-3 times a year, it becomes clear that growing them is a very flower-power experience.
A distinctive feature of Vanda care is that they love an extremely bright light – 3000 – 5000 candelas. Also, they like to have a temperature drop at night and a lot of air around their roots, making them good candidates for glass vases and slatted baskets with no potting medium, or with just a tiny bit of it.
Vanilla Orchids
We know that "vanilla" is one of the most popular spices and fragrances in the world. But did you know that Vanilla is actually an orchid – an entire genus of orchids, in fact. The vanilla bean comes from the species Vanilla planifolia.
Vanilla are not your typical windowsill orchids. They are unusual because they are the only orchids that grow as vines, and need a lot of vertical space.
As you might surmise, Vanilla is one fragrant orchid genus. Yum. Individual flowers don't last long – usually only one day. Luckily, the plant produces them in series, and flowering lasts for 1-2 months.
Zygopetalum Orchids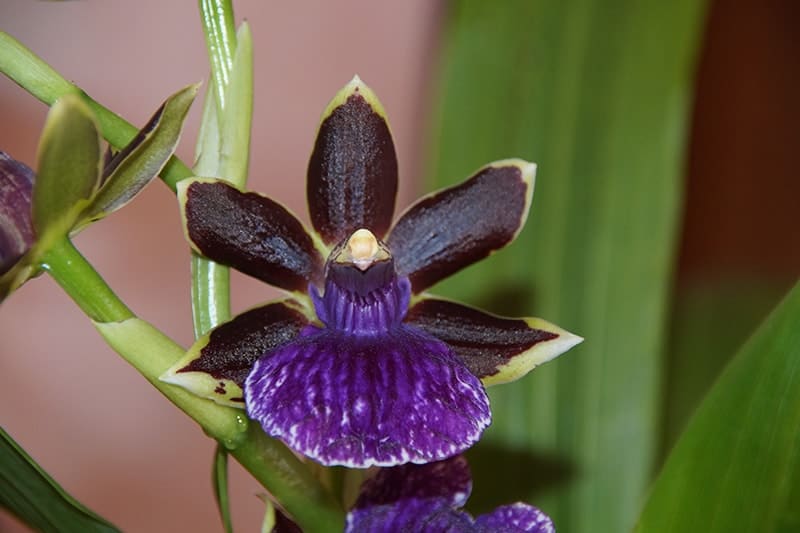 The Zygopetalum orchids are a small genus with around 15 recorded species; however, people have made many hybrids these days.
Many species can reach 2ft (60cm) tall with their upright cluster holding flowers at the top. These orchids produce appealing flowers with purple or indigo veins in their lips. Petals are marked with various color patterns and stripes such as burgundy, violet, or green. What's more, some Zygopetalum species produce unique fragrances that add much pleasure to the room.
Conclusion
Through this article, you have witnessed an array of fabulous orchid colors, shapes, smells, and traits – but we have barely scratched the surface! Orchids seem to have an endless display of beauty for us. That is why they can never get boring and can never cease to amaze us.
What is your favorite type of orchid? What was your greatest success and your greatest fail when growing orchids? Share with us in the comments.
Resources:
"Orchid Identification – What Kind Of Orchid Do I Have?". rePotme.
https://www.repotme.com/pages/orchid-identification-full
"Orchid Tips And Types". English Gardens.
https://www.englishgardens.com/gardening/indoor-gardening/orchid-tips-types
"Orchid Types Explained." BBC Gardener's World Magazine.
https://www.gardenersworld.com/plants/orchid-types-explained/