43 Different Types of Roses with Pictures - A Visual Guide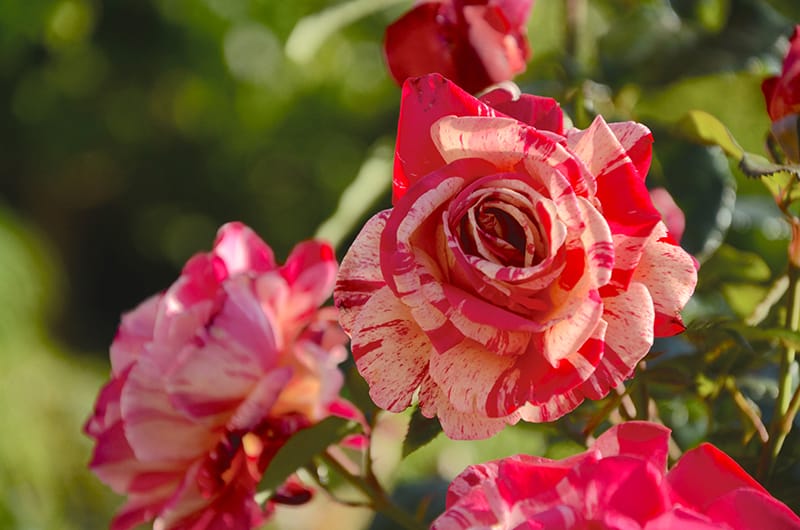 Roses are a popular flower in home gardens as well as in cut flower bouquets. They have a romantic old-world appeal and are available in a large selection of colors.
The types of roses in existence are seemingly endless, with some being easier to care for than others. If you are on the hunt for the perfect rose for your garden, whether that be a continuous bloomer or one without thorns, this list of types of roses will help you to identify one rose from another.
Modern Garden Roses
Modern garden roses are varieties that have been developed since 1867, which is the year that the first hybrid tea rose was introduced. Modern garden roses tend to bloom continuously and produce larger flowers than those in the old garden rose categories. They also typically last longer once cut, making them the most popular type of roses used for floral bouquets.
However, despite their many attributes, there are some drawbacks. Modern garden roses are more likely to succumb to disease than other types of roses as they are typically less hardy, and they lack the heady fragrance we associate with old garden roses. Modern garden roses can be further broken down into more categories. These include:
Climbing Roses
These roses require more care and attention than most. They do not have a naturally climbing vine habit like you might expect from their name, but they are well adapted to being trained to grow along fences and trellis.
They have stiff canes from which the first flowers of the season will bloom. The subsequent flowers will bloom on the current season's growth. You can expect roses of this type to bloom at least twice a year, giving the impression of continual blooming. Blooms of climbing roses tend to be large, showy, and are produced in abundance. They need plenty of pruning and training to grow well, but the effort is well rewarded with impressive blooms.
---
---
Floribunda Roses
Floribunda roses are shrubs that have upright or bushy branching habits. Their blooms tend to be smaller than many other types of roses, but they flower in such abundance that they make quite a striking effect. These roses tend to be quite easy to care for, making them popular in common spaces. They are fairly disease resistant and hardy against adverse weather. They have a long blooming period, seemingly blooming continuously from spring through fall.
---
---
David Austin Roses
David Austin roses, also known as English roses, have been around since 1961 when the rose breeder decided he wanted to create a new class of roses which benefited from the classical look of old garden roses, but also the hardiness of new garden roses. He also wanted to develop roses that were both aesthetically romantic but also had a long blooming period.
The David Austin roses are now some of the most popular roses in existence, with over 200 types to choose from, with many having received coveted awards.
---
---
Grandiflora Roses
These roses categorize those which are crossed between hybrid tea roses and floribunda roses, offering the dainty flowers of hybrid tea blooms and the long blooming period of floribundas. Grandiflora roses typically have large, showy flowers that grow on tall stems. The shrub of the Grandiflora rose is usually larger and more erect than hybrid tea shrubs. They make long-lasting cut flower bouquets.
---
---
Hybrid Tea Roses
These high-maintenance roses are probably the most beautiful of all the modern garden roses, but they also have a reputation as being the most troublesome to care for. They are not very hardy, but this is balanced by the fact that they produce incredibly striking blooms in an array of colors, as large as 5 inches across. Many of these roses have pleasant scents and make excellent cut flowers.
---
---
Groundcover Roses
These roses have spreading or trailing habits, typically being wider than they are tall. While some can reach up to 3 feet in height, many will top out at 1 foot. These roses are easy to care for and are typically hardy and disease resistant, blooming nonstop. These work well on sloping banks, providing a colorful carpet of beauty.
---
---
Polyantha Roses
These roses are popular because they are easy to care for and have a long blooming period. Their blooms tend to be quite small, but a healthy plant will bloom profusely from mid-spring right through to fall, therefore putting on quite a show. The flowers grow in clusters and are usually pink, white, or red. They work well in pots or as bedding plants.
---
Rambler Roses
These roses have a similar climbing habit to climbing roses, being suitable for training up fences or along pergolas. They work well for covering unsightly areas or buildings, as the stems tend to be heavily covered in flowers. Unlike climbing roses, rambler roses are easier to care for and require much less maintenance. However, they tend to only bloom once each year for several weeks. These roses are quite hardy, being tolerant of partial shade, disease, and poor soil conditions.
---
Shrub Roses
Shrub roses are typically hardy and easy-care plants. They flower continuously with small flowers that bloom profusely. The dense mass of flowers make shrub roses ideally suited to creating screens or pretty hedges. These roses were bred from crossing old and modern garden roses.
---
Miniature Roses
These are miniature versions of hybrid tea roses. They bloom for several weeks at a time, with dainty stems, foliage, and flowers. They make versatile plants, working well as container plants, bedding plants, and also as houseplants.
Old Garden Roses
Old garden roses are also known as heritage roses. They are those which were in existence before 1867 when the hybrid tea rose was introduced. They are renowned for their romantic blooms and strong heady fragrance. They are also typically quite hardy and disease resistant. However, their drawback is that they only bloom once a year in the summer. Categories of old garden roses include the following.
Alba Roses
Alba roses are some of the oldest roses in existence and also present some of the hardiest roses available. They are tolerant of cold temperatures, shade, and are resistant to disease and pests. They are typically low-maintenance and bloom once each year in summer.
Bourbon Roses
These roses were first introduced in France in 1817, and they are suspected to be crossed between China roses and damask roses. They are typically found in shades of pink or red and have strong fragrances. Often, bourbon roses will be thornless or have very few thorns on their stems. They can be trained to climb up or along structures and can bloom more than once each season.
---
China Roses
These roses tend to be resistant to disease, but they are tender and will succumb to cold weather conditions. They bloom repeatedly throughout the summer, with small flowers that have a strong fragrance.
Centifolia Roses
These are also known as cabbage roses because the petals are packed together so tightly, resembling the head of a cabbage. The blooms are so large and heavy that they tend to have a drooping appearance because the stems cannot keep them upright under the pressure of the weight. These roses are stunningly beautiful and heavily fragrant, but they only bloom once each year. They are more likely to succumb to disease than most other types of roses.
---
Damask Roses
Damask roses have a romantic appeal. They are heavily scented and are therefore cultivated for use in the perfume industry. Some damask roses bloom just once, while others have the ability to bloom twice in a year.
Gallica Roses
Some species of gallica roses date back to the 12th century. They have strong fragrances and bloom just once each year. They typically come in shades of pink and purple and are tolerant of low light conditions and cooler temperatures.
---
Hybrid Perpetual Roses
These roses have large blooms and are able to flower repeatedly during a single season. It's not hard to see why these were the most popular type of roses available before the arrival of the hybrid tea rose came along. These roses generally have strong scents and come in shades of pink, purple, and red.
---
Noisette Roses
These roses produce tall flowers that bloom continually. They hail from China and are available in a wide range of colors.
Moss Roses
These roses bloom once each year with fragrant blooms available in a wide selection of colors. They are named moss roses because of the growth that covers the top of their stems, which resembles moss.
---
Portland Roses
These roses have very short stems, so the flowers appear to be growing directly out of the foliage of the plant. Very few varieties of Portland roses still exist, predominantly flowering in summer.
---
Tea Roses
These roses originate from China and are named because their scent is reminiscent of Chinese black tea. These flowers bloom repeatedly, with delicate-looking roses that peel back on the outer petals. They are resistant to disease and produce large and aromatic blooms.
---