Home >
15 Smart Patio & Deck Shade Ideas
15 Smart Patio & Deck Shade Ideas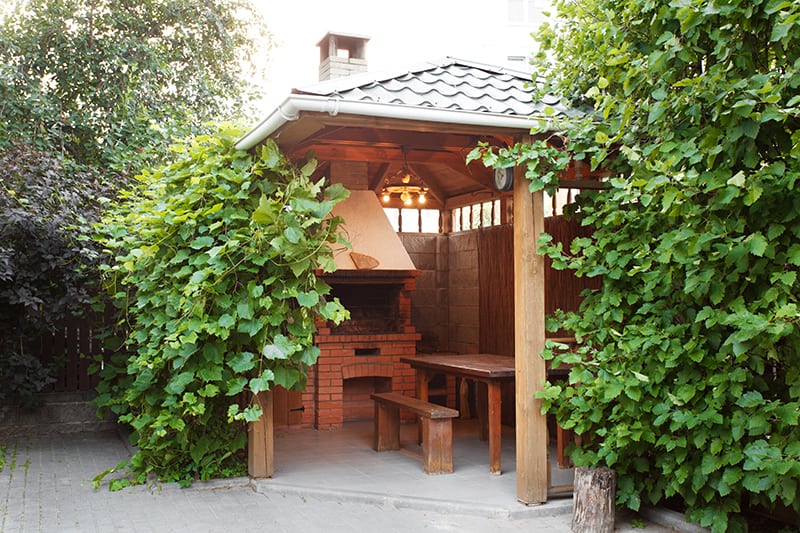 As the weather starts to warm up, we all want to spend more time outside soaking up the sun and getting our hit of vitamin D, but spending all day in direct heat can be uncomfortable, not to mention dangerous for skin. Having a shaded area over your deck or patio provides a nice place to hang out with a cup of coffee in the morning, or enjoy a cold bottle of beer in the afternoon. It offers respite from the intense summer heat, and also a safe spot for family to sit around and eat lunch, so you don't have to worry about kids getting sunburn.
Shaded areas can also add a decorative element to your patio or deck and make you feel like you've gained an extra outdoor room to your property. For a range of ideas for how you could shade your deck or patio, read on.
1. Pergola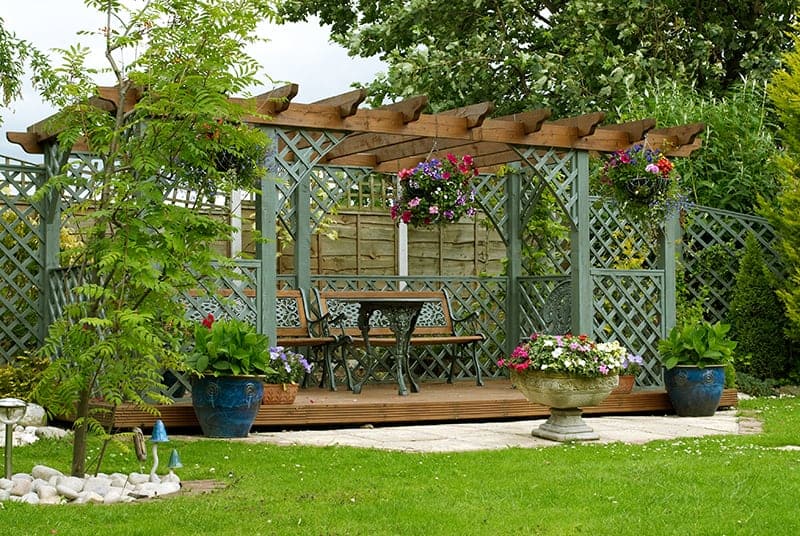 A wooden pergola is a brilliant structure to introduce to your backyard for a whole host of reasons. These come in a wide range of designs, from simple and inexpensive to more complex and costly, or if you're experienced with a saw, you could even build one of these yourself out of lumber. Whether you buy a pre-made pergola or design and build on yourself, these structures are easy to construct and can be put together over the course of a day with two sets of hands. The pergola itself will only offer small strips of shade, as they have mostly open tops that allow the sun to shine through; however, if you have your pergola set up over your patio or deck area, there's a number of things you can add to create more shade. You can also make your pergola more decorative by adding string lights or solar lanterns. Ideas for shading your pergola over your patio or deck include
1.1. Climbing Plants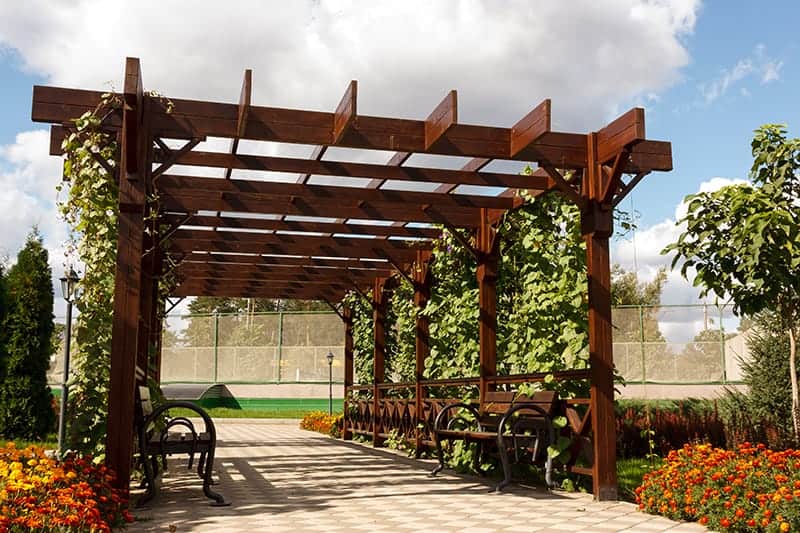 By planting a climbing vine in a container at the foot of each pergola post, and letting the plant climb up and trail itself around the wooden lengths, you will create a denser shade than just the pergola planks alone, as well as an attractive and vibrant feature. The amount of shade you get will depend on the type of plant you select, as vines with fuller habits and large foliage will create more shade, while more slender plants will offer limited shade. Climbing vines are a good option for intermittent or dappled shade, but they obviously will not provide a solidly shaded area, so they are not ideal if you require heavier or more reliable shade.
1.2. Hanging Baskets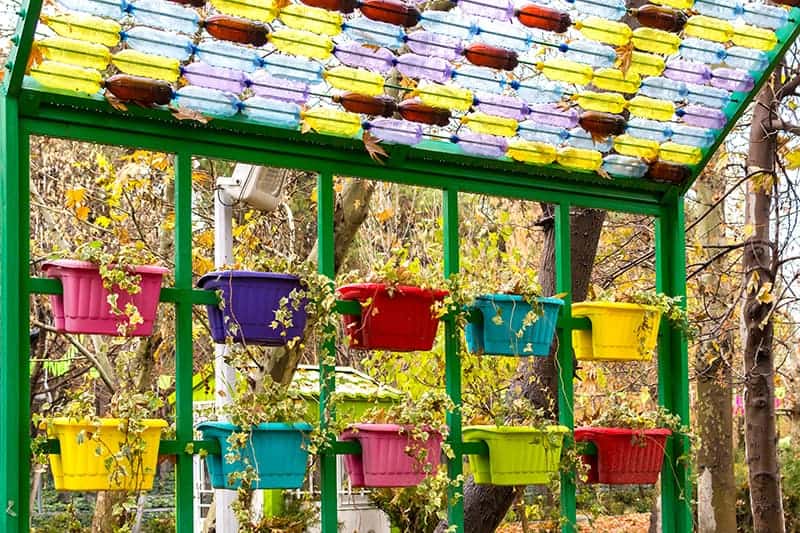 Pergolas provide a perfect opportunity to hang an array of hanging baskets around the upper edge, or even along the central beams of the pergola. Large hanging baskets with heavily trailing plants will provide greater shaded spots, while smaller baskets with daintier plants will offer partial shade. Hanging baskets with flowering plants will help to increase the shade offered by the pergola, as well as give you something colorful to look at.
1.3. Curtains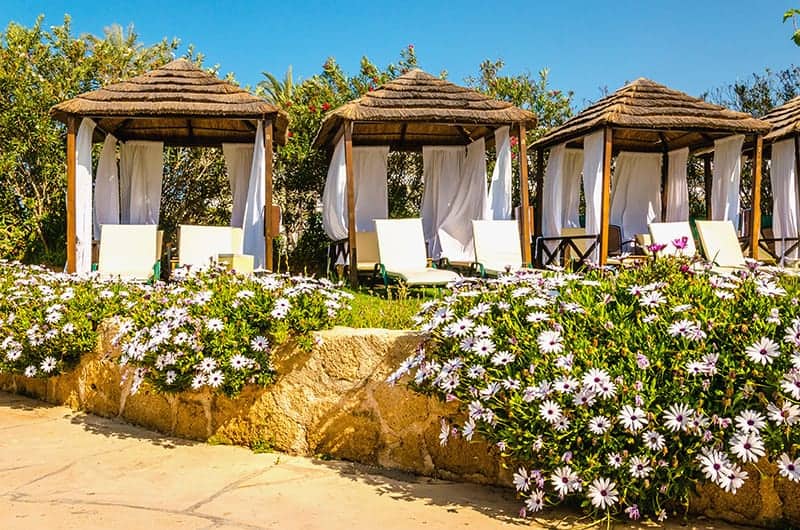 You can attach curtains to a pergola in the same way as you would attach them to a wall indoors. This is a great option for a non-permanent shade, as you can open the curtains when you want to allow the sun to flow in, and close them when you want some respite from the heat. You can also be clever with your choice of fabric, choosing sheer drapes to allow maximum light in, or heavy canvas drapes to keep your patio or deck area cooler. Adding fabric decor to outdoor spaces also creates a feeling of coziness, and will make your space feel more indulgent and comfortable.
1.4. Fabric Ceiling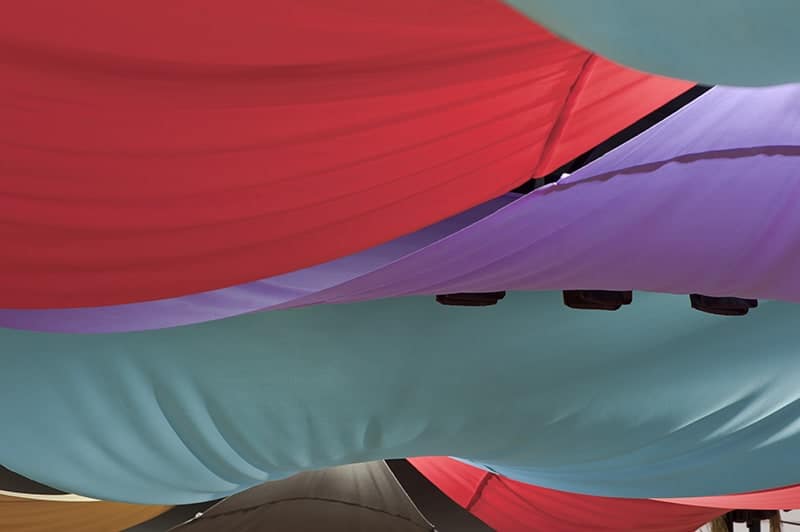 Adding a fabric ceiling to your pergola is an inexpensive and easy way to give your patio optimum shade. Use lengths of fabric and drape them under and over each ceiling plank of the pergola, then fix them at the ends. This will give an exotic vacation vibe to your yard while also giving you a good amount of shade. You can customize your level of shade to suit your family; for dappled shade, drape the fabric through in a more loose and casual fashion, and for solid shade, make sure the fabric is wound through tighter to allow minimal gaps. You can be creative with your choice of fabric, using lighter fabrics to allow light through, or heavier fabrics to make the space more dark and cozy. You can find fabrics that match your outdoor decor, or to do this on a minimal budget, you could cut up old bedsheets or table linen.
1.5. Bamboo Ceiling
For a rustic effect, buy bamboo sheets and staple or nail them over the top ceiling planks of the pergola. This will provide an almost solid shade, with small slithers of light shining through, depending on how densely packed the sheets are.
2. Sun Umbrella / Parasol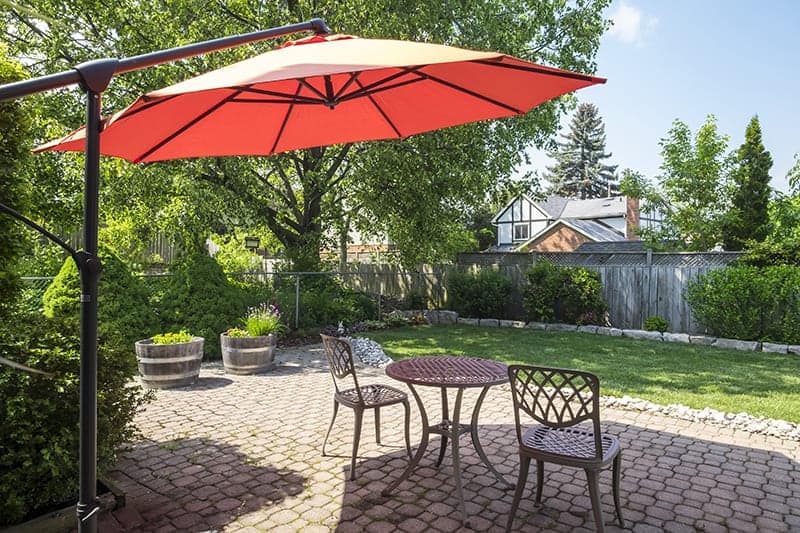 A parasol or sun umbrella is probably the most common way to add temporary shade to a patio or deck area, and it's not hard to see why these are so popular, as they come at almost any price point to suit the users budget, are simple and instant to erect, and can be easily stored when not in use. To make the most of a sun umbrella, you'll need an outdoor dining table or picnic bench with a hole through the center where you can slot the umbrella. To keep it safe, stable, and prevent it from flying off in high wind, use a weighted parasol base. If you don't want your shade to be over an outdoor dining space, you could instead fix it straight into the ground with a sun lounger underneath, or set it directly over some chairs or a garden bench.
3. Canvas Sail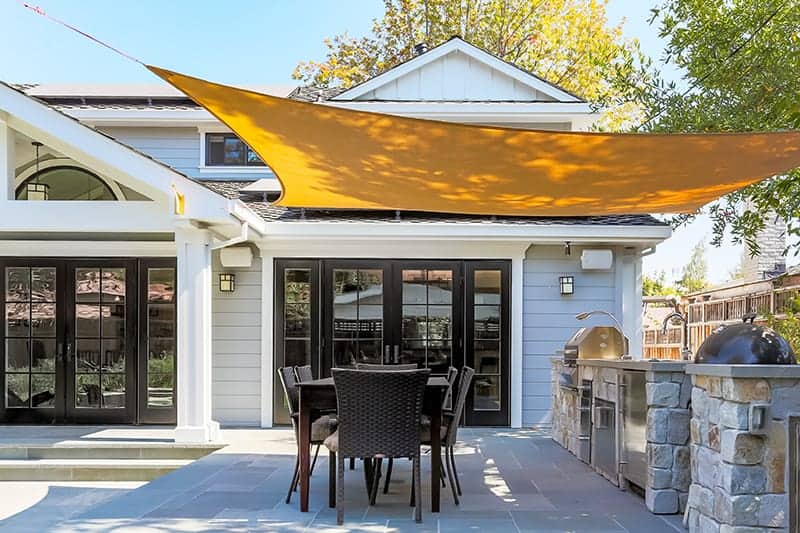 A canvas sail is a simple and effective way to create shade. To make this work, you can buy a purpose-built shade sail, or create a DIY shade sail with an old boat sail. These triangular pieces of canvas attach to the back wall of your property with the use of some metal hooks and some string. Screw the hooks into a sturdy surface such as a wall or fence, and position it at an angle that will provide you with the best shade at the time of day you require it. Shade sails can provide solid shade that can be tailored to the size you need, as they come in a range of sizes. These are a low-budget way of creating shade, and when not in use, you can simply roll them up and store them in the garage or a storage cupboard.
4. Cabana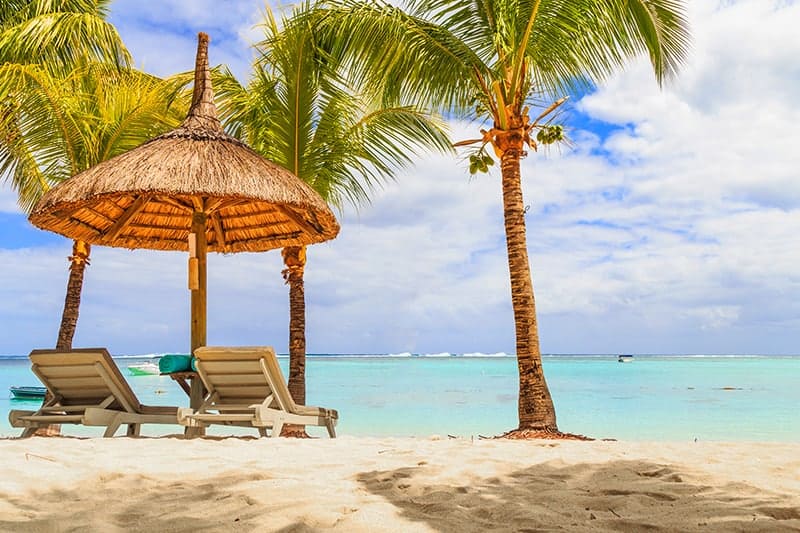 For the ultimate vacation in your own backyard, create a cabana. These can vary in design depending on your budget but could be constructed from a metal or wooden frame, in a basic or elaborate style. Your cabana could have fabric sides that pull back or are permanently held in place. It could have a solid wooden roof, or a fabric roof, with an open front or a curtained front. The cabana could be a permanent fixture screwed into your deck at the base, or you could have one made from a metal frame that can be deconstructed and put in storage until next summer. Inside your cabana, you could recreate the style you might find in a luxury hotel, with a sumptuous garden bed with outdoor cushions, and a side table for your champagne on ice.
5. Hedge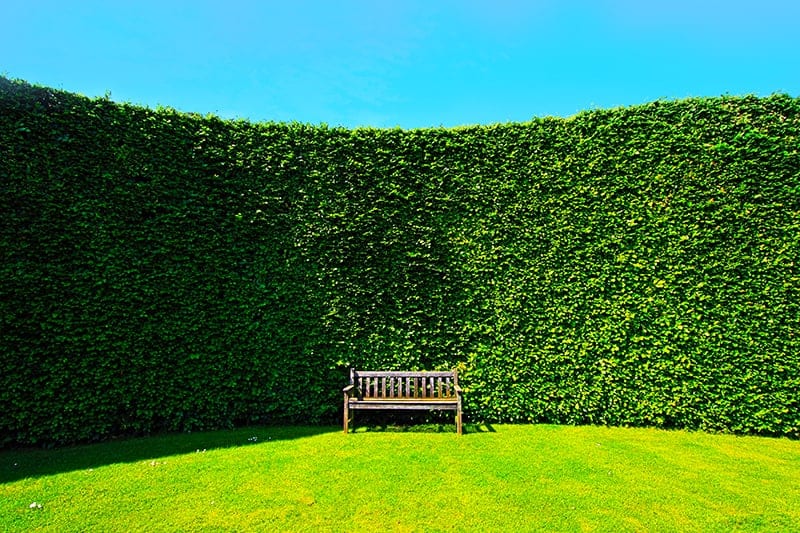 Growing a hedge for shade might not be the instant option that some people are looking for, but it is an excellent means or creating both shade and privacy around a deck or patio area. If you start growing the hedge from seed or from small plants, then it can also be very inexpensive to achieve, provided you are happy to wait a few years before the hedge can be used as a means of shading. Selecting a fast-growing shrub will help you to benefit from a tall hedge sooner, but this is by no means a quick option. A hedge will also need to be cared for, possibly including maintenance such as pruning to keep it neat and healthy, so this is a good choice for keen gardeners.
6. Planted Trees
Planting trees in your garden is a good way to create shade. Specimens with dense growth habits will provide more solid shade, while those with more spaced out branches will offer more dappled shade. Like growing a hedge for shade, growing a tree is not an instant shade creator, but it can be very rewarding to grow a tree from a small specimen and watch it mature. Alternatively, if you already have a mature tree in your garden, you might want to consider creating a deck underneath it and make the best use of the shade that already exists on your property.
7. Container Trees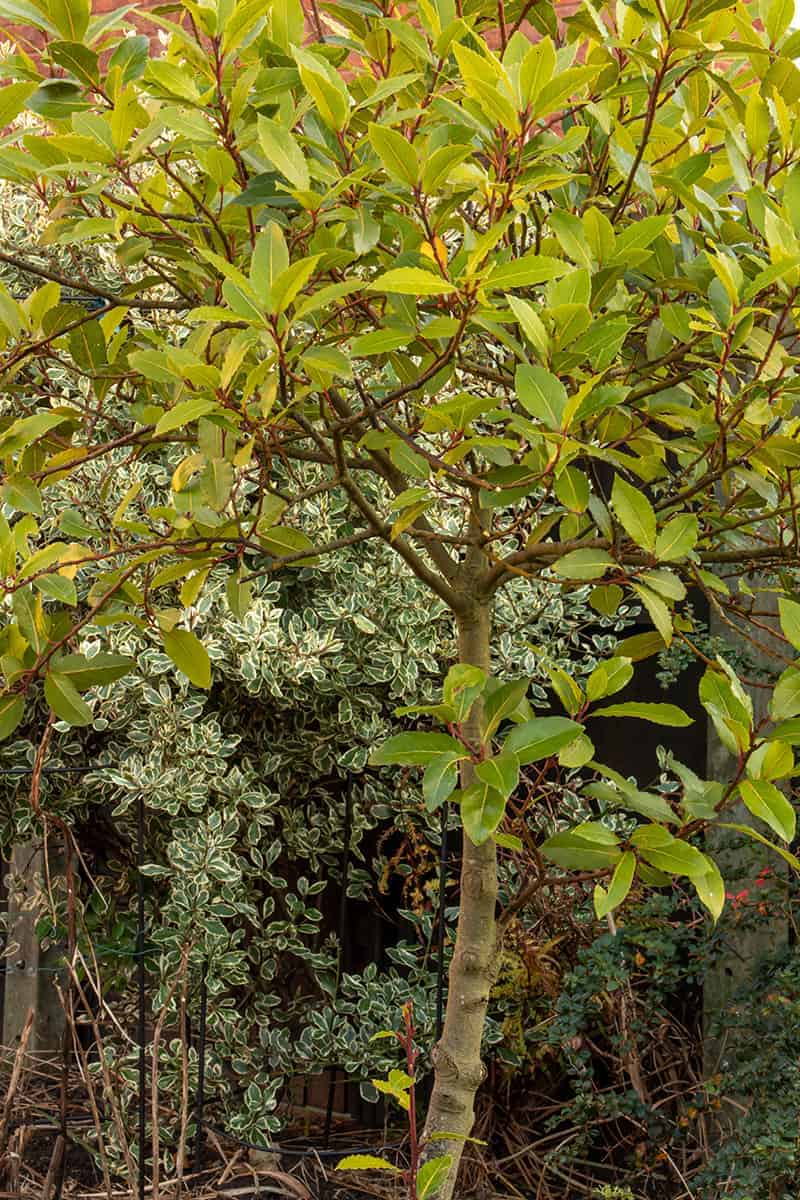 Some trees grow very well in containers, such as citrus trees, and they can offer well-shaded areas when set in the right position. The benefit of using container trees as shade is that they are portable, and therefore you can move them with the movement of the sun to make the most out of the shade (though this might be quite a task if your tree is large and very heavy!). Trees kept in containers can also be lined up to create an effective fence of trees if you want to make a larger shaded area.
8. Gazebo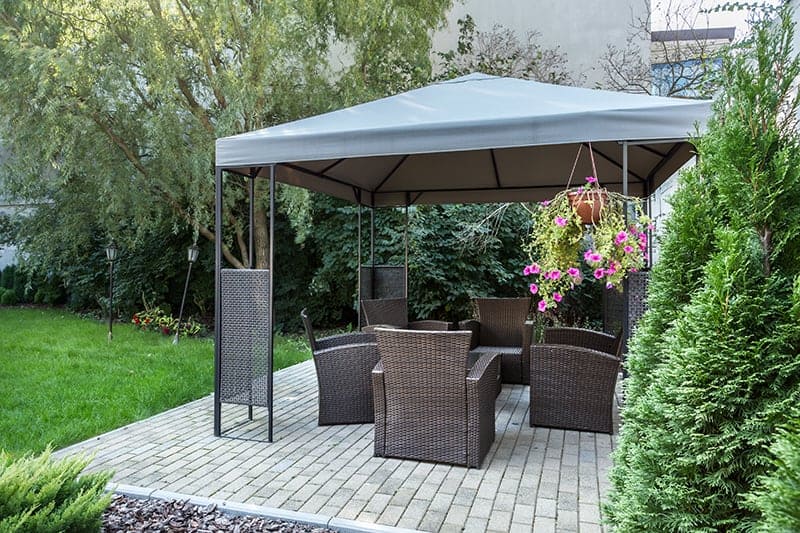 For a completely shaded deck in an instant, a pop-up gazebo is a good solution. These can be purchased on a fairly low budget compared to some other garden shading structures, and they can be quickly and easily disassembled when the summer ends. For a sturdier option, you can also find semi-permanent gazebos which can be constructed fairly quickly and bolt into the ground, and removed at a later date. Though these require a little extra in the way of assembly, and they also carry a higher price tag, they offer a more structurally sound solution for shade if you have heavy winds or storms during the summer months.
9. Pavillion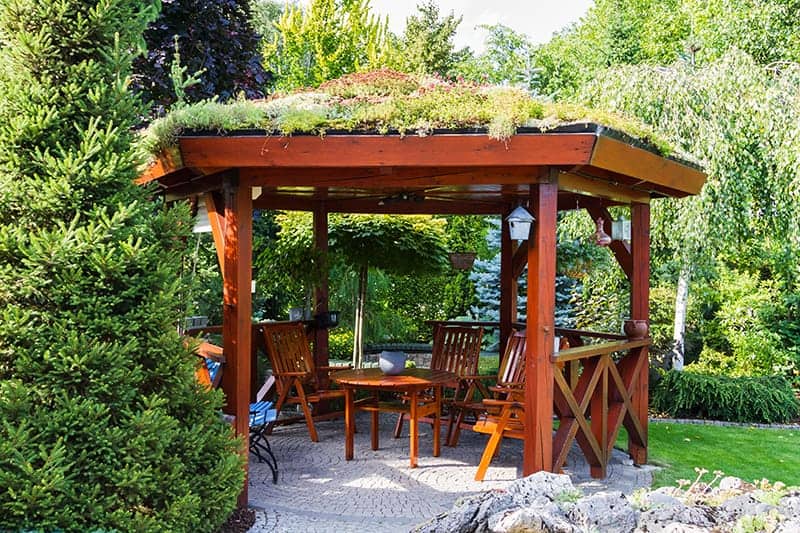 A pavilion is one of the most expensive options when it comes to creating a shaded area in your backyard, but it's an investment that could pay off in the long run as it can add value to your property and make it more attractive to buyers when you decide it's time to move on. This structure is usually made up of a wooden frame with a pitched, tiled roof. A pavilion makes a real statement in the garden and creates an outdoor room that can be used for lounging, dining, or both. You could even put a pool table or a drinks bar under the pavilion and create a recreational area. Though a pavilion might seem expensive compared to other garden shading ideas, it is actually quite inexpensive compared to building an extension on your home, and the end result is quite similar as you gain more usable square footage on your property.
10. Trellis or Arbor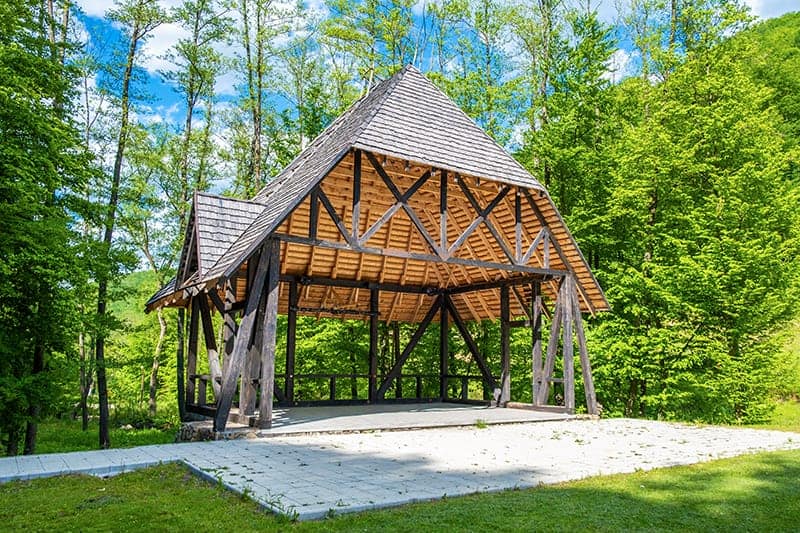 By positioning trellis or an arbor in strategic locations around your deck or patio, you can create a useful shaded spot. Like a pergola, the structure alone won't offer a great amount of shade, but once covered in a climbing vine, this will dramatically increase. If you're hoping for some semi-instant shade, plant a fast-growing vine such as sweet pea or black-eyed Susan in early spring, and it should have sprawled all over your trellis by summertime to give you an attractive and vibrant source of shade.
11. Awning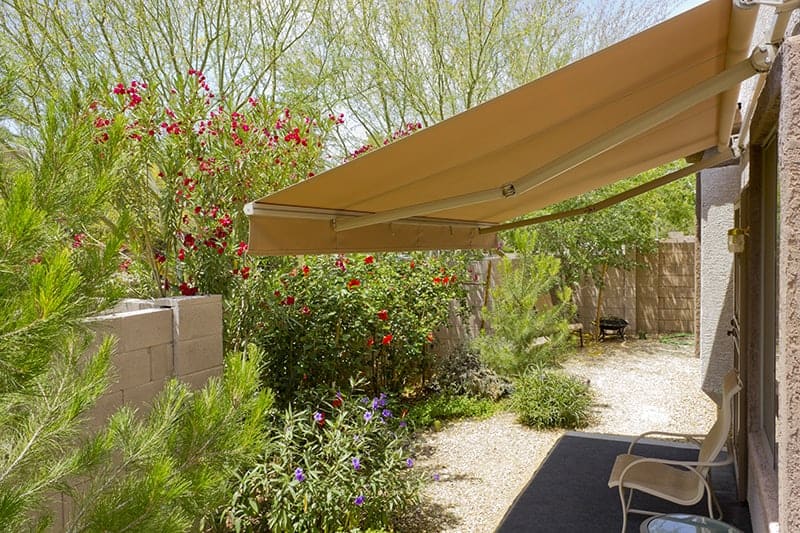 Awnings are great for creating a shaded area close to your property wall if this is where your deck or patio is situated. Many awnings are retractable, so you can roll them in when not in use. Some people find that these look a little old fashioned, but you can get modern contemporary versions if you're willing to spend more money.
Explore Our Categories
Trellis Plants

At times, a plant's growth habit alone is enough to add interest to your garden. Such is the case for trellis plants and...

Hedges

While you can create privacy with walls and fences, there is another option that often proves to be more attractive. A p...