The Best Organic Lawn Fertilizers – Buyer's Guide & Reviews
Explore Our Categories
Ornamental Grasses

Ornamental grasses are often overlooked when people are buying new plants for their garden; however, ornamental grasses ...

Bamboo Trees

Bamboos, though they may look like trees, are actually a perennial type of plant belonging to the grass Bamboo has long ...

Outdoor Bamboo Plants

Bamboo is a nice evergreen subfamily of treelike grasses. They are fast-growing and highly-resistant to any kind of weat...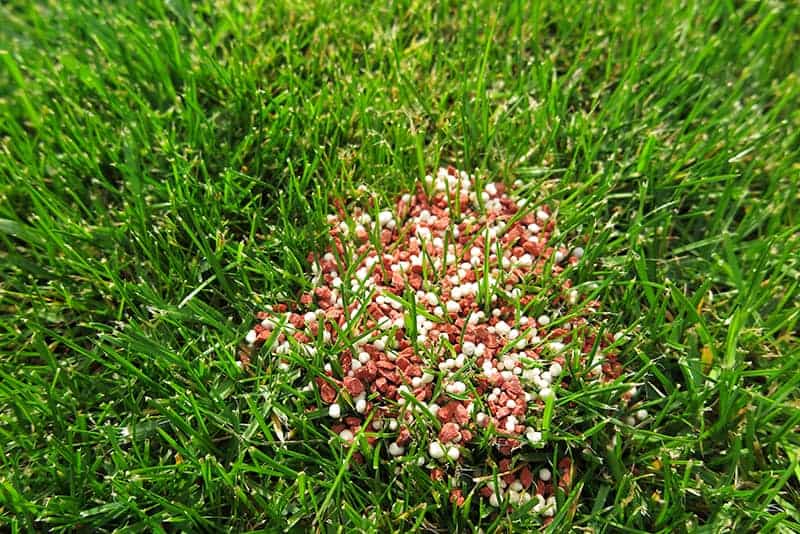 Organic lawn fertilizers are gaining in popularity as they are becoming more mainstream, with increasing numbers of homeowners seeing the benefits associated with feeding their lawn with natural products. If you visit any good garden and hardware store, you might be surprised by the mass of options you are presented with; but which organic lawn fertilizer should you choose? We've reviewed some of the best selling organic lawn fertilizers currently on the market to help you decide which lawn feed best meets your requirements.
Product Details
Scotts
Scotts Natural Lawn Food
Coverage: 4,000 sq. ft. NPK Ratio: 11-2-2. Weight: 28.1 lbs. Type: Organic. Family & pet friendly: yes
Purely Organic Products
Purely Organic Lawn Food
Coverage: 5,000 sq. ft. NPK Ratio: 10-0-2. Weight: 25 lbs. Type: Organic. Family & pet friendly: yes
The Andersons
The Andersons 7-1-2 Innova Organic Fertilizer
Coverage: 4,000 sq. ft. NPK Ratio: 7-1-2. Weight: 40 lbs. Type: Organic. Family & pet friendly: yes
Safer Brand
Safer Brand 9334 Lawn Restore Fertilizer
Coverage: 6,250 sq. ft. NPK Ratio: 9-0-2. Weight: 25 lbs. Type: Synthetic (non-OMRI listed). Family & pet friendly: yes
Buying Guide
What is Organic Lawn Fertilizer?
Organic lawn fertilizer is the type of fertilizer used in organic lawn care, which prevents, controls, removes weeds, and maintains the lawn with only natural materials – no synthetic components, pesticides, or any harmful chemicals permitted.
According to House Method, organic lawn care typically mixes safe ingredients like bone meal, seaweed, feather meal, etc. to maintain and improve lawn health. Though this is usually not as effective as traditional lawn care, which often uses powerful synthetic materials & pesticides, organic lawn care is friendly and safe for family and pets.
Benefits of Using an Organic Lawn Fertilizer
Improve lawn aesthetics
Lawn fertilizer improves the look of lawns by improving its health, which in turn results in a greener, fuller, and thicker lawn. Organic fertilizer, compared to chemical fertilizer, gives the grass a more naturally bright green look. A well-manicured and healthy-looking lawn will be a source of pride for the owner and a source of envy amongst neighbors! In making your yard more attractive to look at, you increase your own enjoyment of your outside space, while also improving curb appeal to raise the value of your property and make it more saleable to potential buyers.
Reduce weeds
Lawn fertilizer strengthens the root systems of grass so that it is harder for weeds to take hold. A thicker lawn will also help to inhibit weeds from spreading, by depriving them of the space they need to grow. The result of this is a better-looking lawn with fewer weeds, which also saves the owner from spending money on weed treatments, and saves the time of applying them.
Increase disease and pest resistance.
A lawn that is regularly fertilized has all of the nutrients it needs to have a long term good health. This improved health makes the lawn more resistant to pests and disease, in the same way, that a healthy person with a good immune system is more resistant to illness.
Increase weather tolerance
Strong lawns are also better able to cope with fluctuations in the weather. Grass that is weak will easily burn and turn brown during hot summers or may die in times of drought. However, grass that is strong as a result of fertilization will have improved tolerance to these conditions. Stronger root systems also allow the grass to take in more water, which will help in times of heavy rain.
Safer for everyone
Organic lawn fertilizers contain no chemicals or harsh synthetic substances. This means you can use them around children and family pets without any worry that contact with the fertilizer may make them sick. Many people worry about the long term effects of spending lots of time around a chemically fed lawn, especially if children walk barefoot on the lawn, or if pets nibble on the grass, but this is not a concern with organic fertilizers which are completely safe.
Environmentally friendly
Garden fertilizers can leach into local waterways, harming wildlife and even ending up in our drinking water. Organic fertilizers ensure we don't damage our environment, as they are completely safe, unlike their chemical counterparts. Some regions have rules and regulations that prevent chemical fertilizers from being used due to the harm they can cause, but organic fertilizers are excluded from this as they are completely natural and won't put the environment in danger.
Resourceful
Organic fertilizers are made from naturally derived materials which may otherwise be disregarded as waste. Materials such as poultry manure, or fish bones, are utilized in natural lawn fertilizers, making a useful and beneficial product out of things that would ordinarily be wasted.
What to Look for in an Organic Lawn Fertilizer
What sort of results you want from a lawn fertilizer will help you decide which features are most important to you. Some factors to consider include the following.
Formula ingredients
Check the formula of organic fertilizer to see what its primary ingredients are. If you are concerned about the smell of organic fertilizer, then you should stay away from lawn feeds that are made from animal derivatives, manure, or fish products. The worst smelling fertilizers usually contain chicken manure or blood meal, but if you are not bothered by this temporary odor, then these make excellent fertilizers. You should also check the ingredients list if you are averse to using products containing animal products based on ethical grounds, for example, if you are a vegan. There are plenty of organic fertilizers available that use natural materials not derived from animals.
Application method
Consider which method of application is most appropriate for you and choose a fertilizer that can be applied in this way. Some lawn food can be applied by hand or in a handheld sprayer, whereas some could be hooked up to a trailer sprayer for especially large lawns.
Cost-effective
Organic fertilizers do tend to cost more than chemical options, but many people find this additional expenditure is worth it to have a clearer conscience. If you have a budget to stick to, you will need to know the size of your yard in order to figure out how much lawn feed you will need to fertilize all of it and decide which options suit your finances the best.
Product Comparison
All of these reviewed products are safe to use around children and pets, as they are all-natural organic formulas. They are also all suitable for use on all types of grass. The Andersons 7-1-2 Innova Organic Fertilizer and the Purely Organic Lawn Food do not contain any animal byproducts, while all the other fertilizers reviewed do contain animal derivatives. These two animal-free lawn feeds, along with the Simple Lawn Solutions Lawn Food Natural Liquid Fertilizer, do not have a noticeable smell. Scotts Natural Lawn Food, Safer Brand 9334 Lawn Restore Fertilizer, Dr. Earth Super Natural Lawn 9-0-5 Fertilizer, and Espoma ELF20 20-Pound Organic All Season Lawn Food all have unpleasant odors, but these are all temporary.
Product Reviews
Scotts Natural Lawn Food
This lawn food will cover 4000 square feet of lawn, gradually building a greener and thicker lawn over the space of several weeks. It is safe for use with children and pets and can be walked on immediately after application, with no waiting time at all.
The fertilizer contains a completely natural mix of ingredients, including bone meal, blood meal, feather meal, and meat meal, with an NPK of 11-2-2. It is recommended for use during any season, on any time of grass, but it will need to be watered directly after application and not allowed to dry out. You should not mow your lawn for two weeks following application, and it is best applied to freshly cut grass on a low setting.
Users of this lawn food love that it is safe around children and pets. Some users found that their dogs were drawn to the lawn food, and ate it straight off the ground, and though this was a frustration in terms of product loss, users were happy in the knowledge that it would not harm their pets. Some users had dogs who experienced vomiting after eating the lawn food, but as a natural product, there were no long-lasting or serious effects.
Most users highly recommend this lawn food, stating that severely burnt and dried out the grass was looking green and lush again over the course of several applications. The main complaint amongst users was the smell, which was likened to chicken poop, but this is a fairly mild smell that is not long-lasting, only persisting for about a week. If you can put up with the smell, then users state this is an excellent lawn food to use, especially if you have children or pets.
Pros
Natural ingredients
Children and pet safe
Suitable for any grass type
Can be used at any time of year
No re-entry restrictions
Cons
Mild unpleasant smell
Pets may be drawn to eating the lawn food
Contains animal products, which may make it unsuitable for vegetarians or vegans
Purely Organic Lawn Food
This organic lawn feed will cover 5000 square feet. It is made from completely organic materials, with no added synthetic phosphorus, and no animal manure products. Its ingredients include soy and distiller grains, and it has an NPK ratio of 10-0-2. It has no offensive smell like most organic fertilizers, which typically smell of manure. As it is organic, it is suitable for use with children and pets, and won't harm any nearby waterways. It can be used at any time with no waiting before you can go on the lawn again, making it convenient and simple.
Users of this product offer varying opinions, with most being surprisingly impressed with it. Users who require organic fertilizers love that it doesn't have the manure smell that usually comes with organic garden products, though they noticed a mild yeast brewery smell. Many users also commented that their lawn is looking lusher than ever after using this product, giving their grass a naturally bright green look, unlike the fake green look that is achieved with many synthetic fertilizers.
Some people also commented that the effects of this lawn food were more long-lasting than others they had used, and noted that it made their lawn more drought tolerant than it previously had been. A few users found that the effects weren't as drastic as they'd have liked, and they would be going back to using synthetic lawn feeds because of this, but this is a common effect of all organic fertilizers.
Pros
Organic
Safe for children and pets
No manure smell
Can be used at any time
No re-entry restrictions
Cons
More expensive than most lawn feed
The Andersons 7-1-2 Innova Organic Fertilizer
This organic fertilizer has an NPK ratio of 7-1-2. It is slow release and won't cause fertilizer burn on your lawn, even if spread on thickly, making it foolproof to use. The feed is composed of plant-derived products, with no animal products or manure. This means that it does not have a nasty manure smell, and will be suitable for use by vegetarians or vegans who may not like to use any products containing animal parts. As an organic product, this is suitable for use with children and pets. It not only works on lawns but can be used as a slow-release all-purpose fertilizer for plants in the garden.
Users of this product love that it doesn't have a bad smell and that it gives an even green color to lawns after a short period of time; some users noticed an improvement in just a few days while others said the transformation took a month. Many users commented that their lawns had become much thicker and were the envy of their neighbors.
Users also like that the product is organic and, therefore, safe for their pets and better for the environment as a whole, though some users commented that it was a more expensive option than synthetic fertilizers, this is to be expected from organic products. It was also noted that this product dissolves very well on application, and that it never burns the lawn no matter how much is used.
Pros
Organic
No bad smell
Child and pet friendly
Contains no animal by-products
Slow-release means no burning
Cons
More expensive than some other fertilizers
Safer Brand 9334 Lawn Restore Fertilizer
This bag of lawn fertilizer covers approximately 6,250 square feet of grass and has an NPK ratio of 9-0-2. It contains no chemicals and is derived from natural products such as alfalfa, feather meal, and blood meal. It aims to improve lawn conditions by strengthening root systems and promises to make lawns greener within 3 to 5 days of application. It also suggests that with consistent use, lawns will be better able to withstand seasonal changes, becoming more tolerant of heat, cold, and drought. As a natural formula, this lawn fertilizer states that it is safe for use around children and pets when used as directed.
Users of this lawn fertilizer offer vastly different reviews based on their experience of it. Some say it is easy to use, while others say that the inconsistency in the size of the product makes application difficult. Many users comment that granules differ in size from pea-sized pieces to dust-like molecules, so using the feed in a spreader is almost impossible. Users also witnessed drastically different results, with some appreciating the improvement in the color of the grass, and others not seeing any noticeable difference.
Many users noted that they previously loved this product but have noticed a recent change in formula, which has resulted in a much less adequate product. Users who liked the product did comment that it had a chicken manure smell but explained that this was not long-lasting, and the smell was preferable to having a chemical feed that could harm pets.
Pros
Naturally derived ingredients
Pet and child friendly
Cons
Varied results
Potentially difficult application
Chicken manure smell
Dr. Earth Super Natural Lawn 9-0-5 Fertilizer
This lawn fertilizer will cover around 4400 square feet and has an NPK ratio of 9-0-5. It is made entirely from natural ingredients, including alfalfa meal, fish meal, and kelp flour. It also contains beneficial soil microbes and mycorrhizae, which is a soil fungus known for improving plant root systems. It is safe for use around children and pets, and can also be used as an all-purpose fertilizer elsewhere in the garden.
Users of this lawn feed love how effective it is while also being safe for pets, children, and the environment. Many users had low expectations of natural fertilizer, as they typically offer less intense results than synthetic fertilizers, but most users found that this lawn feed performed just as well as chemical fertilizers, while offering a safe alternative. Users like that they are able to apply this at any time of year and reported long-term improvements. Some users noted a fishy smell but stated that this did not linger for long, and was much milder than the smell of fish emulsion fertilizer.
Pros
Naturally derived ingredients
Safe for children and pets
Suitable for use all year round
Impressive results
Cons
Contains animal derivatives, may be unsuitable for vegans
Fish odor
Espoma ELF20 20-Pound Organic All Season Lawn Food
This organic lawn food has an NPK ratio of 18-0-3, making it very high in nitrogen, which is known to improve the green growth of plants. It can be used at any time of year, and as an all-natural fertilizer, it is safe to use around children and pets. Ingredients of this lawn food include feather meal and poultry manure. It also contains additional iron, which is used to achieve a deeper green color of the lawn. The manufacturers claim that this lawn food has exceptional coverage, able to cover two to four times as much lawn as other comparable natural lawn fertilizers.
Users of this lawn food love how effective it is, claiming their lawns were thicker, fuller, and greener. Results were noticeable after just a few days, with full transformations occurring after several weeks. Users also found that the effects were long-lasting. The biggest complaint about this lawn fertilizer was that it has a distinctive foul odor. As it is primarily made from poultry manure, the smell is somewhat expected. Some users found the smell unbearable, while others felt it was an acceptable compromise to have a product that was effective while also being organic and safe for children and pets. Overall, reviews of this product are overwhelmingly positive.
Pros
Organic
Safe for pets and children
Good coverage
Suitable for use all year round
Simple Lawn Solutions Lawn Food Natural Liquid Fertilizer
This natural lawn food has an NPK ratio of 16-4-8. It is designed to strengthen lawn root systems, improve grass color, and make for a thicker and fuller lawn. It is made from natural and organic ingredients, including materials derived from fish and seaweed. It is supplied in a bottle, which also acts as a sprayer, making application easy and convenient. To apply, you would need to hook up your garden hose to the sprayer bottled, and the concentrated product gets automatically mixed with the water as it flows through the sprayer. It is recommended for use during spring and summer and is suitable for all grass types.
This fertilizer is safe for use around children and pets and can be walked on as soon as the lawn has dried after application. It is made in the United States by a family-owned company that has been producing lawn care products for over two decades.
Users of this product love how convenient it is, being able to be hooked up to a hose and sprayed right onto the lawn so that no purchasing of a separate sprayer is required. Users also love how effective the feed is, giving almost instant results. This product is particularly popular among users in hot climates where summer temperatures regularly exceed 80º F because unlike many fertilizers, this can be used at high temperatures without causing burn to the lawn. Users also appreciate that the product has no smell.
Some users found that the spray bottle didn't work as intended, and instead preferred to purchase the lawn feed separately and use their own sprayer.
Pros
Natural formula
Safe for children and pets
No smell
Sprayer included
Suitable for all grass types
US-made
No burning
Cons
Some sprayers may not function correctly
Conclusion
All of these organic lawn feeds are best selling products offering outstanding results, and the best product for you will depend on your preferences and requirements. For ease of application, the Simple Lawn Solutions Lawn Food Natural Liquid Fertilizer stands out as the best buy.