Best Soil Moisture Meters – Buying Guide & Recommendation
Best Soil Moisture Meters – Buying Guide & Recommendation
Explore Our Categories
Evergreen Ground Cover Plants

Ground cover plants are low-level plants that spread across the ground to fill in any awkward gaps or vacant areas and c...

Ground Cover Plants

The workhorses of the garden might just be groundcover plants. These sturdy, carefree plants cover awkward spaces, elimi...

Ornamental Grasses

Ornamental grasses are often overlooked when people are buying new plants for their garden; however, ornamental grasses ...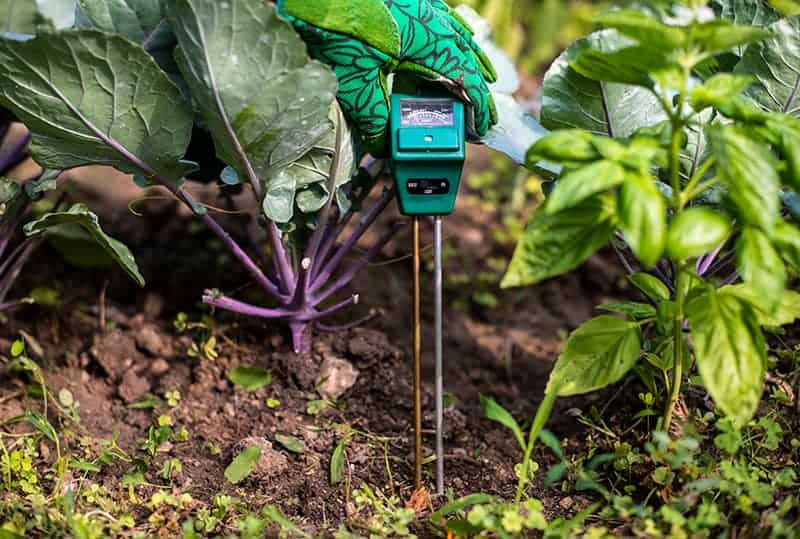 Are your plants struggling to thrive despite your best efforts to meet all of their needs? Unsure if you're watering often enough, or too often? These are common problems with both houseplants and outdoor plants and trees, as it's very difficult to know what's really going on under the surface of the soil. Fortunately, there's an easy solution.
Soil moisture meters are simple tools that you can probe into your soil and find out the moisture content around your plants' roots. In an instant, you can identify whether you need to add water or hold back for a few days. If this sounds like the solution you've been searching for, read on for all the buying advice you'll need to select your perfect soil moisture meter.
Product Details
Our #1 Rated | Best Overall
REOTEMP
Garden and Compost Moisture Meter
High Quality Moisture Meter. All Rounded product that can be used in your lawn, flowerbeds, tough soils, or to check the water content of your shrubs and trees soil
Budget Pick | Best For Houseplants & Container Plants
Dr.meter
S10 Soil Moisture Sensor Meter Hygrometer
Very price-friendly. Used for houseplants and other container plants. Not designed for heavily compacted dry soil or clay soils
Buying Guide
Why Use A Soil Moisture Meter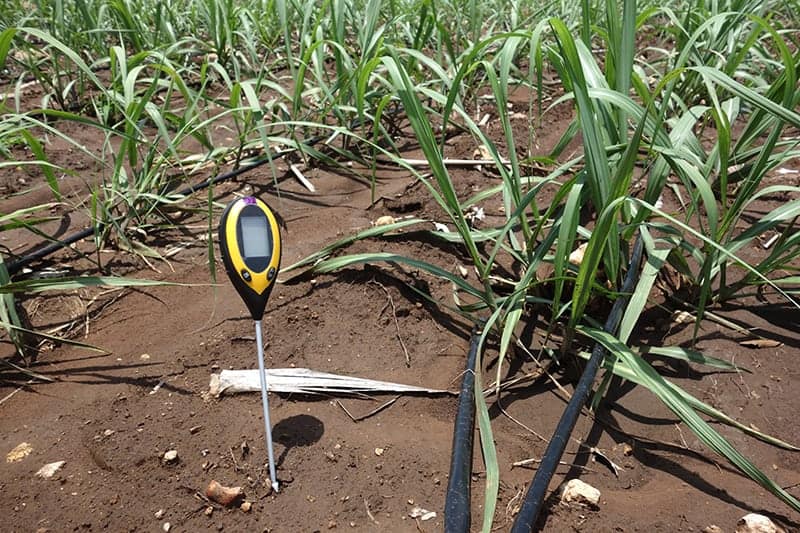 Soil moisture meters work simply by inserting the metal probe deep into the soil to reach the roots of a plant. The tip of the probe sends a reading to the dial located at the top of the meter, from which you can quickly gain an understanding of the moisture content of your soil. Depending on the reading and how it relates to your plant, you can decide whether it needs to be watered or not.
Benefits
Better Plant Health
The main benefit of using a soil moisture meter is to understand your plant better and therefore be able to care for it more appropriately. It can be very tricky to know when a plant needs to be watered, and a bad watering schedule can cause long-term damage or even the demise of your plants. Overwatering typically leads to root rot, where a plant's roots are no longer able to absorb water or nutrients, and it dies of thirst. Underwatering will result in the same problem. By being able to know how much moisture the soil is holding under the surface, you will be perfectly informed with the knowledge to know exactly how to water your plants.
Save Water
For outdoor plants especially, you could be wasting a lot of water be overwatering your plants, lawn, shrubs, and trees. By being able to check the moisture content of the soil, you can eliminate the guesswork when it comes to watering your garden and potentially save lots of water.
Save Money
You can save money by cutting down on your water usage if you've been overwatering your plants, but you can also save big on money that would be wasted if plants die due to improper watering. For some plants and trees that are very expensive to buy, you need to ensure you are watering them correctly in order not to inadvertently to kill them. By using a soil moisture meter to make sure you are watering your plants properly, you will save money on having to replace dying plants.
Features to Look For
The type of moisture meter you need depends on what you want to use it for. For houseplants, select a meter with a short slender stem. Long-stemmed meters tend to be more expensive, and their thick stems are inconvenient for poking into smaller houseplants.
It's unnecessary to spend large amounts of money on a moisture meter for houseplants, as very good options are available for a low cost. However, if you will be using your meter outside directly in the ground, a more robust meter with a long and sturdy stem will be the most appropriate. If you live in an area with clay soil or particularly hard soil, ensure you opt for a meter with a very thick and strong stem to prevent damage.
Product Comparison
Soil moisture meters can essentially fall into two categories, those that are fairly fragile and are small tools designed for use with houseplants and small outdoor container plants, and those that are large and robust for measuring moisture content in any type of soil.
For houseplant meters, you'll want to stick with the Dr.meter S10 Soil Moisture Sensor Meter Hygrometer or the Luster Leaf Digital Moisture Meter. The XLUX T10 Soil Moisture Sensor Meter advertises itself as being suitable for use with trees and shrubs, but realistically, this meter also works best for potted plants.
For meters that will work on even tough soils, check out the REOTEMP Garden and Compost Moisture Meter and the A.M. Leonard Soil Moisture Meter Probe. These soil moisture meters are considerably more expensive than their smaller relatives, but they are designed to withstand a fair bit of abuse and offer greater versatility.
Product Reviews
Our #1 Rated | Best Overall
REOTEMP Garden and Compost Moisture Meter
This battery-powered moisture meter is built from stainless steel for a rugged and sturdy construction. The moisture content is measured at the tip of the stem, which is 15 inches long so that you can reach deep into your soil. The meter can be recalibrated, making it suitable for use in a variety of mediums, such as in soil or compost.
The meter has a 0-10 wetness scale, which can be adjusted depending on the specific moisture requirements of a plant. The meter comes equipped with one AAA battery that powers the product. The salt content in soil can affect the moisture readings, so this item is not recommended in areas with high salt content.
Users of this meter are impressed with how sturdy it is. The steel stem and aluminum enclosure make for a tough meter that can be inserted deep into dense soil without fear of the stem breaking or bending. Users also found the calibration easy to do and were happy with how the meter was able to help them better care for their plants.
Some users were disappointed in the longevity of the product and experienced problems with the meter after several months of use. However, those users who encountered problems and sought help did note that the customer service at REOTEMP was excellent.
Pros
Sturdy
Long stem
Easy to calibrate
Excellent customer service
Suitable for soil and compost
Cons
May break after several months use
Fairly costly
Budget Pick | Best For Houseplants & Container Plants
Dr.meter S10 Soil Moisture Sensor Meter Hygrometer
This moisture meter benefits from a metal 8-inch stem to read moisture levels at the root of plants. It features an easy-to-read dial with a color-coded display for 'dry,' 'moist,' and 'wet' readings. The meter does not require batteries or electricity and is compact and portable for use both indoors and outdoors. It is suitable for use with houseplants, in the garden, or on vegetable plots. However, it should not be used on hard ground, which could damage it, and should not be submerged in water.
Users of this moisture meter rate it very highly. They found it to be very effective and are impressed with how sensitive the reader is, especially considering the low cost. It seems to be well-made, though it is not intended for rugged use and will not withstand being inserted into very hard soils. Many users believe they couldn't live without this tool after experiencing how helpful it is.
Pros
No batteries needed
Easy to use
Sensitive readings
Low cost
XLUX T10 Soil Moisture Sensor Meter
This soil moisture meter has a 7-inch probe that is fairly slim, making it ideal for use in houseplants and other potted plants. It is also suitable for use directly into flower beds, lawns, and the soil of trees and shrubs. To read the moisture level, simply dip the stem into your soil and read the large dial.
This moisture meter is only compatible for use in soil, and soil should not be very dry and resistant to the probe. Otherwise, damage to the meter could occur. The dial has a color-coded reading system for quick moisture identification, and the unit does not require batteries. An 18-month warranty is supplied by the manufacturer who will replace or refund any quality issues during that time.
Users of this meter are very impressed with the quality for the low cost. It works as expected and is helping to take the guesswork out of caring for houseplants. Some users found that the probe broke or bent after use or after being left outside in the soil. This is a delicate instrument that should be used gently and with care. It is not designed to be inserted into tough soils and would be best suited to use with houseplants.
Pros
Low cost
Easy to use
Works effectively
No battery needed
Cons
Fairly delicate
Best suited for use with potted plants
Luster Leaf Digital Moisture Meter
Designed and manufactured in the USA by Rapitest, one of the market leaders in soil testing, this moisture meter is designed for use solely in soil to help determine the moisture content around your plant's roots. It features a probe of just over 3 inches long, which is ideally suited to checking the soil of houseplants, hanging baskets, window boxes, and container gardens.
It offers digital readings instantly and comes with information on over 150 types of plants so that you can understand what to do with the reading you have produced. The product also includes a special cleaning pad to help keep the tool in good condition, along with batteries, which are required for use.
Many users of this product love it. It has a large, easy-to-read gauge and is easy to hold and use. Users also love the combination of working with the meter and the accompanying plant list. Some users experienced meters that never worked right out of the box, and some others found that the meter stopped working after just a few months. In these instances, customer service was found to be unhelpful.
Pros
Low cost
Easy to use
Digital reader
Batteries and cleaner included
Cons
Short probe
Only for use in container plants
Poor customer service
May not be reliable
A.M. Leonard Soil Moisture Meter Probe
This high-end moisture meter was made in the USA and features a brass probe of 24 inches in length and is approximately ¼ inch thick. It has a top-mounted meter and can run on either dry cell or AA batteries. The meter can be calibrated to suit different soil types, as different types of soil can read differently.
Users of this moisture meter love how strong the stem is and that they can probe deeply into clay soils without worrying that it will get damaged. Users also love the length of the stem, making it perfect for checking the moisture at the root level of trees and large shrubs, which can reach very deep into the soil. Some users found that changing the batteries was a frustrating process and feel that this element of the meter could have been better designed. Some users were also disappointed at the inconsistency of readings given by this meter and believed it not to be accurate.
Pros
Long stem
Strong brass probe
Can be calibrated to suit different soils
Easy to use
Cons
Batteries difficult to change
Can be inconsistent
</>
Conclusion
The standout best product among these popular best-selling soil moisture meters is the Dr.meter S10 Soil Moisture Sensor Meter Hygrometer. It is the lowest priced option among our reviewed moisture meters, and it is also one of the best performing. However, it is only for use in houseplants and other container plants, such as hanging baskets, as the probe is not rugged enough for use in heavily compacted dry soil or clay soils.
If you require a moisture meter for use in your lawn, flowerbeds, or to check the water content of your shrubs and trees soil, then your best buy would be the REOTEMP Garden and Compost Moisture Meter. This is a great all-rounder as it can be used both indoors and outdoors in all types of soil, as well as compost. It is quite pricey but has a rugged construction and should last for many years of gardening to come.