5 Best Hose Timers You Can Buy Today
5 Best Hose Timers You Can Buy Today
Explore Our Categories
Avocado Trees

You may think that only those who live in the sunny South can enjoy the fruits of an avocado tree. But these sub-tropica...

Fruit Trees

One of the most enticing aspects of trees is that many of them can produce delicious fruits every year. Shop our collect...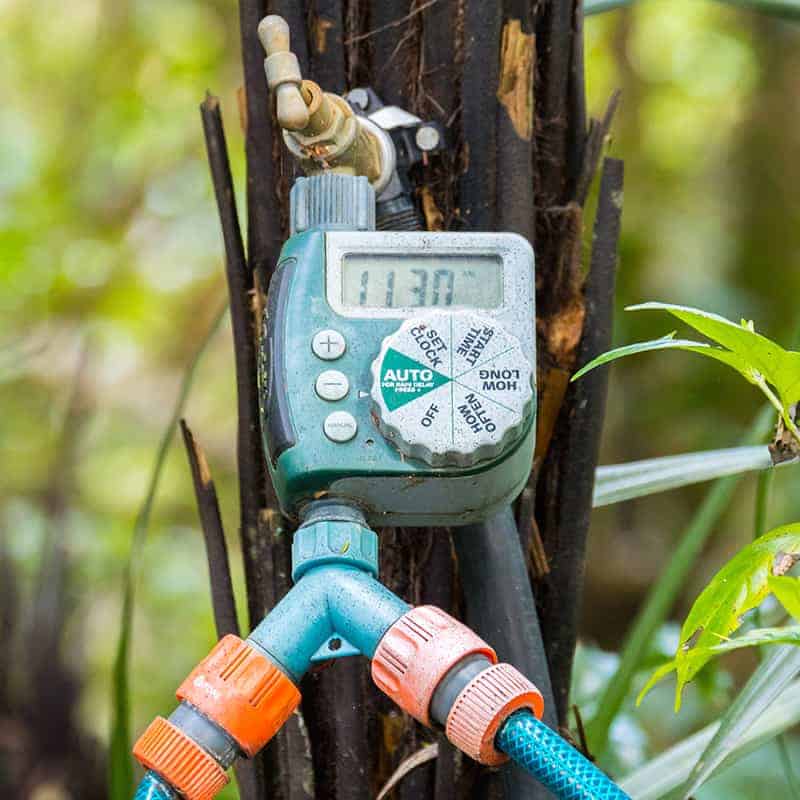 Hose timers automatically switch your garden hose on or off without you having to be present.
This is an essential convenience for anyone who wants to maintain their lawn and plants while on vacation, for anyone who frequently works away from home, or even for gardeners who would like their garden to water themselves so that they can relax or get on with other tasks around the home.
If you're looking for a new hose timer, our guide will help you narrow down the best option for your situation.
Product Details
Our #1 Rated For Hose Timer
Gideon
Single-Valve Hose Water Timer
Mechanical Hose Timer
Nelson
856604-1001 Water Mechanical Timer
Buying Guide
Benefits of Using a Hose Timer
Save Water
Using a hose timer, which will automatically turn itself off at preset times, helps to save water by preventing the water from accidentally running for too long. If you are manually operating your sprinkler system for lawn watering or garden, it's easy to turn it on with the intention of returning to turn it off a little while later, but instead, you get sidetracked and forget to turn it off until several hours later. Just a few times of doing this can result in a hefty water bill and is a waste of water. This is particularly important for people in drought-prone areas where water is scarce and for anyone who is keen to help preserve our planet and make positive changes for the environment.
Prevent Overwatering
Overwatering is a common occurrence if you have to remember to manually switch off your irrigation systems. As well as wasting water, overwatering is also a problem for your plants and lawn. Overwatering can cause root rot in plants, especially those that are not in very well-draining soil. Root rot can lead to the demise of a plant as it becomes unable to absorb vital nutrients and moisture through its roots. Excessive watering can also ruin a lawn, making it soggy and marshy and preventing any new lawn seed you have laid from taking root.
Water When You're Out
Using a hose timer has the obvious benefit of being able to nourish your plants when you're away from home. If you work away from home frequently or want to ensure your plants survive while you're on vacation, this solution will give you peace of mind. Hose timers are also great for watering your garden while you're at work during the day. In some instances when it's important to maintain moist soil (if you have just laid down some new grass seed on your lawn, for example), then watering throughout the day while you're at work is essential to help the seed grow and not get dried out in the sun.
Save Time
If you have a large garden, then watering all of your plants and lawn could be taking a considerable amount of time out of your day. If you find watering your garden a chore, then a hose timer will quite simply take that chore out of your hands. You can install it on your garden hoses, or expandable hoses. Then program your timer to come on and off at set intervals throughout the day so that your plants can be watered while you get on with more enjoyable things.
Deter Intruders
An added benefit of hose timers is that they give the appearance that someone is at home, helping to deter intruders. If you're nervous about leaving your home vacant while on vacation, a hose timer, much like a lamp timer, can help ease your concerns by giving the impression that you are still at home.
What to Look for in a Hose Timer
Reliability
When looking for a hose timer, your absolute priority should be that the hose timer be reliable. Impressive features and added extras will be completely pointless if your hose timer can't fulfill its basic job of turning on and off at the times you want it to. While this might sound obvious, it's surprising how many hose timers are ineffective at the one thing they were intended to do.
Always seek out genuine user reviews online or get recommendations from friends and family who can attest to a hose timer being reliable. An unreliable hose timer might turn on spontaneously, wasting water, potentially ruining your plants, leaving you with a large water bill, and even flooding your property.
Digital or Mechanical
Most hose timers are either digital or mechanical. The benefit of mechanical timers is that they require no batteries or electricity to work, and therefore you won't encounter the problem of hose timers going wrong when the battery life runs out, or the inconvenience of having to replace batteries. The benefit of digital timers is that they offer many more features than mechanical timers, with the ability to be programmed to turn the faucet on and off at set intervals every day.
Setting Capabilities
If you have specific times when you want your timer to turn off and on, then you'll need to ensure the timer you buy meets these requirements. Some timers can be set at any time-frequency from every minute to every week, while other timers have limitations such as every hour being the shortest interval.
Extra Features
If you have special requirements, there are hose timers to meet your needs. Some timers feature extra-large displays for easy reading, while others feature backlights to enable you to adjust settings in the dark. If you're concerned about the aesthetics of your timer, you could also look for one that is compact and will be easily hidden in your garden or one which matches the color of your garden decor.
Product Comparison
The Orbit Single Outlet Programmable Hose Faucet Timer, the Instapark PWT-07 Outdoor Water Faucet Hose Timer, the Gideon Single-Valve Hose Water Timer, and the Melnor 16043-RSC Raincloud Internet Controlled Smart Water Irrigation Timer are all powered by batteries. The Nelson 856604-1001 Water Mechanical Timer is different in that it requires no batteries or electricity to run. However, it does offer significantly fewer features than its competitors.
All of the timers require manual set up on the product itself at the point of connection to the faucet and can only have their programs changed by physically pressing the buttons or turning the dials, with the exception of the Melnor 16043-RSC Raincloud Internet Controlled Smart Water Irrigation Timer, which can be remotely controlled via a smartphone, tablet, or computer when connected to the internet.
Product Reviews
Our Top Pick
Gideon Single-Valve Hose Water Timer
This hose faucet timer requires two AA batteries to run, which are not included with the purchase. It has the benefit of flexible timer settings, as it can be set to run as many times per day as you like without any limitations. It can run for a maximum of 240 minutes at one time and has an automatic water shutoff to prevent water from continuously running in the event that the battery should run out without you noticing.
The large display is easy to read at a distance and features an array of information, such as the remaining duration of the current cycle or how long until the next cycle is due to start. The LCD screen is back-lit, which means you can change the settings even at night when visibility is low. A manual setting and rain delay setting also means you have the option of skipping cycles or manually using the hose for extra waterings without interrupting the set program. The unit is constructed from solid, high-quality materials, and it is waterproof for added longevity.
The majority of users of this product were very impressed. They found it very intuitive to use and reliable once it was set up. One of the features users particularly liked was the ECO setting, which enabled water savings with short waterings between slightly longer intervals. Users also liked the backlit LED display and the neutral compact design of the product, which made it easy to blend in the garden.
Many users described this timer as the best garden timer they had ever owned, with it proving itself to be more reliable and long-lasting than several other hose timers they had tried. Some users experienced problems with this timer, including it randomly turning on by itself and creating large water bills. However, this problem was not common and may have been due to user error or a rare faulty unit.
Pros
Reliable timer
Easy to use
ECO setting
Backlit display
Durable and long-lasting
Mechanical Hose Timer
Nelson 856604-1001 Water Mechanical Timer
This mechanical timer can be used to water your garden for a set length of time. You need to manually switch it on, then twist the dial around to your required watering time of anywhere from one minute to two hours. You can then walk away, knowing that the timer will turn your hose off at the chosen time, watering your garden without you having to be present or remembering to turn the water off.
The timer works mechanically and therefore doesn't require any batteries to run, eliminating the problem of the batteries running out and water getting left on, or the inconvenience of having to change batteries. The heavy-duty timer is made from brass and plastic, with an ergonomic grip for easy, comfortable use. You can also set this timer to manual for occasions when you want to water your garden without time restrictions.
Users of this timer had vastly different experiences with it. Some users were able to use the timer for many years without any problems. They were so happy with how well it worked that they bought more of the product to have on other hoses they owned. Happy users noted that the timer was well-built with high-quality materials, and they would highly recommend it.
Some users were less impressed with the timer. Some found that the valve was not tight on the unit, which resulted in leakages from the very first use. Leaks were the main problem for many users, while some also complained about reduced flow and inaccurate timing. Some users also found that although they were initially happy with the product, it failed to work properly after several months of normal use.
Pros
No batteries required
Inexpensive
Various timer settings
Cons
Not reliable
Not always long-lasting
May leak
High-tech Hose Timer
Melnor 16043-RSC Raincloud Internet Controlled Smart Water Irrigation Timer
This remote-controlled water timer allows you to turn your hose on or off remotely from your smartphone, computer, or tablet, As long as you have internet access then you will have the ability to control the water usage in your garden, making this ideal for people who go away on vacation frequently or travel a lot for work. It would also work well for watering lawns and plants in a vacation home, which is vacant for much of the year.
One of the benefits of this timer is that it allows you to water as many as four different zones, all from one faucet, each with independent watering schedules. This is particularly useful for larger gardens, eliminating the need to have several timers or several faucets to cover all of your plants. The timer can be set up to work with any hose, including standard hoses, soaker hoses, drip systems, and sprinklers. It is controlled through an app and is even compatible with Amazon's Alexa so that you can control it with voice commands. It comes with a 7-year manufacturer's warranty for added peace of mind.
Users of this internet timer had drastically different experiences with it. Some users proclaim it as one of the best recent inventions which they could now not live without, while others found it to be frustrating to use and ultimately useless. Those users who liked the timer were impressed with the 1-hour water shut off, which automatically turns the water off after an hour from when you remotely turned it on so that excessive watering doesn't occur if you forget to turn it off. Users also liked how easy it was to set up and how many cycles they could have running at one time with multiple faucets. The whole concept was found by many users to drastically improve their gardens as they were able to control watering even when they were away from home.
However, some users found the timer to be completely inoperable. They experienced the timer spontaneously turning on at random times, or running continuously for hours when it wasn't supposed to. Some users also experienced leaks in the unit itself, poor connectivity, poor battery life, and timers, which entirely stopped functioning after just a few weeks of working perfectly fine. The biggest complaint among both happy and unhappy users was the poor design of the app, which is used to control the timer. Users found the app to be awkward to use, saying it is clunky and not at all enjoyable to control and gives the impression that it was thrown together in a hurry.
Pros
Good concept
1-hour water shut off
Remotely controls water faucets
Cons
Unreliable
Poor battery life
App is poorly designed and needs an overhaul
Expensive
Orbit Single Outlet Programmable Hose Faucet Timer
This hose faucet timer is battery operated, requiring two AA alkaline batteries to run (which are not included with the purchase of the timer). The timer features a range of frequency settings, so you can preset your hose faucet to turn on anywhere from every six hours to every seven days. Using the dial, you can choose when to water your garden, for how long, and how often. The timer also features a manual button if you wish to interrupt the cycle and water by hand.
The face of the timer has an oversized display to allow for ease of use, and the dial is also large for the same reason. To help save water, this timer also has a rain delay function. It is constructed from heavy-duty materials to stand the test of time and is waterproof.
Many users of this hose faucet timer liked it so much that they bought more of them for other areas of their property, or for friends and family members to use. Users found the timer very simple to use and set up and were impressed with the results of their plants and lawns, which were receiving a more consistent watering. Users love that they can set the timer and then forget about it, letting it take care of the watering by itself.
Some users were disappointed that the rain delay had to be manually activated and would prefer if the timer could automatically sense rain and skip the next scheduled watering accordingly. Some users did experience problems with their timers after a season. Some timers stopped working completely, while others started to function incorrectly, not turning off when they were supposed to, resulting in many hours of watering instead of just a few minutes. Some users found their timers to be so temperamental that they didn't trust it to work by itself and had to supervise the timer to ensure it turned off when it should, which really defeats the point of having a timer in the first place. Users who reached out to Orbit for help found them frustrating to deal with and would not recommend their customer service.
Pros
Oversized features
Easy to set up and use
Manual and rain delay buttons
Waterproof
Heavy-duty construction
Cons
May not last very long before becoming faulty
Poor customer service
Instapark PWT-07 Outdoor Water Faucet Hose Timer
This digital faucet hose timer is battery-operated, requiring two AA alkaline batteries to function. It features a large user interface for quick and easy reading of the display, as well as an oversized dial for ease of use. The timer is operated by four simple push buttons, which are self-explanatory, and a user-friendly design makes the timer foolproof to set up and use.
You can select a start time and frequency ranging anywhere from every 10 seconds to once a week, as well as a watering duration of anywhere up to six hours. You can also select the manual option or the rain delay without interfering with the timer's program.
Constructed from superior ABS, this product was built to last and withstand a wide range of scenarios. It is weather-resistant, waterproof, impact-resistant, and features a dust cover to protect the LED display and keep it clean. It can be used with any standard hose faucet.
Users of this product found it very easy to use, with simple and easy-to-understand digital settings. Users were particularly impressed with the battery life of the timer, noting that it lasted many months without the battery life, indicating any loss of power.
Some users did experience problems with this timer, notably reduced water pressure, and the weak plastic connecter. Users experienced breakages at the connection point due to the plastic construction and commented that a metal connecter would have easily solved the problem for this product. Users who did experience problems and reached out to Instapark customer service and were very happy with the responses they received. Customer services were found to be helpful, understanding, and in some cases, sent out free replacement units for those that had become faulty.
Pros
Excellent customer service
Dust cover offers extra protection for the timer
Sturdy construction
Long battery life
Cons
May reduce water pressure
Weak plastic connecter susceptible to breakage
Conclusion
The standout hose timer among these bestsellers is the Gideon Single-Valve Hose Water Timer, which has proven itself to be drastically more reliable than its competitors. It has extra features which the other timers do not benefit from, such as a backlight and an ECO setting.
But above all, what you really want from a hose timer is that it simply works as it should, without spontaneously turning on and leaving you with an enormous water bill, and the Gideon Single-Valve Hose Water Timer can be relied upon to work effectively, all while being in the same price range as its digital competitors.