13 Trellis Plants & Climbing Flowering Vines You Can Start Today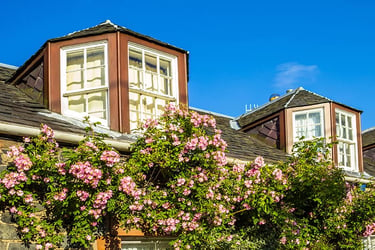 With the exponential growth of cities, the spaces we call home are inevitably getting smaller and tighter.
The same goes for the expansion of big agriculture in the countryside.
An unoccupied terrain for gardening is getting harder and harder to find, and yet our environment craves living, breathing greenery.
This is the reason why vertical gardens have become so popular. If there is one thing cities don't lack, these are the vertical surfaces – walls of our buildings.
However, the modern vertical gardens are usually built to accommodate a number of plants that don't naturally grow vertically. Caught up in the fad, we seem to have forgotten the original vertical gardens – those made up of trellises, and vines and climbers that grow on them.
Advantages of Trellises and Trellis Plants
By using trellises, you get more plant mass per square unit – because you are using the vertical plane.
Also, the fact that many highly decorative climbers will grow over walls and other vertical surfaces – not only trellises – further increases their value and their versatility.
Last but not least, lush, flowering and fruiting climbers and vines look gorgeous, plus provide much-needed habitats and food for wildlife.
Let's learn about some of the best trellis-friendly climbers and vines.
Annual Climbers
1. Morning Glory (Ipomoea sp.)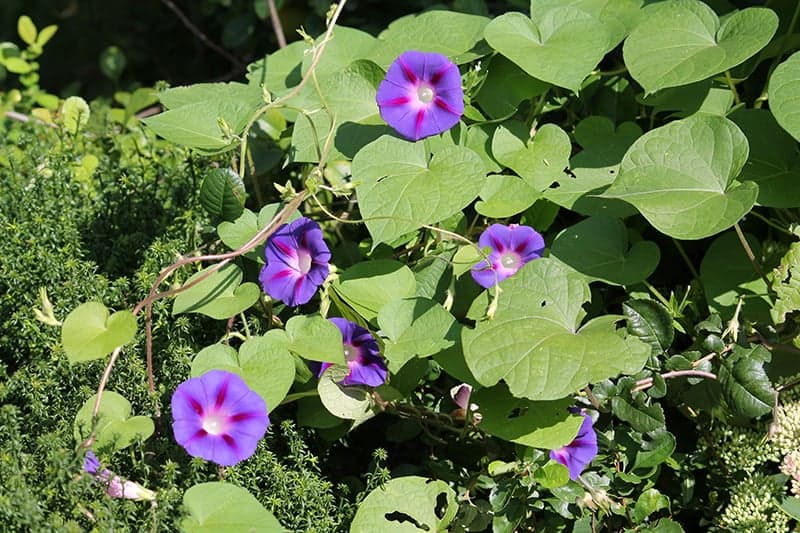 Morning Glory is one of the easiest climbers to grow.
This climbing annual has pretty trumpet-shaped flowers that come in various colors (depending on the species and the cultivar). As the name suggests, the flowers open in the morning and usually last until midday, although the hours will be prolonged on cloudy days.
Although the flowers have a short lifespan, the Morning Glory makes that up with the number of flowers it is able to produce daily.
Morning Glories of all varieties are easy to sprout from seed and grow quickly (but it is not invasive). The climber likes sunny positions where it will produce the most flowers best, although it is tolerant of partial shade. The elegant heart-shaped leaves can be somewhat sensitive to mites.
2. Nasturtium (Tropaeolum majus)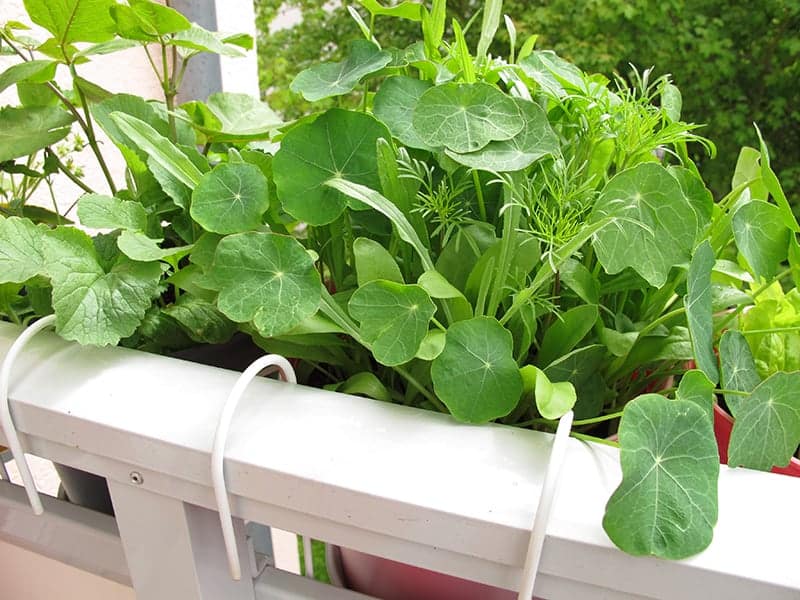 Nasturtium is another easy-to-grow and hardy annual climber. It features lovely bright orange or yellow flowers which come in abundance, and equally decorative rounded, dull green, velvety leaves with visible nervature.
Both leaves and flowers are edible, which makes Nastrutium a great choice if you enjoy the latest culinary trend of decorating dishes with edible flowers.
Pollinators love Nasturtiums, but so do common pests such as aphids and white butterflies. That is why they are often used as companion plants to lure the pests away from the more sensitive specimens or vegetables.
3. Black-Eyed Susan Vine (Thunbergia alata)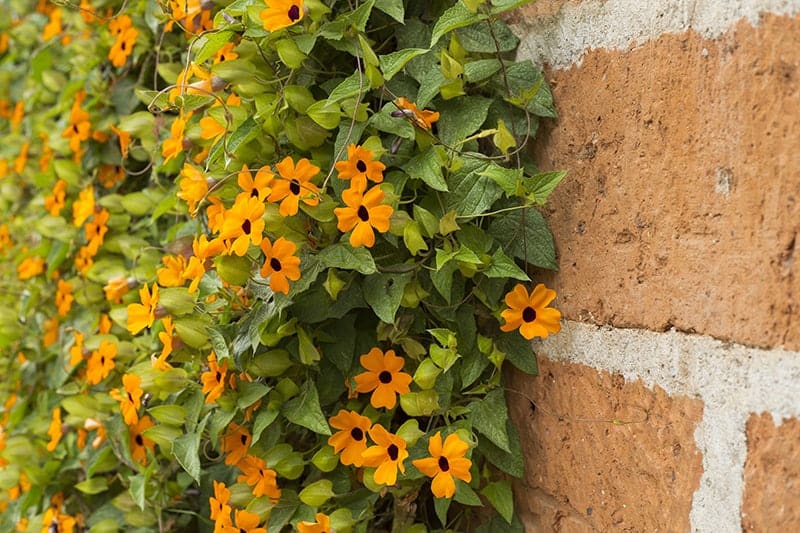 The Black-eyed Susan Vine got its name because of its large contrasting flowers – with orange petals and a black "eye" in the middle. The black part is actually a tube.
It is a medium-sized vine growing to about 5 feet, featuring dense foliage. It is herbaceous with tender branches, although it is a perennial plant in its natural habitat and in US hardiness zones 9 to 11. In cooler climates, it is grown as an annual.
Because it originates from South Africa which has a specific climate, "Susan" is a bit touchy when it comes to requirements. It won't thrive in soggy soil and needs good drainage, but it will wilt if the soil gets too dry. This issue is more pronounced when the plant is grown in a pot – as long as you provide good soil, growing T. alata outside in the garden is a whole lot easier.
It is not to be confused with another Black-eyed Susan – Rudbeckia hirta, which is a handsome wildlife flower, but not a vine. The two plants are not related.
Perennial Climbers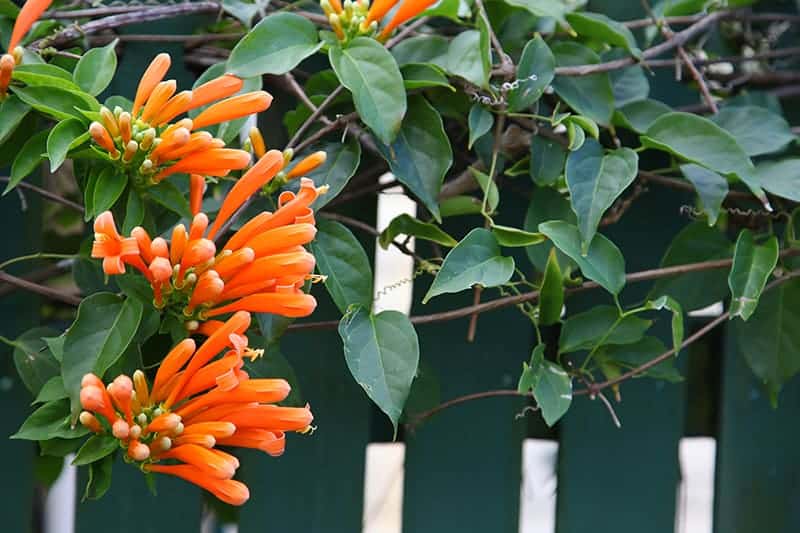 Honeysuckles are among the most popular climbing plants. They are all you can wish for in a vine – lush, fast-growing, evergreen, with handsome foliage and fascinating, colorful, fragrant flowers.
All climbing honeysuckles like to be in sunny (or alternatively, light shade) positions, but with the roots in the shade. This is characteristic of woodland climbers, where their roots are always shaded by the forest trees or shrubs. Mimicking this will give you the best result.
After flowering, the plant will produce red berries that are highly attractive to birds but are mildly toxic to humans and should never be eaten. Leave it to the songbirds!
The most widely known species are the Common Honeysuckle (L. periclymenum, native to Europe and parts of Middle East), Japanese or Chinese Honeysuckle (L. japonica, native to eastern Asia and highly invasive in other parts of the world) and Coral or Trumpet Honeysuckle (L. sempervirens, native to the northern US).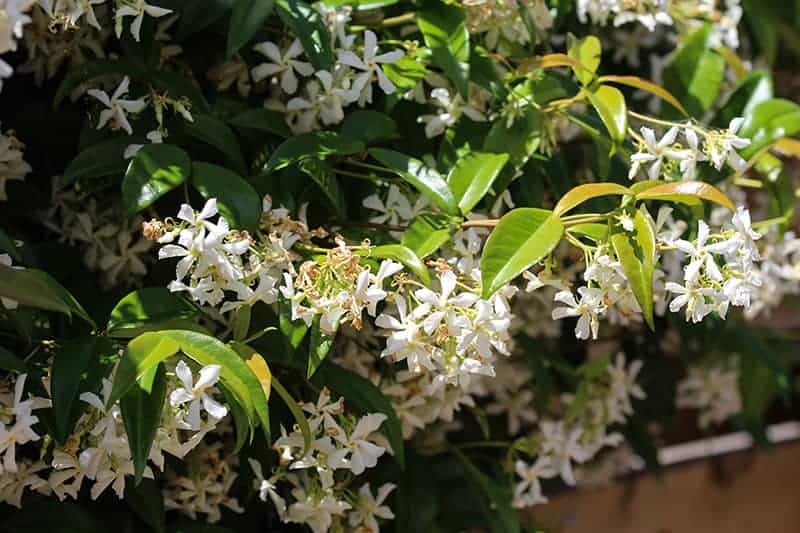 Jasmines are perennial climbers that can be deciduous or evergreen, and summer or winter flowering, depending on the species. The flowers can be white, yellow, or more rarely red or pink, have a characteristic star shape and are fairly small and not very attractive when compared to many other vines. However, they make that up with their trademark sweet fragrance.
Some species of jasmine can be grown only in a greenhouse, but others are much hardier and can pretty much take care of themselves outside. Provide them with a sunny, warm and sheltered spot. The soil should ideally be moist, but well-draining.
Like many perennial vines, jasmine plants benefit greatly from pruning after flowering. Cut the weakest and the oldest shoots. You can also prune overgrown jasmine radically, but keep in mind that in that case, it will take a few years for it to flower again.
6. Virginia Creeper (Parthenocissus quinquefolia)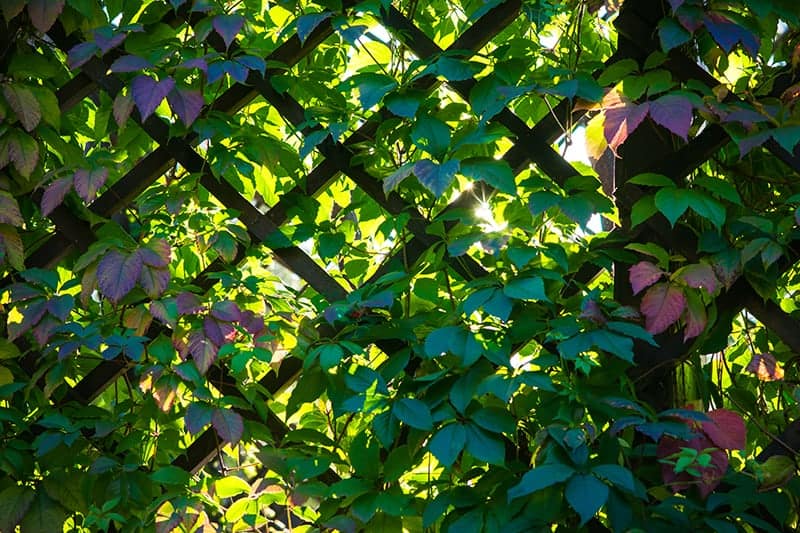 Virginia creeper is known for two things: vigorous growth that doesn't even require a trellis, and the autumn flaming red foliage. The combo creates amazing fall displays on the walls and fences of rustic towns and villages.
Besides the trademark scarlet leaves, the Virginia Creeper also flowers from May to August and produces berries, both of which are food for wildlife.
The Virginia Creeper will grow in any soil and in any position, except for the north-facing walls in total shade. It thrives in the hardiness zones 4-9.
7. English Ivy (Hedera helix)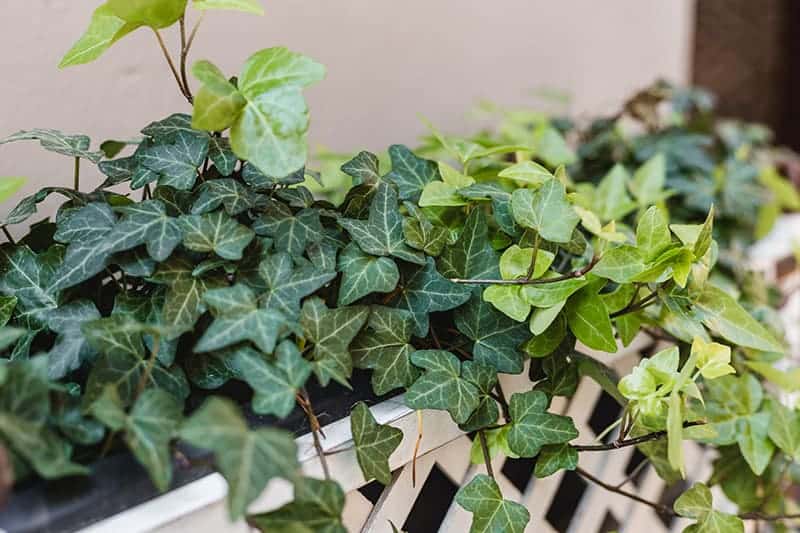 English Ivy is a typical evergreen climber of European temperate forests, and it grows both horizontally and vertically. It will attach itself tightly to the tree trunks, ground, rocks or walls with its strong root hairs and a natural glue it produces.
The dark leaves with pale nervature are very decorative. The variegated cultivars with yellow edges also exist and are often grown as an indoor plant.
With its lush growth, English Ivy provides valuable habitat for birds and various arthropods, and also flowers and berries for pollinators and birds, respectively.
Because it grows below canopies, English Ivy is adapted to shade and partial shade. It prefers forest-like soils that are loamy, rich, and acidic.
Two words of warning. One – Hedera helix is toxic to and its leaves shouldn't be ingested by humans or other mammals. Two – the species is not native to the American continent, and because of its aggressive growth it is considered highly invasive.
8. Clematis (Clematis sp.)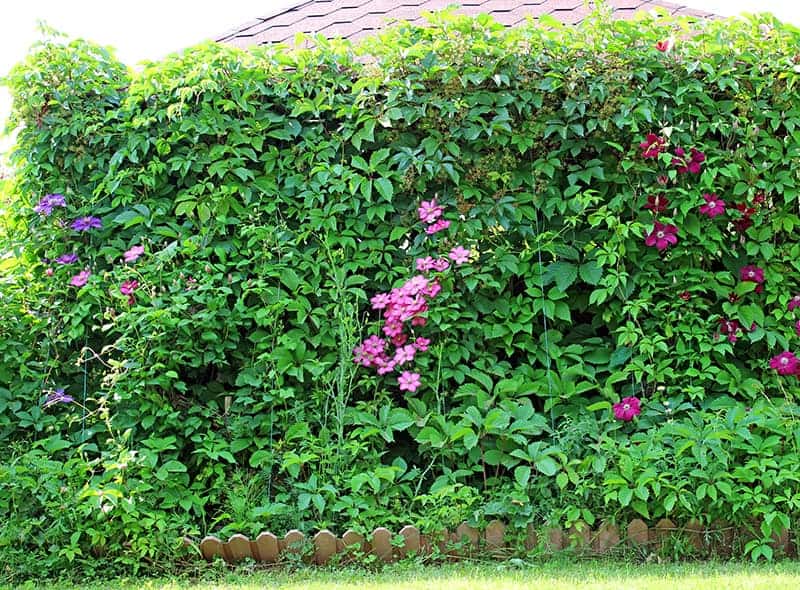 Some consider Clematis a queen of climbers and trellis plants.
Clematis vines are well-renowned for their flowers, and for their diversity. There are around 200 species of Clematis, plus more cultivars of large-flower varieties. If you fall in love with this vine's flowers, the variety might make you want to become a Clematis collector!
The basic division of Clematis is between small-flowered (under 5 inches), and large-flowered species. The features vary drastically, and there are evergreen, deciduous, herbaceous and woody Clematis vines. Although the needs of such a vast variety of plants naturally differ, there are some commonalities.
All Clematis vines need 6+ hours of sun exposure to flower; however, the root zone should be kept cool by providing ground cover, shallow-rooted companion perennials and/or mulch. Also, all Clematis need support, and the type of support depends on the size of the species. Smaller Clematis (2 to 5 ft) will do well with poles, while larger (8-12 ft.) will require arbors. Trellis or fences are acceptable for all types of Clematis.
9. Passionflower (Passiflora)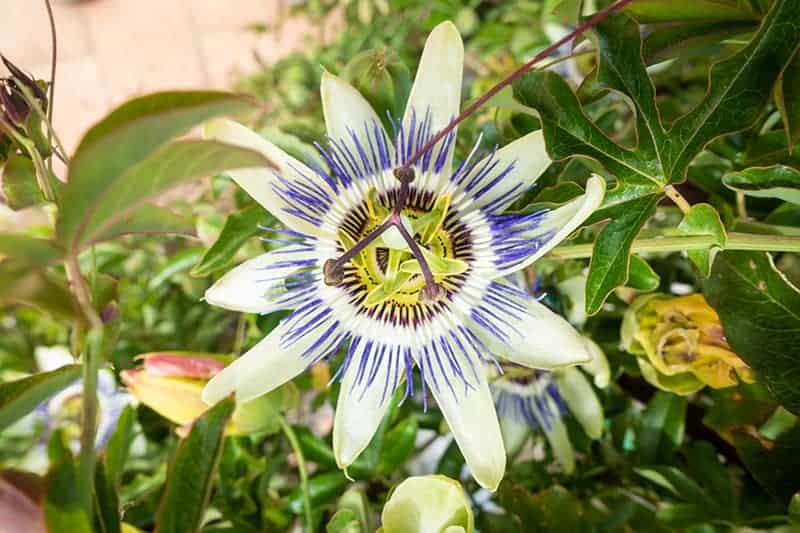 Passiflora vines have the most exotic-looking flowers on the list. They are large, scented and colorful, with curious anatomy. The vine can grow to be 9 feet long. For an even better effect, the smooth dark foliage is evergreen.
But the fun and beauty of Passionflowers do not end there. After the blooming period that lasts from May to November, the plant will form an orange, edible fruit – the passion fruit.
Despite the exotic looks, Passifloras are hardy and will thrive in full sun (depending on species), semi-shade outside in zones 5 to 9, or in a cold conservatory.
10. Bougainvillea (Bougainvillea sp.)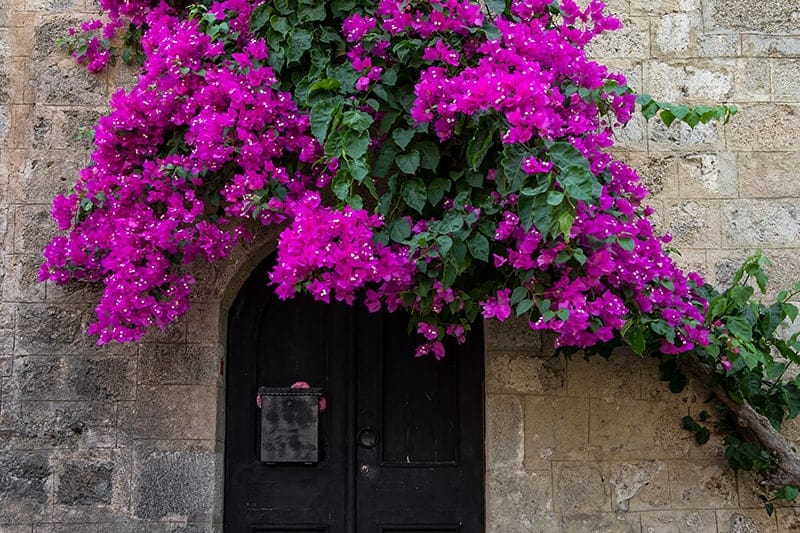 Bougainvillea is a very festive, thorny vine native to South America. The most colorful parts aren't the flowers themselves, but large sepal-like bracts which surround the simple (but cute) flowers.
The growth is big and bushy. When supported, it can grow 20 to 30 feet tall and wide.
Because it is a tropical plant, if you live in the temperate climate it is best to grow it in containers so you can bring it inside during the winter. Once the frosty period is over, you can put it outside. If you live in the hardiness zones 9-11, you can grow it outside year-round.
Bougainvillea loves to be in the full sun. The only exception is extremely hot weather, where it might benefit from some afternoon shade. Otherwise, it is suited for drier climates. While not demanding when it comes to soil quality, it needs to be well-draining.
11. Climbing Hydrangea (Hydrangea anomala)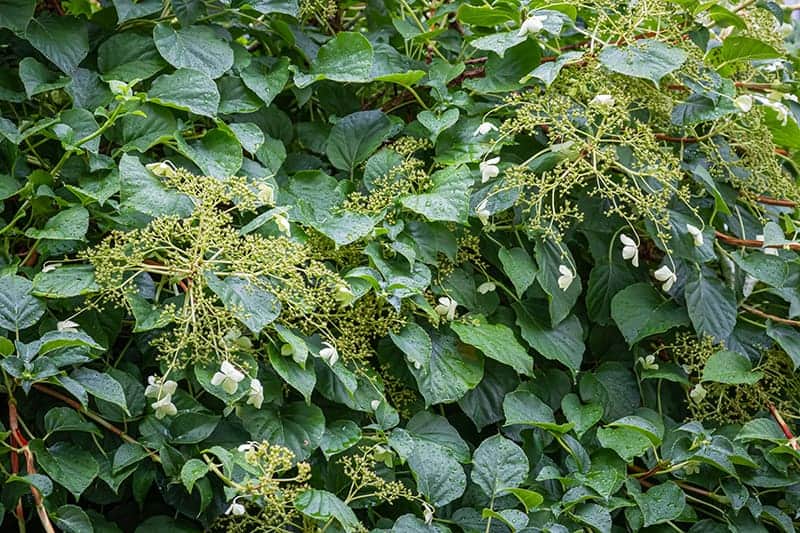 If your garden is in shade, fear not – there are still stunning vines you can grow. The French Hydrangea is a well-known gorgeous flowering bush, and the good news is that it has a graceful climbing cousin – Hydrangea anomala.
Climbing Hydrangea is native to China, Myanmar, and the Himalaya region. However, it is not an invasive species and because of that, it is a popular replacement for the English Ivy in America. Like English Ivy, Climbing Hydrangea has strong tendrils that can attach themselves to almost any structure – and they are hard to detach too. The decorative white flowers remind of sparklers.
Because it has massive vines, if you want to have it on a trellis, it will need to be a sturdy one.
As for the general needs, Climbing Hydrangea is tolerant of a variety of conditions. The only thing it distinctly doesn't like is alkaline soil, which will make its leaves turn yellow. This can be easily fixed by adding powdered sulfur to the soil. It requires about 1 inch of water per week.
And if you like vines, but are lazy about pruning, here's some good news – H. anomala doesn't need regular pruning. Going wild in all directions is a part of its charm.
12. Climbing Rose (Rosa sp.)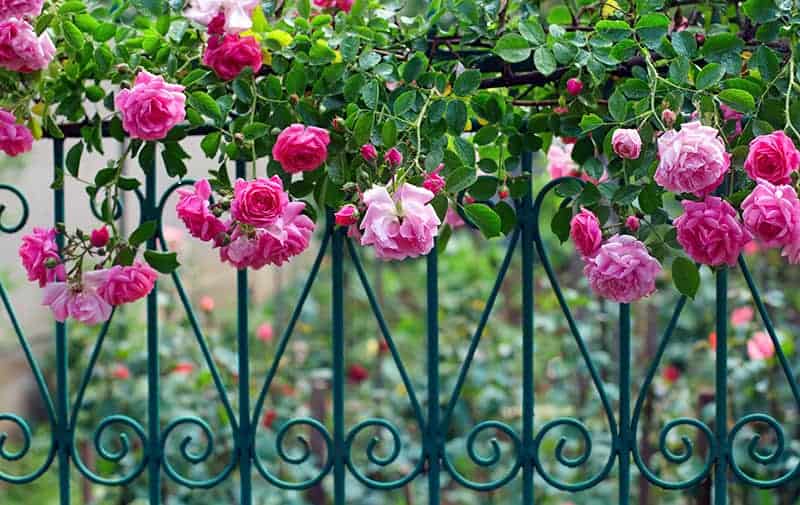 Climbing or rambling rose in full bloom can be one of the most stunning trellis displays you can get. In addition to the inherent romantic soft looks of roses and the amazing variety of colors that are available today, the blooms are well known for their unique fragrance.
For best effect, try to find cultivars like 'The Lady of the Lake (Ausherbert)' which has semi-double flowers and repeats flowering, making the blooming last the entire summer. This particular cultivar is quite resistant to diseases as well.
Despite the name, a climbing rose won't be able to "climb" up a trellis by itself – you will need to train them and tie them. Yearly pruning is also necessary for healthy and vigorous growth – first cut off the dead branches, then move on to the undesirable ones. Don't be afraid to prune hard.
13. Wisteria (Wisteria sinensis)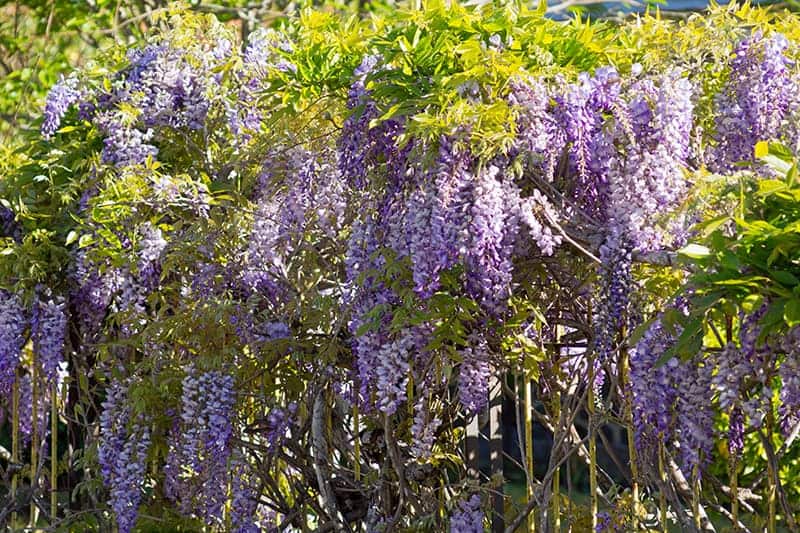 Wisteria is well-known for its grand, fragrant inflorescence and handsome growth. It is a tall woody climber native to Asia. It belongs to the family of peas, so the foliage that looks like an oversized, luxury version of pea leaves is no coincidence.
Wisteria sinensis is a very hardy and fast-growing vine that loves full sun and will tolerate poor soils (although it prefers quality, moist and well-drained ones). It is also known to be a somewhat rowdy climber, and it demands strong support as it grows.
Like other legumes, Wisteria has nitrogen-fixing abilities. Because of that, mature plants should be fertilized with potassium and phosphate, but not nitrogen. Excess nitrogen can impede flowering.
Conclusion
Growing vines climber plants is often overlooked, but highly rewarding, classic type of vertical gardening. By setting up trellises you open even more possibilities – to make more elaborate designs and grow more types of plants. And there are many to choose from.
By taking your gardening onwards and upwards you will use space more efficiently, get to "meet" some highly interesting and enriching plant species, and provide a unique habitat and food for wildlife. There are no downsides to going up!
What is your favorite trellis setup? And what about your favorite climbers? Don't be shy to tell us all about them in the comments.