5 Best Deck Strippers For Removing Stains, Varnishes, Dirt, and Paint – Buying Guide & Reviews
5 Best Deck Strippers For Removing Stains, Varnishes, Dirt, and Paint – Buying Guide & Reviews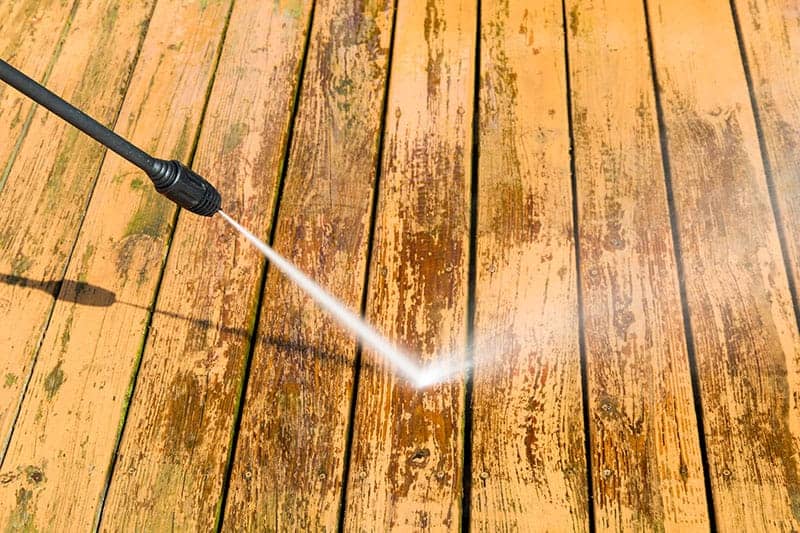 If you're looking to breathe new life into an old stained deck that has seen better days, the best place to start is with a deck stripper. Deck strippers, depending on their formulation, can remove varnish, sealer, stain, and even paint from weathered decking. They also have the added bonus of simultaneously cleaning the deck, removing algae, mold, mildew, dirt, and grease. As with anything, not all deck strippers were created equal, so we've lined up the best performing deck strippers to help you narrow down your search.
Product Details
Our #1 Rated For Stain, Oil, Varnish, Dirt, etc. Remover
Restore-A-Deck
Wood Stain Stripper
Our #1 Rated For Paint & Varnish Remover
Dumond Chemicals
Smart Strip Advanced Paint Remover
DEFY
Exterior Wood Stain Stripper
Buying Guide
How to Use a Deck Stripper
Most deck strippers that specialize in removing the sealer, varnish, and stain from wooden decks work in a similar way. They are applied to a pre-moistened deck, allowed to penetrate the wood, and then washed off after an allotted amount of time.
The way in which you apply the stripping solution to your deck is really a matter of preference. Many manufacturers will recommend that deck stripper be applied with a weed sprayer, as this will help to give an even and uniform application. You could also apply the solution with a pressure washer equipped with a detergent injection feature. However, no special equipment is really required for this, and you could have similar results by applying the deck stripper with a paint roller, a large paintbrush, or a mop. The only difference will be the amount of labor required, and if you work quite slowly, then you'll need to work your deck in sections to prevent the stripper from drying out before you get around to washing it off.
Because it's important not to let the stripper dry out, stripping your deck is always best performed on a dry, cool, overcast day. Stripping your deck on a hot summer's day will increase the likelihood of the product drying out too quickly and may make it less effective or more difficult to work with. If you do encounter problems with the stripper drying out before the time is up, the best thing you can do is add more product to the drying areas.
To wash the product off, using a pressure washer will increase your chances of a better finish in most cases. For many deck stripping jobs, a pressure washer to remove the product will be a necessity. But if you don't have access to a pressure washer and don't intend to buy one, some deck strippers can work well with a garden hose to clean off the product.
In most cases, deck stripper is caustic, so prepare well by covering any exposed skin with protective clothing, and cover up nearby plants and lawn that might get sprayed with the solution. Most deck strippers are now legally required to be biodegradable, though not all are, so it is worth checking the label. Once the product is heavily diluted by being hosed off your deck, you don't need to worry about harming plants, as the diluted solution won't cause the damage that the concentrated solution can.
Paint strippers are a different ballgame and will usually be in a thicker paste form, requiring application by hand with a paintbrush or roller. They will usually need to be left to develop for longer and have to be manually removed with a scourer or scraper.
Benefits of Using Deck Strippers
Removes Color and Texture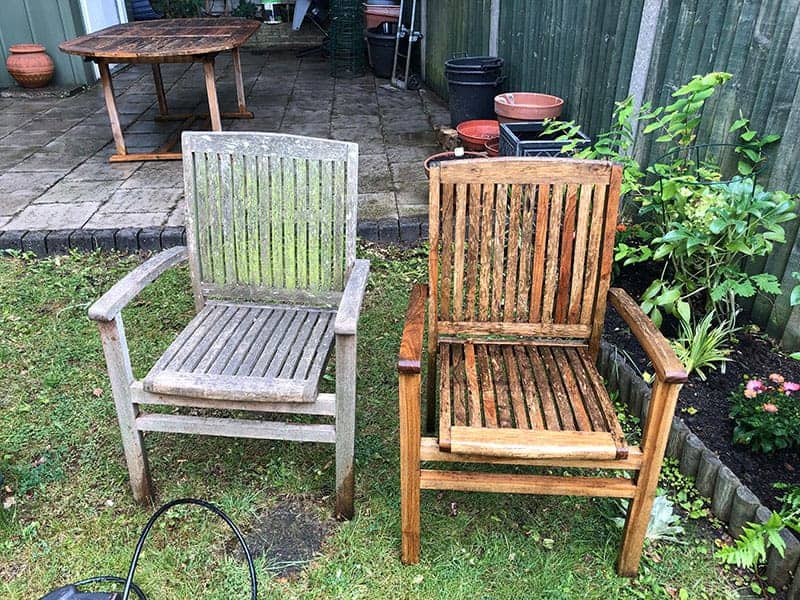 Deck strippers remove varnishes, sealers, stains, or paint. By having the ability to remove previous colors and textures from your deck, you can take it back to its natural state, giving you the option of starting over. This is great if you buy a new property but don't like the choices used by the old owners on the deck, or just if you want to have a style change and update the look of your deck. Deck stripper can make your wood look natural again, giving you the opportunity to change the look of it completely.
Cleans
Deck strippers have the added advantage of not only removing stain or paint, but also removing mold, mildew, algae, and dirt. If you use a deck stripper, you are essentially getting a two in one product, both a stripper and a cleaner. This makes your deck primed and ready to be brightened and resealed or painted.
Opens Deck Pores
Deck strippers penetrate deep into the wood to remove the previous staining, and in doing so, they open the pores of the wood. This is helpful if you plan to put a fresh coat of stain on your deck as it means the stain will go on in a much more even and uniform fashion with maximum absorption. The end result will be a more professional-looking stained deck.
Adds Curb Appeal
A deck stripper can improve the curb appeal of your property by updating the whole look of your home's exterior. If you have a decked veranda or porch around the front of your property, this is especially true.
Increases Property Value
Deck stripper removes old, faded, chipped, weathered, or unsightly finishes from your deck. By being able to restore your deck to its former glory, the aesthetic of the exterior of your home will improve, thereby increasing property value. If you are planning to sell your home, having your deck in top condition will present your property to a buyer as one that is well maintained and looked after, thereby making it more attractive and easier to sell.
What to Look for in a Deck Stripper
What you look for in a deck cleaner will entirely depend on your priorities and requirements, but as a general rule, you need to make these considerations.
What do You Want to Remove?
The product you are trying to remove from the deck will largely dictate which product you need. Whether it be paint, varnish, solid stain, or semi-transparent stain, you'll need to make sure your deck stripper of choice is appropriate for the job.
Biodegradable
Selecting a deck stripper that is biodegradable is important for a host of reasons. Biodegradable products will be much safer for your garden, causing minimum harm to grass and plants. Biodegradable products also pose no danger to the environment and ecosystems, as after being washed off your deck, some of the product is likely to find its way into local waterways. Biodegradable products are also safer for your family. If you have children or pets playing in your garden, you will feel safer in the knowledge that any deck stripping residue remaining in your garden is biodegradable and will break down over time without posing any health threats.
Application
If special equipment is required to apply the deck cleaner, you need to be aware of this so that you can either procure the necessary equipment or choose a different deck cleaner. While a pressure washer is very helpful to wash away most deck strippers, it isn't always essential. Checking the manufacturer's recommendations will allow you to make a decision on this, as well as seeking out user reviews or friends' opinions to find out which method of application gives the best results.
Top Product Reviews
Product Comparison
How do they compare? All of these products are top-performing wood strippers, though they each have differences which may better suit specific requirements. The only two of these strippers that are intended for use on solid paint are the Dumond Chemicals Smart Strip Advanced Paint Remover and the Woodrich Heavy Duty Wood Stripper and Wood Cleaner. The remaining three are intended for use on clear varnish, sealers, and stains, or semi-transparent stains.
Some of these strippers are ready to use, while others will require diluting with the use of a large container. Products ready mixed are the DEFY Exterior Wood Stain Stripper, the SaverSystems Deck Wood Stain Stripper, and the Dumond Chemicals Smart Strip Advanced Paint Remover. Of these strippers, the Dumond Chemicals Smart Strip Advanced Paint Remover is the most time-consuming as it needs to be left on the painted surface for up to 24 hours and then scraped off. If you're looking for an easier or quicker job, one of the other wood strippers that can be removed with a pressure washer or hose would be preferable.
Top Pick For Stain, Oil, Varnish, etc. Remover
Restore-A-Deck Wood Stain Stripper
This stripper comes in powder form, and once diluted with water will make enough to strip between 500 and 1,000 square feet of exterior wood. This formula is biodegradable, though grass and plants should be covered before application as direct contact with the wood stripper will burn foliage. You can also wet your plants and their soil, as then, any product that reaches them will be diluted, and this won't cause any harm.
The stripper aims to remove most oil and latex-based sealers, varnishes, transparent or semi-transparent stains, along with dirt, mold, and mildew. The manufacturer recommends that the product be applied with a pressure washer or garden sprayer for maximum success. Particularly tough stains may require two applications, or alternatively, you can use less water when mixing to create a more heavily concentrated solution.
This stripper is not for use on solid paints or acrylic-based stains. It is recommended for use as the first step in a series of wood refinishing steps and should be followed up with a wood brightener to neutralize the pH of the wood.
Users of this product found it to be very impressive, working better at removing stains than other similar products they had tried. Some users expressed the belief that a garden hose would not be strong enough to remove the product and that a pressure washer really was necessary to complete the job. Users also found this product to be extremely caustic and recommended covering every part of your body before using the stripper to ensure that no splashes will reach and burn your skin.
Several applications of the product were needed to remove some tough stains completely, but this is not unusual, and considering that the powder makes up to five gallons of solution, there should be plenty to go around. Users also love how cost-effective the product is, working out at around $7 per gallon once diluted to the recommended concentration.
s did agree that the Woodrich customer service was top-notch, even in instances in which the product did not perform well.
Pros
Cost-effective
Makes lots of solution
Biodegradable
Cons
Will not work on acrylic-based stains
Requires wood brightener follow up treatment
Top Pick For Paint & Varnish Remover
Dumond Chemicals Smart Strip Advanced Paint Remover
This paint stripper is designed to remove almost any coating from interior or exterior wood, metal, plaster, plastic, concrete, glass, brick, and stone. It works on paints that are water-based, latex-based, oil-based, acrylic, urethane, and even old lead paint. The stripper is a paste that needs to be generously painted onto your surface and left for between 3 and 24 hours before being scraped off. It won't dry out during that time, and upon scraping, you should find the stripper along with the paint peels off in large dry sections.
The stripper is water-based and odor-free, with no VOC's. It is biodegradable and pH neutral, so you want have to follow up on the application with a wood neutralizer. The formula is safe for the environment, containing no toxic substances. It is safer for you and your family to use, being noncarcinogenic and noncaustic. The manufacturers of this product state it will remove up to 15 layers of paint in one application.
Users of this product love how well it performs on even decades worth of paint, as well as how mess-free the clean-up is. Some users recommend that the product is best left on for the full 24 hours for best results, before scraping away the paint with metal scrapers or wire brushes. They found that although lots of manual hard work was needed to reach the desired results, this stripper was able to remove layers of paint that other strippers didn't even come close to. Users also recommended painting on the solution very generously, as a thin layer of stripper would not work. If you have a large deck to strip, then this stripper could work out to be quite costly, as lots of product is needed.
Pros
Biodegradable
Nontoxic and noncaustic
Odorless
Mess-free
Suitable for most surfaces
Effective on most paints and stains
Cons
Time-consuming
Labor intensive
Large areas may be costly
Other Choices
DEFY Exterior Wood Stain Stripper
This wood stripper from DEFY is intended to remove clear or semi-transparent stains from any type of wood. It will also remove weathered sealers and varnishes. It comes ready to go and does not need to be diluted. You simply use a garden sprayer to mist the product all over damp wood and then wash it off, ideally with a pressure washer. If you don't have any special equipment, you can work in small areas and apply this stripper with a paintbrush and then wash it off with a hose. The formula works to lift of the previous stain which can then be washed away with water.
Users of this product love the company's customer service. After contacting DEFY's parent company, SaverSystems, users of this product were delighted with their quick and helpful responses, in some cases receiving free products to continue their wood stripping projects. While some users did note that several applications of this stripper were required to achieve the desired result, they found that this stripper worked better than alternatives they had tried.
Users commented that the application process was easy, though time-consuming on large areas of wood. Some users found that the product performed better when applied to heavily soaked decks, rather than lightly moistened decks as per the stripper instructions.
Pros
Easy to use
Reasonably priced
Pre-mixed and ready to use
Excellent customer service
Cons
Time-consuming to use
May need several applications
Woodrich Heavy Duty Wood Stripper and Wood Cleaner
This wood cleaner and stripper is designed to remove any type of stain or paint from wood, including mold, mildew, wood stain, wood sealer, semi-transparent, and solid paint. It comes in powder form, which has to be mixed with water before use, and then applied directly to the wood with a garden sprayer or mop.
The product should be left on for up to 30 minutes but not allowed to dry, so it is best to perform the application on a dry but overcast day, and you may need to apply further product before washing it off just to keep it wet. Once the time is up, you should wash it off with a pressure washer or hose. Being heavy-duty, the formula is highly toxic and should be washed off thoroughly and kept away from the skin as it is caustic.
Users of this product experienced mixed results. Some users were pleasantly surprised by how much paint or stain it removed from their deck. Many users found that some particularly tough spots needed a second application, or even to be sanded afterward to achieve a flawless result, but the stripper did a great job at removing the majority of the stain so that only minimal sanding was required. Some users found that this product did not work at all, and believed that pressure washing alone without the product would have produced the same results. However, users did agree that the Woodrich customer service was top-notch, even in instances in which the product did not perform well.
Pros
Excellent customer service
Easy to use
Works on tougher stains
Cons
May require several applications
Did not work for some customers
SaverSystems Deck Wood Stain Stripper
This wood stripper comes ready to use and requires no diluting, with one gallon covering between 100 and 150 square feet of deck. It removed the weathered sealer, clear, or semi-transparent stain. To use it, you can spray it on with a garden sprayer, or alternatively, use a mop or large paintbrush. After the solution has had 30 to 60 minutes to penetrate the wood, wash it off with a pressure washer. You'll have to ensure the solution isn't allowed to dry during this time, so ensure you save some of the stripper to top it up to prevent from drying, and ideally complete the application on a cool day so that the sun doesn't dry the solution even quicker. This stripper will also remove dirt, algae, mold, and mildew. It will not work on paint or solid colored stains.
Users of this product love how easy it is to use, requiring no scrubbing, simply spraying on and spraying off. Users found that in order for the stripper to work successfully, it had to be applied very generously. Use several coats of the solution when spraying on, or paint the stripper on very thickly with a paintbrush or mop.
Users found that the use of a pressure washer to remove the stripper was absolutely essential, as a hose wouldn't have been enough to lift off the stripper and the old stain. Many users found that if you had more than one layer of stain to remove, you would need to repeat several applications to remove it, as the stripper did not perform to a heavy-duty standard.
Cons
Pressure washer necessary
Several applications needed for layered stains
Conclusion
The standout product amongst these popular wood strippers is the Dumond Chemicals Smart Strip Advanced Paint Remover. It will remove almost any paint or varnish it comes into contact with and is safe for both the user and the environment. However, if you only need to remove stain from your deck rather than paint, then the Restore-A-Deck Wood Stain Stripper would be your best purchase. With excellent results on semi-transparent stain and a cost of just $7 per gallon once diluted, you would be hard-pressed to find a better wood stripper for the money.