5 Best Outdoor Brooms – Sweep Your Garden, Decks, Sidewalks With Ease
5 Best Outdoor Brooms – Sweep Your Garden, Decks, Sidewalks With Ease
Explore Our Categories
Evergreen Trees

From glittering Christmas trees to pot-bound Norfolk pines, evergreens are everywhere. Since they remain green throughou...

Christmas Trees

There are few trees more recognizable than the Christmas tree. While this style of tree is iconic, there are several var...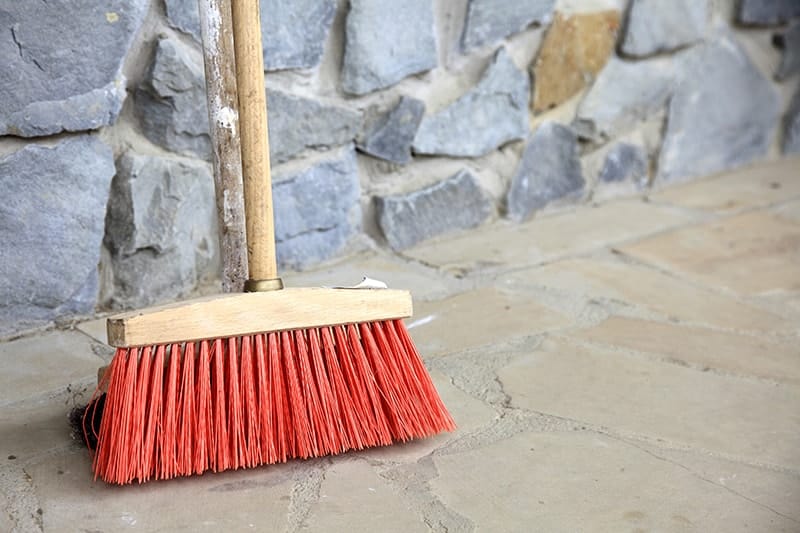 An outdoor broom might not be the most exciting purchase you make this year, but considering how often our backyards, patios, sidewalks, driveways, and garages need to be swept clear of mounting debris or piles of leaves, a broom is an essential piece of equipment to keep your outside space in good shape. And a clean deck ready for grilling season is something we can get excited about!
If your past brooms have succumbed to broken handles, bent-out-of-shape bristles, and barely operational heads, read on to find out about outdoor brooms that have the capacity to stand up to heavy use year in year out.
Product Details
Our #1 Rated | Top Pick For Corn Broom
O-Cedar
Heavy Duty Commercial 100% Corn Broom
Our Pick For Push Broom
O-Cedar
Professional 18″ Rough-Surface Push Broom
Our Pick For Angle Broom
O-Cedar
Outdoor Power Angle Broom
Buying Guide
What to Look for in an Outdoor Broom
As with anything, your own individual circumstances and personal preferences will dictate to some extent what you want out of your broom. But there are some things we can all agree on that a broom should be.
Durable Handle
Outdoor brooms need to be able to withstand heavy use. They are likely to take more physical abuse than indoor brooms, so it's vital that they have strong and sturdy handles. Metal handles are a good choice as long as they are of high-quality construction.
Some cheap aluminum handles won't stand the test of time, whereas steel handles are likely to last longer. Wooden handles are also a good choice provided they are thick and strong. Even plastic handles can be durable as long as they are of good quality plastic in a chunky design to help prevent snapping and breakage. Plastic handles do tend to be more inclined to break than metal or wood, so bear this in mind when choosing your broom.
Strong Joint
The point at which the handle joins to the broom head is where most brooms fail. The most common problem among broom users is a handle that snaps off at the point of the join, so it's essential to look for a broom with a strong join if you want it to last. Some brooms also have the problem of coming loose at the join during use, which is frustrating and makes sweeping even more of a chore than it needs to be. A specially designed lock at the join is a good feature to look out for.
Firm Bristles
If you're using your broom outside, you could be sweeping up anything from heavy piles of wet leaves to grass clippings or pet hair. Your outdoor broom needs to be able to handle anything you throw at it, and so, firm bristles are a must. Plastic bristles and natural bristles can both be equally effective, provided they are strong and firm. Bristles which become misshapen with use will result in inefficient sweeping over time.
Size
Your broom needs to be appropriately sized for your height. A broom that is too short will result in too much bending over during use and might create or exacerbate back problems. Equally, a broom that is too tall will be cumbersome and difficult to use. Also, take into account the weight of the broom, ensuring it is a suitable weight for you to hold.
Grip
If you want a comfortable grip, then look for foam-cushioned handles, which will help to reduce friction on your hands during use. Wooden handles can also be a good choice when it comes to grip, as they are inherently ergonomic, feeling natural to hold.
Product Comparison
For a broom that is lightweight and therefore easier to use, look to the O-Cedar Professional 18″ Rough-Surface Push Broom, the O-Cedar Outdoor Power Angle Broom, or the TreeLen Dust Pan and Broom. The O-Cedar Heavy Duty Commercial 100% Corn Broom and the Black & Decker Indoor/Outdoor Push Broom are heavier brooms. This may make them more cumbersome to use for some people, but the added weight does also help to make the brooms sturdier and more fit for outdoor use.
The O-Cedar Professional 18″ Rough-Surface Push Broom and the O-Cedar Outdoor Power Angle Broom both have handles made from plastic, which arguably makes them more likely to suffer from premature breakage. Meanwhile, the TreeLen Dust Pan and Broom, and the Black & Decker Indoor/Outdoor Push Broom both have metal handles. The O-Cedar Heavy Duty Commercial 100% Corn Broom is unique among our reviewed best-selling outdoor brooms as the handle is wooden.
Product Reviews
Our #1 Rated | Corn Broom
O-Cedar Heavy Duty Commercial 100% Corn Broom
This traditionally designed broom has bristles made from corn rather than the plastic bristles found on more modern brooms. The corn straw is held tightly together by five rows of sturdy poly twine stitching to ensure they remain evenly placed and don't come loose. The handle is particularly thick and constructed of wood for longevity. It is lacquered in black for a glossy finish. Designed for industrial use, this heavy-duty broom is ideal for use outdoors.
Users of this item have become unusually attached to it, considering it is a broom! They state that it is beautifully crafted and looks lovely standing in the corner of a room. It also works efficiently, being sturdy, reliable, and substantial. The handle is long and very chunky and is well-balanced with the size of the broom head.
Some users purchased this broom for use inside the house but found it was too large and industrial for this purpose and instead use it as an outdoor broom, for which it is much better suited. Some users complained that the broom is simply too big and heavy to handle for petite people, and while this is definitely a problem for some people, it does attest to how heavy-duty the broom is.
Pros
Traditional style broom
Sturdy natural corn bristles
Thick, heavy-duty handle
Long-lasting
Reliable
Beautifully handcrafted
Cons
Too large and heavy for some users
Our Pick For Push Broom
O-Cedar Professional 18″ Rough-Surface Push Broom
This heavy-duty broom was designed to handle rough surfaces with ease, such as garage floors, decks, and driveways. It has stiff bristles which make it well suited to sweeping rough surfaces, but the bristles also have memory technology, so they won't lose their shape even after heavy use.
The handle is attached to the head with a patented Maxi-Lok feature, which prevents the broom head from coming loose, even under pressure. The anti-rotation lock also helps to further ensure the broom head is securely fitted on to the handle. The main structure of the broom is made from robust plastic to prevent cracking, while the broom block and bristles are constructed from 80% recycled materials.
Users of this broom love how effectively it sweeps up outdoor debris and how lightweight and therefore easy to use it is. Some users noted that it seemed to be very sturdy and they expect it will last for many years. However, some users experienced the handle breaking after only a few uses and complained that the plastic used is not high-quality enough to cope with outdoor use.
Pros
Lightweight
Bristles won't lose their shape
Our Pick For Angle Broom
O-Cedar Outdoor Power Angle Broom
This outdoor broom features bristles designed at an angle to help you sweep in areas that are ordinarily hard to get to. The bristles are sturdy, so they can easily sweep up heavy debris such as piles of wet leaves. The broom is lightweight for ease of use and also features a foam grip to increase user comfort while sweeping. The broom is made in the USA, with the bristles being formed from recycled plastic bottles. It also features a handheld handle near the base for ease of use when sweeping in conjunction with a dustpan.
Users of this broom love the design of the head. The angle of the bristles works well, and the bristles themselves are firm enough to make easy work of outdoor sweeping, but not so firm that they scrape the floor. Users also enjoy the foam-padded handle, which helps to prevent sores or blisters on hands that regularly use the broom. Some users claim this to be the best outdoor broom they've ever owned. However, some found that the plastic handle was not adequate for outdoor use. Many people experienced the handle breaking after just a few uses and would not recommend the broom on that basis.
Pros
Made in the USA
Comfortable foam handle
Firm angled bristles
Lightweight
Made from recycled materials
Broom With A Dust Pan
TreeLen Dust Pan and Broom
This broom comes equipped with a lobby dustpan so that you can sweep up your dirt and debris into the dustpan as you go without the need to bend over. The dustpan itself features a flexible lip that molds to the shape of the floor so that no fine dirt or dust gets brushed underneath. Instead, all of it gets brushed into the dustpan and can be emptied directly into a garbage bin. The dustpan also features a toothed scraper, so you can easily comb your broom against the scraper to remove pet fur or hair that has become lodged in the bristles.
The broom benefits from a metal pole handle for extra stability and longevity, while the bristles are firm and won't become misshapen with use. The broom and dustpan snap together in an upright position for better storage.
Users of this dustpan and broom set love how easy it is to use and that it prevents any unnecessary bending over when sweeping up. People with mobility issues or joint problems found this set especially useful as it allowed them the freedom to clean up by themselves without risking injury. Users were also fond of how well the broom and dustpan became compact for good storage. Some users found that the flexible lip of the dustpan didn't work as well as they had hoped, but overall, this was considered a very minor problem.
Pros
Includes lobby dustpan
No bending required
Toothed comb scrapes out lodged hair
Firm bristles
Good compact storage
Cons
Dustpan lip disappointing
Another Choice For Push Broom
Black & Decker Indoor/Outdoor Push Broom
This broom has a 24-inch wide brush head which features two different types of bristles. Firm bristles on the inner area help to sweep up tough debris, while the outer edges have soft bristles that work to capture fine dirt and dust.
The handle is made from steel to prevent breakage and features a Clic' N Loc ratchet system to keep the handle firmly attached to the broom and eliminate any chances of loosening during use. The handle also benefits from padding for a better grip and more comfortable use.
Users of this broom love how heavy-duty it is. Users who have had the broom for many years attest to how well it lasts and how durable it is. It is well-engineered and suitable for both indoor and outdoor use. It is also easy to clean with a hose and holds up well under heavy use. Users note that the foam-padded handle is good for reducing friction on the hands and making the broom more comfortable to use. Some users were disappointed to find that this broom broke after a short time, but this was not a common occurrence.
Pros
Robust steel handle
Comfortable foam grip
Long-lasting
Two types of bristles
Conclusion
For the best heavy-duty outdoor broom that will stand the test of time, the O-Cedar Heavy Duty Commercial 100% Corn Broom stands out from the crowd. It is an old-school style handcrafted broom made from natural materials, similar to the broom your grandparents would have used. In instances such as this, it's easy to see that the original way was the best way. As well as being very robust, it works well, is attractive, and is a joy to use. This broom is a sound investment that you won't regret.