Home >
25 Fabulous Small Backyard Ideas
25 Fabulous Small Backyard Ideas
Have you ever dreamt of owning your own slice of private paradise? With a small backyard, you may not have ever felt that such a thing was achievable, but a few simple ideas could transform your small or unusable space into a haven for relaxation, or a dining dream.
Small Backyard Ideas
Whatever your style preference or budget, you will find some inspiration to modify parts of your outside space in these 25 fabulous small backyard ideas.
1. The Perks of Wallflowers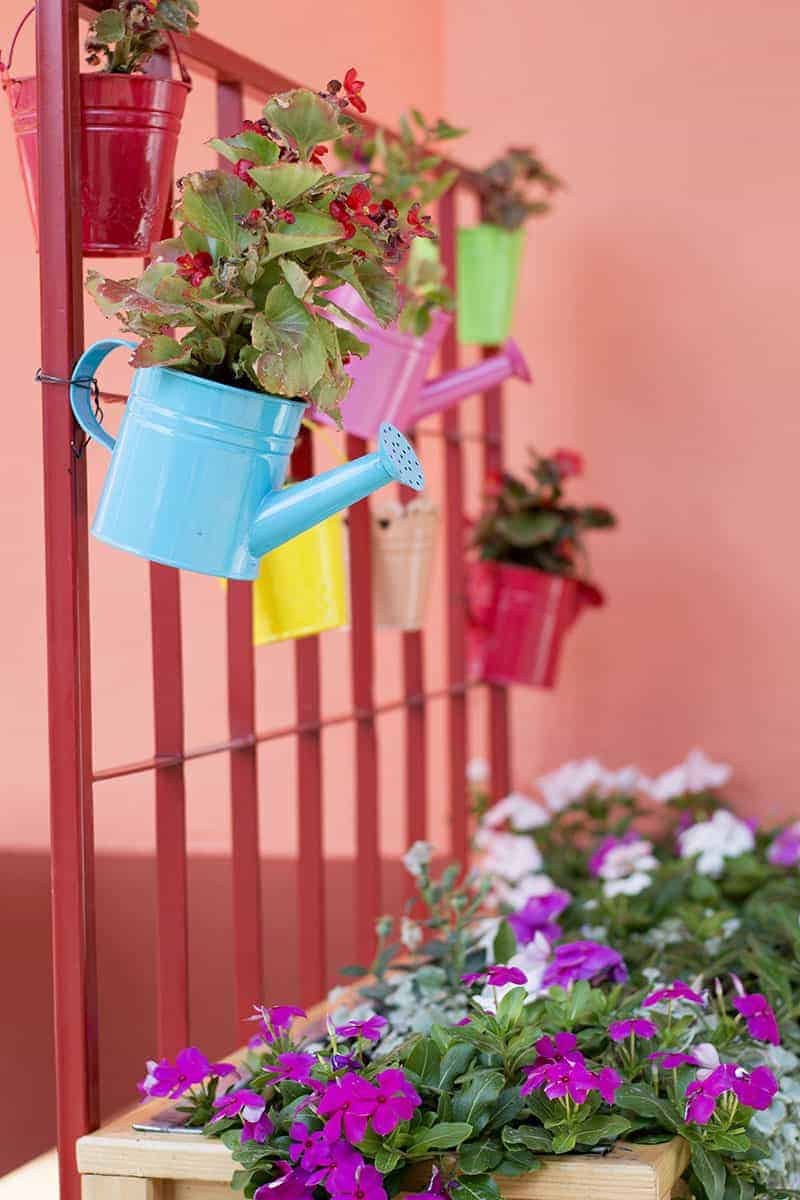 For backyards with a small footprint, it can be a struggle to find floor space for your plants and flowers. To combat this, try making the most of your fences, railings, and walls by fixing plant pots to them. Be as inventive as you like with your plant holders, using watering cans, old jam jars, and even old boots to plant your flowers in. Creating a flower wall is a great way to bring life and color into your small backyard. It's also fairly inexpensive, so no worries if you're on a low budget.
2.Double Duty Seating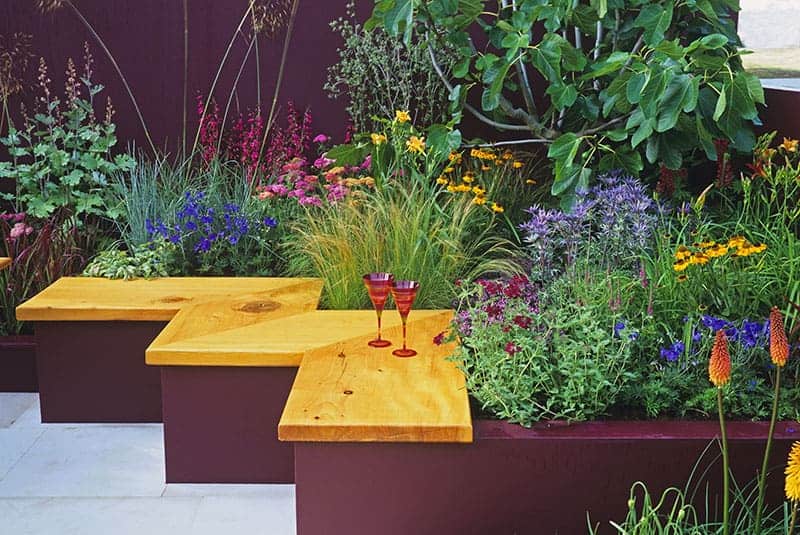 In small yards, it's a good space saving idea for your choices to have dual functionality. This flower bed edging is a good example, working as a barrier to keep the plants in as well as a seating surface and place to put down drinks or tableware. Especially important for those who like to entertain in their backyard is squeezing in as much clever multi-functional seating as possible.
3. Shelf It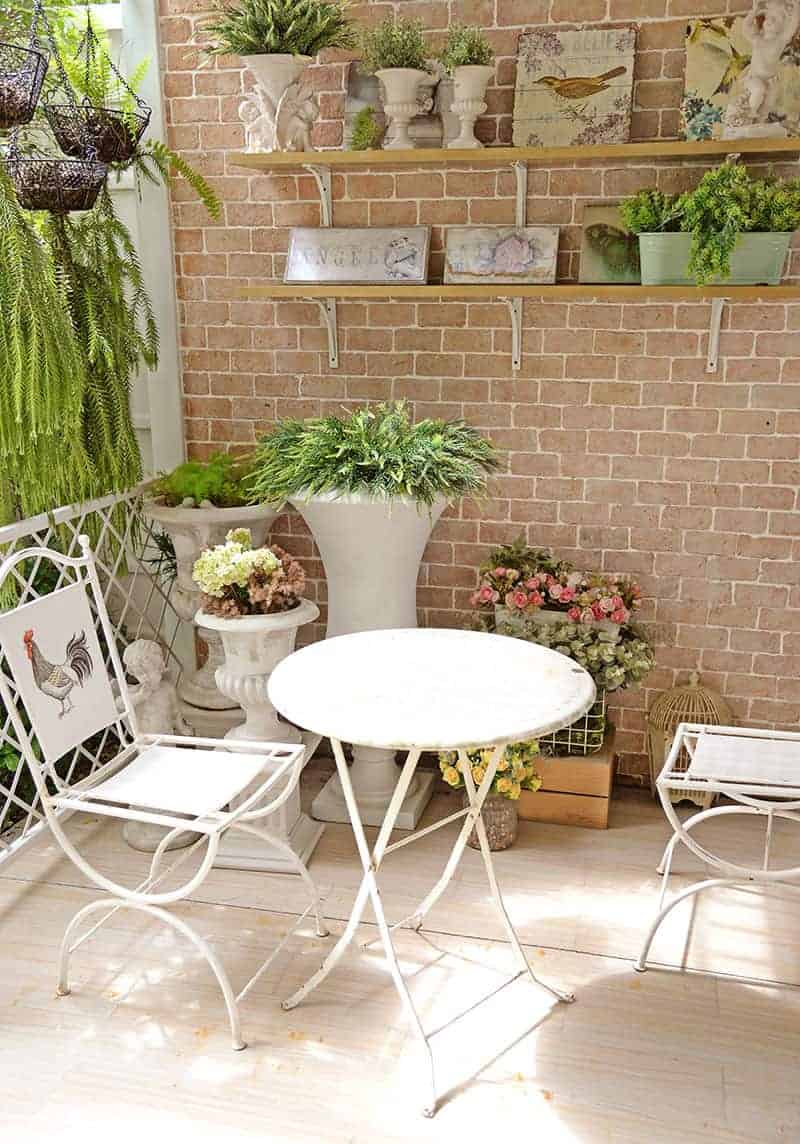 Shelves are a brilliant storage solution as well as a place to display your treasured items inside the home, and there's no reason why this shouldn't be replicated outside. Shelves can be a handy place to store small boxes of garden tools or place potted plants or vases of wildflowers. Make your backyard even more homely by bringing photo frames or art out onto the shelves in dry weather. Remember, though, that any wooden furniture will need to be treated with an outdoor weatherproof coating to help it survive the elements all year round.
4. Go Crazy for Cacti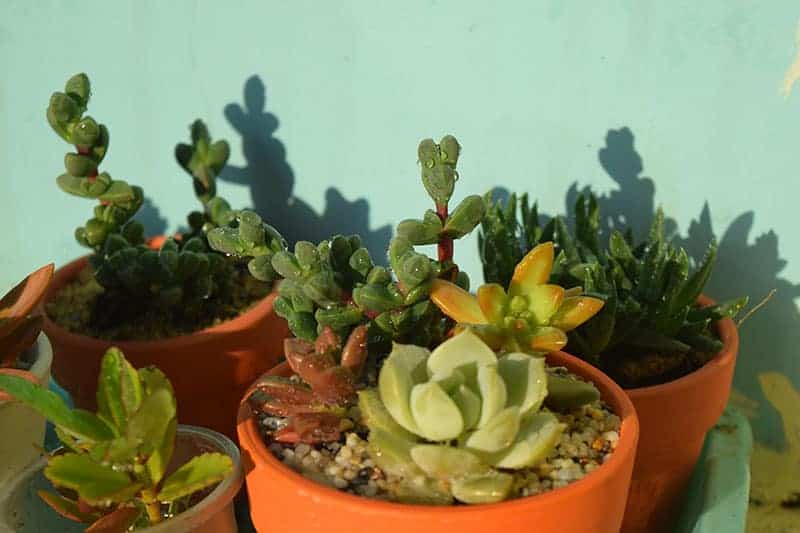 In especially small backyards or balconies, it can be hard to find the space to grow plants or get access to enough sunlight to allow them to flourish. Succulents, however, are a brilliant alternative to leafy plants, taking up very little space and requiring very little nurturing to thrive. They grow at a slow rate, meaning no pruning is necessary, and you won't find that your garden has suddenly been taken over by a rapidly spreading climber. Set your cactus on any surface in your backyard to easily introduce a touch of greenery.
5. Hanging Bottles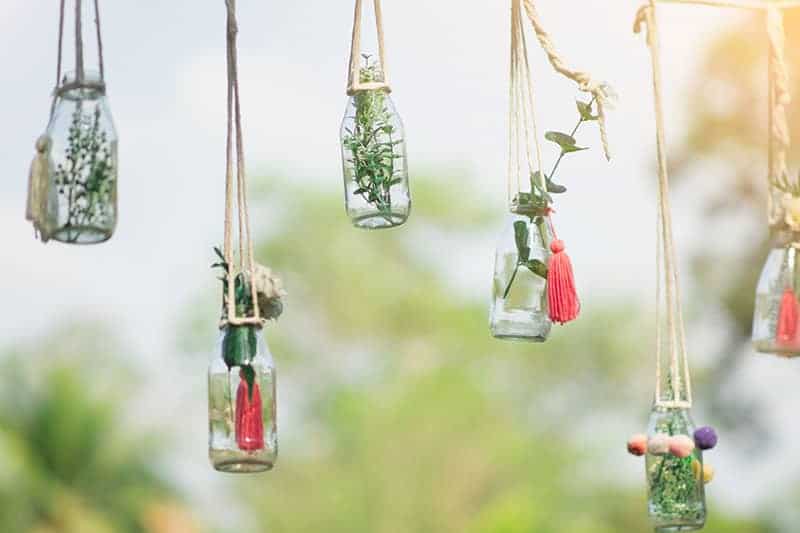 A pretty way to decorate a small yard for special occasions is this inexpensive and easy idea of hanging up glassware with flowers inside. Simply collect together old glass drinks bottles or jars and tie up around the neck with some string for a rustic look, or ribbon for a more elegant feel. Pop some fresh cut flowers or small branches into your glasses and hang them from anything with height that you can find in your backyard: trees, tall bushes, hooks on garden walls, fence posts, or hanging basket hooks. For extra interest and color, decorate your glass bottles with anything you may have around the home: tassels, glitter glue, pompoms, fairy lights… the possibilities are endless, and you can change what's in your bottles to match the seasons!
6. The Next Level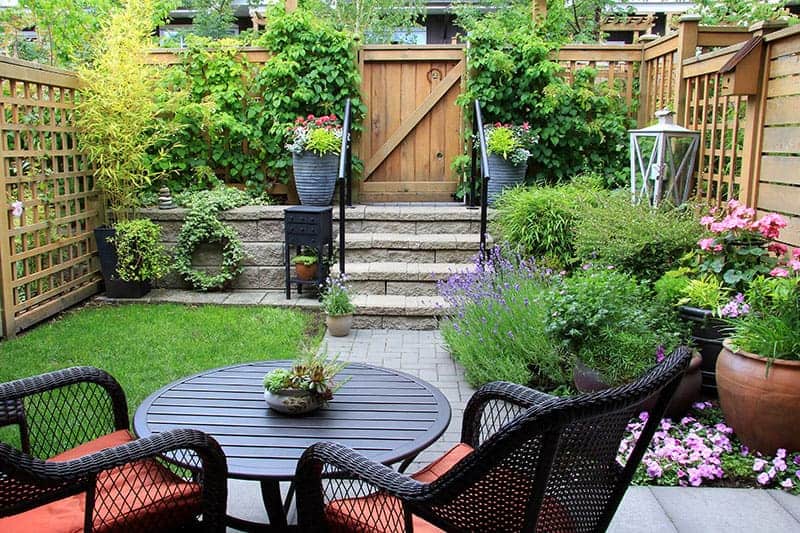 A small backyard does not have to be boring. Add layers of interest by creating different levels as seen here in this garden. You can do this using decking, paving, or stone steps. Creating levels is also a good way to define different areas. For example, you could create a decked level especially for dining. Levels will also make your yard appear larger than it is, drawing the eye to different parts of the space. This is a good route to go down if you're a fan of landscaping, but your small backyard is preventing you from experimenting, as levels can be achieved in gardens of almost any size.
7. Paved Haven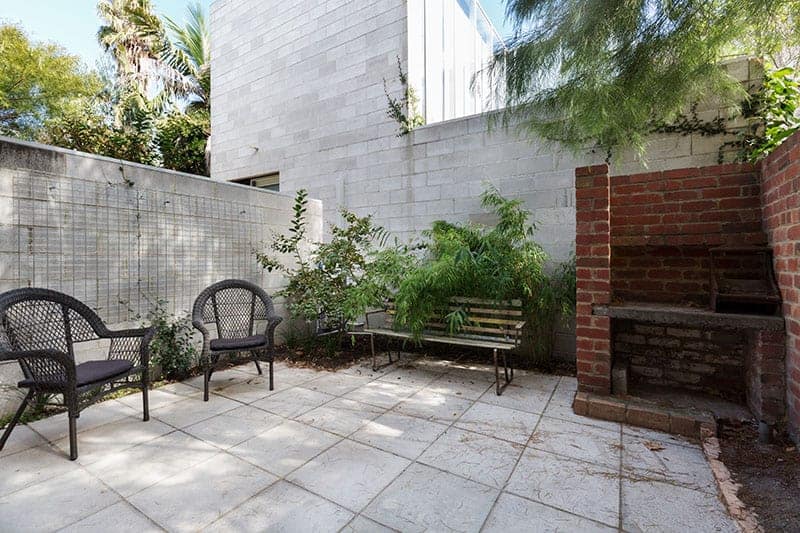 Particularly popular with people who have no time for the upkeep of a backyard but still like to enjoy their outside space is paving. Small yards can be paved in their entirety for a reasonably low price, and doing so will give the space an almost instant makeover. Choose lighter colored paving slabs to give a more open and airy feel, or darker slabs to invoke a cozy atmosphere.
8. Water the Garden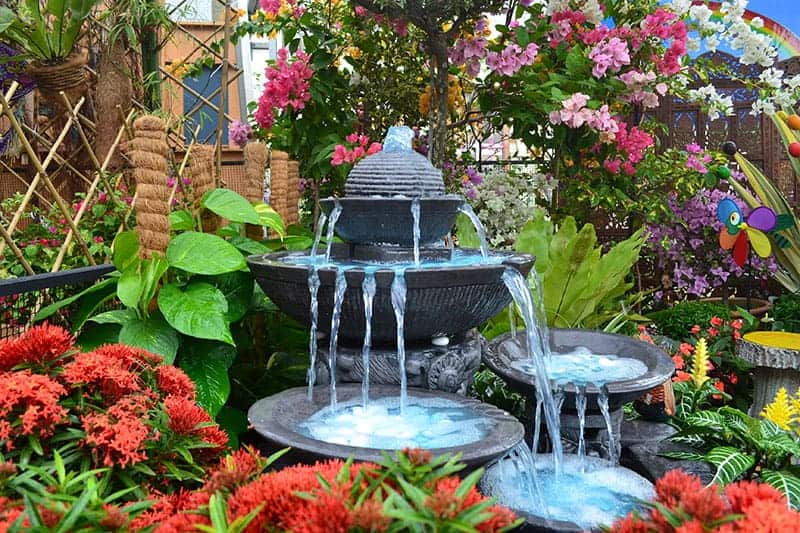 Water features are not only for large, grand gardens. If you're keen to have a water feature in a small space, then steer clear of fish ponds or swimming pools, which take up too much valuable floor space. Instead, opt for water features with height and make a focal point of it by surrounding it with plants and flowers. Water features not only add visual interest to your space, but they will attract wildlife that may like to drink from the water, and provide a calming background noise that many people find soothing.
9. Leaf Luxury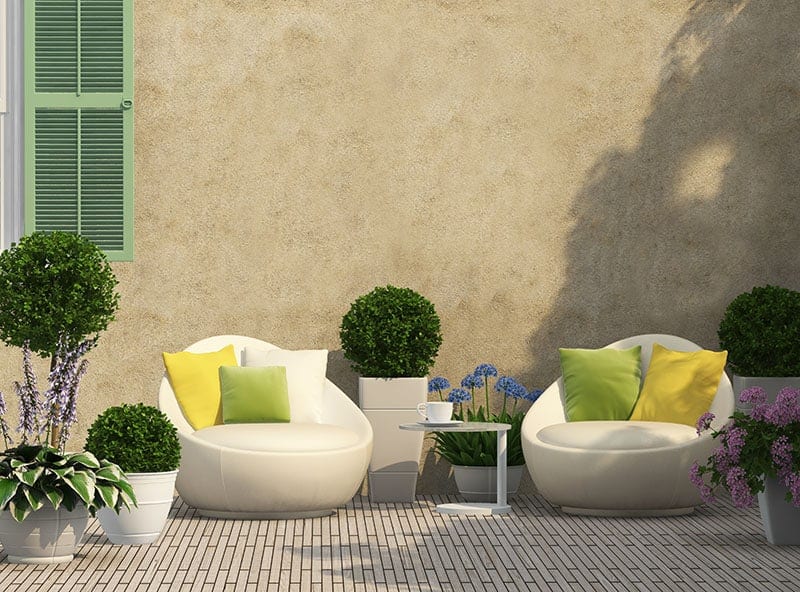 Small backyards have just as much potential to be luxurious as large ones. The secret lies in the type of plants, furniture, and accessories that you choose to select for your yard. Opt for opulent pruned plants in solid planters, such as bay trees, and seek out lavish and unusual garden furniture with a focus on comfort. Your backyard can be thought of as an additional room to your home, a place where you enjoy lounging, entertaining, or dining. Furnish it selectively, and you will have a yard that is the envy of your neighbors.
10. Al Fresco Dining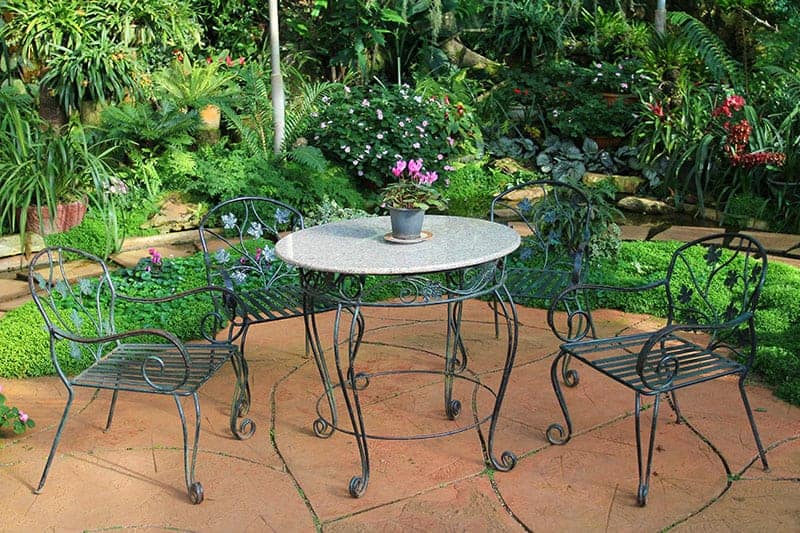 Make dining a focal point by putting a table and chairs set in the center of your backyard and arrange your plants and greenery around it. If space is limited, bistro dining sets can be found at affordable prices, and make a great space for an early morning coffee or enjoying a glass of wine under the evening sun. Making a feature of your outdoor dining furniture can certainly help encourage you and your family to get outside to enjoy the fresh air.
11. Lots of Pots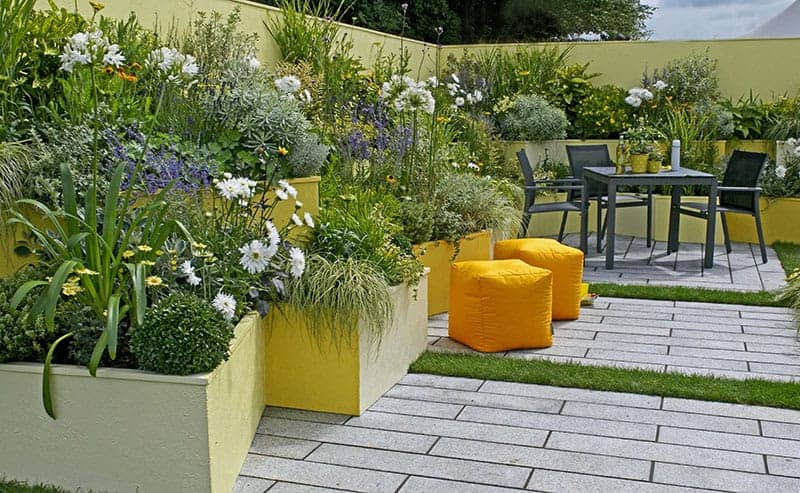 If your yard is quite bare, then plant pots are the perfect way to introduce some greenery into your space easily. You can start small by adding a few pots in corners and gradually build up to a potting fan's dream with numerous pots all gathered together. You can inject a lot of personality into your garden with the types of pots you choose. Picking a color scheme you like might be one route to take, or selecting a particular theme. Extra-large pots, like the ones shown here, can create a very full and lush look. The added benefit of pots is their portability, so if a plant doesn't fare very well in a particular spot, then you can move it to see if it does any better somewhere else, or even just move them around if you get bored of your pot setup.
12. Live the Lounge Life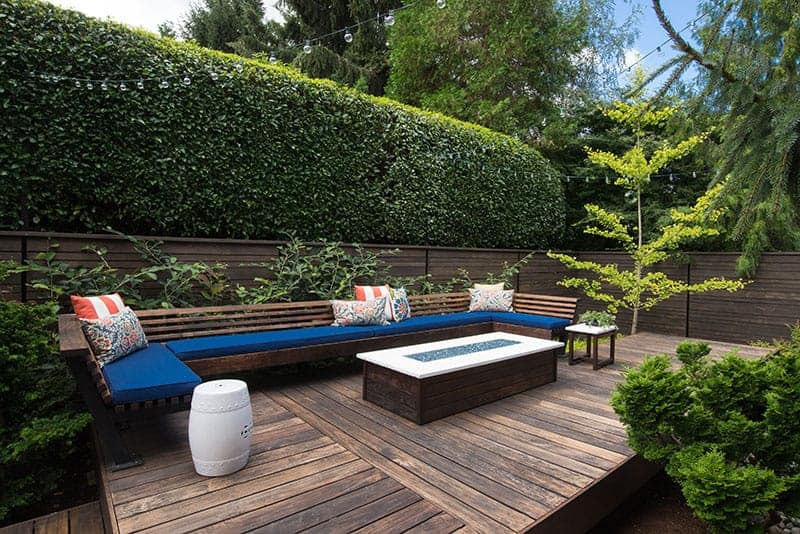 If relaxing outside is your thing, then you can reflect that in your backyard, even if it's on the small side. Pass on a lawn or dining set in favor of some lounge furniture, and make your yard into an outdoor relaxation haven. Comfy padded seats are a must, with long sofas preferable as these can double up as lounger beds for catching some rays and browsing through a magazine.
13. Deck with It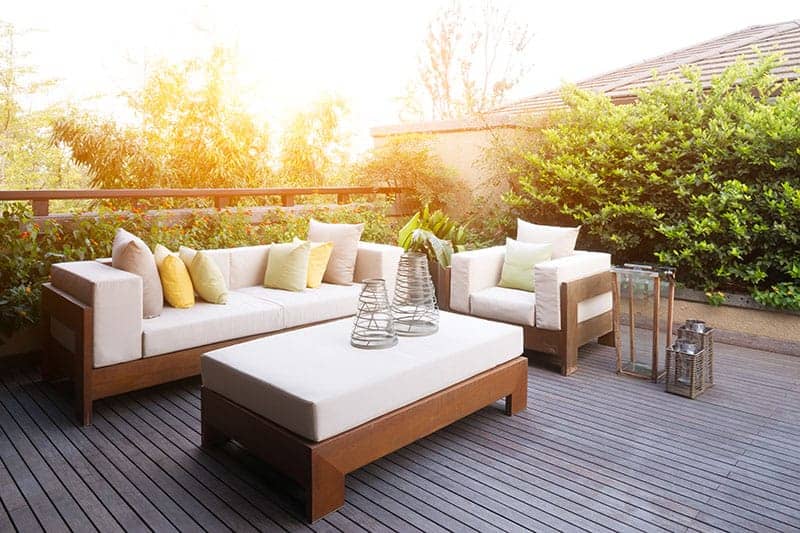 Deck flooring is as appealing as it is low-maintenance, giving a chic feel to your outdoor space and providing you with a ground comfortable enough to walk on barefoot. For smaller gardens, decking the entire floor can have an incredible design impact, making all of your space instantly useable. A fully decked floor will give a touch of elegance and sophistication to your garden, while also making it seem larger by creating a vast base to build on.
14. Invite Your Feathered Friends
Birdhouses can brighten up your backyard, as well as create a safe spot for birds to eat, shelter themselves, or maybe even nest and build a family. Birdhouses take up next to no space, are inexpensive to buy, and easy to install, so they're a no-brainer for any bird-friendly yard, irrelevant of the size. Line your birdhouses up neatly along a fence for a structured artsy look, or hang them around your garden randomly in a more natural, haphazard style. You can buy birdhouses in funky designs, or even get hold of basic budget birdhouses that you can paint yourself for one-off pieces that nobody else will have. Those lucky birds!
15. Rainbow Vibes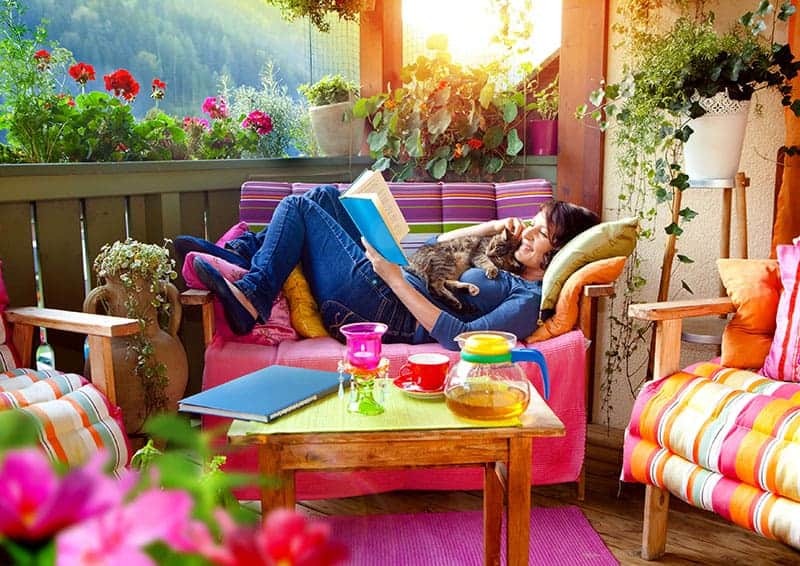 Inject some color into even the tiniest yard with blankets over chairs, floor cushions, bright flowers, or painted plant pots. Forget "less is more," and get color happy with bold tones on every surface and mismatched prints for a laid back, fun feel. Intense color helps to create a casual vibe for the area where you will find yourself spending more and more time. Increase the comfort level by bringing the inside out, with extra cushions and throws in every shade.
16. Go Herbal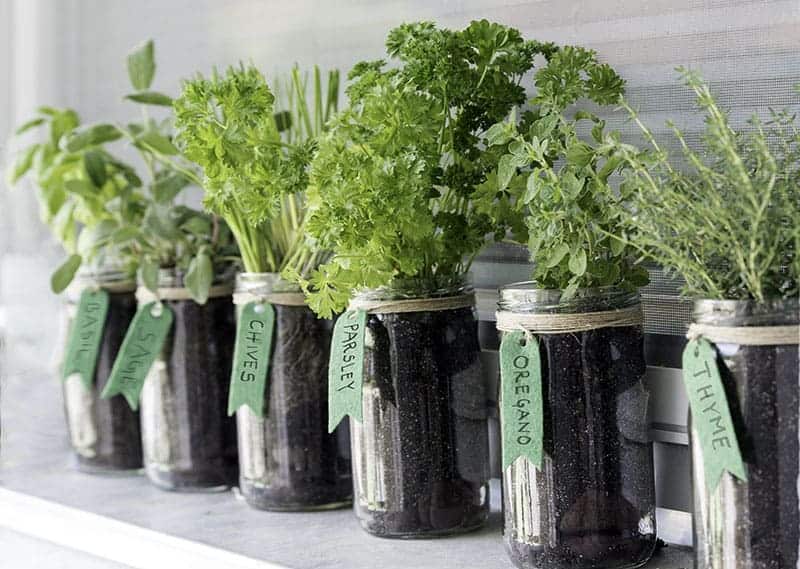 Keen cooks and gardeners can feel stunted when faced with a small yard, but herb gardens are a great way to get your fingers (and your dinners) green without needing much space at all. Create a garden shelf and line it with herb pots, or fill a planter with a selection of your favorite herbs, and tuck in whenever the mood takes you. For budget-friendly herb gardens, these upcycled old glass jars make great herb pots, or you can get inventive with old paint tins, unwanted vases, or thrift store finds. Label your herbs for a country chic look, and also so you don't wind up with sage in your mint tea!
17. Dress to Impress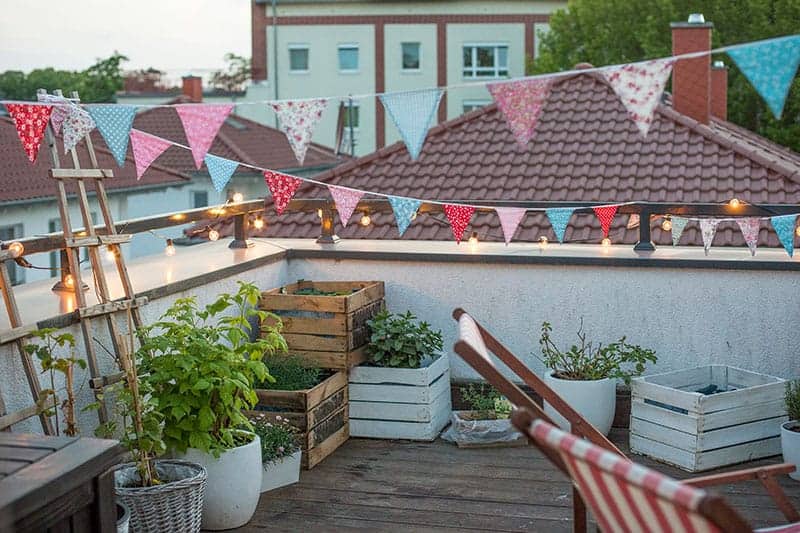 Small backyards are the perfect setting for outdoor decorations because minimal expenditure and effort are required to make a big impact. Bunting flags look cute in the summer, and you can color coordinate the fabrics with other decor in your garden. String lights are also popular in yards for a good reason; they create an intimate atmosphere while also looking pretty. Opt for solar string lights, which will charge up during sunny days and automatically light up when it's dark, eliminating the need for an outdoor power source or having to replace batteries continually.
18. Rock On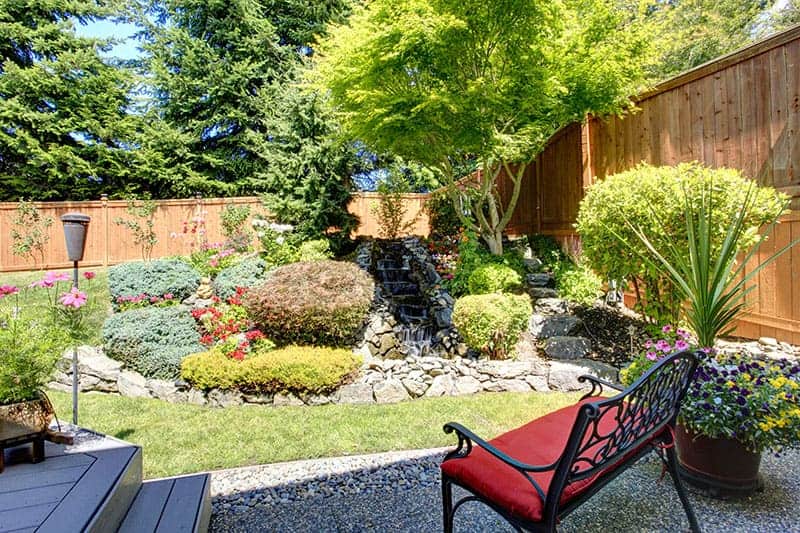 If water features aren't your thing, you can still create a focal point in your small yard with a rockery. A rockery is essentially a heap of (artfully arranged) stones and rocks on top of the soil. Plants can be grown in the gaps between stones for a more free-flowing, less sculptured look. A rockery works well on uneven ground, disguising any hills or slopes in your garden that would not have been useful for anything else.
19. Hidden Storage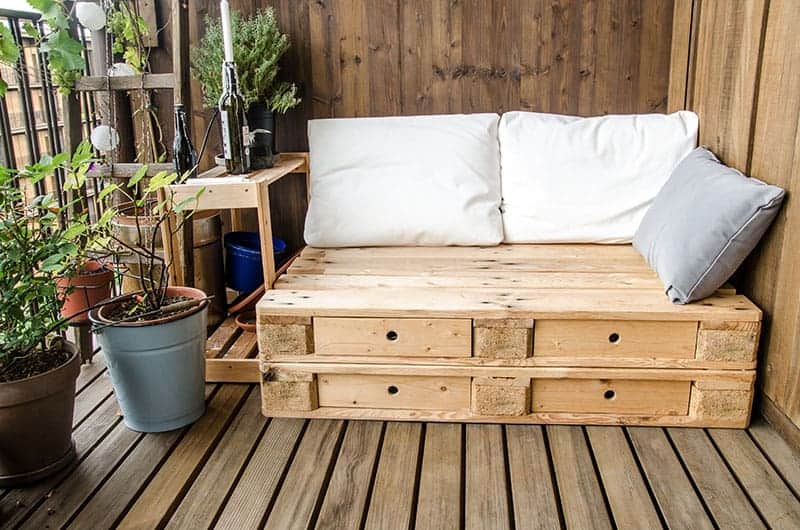 If you have a small yard or balcony, the chances are that you also don't have heaps of space inside your home for storing gardening equipment or other items you like to use outside. Without the space for a shed, storing garden items might be problematic. This is where hidden storage is a lifesaver. Look for outdoor seating with drawers underneath or small chests that can be used as both storage and side tables.
20. Pack and Stack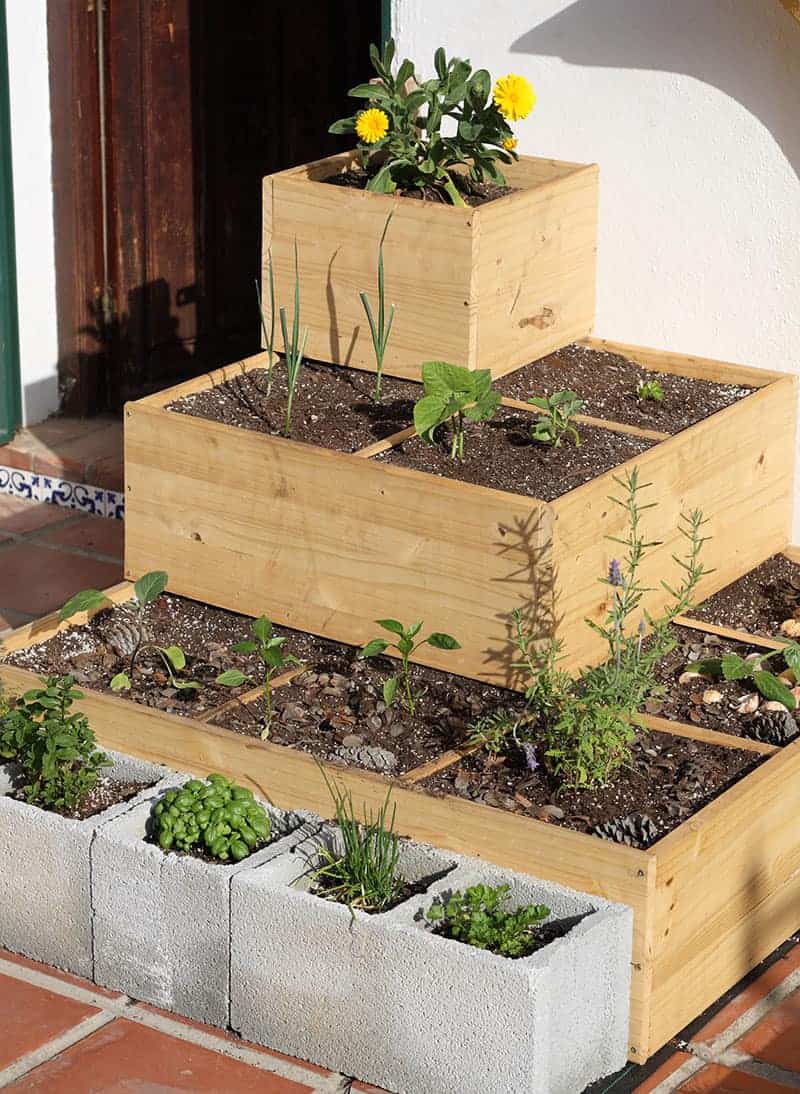 Getting around limited floor space is the main obstacle for any small backyard. This clever idea of using cubed planters that can be stacked on top of one another easily is a great way to pack more plants into your small space. You could use this to stock an array of your favorite flowering plants, or you could use planters like this to grow your own vegetables. Be as creative as you like with your square planters, using simple wooden boxes constructed from old pallets or repurposed old shipping containers.
21. Basket Case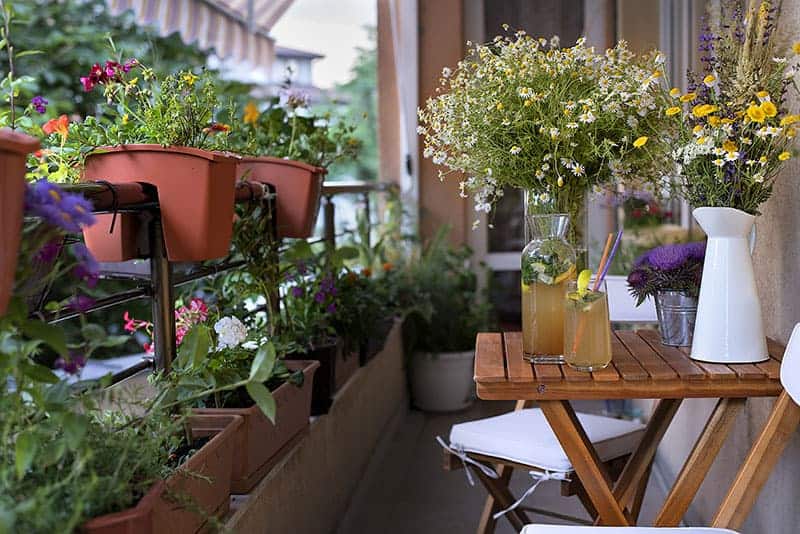 Window boxes and fence baskets are available in many variations, all offering the simple solution of extra space when you can place your flowers. When space is at a premium, liven up your yard with overflowing fence baskets, which can be secured along the top of your fence or balcony railings, or screwed directly onto the face of a fence.
22. Book Nook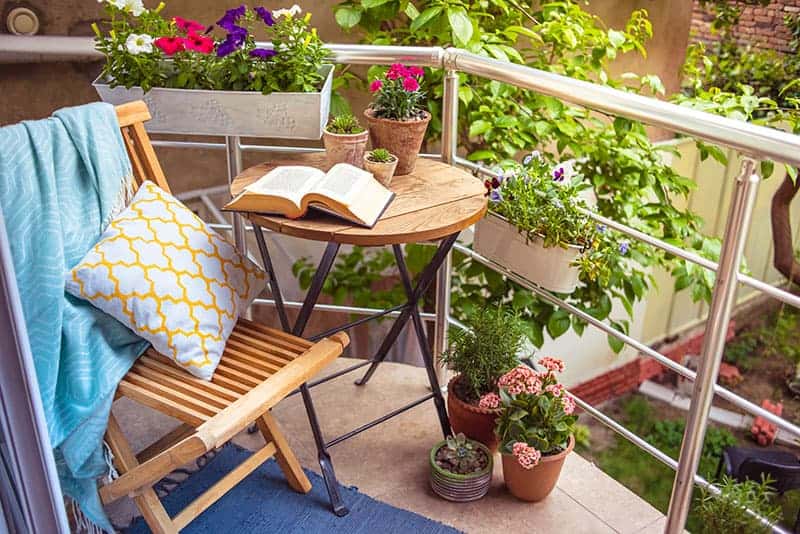 Hardly any space is required to create a charming reading corner in your backyard. You can do this in any number of ways, from a selection of floor cushions on some raised decking to a small and cozy chair at the side of your balcony. Comfort is essential for a book nook, so don't skimp on warm throws and soft furnishings. If your reading corner is especially comfortable, you may even find it transforming itself from a book nook into a nap trap!
23. Mirror, Mirror, on the Wall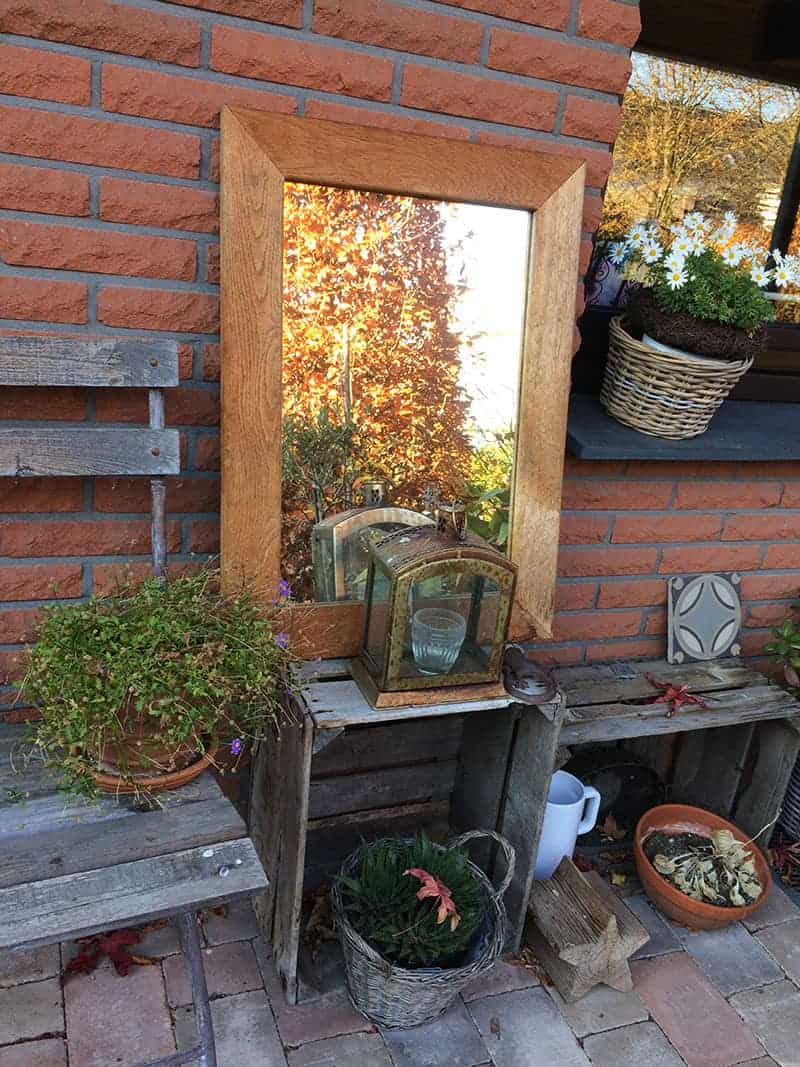 A trick often used in small rooms is to put up large mirrors to give the illusion of more space. Mirrors reflect light and add depth where a flat surface would usually be. The same principle applies in small yards, where mirrors can be hung on fences or walls to make your space feel larger. Putting mirrors in your backyard will also give you the feeling of having your inside outside, which adds a homely touch to any garden.
24. Hang a Hammock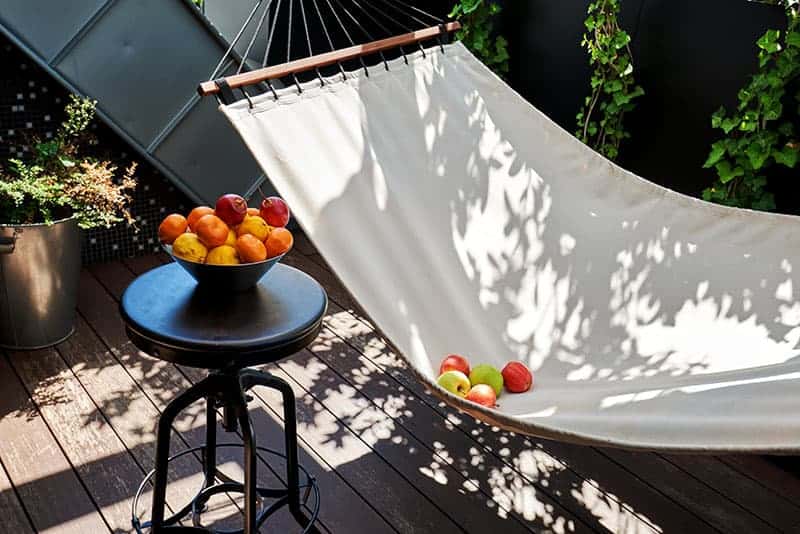 In small gardens where you can't fit in a lounger or extendable chair, opt for a hammock. Hammocks are brilliant because they can be hung up onto a hook within seconds and can be stored away to take up hardly any space while not in use. Hammocks are popular across the world, owing to their being comfortable, cost-effective, and retro chic.
25. White Wash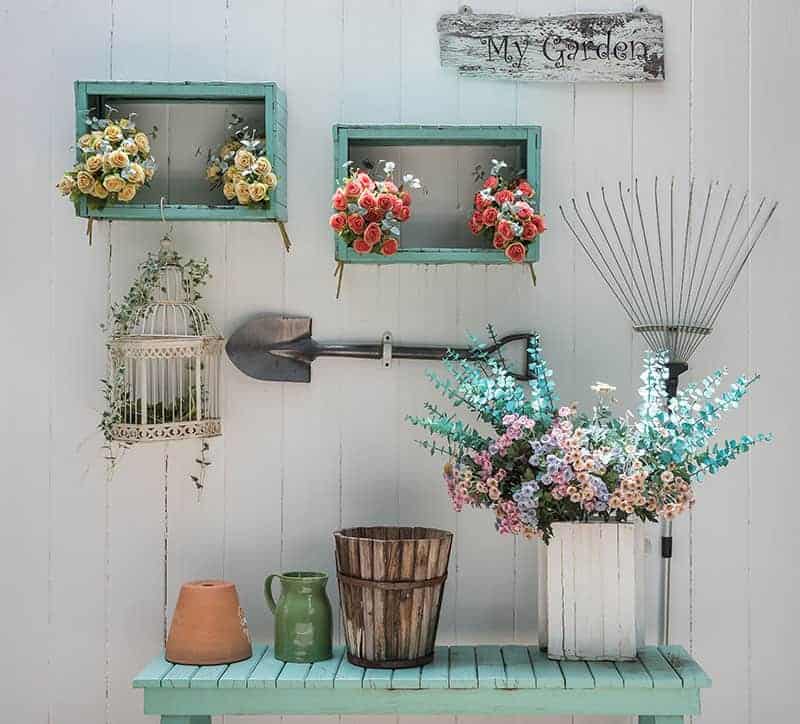 If your small backyard has tall walls or fences around the perimeter, it might feel like the walls are closing in on you. A simple and cost-effective way to completely change the feel of your yard and make it seem more open and bright is to paint the walls or fences white. The newly painted pale surfaces will help to create a feeling of space, along with making the garden seem uplifting and cheerful, even on gray or rainy days. Just remember to clean the walls regularly or have them repainted bi-annually, as white paint will show dirt and debris more obviously.
Did you enjoy reading about these ideas? Having an outside space you look forward to spending time in can make such a positive impact on your mindset and your lifestyle, which is why this list is important.
Explore Our Categories
Herb Plants

Herbs are a wonderful addition to any garden, offering instant flavor to culinary dishes and providing fragrance whereve...

Sage Plants

Sage plants encompass a plethora of plants that can be woody shrubs or tender herbs. Many are perennial in warm climates...

Succulents & Cacti

Succulents and cacti are extremely popular indoor plants. Both of these plant groups have similar growing characteristic...