6 Best Deck Cleaners For Home & Garden Use – Buying Guide & Recommendation
6 Best Deck Cleaners For Home & Garden Use – Buying Guide & Recommendation
Explore Our Categories
Fig Trees

Figs are sweet and tasty fruits that thrive in warmer climates. These fruit trees are incredibly easy to grow and care f...

Ornamental Trees

Ornamental trees are some of the most noteworthy plants in any garden. Whether for their form or eye-catching leaves and...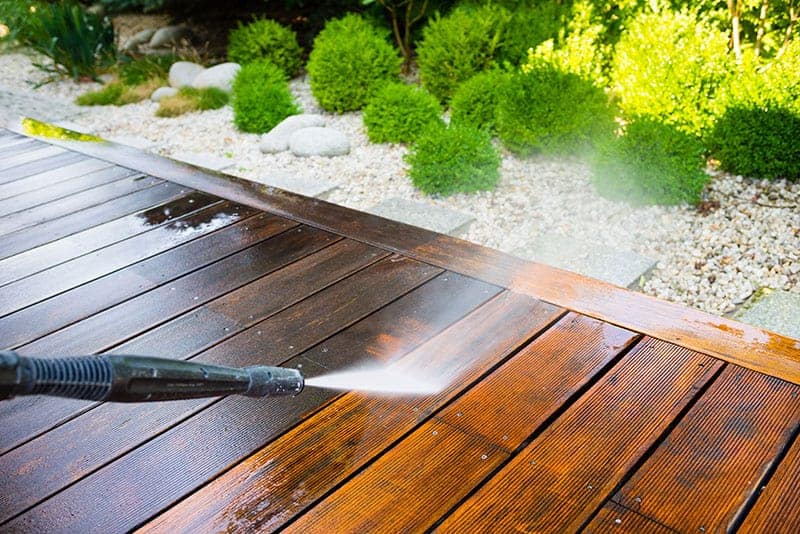 Are you disappointed with how your deck is aging? It's a common complaint among homeowners that even after just a few years of use, a new deck can transform into a stained, weather faded platform, darkened in areas with black mold and mildew.
While pressure washing the deck does go some way to improve the condition of the deck, decks do need cleaning with special formulas that penetrate through the surface to lift and remove a build-up of dirt and staining. If you can select the right deck cleaner for your deck, you will likely be surprised to find that even a deck that looks like it should be getting replaced can actually be brought back to its former glory.
Product Details
Our #1 Rated | Best For Cleaning Wooden Deck
SIMPLE GREEN
Oxy Solve Deck and Fence Pressure Washer Cleaner
Biograble deck cleaner product using hydrogen peroxide as its active ingredient. Can be used with a pressure washer or manually. Able to remove tough grease and oils though it may take some applications.
Our #1 Rated | Best For Cleaning Composite Deck
Star Brite
Non-Skid Deck Cleaner
Affordable deck cleaner that cleans surfaces without too much effort. Biodegradable and contain no harsh chemicals, which are why this is designed for use on non-skid decks. But can be used on vinyl, rubber, plastic, metal, and composite surfaces with great results.
Deck Brightener To Use After a Cleaner
DEFY
Wood Brightener
Can be used alone for cleaning or following a cleaner to brighten the decks. Easy to use and suitable for all types of wood.
Buying Guide
How to Use a Deck Cleaner
First and foremost, you should always read the label on the deck cleaner you purchase your deck cleaner. Then, follow the instructions accordingly. You may wish to prepare your deck before cleaning by pressure washing it, but at a minimum, you will need to remove all furniture from the deck and sweep away any leaves or loose debris. If it has rained, allow the deck to dry out before proceeding.
Most deck cleaners have a concentrated formula that you will need to dilute with water into a large bucket, and the label will inform you of how much formula you need with what amount of water. Some manufacturers recommend a higher proportion of cleaner for more heavily soiled surfaces.
Once diluted, how you proceed will depend on what method of application you are using. If you are using a pressure washer to apply the cleaner, it will need to be equipped with a detergent injection system, and you should follow the directions with your pressure washer on how to use this. You could also use a garden sprayer or weed sprayer to apply the cleaner to your surface evenly, or you could use a standard kitchen mop and a bucket of cleaner to cover the deck.
Once applied, the cleaners typically need to be left on the surface for five or ten minutes, though again, make sure you closely follow the manufacturer's instructions. Typically, the cleaner should be left long enough to be activated and lift the dirt but not so long that it dries. After the allotted time, the cleaner may then need to be scrubbed or simply washed off.
If you have to scrub your cleaner, this should be done with a stiff-bristled brush. Focus on particularly heavily soiled areas of the deck to work in the cleaning solution. If your cleaner is one that requires scrubbing, its best to work in small areas to prevent any cleaning solution from drying before you get around to scrubbing it. Cleaners that don't need to be scrubbed can be applied all at once and then simply washed away with water from a garden hose.
Once washed away, allow the deck to dry completely before you judge the effectiveness of the cleaner. Some decks might need a second application of cleaner if they were in very bad condition. Once cleaned, be sure to protect your newly revived deck with a stain or protective wax to prevent future damage.
Benefits of Deck Cleaners
Maintain Aesthetic Appeal
Decks obviously spend their entire lifespan outside, leaving them exposed to the elements. UV rays, as well as rain and snow can damage your deck by fading and graying it. Falling leaves and other garden debris can lead to the build-up of dirt, as well as mold and mildew, that all create an unpleasant-looking deck. Deck cleaners revitalize the look of your deck, restoring it to its former glory and improving the look of your outside space.
Remove Slippery Substances
Mold, mildew, and algae can build up on your deck over time. Not only do they leave unsightly black and green stains, but they also make your deck a hazardous area to walk on. Mold, mildew, and algae make decks slippery and an unsafe place to be. Deck cleaners will remove these substances and leave you with a deck that is once again safe to walk on without danger of slipping.
Remove Health Hazards
As well as creating a slippery surface, the presence of mold and mildew create other health hazards. Mold and mildew are associated with respiratory problems and other health concerns, so it's important to remove these with deck cleaner for the health and safety of your family and pets.
Increase Property Value
A deck in poor condition can really bring down the whole look of your property, especially if your deck is on the front of your home and affecting its curb appeal. Reviving your deck with a deck cleaner will make your home look in better condition and give the impression to prospective buyers that your home is well-cared for and maintained. It can increase your property value and make it more appealing to buyers.
Extend its Lifespan
Deck cleaner can extend the lifespan of your deck by removing elements that degrade the wood over time. By ridding your deck of these elements that are slowly breaking down your deck, it will last longer and save you money from having to replace your deck more frequently than necessary.
What to Look for in a Deck Cleaner
Special Equipment Needed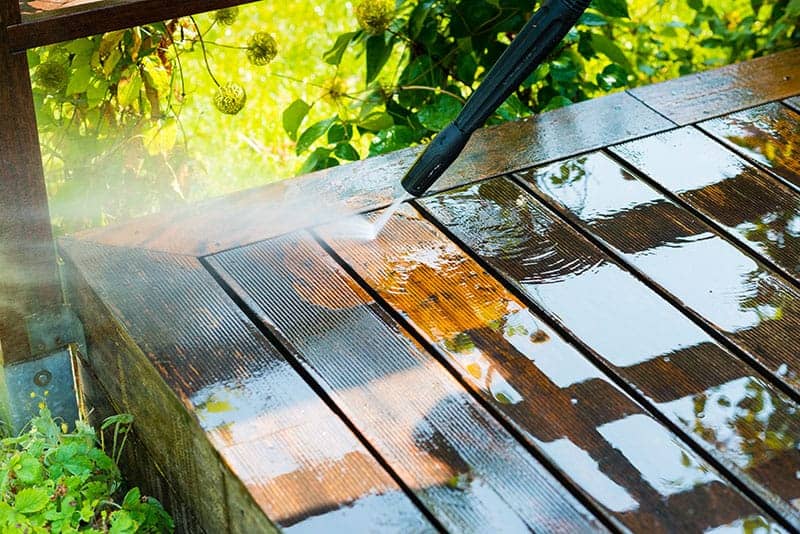 When buying deck cleaner, you need to check the instructions concerning what you will need to complete the application. If you have a compatible pressure washer, you may want to look for a cleaner that is specifically designed for use with a pressure washer. If you're looking for a deck cleaner that does not require any special equipment, you should seek out a cleaner that can be applied with a mop or garden sprayer. If the cleaner needs to be scrubbed in, you will likely need to purchase a new stiff-bristled brush to ensure the job is completed properly.
Surface Suitability
Some deck cleaners are made specifically for use with timber decks, while others are for composite decks. Ensure you check the label so that you buy the right cleaner appropriate for your deck. Many deck cleaners are versatile, and will also be suitable for use on vinyl, metal, rubber, or paving, so you can use any leftover deck cleaner to wash your siding, your driveway, or even your car. Always check the label to be sure the deck cleaner is suitable for the surface on that you intend to use it.
Biodegradable
We live in an increasingly eco-aware world in that we are responsible for caring for our planet and ensuring a safe future for our families. Do your part by seeking out a deck cleaner that is biodegradable. These will not only be safer for you and your family to use, but they will also not have any negative impact on wildlife when they inevitably find their way into local waterways.
Top Product Reviews
Product Comparison
All of the deck cleaners featured in this review are free from harsh chemicals, making them safer for you and the environment compared to chemical cleaners, though the Resist Mist All Purpose Spray and the Sun Joe SPX-HDC1G House and Deck All-Purpose Pressure Washer Rated Concentrated Cleaner are both also bleach free formulas, which might be important to some users.
Some of the cleaners, such as the SIMPLE GREEN Oxy Solve Deck and Fence Pressure Washer Cleaner and the Sun Joe SPX-HDC1G House and Deck All-Purpose Pressure Washer Rated Concentrated Cleaner, are compatible for use with pressure washers, while others, including the DEFY Wood Brightener, are for use with a weed sprayer, or can be applied with a mop.
When used without a pressure washer, some cleaners require more heavy scrubbing than others to make them effective. The Sun Joe SPX-HDC1G House and Deck All-Purpose Pressure Washer Rated Concentrated Cleaner is one cleaner that requires a lot of effort without a pressure washer, while the Star Brite Non-Skid Deck Cleaner requires very little scrubbing.
Top Pick | Best For Cleaning Wooden Deck
SIMPLE GREEN Oxy Solve Deck and Fence Pressure Washer Cleaner
This one gallon of concentrated cleaning solution can clean up to 6,400 square feet of decking. It uses hydrogen peroxide as its active ingredient, eliminating the need for harsh chemicals, making it safer to use for you, your children, your pets, and the environment. This cleaner is suitable for use on a whole host of surfaces, including wood, composite, vinyl, and PVC and gets rid of stains from mold, mildew, mud, algae, and dirt, as well as being able to remove tough grease and oils.
User feedback on this product drastically varies, as people either love it or hate it, though it seems most lean toward loving it. Fans of the cleaner love how well it removes years' worth of grime from decking without killing nearby grass or plants. This is often a major drawback of cleaning solution containing harsh chemicals as they will destroy any plants they cross paths with.
The active ingredient of this cleaner is actually sometimes used on plants to renew slightly rotting roots or to kill pests, so it's perfectly safe to be used in your garden. Many customers who used this solution noted that it worked better than previous deck cleaners they had used. Some users commented that the cleaner didn't work at all, though this may be because their deck was too heavily soiled, as some users found that two applications of cleaner were needed for very dirty decks.
Pros
Safer than other chemicals
Easy to use
Works better than some competitors
Affordable
Can be used manually or with a pressure washer
Cons
Doesn't reliably clean heavy dirt on first application
Top Pick | Best For Cleaning Composite Deck
Star Brite Non-Skid Deck Cleaner
This cleaner is designed for use on non-skid decks, such as textured fiberglass or painted decks. It can also be used on vinyl, rubber, plastic, metal, and composite surfaces. It contains no harsh chemicals and is biodegradable, making it popular for use on boats because it won't harm any organisms if it gets into the water.
There are two standout features of this product. The first is that it works with very little scrubbing. It uses chelating agents to lift the dirt from the deck, meaning that minimal hard work is involved in achieving real results. The second impressive feature of this cleaner is that it leaves a protective barrier on the deck after it's been washed away, helping to prevent future stains and making it look like it's just been freshly waxed.
Users of this cleaner rate it very highly. It is described by many as the best deck cleaner they've ever used and claim that once you try it, you'll never use another cleaner. Users love how easy it is to use without requiring a lot of effort and how it makes their dirty decks look like they are brand new again.
Pros
Very effective
Minimal effort required
Environmentally friendly
Made in the USA
Cons
More expensive than competitors
Not compatible with pressure washers
Sun Joe SPX-HDC1G House and Deck All-Purpose Pressure Washer Rated Concentrated Cleaner
This house and deck wash from Sun Joe comes in a one-gallon container in concentrated form so that a little goes a long way. The manufacturer recommends different ratios of cleaner to water depending on how heavily soiled your deck is. The cleaner is completely biodegradable, free from bleach, and non-toxic. It can be used on a wide range of surfaces, including metal, vinyl, and brick, making it great for multi-purpose use after you've cleaned your deck with it. It can be used with a mop or firm bristled brush, as well as with a pressure washer with a detergent injection system.
Users of this product give mixed reviews. Some were disappointed, claiming that dish soap would have done a better job at cleaning. Some users who used it alongside a pressure washer believed it was the pressure washer that was doing all of the cleaning and that the detergent made no noticeable difference. However, some users were very happy with the product and noted they would recommend it and purchase it again in the future.
People who used this product with a brush instead of a pressure washer did comment that it took a lot of elbow grease to bring the dirt out, but they were pleased with the results they got from this cleaner.
Pros
Inexpensive
Non-toxic
Easy to use
Reliable brand
Versatile
Cons
Lots of scrubbing required without pressure washer
May be ineffective
DEFY Wood Cleaner
This wood cleaner uses oxygenated bleach to remove staining, dirt, mold, and mildew, from wooden decks. It is also able to revive graying decks, reversing the harm that UV rays have caused, bringing the wood back to its former glory.
The manufacturers of this product recommend it for use before staining wood, as the cleaner will prepare the wood for staining by opening up the pores of the wood to ensure optimum stain absorption. As an environmentally friendly product, this cleaner won't harm your grass or plants and can also be used on a variety of other surfaces, including vinyl, aluminum, and brick.
Users of this wood cleaner were pleasantly surprised at how effective it was at restoring their old decks. Some users believed their deck to be too far gone and would need to be replaced instead of cleaned, but this cleaner brought them up like new, transforming blackened timber into a natural wood deck.
Users were pleased with how easy it was to use, and some noted that although the manufacturers recommend a pressure washer to remove the cleaner, a hose worked just fine. The only complaint some users had was that the wood cleaner did leave a residue on their deck, and it was necessary to use the DEFY wood brightener after the wood cleaner to neutralize the oxygenated bleach and get rid of the powdery residue.
Pros
Safe for grass and plants
Multi-purpose
Easy to use
Doesn't necessarily require a pressure washer
Prepares the wood for staining
Cons
Requires use of follow up wood brightening product
Resist Mist All Purpose Cleaner
This half-gallon cleaning kit contains two items for use on composite decks, concrete, and paving; a bleach-free cleaner and a sealer that prevents future staining. The cleaner should be applied with a garden sprayer for even coverage and then scrubbed into the deck before being washed off. The environmentally friendly cleaner is suitable for use in gardens and will not harm grass or plants.
The application of cleaner should be followed up with an application of sealer, which is included in the kit. The sealer penetrates the deck and coats it in a protective layer that is designed to prevent new stains occurring for an impressive three years. This kit is considerably more expensive than most other deck cleaners. However, this cost should be offset by the fact that you will only need to clean the deck every three years instead of every year. The protective sealer and its promise to prevent stains for at least three years are backed up by a manufacturer guarantee.
Users of this product found it to be easy to apply and were impressed with the results. Some users who had particularly heavy soiling on their decks needed to do two applications to achieve desired results, but found this reasonable. Very few users found this product to be ineffective, but there were cases of this happening. In these cases, the users found the customer service to be excellent. They were swiftly given a refund, and the company was keen to investigate the possible cause of ineffective use. Some users found this product to be overpriced, while others were happy to pay it because it achieved commercial-grade results at a fraction of the cost.
Pros
Easy to use
Protective sealer included
Bleach free
Cons
Not for use on wooden decks
High price point
Brightening Product After a Deck Cleaner
DEFY Wood Brightener
This wood brightened is designed to be used after a wood cleaner, though it can be used alone with success at removing tannin or rust stains. It is suitable for use with all types of wood and offers several benefits. This wood brightener can be used following a wood cleaner to neutralize the pH, as wood cleaners can leave an alkaline residue. The wood brightener also opens the pores of the wood to ensure even and maximum stain coverage. As suggested by its name, the wood brightener also aims to brighten wood, restoring it to a shade more like its original natural color.
Users of this product offer mixed reviews, but most note that it made a noticeable but not a substantial difference. Users liked how easy it was to use, applying it with a garden sprayer and removing it ten minutes later with a hose. Some users noticed that stain was very evenly absorbed following the wood brightener application, but others believed the minimal impact it had didn't warrant the price. Some users commented that the active ingredient of the brightener is oxalic acid, which does a similar or better job by itself and costs less than the brightener.
Pros
Can be used alone or following a cleaner
Easy to apply
Doesn't require any special equipment
Suitable for all wood types
Cons
Overpriced for effectiveness
Conclusion
The standout deck cleaning product for composite decks is the Star Brite Non-Skid Deck Cleaner. It reliably cleans surfaces without too much effort, is biodegradable, and seals the deck with a wax-like protective finish. At under $30, it also costs considerably less than its popular compositions deck cleaning competitors.
For wooden decks, the SIMPLE GREEN Oxy Solve Deck and Fence Pressure Washer Cleaner ranks most highly. It is affordable, environmentally friendly, and has a better success rate at effectively cleaning heavily soiled decks, though it may take several applications.