6 Best Solar Post Lights To Lighten Your Garden & Fence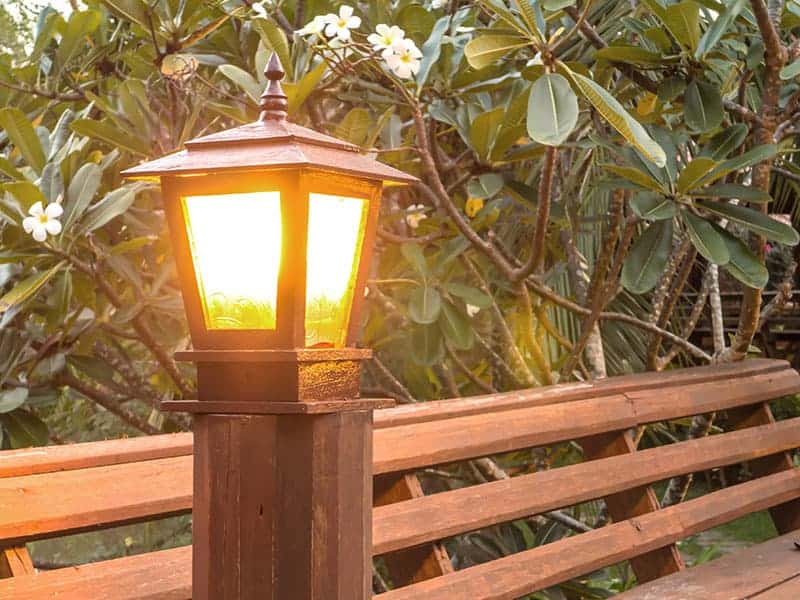 Solar post lights create an elegant look around a property, as well as being an intruder deterrent, and offering you the practicality of being able to see around your property at night without a flashlight.
However, your first experiences with solar lamps probably include lights that no longer charge after a few months, or lights that never even worked in the first place. A non-functional light outside your home is the opposite of the classy look you were going for!
But fear not, solar lighting has vastly improved in recent years, and we have put together a helpful list of the best solar post lights on the market to guide you to a purchase you won't regret.
Buying Guide
How to Use The Solar Post Lights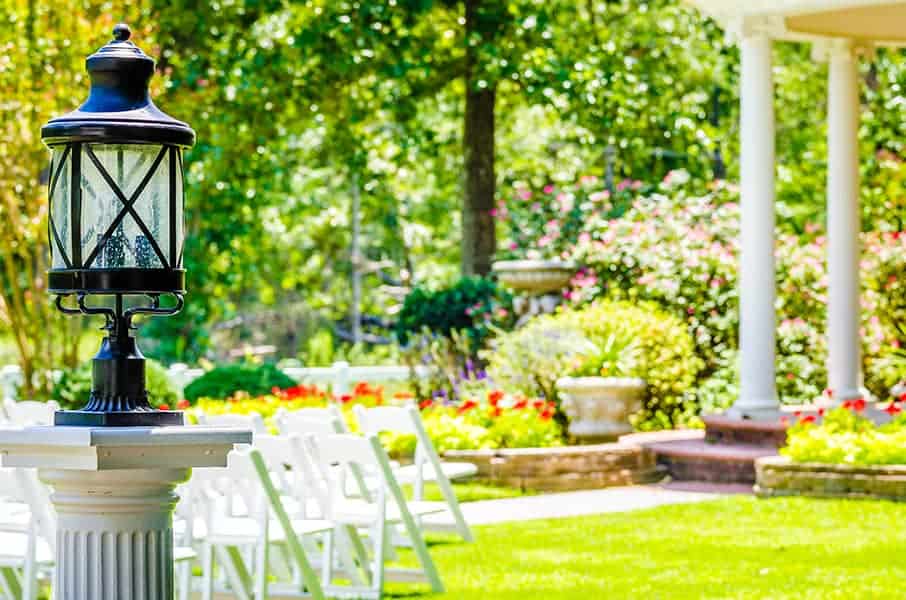 Solar post lights are a stylish and economical way to light up your backyard and outside of your property, and they are so easy to use. Thanks to being operated by solar power, they don't require a tricky installation with wires and electric panels. Anyone who can use a screwdriver can easily install solar post lights.
Once installed, the pretty much operate themselves. Turn the switch to 'on,' and the lights will charge up during the day so long as they have access to sunlight. Make sure your solar lights are positioned at an aspect where they will get plenty of natural light. Otherwise, they won't charge fully, and the light they give off will be weak and short-lasting. If a large tree is shading your fence, then it's not a good location for solar post lights.
After charging throughout the day, solar lights turn on automatically at dusk when their photosensors detect darkness. As long as they have received around eight hours of charge during the day, then a good solar light should stay illuminated all night long, automatically turning off when the sun comes up. Solar lights don't require any maintenance, although the rechargeable battery may need to be changed every few years.
Benefits of The Solar Post Lights
Economical
Solar lights don't require any electricity to function, and therefore, using them won't leave you with a big power bill. After you've paid out for the initial purchase of the solar lights, they won't cost you any money and are completely free to run.
Energy-Saving
Solar lights don't use power to work, and therefore are great for the environment. Reducing our energy consumption has several environmental benefits. It reduces air pollution by decreasing power plant fumes and emissions and conserves natural resources. By using solar lighting over electrically powered lighting, you will be contributing to a healthier and safer planet for all of us.
Theft-Deterrent
Having lighting around the outside of your property helps to prevent thieves from targeting it. If there is a chance that they might be seen and caught, then criminals will likely go elsewhere. A completely dark property is much more attractive to thieves, where they can go unseen.
Improved Vision at Night
If you've ever come home late at night and struggled to find your keys in your bag or had difficulty locating the keyhole to get into your home, you'll appreciate having some light around the outside of your property to help you figure your way around in the dark. Solar post lights also enable you to perform everyday chores without the use of a flashlight, such as watering your plants in the evening or letting your dog out for a late-night toilet break.
Easy to Install
One of the great things about solar post lights is that they are so easy to install, almost anyone could do it themselves. This is great for both convenience and budget because it means you won't have to call out a handyman or contractor to do the job for you.
No Messy Wires
No electric power means no cables and wiring running from your house to your post lights. This is great because it eliminates the untidy look that comes along with wiring running along walls or fences, and the lack of wiring is also what makes solar lights so easy to install.
What to Look For In A Great Solar Post Light
What to look for when buying solar post lights will depend on your requirements, so before you start shopping, you should think about what your priorities are.
Size
The size of your posts will dictate what size solar post lights you need. Most fit 4" x 4" posts, but there are some that work with other sizes, so be sure to check this before you buy.
Material
Solar post lights are typically available in either plastic or metal construction. Metal solar lights tend to last much longer and be sturdier than plastic lights. However, they also come with a higher price tag, so weigh out the benefits of this and decide if you would prefer a long-lasting product with a more expensive cost, or a short-lived product with a low cost.
Light Color
Solar lights come in various color options, including bright white, warm white, and colored varieties. Bright white has a harsher look to it, with a blue hue, while warm white is gentler with a yellow tint. If you have a preference over the light color, you need to note this when looking for your solar post light.
Brightness
Some solar lights are dim and are merely used as decoration rather than offering any practical use to improve vision around your property at night. If you want a bright light, you should check reviews before purchasing, as people are often disappointed with the glow their solar lights produce.
Reliability
Cheap solar lights tend to have short life spans, with the light only working for a short while, or sometimes, they don't work at all. If you want your solar post lights to reliably light up for a reasonable length of time, you should invest in a reputable brand and take notice of user reviews.
Product Reviews
Product Comparison
If you want a durable solar post light that isn't going to crack or become worn over the years, then a sturdy metal-framed lamp is the way to go. Of our best-selling reviewed solar post lights, those made of metal are the Gama Sonic GS-106FPW-B Baytown Lamp Outdoor Solar Light, the Kemeco ST4311AQ LED Cast Aluminum Solar Post Light Fixture, and the Paradise by Sterno Home Solar Cast Aluminum LED Post Cap Light. The remaining lights are all constructed from plastic, and though they may not last as long as metal, they can be a very effective and inexpensive way to install lighting around your property.
The main issues that most people have with solar lighting are the level of light they give off and how long they reliably work for. All of our reviewed lights were found to have a good lifespan, though some were brighter than others. The brightest glow was given by the Gama Sonic GS-106FPW-B Baytown Lamp Outdoor Solar Light, the Kemeco ST4311AQ LED Cast Aluminum Solar Post Light Fixture, and the Davinci Solar Post Lights. Those found to give off a dim light, which is most suitable for decoration rather than practical use, were the Sterno Home GL23124 GL23124BK Paradise Plastic Solar Post Light, the Paradise by Sterno Home Solar Cast Aluminum LED Post Cap Light, and the Moonrays Post Cap Lamp In Stained Glass Design.
All of the post lights reviewed feature photosensors, which allow the lights to automatically turn on at dusk and off at dawn, along with rechargeable batteries.
Top Pick
Gama Sonic GS-106FPW-B Baytown Lamp Outdoor Solar Light
This solar light is built from rust-resistant cast aluminum and finished in a black powder-coating. After a full day of charging from the sun, the 10 LED bulbs will automatically switch on when it becomes dark and last from dusk until dawn.
The Lithium-Ion battery pack runs for around 1,000 charges, which is equivalent to roughly three years if you leave your solar light switched on continuously. The battery is replaceable and will need to be swapped out for a new one after around three years of use. The LED's in this lamp provide 80 lumens of light, and benefit from Gama's patented cone reflector which helps to disperse light evenly in multi-directions. The effect of this is that the light looks more like an incandescent light than a typical solar light but without the heavy energy usage and cost that's associated with that.
The color of the light can be determined by the user, with the choice of warm white, which has a slight yellow tinge of 3000K, or bright white which has a blue hue and 6000K.
Users of this lamp love its traditional style and how high end it looks for the price. Most users found it very easy to install and were impressed that it could be installed in three different ways for versatility of use. The main complaint among some users was that the lights only worked for four or five hours a night, although this was during winter. To get a full night of light, the solar panels would need to receive a full day of direct sunlight charging them, which is not always possible outside of spring and summer, so nighttime light hours may decrease during darker months.
Pros
Two lighting color options
Three install position options
Two-year manufacturer's guarantee
Multi-directional light
Automatic sensor turns light on and off
High quality
Easy to install
Cons
Battery needs replacing every three years
Lights may not last all night in darker months
Budget Pick
Davinci Solar Post Lights
This two-pack of solar post lights can be mounted on top of standard 4" x 4" or 6" x 6" wooden or vinyl posts. They can also easily be mounted to any flat surface such as a deck or table and can be simply installed at home without the need for a professional. The lights have a modern design in a white matte finish and are completely UV resistant so that their color will not fade or gray over time. They are built to be durable and can withstand any weather, with hardened glass to protect the solar panels at the top of the lamps these lights are waterproof to a level of IP44.
The lights feature a photosensor, so they automatically turn on at dusk and off again at dawn. Eight hours of solar charge will provide the lamps with six to eight hours of light throughout the night. Each post features two LED lights, totaling 15 lumens. They give off a warm white light at a wide angle and are good for around 100,000 hours of use.
Users of these lamps love how bright they light up, and the warm glow they give off. Many users commented on how surprised they were by the brightness of the light, having previously owned solar lights that were underwhelming. Users also found these lamps very simple to install, with easy to follow instructions. Users also noted that the lights fared well in thunderstorms and adverse weather, with no diminished quality. The only complaint among some users was that the lamps were lightweight, and the plastic felt cheap, though this was not a concern felt by the majority of users.
Pros
Stylish, modern design
Inexpensive
Easy to install
Fits a variety of sizes/positions
UV resistant
Gives off bright light
Other Choices
Kemeco ST4311AQ LED Cast Aluminum Solar Post Light Fixture
This black aluminum solar lamp features six high power LED lights that automatically turn on at dusk and off at dawn. The light can attach directly to a 3-inch round pole, or it can be installed using mounting base which is included.
The LEDs give off bright light in a warm white color, shining through the rippled effect glass of the lamp. They are designed to last 6 to 8 hours each night but will need to be charged each day in full sunlight for the duration of the day, so where you position this lamp is critical. The 1.2v rechargeable Ni-MH battery is included, along with a one-year manufacturer's warranty.
Users of this product love how bright the light is and say it is comparable to other electric lights on their street. It is easy to install and many users comment that it looks very impressive. Users who had the lamp for over a year attested to its durability and believed it was still operating as well after one year's use as it did when it was new. One minor complaint that some users picked up on was that the black parts of the lamp faded to gray over time, though this was easily remedied by repainting it.
Pros
Automatically turns on/off
Easy to install
Stylish classic design
Can be mounted with or without base
Long-lasting
Cons
Black outer fades over time
Sterno Home GL23124 GL23124BK Paradise Plastic Solar Post Light
These solar lights are designed to fit perfectly on top of a standard 4" x 4" post. However, they are also supplied with a stake so they can be used in the ground instead if preferred. The body of the light is made from plastic with clear plastic lenses on all four sides. The plastic is coated in a UV protected black finish to ensure its quality won't diminish in the sun.
The solar light inside the post lamp is one small bulb that will automatically turn on at dusk and off again at dawn, providing sufficient energy has been stored throughout the day. The light given off is a bright white color with a slightly blue hue. A one-year warranty is included from the manufacturer of this product.
Users of these post lamps love the contemporary style and the low price. Considering each solar post lamp costs a little over $20, most users were impressed with the quality for the money they had spent. Users found that the lights reliably turned on when dark and stayed on all night. Users also attested to the fact that the lights are long-lasting and durable, working just as well after many months of use.
Some users did feel that the lamps were flimsy and that they might break easily, but in spite of this, they were still pleased with their purchase. Most users agreed that the light given off from the lamps was minimal and mostly for decorative use rather than to provide a substantial amount of light to help you find your way around in the night.
Pros
Inexpensive
Modern contemporary style
Fits standard posts
Long-lasting
Cons
Emits dim light
Plastic considered flimsy by some
Paradise by Sterno Home Solar Cast Aluminum LED Post Cap Light
This solar lamp is constructed from aluminum and glass for a sturdy and long-lasting build quality. It features a crystalline panel that charges faster than standard solar panels and lasts for even longer. The lamp can be fitted directly on top of a fence post, and it is compatible with standard 4" x 4" posts. The weatherproof aluminum lamp body has a bronze finish and a hammered glass lens for a classic look.
Users of this product love how durable it is thanks to being made from metal rather than plastic, and it doesn't rust. Users also found it easy to install. However, many did find that the light given off was not very bright and only suitable for decorative rather than practical use. Other issues users found were that the screws provided were not stainless steel, so they became rusty and negatively affected the look of the lamp. Some users also found that the solar panel is made from plastic and became hazy after around a year, resulting in the unit struggling to charge.
Pros
Durable metal and glass construction
Easy to install
Classic design
Cons
Plastic solar panel can become visually blocked
Screws rust
Dim light
Moonrays Post Cap Lamp In Stained Glass Design
The standout feature of this solar lamp is the 'stained glass' style colored plastic panels through which the lights glow. The stained glass effect of this solar light is very unusual and enables users to add a little touch of art to their outside space. The body of the lamp is constructed from plastic with a brushed copper finish. The lamp is versatile and can be mounted on top of posts or side-on along fence panels or walls. All necessary fixtures and fittings are included for easy DIY installation. The LEDs give off a warm white glow, automatically turning on at dusk and off at dawn.
Users of this solar light were initially happy as it looks beautiful when first installed and gives off a nice glow. However, many users found that within a few weeks, the color from the 'stained glass' had started to peel or chip away. Rather than being colored pieces of plastic, they were found to actually be clear plastic with colored paint or stickers on top. The color turned out not to be weatherproof and looked quite unsightly after time had passed. Some users found this could be combated by lacquering the lights with a clear waterproof spray before use.
Pros
Unique colorful design
Versatile mounting options
Easy to install
Cons
Not long-lasting
Color chips or peels after a short time
Conclusion
If you're looking for a high-quality solar post light that will stand the test of time, then the clear best product is the Gama Sonic GS-106FPW-B Baytown Lamp Outdoor Solar Light. In rust-resistant aluminum with a traditional design, it adds a touch of class to a property alongside being practical and giving off light of a similar brightness to electric lights.
However, if your budget won't stretch that far, the Davinci Solar Post Lights are an excellent low-cost option. They are stylish, versatile, and give off impressively bright light.