Top 10 Mosquito Killers – Reviews & Buyer's Guide
Top 10 Mosquito Killers – Reviews & Buyer's Guide
Explore Our Categories
Sage Plants

Sage plants encompass a plethora of plants that can be woody shrubs or tender herbs. Many are perennial in warm climates...

Herb Plants

Herbs are a wonderful addition to any garden, offering instant flavor to culinary dishes and providing fragrance whereve...

Ornamental Plants

Although all plants are ornamental for most gardeners, some offer especially spectacular blooms, variegated leaves, or i...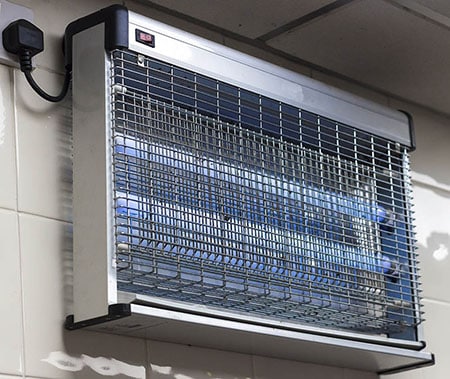 If you're like most people and want to enjoy the outdoors without the hassle of pesky mosquitoes, this guide could help you. There are many products on the market today that can help rid your yard of pests.
Mosquito killers are products that can reduce the number of mosquitos in any general area and eradicate them altogether. It can be overwhelming trying to narrow down the best product for your needs, but by figuring out what areas you need mosquito control, this guide can help find the best product for you to use.
Buying Guide
The first step in maintaining a mosquito-free yard is to eliminate breeding zones. Mosquitos thrive in areas that aren't regularly maintained.
If you have excessive brush, tall grass, or standing water you will want to clear these areas as they are the prime spot for mosquito breeding. According to one pest control site, if you can prevent mosquito breeding, you can ward off an infestation.
Choosing the right mosquito killer will depend on where you want to see the least amount of mosquitoes. If you are looking to specifically rid a patio or deck area of pests than a bug zapper or personal repellant may fit your needs. However, if you need larger coverage for your back yard or garden area, foggers, yard sprays, or larvicides could be the answer as they will be able to cover more space and further prevent infestation.
Bug Zappers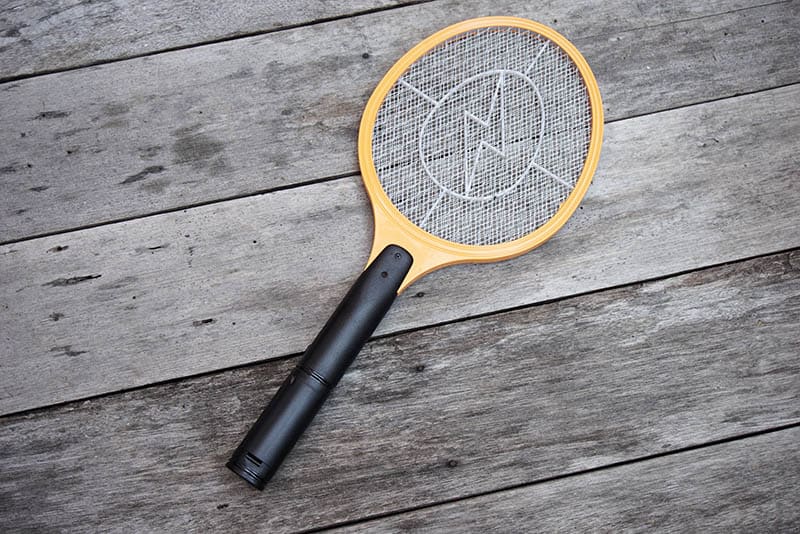 Bug zappers are ideal if you are seeking a product that does not use chemicals. Bug zappers work by using UV lighting or replaceable oil cartridges that attract insects. Once the mosquito has come into contact with the bug zapper, it is essentially given an electric shock strong enough to kill it.
Other than the use of electricity and bulbs, this is a great option for those wanting something low maintenance and free of chemicals. Most bulbs last for quite a long time and are easy to replace.
When choosing the best bug zapper for your needs, you should consider the area in which you intend to use it. Is it indoors or outdoors? Does it have a power source nearby? Will it be secure where it is placed?
Some features to look for are bug zappers that come with replacement bulbs upon purchase, easy cleaning grids, and a long power cord. Also, if you plan to use indoors, making sure that you choose a product that will not harm humans or pets is important.
Repellents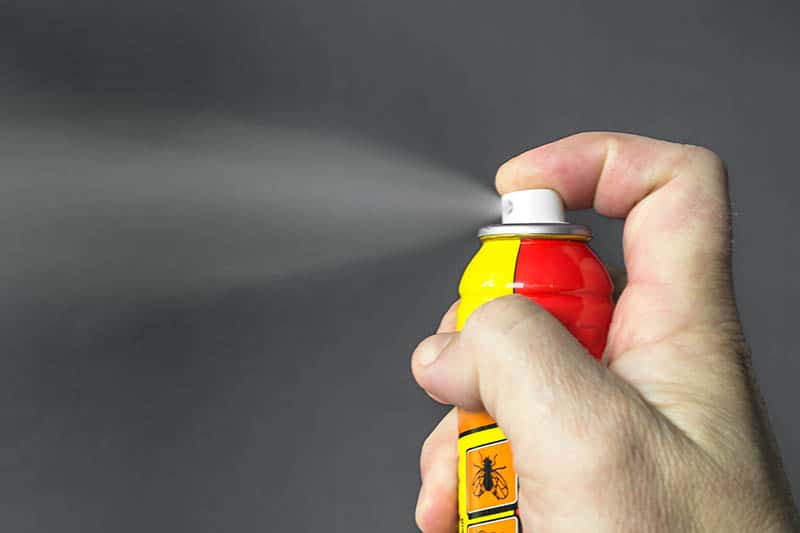 Mosquito repellents are great for personal usage over short periods of time. These products may work well for you if you are on-the-go. However, most do contain powerful chemicals and aerosols that can be harmful to humans and the environment.
One website claims DEET, a common chemical found in repellants, is safe when used properly.
Most mosquito repellents contain chemicals like DEET or Picaridin. These chemicals, while very effective at repelling mosquitoes, can also cause reactions in humans. They have a strong odor that can make breathing for young children more difficult. Some people even see skin reactions due to long term exposure of the repellent when applied directly to the skin.
In recent years, many companies have gotten away from using aerosol cans for mosquito repellents. However, there are still some on the market. When trying to choose an economically friendly product, you should always choose one that is not made in aerosol cans. The propellants used that were damaging the ozone have mostly been banned. However, aerosol cans made in other countries may still have banned propellants. According to one source, the cans can still be just as damaging to the environment.
Mosquito repellents now come in spray nozzle type bottles and can be found with less harsh chemicals. The idea has been to make a spray safe enough for the entire family. The use of essential oils in mosquito repellents in recent years has helped many families find a great product without worrying about exposure to harmful chemicals.
Foggers
Foggers are another great option for short term relief from mosquitos. They provide a wide coverage range and can last several hours. However, this product would not be ideal for use around or in a garden area if the insecticide used has certain chemicals in it.
Some chemical derived insecticides can be harmful to edible plants. It is important to make sure when using a fogger you are choosing the correct insecticide for your intended purpose.
An advantage to using a fogger is that you can cover larger areas if needed. Depending on the size of the fogger you use, you can cover small to large spaces if you choose. Some foggers are specifically designed for mosquito repellent, and some are dual purpose. This means you may have to search out the correct insecticide to pair with the fogger in order to complete the desired application.
One great feature of using a fogger is that they can provide instant relief and last for several hours. Also, if planning to use in your yard or garden, you can resume activity immediately after application.
Yard Sprays
Yard sprays are great for quick and easy application. Most offer everything you need in one bottle and can be hooked directly to your garden hose. If you are looking for a spray that can be used for your garden, then Neem oil derivatives would be very useful. Neem oil is a natural insecticide and will not cause harm to any edible vegetation, animals, or water sources.
For this purpose, there are also many other natural essential oils that are effective at repelling mosquitos such as lemon eucalyptus, garlic, mint, and tea tree oil.
If choosing to hire someone to spray your yard make sure they are using the proper EPA credited sprays and that they have been licensed and trained in how to handle and apply the spray. Improper use is what causes damage to foliage, pets, and non-invasive insects. It could also pose a risk of toxic exposure to your family if applied incorrectly.
The same would apply if choosing to spray your own yard with any chemical spray. Making sure to use the product properly will be the key to having a successful experience.
Larvicides
If you're looking to prevent an infestation and cover the most area, choosing a larvicide may be your best option. There are two main types of larvicides.
If you have areas of standing water in your yard, a mosquito dunk should be your immediate go-to product. These are ideally used for areas of standing water that can not be drained. The granules are coated in a type of bacteria that instantly can kill off the larval population.
Mosquito dunks are safe for use around wildlife as well as pets. If you have larger animals that require watering troughs, they are also safe to be used in them.
This type of larvicide is very effective and easy to use. They do not require any special instructions or equipment, simply drop them in the water.
Another type of larvicide is in the form of small granules that can be spread over your yard. If you have areas in your yard that sometimes get backed up due to heavy rains or flooding than granules are ideal. They are also useful for use in potted plants indoors or outdoors.
These are also a good product to use in decorative ponds or fountains within your flower beds. According to homeguides, even ponds that are aerated can still be a breeding zone for mosquitoes.
For this type of larvicide to work, the area of your lawn must see a substantial amount of backed up water. The granules do require some soaking time, or they will not be as effective for use, especially in potted plants.
Top Product Reviews
---
Best Mosquito Killer Larvicides
Summit Responsible Solutions Mosquito Bits
This granule type larvicide comes in a 30 ounce easy to pour bottle. 12x12x9 inches in dimension and weighing two pounds. This product can be sprinkled in any standing water and kills within 24 hours. It is very effective in large areas where standing water is commonly a problem.
However, the application will need to be repeated every seven to 14 days to remain effective. Using another type of longer lasting larvicide with this product can help keep re-infestation from occurring.
Reviews suggest that these are great for potted plants and decorative ponds. They have no chemicals in them. The main ingredient is Bti; it is listed as an insecticidal toxin but is safe for use around plants and pets. You will want to steer clear though of any open drinking sources. This is not safe for human consumption.
This active ingredient is what depletes the larval population and thus not allowing for any more infestations to occur. This product isn't as effective at killing adult mosquitoes. Most users rate this product highly and report that , even a week after use, they are still see positive results.
Pros
Also kills fungus gnats
Useful for potted plants and decorative ponds
No toxic chemicals
Cons
Not long lasting
Must be soaked prior to application in potted plants
Best Mosquito Killer Bug Zappers
Flowtron BK-15D Electronic Insect Killer
This electronic bug zapper is 9.25×9.25 x 13 inches. It's lightweight at four pounds. It features a two-year warranty, and the weatherproof polycarbonate design is guaranteed not to rust or crack.
It uses a 15-watt blacklight UV bulb which is easy to replace. It requires no tools to set up or maintain. An Octenol attractant is used to help lure pests. It is rated for ½ acre coverage for best results.
This product is intended for outdoor use only and should not be used within 25 feet of human activity areas. It is not recommended for attachment to a house or deck. The Flowtron insect killer does come with a hook for easy hanging.
This bug zapper comes fully assembled and also includes some easy to read user tips. Some important things to remember when hanging this product is the height and location. Bugs will be attracted to the UV light so it must be visible.
Wind will also affect the effectiveness, so making sure to place in an open area free from solid structures is important. It does require a power source to plug the three-pronged cord into. The cord is shorter, and one user noted that an extension cord is a must for being able to hang this product out of reach safely.
Pros
Continuous coverage
Instant killing
Non-clogging
Chemical free
Cons
Requires power source
Bulb replacement
Outdoor use only
Short power cord
Elucto Electric Bug Zapper Fly Swatter
This personal electric fly swatter is intended for use by adults indoors or outdoors. It is easy to maneuver weighing only eight ounces. It's larger than most conventional fly swatters at 18.9×7.1×1 inch in size. Allowing for a larger coverage area when swatting.
The wires have a ⅛ inch gap that is still small enough to catch the tiniest of insects. It is reported to have a an effective "one swat" killing although some users say they did not experience this sort of outcome.
This product uses AA batteries, so there is no need to worry about a cord or charging area. The push button allows ease of use and indicator light lets you know that the product is working.
It is made from new ABS plastic and not recycled ones, so it is durable and long lasting. The company offers a one year warranty but will honor replacement past the warranty if requested for malfunctioning products.
A few users reported that, after use, the handle could come apart from the racket area causing the product to malfunction. This is easily resolved by making sure that the swatter is kept out of reach of children and never used as a toy.
Although, the electric fly swatter will not seriously hurt children or pets if misused it still provides quite a shock. This product should only be used by adults who have read all instructions for proper usage.
Pros
No environmental safety concerns
Lightweight
Cons
Requires batteries
Smaller coverage area
Liba Bug Zapper and Electric Indoor Killer
The LiBa Indoor Electric Bug Zapper is one of the strongest on the market. It has a powerful 2800 volt grid and uses a 20-watt bulb. This device is intended for indoor use only and is small in design.
It weighs around four pounds and is 3×10.5×15 inches in overall size. It requires a power source to plug into. The bug zapper can be hung or placed on a secure surface.
This product uses no chemical attractants, so it is safe for use around the home or office. It does use wavelengths to attract insects. This makes it a natural and economically safe product.
The LiBa comes with a two pack of replacement bulbs that are easy to install when needed. The bulbs have been rated to last up to 6 months or 5,000 hours. The removable tray is great for easy cleaning.
Users have reported that the power grid does not cool quickly after unplugging the product. It is best to unplug and let cool before attempting to clean any parts. This product is not recommended for outdoor use.
Pros
Non-chemical
Can be used indoors
Cons
Bulb replacement
Collection tray requires cleaning
Best Mosquito Sprays
Wondercide Ready-to-Spray Natural Flea and Tick Yard Spray
This all-natural yard spray is 100% biodegradable and is an eco-friendly alternative to other sprays on the market. The 32-ounce plastic bottle features a nozzle for hooking directly to your garden hose.
The bottle is 9.2×5.6×2.1 inches in dimension, so it is easy to handle while spraying your entire lawn. The active ingredient in this spray is Cedarwood oil. This oil is effective at treating the entire life cycle of many known yard pests.
Since it is 100% natural, it is safe to use around kids and pets. One user even applied the spray directly to their dog during a flea infestation and was pleased with the effectiveness and non-oily residue and low odor of the product.
This product is also rated as safe to use in your home garden. It is natural and biodegradable so you will not see any build-up to plants or vegetation.
It is recommended to apply this spray every 30-45 days. As with any yard spray, proper use and storage are highly recommended to get the best results.
Pros
100% natural
Effective against other pests
Cons
Requires repeated application
Requires hose with a water source
Cutter Backyard Bug Control Spray Concentrate
This yard spray is chemically derived and comes in a 32-ounce plastic bottle. It is 11.5×8.8 x 12.2 inches in dimension and offers an easy to use thumb trigger function. The bottle is lightweight at just over two pounds.
The Cutter Yard Spray offers 4-week protection even after rainfall. It can cover up to 5,000 square feet and is effective for use on most yard pests including mosquitoes. It easily attaches to your garden hose.
Some users have reported that the thumb activated switch is hard to use and that the bottle has leaked during application thus making it hard to use. This product is chemically derived and not intended for use around children and pets.
The yard must be kept clear until the product dries as it is harmful if it comes in contact with the skin. It is not recommended for use near storm drains, gutters, or aquatic habitats. This product is extremely toxic to fish. Proper storage and usage are important for maintaining wildlife in nearby habitats.
Pros
Made in the USA
Minimal applications
A lightweight easy-to-use bottle
Cons
Chemically derived
Toxic to aquatic organisms
Yard must dry before resuming activities
Best Mosquito Repellents
Sawyer Products Premium Permethrin Clothing Insect Repellent
This permethrin based spray is specifically designed for your clothing, gear, and tent. It is especially effective for hunters as it is odorless once dry. It lasts up to six weeks or six times of washing.
This spray will not stain or damage clothing or other surfaces. It is recommended that you use it in well-ventilated areas and allow to dry before use completely. One user recommends hanging clothing outdoors while applying the spray. Also, allowing clothing and any gear to completely dry before packing or wearing to avoid exposure to skin or non-treated items.
This pump spray bottle has a 12-ounce capacity and is 3.5×2.5 x 9 inches overall. It weighs around one pound, so it can easily be packed for any trip.
This product should never be used directly on the skin. Be sure to read all instructions for proper usage and care of clothing and gear when using. Most users have had success in repelling ticks and mosquitos even on long trips with just one application.
Pros
Long lasting
Non-staining
Single use for long trips on clothing and gear
Cons
Chemically derived
Harmful if used directly on the skin
Needs well-ventilated areas for application
Sawyer Products Premium Insect Repellent
Sawyer Products Insect Repellent lotion with 20% picaridin is an excellent alternative to lotions containing DEET. This four-ounce bottle is lightweight and small enough to fit into your pocket, backpack, or purse. The bottle is 1.25×2.75×6.63 inches in dimension.
Picaridin is effective at repelling mosquitoes and ticks for up to 14 hours. It is also a great repellent for most types of biting insects. Where biting flies have been present the lotion has shown to be effective for up to 8 hours.
It is also safe for clothing and gear. It has a low citrus odor that evaporates after drying and is safe for the entire family. One user was recommended this lotion by her child's doctor because it is so effective at repelling mosquitoes.
Sawyers Lotion was reviewed by Consumer Reports in 2016 and put onto a list of safe and effective insect repellents. The lotion lasts much longer than the spray on the skin but is not as effective for clothing or gear.
One user has reported issues with the spray bottles after purchasing and found the lotion was a better alternative. However, if you are planning to get wet the lotion will need to be reapplied.
Pros
Eight-hour protection
Low odor
Safe for clothing, gear, and children
Cons
Chemically derived
Small bottle
Needs reapplied if getting wet
Best Mosquito Foggers
Odoban Earth Choice 700069-1 Fogmaster Jr. Handheld Fogger
This small handheld fogger is intended for use in small areas. It weighs four pounds and is 11×4.5 x 10 inches in dimension. This is a small fogger and is not as effective for outdoor use.
It is a corded electric fogger, so it will require a power source nearby for use. It is 110 volts in power and can run on it's highest setting for eight minutes before becoming empty. It is a cold fogger, so any water or oil based chemicals will work for use in this product.
This fogger is mainly used in the hotel industry for use with deodorizers or sanitizers. It can be used with water or oil based pesticides. One user has recommended that you use hot water and spray outside to discharge the nozzle and clear any remaining oils. This will help you get a variety of uses from this fogger.
The OdoBan is made from corrosion resistant materials and can be used with a variety of products depending on your need. It is not effective for use outdoors or in large areas.
Pros
Easy to use
Can be used with different pesticides
Handheld
Cons
Requires power source
Not designed for outdoor yard usage
Burgess 1443 Propane Insect Fogger
This propane fogger is great for use outdoors in large areas. It can hold up to 40 ounces of insecticide and covers a 10-inch diameter with fog during use. The fogger is 15.1×11.1×6.9 inches and weighs only three pounds.
The Burgess Propane Fogger uses a standard propane cylinder which is not included. Some users have tried using other containers for the reservoir, but this is not recommended per the usage guide. The product comes with its own reservoir already installed and ready to use.
This fogger is ideal for large backyard use or around your patio or deck. It provides protection for up to six hours, and you can go days in between treatments as long as it does not rain.
It's safe to use around pets, plants, and children. After application, you can resume yard activities immediately with no need to wait for drying.
Some users have reported that the fogger can become clogged. Proper care and usage are required to keep the fogger in the best condition and usability.
Pros
Instant repellant
Resume yard use immediately
Cons
Uses a propane cylinder, not included
Conclusion
If you are looking for the most effective product for your yard, Summit Mosquito Bits will be the best mosquito killer. These small yet powerful granules help eliminate the source of the mosquito problem and help prevent any further infestations. Repellents and foggers are only useful for repelling mosquitos and other pests making them less effective at treating the underlying issue when dealing with breeding zones.
These bits are also rated as safe for use in gardens and around other plants. They are naturally derived and effective at stopping the entire life cycle. Breeding zones will need addressing first, but these are an effective addition to any yard clean up.
They are easy to use and require very little maintenance. Summit Mosquito Bits are safe for use around animals and plants which makes them perfect for your yard and garden. Unlike other products that contain chemicals that are deemed toxic for wildlife, there are no chemicals to worry about. These larvicides work simply by releasing a naturally occurring bacteria that kills the larval population instantly and effectively.