Top 4 Compost Tumblers For Home & Garden Waste
Top 4 Compost Tumblers For Home & Garden Waste
Explore Our Categories
Nut Trees

Nut trees can be just as lovely as any other type of tree that you would add to your landscape. But good looks aren't th...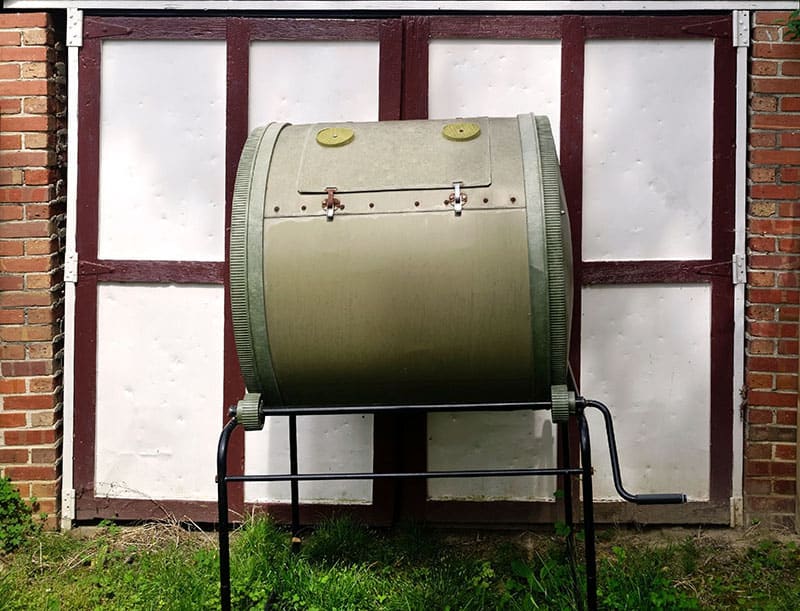 Does your household have continual leftover food and garden waste which is simply being thrown away? You could be putting it to good use by turning it into nutrient-rich compost that could work wonders on your plants.
Many people love the idea of making their own compost but find that compost bins are too much hard work, too messy, or too unsightly. This is where the compost tumbler comes in, making light and easy work of compost production. If you are on the lookout for a compost tumbler, this guide will help to identify your ideal product.
Buying Guide
Compost tumblers are an effective way to make organic compost from leftover produce and garden waste that you would ordinarily throw away. Once you have bought your tumbler, you will have a continual supply of compost for no extra cost, for as long as your tumbler lasts.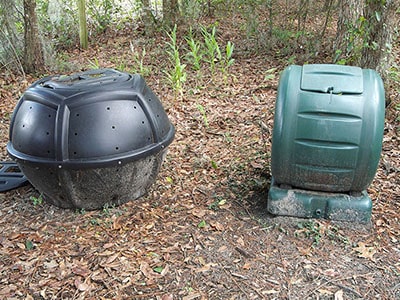 If you are a keen gardener and regularly buy compost to help improve the nutrient content of your soil or to top dress your plants to give them a nutrient boost, then buying a compost tumbler might actually save you money in the long run. It will also mean you have a lot less garbage in your trash can, as many things you typically throw away can instead go into the compost tumbler and be saved from being wasted, such as vegetable peelings, coffee grounds, grass cuttings, leaves, newspapers, and vegetarian animal manure.
If you currently compost with a compost bin, then you may want to think about upgrading to a compost tumbler. A tumbler, in simple terms, is a cylinder which holds all of your waste items, connected to a handle that you turn in order to rotate the cylinder. This motion more effectively mixes and aerates the contents of the cylinder, compared with compost bins which must be manually aerated, typically with a pitchfork. The end result is compost, which is produced much faster because the aeration helps the microbes within the waste break everything down to compost more quickly.
An added bonus of this is that tumblers, in theory, should be much less work to use than a compost bin. A few simple turns of the handle is far easier than the effort involved in manually aerating the contents of a compost bin. This is particularly important for anyone short on time to be spending in their yard, anyone with arthritis or joint pain, or anyone who simply prefers a machine to do the hard work for them (who doesn't?!).
Once you have decided that you wish to buy a compost tumbler, there are a few things you'll need to consider to help ensure you buy the right one for you.
Size
This is probably the most important consideration when buying a compost tumbler. First off, you need to think about where you're going to keep the tumbler. If you have a small yard, then a more compact tumbler would be appropriate for your space, in order to prevent it from intruding on your enjoyment of your garden. However, if you have a large garden or live on a farm, then the size of the tumbler will be less of a concern. When thinking about size, you should also consider the size of your household and the amount of waste you get through. A large tumbler will not be well utilized if you don't have very much to put in it.
Budget
The cost of your tumbler will largely be dictated by the size and quality of the tumbler you choose. A bigger tumbler will typically cost more, but the biggest price variation usually comes down to quality. If you need a tumbler to last many years to come even after heavy daily use, then you can expect to pay a premium for robust materials and high-quality workmanship. However, if you are new to composting and aren't sure if you'll keep it up in the long term, then you might want to start out with a less expensive model while you get more familiar with it.
Added Extras
These are bonus elements that may be part and parcel of certain composters and appeal to some people. For example, some compost tumblers have wheels, which might be important to you if you have a very large garden and have a need for moving around your heavy tumbler. Other added extras might include being environmentally friendly and made of entirely recycled materials or being built in the United States. Some people may see these as being nice touches, but to others who hold strong views about how products are made or where they come from it might be more of an essential requirement than an added extra.
It's important to note that a huge range of compost tumblers are available with many different specifications, so you should be able to find one that entirely fits your requirements. Consider what your key priorities are in a compost tumbler and select one that ticks the most amount of your boxes.
Requirements
In order to successfully use a compost tumbler, you'll need to be sure that you can fulfill a few requirements. The first of these is heat. Heat is a vital element which allows the contents of a composter to break down. You will either need to have a sunny spot suitable to store your compost tumbler where it can be allowed to reach high heats. The only exception to this is if you live in a very hot climate, as a shaded area will be acceptable.
The second requirement is adequate waste. To make good compost, you will need a good balance of carbon and nitrogen. Vegetable peel and table scraps fall into the nitrogen category, along with lawn cuttings. For carbon, you will need to add dried leaves collected from your yard, shrub prunings, or cardboard. If you live in an apartment and have primarily nitrogen-based waste to compost, you will end up with a soggy mess. If you don't have a large outside space with access to dried leaves or shrub cuttings, you will need to increase your percentage of cardboard going into the tumbler, though be careful, as many types of cardboard are not suitable, such as any coated in plastic or with ink printing on it. Ideal cardboard to use is egg cartons or the inside of used toilet paper rolls.
Top 4 Compost Tumblers – How They Compare
Product Comparison
All of these tumblers work well to spin and create compost in faster times than traditional compost bins. However, there are differences that set them apart from each other.
If you are looking for a high-capacity tumbler, the Good Ideas Senior Wizard Dual Tumbler Compost Bin is the largest with an 80-gallon capacity. For a more compact compost tumbler that would not be out of place on an apartment balcony, the Envirocycle product will work best.
If you are keen to reap the rewards of compost tea, both the Envirocycle and the Good Ideas Senior Wizard Dual Tumbler Compost Bin collect the liquid waste from the tumblers for you to use as liquid fertilizer on your plants.
If the option to have two compost loads going at the same time is important to you, then a dual composter will be able to fulfill this need. The tumblers which have dual capabilities are the Good Ideas Senior Wizard Dual Tumbler Compost Bin and the FCMP Outdoor IM4000 Tumbling Composter.
If you want your tumbler to be ready to go right out of the box and don't want to spend your time struggling with confusing assembly instructions, the composters that come fully assembled are Envirocycle's Most Beautiful Composter in the World, and the Good Ideas Senior Wizard Dual Tumbler Compost Bin.
Top Pick For Compact Composter Tumbler
Envirocycle's Most Beautiful Composter in the World
Proudly marketed as "the most beautiful composter in the world," this tumbler is arguably more aesthetically pleasing than your average compost maker. But don't be fooled by its attractive exterior; this tumbler is more than just a pretty face! This compact compost tumbler has been designed to fit right in among your garden without looking unsightly like many of its competitors.
In spite of its small stature, it does hold an impressive 35 gallons of compost. This would easily accommodate most weekend gardeners' needs, but anyone who gardens full time or professionally would likely require something larger. The standout feature of this product is its dual compost making ability. It simultaneously makes compost, as well as compost tea. Compost tea is the liquid that drips from the bottom of many compost tumblers, as a byproduct of the compost production process. This is problematic for two reasons; first, it can be very messy when dripping down onto your floor, and secondly, it's a shame to waste the compost tea as it is an incredibly nutrient dense liquid fertilizer.
The Envirocycle compost tumbler collects the compost tea in a separate compartment from the compost, so you can fertilize plants with it. The fact that no messy liquid is dripping from the tumbler also makes this an ideal product to compost with on a balcony or in a small garden terrace, making composting more easily accessible to everyone irrelevant of their outside space.
Users of this product report an overwhelmingly positive experience, with a particular focus on the excellent customer service delivered by this company. Users are impressed with the solid build quality and expect it will stand the test of time. It is easy to use straight out of the box with no assembly required, and even newcomers to composting find this unit simple and effective to use.
Pros
Durable construction
Made in the USA
Available in 2 colors
Dual compost drum
Arrives assembled and ready to use
Cons
Flimsy opening latch
Compost tea can only be accessed when the compost section is empty
Top Pick For High-Capacity Compost Tumbler
Good Ideas Senior Wizard Dual Tumbler Compost Bin
This dual compost tumbler from Good Ideas features two separate compartments for composting. This means that you can have two batches of compost running simultaneously; while one section is full of waste and being transformed into compost, the other section is still available to have food scraps and other waste added to it. If you find it an inconvenience to only have one compost batch going at a time, this could be a feature that benefits you.
The unit also features a reservoir to collect liquid compost tea. Each compartment of this produce holds over 40 gallons of compost, making this a high volume compost tumbler. It is made in the USA from food-grade BPA-free plastic.
Most users of this tumbler say it is easy to rotate and operate and comes with helpful instructions for those who are new to composting. One feature appreciated by many users was the tumblers ability to be rolled across the garden to be emptied once the compost was ready to use, preventing a messy compost removal. Some users did note that the compost tea reservoir was not easily accessible, and the whole unit had to be elevated on concrete blocks in order to be able to access the compost tea.
Pros
Dual chambers
Compost tea reservoir
Easy to operate
Easy to empty by rolling and tipping
Durable construction
Arrives fully assembled
Cons
Tea reservoir difficult to access
Difficult and messy to empty with shovel due to the small opening hole
Best Budget Tumbling Composter
FCMP Outdoor IM4000 Tumbling Composter
The FCMP tumbling composter has a 37-gallon capacity, which is split into two separate containers for dual composting. This means one section will still be available for adding waste to, while the compost in the other section continues to "cook." The benefit of this is always having somewhere to put your organic waste and also having a continuous supply of fresh compost. The tumbler features deep fins to help separate any clumps, and aeration holes to help air flow. It is constructed from recycled polypropylene, which is BPA-free and UV-treated, so it won't deteriorate in sunlight. The legs are made from galvanized steel to offer a sturdy base and prevent rusting.
Users of this tumbler experienced difficulties assembling it. It is advisable to have two people assembling the product, and you'll need to set a few hours aside and have plenty of patience. Once the tumbler was assembled, users mostly found it to be a great product. Its compact size is perfect for small families or people living in apartments. The fins on all sides of the tumbler make for great ergonomic handles, making the tumbler easy to turn over.
One of the problems that users ran into was the small size of the opening hole, making it difficult to load waste into, and difficult to get compost out. Another issue was the sliding door over the opening, which for some people got frozen shut during winter, rendering the tumbler useless for a whole season. Some users liked the fact that this tumbler isn't airtight and allows for greater aeration and for some liquid to leak out, while others found this a problem because rainwater got into the tumbler, making the compost a soggy mess.
Pros
Inexpensive
Easy to operate
Dual capacity
Compact size
Cons
Small opening hole
Difficult assembly
Rainwater can get in
Door can freeze shut
Spin Bin Composter
This 60-gallon composting tumbler features 20 ventilation holes for increased airflow, which is necessary for faster decomposition. The barrel has wide openings at both ends to make loading and emptying an easy process. The interior of the tumbler is ribbed, which adds to the products sturdy construction and also helps with breaking up the contents of the tumbler when it is being turned. Powder coated steel legs offer a stable base and are resistant to corrosion. A two-year manufacturer guarantee backs up this tumbler.
User feedback for this tumbler is quite varied. Some users are fans of its hefty size, and in particular like the large opening holes that make using the unit so much easier than those with small openings. However, some users were disappointed by the construction of this product, in particular, the skinny legs that aren't adequate to hold the weight of the barrel when it is full of wet waste. Some users experienced cracks in the plastic after a few uses, while others found the lids wouldn't stay on, leading to decomposing food scraps being spilled out onto their garden. One thing that most users did agree on was how difficult this unit is to assemble. It takes plenty of patience and time, though for many users this was not a deal-breaker.
Pros
Large capacity
Good ventilation
Large opening holes
Cons
Poor, lightweight construction
Inadequate legs for the size of barrel
Assembly required
---
Conclusion
If you are looking for a good capacity and durable tumbling compost bin, the Good Ideas Senior Wizard Dual Tumbler Compost Bin is the way to go. Meanwhile, say you only need a compact effective tumbler composter, I would recommend the Envirocycle product, which can contain 35 gallons of compost and will last for a long time.
For a budget composter, the FMCP outdoor composter is a highly-recommended product. It comes with dual capacity, easy to work with and is really compact.