Top 10 Full Spectrum LED Grow Lights – Buyer's Guide & Reviews
Top 10 Full Spectrum LED Grow Lights – Buyer's Guide & Reviews
Explore Our Categories
Berry Bushes

Whether you are growing a common berry, such as blueberries or raspberries, or something more exotic, like a magnolia vi...

Ornamental Plants

Although all plants are ornamental for most gardeners, some offer especially spectacular blooms, variegated leaves, or i...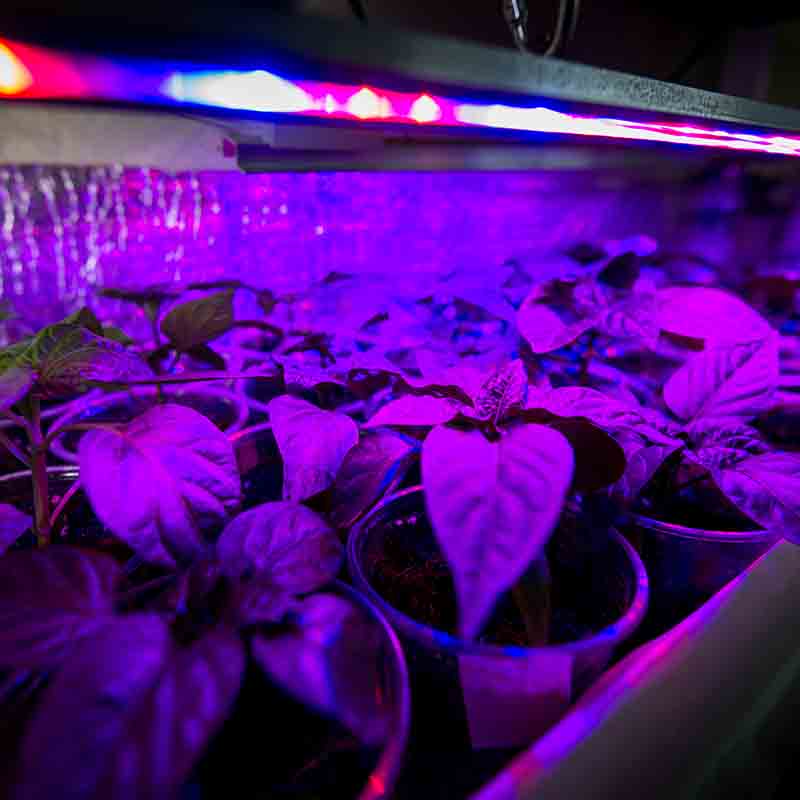 When growing plants indoors, replicating the effect of sunlight is often the biggest hurdle. Sodium, fluorescent, and HID lamps emit too much heat, and are very power hungry.
Modern LEDs are superior in these two aspects. Check out our review list and the buying guide to learn how the best LED grow lights can improve your hydroponics/aquaponics system.
What are the factors to consider while shopping for LED grow lights?
There are three major factors you have to consider before picking an LED system for your indoor grow operation:
1. What are you growing?
Depending on their species and variety, plants have varying light requirements. Generally, full-spectrum light is essential for photosynthesis.
But even for this purpose, blue and red lights seem to be most important.
And plants from dry, sunny areas like the Mediterranean will need more intense light than those originating from sub-tropical or temperate regions.
Low-light plants like lettuce and herbs will need 25 watts per square feet, while high light plants like tomatoes will need at least 50 watts.
These are just ball-park figures. Different varieties will have their unique requirements.
2. How large is your indoor grow project?
This pretty much self-explanatory. The larger your grow area, the more LED bulbs or panels you will require.
There are a lot of options to choose from. Depending on the shape and size of your grow area, you can pick from LED tubes, panels, bars, bulbs,
3. What type of LEDs do you need?
There are two options: full spectrum lights, and separate vegging and blooming lights.
Full spectrum lights are all-around products that can provide adequate lighting for a plant throughout its life cycles.
But in some situations, you might be opting for a more focused approach. For example, your system may be having separate growing areas for the growing period and flowering periods.
In such conditions, you can opt for a vegging LED light for the growth stage, and blooming LEDs for the flowering stage.
Many good quality full spectrum lights these days come with programmable settings. With these, you can opt for veg or blooming light settings depending on the age of your plant.
What are some good features to look for in LED grow lights?
If buying full spectrum LEDs, get one with adjustable output spectrum settings.
If you are opting for high powered LEDs, always make sure that they have proper cooling systems (heat sink & fans on the circuit board).
Again for higher power systems, ensure that the circuit board is MCPCB (metal core printed circuit board).
Look for LED fixtures that have a constant current driver circuit to ensure proper supply of direct current at all times.
What exactly is full spectrum LED grow light and why is it important?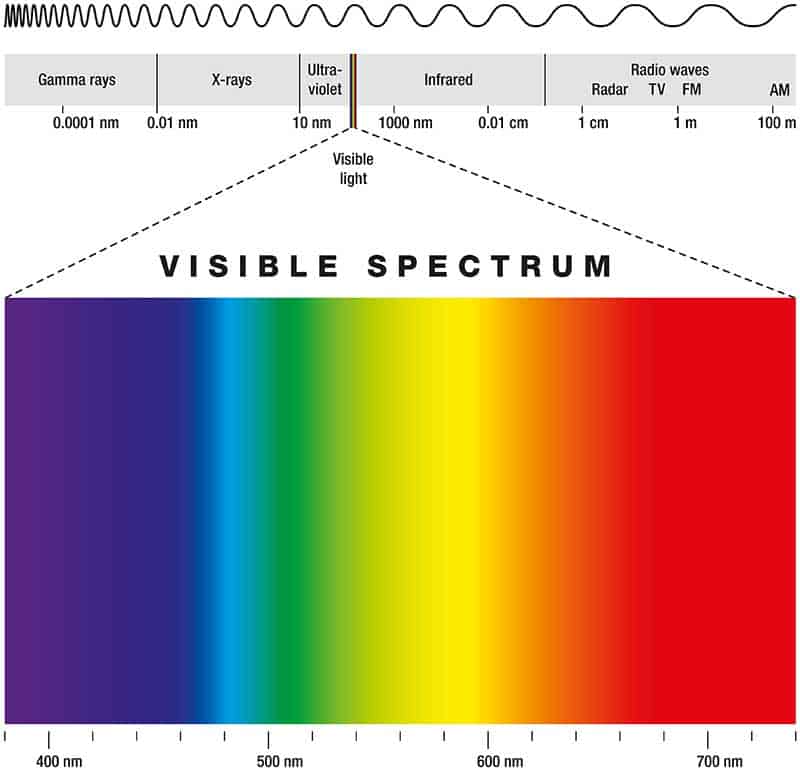 First, you must understand the light spectrum, or color wavelengths. It is the range of light colors we see or didn't see. Visible light that our eyes can see is between 380-740 nanometers. And similarly, the leaves of plants also enjoy these visible wavelength; the chlorophyll uses these light to manufacture food. The green light is an exception. Because chlorophyll only reflects green and they don't absorb it, that explains why plants' leaves are green. You can read more about these in this article.
So for the most parts, plants respond to the blue and red colors very well. These are the two most important wavelengths that plants need during their growth. Basically, plants need blue light for their vegetative phase and red light for the flowering period.
Understanding that, many grow light manufacturers have made it possible to produce the light colors plants need with their LEDs light. Many modern LED grow lights have a programmable setting to produce different color wavelengths. By this, you can control the type of lights at the different ratios for plants at different stages of growth in their life.
These types of LED lights with a very wide or full range of color wavelengths are called full-spectrum LED grow lights.
So two of the most important criteria that affect plant growth are light intensity (or the power of light output), and light colors (color wavelengths).
For light intensity, you can opt for the powerful light, but for light colors, you should choose one with a wide range of color wavelength (or full spectrum).
That's why within the scope of this article, I'll go into details all full-spectrum LED grow lights on the market, and help you pick the right one.
Best Full Spectrum LED Grow Lights Reviewed
---
1. VIPARSPECTRA Reflector Series LED Grow Light
Specifications:
Available in 300W, 450W, 600W, 900W, 1200W
12 LED color spectrum
3-year warranty and 30-day product return
Recommendated model: VIPARSPECTRA Reflector-Series 600W
The VIPARSPECTRA LED is available in two variants, a basic version with reflector, and an advanced dimmable system.
And this is a full spectrum LED panel, with varying wavelengths. The entire set covers the whole spectrum, from IR to red and blue lights.
A very useful feature in this system is the ability to daisy-chain multiple panels together without using many power outlets.
As a higher watt panel, the VIPARSPECTRA LED has a cooling system with fans and an aluminum heat sink built into it.
The panel provides enough coverage over a 2×2 feet area (300W model), 3.5×3.5′ (450W model), 4×4′(600W model), 5×5′(1200W model)
The LED panels perform as expected, according to overwhelming user feedback online. They generate very little heat, and provide adequate and balanced light, for both veg and bloom stage.
Pros
Full spectrum; has IR, red, and blue LEDs
Reflector saves extra light from escaping
Has cooling fans and heat sink
Can be daisy-chained
Cons
Some reliability issues
Not the best brand regarding PAR output
---
---
2. MARS HYDRO LED Grow Light Full Spectrum Reflector Series
Specifications:
Available in 240W, 480W, 720W, 960W
6 color spectrum
IR included
lack UV
1-year warranty and 7-day product return
Up to 70% restocking fee
Recommended model: Marshydro Reflector 480W
Like the Viparspecta, MARS HYDRO reflector led grow light series come with varying power ratings. You can pick wattage ranging from 240W, 480W, 720W, and maximum of 960 watts .
Each rectangular panel contains individual LEDs, with wavelengths ranging from 430nm to 730nm. This is not a full spectrum LED system with only 6 colors. IR is included, but it lacks UV. But there is a good balance between IR, red and blue lights.
The 240-watt panel is ideal for a growing area of 2×2 feet. But I'll stick to the 480W model in case I need to upgrade my growing system. The lights can be placed at heights between 12 and 30 inches, depending on the growth phase for best results.
As a more powerful LED grow light, the MARS HYDRO models come with dedicated cooling fans and heat sinks built into the panel to keep the hardware cool and safe.
These lights have passed the US ETL certification for safety. The panels come with a power cord, and simple plug and play usage.
User reviews indicate these LEDs perform satisfactorily with few noticeable issues. They are perfect for small grows and can work with a wide range of plant species.
The build quality and materials used in these LEDs also deserve special mention. The lights work well for the veg stage, while performance may be mixed at the flowering stage for some species.
Their product policy does not seem competitive compared with other led companies on the market with just 1-year warranty and 7 days product return. But with a fairly affordable price, buyers cannot ask for more.
Pros
6-color spectrum LEDs
Reflector helps improve coverage
Comes with cooling fan and heat sink
Easy to install
Cons
Coverage is not uniform
Does not have UV
Short warranty period (1-year)
---
3. Roleadro LED Grow Light GalaxyHydro Series
Specifications:
Available in: Roleadro 1st Generation (300W, 600W); Roleadro 2nd Generation (300W, 600W)
2-year warranty and 30-day money back
6 color band (Roleadro 300W)
Improved spectrum (Roleadro 2nd gen)
Recommended model: Roleadro 300W
This is the among the best selling LED Grow Light online, and also gets stellar ratings. This is not only because it is budget-friendly, but it does satisfy most small to medium growers' needs. The Roleadro has a 300W, 600W rated LED panel. And recently, the manufacturer released the 2nd generation of this model with higher Epiled chips (5W), improved spectrum range, upgraded cooling heat sinks, and cooling fans as the company states.
The panel has a rectangular shape and contains full spectrum LEDs. There are individual Epileds LED chips inside, each rated at 3W or 5W (depending on the model).
With the 300W 1st gen model, out of the 100, 86 are red LEDs, with 10 for blue light, and two for IR and UV lights. At a standard 24 inch height, this panel can illuminate a growing area of 2×2 feet.
Heat management is handled by two large fans and a large heatsink attached to the circuit board. The panel is sold with a long power cord and hangers.
The 300W panel provides adequate lighting for smaller grows. These seem to offer excellent light for both vegetative as well as flowering stages.
I would recommend the Roleadro 1st gen for its stability, and because I prefer 3W chips, which help improve light penetration for lower parts of plants.
Pros
Competitive price
Wide spectrum light
Ideal for small grows and beginners
Large fans and heat sink
Superior output for flowering plants
Cons
No switch for power control.
Some LEDs malfunction with continuous use
Heat output is above average
---
4. Advanced Platinum P-Series LED Grow Lights
Specifications:
Available in 150W, 300W, 450W, 600W, 900W and 1200W
12 LED Colors
Infrared and UV included
5-year warranty. 90-day product return.
Made in the USA
Recommended model: Advanced Platinum Series P300 300w
Advanced Platinum is a trusted brand in the LED light market, especially hydroponic growers, and the cannabis community.
<p< p="">
Like all advanced led lights, the quiet fan lets these lights can run for a long period without getting heat.
Their lights' size range from 150W to 1200W, which can be chosen to fit any size growers want.
The products have a 12 band full spectral output out of the box, within the range from Ultraviolet to Infrared, which suits any phase of plant growth.
There is a switch for users to turn on veg or bloom mode.
As this led light brand is made in the USA, it seems to be far more expensive than the 4 products above. But they do offer some real values that buyers need to consider. Besides being well-made and durable, the products from this company help assure buyers with an excellent product policy – 5-year warranty and 90-day money back guarantee.
This is not for those with a tight budget, so if you're looking for a solid build product that runs well for years, the Advanced Platinum series should be taken into consideration.
Pros
Efficient 12 band spectrum
Quiet running
Trusted brand.
5 years warranty and 90-day return policy
Can be daisy chained
Cons
More expensive than other brands.
---
5. Kind LED Grow Lights K3 & K5 series
Specifications:
Available models: K3 – L300, L450; K5 – XL1000, XL750
12 LED color spectrum
IR and UV
3-year warranty and 90-day product return policy
USA-made
Recommended model: Kind LED Grow Lights K3 L300
Kind LED has become a fairly popular brand on the grow light market. This is another high-end product on the led light market.
The product is manufactured by a California-based company.
This is one of the greatest spectra led lights on the market with 12 band-color spectrums ranging from UR to IR.
The thick 2CM aluminum heat sinks help reduce heats and ensure the lights run effectively.
They have two product types – the K3 and K5, in which the K3s own 3w diodes, while the K5 series has a mixture of 3 & 3w diodes.
The K3 series is efficient to use for any indoor setup, grow tents, but it aims more at the small budget growers.
The K5s are a more premium model. They are acclaimed to have improved power, intensity, and more advanced features.
The company advertises for their advanced light technology like the secondary optical lens for deeper penetration, with the K5 series having integrated timers, remote controls, customizable features for the spectrum outputs, "mother earth" and light intensity.
3 years warranty 90-days product back guarantee gives a sense of safety for buyers, which is very appropriate for a product at the higher price end.
If your grow area is medium, and you can afford it, the K5 is worth the money. But for small and normal grow need, the K3 has satisfied users fairly well.
Pros
12 band spectrums.
Solid build
Low heat
Long warranty period
---
6. California Lightworks Solarstorm
Specifications:
Available models: Solarstorm – 110, 220, 440, 880; Solarsystem – 275, 550, 1100
6 color band spectrum
Ultraviolet spectrum with switch
No infrared
3-year warranty and 90-day product return
Recommended model: California Lightworks Solarstorm 440-watt LED with UVB
The Led Lights from California Lightworks are no doubt a high-end model that will deliver the quality lights that get plants to work well at all stages.
The SolarStorm is one of the two series of California Lightwork besides the SolarSystem. It is aimed at small and normal growers. This model owns a separate switch mode for veg/bloom. And another switch for the UV-B bulbs.
The SolarSystem has more power and comes with programmable spectrum control, which is better suited for large and commercial production.
They have 5 bands of deep blue, blue, red, deep red, warm white, plus UV-B emitted by attached UVB T8 fluorescent bulbs. But they lack IR.
Buyer's guarantee is excellent with a 3-year limited warranty and 90-day risk-free trial.
Pros
High-end product, reputable brand.
Long warranty period.
Switch for veg/bloom and UVB tubes
---
7. G8 LED Veg/Bloom Series
Specifications:
Available: 240 Watt Veg/bloom, 450 Watt Veg/Bloom, 900 Watt Veg/Bloom
8 color band
2-year warranty and 90-day money back guarantee
UV and Infrared included
No veg/bloom switch
Recommended model: G8LED 240 Watt LED Veg/Flower
The USA-made G8LED is another long-standing company in the led grow light market. It was awarded "Best LED Grow Light" by High Times Magazine in 2016, and 2017.
G8LED uses 3-watt LEDs, which makes it easier to penetrate the plant lower parts.
All of its products are packed with a fairly long spectrum of 8 colors, which is above average, and appropriate for all growth phase from vegetative to flowering period.
The manufacturer offers a 2-year warranty and 90-day money back guarantee. This is fairly acceptable for most buyers in a fierce led grow light market.
The panel does not have a veg/flower switch. This is why the company sells different products for different growing purposes and phases, including veg, bloom, veg/bloom.
The model can be used with a coverage of up to 3×2′ (240W model), 3×4′(450W model), 4×5 (600W model), and 4×6 (900W model).
Pros
8 color spectral output
Great for small growers
Solid built
Great penetration for plant canopy
Cons
No advanced option like veg/bloom switch
---
8. Apollo Horticulture GL Series
Specifications:
Available in 300w, 400w, 600w, 700w, 900w, 1200w
6 color spectrum
No UV
No power switch, and veg/bloom switch
2-year warranty
Recommended model: Apollo Horticulture GL80X5LED
Any grower starter will find the Apollo Horticulture GL Series much budget-friendly but still enjoy some fair results. And in fact, the brand is fairly popular among indoor horticulture growers.
They offer 8 different sized LED lights, ranging from 75W to 1200W.
The wide spectrum of 6 colors, including the IR, is a plus for the Apollo Horticulture product.
The 2-year warranty policy is average enough on the market for buyers' sense of safety.
One downside is that it doesn't have power on/off switch, or veg/bloom switch, but you may connect it with a timer to control your LED cycle better.
Pros
Affordable
A wide range of products fitting small-large grow needs.
Easy to install
Cons
No on/off switch for veg/bloom phase
---
9. Deckey Full Spectrum Hanging LED Lamp
Specifications:
Very inexpensive
Suitable for beginners
Power: 9W
60 blue and 165 red light
Material: plastic
No display of warranty and product return policy
The list would not be complete without some sub-50W variants.
The Deckey grow light is a dual spectrum panel made up of 225 individual LEDs.
Of these 165 are red colored, while the rest (60) emit blue color light. They combine to provide the optimum level of light for plants at all stages.
The panel is square shaped, measuring 12.2×12.2 inches. As the name suggests, the LED is designed to be hung from the ceiling. This Deckey LED is rated at under 10 watts.
It can be kept at a distance between 1.6 feet to 3.2 feet. At the maximum distance, it should be able to cover 2.5 square meters or 26 square feet.
The light is fabricated from high-quality plastics. You get a rather long 1.65-meter cable along with the light. Other mounting accessories are also provided along with the package.
As for the actual performance, the Deckey is a very low powered grow light. It is not suitable for large flowering plants.
Despite being stated by the seller as a full spectrum panel, it only displays blue and red colors and is not enough for all stages of plant growth. The Deckey is only perfect for the vegging or early growing phase though.
Pros
Has both blue and red LEDs
Consumes only 9 watts
Complete package for easy installation
Cons
Underpowered for large plants
Not ideal for flowering stage
No advanced options
---
10. UNIFUN LED Grow Light
Specifications
Power:45W
4 color spectrum
IR and UV included
1-year warranty. 30-day product return guarantee
The UNIFUN system is more powerful than the Dewey, with a wattage of 45 watts for the panel. And like the Dewey, this one is also a full spectrum system.
The number of red LEDs stands at around 160, with about 55-56 blue LEDs. The added attraction is the presence of 8 special LEDs for UV and IR spectrum rays.
The square panel measures roughly 12 square inches in size. The maximum wattage is 45, and the light can irradiate a maximum area of 1.5 square meters.
The system has a straightforward plug and play system. As long as an outlet is close at hand, you don't have to worry about complicated wiring systems.
The main advantage of the UNIFUN LED is that it can be used to grow a wide a variety of plants. They include both low light and high light varieties.
But the 45-watt peak rating is too weak for the blooming or flowering stage of the plants. In the early seedling stage, this is a perfectly viable option according to expert feedback.
The light system generates very little heat. It is also very easy to install as it comes with a dedicated hanger kit.
Pros
Ideal for beginners and first timers
Suitable for small grows
Has both red and blue light, as well as UV and IR
Very easy to install
Cons
Too weak for the fruit and flower blooming stage
The construction is very flimsy
Some bulbs fail with regular use
No dimming option
LED Grow Lights Buying Guide
What are LED Grow lights?
LED technology is not something groundbreaking. It has been around for decades now.
LED stands for "light emitting diode." It is a small bulb that converts electricity into light energy. The history of LED lights stretches back all the way back to 1907.
The earliest LED bulbs in the 1960s and '70s were costly and used only in advanced instruments.
But in recent years, the costs have declined, and LEDs are used in everything from home lighting to consumer devices like TVs and mobile devices.
It was only a matter of time before LED panels started appearing in the hydroponics and indoor grow scene as well.
These days, LED grow lights are available in different sizes, intensities, and colors to suit various plant requirements. They are accessible for both small-scale as well as commercial productions.
What are the advantages of LED grow lights over HIDs?
Less heat
Compared to incandescent lamps, LED bulbs and panels emit much less heat. This is very important for plants, as extra heat can damage your crop.
Less heat also means that you can keep the lights much closer to the plants without fear of damage to the crop. That is one less factor to worry about when planning your grow system.
Less Power Consumption
Older incandescent lights are inefficient because a lot of the energy supplied is lost in the form of heat.
But since LEDs emit less heat, less electricity is being wasted as well. If you supply the same amount of electricity to an LED and HID, the LED will provide more light.
Typically, you can expect energy savings to the tune of 25-50% from LEDs.
Compact & Space Saving
In indoor grow areas, space is a precious commodity. LED systems take much less room than HIDs, and are easier to move around and manage.
Again, since they emit less heat, they also don't need extra cooling equipment, unlike older HID lamps. This means less clutter.
LED grow systems these days are very flexible and can often be chained together. So you might even be able to reduce the mess of extra wiring.
Better Light Optimization
Plants require different light wavelengths during various stages in their light cycle.
These days, LED lights are available in different wavelengths. Many LED grow light systems also come with the option of adjustable wavelengths (Full spectrum LED lights).
By using specific wavelengths for plants at the correct stages, you can get maximum growth with minimal wastage of input energy.
Longevity
We all know about the fragility of incandescent bulbs. They have a propensity to burn out sooner or later.
LEDs are a different breed altogether. As they produce less heat, the components have less chance of burning up.
Modern LEDs often have a rated lifespan of tens of thousands of hours. So despite their higher cost, they are a more economical proposition in the long term.
Check out this YouTube news feature to learn how commercial grows in the US are shifting to LEDs for better productivity:
https://www.youtube.com/watch?v=LrOADvRHRlw
Conclusion
Thanks for reading the whole Led product reviews
This is by no means a complete list. But we have done our best to hand-pick the best and proven LED lights for growing on the market. Whatever choices you make, we believe you'll enjoy large results with your indoor garden.
Happy growing!