The Best COB LED Grow Lights – Buyer's Guide & Reviews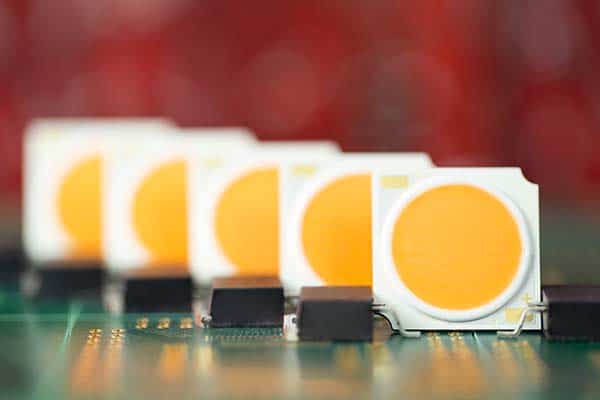 LEDs have been the top choices, be indoors or outdoors, for either hobbyist or commercial growers. But one big drawback of LEDs is their big size, making it hard to fit small spaces. That's why people invented one type of LEDs which are still powerful for most vegetative and flowering flower, while don't contain much space.
Enter COB LED grow lights.
But COB isn't just known for its compact size, it also has more light intensity, and advantages than traditional LEDs and other grow light types.
In this post, I'll go explaining in details about the COD LED grow lights and help you pick the best ones on the market.
If you to check out the top picks quick, here are our the COB LED products that we recommend (we'll go into further details later in this article).
Buying Guide
What Are COB LEDs?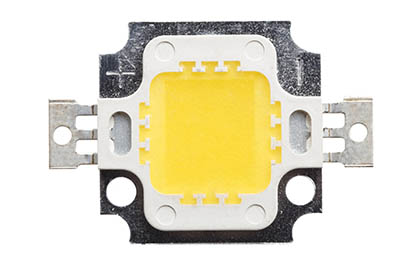 COB, or Chip-on-Board, is the new LED technology. It has its name as the LED chips will be mounted onto the circuit board to create LED arrays.
Because of the way COBs are built, COB LEDs reduce the components used and maximize the number of LED chips on the circuit. This makes COB LEDs have a number of advantages over the traditional SMD (Surface Mounted Device) LEDs, which we will discuss later.
The Differences Between COB LEDs And Traditional SMD LEDs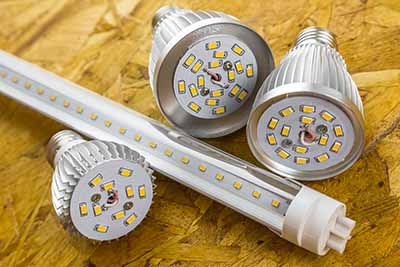 SMD (Surface Mounted Device) LEDs are the most common LED grow light you can find on the market.
Though both SMDs and COBs share similar characteristics such as wide light spectral spectrum, long lifespan, and efficient light output, here are some of the key winning points of COBs over SMDs.
Improved Lumen Density
Since COBs can be packed with more LED chips on the same substrate than SMD, it has a stronger light intensity and higher uniformity.
More Focused Light
Because more led chips are contained within an area and with the support of a reflector, the light produced is denser. With the use of a reflector, you can have a stronger and more vibrant light intensity for flowering plants.
Smaller Size
A 200 lumen COB LED array can be much smaller than a 200 lumen SMD because COB makes better uses of the space.
Less Heat
Because fewer components are used to make these LEDs, and the thermal sink is pointed toward the circuit board, COBs tend to emit less heat than traditional LEDs. But the material of the COB substrate, the heat sink structure and the board circuit design play (Source) an important role in heat distribution. That's why you should look for a quality COB LED.
However, you also must know the downsides.
COBs Have Less Versatility Than SMD LEDs.
Even though you cannot have as many as LED chips on each array, SMDs allow accommodating more than one contact. And a single chip can have up to 3 diodes – each diode also has a separate circuit. This permit the SMD chips to have multiple colors – blue, red, green diode. Also, you can mix these colors by changing the light output of each color.
Meanwhile, even though COB LEDs have many diodes, they only accommodate 2 contacts and 1 circuit. That means you often see that COB LEDs produce a single color wavelength from time to time, and you cannot adjust it like other SMD LED lights.
SMDs Generate More Widespread Light Output.
It gives more light distribution than COBs. In this sense, traditional SMDs have better light coverage and penetration for the plant canopy, which makes it more convenient to grow in an opener grow area.
Comparison Between COB LEDs And Other Grow Lights
You can find below a quick comparison table between COB LED and other light technology
| | | | | | |
| --- | --- | --- | --- | --- | --- |
| Criteria | COB LED | HPS | MH | CMH | CFL |
| Cost | High | Medium | Medium | High | Low |
| Light Intensity | Medium-Strong | Strong | Low | Low | Low |
| Light spectrum | Full spectrum | Short | Short | Long | Short |
| Heat Output | Low | High | Medium | Medium | Low |
| Size | Small | Large | Large | Large | Small |
| Lifespan | 50,000 | 15,000 | 15,000 | 20,000 | 10,000 |
This leads to the next section
Why Choose COB LED Grow Lights?
The table below shows you that besides the cost, COB LED tends to win over other grow light types in every criterium. Let's blast through the details.
Light Intensity
This is the number one factor that affects your plant growth, especially flowering plants. Regarding this, COB LED is only behind HPS. It has a stronger light output than traditional LED grow lights and other light types.
Light Spectrum
All modern LED grow lights, including COB LEDs, are known for their widest spectrum wavelengths. Some bulbs also include 12-color spectrum colors, including IR (infrared ray) and UR (ultraviolet ray)
Heat Output
Heat ventilation is also a strong point of COB LED. Modern technology allows these LEDs to produce strong light output while controlling the heat emitted. Some high-end COBs also use quality substrate, drivers, fans, which control the heat to the minimum.
Size
Though COB LEDs with more power will be bigger, you'll never have such a compact light that still generate lots of light like COB, which makes it better suited for small areas.
Lifespan
Depending on the COB material build, most COBs can last from 30,000 – 60,000 hours. This is several times higher than other grow light types.
Top 6 COB LED Grow Light Reviews
---
Dimensions: 21.3 x 7.1 x 3.9 inches
Weight: 12.02 pounds
Power: 200W
Actual Wattage: 185 – 200W
Coverage: 2 – 4″
Lifespan: 50,000 hours
Dimmable light control from 10 – 200W
Wavelengths: Full spectrum (380nm – 780nm)
COB LEDs: CREE
Driver: MEANWELL
Warranty: 3-year warranty and 30-day product return
CF GROW Cree High-Intensity 200W Full Spectrum Cob Led Grow Light
CF Grow has been one of the top-end brands in the COB LED light market. That is why it is the most expensive COB LED light among our list.
Besides being well built and made in the USA, this light has a lot of great features that other COB LED lights can't compare. This includes a wide spectrum wavelength that ranges from 380nm – 780nm. A dimmable light control function is packed out of the box so that you can adjust the light intensity output from 10 – 200W. This comes very handily if you grow seedling or young plants and fear that strong light may burn the plants.
CREE LED and MEANWELL drivers are also known for their great performance and stability that will last your grow system for years.
CF COB LED has a built-in fan and heat system that allows the LED to cool fast, and you will not even hear the fan noise.
It's not unexpected to see that it's rather expensive. Some users find it overpriced. However, if you are a seasoned or beginner growers who have some money to spend and want to have a quality COB LED for your grow space, CF Grow is the top choice.
Pros
Quality LED Light and Driver
Dimmable light output
Full spectrum
Cons
Note:There have been users' stating that the CF COB LEDs are the same grow lights as the CANAGROW COB LEDs. They are stated as sold by the same manufacturers but using two different brand names. And both products have a similar warranty period. So if you are considering choosing between CF and CANAGROW COB LEDs, you should opt for the one with lower prices.
---
Dimension: 14.2 x 9.4 x5.5″
Weight: 5.9 pounds
Wavelengths: Wide (440nm – 730nm)
Wattage: 400W
Actual power: 200W (± 5%)
Ventilation: An aluminum substrate and two cooling fans
LED: Quality Epileds
On/Off Switch
Lumens: 10,000
Warranty: 2 years and 90-day product return
Lifespan: 50,000 hours
Roleadro 400W COB Full Spectrum Led Grow Light
Roleadro is one of the most popular led grow lights sold online due to its competitive price with fairly good quality for hydroponic beginners.
The manufacturer also offers a COB LED line. With just 14.2 x 9.4 x 5.5 in size and 5.9 pounds in weight, you can have a powerful LED light with 400W. However, in reality, buyer using suggests that the light only draws about 200W – These lights sound great for beginners or those bounded by the space. Roleadro COB LEDs are full-spectrum ranging from 440 nm to 730 nm and come with the aluminum substrate, and fans that do a great job of cooling the LEDs.
There is a 2-year warranty that is average enough on the market, which gives all buyers a sense of security getting the product.
Pros
Very affordable
Solid COB LED with high light intensity
Great for beginners
Cons
Some complaints about the fans and the LED chips burn within the first year.
Summary
Roleadro COB LED is not the top LED light on the market just like other COB LED grow light manufacturers. If you are looking for a quality one, go with the traditional LED lights. But if you look for an affordable and good COB LED product, Roleadro COB LED grow light is excellent, especially for budget growers or indoor hydroponic grower who just gets started.
---
Dimensions: 10.6 x 2.6″
Weight: 4.4 lbs
Wattage: 300W
Actual power: 108 (±3%)W
Wavelengths: 9-color spectrums, including UV and IR
LEDs: 80 pcs 3W Bridgelux/Epileds and 1 pcs 60W Cree COB
Coverage: 2.5′ x 2.5′ at a height of 24"
Lifespan: 50,000 hours
Warranty: 2 year
UFO Led Grow Light, Growstar 300W
UFO LED Grow Light with Cree COB is another easy-to-use light can be used for a variety of plants without burdening on your budget. This round-sized light is super compact, measuring just 10. 6 x 2.6 in, and weighing 4.4 pounds. These COBs can be greatly suited for veg plants, but seem to be underpowered for flowering plants. So be sure to pack more than one item, or combine it with other grow lights for better light intensity. Though being inexpensive, the Growstar 300W generates 108± 3% wattages, which can cover an area of 2.5′ x 2.5′ at 25″ height. They also have a 9-color spectrum wavelength with UR and IR included – a big plus to grow any plant. The 2-year warranty policy and 30 days return guarantee are fairly average on the market.
Pros
Affordable
Compact Design
Little heat produced
Cons
Underpowered for flowering plants
---
Dimensions: 12.4 x 7.9 x 3.5 inches
Weight: 6.61 pounds
Wavelengths: Wide spectrum (410 – 730nm)
Wattage: 450W;
Actual Power: 200W
Coverage: 3ftx3ft at 21″ for vegetative phase; 2ftx2ft at 18″ for flowering period
LEDs: 10 pcs 5W CREE LEDs and 4 pcs 100W Epileds COBs
Warranty: 1 year
Hipargero HG450 LED
The Hipargero LED is relatively strong with about 215W actual power consumed and emit a PAR output of 530 at 18″, and 1120 at 12″ within a 2×3 foot coverage as recorded by a buyer, which is enough to grow both veg and flowering plants. At that light intensity, this seems to be a good bargain. But compared with other Chinese grow light manufacturers on the market, this is a bit more expensive.
These COBs have full wavelength spectrum with wavelengths from 410 nm to IR (730nm). Two cooling fans, built-in aluminium heat-sink helps emit minimal heats while operating.
These COBs are given a 1-year warranty, which is average. And their black exterior design does make it look stable, and stand out in your grow room – a good point for those who value product design as an important criterium.
Overall, this is not the best quality COB LED light but if you're looking for a budget but strong COB that can last for some time and hope that they won't break down during the mid grow, this is a good one.
Pros
Affordable
Good light intensity
Cons
Some users complained about the heat issue while running.
s
---
Dimensions: 13.78 x 9.84 x 2.17 inches
Weight: 8.31 pounds
Wattage: 1200W
Actual power: 210W
LEDs: 105pcs – 17 blue, 80 red, 2 UV, 2 IR, and 4 full spectrun COB LEDs
Max coverage: 3ft x 4ft at 24″ height
Lifespan: 50,000 hours
Wavelengths: 380-780nm
Veg & Bloom setting:Included
Warranty: 3-year
AGLEX 1200W COB LED Grow Light
The AGLEX COB LED is fairly strong with about 210W actual power consumed and emits an average PAR output of 785 umol/m2s at 24″ as stated by the seller, which is enough to grow both veg and flowering plants. At that light intensity, this seems to be a good bargain. Compared with other Chinese grow light manufacturers on the market, this is even a bit more inexpensive.
But the impressive point is this product is warranted for 3 years, which is above average. The manufacturer also offers a lighter version with 600W power.
These COBs are stated to have a full spectrum with wavelengths from 380 nm to 780nm and produce minimal heats.
Overall, this is not the best quality COB LED light but if you're looking for a budget COB that can last for some time and hope that they won't break down during the mid grow, it is a good one.
Pros
Very affordable
Long warranty period (3 years)
Cons
Some users complained that LEDs do not have good coverage as stated
---
Dimensions: 11.5 x 9.2 x 2.8 in
Weight: 3.55 kgs
Wattage: 900W
Actual power: 260W
Max coverage: 4.5m2 at 36″ height
PAR Output: 324 umol/m2s at 36″ height
Lifespan: 50,000 hours
Wavelengths: 380-780nm
Bloom/Veg Switch: Included
Warranty: 1-year. 180 days of free new light for quality issues
Macegrow Led Grow Light-MG900 Grow Lamp
The Macegrow product is another good for value COB LED that is great for beginners, and budget users.
This version has a wattage of 900W, and there is another version with 450W. The manufacturer boasts that this can replace a 260W HPS light, but that's just a marketing gimmick. It will never have the same light intensity as a 260W HPS light.
Just like the AGLEX COB LED light, it's hard to find many special features that help you choose between the two. These two LEDs are not so different in quality and features. So you can opt for which one that probably has better design, or is less expensive.
Macegrow COBs are packed with a 1-year warranty period and 180 days to replace the light if there are quality problems.
Pros
Cons
Complaints about the incorrect spectrum
Some users' COB LEDs quit working after some months
Verdict
It's hard to find a quality LED product but at the same time inexpensive these days. That's why if you're looking for quality COB LEDs, I would recommend the CF Grow COB LEDs. They are well-built COBS with the quality CREE LEDs and a MEANWELL driver. CF Grows are also packed with all special features that other COB lights can't compare like dimmable light output, full spectrum wavelengths. This assures quality light output for your grow for a long time.
However, budget growers don't have to worry as there are lots of inexpensive COBs that produce great results. We would recommend the Roleadro COB LEDs. They produce good light output, have a 2-year warranty and are well-praised reviews by online customers. These COBs could be a great introduction for the small, weekend to midsize hydroponic growers.