6 Best Backyard Hammocks – Buying Guide & Recommendations
Explore Our Categories
Fruit Trees

One of the most enticing aspects of trees is that many of them can produce delicious fruits every year. Shop our collect...

Evergreen Trees

From glittering Christmas trees to pot-bound Norfolk pines, evergreens are everywhere. Since they remain green throughou...

Fast Growing Trees

Mature trees add a noble character to the properties on which they grow. The issue is, it often takes decades for large ...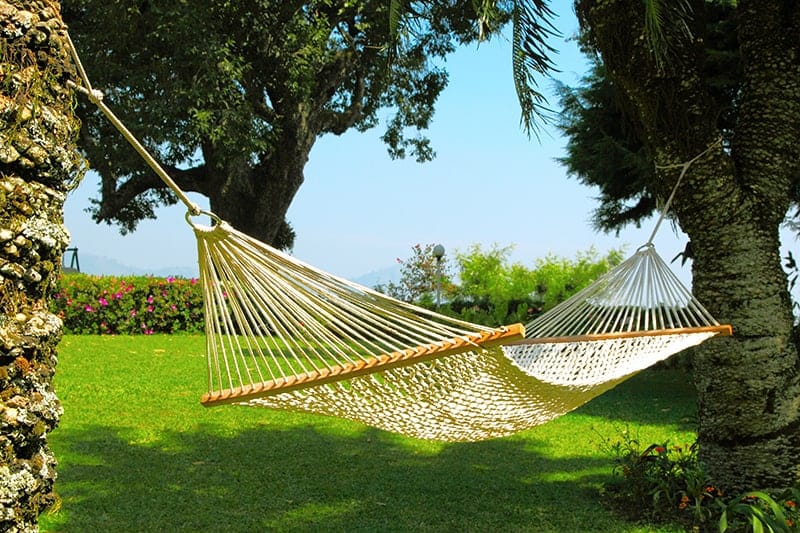 Hammocks are a great way to relax in your backyard and while away the day, or they can be an ideal sleep solution for anyone wanting to improve their sleep quality. There are so many types of hammock available; to learn about the different types and discover which backyard hammock is best for you, read on.
Product Details
Top Pick / Most Portable
Hammock Sky
Hammock Sky Brazilian Double Hammock
Hammock With Stand
Vivere
Vivere Double Cotton Hammock with Space Saving Steel Stand
All-weather Hammock
Patio Watcher
Patio Watcher 14 FT Quick Dry Hammock with Double Size Solid Wood Spreader Bar
Buying Guide
Benefits of Using a Backyard Hammock
Better Sleep
Improve sleeping position
It has been scientifically proven that the ideal sleeping position for humans is lying on the back with the head elevated at around 30 degrees. Hammocks will automatically put you in this position, improving your sleep position and aiding in a better night's rest.
Fall asleep more quickly
People who sleep in hammocks report falling asleep more quickly than they ordinarily would. Some even claim they have trouble staying awake in a hammock to read a book as the hammock knocks them straight out! Studies have shown that those sleeping in a hammock do drift off more quickly, and this is likely a result of the body being in the ideal sleeping position.
Achieve a deeper level of sleep
Hammock sleep is touted as allowing people to achieve a deeper level of sleep, as well as getting a longer sleep. The benefits of a great night's sleep are numerous; if you feel well-rested, you are more capable of tackling the day ahead. A night of deep sleep will help to improve your mood and allow your body to restore and repair itself. You will feel more mentally rejuvenated, and more physically vibrant, as the tissues and muscles are better repaired during deep sleep.
Cure insomnia
Hammocks are recommended for people who suffer from severe insomnia. It is suggested that the swaying motion of a hammock will lull you into sleep in the same way that a baby falls asleep quickly when being rocked; the swaying motion alters brain waves, which induce sleep.
Relieve joint pain
Sleeping on a mattress can create pressure points on your body and aggravate joints. For people who suffer from these problems, a night spent in a hammock can be the only relief they get. Hammock sleeping can prevent these issues from occurring and can relieve painful symptoms associated with sleep if you already have them. Hammocks offer a zero pressure point sleep as you are suspended in the air and not lying on any solid surface.
Improve health
The benefits of a longer, deeper, and more comfortable sleep are well documented. Therefore, if sleeping on a hammock allows you to sleep better, you will notice improvements in your overall health.
Boost cognitive function
A good night's sleep is proven to improve memory and mental performance. This means that you will boost your brainpower by sleeping in a hammock, so you can make more headway with whatever project you may be working on during the day.
Comfort
People who use hammocks describe them as the most comfortable way to sleep, with many people choosing to sleep in hammocks overnight all year round. Hammocks also offer a way to spend a comfortable few hours during the day, whether that be for a nap or purely just to lay back, rest, and enjoy your garden.
Relaxation
Hammocks are a great way to relax as they put you in a position that is naturally comfortable for the body. Reading in a hammock is a popular method of relaxation, allowing you to take some essential time for yourself to feel rested and rejuvenated.
Appreciate nature
Lying on your hammock and spending time outside in your backyard allows you to slow down and appreciate everything around you, such as trees rustling in a cooling breeze, passing wildlife, or a starlit sky. Getting back to nature is known to help improve mental health and have numerous mood benefits.
Clean and cool
Hammocks are said to be one of the healthiest places for a person to sleep or rest because they don't suffer from bed bugs or have the worrying dust associations. Hammocks are clean and hypoallergenic, which could be a huge relief for people with allergies, which are exacerbated by sleeping on a mattress. Hammocks are also cool as they have continuous airflow, preventing the occupant from getting sweaty or sleeping on drenched sheets.
What to Look for in a Backyard Hammock
Quality
When looking for a hammock, quality should be a serious consideration, though this will undoubtedly be affected by the budget. A high-quality hammock will last many years and therefore save you money in the long run as you won't need to replace it for a long time. However, if you are on a tight budget, there are some good options available, though you should expect the quality and, therefore, longevity to be reduced. Consider how much time each day you anticipate spending on your hammock, because if it is likely to get a lot of use, you may want to spend more money to receive a better product.
Style
There are several styles of hammock available, including Brazilian, fabric, and rope. Assess the type that would best suit your needs, by considering the type of area you have, and what you intend to use your hammock for. If you intend to use the hammock alone, then a Brazilian hammock may offer the best comfort, while those who like to share a hammock may be better suited to one with wooden spreaders.
Size
Your hammock needs to fit in the space you intend for it, so measure carefully before you buy it. It also needs to fit you on it comfortably, so check the size and weight limits to ensure it is well suited to your own body size.
Fabric
The choice of fabric for your hammock is important. If you will be leaving your hammock outside throughout the summer, then the fabric will need to be weatherproof and UV resistant. If you live in a very hot climate, a rope hammock may be best as they allow the best air circulation, or if you live in an area with high rainfall, you might want to choose a quick-drying fabric.
Product Comparison
All of our reviewed top-selling hammocks are double hammocks with a weight capacity of 450lbs. The Vivere hammock comes equipped with a stand which will be most useful to those without trees to hang their hammocks from, while the Sunnydaze and Original Pawleys Island hammocks come equipped with all the necessary hardware to hang from a tree or wall. The Hammock Sky product does not come with additional hardware, though this is reflected in the lower price.
Product Reviews
Hammock with Stand
Vivere Double Cotton Hammock with Space Saving Steel Stand
This double hammock can comfortably accommodate two people, with a maximum weight limit of 450lbs. It comes with a heavy-duty steel stand, which is great for people who want a relaxing hammock but don't have two trees sturdy enough to hang one from. The stand measures nine feet long and can be assembled without any tools in a matter of minutes. It can be deconstructed for space-saving storage and has plastic detachable feet to ensure that the stand will not mark any surfaces.
The hammock itself is made from tightly woven 100% cotton, making the lounger breathable and comfortable, and is available in a range of bright colors in various striped patterns. The fabric is exceptionally strong to aid in a long life span, with polyester strings at either end for added strength. There are adjustable hooks on the frame so that the user can customize the height at which the hammock hangs.
Users of this product comment that while the hammock fabric is thick, it is not stiff, instead it is soft but sturdy. Some users have had this hammock for many years and noted that it is still in excellent working order, even after continual heavy use. This hammock is used by customers both for daytime relaxing and napping, as well as full nighttime sleeping, and gets rave reviews for both. It is touted as the best night's sleep that many users have ever had, and they can't imagine ever being without it.
Pros
Strong and sturdy
Long-lasting
Easy setup
Easy storage
Carry bag included
Plenty of color options
Breathable, cool fabric
Comfortable, eases back pain
Steel frame included
Cons
Screws can come loose
Poor customer service
Top Pick/Most Portable
Hammock Sky Brazilian Double Hammock
This double hammock is perfectly proportioned for two people and is made from 65% premium cotton and 35% polyester, which is tightly woven for durability and comfort. It can be used indoor and outdoor and comes with a carry bag so that you easily take it with you on camping trips or vacations. Hammock Sky has been producing hammocks for over ten years and is a trusted name in the industry. They are so confident in their product that they offer a lifetime warranty with every hammock for risk-free purchasing. This hammock comes in three color options and is suitable for use with children and pets.
This hammock comes highly recommended by users, who state that it is incredibly comfortable and cozy, instantly solving sleep issues and ensuring a well-rested night. It has proved to be long-lasting after many years and comes with a handy carry bag for easy portability. In order to use this hammock, you will need to purchase additional equipment, such as hooks, which will be an extra cost consideration compared to hammocks, which come with stands.
Pros
Comfortable
Long-lasting
Carry bag included
Durable
All-Weather Hammcok
Patio Watcher 14 FT Quick Dry Hammock with Double Size Solid Wood Spreader Bar
This double hammock has a weight capacity of 450lbs, measuring 14 feet long from one steel hook to the other at the opposite end. It is made from Textilene and coated with vinyl to make it weather-proof. The vinyl coating also means it can be easily wiped clean after any accidental spills. The fabric is designed to be breathable and comfortable and is fast drying and UV-resistant. As the hammock is waterproof, you can leave it out in the yard all summer long without having to worry about packing it away in case of a storm. The fabric is attached to wooden poles at either end to create a fully spread bed area. It is available in three fairly neutral designs and colors.
Users of this hammock offer varied opinions. Some users love the hammock and find it to be a great improvement when compared to their old traditional rope hammocks. However, some people found that their hammocks deteriorated very quickly. The main problem seems to be the ropes at either end, which are not constructed from a strong material, and start to fray and come apart with just occasional use. Some users also found that the bed part of the hammock developed tears after use. While some customers found this hammock very comfortable, others noted that it was stiff and got very hot, claiming it wasn't 'breathable' as advertised.
Users of this hammock also noted that the vinyl coating made it slippy, and therefore it was difficult to stay still on without sliding around. Some of the things users love about this hammock are how fast it dries after being rained on and that it can be wiped clean. Customers who experienced problems with the hammock commented that the customer service they received was excellent, and the sellers quickly sent out replacement hammocks.
Pros
Weatherproof
Wipe clean
Attractive style
Heavy weight capacity
Excellent customer service
Cons
Inferior ropes may break
Slippy fabric can be uncomfortable
Fabric doesn't breathe well, making it hot and sweaty
Best Choice Products 2-Person Woven Cotton Rope Double Hammock
This double hammock is made from a twisted cotton rope that has been woven in a tight pattern to offer ultimate comfort and support. The gaps between the ropes allow excellent airflow, making this a great hammock for a relaxing lay down in the summer heat, ensuring you don't get too hot or have sweaty fabric up against your skin. The ropes are attached to spreader wood poles constructed from hardwood, designed to offer longevity. This hammock promises that it is made from premium materials, and should last many years. It is a classic design that will bring a laid back look to your yard or deck. The hammock comes with a carry case, allowing you to conveniently transport the hammock to a friend's house or to the beach.
Users of this hammock offer varied opinions. While some think it is of reasonable value for the money, others have found that it didn't last long enough to warrant the price tag. After just a few uses, some customers found that the rope was fraying, and the wooden spreaders were bending. Many users commented that the rope stretched easily, which resulted in large holes forming amongst the weave. Holes become so exaggerated in some cases that people were falling through them and right onto the floor.
Other users commented that the hammock was much smaller than they anticipated, and really only suitable for children to use. Some users were very happy with the hammock, noting that it was comfortable and eased joint pain. Users recommend bringing the hammock inside when not in use, as bad weather could cause the ropes to become brittle and snap.
Pros
Carry case include
Classic design
Two-person capacity
Breathable woven rope
Comfortable
Cons
Ropes may stretch and leave large gaps
Ropes may fray and snap
Wooden spreaders may bend with use
Original Pawleys Island The 15OC Cotton Rope Hammock Presidential Edition
This double hammock comes from a company with over a century of experience in producing high-quality hammocks. It is handcrafted in the US, in the Carolinas. The hammock is a woven rope style, constructed from cotton rope, which is considered one of the strongest rope on the market. This rope is made from 100% natural cotton yarns spun precisely, which offers the most comfort and strength.
The weave used is a double-latch lattice weave, which eliminates the need for knots. The lack of knotting within the weaves makes for a more comfortable hammock, which will not dig into your body. At either end of the woven rope is a solid oak spreader bar which has been treated with a varnish of a marine-grade, ensuring that it won't rot, and stays looking new for longer. The metal hardware on the hammock is zinc coated, protecting it against rust and weather. Included in the purchase of this hammock are zinc-coated chains and two tree hooks so that you won't have to make an extra trip or spend further money in order to be able to set up and use your hammock.
Users of this hammock note that it is of noticeably high quality and can last over 20 years. The rope is soft, comfortable, and strong, and users expect that it will last a very long time. Though it is more expensive than most hammocks, many users believe this investment will pay off in the long run. Most users comment that this hammock is very sturdy and of high-quality construction. One user, however, was disappointed with the hammock, noting that the hammock fell apart after with gaping holes from torn rope strands after 1 month.
Pros
Strong and durable
Comfortable
Long-lasting
Made in the US
Trusted manufacturer
Cons
More expensive than competitors
Issues on some products
Sunnydaze Quilted Fabric Hammock with Spreader Bars
This double hammock is made from a quilted polyester fabric that is water-resistant and UV resistant. It has a heavy-duty construction with a weight capacity of 450lbs. Each purchase comes with hooks and hanging chains so you can hang the hammock however you like with no additional hardware needed. It can be used on a stand or attached to some trees, or even walls. It also comes with a detachable cushion for increased comfort. This hammock is available in two color options: with a green stripe or blue stripe. Hardwood spreaders are at either end of the hammock fabric, helping to ensure the bed maintains its shape. This hammock comes with a one year warranty from the manufacturer.
Users of this hammock love the detachable pillow, which many claim is much comfier than they expected, and comment that it greatly improves the enjoyment of using the hammock. People are also impressed with the vivid colors and how high quality the fabric is. Some concerns raised by users of this hammock was the length and the weather resistance. It was noted that this hammock was smaller than anticipated, and didn't fit a 15-foot hammock stand as it states it should.
Other users commented that the hammock will need to be brought under shelter after use because if it is left out in the rain, then the paintwork will quickly start to peel away on the hardwood spreaders. While most users agree they would recommend this hammock, some found the fabric to be slippery, and that there wasn't much give in it. This meant that getting onto the hammock proved quite difficult, as you would either slip off or be flipped off. That being said, this is a low-priced hammock and offers excellent value considering the price.
Pros
Attractive looking
Low price
Warranty included
Detachable pillow included
Hardware included
Water-resistant
Cons
Fabric may be slippy
Spreaders may peel
Fabric not very flexible
Conclusion
All of these backyard hammocks come highly recommended by users, though the standout best buy is the Hammock Sky Brazilian Double Hammock, which is long-lasting, comfortable, portable and cost-effective. The only drawback is that it doesn't come with hardware hooks and chains, but these can be purchased inexpensively from any hardware store, allowing the user to hang the hammock however they prefer.
If you want a good hammock that can stand under moist or hot weather, we'll recommend the Patio Watcher hammock. For a durable hammock that already comes with a stand, there's no choice better than the Vivere Double Cotton Hammock.