Home >
15 Outstanding Decking Ideas To Inspire Your Garden Transformation
15 Outstanding Decking Ideas To Inspire Your Garden Transformation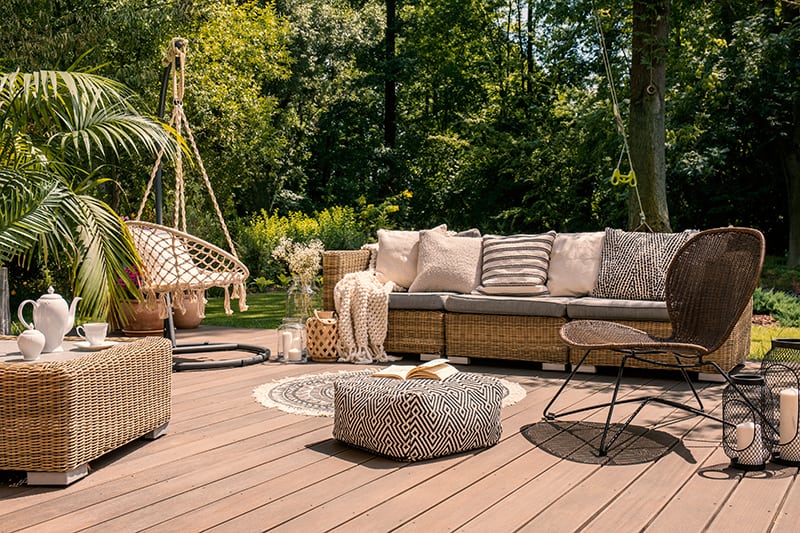 Decks are a versatile way to create new areas in your garden and define spaces. Irrespective of your garden style, there are decks that can work with any design, and with any size or shape of garden. But with so many options, which deck will you choose? If you're looking for inspiration that you could translate into a real-life deck in your own garden, these 15 decking ideas are a good place to start.
1. Raised Rustic Deck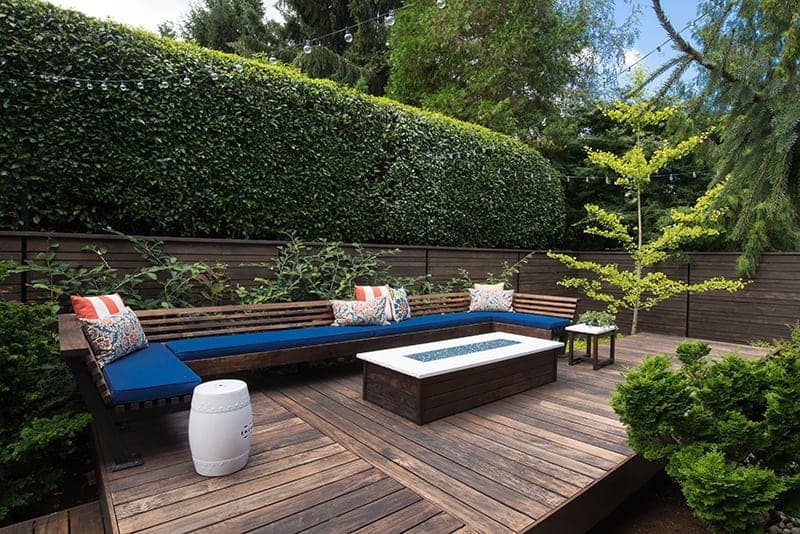 Blending rustic materials with modern designs is a simple way to achieve a high-end contemporary feel in your yard. This raised deck uses clean lines and lots of straight edges to create a minimalist style while teaming it with dark wood full of character to give the garden an authentic aged feel. The color of the deck has been well chosen to match both the fencing and the furniture, which produces a seamless look.
As well as being visually attractive, the way in which the deck is raised serves the purpose of defining this area of the garden as the seating area. Adding definition in this way helps to ensure different spaces in the garden get used in the way they are intended and make the most use of the space.
2. Private Pergola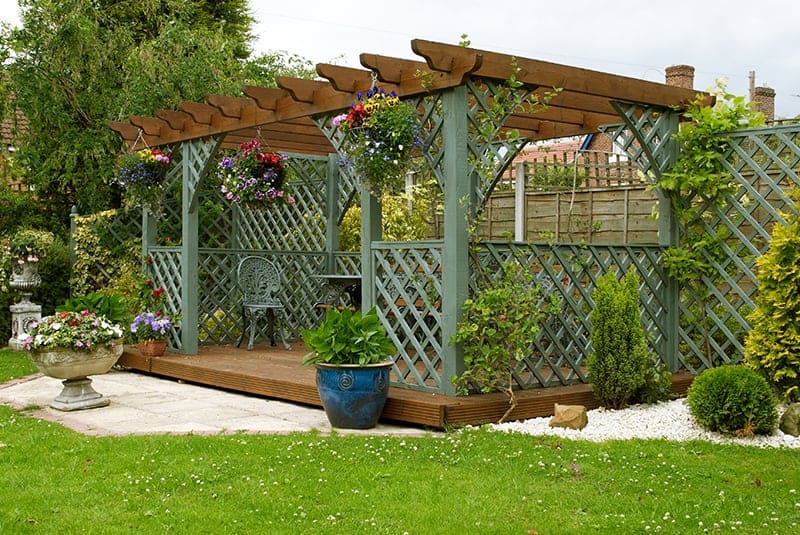 This pergola over a decked area helps to create an intimate space where you could dine or simply relax with a book. The pergola helps to offer some privacy to the decked area and further helps to define the boundaries of the deck.
If you're looking for a traditional English country style in your garden, a pergola is the way to go. Painting the wood in a classic shade of sage green or duck-egg blue will further add to the country chic style of the pergola, reminiscent of private English gardens.
While the pergola is stylish all on its own, you can enhance its beauty by hanging flower baskets from the top planks or by planting climbing plants at the base of the deck to trail up the pergola. In this instance, the color of the deck has been matched with the color of the top pergola beams so that the whole thing appears to be one unit.
3. Rooftop Retreat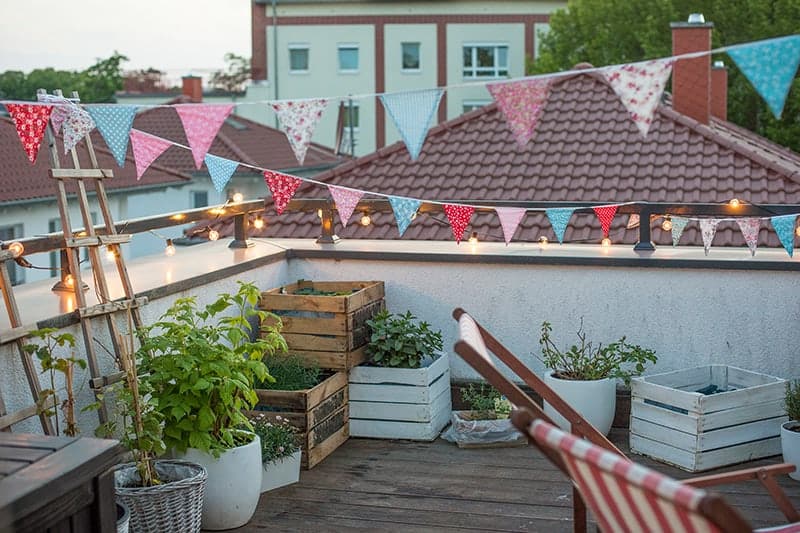 Decked areas aren't reserved solely for decks in the garden and can be used to make a roof terrace feel like a homely place to hang out. Most roof terraces have concrete flooring, so adding decking to the floor really helps to make the space feel more usable and gives it a cozy feel.
By transforming your roof terrace into a private sanctuary, you're essentially adding another room to your home, just that this one is outside (and might even have great views!)
To help create a comfortable vibe where you want to spend time, fill your rooftop retreat with plants and string lights. Bunting also helps to add a splash of color to your space, which could be matched with seating to link it in. This rooftop deck features plant pots that have been constructed from reclaimed palettes. This further adds to the shabby chic look of the terrace.
4. Stylish Sundeck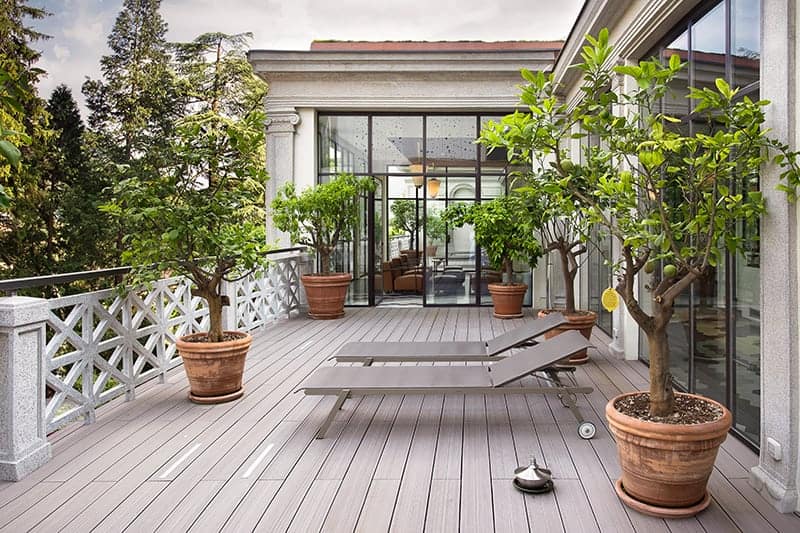 If you're after a sophisticated style, a chic painted sundeck is a classy option. This sundeck has been painted in an elegant dove gray color to match the sunbeds and the exterior of the property. Keeping everything the same color, or at least slight variations of the same color, creates a fluidity of design, which comes across as very tasteful and understated. The continuation of color also helps to create the illusion that the space is bigger than it actually is.
If you plan to paint your deck, always clean your deck first with a specialized deck cleaner or a pressure washer to remove any debris that would prevent the paint from sticking. Always use paint that is intended for exterior woodwork, as this will ensure it lasts longer, though typically, painted decks will need to be repainted every few years, anyway.
5. Dark Deck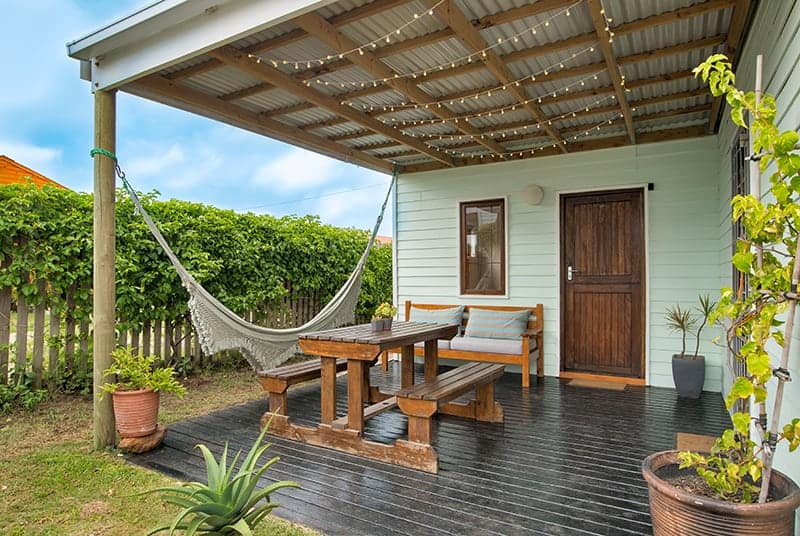 This decked area has a few design features going on that make it an excellent addition to a property. First of all, the covered roof is a brilliant way to make the deck feel like part of the home. Instead of being just an area of the garden, by adding a roof and adjoining it to the home, it feels more like an extension of the property. The roof adds protection from the sun, creating shade and a slightly cooler space than the rest of the garden, so the owners have the option to sit on the deck and enjoy being outside even on very hot days.
The roof also offers a structure from which you can hang string lights or grow climbing plants, which helps to add a 'lived in' feel to the space, creating a more pleasing interior design. By keeping the sides of the decked space open, the garden is invited into the area. This means you truly get the best of both worlds, the comfort of feeling like you are inside and protected from the elements while still being close to nature.
The deck has also been painted in a dark color, which helps to anchor it to the floor visually and further create a sense that it is an additional room rather than an outdoor deck.
6. Popular Ponds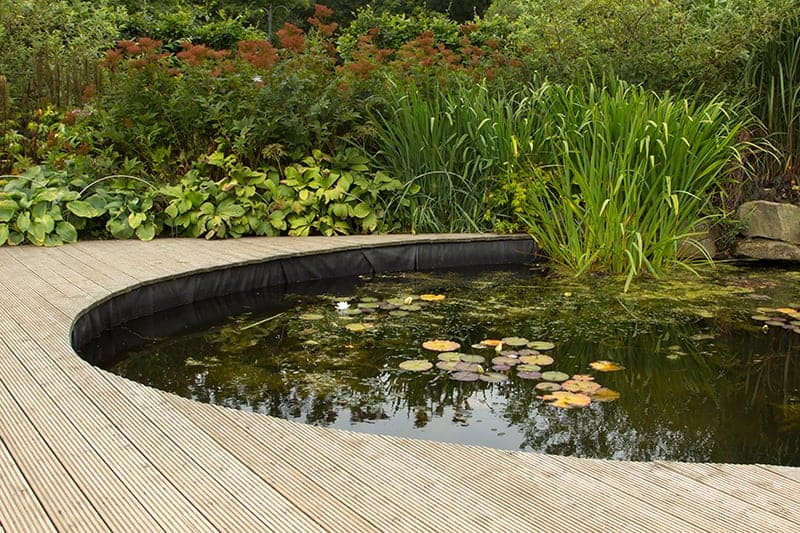 For a while now, ponds have been considered a little dated, and they aren't commonly found in many gardens as they are typically associated with old-fashioned homes. However, if you are a fan of water features in gardens, then a great way to bring them into the 21st century is to surround the pond with a deck.
Adding a decked area around the perimeter of a pond really helps to modernize it, especially if the pond is specially cut to fit around the shape of the pond as seen in this image. A deck can be used to create a walkway around any water feature, not just ponds. By updating ponds with decking, they are sure to find popularity again.
7. Commercial Common Area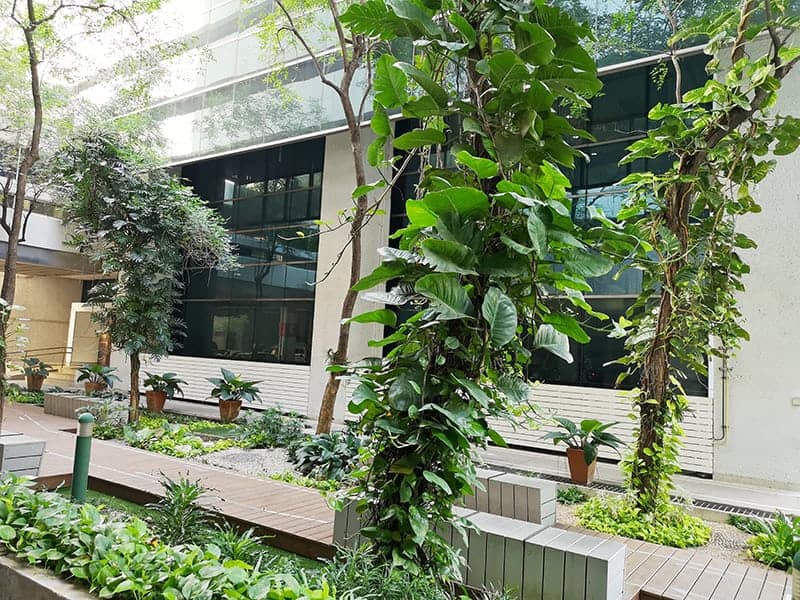 This office building has used decking to create an attractive outside area for its employees to spend their breaks or lunch hours as an enjoyable place to unwind and relax during the workday. Using a deck to produce pathways gives the space a more aesthetically appealing quality, which is conducive to relaxation.
The deck has been completed in a pale color, which helps to keep the area light and bright without it being bold and intrusive. The addition of plants and trees helps to ensure the space is alive with positivity, helping to keep employees in a good frame of mind.
8. Traditional Raised Deck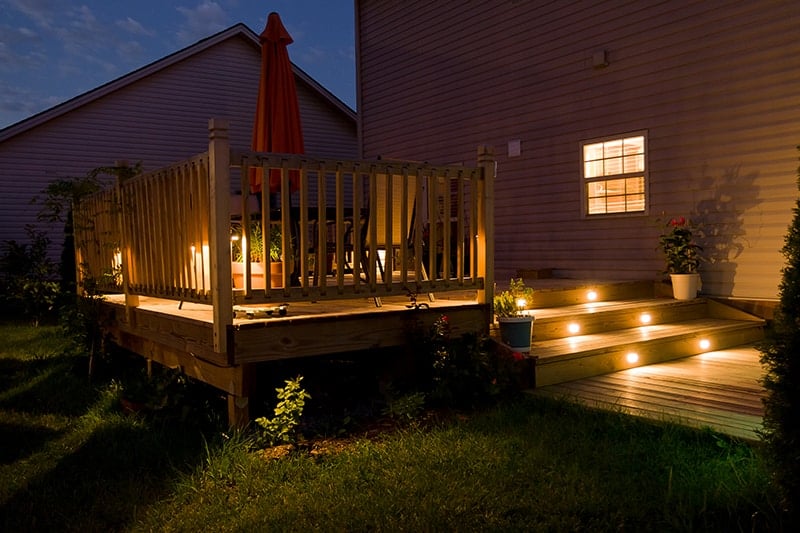 This raised deck idea is commonly found in backyards across the country, and the reason that it is so popular is that it works so well. Constructing the deck at a raised level is a clever way to make use of uneven ground around your property, with steps leading down to a leveled area.
In this example, solar lights have been fitted on the steps to light up the stairway. This makes practical sense as it will help anyone from accidentally missing a step and falling over, but it also works well at a design level, as it makes the deck look more visually appealing.
Wooden banisters around the deck are a key safety feature to prevent anyone from falling off the side of the raised deck and injuring themselves, but it also helps to create a partially enclosed area so that the deck feels almost like a room itself. The wooden banisters could be used to wrap string lights around, to grow climbing plants up, or to sit window boxes of flowers or herbs on.
This deck has been kept in its original color, which maintains a traditional feel.
9. Decked Bistro Area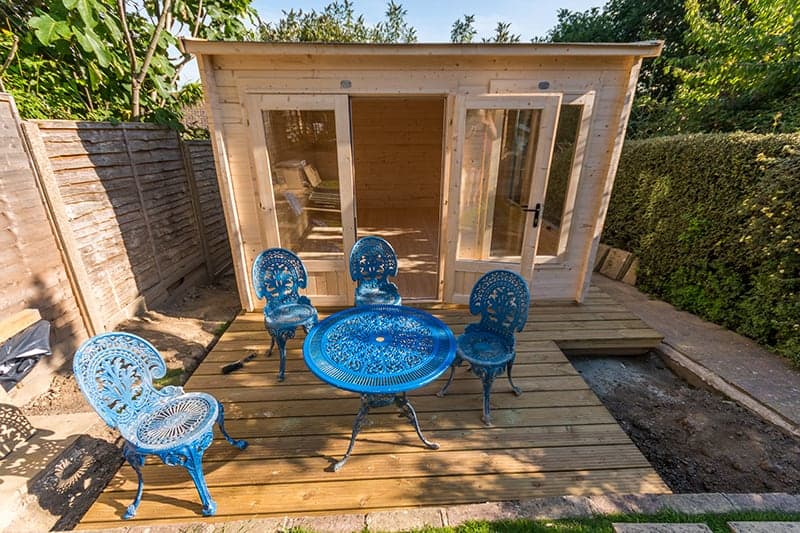 This timber garden studio has had a deck built in front of it, which provides a perfect space to position a bistro furniture set. Using a deck to create an area for a table and chairs or other furniture works well because it provides a flat and level floor for them to sit on. A lawn would not work as well, because the feet of the furniture might sink into the ground, and the constant moving of chairs to tuck in and out of the table could create unsightly rough patches on your lawn.
Paving slabs are often used to create similar patio areas, but these are becoming increasingly unpopular as people opt for decking that looks more natural and cozier. Having a wooden decked floor outside helps people to feel more comfortable, as wooden floors are commonly found inside, whereas paving slabs are obviously for outdoor use only.
10. Outdoor Living Space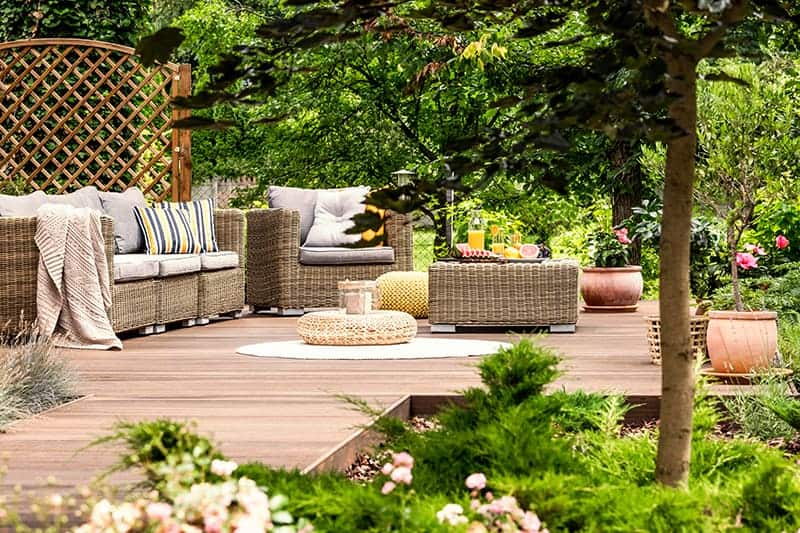 This raised deck is very inviting thanks to the use of soft furnishings that you would typically find inside the home. Bringing these items outside creates a cozy external living space that will encourage you to spend more time outdoors.
To reproduce this look, choose rattan furniture, or rattan effect furniture, which is suitable for keeping outdoors but has a more comfortable feel than metal or plastic outdoor furniture. Soft furnishings is what will really transform your outdoor deck into more of a living space, so drape chairs and sofas in soft blankets and plush cushions, and use an outdoor rug to give the area different textures. Cushions that are water-repellent are available and can be kept outdoors all summer without you having to worry about them in the event of a shower. You could also use indoor soft furnishings as long as you bring them in after each use.
11. Dinky Deck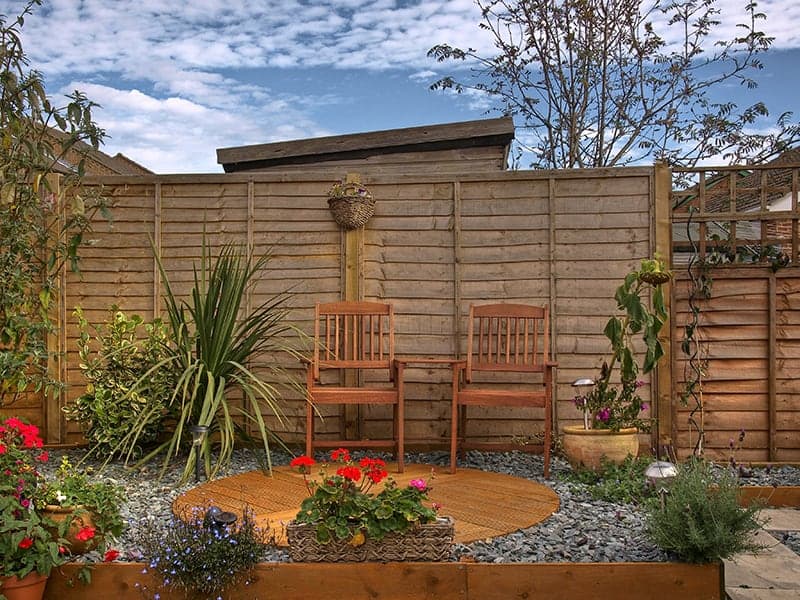 This backyard is evidence that decks can be created in any size. Despite the small stature of this deck, it does make a big impact. Both the shape and color of the deck set against the gray pebbles make it visually interesting, but it also serves the practical purpose of designating an area for a specific use.
In this case, you could choose to set a coffee table in the deck to rest books and magazines on, or you could fit a compact dining set on the deck as it provides a flat, stable surface for furniture that the pebbles do not. This round deck also reminds us that although decks have straight edges, they can be cut to form any shape.
12. Parquet Balcony Deck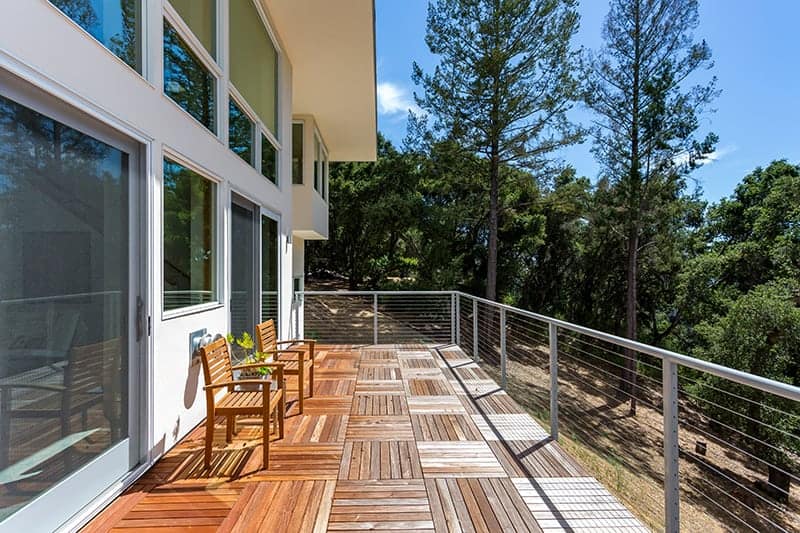 If you like the idea of decking but want to step outside of the box, then deck laid down in a pattern could be a good route. This deck has been created in the style of parquet flooring and gives a sleek look while nodding back at a bygone era.
Deck laid in patterns gives an interesting aesthetic because it is so different from the usual parallel lines we are used to seeing in decking. However, as it is a uniformed repeating pattern, it still looks classy.
This deck has been formed using deck tiles. These tiles are essentially several pieces of timber joined together to create a square, which you can then lay down in whichever pattern you wish. For anyone wanting to attempt their own DIY deck, decking tiles are probably easier for a novice to install than regular decking boards.
13. Bespoke Pool Deck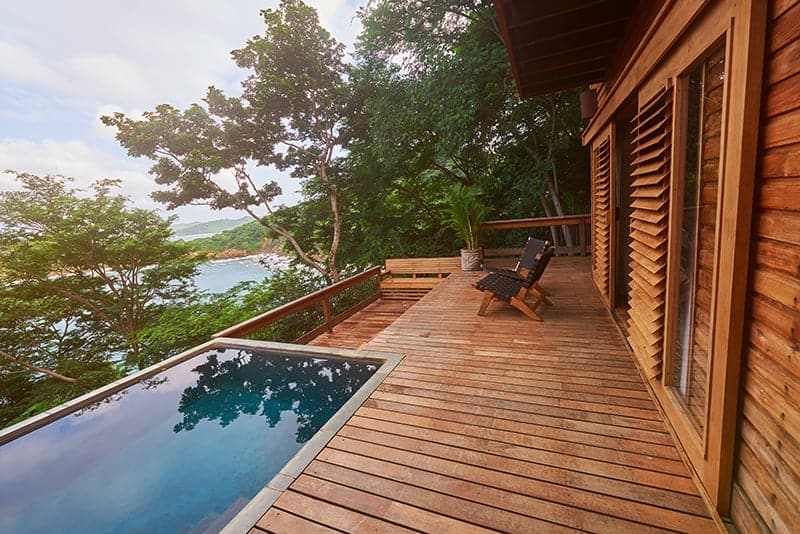 Having your own private pool in your backyard, or in this case, built onto your balcony, is the dream. If you're lucky enough to be living out this dream, then creating a deck leading to the pool could be your next project.
Building a deck around your pool instantly updates the look of the whole pool area and can breathe life back into an old, dated pool. As well as looking like your garden belongs in a high-end spa, decking around the pool also serves a practical purpose.
Wooden decking, being a natural material, is much more forgiving if you were to fall on it than concrete. If you have kids around your pool who are liable to slip over with wet feet, then timber decking could give you peace of mind that if they fall, they won't sustain any bad injuries.
Decking, so long as it is properly maintained, doesn't get slippery when wet, which hopefully means that fewer falls will happen in the first place.
14. Walking on Water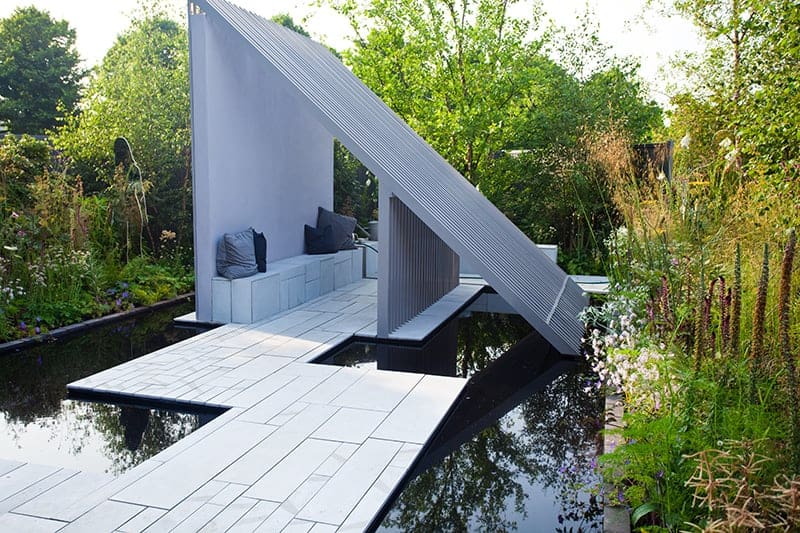 If you're keen to install a grand design in your garden, then this futuristic design might appeal to you. Constructed to look as though it is floating on the surface of a pond, this structure is both bold and sleek.
Though at first it might appear as simply a work of art, it actually has practical uses. The central part of the structure offers a seating area, while the slanted part is actually a roof offering some shade for those sitting underneath it. The pathway leading up to the seating area is decked in a mosaic style to stay in keeping with the unusual design. The decking, which would have been built on top of posts or boulders underneath the surface of the water, creates the effect of a bridge laying atop the pond.
While the minimalist look of the design is very stylish, it may not be entirely practical for everyone. The lack of sides on the 'bridge' means that if anyone were to misplace a foot, they would end up getting rather wet. Due to this element, such structures are not recommended for anyone with small children or pets who might accidentally slip into the pond.
15. Grand Entrance Deck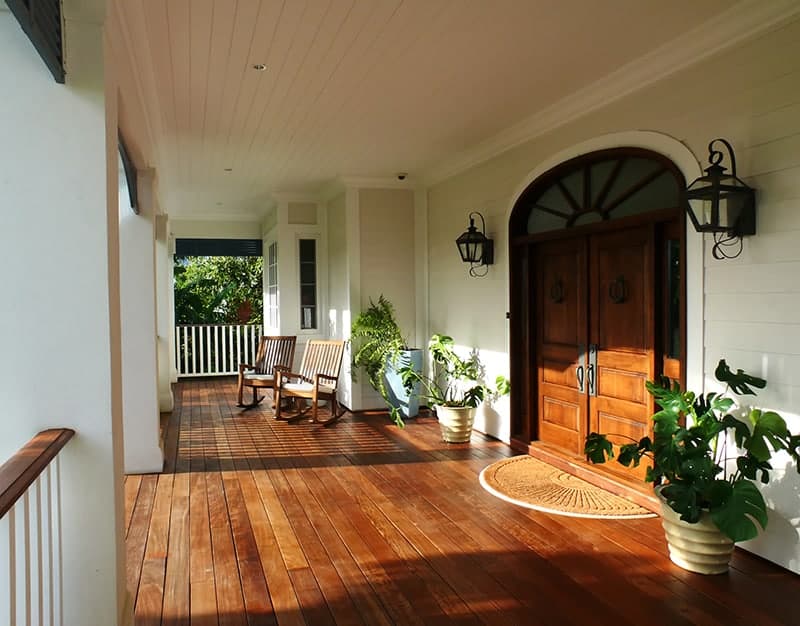 For imposing houses such as this one, a shiny decked porch perfectly suits the grandeur of the design. The natural coloring of the deck, brought to a high shine with layers of varnish, perfectly captures the colonial revival style of interior design, albeit on the exterior of the property. The deck has been intentionally created to mimic the look of indoor wooden flooring so that the porch feels more like part of the home rather than part of the garden, though it's important to note that only deck which has been specifically created for use outside should be used on porches as they will be subject to the elements.
The luxurious look of the deck also comes from the way in which it has been color-matched to other parts of the space. The top rail of the surrounding banisters has been left natural rather than being painted white like the rest of the rails, as well as the magnificent double door.
The addition of plant pots and furniture further helps to make the porch an in-between space, neither indoors nor outdoors. It features several elements that make it feel like an interior room, such as the chairs, the door rug, the interior style deck, and the ceiling. But it also has elements that draw it out to the garden, such as the exterior wall lights and the plants. Cleverly composed to create an area that allows you to have the best of both indoors and outdoors, this deck is an example of a fantastic porch.
Explore Our Categories
Evergreen Trees

From glittering Christmas trees to pot-bound Norfolk pines, evergreens are everywhere. Since they remain green throughou...