10 Best Wheelbarrows of 2023– The Gardening Tool You Should Not Lack
10 Best Wheelbarrows of 2023– The Gardening Tool You Should Not Lack
Explore Our Categories
Berry Bushes

Whether you are growing a common berry, such as blueberries or raspberries, or something more exotic, like a magnolia vi...

Blueberry Bushes

Blueberry bushes are a great option for fruit growers who do not have space for bigger trees or a full orchard. It is ea...

Rose Bushes

Truly the queens of the landscape plot, roses have a long history of use in both formal gardens and informal cottage bed...
The Best Wheelbarrows to Buy Now
We reviewed over 60 wheelbarrows to find the top 10 picks. Take a look at our reviews of the top wheelbarrows and read our buyers' guide to learn about the features and costs to consider.
10 Top-Rated Wheelbarrows
True Temper Never Flat Tire Steel Wheelbarrow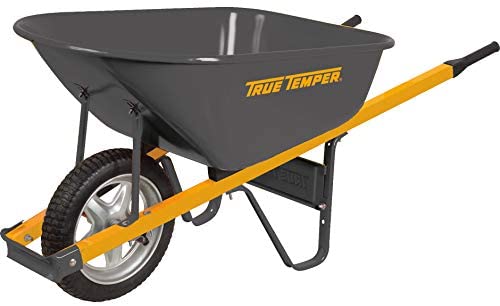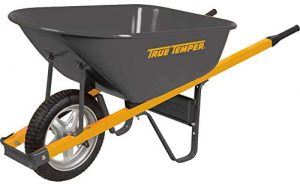 Ames' True Temper 6-cubic-foot wheelbarrow has a rugged steel construction that ensures longevity for years of trouble-free use. Its high-capacity tub makes it ideal for anyone with big jobs to do in the garden or while landscaping around a home. Its heavy-duty undercarriage makes it sturdy enough to tackle light construction tasks, and the depth of the tub helps ensure loads stay put.
Built like traditional wheelbarrows with a single wheel, the R6STSP25 stands out from its competitors with a tire that never goes flat or needs air like a tubed tire. A conversion kit is available for those wanting the additional stability of a two-wheeled wheelbarrow. Its steel construction includes the handles, making it an all-weather option that doesn't require pampering like wooden handles that can deteriorate quickly without proper storage. The handles feature comfortable end grips for easier maneuvering with fewer blisters.
Tire never goes flat
Durable steel handles
Comfort grips
Easy to assemble
Short 90-day warranty
Higher priced than some options
Steel can rust without proper maintenance
Garden Star Easy Barrow Wheelbarrow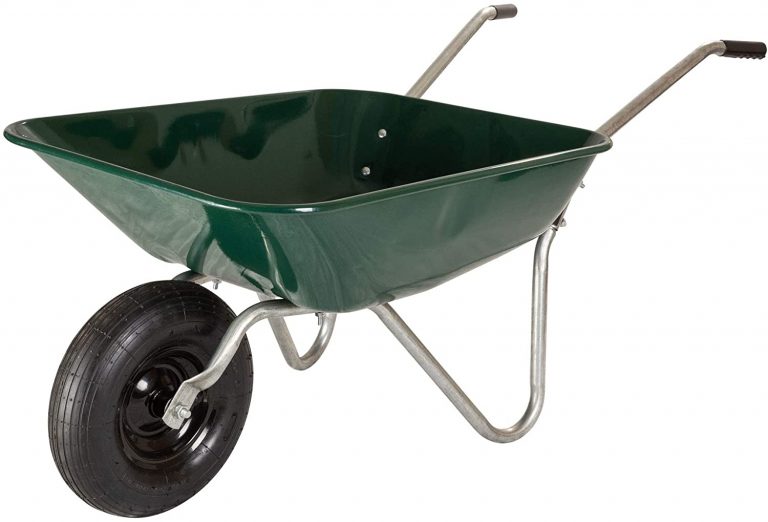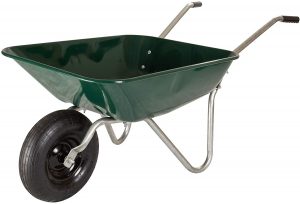 The Garden Star 70018 offers a lightweight, cost-effective option that's great for buyers on a budget. This all-purpose wheelbarrow comes with a smaller 4-cubic-foot tub, making it perfect for light-duty backyard tasks. The tub is made of powder-coated steel with zinc handles and legs that resist rusting and add to its durability.
The 3.5-foot deep tub provides plenty of space for various odd jobs around the yard and garden, and it's wide enough to allow easy loading. The Garden Star is compact and lightweight for easier mobility in tight spaces. Its single pneumatic tire is large enough to make rolling around on lawns a breeze. Although this wheelbarrow requires assembly, it's done in five straightforward steps that only need six bolts.
Very low cost
Minimal assembly required
Powder-coated steel tub
12-month warranty on defects
Tube tire prone to flats
Smallish tub
Powder coating scratches easily
Best Choice Products Dual-Wheel Home Utility Yard Wheelbarrow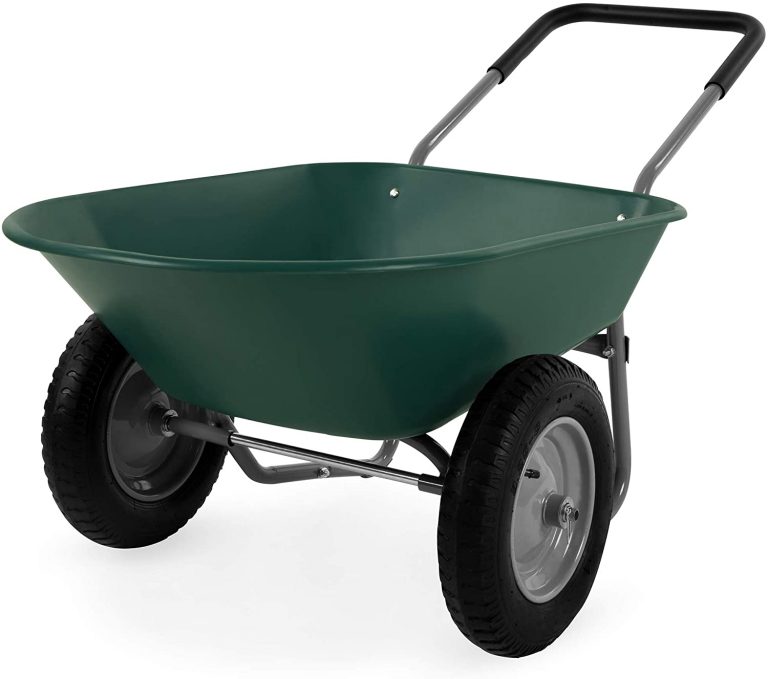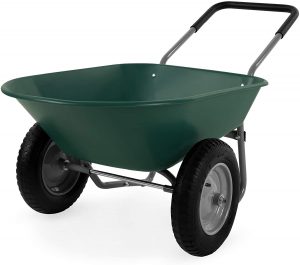 Homeowners looking for an all-purpose yard wheelbarrow can't go wrong with this model from Best Choice Products. The two 13-inch rubber wheels provide extra stability and help decrease the stress on the back and shoulders. The wheelbarrow's deep interior can hold up to 5 cu. ft, perfect for moving grass clippings, tree limbs, and mulch.
When not in use, the padded handle provides support for the base, making it easy to load. Durable and built to last with a powdered-coated steel frame, this Best Choice Products wheelbarrow is tough enough to handle 330 lbs. It's an excellent option for regular lawn maintenance work.
Two-wheeled design offers stability
Nice size for seniors
Powder-coated steel frame
Parts well organized for assembly
Pneumatic tires will occasionally need air
Can be hard to dump
Basin is plastic
Gorilla Carts GOR4PS Poly Garden Dump Cart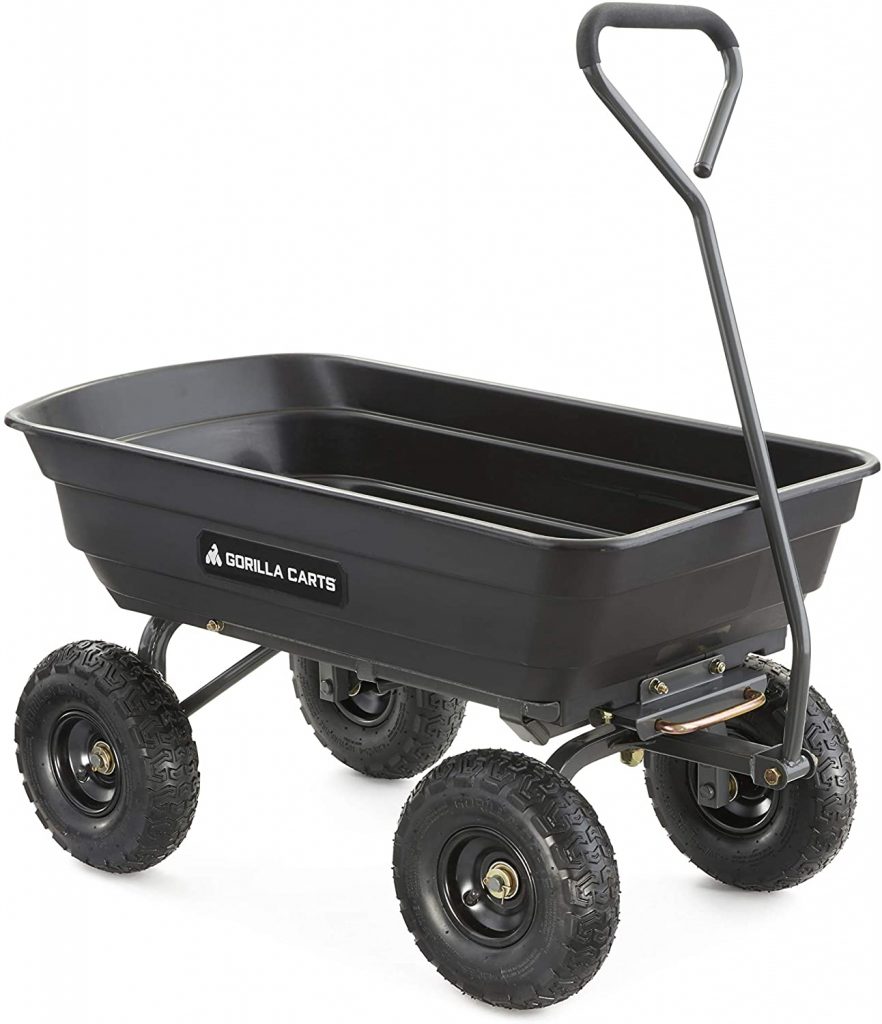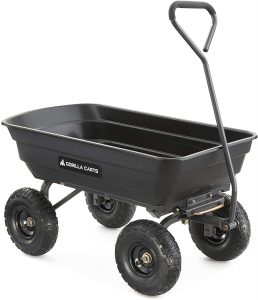 Gorilla Carts GOR4PS is the updated version of a previous model that boasts an improved frame design to promote quicker, easier assembly. The newly designed frame also improves maneuverability and increases ground clearance for a tight turning radius. Users can tackle all types of terrain with ease, thanks to the 10-inch pneumatic tires. Built with balanced four-wheel stability, it won't tip like traditional single-wheel wheelbarrows, and its 600-pound load capacity smoothly conquers the toughest of garden or landscaping projects.
Although newly designed, users still benefit from Gorilla Carts' patented quick-release dumping system that speeds unloading and a durable poly bed that won't rust and is easy to clean. Its padded dipped-grip handle improves comfort when pulling heavy loads of dirt, rock, firewood, or whatever needs moving. Overall, it's an easy-to-use alternative to standard wheelbarrows that's ideal for both the casual gardener and landscaping professionals and comes in green or black.
Improved frame design
Patented dumping technology
Bed won't rust
600-pound hauling capacity
One-year limited warranty
Assembly can still be challenging
Tubed tires tend to lose air
Jackson M6T22 M6T22KB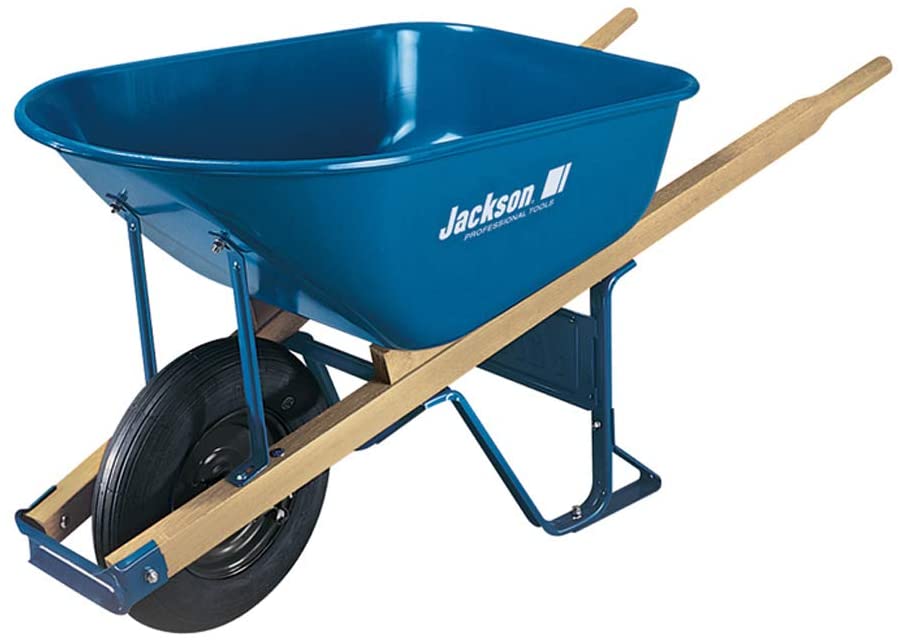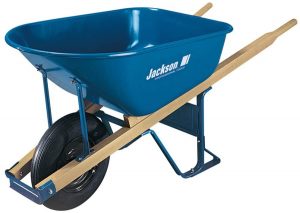 The bold blue Jackson M6T22 contractor wheelbarrow offers unbeatable durability with its industrial-grade steel tub and undercarriage and heavy-duty, 60-inch-long hardwood handles. It boasts a single, extra-large 16-inch tubed tire with patented leg stabilizers that make it less likely to tip. Its ability to withstand rigorous everyday usage makes the Jackson wheelbarrow ideal for professionals with demanding job site loads.
Jackson's seamless, 6-cubic-foot tub is built of non-flexing steel and supported by an H-brace to prevent bending and buckling. It has high walls to keep loads in place while maintaining a low center of gravity to avoid tipping and enhance maneuverability. The sturdy tipping crossbar makes pivoting and unloading heavy cargo easier and safer. Although it's designed with contractors in mind, it's also a great option for backyard landscapers wanting a sturdy tool for heftier tasks.
Long 60-inch handles
Industrial-grade steel tub
Large 16-inch tire
Patented leg stabilizers for tip resistance
Wood handles can break
Tubed tire tends to lose air
Short 90-day warranty
Landworks Wheelbarrow Utility Cart Electric Powered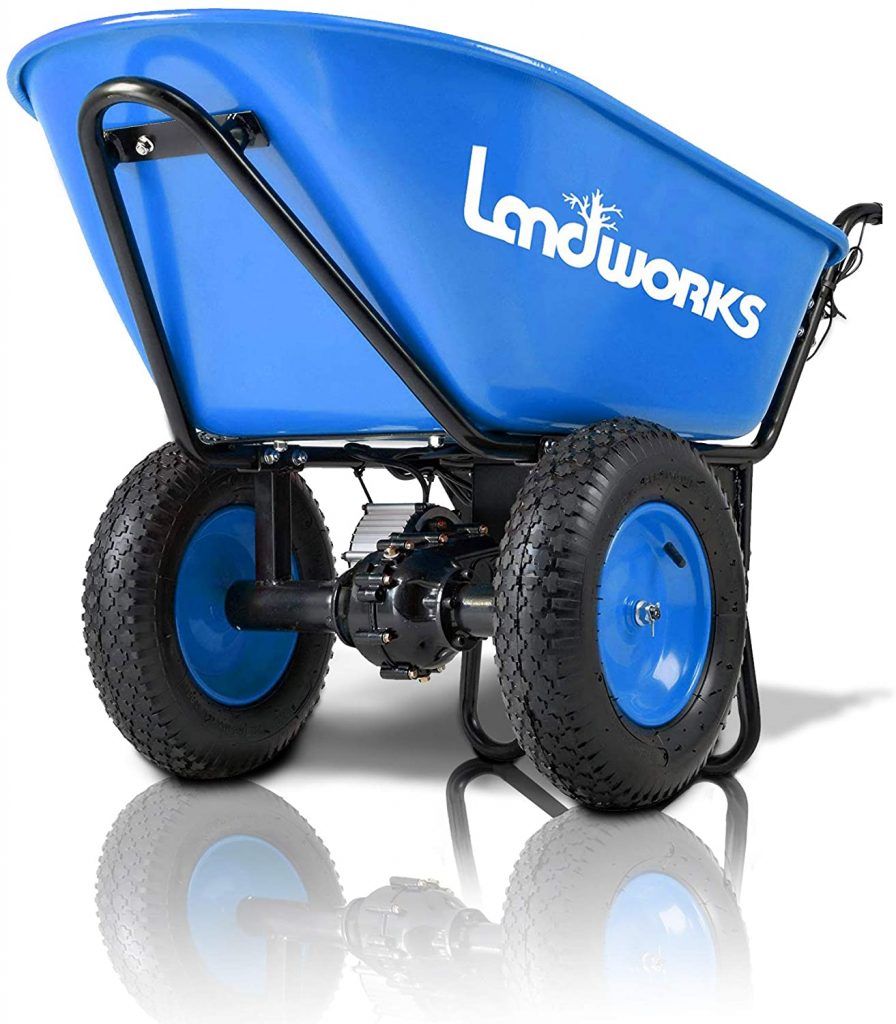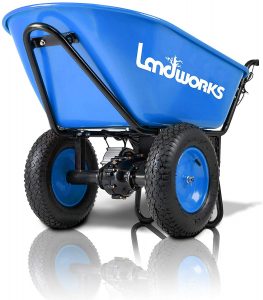 Landworks super duty electric-powered wheelbarrow can carry up to 330 pounds up a 12-degree slope, making uphill climbs with a heavy load nearly effortless. This ruggedly built compact wheelbarrow is powered by two 12-volt, 7-amp hour, sealed lead acid AGM rechargeable batteries. These batteries operate a 180-watt brushless motor that propels the wheelbarrow and operates up to five hours on a full charge depending on the load and terrain. The motor starts via a flip switch with a two-speed operation, and electric power results in a quieter, smog-free operation compared to gas-powered motors.
To increase durability and longevity, the body is made of heat-treated powder-coated rust-resistant steel. Two large, all-terrain pneumatic polyurethane tires increase stability and mobility, and water-resistant grooved grips offer a more comfortable, secure hold. All combined, Landworks' powered wheelbarrow is a great option for anyone needing a little extra oomph in the garden, yard, or construction site.
Electric powered
Quieter than gas-powered models
Water-resistant grips
Quick start motor
All-terrain tires
Very pricey
Small 4-cubic-foot tub
Can't push without the motor running
Marathon Yard Rover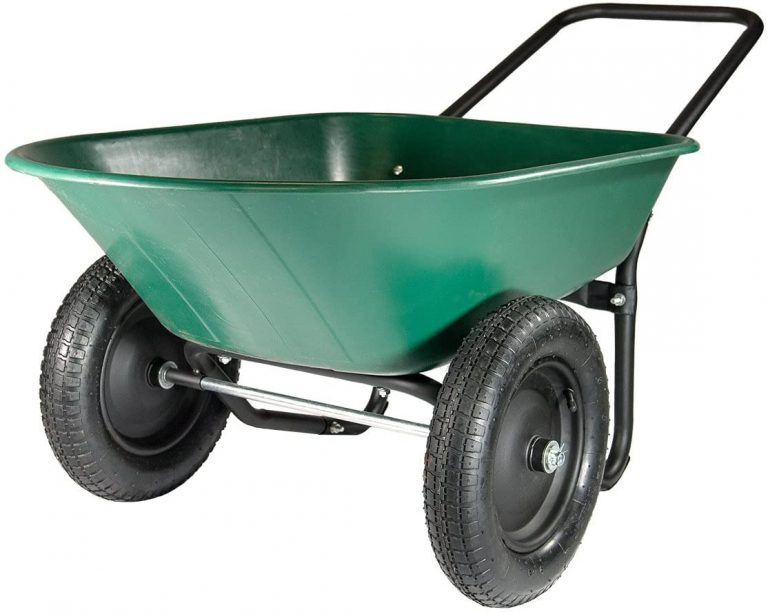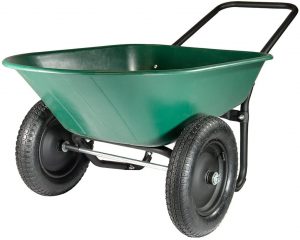 The Marathon Yard Rover is a low-cost option for light-duty residential tasks with a 300-pound load capacity and 5-cubic-foot tub that works great for many home gardeners or landscapers. It's lightweight but built strong with a rust-proof, impact-resistant polypropylene tub and steel looped handle with a cushioned grip for comfort. The two air-filled tires offer balance and stability, making it easier to maneuver while pushing, pulling, or dumping various contents over most terrain.
Users benefit from an ergonomic design that makes it easier to use and store. It can stand upright or be hung on a wall by the handle to take up less space. For users who prefer a cart in something besides green, the Yard Rover also comes in pink, pumpkin orange, or a ladybug design. Marathon offers the option to switch the standard pneumatic tires for flat-free tires at an additional fee.
Two wheels offer greater stability
Lightweight, ergonomic design
Easy to store by the looped handle
Affordable
Air-filled tires tend to leak
Light duty only
Plastic tub may bend
Polar Trailer Hauling Cart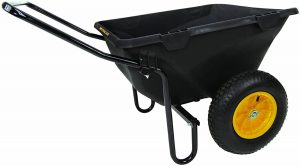 The Polar Cub Cart is the lightest heavy-duty cart available with a load capacity of 400 pounds and a roomy 7-cubic-foot polyethylene tub. The durable, high-impact tub is built for years of dependable use without rusting or cracking, and the loop handle makes it convenient to push or pull. Polar's powder-coated tubular steel frame resists corrosion to increase longevity and places the axles beneath the tub to provide greater stability. Two oversized wide-track rubber tires with shielded ball bearings offer excellent traction on any surface and smooth operation over rugged terrain.
Cub Cart is compact and can be conveniently hung up out of the way by the looped handle, so it doesn't take up valuable floor space. The large tub size makes it suitable for home gardeners and professional landscapers and contractors alike. Polar offers a three-year warranty against manufacturer's defects for peace of mind.
Extra-large tub
400-pound load capacity
3-year warranty for manufacturer defects
Can be stored easily by hanging
Tubed tires prone to flats and blowouts
Inconvenient contours in tub
Bosmere Folding Wheelbarrow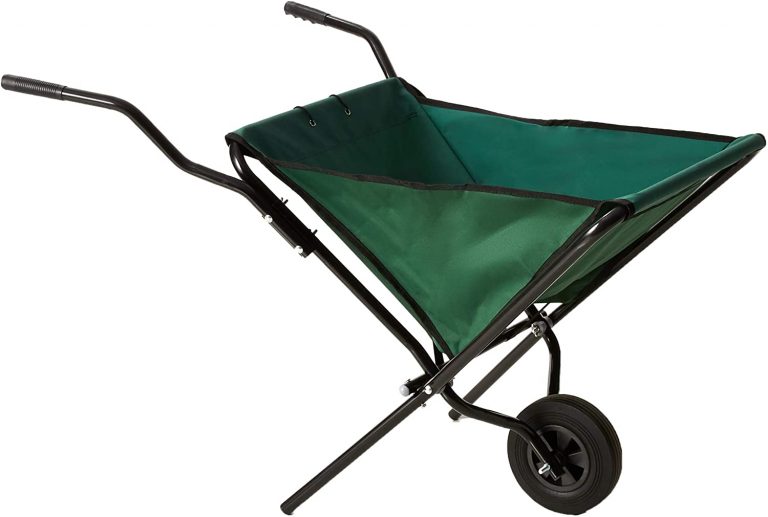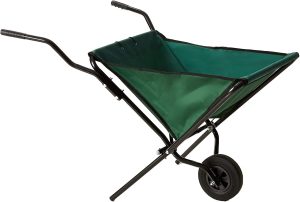 Homeowners with limited storage solutions will appreciate the design of the Bosmere Folding Wheelbarrow. During use, it opens out to a 32 x 20-inch basin capable of holding leaves, small sticks, and other garden debris. Afterward, just fold it flat for storage. It reduces to a 45 x 13-inch package.
The Bosmere folding wheelbarrow can handle all the rigors of daily yard work thanks to a solid tire and a strong PVC-backed polyester bag. The bag has three small storage pouches for extra convenience, where users can place clippers, weeders, and small shovels. Foldable and lightweight, this wheelbarrow is the perfect choice for someone with a small yard or with limited strength.
Folds flat for storage
Wipe-clean PVC bag
Solid tire helps avoid inflation issues
Extra pouches for hand tools
Hard to dump
Small front tire may have difficulty with rough terrain
WORX Aerocart 8-in-1 Wheelbarrow/Yard Cart/Dolly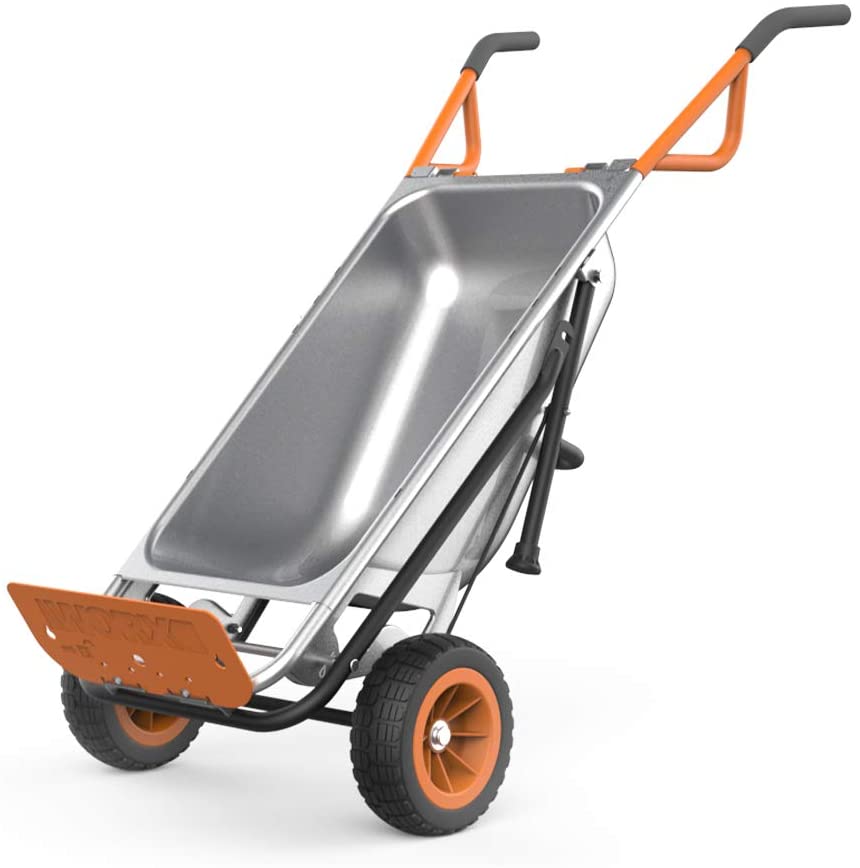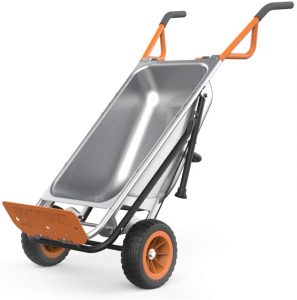 The WORX Aerocart is an 8-in-1 wheelbarrow that functions as a dolly, yard cart, trailer tote, and more, making it one of the most versatile products available. When used as a wheelbarrow, it can carry up to 300 pounds, and the dual wheels provide extra stability. Its powder-coated steel construction makes it extremely durable, and the solid, flat-free tires give a smooth ride. The thickly padded handle grips offer comfort and a stable grasp, and the turbo-lift design makes 200 pounds feel like less than 20.
Due to its smaller 3-cubic-foot tub size, the Aerocart is not ideal for large projects. Still, its compact size and multiple functions greatly appeal to gardeners in urban settings with limited yard and storage space and users with limited mobility and/or strength. Unlike some wheelbarrows that promise easy assembly but don't deliver, the WORX Aerocart takes just a few minutes and doesn't require tools.
Multiple uses
Easy assembly requires no tools
Flat-free tires
Two-year limited warranty
Odd shape for wheelbarrow usage
Extremely shallow wheelbarrow tub
Wheelbarrows Buying Guide
What to look for
Wheelbarrows and garden carts are two terms often used interchangeably. No matter the name, its primary purpose is to help move stuff around quickly and easily. Some things to keep in mind when comparing the best wheelbarrows include:
Handle material. Wheelbarrow handles are typically made of wood or steel. While wood may provide better shock absorption, steel is more durable. Wood handles can rot, splinter, and break, while still won't. Look for rust-resistance in the description to ensure you're getting the best wheelbarrow.
Size. Depending on your needs, a major concern is the size of load a wheelbarrow can safely manage, which comes down to tub size and maximum load weight capacity. Tub size is listed by cubic-foot with 6-cubic-foot considered the norm. Load weight can run anywhere from 150 to 600 pounds, so think about what you'll be hauling.
Tires. Choosing solid, flat-free tires means never being sidelined by tires that won't hold air, but pneumatic tires roll smoother over a wider variety of terrain. The number of tires is also important, as one-wheel wheelbarrows are more maneuverable and two-wheel wheelbarrows are more stable. Your decision may come down to upper body strength and job site obstacles.
Cost
Wheelbarrow costs can run the gamut based on many factors, including size, materials, and quality. You can purchase a cost-effective model for under $100, but some models in this price range may have durability issues and require replacement within a year or two. Mid-range wheelbarrows run $100 to $200 and may offer improved quality and longevity. Higher-end products are generally $200-plus and should offer a longer life backed up by good warranties. Motorized models are the most expensive and run anywhere between $500 and $2,000-plus. No matter the cost, always compare the best wheelbarrows in your price range.