5 Best Splitting Mauls – Buying Guide & Recommendation
5 Best Splitting Mauls – Buying Guide & Recommendation
Explore Our Categories
Olive Trees

Olive Trees can grow in a variety of climates. Here you'll discover more about how to take care of this popular tree for...

Fast Growing Trees

Mature trees add a noble character to the properties on which they grow. The issue is, it often takes decades for large ...
If you heat your home by burning wood, then it's likely you go through a great deal of logs each year.
Whether you need to split the logs from trees on your property to make firewood for your fireplace, chimineas, or if you split bought logs to save on cost, then a good splitting maul is essential. Splitting mauls can vary wildly in price and quality, but do you really need to spend a fortune to get a high-quality maul?
Read our splitting maul guide and review to find out.
Product Details
Gransfors Bruk
Splitting Maul
A costly splitting maul but very quality and worth every penny. Well-balanced maul with 7 pounds in height and 31.5 inches in lenghth. Beautiful quality workmanship on an efficient and effective performance.
Top Pick | Budget Pick
Fiskars
Iso Core 8 lb Maul
A more price-friendly maul with quality construction. Lifetime warranty. Users attest to the maul's high-quality construction, durability, and user-friendly design
Buying Guide
A splitting maul is used, as the name implies, to split wood. It is the heavier, unrefined cousin of the ax, and it is the added weight of the head of the maul that allows the maul itself to do most of the hard work, so you don't have to put too much power in your swing.
The head of a maul is wedge-shaped, with the narrow end of the wedge driving into the grain to split it, while the thicker end separates the wood apart. The blade on a maul is typically not as sharp as an ax, as it is the weight of the maul which splits the wood, compared to the sharp blade of an ax which slices through the wood.
How to Use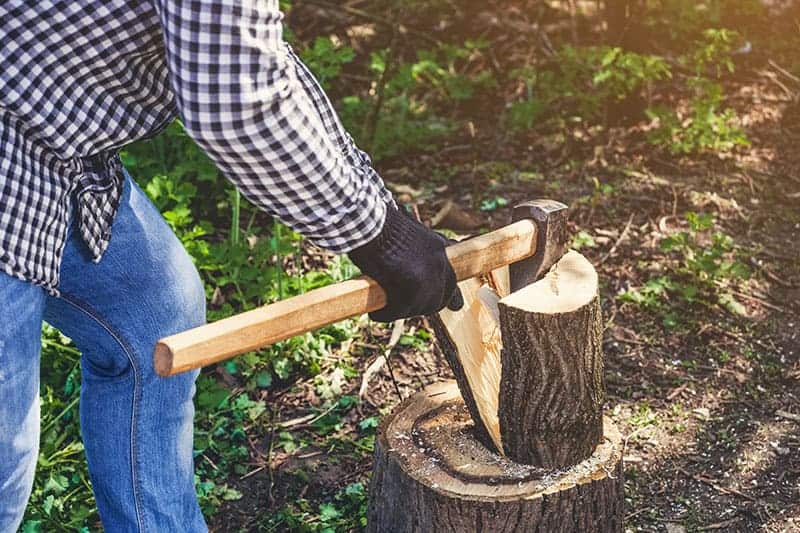 Using a splitting maul does not require any special knowledge or experience, but there are some things you should do to ensure you use one safely, as well as tips to make using a maul easier.
Always split your logs on top of a large and steady stump. This will prevent you from swinging the maul right through your log and into your leg or a rock.
If the log is already cracked, hit the log at that point as it is already weakened and will make your job easier.
Avoid splitting on knots unless your maul is especially heavy-duty.
Fresh wood will split more easily than dry wood. If you begin splitting your trees soon after they've been felled, you will find it to be an easier task, and your split logs will also dry out more quickly and be ready for burning sooner than large logs which will take longer to dry.
Don't raise the maul over your head to gain momentum; the weight of the maul itself should be doing the hard work to save strain or injury to you.
Ensure your maul is safe to use before you use it. Always give it a quick once-over and check for any loose parts or weak points. Only continue to split if you're confident that you're using a safe and adequate splitting maul.
Benefits
Saves Money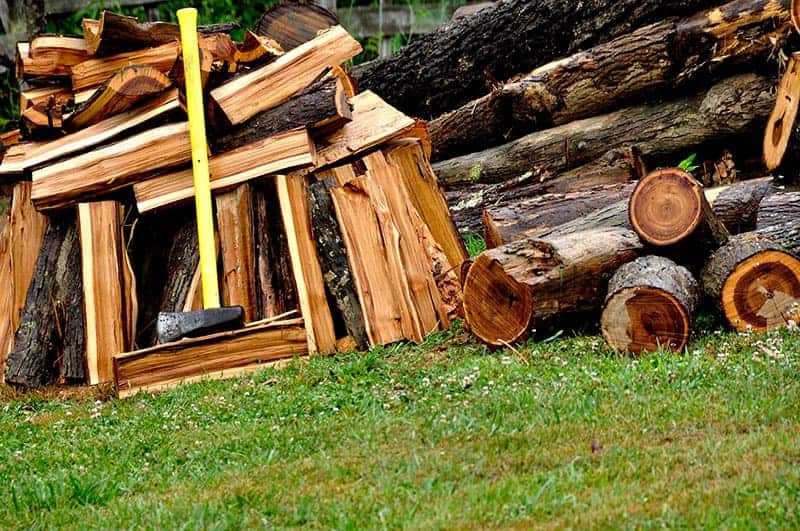 The main reason most people have a splitting maul is that it's a big money saver. Buying ready-cut firewood and kindling costs a lot more than buying log rounds, so if you're able to split your own wood down into small chunks that will fit in your log burner, then you'll be able to save a lot of money. If you heat your home with firewood, then it's an annual cost you will be facing year in, year out, so buying a splitting maul is an investment that will quickly pay for itself in the money you save from being able to split your own wood. A splitting maul is also much more budget-friendly than a mechanical wood splitter, which will achieve the same end result for a higher price.
Efficiency
Using a splitting maul is one of the most efficient ways to split large logs into more manageable, useable sizes. If you buy the right splitting maul, you will find that you can split logs more efficiently than even a mechanical log splitter, though obviously more physical exertion is required. A good splitting maul will use its weight to do the majority of the work for you so that you're able to quickly work through logs without becoming fatigued and needing to stop, unlike axes, which require more effort to use.
No Sharpening
Splitting mauls by their very nature are fairly blunt. They don't rely on a sharp blade to work well, and therefore, they don't need to be sharpened in order to maintain them. No sharpening means less work for you.
Enjoyable
Many people believe one of the main benefits of using a splitting maul is simply their enjoyment of the task. A good splitting maul will be a pleasure to use, and it's a good reason to get out into the woods, soak up some nature, and exert a little energy.
What to Look For
Handle
What sort of material you want your handle to be made from comes down to personal preference. If you like to hold your splitting maul with bare hands instead of gloves, then a handle that feels comfortable to hold and gives you a good grip should be a priority.
Generally, those in 'the know' who use splitting mauls every day believe a wooden handle is essential, with hickory being regarded as the most superior. A wooden handle feels smooth in your hand and is ergonomic, as well as being able to absorb vibrations. A wooden handle undeniably looks great and just gets even better looking as it ages.
However, the drawbacks of a wooden handle are that they can become more easily damaged if not cared for properly, being susceptible to moisture and temperature damage. Wooden handles are also weaker than their steel or fiberglass counterparts and can break with use. That being said, wooden handles are also the easiest to replace if you find yourself in that situation.
When looking for a good handle in a splitting maul, you should also pay attention to the shape, as this can improve grip.
Weight
You should be looking for a hefty weight when it comes to a splitting maul because it is the weight falling down on the wood that will create a good split. However, you obviously need to be able to use the tool without causing yourself strain or injury, and it needs to be comfortable to use, which will be difficult if it's too heavy. So, strike a good balance between a solid heavy maul and one that feels easy to operate. Splitting mauls typically range from four to twelve pounds, with eight-pound mauls being most common.
Balance
The length of the handle needs to be perfectly balanced with the weight of the wedge. This means that a long handle isn't necessarily a good or bad thing, but you need to ensure that a long handle is balanced well with regards to the weight, and the same goes for a short handle. Take some practice swings with your splitting maul before committing yourself to it, and you will know from the feel of it if it has the right balance for you.
Quality
A high-quality splitting maul will feel solid, heavy, and smooth. It shouldn't be warped in any way or have dents in it. When it comes to tools, you can usually expect to pay more if you want a high-quality tool, but that isn't always the case. Check online reviews or compare notes with lumberjack friends to find out which model offers the best bang for your buck. If you want to keep your budget low, you should still be able to find a maul that does the job well, but you may find yourself replacing it every year or two.
Product Reviews
Product Comparison
If you've ever experienced joint pain as a result of the vibration that passes through your body when you split wood, you'll really appreciate splitting mauls that benefit from shock absorption and make splitting wood a much more enjoyable experience. Of these products, those which feature shock absorption qualities are the Fiskars Iso Core 8 lb Maul and the Estwing Special Edition Fireside Friend Axe. Wooden handles are naturally able to absorb shock better than other materials, so the Gransfors Bruk Splitting Maul and the Husqvarna 32″ Wooden Splitting Maul, which both have wooden handles, will also be able to prevent some of the vibrations from reaching your body.
The Estwing Special Edition Fireside Friend Axe is intended for use while camping to split logs smaller than 8 inches, while the other splitting mauls listed here are built for cutting large logs. The most heavy-duty of the mauls in this review, and arguably on the market as a whole, is the Gransfors Bruk Splitting Maul, which makes easy work of splitting even the toughest logs.
If you're looking for a more compact log splitting hand tool, then the Estwing Special Edition Fireside Friend Axe should fit the bill. The Truper 32415 Splitting Maul comes in as the heaviest option, weighing in at 12 pounds.
Best Overall
Gransfors Bruk Splitting Maul
This traditional style splitting maul from Gransfors Bruk weighs in at 7 pounds and measures 31.5 inches in length. Circular grooves at the end of the wooden handle aid in securing a better grip, while the beveled corners of the wedge result in a perfect strike for splitting even the toughest logs. This is the heaviest maul available from Gransfors Bruk and boasts beautiful quality workmanship on an efficient and effective tool. It comes with a protective leather sheath that has been tanned with vegetable dye.
Users of this maul overwhelmingly agree that this is the most superior maul they have ever had the pleasure to use. Users love how well it is made and how effortlessly it cuts through logs. It is lightweight, easy to swing, and very sharp, all of which result in a maul that almost glides through logs without resulting in physical pain or back and shoulder ache for the user.
Many users agree that using this maul is so enjoyable they actually look forward to splitting logs, which was formerly a chore. The maul is very expensive for a hand tool at over $200, but most users believe this is a wise investment in a tool that performs consistently and should be long-lasting enough that it can be passed down through generations as a family heirloom.
Pros
Well-balanced weight
Easy to use
Consistently performs well
Beautifully crafted
Budget Pick
Fiskars Iso Core 8 lb Maul
This high-quality maul encompasses several features to make wood splitting a more all-round enjoyable activity. It benefits from an IsoCore Shock Control System, which is a patented design to absorb vibration and shock strike to reduce the physical toll wood splitting takes on your body. The superior shock-absorbing feature means that your body will receive 2 times less vibration compared with wooden-handled mauls.
The handle itself features a textured sleeve to improve grip, along with a flared design to ensure the handle stays firmly in your hand, offering maximum controlled swings. The maul is designed to last a lifetime, built from durable materials with high-quality workmanship to ensure it performs day in, day out in all conditions. Fiskars is so confident about their IsoCore maul that they include a lifetime warranty with every purchase.
Users of this maul rate this product as outstanding. The vast majority of users found the maul exceeded their already high expectations, with some users comparing the maul splitting wood to that of a hot knife slicing through butter. Users attest to the maul's high-quality construction, durability, and user-friendly design. Some users noted that the maul takes the hard work out of splitting and believe it is compatible for use by all users, as it is so powerful that it does not require the user to be especially strong or experienced. Users who made contact with the manufacturer also found them to offer impressive customer care.
Pros
Durable
Long-lasting
Shock absorption
Extra grip handles
Easy to use
Lifetime warranty included
Excellent customer service
Husqvarna 32″ Wooden Splitting Maul
This wood splitting maul features a steel wedge forged in Sweden from superior quality Swedish ax steel. The wedge is attached to a beautifully crafted hickory shaft wooden handle and comes with a leather edge cover. The maul is designed for use in splitting chunks of wood and can be used in combination with a splitting wedge, or as a sledge.
It is 32 inches in length, and the manufacturers recommend good maintenance of the maul to ensure longevity. It should not be kept in warm or damp conditions and should be covered when not in use. The product comes with a 90-day warranty.
Feedback from users of this maul is quite varied. The majority of users love this product due to its high-quality workmanship and beautiful crafting. Most users see it is an item of both aesthetic beauty and practicality.
However, there is an alarming number of users who experienced problems with this maul. After light to moderate use, many users found that their maul suddenly snapped. All of the users who experienced this were incredibly disappointed, as they were big fans of the maul and up to that point and had no complaints or problems with the product. As the maul has a 90-day warranty, those users who were within their 90-day warranty had the product replaced without any trouble. However, those who were outside of the 90-day warranty found Husqvarna customer service to be unhelpful and unapologetic, in spite of the item clearly being faulty. For a $100 product that is meant to be able to withstand heavy use, most people would expect a sturdier product and a better warranty.
Pros
Beautifully crafted
Easy to use
Cons
Susceptible to breakage
Short warranty
Expensive
Estwing Special Edition Fireside Friend Axe
This ax is proudly made in the USA in Rockford, Illinois and forged from one piece of solid American steel, which is polished by hand. It features a hand-sharpened edge on the heavy wedge-shaped head, which is protected by a ballistic nylon sheath. The sheath offers both protection and practicality, as the button design enables you to carry the ax around safely on your belt loop or tool belt.
The handle is designed to be both comfortable and durable, with sanded and lacquered leather. The handle also offers reduced vibration and impact, with a patented shock reduction grip, resulting in a better experience for your whole body. The ax is designed to essentially be a mini- splitting maul, the perfect size for taking on camping trips and splitting purchased logs from campsites.
Users of this Fireside Friend found that it perfectly fulfilled their requirements, easily splitting small logs on camping trips. Users love the weight of it; it is heavy enough to pack a punch, but not so heavy that it can't be used to swing one-handed. Users also commented on how practical the size of the Fireside Friend is, making it easier and less work to use than a maul or ax. It is compact enough to be easily stored on a camping trip, but large enough that it is effective at its job of splitting small logs.
Users also love the sturdy sheath, which is included, along with the quality of workmanship, which feels like it will last a long time. The product is fairly high priced for a compact tool, but most users agree it is a wise investment.
Pros
Made in the USA
High-quality construction
Good size and weight for fireside
Shock absorption grip
Included protective sheath
Cons
Quite expensive for a small tool
Not for use on larger logs
Truper 32415 12-Pound Splitting Maul
This 12-pound splitting maul has a 27-inch long steel handle with a rubber handle guard for increased grip and comfort. It comes in a red design and is made by Truper, a Mexican company with a long history of manufacturing high-quality hand tools. The heavy wedge, in combination with the relatively short handle, is designed to be able to split even the heaviest and largest of hardwood logs.
The majority of users of this maul rate it very highly. They love how tough it is, and the high-quality feel. Most users found that this maul is able to handle splitting knotty logs with ease where other mauls struggled.
The main complaint about this maul is that it is too heavy and the handle is too short. Some users noted that the weight made the maul too cumbersome to use and too difficult to handle, while the short handle meant gaining momentum in swings was near impossible. However, other users believed the hefty weight and short handle worked well, as the maul should not be used overhead, and instead a small swing would be sufficient enough to split wood, allowing the weight of the maul to do most of the work.
Pros
Heavy-duty
Can handle splitting tough logs
Cons
Can be cumbersome to use
Heavy
Short handle
Conclusion
The standout item among these products is the Gransfors Bruk Splitting Maul. It is lightweight yet sturdy, offering the perfect balance of weight and size to produce consistently impressive cuts. Users of this item proclaim it as being the most superior splitting maul they have ever used, even better than other mauls that they previously believed to be the best around.
The only downside of this maul is the cost, as it retails at over $200, which is probably more than most people want to spend on a splitting maul. If you do want to splurge some serious coin on a hand tool, then this is your best purchase, and it will last you a lifetime and then some.
If you aren't looking to make such a big purchase, the Fiskars Iso Core 8 lb Maul is the next best thing. It offers great value for money, performing better than some of the other higher-cost mauls. It offers long-lasting durability with patented shock absorption and a lifetime warranty to protect your purchase against faults or defects.