Landscaping > Design >
Top 10 Chimineas of 2023 – Warm up & Decorate Your Garden With These Rustic Fireplaces
Top 10 Chimineas of 2023 – Warm up & Decorate Your Garden With These Rustic Fireplaces
Explore Our Categories
Nectarine Trees

Nectarines have the taste and texture of a peach without the fuzzy exterior hairs. Nectarine trees come in many cultivat...

Nut Trees

Nut trees can be just as lovely as any other type of tree that you would add to your landscape. But good looks aren't th...

Maple Trees

Maple trees are ubiquitous in the continental U.S., found in countless back yards and lining urban streets. There's a go...
The Best Chimineas to Buy Now
We reviewed over 40 chimineas to find the top 10 picks. Take a look at our reviews of the top chimineas and read our buyers' guide to learn about the features and costs to consider.
10 Top-Rated Chimineas

Better Homes & Gardens Antique Bronze Cast Iron Chiminea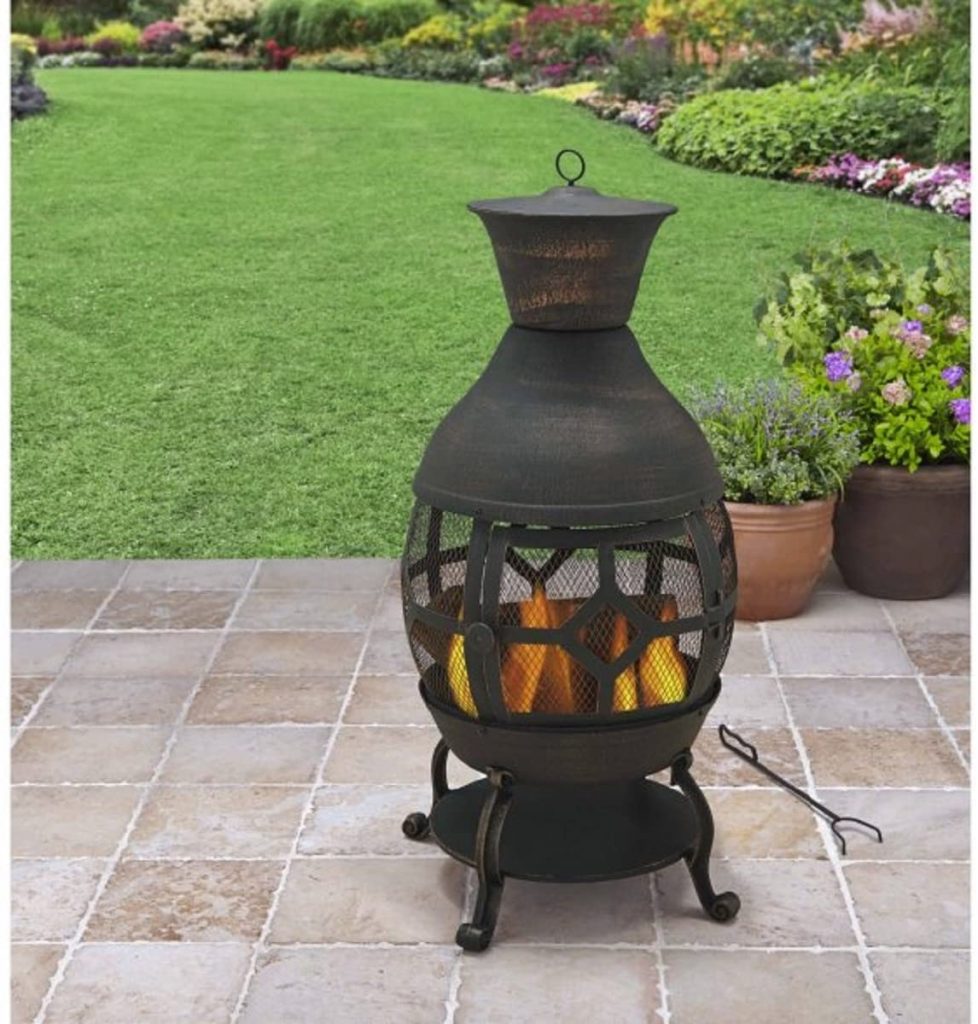 This cast iron chiminea's sturdy and attractive design offers a brilliant antique visual touch for the yard or patio. Built to provide a 360-degree view of its warming fire, it comes with a large poker and hinged doors that make fire management and fuel replenishment a simple task. Its bronze finish and large size make a distinctive and soothing contribution to outdoor spaces for entertaining guests. Weighing about forty pounds, it has clear instructions and grouped, numbered components that make it easy to assemble and disassemble for transport on camping trips. Simply remove the cover on its chimney to enjoy flawless vertical ventilation and marshmallow roasting.
Sturdy construction
Attractive and stylish design
Easy to assemble
Would benefit from a drainage hole at the base
Sunnydaze Decor Steel Chiminea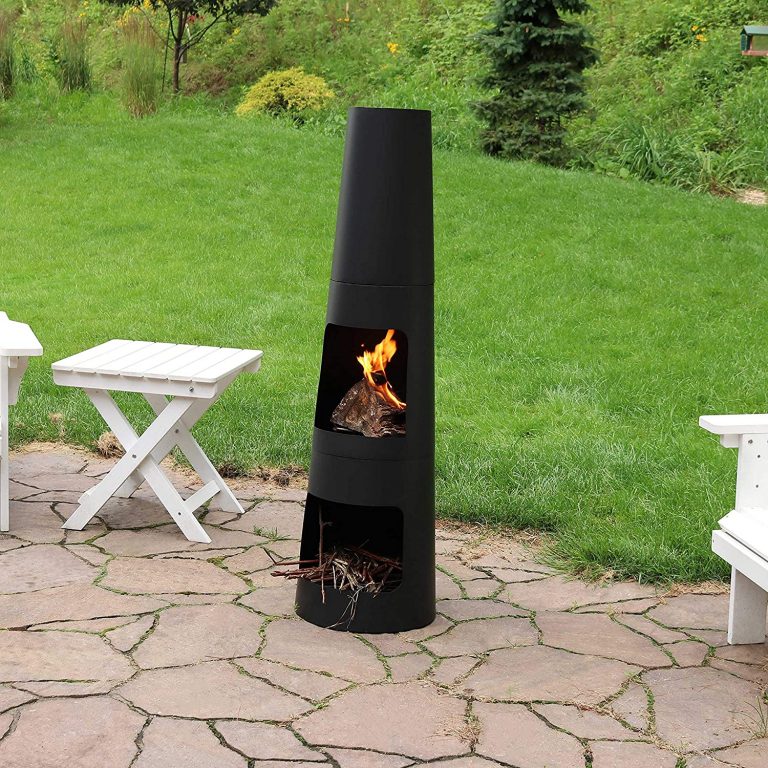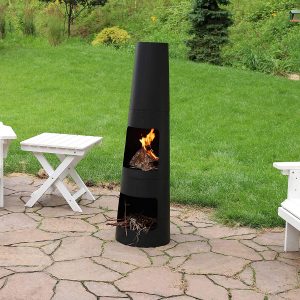 Homeowners whose outdoor spaces have a smaller footprint will appreciate the compact Sunnydaze chiminea. It leaves plenty of room for maneuvering about the patio thanks to a 14.25-inch diameter base and an 8-in diameter top stack. The fire opening is 11.25 inches wide at the bottom and 9.5 inches wide at the top, large enough for marshmallow roasts and hand warming. A wood grate and ash pan sit inside, and beneath the fire pit is another grate to store extra kindling.
The Sunnydaze chiminea is built of heavy-duty steel and finished with black high-temperature paint for long-lasting use. The tall smokestack helps direct the smoke up and away from anyone sitting nearby. Assembly requires no tools, and the chiminea comes complete with a poker, two grates, ash pan and lid, and a protective cover.
Tall stack controls smoke
Easy assembly
Ash pan for quick cleanup
Sparks may reach log storage
Bad Idea Pyro Tower Steel Fire Pit Charcoal Grill Metal Chiminea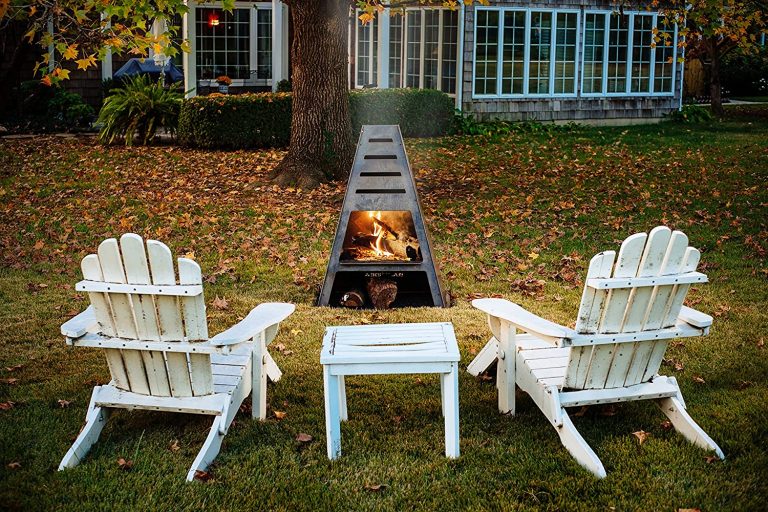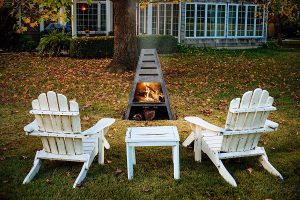 The unique pyramid design of this steel chiminea makes for a striking addition to any outdoor space. Precision-cut from heavy-duty steel, it's constructed for resilience and resistance to wind, rain, hail, and debris. Its components have a tab and slot design for handling and assembly by two people in around 20 minutes. The chiminea's hand-oiled finish is easy to maintain, ensuring that it will age gracefully in natural surroundings. Its vertical dimensions guide smoke up and away from guests to provide a pleasant firepit warmth without inconvenience from smoke or sparks. An optional Cooking Kit accessory makes it possible to use this chiminea for grilling, smoking, and baking.
A visually striking outdoor centerpiece
Built to last a lifetime
Clever tab and slot design for easy assembly
Not portable by one person
Accessories can get expensive
BALI OUTDOORS Outdoor Fireplace Wooden Fire Pit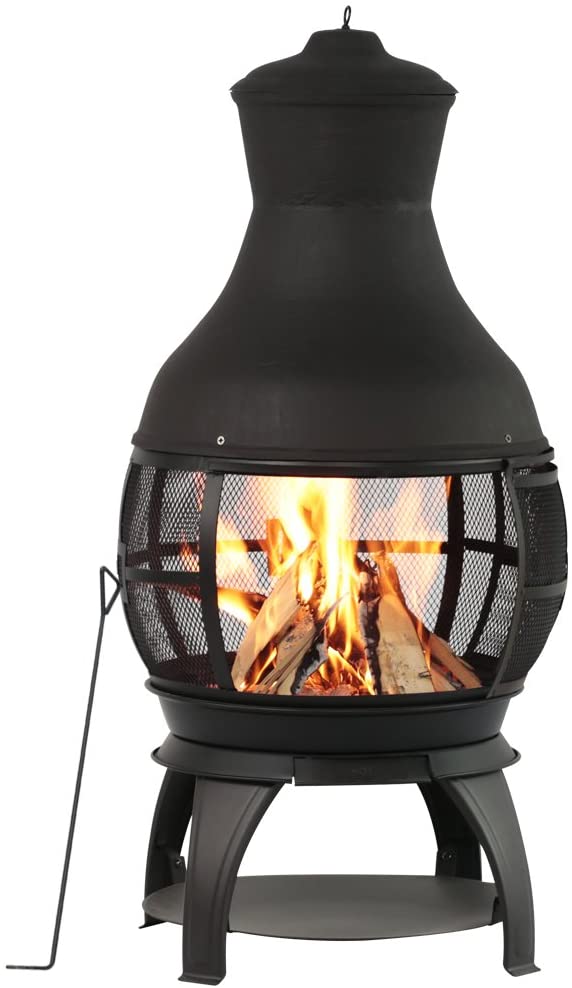 With a wire mesh design that provides a 360-degree view of the fire bowl, this black chiminea has a sliding door and ashtray that makes it easy to use with firewood and artificial logs alike. Its fire cage is easily accessed by a sliding door and features a two-piece log grate that promotes airflow for steady burning. The cage's dimensions provide room for logs up to 16 inches in length, and its durable steel construction provides four legs for stable elevation and secure placement. The round roof and rain cap on its chimney shelters the fire cage from the elements while funneling smoke upward, keeping it away from any guest gathered around it.
Spacious fire cage made for use with firewood
Sturdy and durable construction
Roof and chimney design funnels smoke upward
More difficult to assemble than some competing products
Does not come with a rain cover
The Blue Rooster Dragonfly CAST Aluminum Wood Burning Chiminea


Made from solid cast aluminum, the Blue Rooster Dragonfly chiminea is rustproof and suitable for use in all sorts of environmental conditions. Its spacious firebox burns full-sized logs up to 18 or 20 inches long and comes with mouth and neck spark screens that minimize hazards from sparking firewood, making it safe for deck or patio use. Its rain lid keeps water out of the firebox even in wet weather, while its carry handles make it portable in the hands of two people. The chimney is easy to clean and provides a substantial vertical outlet for smoke, preventing guests from getting smoke-stung eyes. This chiminea comes with a grilling insert that allows users to prepare their favorite foods while enjoying its warmth.
Firebox accommodates up to 20-inch logs
Rustproof cast aluminum construction
Complete set of accessories
Fire needs to be carefully kept away from interior metal
Can emit toxic fumes if not properly cured with small curing fires first
InnFinest Outdoor Fire Pit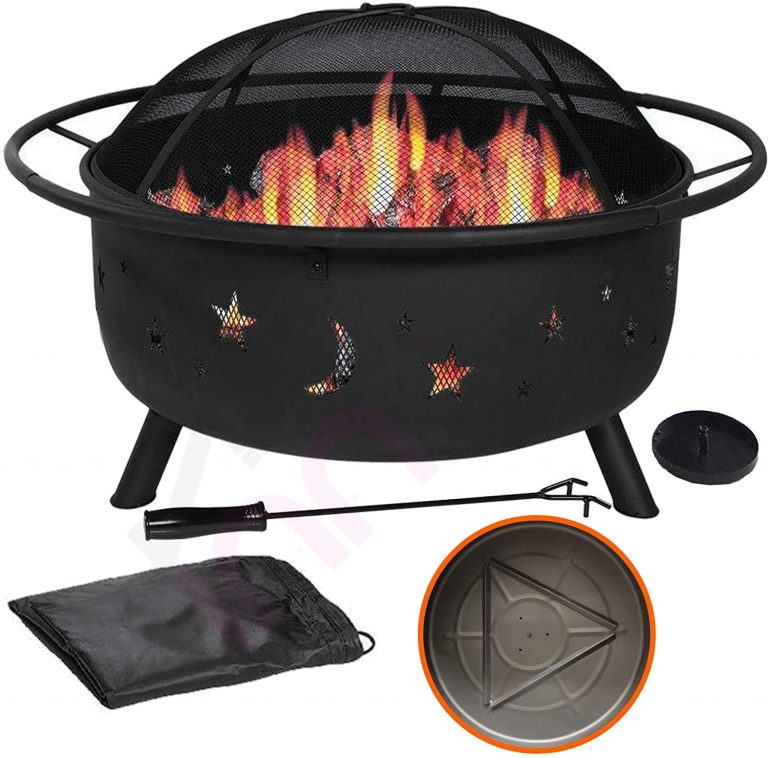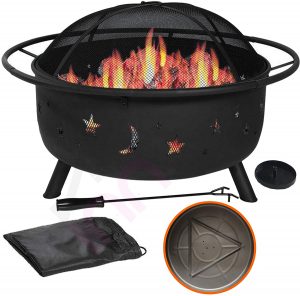 Enjoy the night sky above and in the star and moon cutouts on this outdoor fire pit. The large pit measures 31 inches in diameter, and other sizes are available. Family and friends can gather around, receiving warmth from all sides. Drainage holes help prevent water buildup in the bottom, and the attached ash plate removes for easy cleaning. The InnFinest fire pit comes with a spark screen that completely covers the pit, keeping embers in and hands out. A built-in fire grate helps distribute the wood for even airflow, making it easier to create a long-lasting, smoke-free fire.
Place this portable fire pit anywhere you want to enjoy the ambiance of outdoor flames while keeping the embers encased safely. The total pit weighs 19 lbs. and comes with a waterproof cover, wood poker and spark screen. Black, high-temperature paint helps keep it looking nice for years to come.
Spark screen for safety
Drainage holes
Included waterproof cover
Bond Manufacturing 52124 Nightstar Fire Pit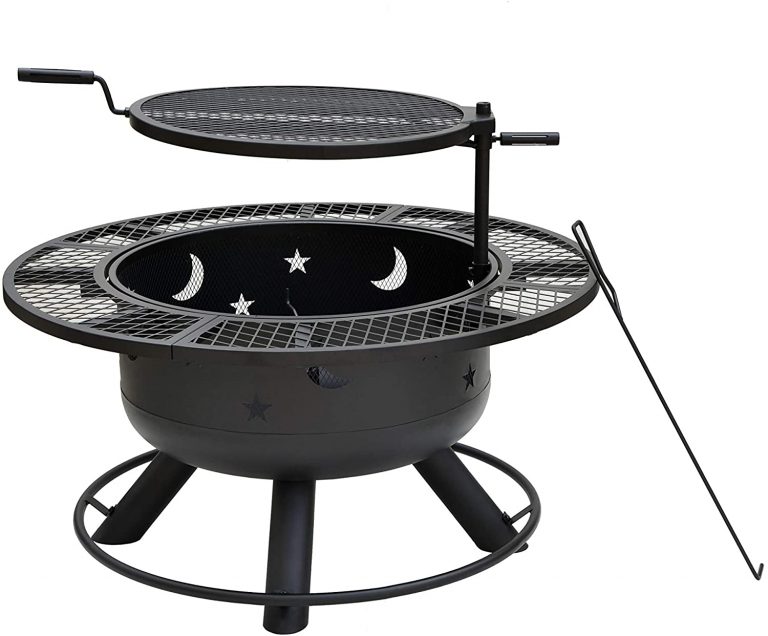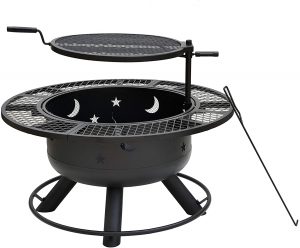 Experience open-fire cooking with this Bond Manufacturing Nightstar Fire Pit. The 32.7-inch round pit is made of steel components with mesh grates for the star and moon cutouts, edging, and grill surface. The mesh surround provides a place to rest cooked food and keeps people at a safe distance from the flames.
The outstanding feature of the Nightstar fire pit is its swiveling BBQ grill. Turn it to the side to add food, twist it over the flames to cook, then rotate it out of the way for serving. It's also completely removable for easy cleaning. Moon and star cutouts decorate the base of this black firepit, and it comes with a poker to stoke the fire.
360-degree swiveling BBQ tray
Round pit is accessible from any direction
Deckmate Sonora Cast Iron Chiminea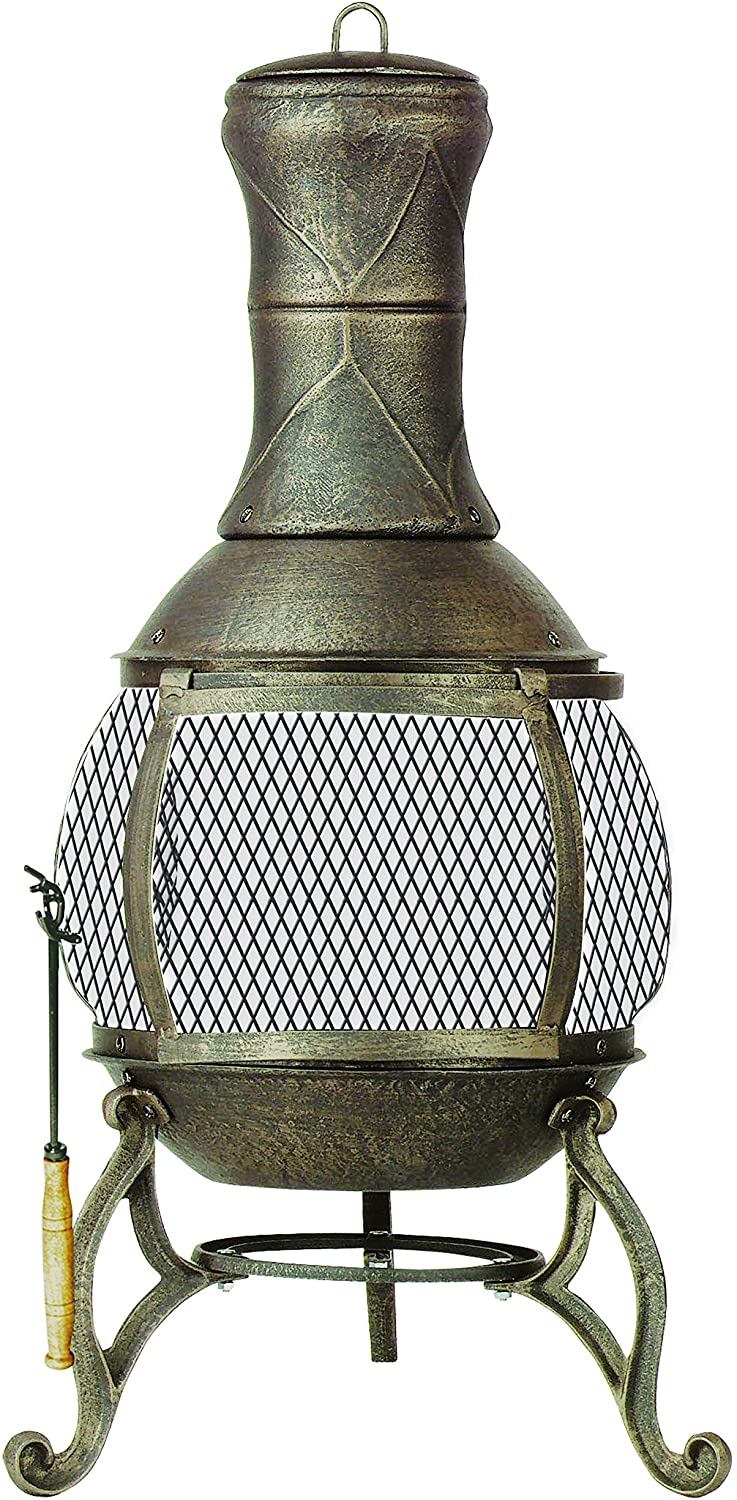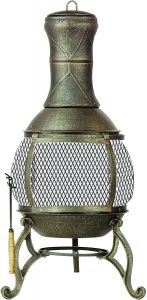 This decoratively embossed cast iron chiminea blends an elegant look with a high-temperature paint finish to make an attractive and functional addition to any outdoor space. Its spark screen is made of fine wire mesh to provide a full all-around view of the fire, and it comes with a large sliding door ideal for use with wood and artificial logs. Its included fire tool and log grate make it easy to stoke fires and provide a reliable sustaining airflow. The fireplace includes an ash catcher for ease of cleaning. This chiminea's concave roof and long flue design combine to collect and draw smoke up and away from the faces of guests, and its 22-inch firebox is ideal for burning small logs.
Beautiful embossed design
Wire mesh spark screen with an all-around view of the fire
Comes with all the accessories needed for easy fuel addition and cleanup
Not as efficient at venting smoke upward as some competitors
Wood grates are two-piece, not as stable as they could be
Esschert Design FF109 Small Terrace Heater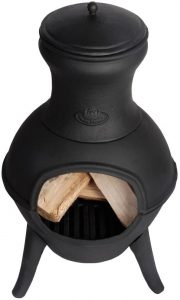 Designed specifically for warming decks and patios, this cast iron terrace chiminea heater is built for long-term use. It provides a 14-inch mouth opening to handle bigger pieces of wood, along with a removable rain lid that preserves the fire from adverse weather conditions and ventilation holes that allow even burning. Standing two feet tall and weighing just over 40 pounds when fully assembled, this Esschert chiminea is easily portable by one person, and its heat output is ideal for making small outdoor spaces cozy without burning nearby surfaces.
Solid but portable cast iron construction
14-inch opening ideal for small logs
Ventilation holes for easy burning
Designed for small spaces and not suitable for larger yards
F2C Outdoor Hex Shaped Fire Pit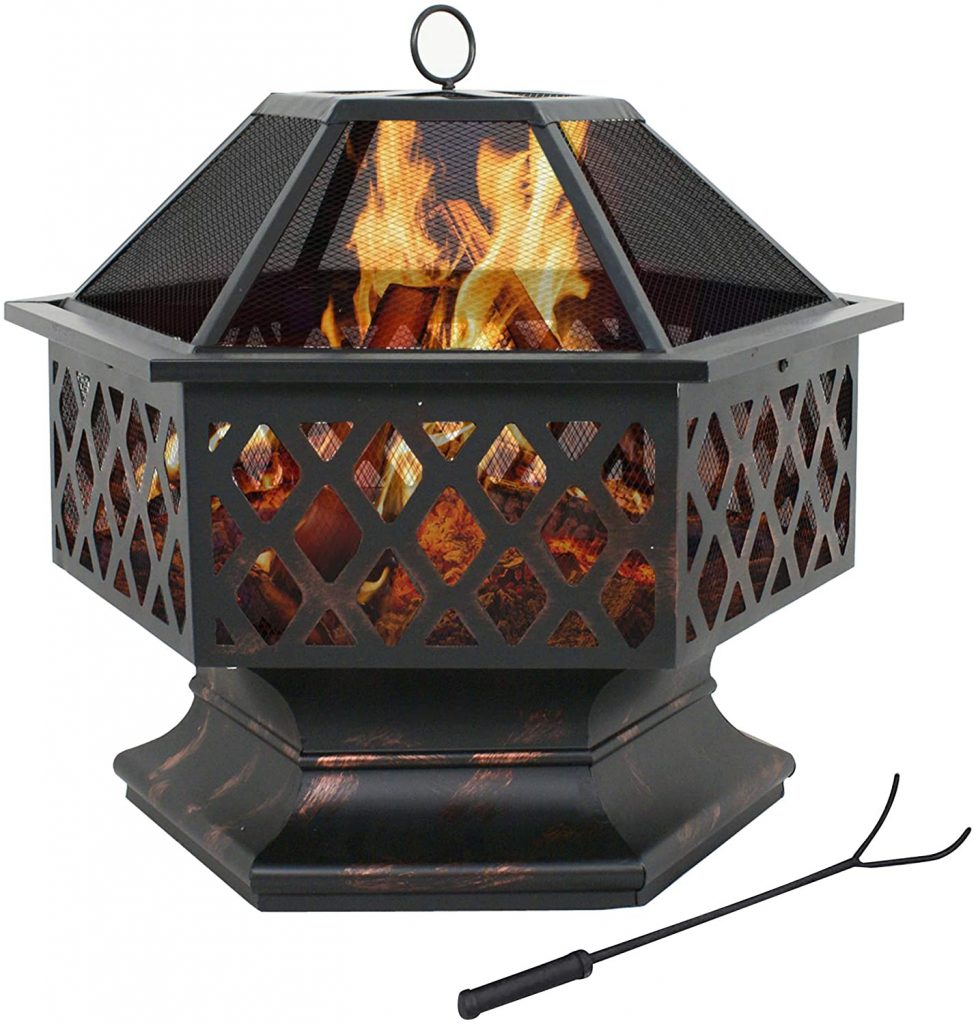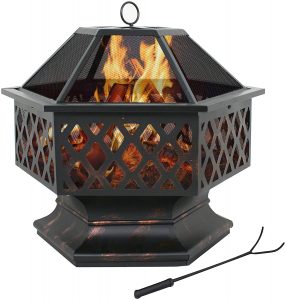 Made from heat-resistant steel, the F2C hex-shaped fire pit is built to be durable and long-lasting, with a ventilation system designed to maximize oxygen circulation and burn fuel efficiently. The deep and wide fire bowl holds enough firewood to sustain a fire for hours at a time, and the hexagonal design combined with mesh sides provides unique views of the fire along with enough radiant heat to keep sizable parties warm. The sleek design makes the piece a visual stand-out that will add a unique touch to outdoor decor, while its flame-retardant lid, safety mesh, and poker make it easy to use with maximum safety. The F2C hex-shaped fire pit comes in three components that can be assembled in three simple steps, making it one of the most uncomplicated products of its kind to put together.
Extremely simple to assemble
Unique hexagonal design is a great decor addition
Ventilation system for easy-burning, long-lasting fires
Does not come with a rain cover
Must be carefully maintained to avoid rusting
Chiminea Buying Guide
What to Look For
Chimineas, or portable fire pits, come in a wide variety of configurations designed for different purposes. Some will be heavy-duty models designed for warming up your campsite or yard party, while others are more compact units designed for the deck or patio. Some are designed with a distinctive look in mind, others for long-term durability, and some try to achieve both.
Whatever their specific design goal might be, high-quality chimineas tend to have a few traits in common:
Air circulation. A well-designed chiminea will have ventilation measures of some kind, or accessories like wood grates, to make sure air can circulate around your fuel source and make for an easier burn.
Ease of assembly. It's best if your chiminea comes with clear instructions for assembly and with all the parts clearly marked. When this is well-executed, it shouldn't take more than 20 – 30 minutes to put a chiminea together.
Efficient draw. The term "draw" refers to how a design works to draw smoke upward and away from the fire. It's preferable to channel smoke away from the group of people enjoying the fire, so they don't wind up getting eyefuls of stinging smoke.
Inclusion of key accessories. Chimineas are typically designed to burn firewood or artificial logs. Sparks can be a concern with real wood, and it's definitely useful if a chiminea comes with screens to guard against sparking, along with implements, such as fire pokers and ashtrays, to make them easier to clean.
Cost
Chimineas can range in price from around $50 to $100 for a small unit and $100 to $200 for a larger unit. Size isn't the only factor that affects the price. Visual design and decorative qualities, the materials used, and extra features and accessories provided can also raise the price. You should generally be prepared to pay more for the kind of product that will last multiple years or cope well with moisture and wind, rain, and yard debris. Proper maintenance of a chiminea may involve spending separately on paint, covers, and certain additional accessories, depending on which product you choose.