10 Best Pressure Canners to Preserve Food in 2023
10 Best Pressure Canners to Preserve Food in 2023
Explore Our Categories
Christmas Trees

There are few trees more recognizable than the Christmas tree. While this style of tree is iconic, there are several var...
The Best Pressure Canners to Buy Now
We reviewed over 40 pressure canners to find the top 10 picks. Take a look at our reviews of the top pressure canners and read our buyers' guide to learn about the features and costs to consider.
10 Top-Rated Pressure Canners
All American 10.5 Quart Pressure Cooker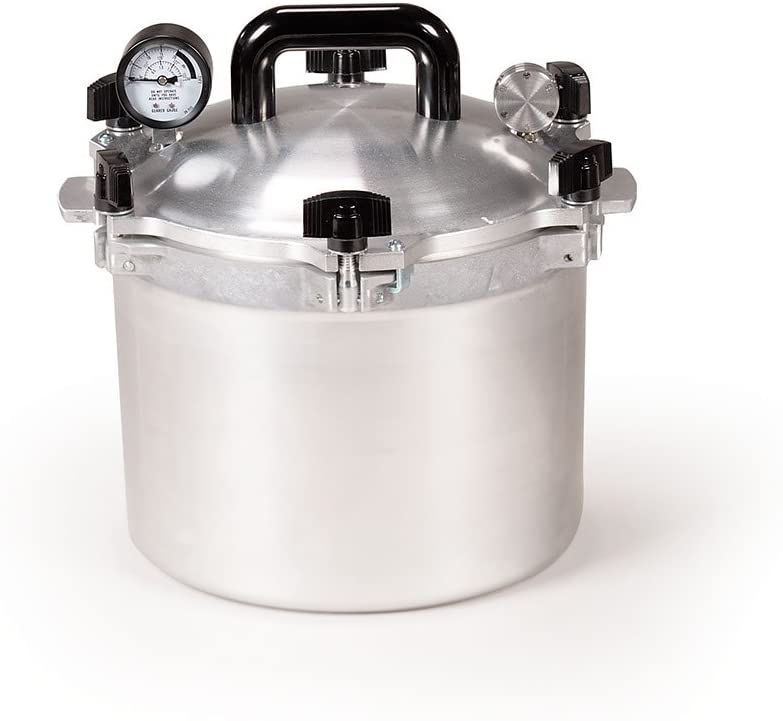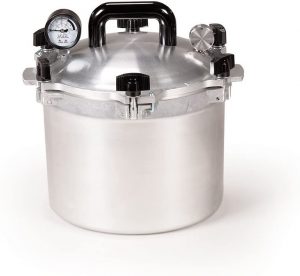 The generously sized All American pressure cooker fits up to seven pint jars at once, helping to streamline home canning. The canner is made from durable, hand-cast aluminum and is easy to clean, returning to a like-new condition when washed. Large, easy-to-read gauges help improve timing, resulting in a reliable seal on jars, even for first-time canners.
Users note that customer service is a major plus for this pressure cooker with excellent follow through on questions and remote troubleshooting. The precisely milled edges on the lip of the pot and the lid create a seal that is steam-tight without the need for extra, less durable parts such as gaskets.
Durable, cast aluminum construction
Holds up to 10 1/2 quarts
Metal-on-metal sealing system
5, 10, and 15 psi settings
Not recommended for use with flat top cook surfaces
Ball FreshTECH Electric Water Bath Canner and Multi-Cooker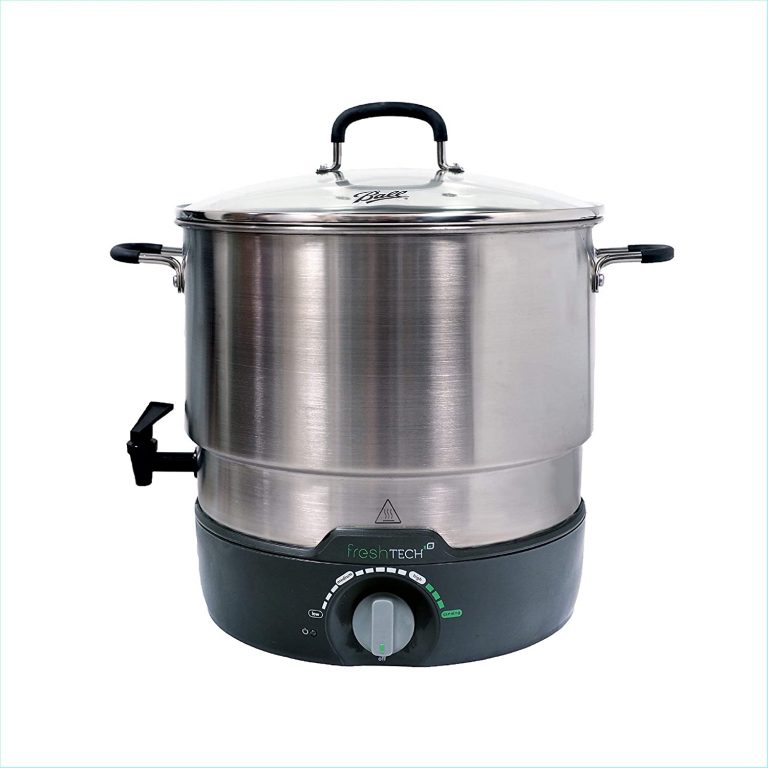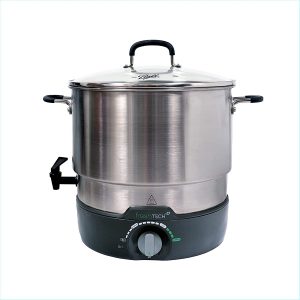 The Ball FreshTECH Electric Water Bath Canner holds 21 quarts when used as a multi-cooker or up to seven 1-quart jars when canning, speeding up the process of preserving a harvest. It features a removable base for nested storage that makes this unit surprisingly compact when put away. Rubber coated handles on the lid make it easy to use without the need for potholders when stirring up a stew or brewing hot beverages. The in-built pour spout allows safe decanting of tea, coffee, or other drinks, making it a go-to gadget for a variety of kitchen cooking tasks.
Users happily mention setting up canning production adjacent to the sink for easy draining at the end of the process using the onboard spigot. The intuitive interface also gets many thumbs up from users who simply turn the heat dial to the canning setting to get started.
Nests for compact storage
Self-heating coils free up burner space
Fits up to seven 1-quart jars
Built-in pour spout for easy draining
Provided canning rack may allow jars to move
Reaching canning temperatures may take an hour
Carey DPC-9SS Smart Pressure Canner & Cooker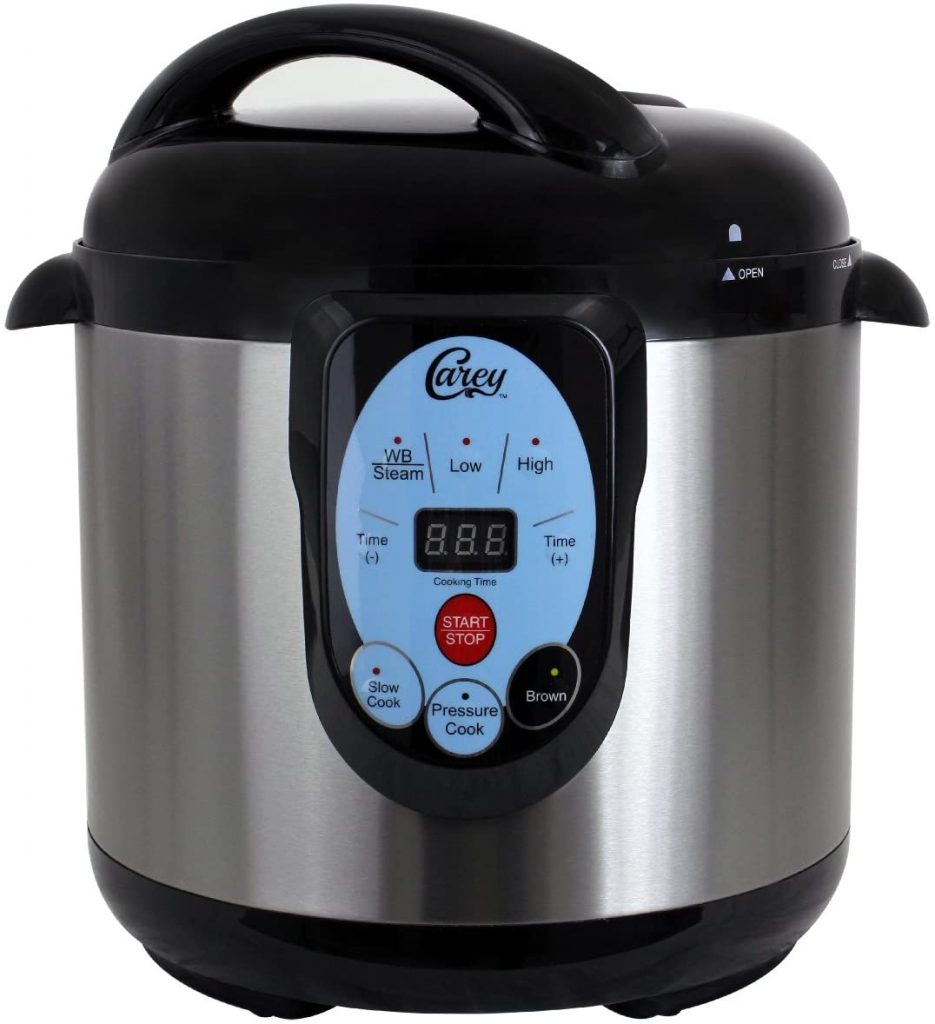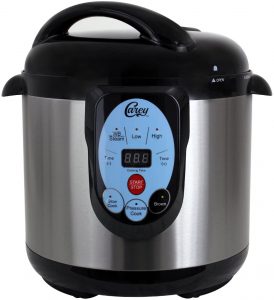 The Carey DPC-9SS is an all-purpose kitchen tool for cooking and canning. It holds 9.5 quarts of liquid and can safely process the following jars: four quarts, five pints, or 16 jelly. The interior chamber is removable for easy cleanup and is dishwasher safe. With a multitude of features to ensure consistent seals and safe processing, the Carey is ideal for new and experienced canners. The Carey works well for slow-cooked roasts, stews, and chilis. Users can brown meats then add liquids and vegetables, confining all meal work to one container. Thanks to its lightweight stainless steel structure and side handles, it's simple to transport. This smart pressure canner and cooker comes with a steam rack, canning rack, and condensation catcher.
Multipurpose
Lightweight for easy transport
Lid lock and other safety features
Digital display
Quality consistency a problem
Limited instructions
Granite Ware 20-Quart Pressure Canner/Cooker/Steamer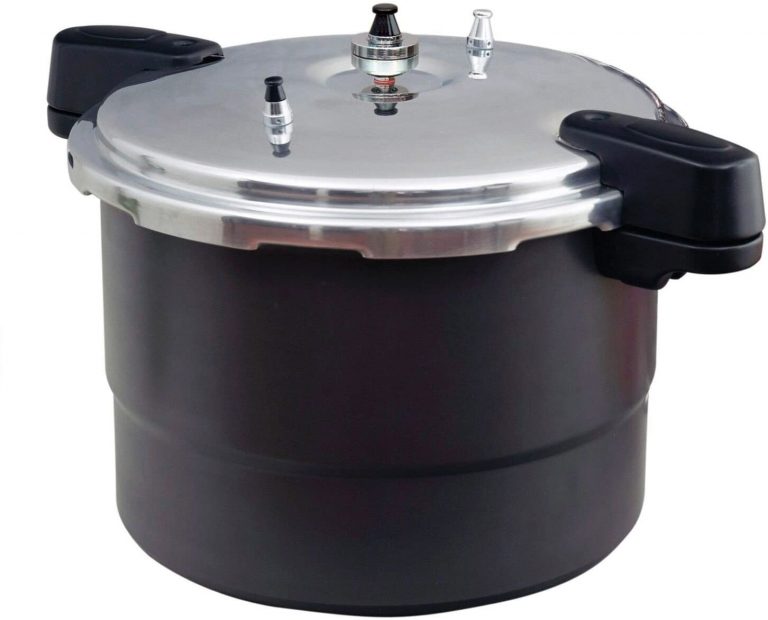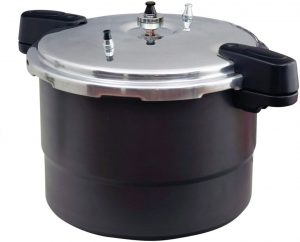 The Granite Ware 20-quart Pressure Canner and Pressure Cooker/Steamer is made from hard-anodized aluminum, creating a durable, heavy-bottomed pot that performs with professional quality. It comes with everything needed to start canning, including a rack insert to keep jars off the bottom of the pan. Can up to seven 1-quart containers at once. When used as a pressure cooker, it can take even the toughest cuts of meat and tenderize them in a fraction of the time, cooking delightful, one-pot meals for the whole family.
Safety mechanisms such as the pop-up pressure indicator and locking lid work together to keep cooks safe during canning or cooking. If there is even one psi of pressure in the pot, the lid won't unlock. With three levels of pressure to choose from — 5, 10, and 15 — Granite Ware works at all altitudes for cooks in any kitchen.
Hard anodized aluminum construction
Includes rack and steamer trivet
20-quart capacity
Won't unlock when the pot is under pressure
Three pressure settings
Inconsistent quality
Jiggler spring may rust
Instant Pot Max Pressure Cooker 9 in 1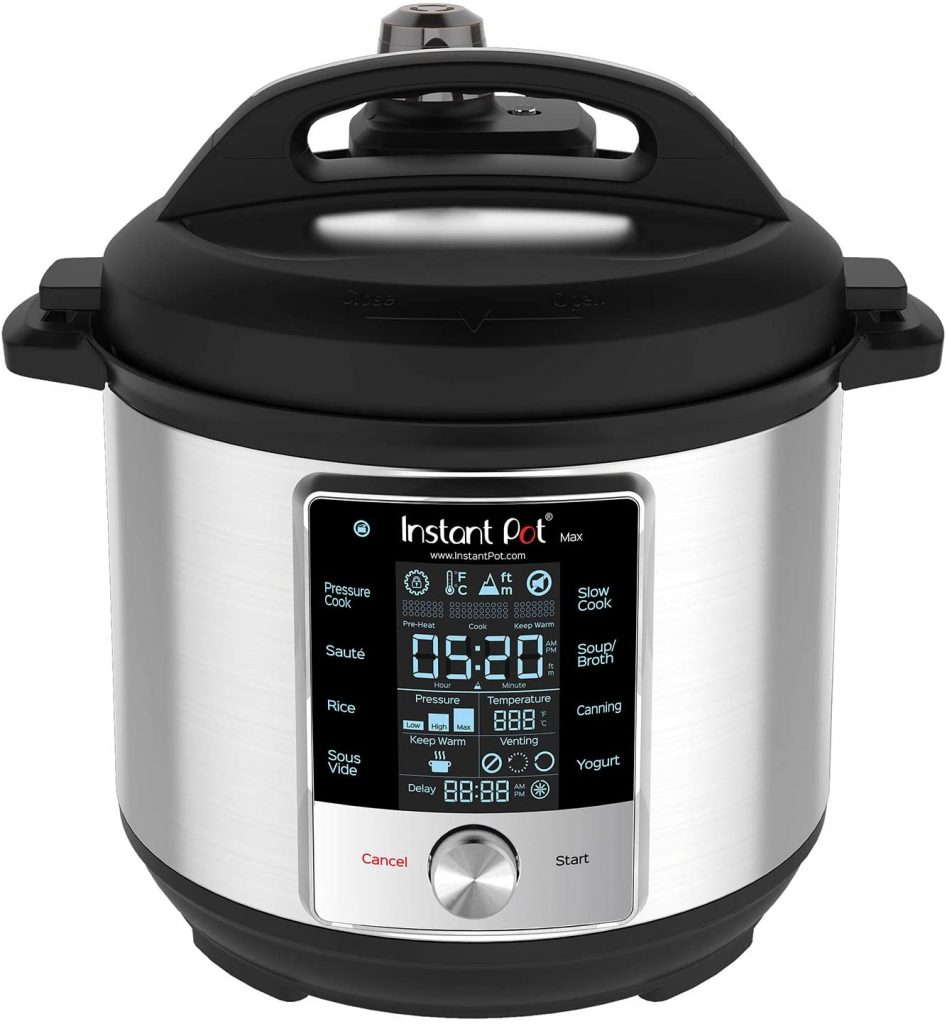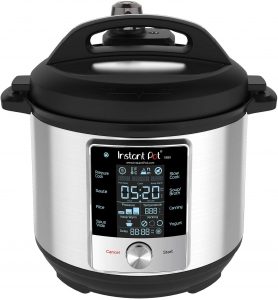 The Instant Pot Max Pressure Cooker 9 in 1 maintains pressure at 15psi, making it a versatile option when canning food at home. As a multi-cooker, it also has features such as sous vide, pressure cook, slow cook, or sauté for preparing an extensive array of recipes in a single pot. The automated venting system makes using this electric version of a pressure canner safe and efficient.
The device's interior cooker and exterior body are made from durable, easy-to-clean 304-grade stainless steel. The programmable touchscreen makes it easy to plan ahead with delayed start functions, or you can start canning at the touch of a button.
Electric function that leaves the stove free
Automatic settings for canning
Stainless steel construction
13-point safety system
Includes eight other cooking features
Not yet USDA approved for low-acid canning
Longer heating time than other models
Mirro 22-Quart Polished Aluminum Pressure Cooker/Canner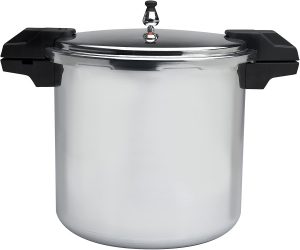 The Mirro pressure cooker fits up to seven 1-quart jars or 16 pint-size jars for processing large quantities of food quickly. Heavy-gauge aluminum construction helps keep it in good condition through multiple batches and years of cooking. Three cooking pressure options allow users to sterilize equipment or cook at various altitudes in this single pot.
The Mirro pressure canner comes with a cooling rack and recipes to help new canners to get started, and it has a 10-year warranty for peace of mind. The sure locking lid helps the pot reach and maintain a steady pressure throughout the cooking process while also hitting high safety ratings.
Strong and sturdy
Rustproof construction
22-quart size
Cool-touch handles
Not for use with glass-top stove
May warp if cooled too rapidly
NESCO NPC-9 Smart Pressure Canner and Cooker (9.5 Quart)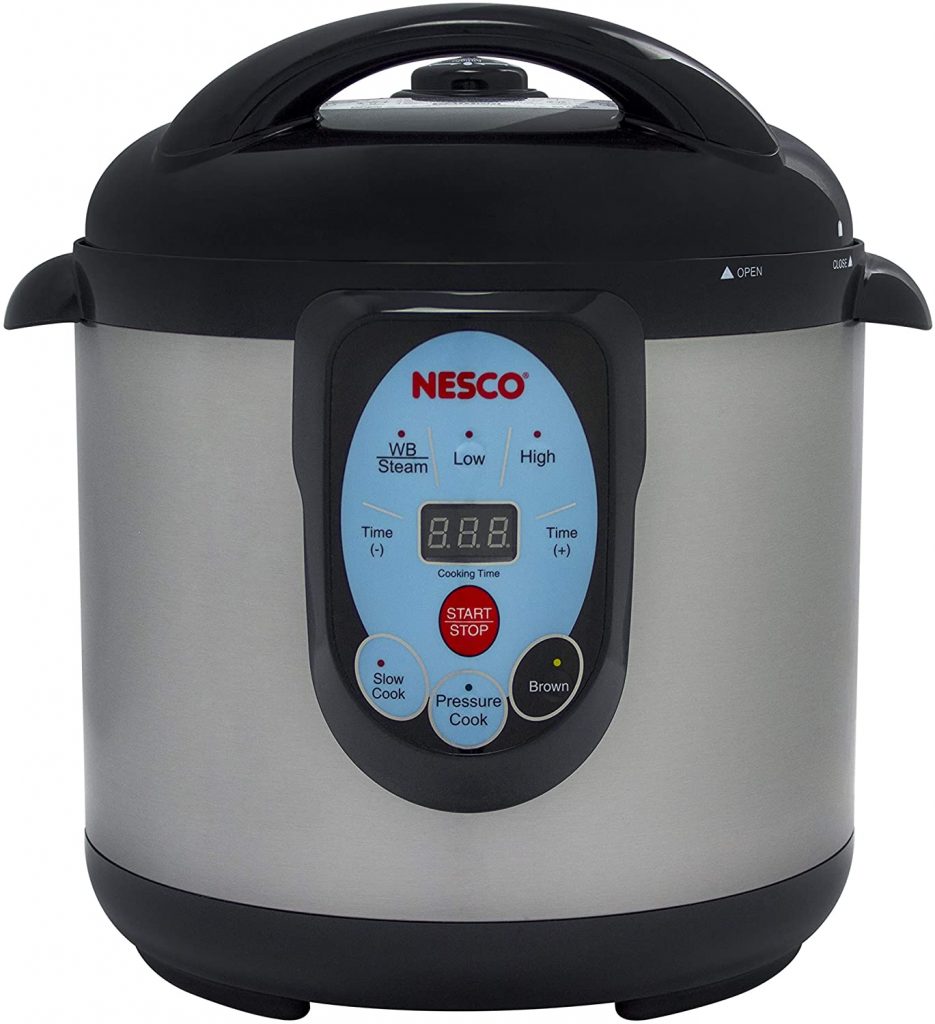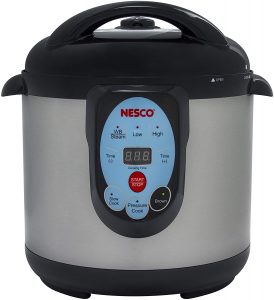 The NESCO NPC-9 is designed to make canning quick, efficient, and intuitive. Pre-set programs make it easy to can a variety of foods, including jams and jellies. Safety features include continuous pressure regulation, a locking lid, and an automatic float valve, all of which work together to make sure the lid fits properly and won't open until there is zero pressure in the pot. The 9.5-quart insert is made from non-stick aluminum for easy cleaning, while the body is durable stainless steel. When canning, the insert can fit up to four 1-quart jars in an upright position. It also can slow cook, pressure cook, or brown meats and vegetables to speed up cooking time and after-meal cleaning.
Electric canning functions
Multiple safety features
9.5-quart capacity
Durable aluminum and stainless steel construction
Fits up to four 1-quart jars
Not USDA approved for use with low-acid foods
The instruction booklet lacks recipes
Presto 23-Quart Pressure Cooker and Cooker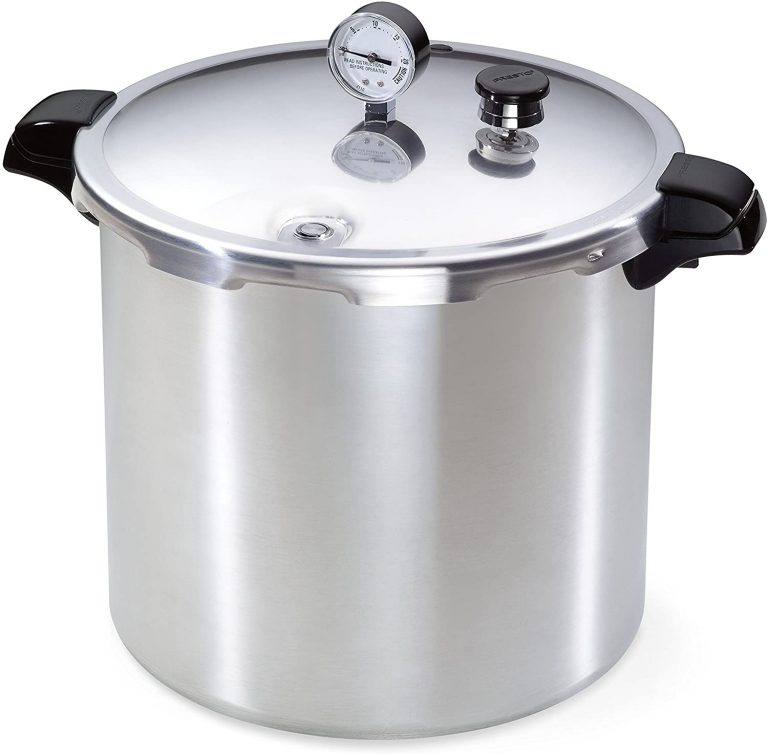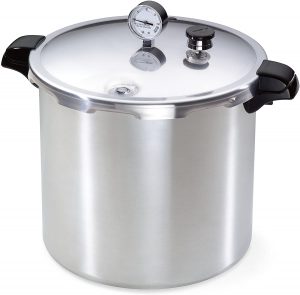 The Presto 01781 cans fruits, meats, vegetables, and seafood safely and quickly. It works with traditional gas ranges and smooth top stoves. Its aluminum construction is lightweight and durable, making it ideal for use on fragile glass or ceramic cooking surfaces. The Presto fits up to seven 1-quart jars per batch for rapid canning. The air vent and cover lock work in tandem to ensure that pressure only builds when the lid is secured correctly. Furthermore, the lid stays in place until all pressure is released, keeping users safe while working with pressurized processes.
Lightweight aluminum construction
Multiple safety features
USDA approved for canning meats, fish, and vegetables
Fits up to seven 1-quart jars
Not suitable for outdoor use
Can take extra time to bring water to boil
T-fal Pressure Cooker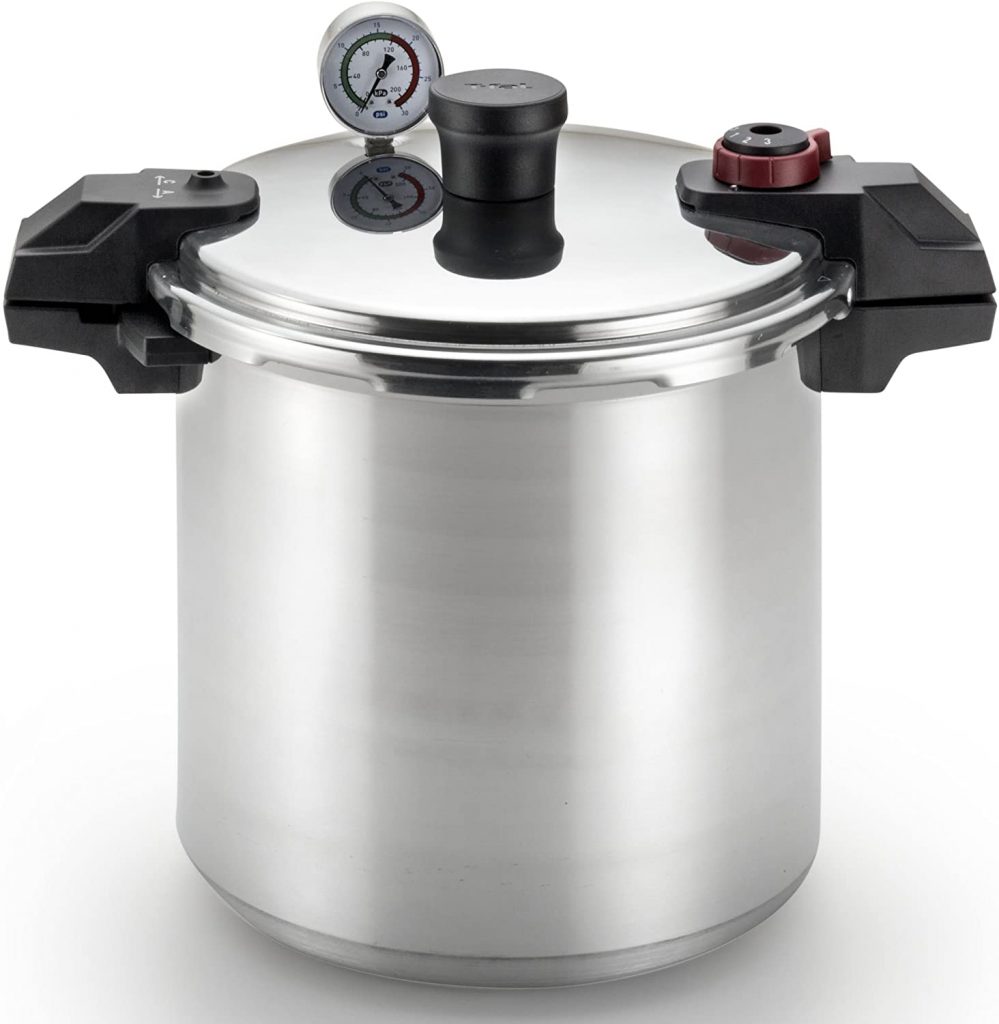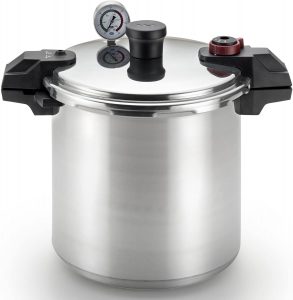 T-fal Pressure Cooker and Canner has a heavy-gauge aluminum construction that is surprisingly lightweight and heats quickly to make food preservation faster. It's also rustproof for years of quality performance. Select the pressure level, secure the lid, and get started canning safely with this unit's features, such as the reusable overpressure plug for rapid pressure release. The gasket-release window is also available for those times when canning doesn't go according to the recipe. The T-fal Cooker won't pressurize unless the lid is secure and won't open until all of the pressure is released.
This 22-quart vessel can be used with a water bath and pressure canning recipes, and it fits up to seven 1-quart jars to quickly handle canning a small vegetable harvest.
Easy to clean
Three pressure settings
Stovetop use approved for low-acid canning
Poor customer service
May not reach advertised pressure of 15psi
Zavor ZPot 10-Quart Pressure Cooker and Canner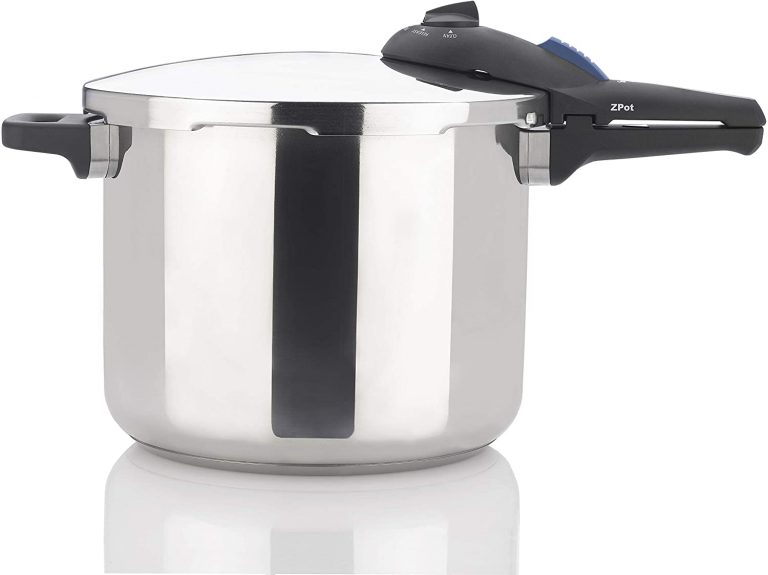 The Zavor ZPot 10 comes in three sizes for cooking and two for canning. The smallest size of 4.2-quarts is designed to cook small meals or side dishes for small families. Larger sizes can be used for cooking or pressure canning since they fit the required number of jars and reach and maintain pressure at 15psi for food preservation at a variety of elevations. When in the high-pressure mode, the ZPot cooks food up to 70% faster than traditional methods, making dinner easier to make than ever.
The stainless steel construction is durable and easy to maintain, and compatible with all types of range tops.
Stainless steel construction
Compatible with flat top ranges
Available in multiple sizes
Fits up to three 1-quart jars
May leak through the handle
Occasional valve dial problems
Pressure Canner Buying Guide
What to look for
Pressure canners provide a safe and effective way to preserve fresh food. There are many styles and sizes available, and each type has some pros and cons. Before you buy a pressure canner, here are a few things to think about:
Capacity. How often and how much you plan to can may impact your purchasing decision. Size is often directly related to the price for pressure canners, so it's usually best to buy the smallest unit that has all of the functionality you need.
USDA Approved. The safety of canning processes has been tested specifically with stovetop pressure canners. At this time, no electric pressure cookers or similar devices are approved for pressure canning low-acid foods such as meats or vegetables. If you plan to can recipes containing meats or vegetables, you may want to stick to stovetop designs.
Multi-functions. Electric pressure cookers may have many functions, including canning, sautéing, slow cooking, and sous vide. If you plan to do mostly water bath canning or pressure can fruit and other acidic recipes, you may not need the more expensive features.
Stove compatibility. Not all pressure canners can be used with all ranges. Some canners are too heavy or too large in diameter to use on a glass top range, while others might scratch a ceramic top. Other units may indicate that propane ranges or gas ranges with more than a set BTU aren't recommended. Be sure to check on the manufacturing instructions for stove use before buying.
Cost
Pressure canner pricing often depends on the type and size of the unit. For example, electric units tend to start at around $100, though prices can go higher for larger units. Commercial-grade electric units can cost $300 or more. For stovetop units, size and quality play a major role in pricing. Smaller, lighter options may run around $80, while larger 20-quart pots are almost $200, with some of the highest-rated options closer to $300.