The Best Lawn Aerators – Buyer's Guide
The Best Lawn Aerators to Buy Now
We reviewed over 38 lawn aerators to find the top 10 picks. Take a look at our reviews of the top lawn aerators and read our buyers' guide to learn about the features and costs to consider.
10 Top-Rated Lawn Aerators
Agri-Fab 48-Inch Tow Plug Aerator
Agri-Fab's 48-inch tow plug aerator loosens soil by pulling 3-inch plugs out of compacted yard dirt to let nutrients reach lawn roots in the form of air and water. With a weight tray that can hold 175 pounds of additional weight, this aerator has the capability to penetrate deep into the soil. Its 32 plug aerator knives are arrayed in three welded sections that rotate independently to achieve maximum aeration coverage, and the blades are self-sharpening to minimize maintenance requirements.
The 48-inch plug aerator is easy to transport, thanks to its flat-free tires that roll smoothly. It can be hooked up to any tractor, with the transport handle easily reachable to facilitate the raising and lowering of the aerator while in motion across the lawn.
Heavy-duty construction
Works well on steep grades
Good choice for large yards
Excellent penetration
Easy to clean
Assembly instructions aren't in the most optimal order
Handle can be difficult to reach from some tractors
Yard Butler Lawn Aerator
The Yard Butler is a handheld lawn aerator and dethatcher that allows water, air, and fertilizer to penetrate soil down to a lawn's roots while pruning roots for vigorous growth. Designed for long-lasting use, this 37-inch aerator is ideal for aerating small yards. As it removes 3.5-inch plugs, it reduces soil compaction and deposits microorganisms on the lawn's surface to help resist drought and heat.
This heavy-duty coring aerator is made of powder-coated steel for durability and comfort in the hand. The foot bar incorporated into the design allows for extra leverage without placing any strain on the back during aeration.
Ideal for small to medium lawn
Easy to use
Heavy-duty construction
Goes where a tractor-pulled aerator can't
Design prevents back pain
Middle bar can hit user's knee during aeration
Clogs easily with wet soil
Abco Tech Lawn Aerator Shoes
Abcosport's lawn aerator spike shoes make it easy to loosen up compacted soil so that air and water can bring nutrients to the roots of the lawn. These durable shoes use extremely sharp nails to penetrate the soil with minimal effort required. Gardeners can strap the shoes on over their own everyday footwear, using the tough metal buckles to hold them in place, and then aerate the soil while mowing the lawn.
The sturdy plastic design of these lawn aerator shoes provides good foot support, and the straps that hold the shoes on are adjustable for better comfort and fit on any foot. Each shoe features 13 anti-corrosive, 48mm metal spikes to dig deep into the soil, promoting water absorption and airflow with every step.
Easy to assemble
Easy to use
Ideal for use on a flat yard
Faster aeration than using an aerator fork
Provides a great workout as a bonus
Spikes have a tendency to bend with rough use
Straps are difficult to adjust
Best Choice Products 18-inch Rolling Lawn Aerator
The 18-inch rolling lawn aerator from Best Choice Products is a gardening tool that's effective and ultra-easy to use. Its solid steel spikes perforate soil to facilitate air exchange, as well as absorption of water and fertilizer, and they also help reduce puddling on the lawn.
The dual plastic wheels of this aerator roll easily over grass, and the long, 50-inch handle allows flexibility in reaching into small areas of grass while providing ease of use. The simple design of this aerator promises a long lifetime of use without complex assembly or maintenance required.
Cost-effective
Penetrates soil even when muddy
Good for small areas of lawn
Easy to assemble
Works well on soft soil
Could use more spikes
Requires some physical strength to use
Brinly PA-40BH Tow Behind Plug Aerator
The Brinly tow-behind plug aerator features 24 heat-treated steel plugging spoons that remove 3-inch soil plugs from the soil. The sharpened ends easily penetrate compacted soil, enabling aeration and opening a way for fertilizer and seed to be implanted. The strong tines are welded to three sections that rotate independently to facilitate even penetration on turns.  Each plugging spoon can be served or replaced independently if needed.
A universal, single-pin hitch makes it easy to attach this tow-behind aerator to lawn tractors and ATVs, with a single lever enabling transport mode. The aerator's 10-inch rubber tread tires roll smoothly across driveways and over roots to maintain forward momentum, and the enclosed weight tray holds up to 150 pounds to add pressure when aerating tightly compacted soil.
Ideal for large lawns
Sturdy design and construction
Smooth raising and lowering mechanism
Tows well
Works well in reverse
Requires advanced assembly
Tire bolts hit the spikes
CABASAA Lawn Aerator Shoes Heavy Duty Sandals with Spikes
The lawn aerator shoes from CABASAA use heavy-duty spikes to aerate a lawn while walking on it. Each sandal features 13 steel spikes to dig 2.2 inches into the soil, loosening dirt to allow water, air, and nutrients to circulate and reach roots. The sandals, which strap on over athletic shoes or work boots, feature dual adjustable straps with sturdy metal buckles. The straps are positioned to provide heel support while opening easily and making sure the sandals stay put.
These lawn aerator sandals are easy to assemble, and they fit all foot sizes, men and women alike. They're far less expensive than tow-behind aerators, and they require less physical strength and effort than handheld devices, making lawn aeration as easy as possible.
Easy to use during mowing or seeding
Sturdy construction
Works even on tough soil
Ideal for small areas of lawn
Sandals fit well over shoes
Straps can be difficult to adjust
Nails are too close together for some uses
Craftsman Tow Spike Aerator
The tow-behind spike aerator from Craftsman uses star-shaped spikes to penetrate 2.5 inches deep into the soil to open a way for air and water to reach the grass roots. At only 40 pounds, the aerator is lightweight compared to most other tow-behind aerators, making it easy to carry and maneuver. It comes with a weight tray that holds up to 90 pounds to add pressure and penetration during aeration.
This tow-behind aerator features a universal hitch that connects easily to all types of tractors or riding lawn mowers, and it adjusts to accommodate tractors of various heights. Its width of 36 inches lets gardeners cover large lawns quickly, and its 10-gauge steel frame is constructed for durability and extended use.
Easy to assemble
Affordable price
Well-made and durable
Ideal for large lawns
Pulls well behind riding mowers
Doesn't work in reverse
Instructions are hard to follow
EnvyGreen Lawn Aerator Shoes
These slip-on lawn aerator shoes from EnvyGreen are designed to facilitate the ability of oxygen and fertilizer to reach grass roots while improving water drainage. The boots' 2.1-inch spikes work well with sandy, loam, or clay soil, and they make it possible to provide full aeration to even the smallest or most hard-to-reach patches of lawn.
These spike aerators use a proprietary strap design to hold the gardening boots on securely, and they hold up to 220 pounds. No assembly is required, so gardeners can begin improving their soil immediately without hassle. One size fits all with these aerators, which come with a 100% money-back guarantee.
Back strap helps them work well with small feet
Spikes penetrate soil well
Straps keep shoes in place reliably
No assembly required
Fun way to aerate a lawn
Straps wear out quickly
Spikes get stuck in soil easily
Goplus Rolling Lawn Aerator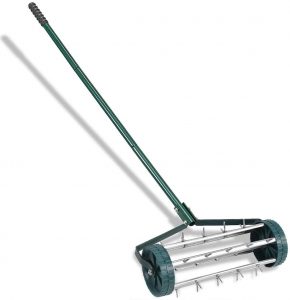 This manual rolling lawn aerator from Goplus breaks up compacted soil to allow oxygen and water to reach the roots of the lawn, softening the soil to permit expansion and free flow of nutrients. It also facilitates the deep watering of lawns and works well with sandy and clay soils.
This lightweight aerator is easy to use, and its 50-inch, three-piece handle provides the torque needed to dig into the soil without much effort on the gardener's part. Sharp metal spikes dig deep into the ground, while the plastic wheels allow smooth rolling across all surfaces. An ergonomic rubber grip makes this aerator comfortable to operate.
Easy to assemble
Cost-effective solution
Ideal for use on a small yard
Heavy-duty construction
Useful for seeding
Too lightweight to dig deep without added effort
Can damage sprinkler heads if user isn't careful
KedsHome Lawn Aerator Shoes
These sturdy lawn aerator shoes let gardeners aerate a lawn just by walking across it, breaking up compacted soil to increase absorption of air, water, and nutrients. They work well on any type of soil, including sand and clay, providing healthy aeration for a fraction of the cost of other types of aerators.
These KedsHome shoes feature 26 heavy-duty, 2.2-inch spikes to dig into tough soil, as well as four adjustable straps per shoe, each with a sturdy metal buckle to secure the shoe. The strong plastic base allows gardeners to feel confident as they press the spikes into soil, and the shoe is backed by a 100% money-back guarantee.
Cost-effective way to aerate lawn
Easy to assemble
Provides deep penetration
Ease of use
Great for smaller lawns
Straps come undone easily
Poor customer service
Lawn Aerator Buying Guide
What to look for
Choosing the right type of aerator depends on the size and type of your lawn, the soil in your area, the amount of time and effort you want to spend aerating your lawn, and your budget. Manual aerators cost far less than towable versions, but they require a lot more work on your part.
Key elements to consider when choosing an aerator are how deep the spikes dig into the soil (the deeper, the better), how difficult the unit is to assemble, and how much physical strength the type of aerator requires. Among the main varieties of aerators are:
Shoe spike aerators. These aerators require the least financial output, so you can try them out without a significant investment. They're a good choice for gardeners with small, flat lawns, but the elderly or those with unstable footing should probably avoid them, as it can be easy to fall off them. They're easy to use while mowing, but they provide the least aeration of all types.
Manual aerators. These handheld tools are ideal for aerating small areas, such as sections of lawn surrounded by footpaths or stairs. However, if you have a lawn of any size, you may find them less effective. Look for aerators that remove cores from the soil for the best effect.
Tow-behind aerators. These highly effective aerators are designed for use with lawn tractors or riding mowers and are a great choice for large lawns. Look for models that hitch to the tractor easily and that can be controlled while still seated. Many models feature weight trays that allow you to add up to 150 pounds to push the spikes further into the grass.
Cost
The cost of a lawn aerator depends on the type of device. Lawn aerator shoes, which run in the $20 to $35 range, are by far the least expensive choice, but they are also the least effective for all types of lawns. Handheld lawn aerators, such as the Yard Butler aerator and dethatcher, can be found in the $30 to $50 range, and manual rolling aerators tend to go for anywhere from $35 to $65. Tow-behind aerators, which are the best choice for very large lawns, can be priced anywhere from $80 to $230, depending on their size and construction quality.