10 Best Soil Test Kits Reviews – Essential Equipment To Examine Your Garden Soil
10 Best Soil Test Kits Reviews – Essential Equipment To Examine Your Garden Soil
Explore Our Categories
Ornamental Trees

Ornamental trees are some of the most noteworthy plants in any garden. Whether for their form or eye-catching leaves and...

Ornamental Plants

Although all plants are ornamental for most gardeners, some offer especially spectacular blooms, variegated leaves, or i...

Evergreen Trees

From glittering Christmas trees to pot-bound Norfolk pines, evergreens are everywhere. Since they remain green throughou...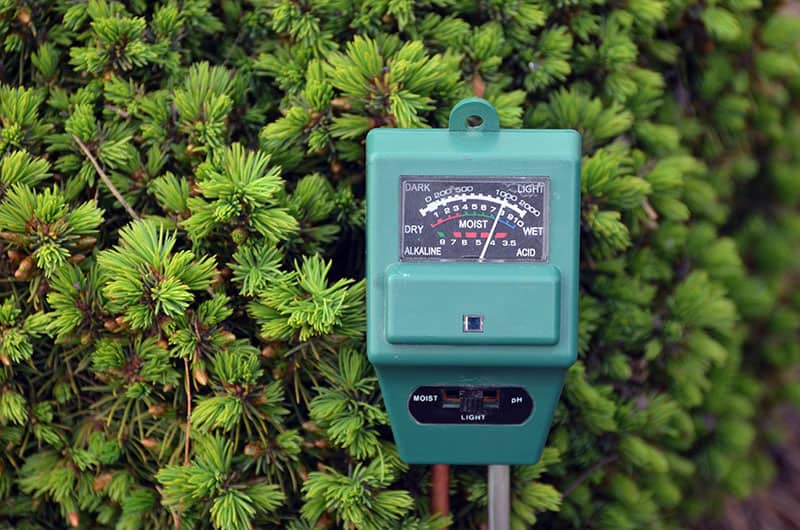 Taking care of a garden can be a suitable hobby but also a sense of pride. You want your plants to look their best. The process of producing your best garden starts with making sure you have the best soil possible for your soil. Finding the right soil test kit can help you product long-lasting, aesthetically pleasing plants and soil.
Soil test kits can help keep your garden or houseplants in their best shape, measuring a variety of nutrients, moisture, pH and even light. This review of 10 of the best soil test kits can help you narrow down your needs to find the perfect kit for your garden and plants.
Here are our recommended choices. You can also read the full review at the end of article.
Buying Guide
If you are interested in purchasing the best soil test kit for your garden, it is likely because you take great pride in your lawn and garden. So, you want to have the best looking, healthiest garden and houseplants possible. Investing in a soil test kit can help you do just that. You want to make sure that your plants are getting the necessary nutrients along with sufficient light and moisture.
There are a variety of different test kits on the market. Many measure a limited number of nutrients while others expand the nutrients measured. The right kit for you will depend on what exactly you want to measure and to what degree of accuracy. You also will need to determine some other factors before deciding on an appropriate soil test kit.
At-Home or Mail-in
Many of the products reviewed below allow for you to test your soil independently at home. However, there is also an option available to mail-in your soil so that you get a lab-grade assessment of your soil. There are both benefits and disadvantages to both options. And depending on your needs, you can assess which suits your garden more appropriately.
With an at-home kit, you are able to get results almost instantly. In fact, some kits do provide instant results while others take about 10 minutes to generate your measurements. The drawbacks are that you need to trust yourself to perform the function properly and to read the results accurately. You also have to be comfortable with getting measurements on certain elements or features of your soil while perhaps missing out on others. If you are an experienced gardener, you may have the confidence to perform your own testing. That may not be the case if you are new to gardening or just starting out and are unsure of how to test your soil.
With a mail-in product, you are guaranteed a lab-level professional result. This means that you just have to gather the soil yourself and mail it in. You don't have to worry about reading results or taking any measurements or readings on your own. You don't have to go through the process of performing any kind of test on your soil. The drawback to a mail-in test is that you obviously have to wait to receive the results. These results are typically available through email or online but still take at least one week to receive. If you want immediate results, a mail-in choice might not the right one for you.
Measurements
In this review, you'll find there are a number of different things to measure about soil. It isn't just about making sure your plants are watered sufficiently, but you want to ensure that your soil includes the right amount of necessary nutrients for plant growth. You also want to make sure your soil is of the proper pH level and is receiving the right amount of light and water.
Some products reviewed here measure up to 14 different nutrients in soil while others measure only water. And yet still, some measure a combination. You should determine what you are most concerned with measuring and ensure you find a test kit or probe that will provide those measurements reliably and accurately.
In addition, there can be variations in the measurements produced in results. Some kits will actually tell you how much of the measured substance is in your soil while others will simply tell you if the measurement is high or low or sufficient or deficient. You should decide if you want to know the exact measurement or if it suffices to just know the sufficiency of the nutrient or element in your soil. That can help drive your decision when choosing from this list of best soil test kits.
Recommendation on Fertilizer
Some products reviewed here will give you recommendations on the type of fertilizer you should use to enhance your garden. Others will simply give you your results and leave you to decide if you want to change anything about your current approach. If you are interested in getting recommendations on the type of fertilizer you should be using, you want to make sure you purchase a kit that will provide those recommendations.
Purchasing fertilizer might not be the best choice for you. Perhaps you are just looking to make sure your plants are watered properly or receiving the right amount of sunlight. If that is the case, you likely only need to test certain elements such as light and moisture and do not need to upgrade your fertilizer. If that is the case, you want to buy a kit that will measure only light and moisture and then based on results, you can independently change your approach.
Number of tests
Many soil test kits will provide a number of individual tests, usually a set number for each of the elements tested. You want to make sure that you purchase a soil test kit that provides enough tests for your needs. Many of the same kits even offer different sized options so that you can buy in bulk if you want.
And you may want to make sure that you can purchase replacements. For example, you may test one element more often than others, and you'll want to make sure you can purchase the tests individually to account for the disparity in testing. Not all of the products listed here will allow you to do so. This can mean that you ultimately have to replace the whole kit each time that you need to purchase one element's testing strips.
Top Products Review
Top Pick For Chemical Soil Test Kit
Luster Leaf 1601 Rapitest Kit
This kit is a capsule system that tests for soil pH, Phosphorus, Potash, and Nitrogen. It allows for 40 tests, 10 for each nutrient and pH. The color comparators are patented, and the kit includes very simple and easy to understand instructions. This might be a good option if you are new to gardening but are starting to build up a level of confidence.
And given the easy instructions included, a beginning gardener could likely perform this test very easily. Along with the instructions, you will find included a soil pH preference list for more than 450 plants.
To use this product, you simply take a sample of your soil and mix it with water. You then move part of that solution to the color comparator using the included eye dropper, add powder from the capsules, shake and watch the color change. You then just compare your color for your test results. It is all complete in a couple of minutes. In order to use this product successfully, you need to have the confidence to read the results yourself accurately. And you must only be interested in the concentration of the four nutrients for which it tests. It does not test moisture or light.
Pros
Can be easily used by beginners
Cons
Only tests for four nutrients/pH
Best Digital Soil Test Kit
Luster Leaf 1605 Digital Soil Testing Kit
This kit from Luster Leaf uses advanced LED digital technology to read test colors. The results come back very quickly in a matter for a few seconds. And they are easily retrieved as you need only push a test button. There is a total of 25 tests included in the kit. There are 10 for pH and 5 each for Phosphorus, Potash, and Nitrogen.
This kit includes pH preferences for more than 450 plants and includes instructions on how to adjust soil pH. The instructions with this kit are very easy to follow and understand, making this a possible choice for any new gardener with limited experience. It has a patent pending on its optical calibration system to read test colors, and it can read small color variations. This means being able to differentiate color variations that would evade the naked eye. Once you have the results from your samples, the included booklet directs you how to adjust your soil's pH and also makes recommendations on fertilizers that would suit your needs.
Some reviewers of this product state that it can be challenging to use. For example, some reviewers noted that the caps on the test bottles are small, won't stand independently, and have caps that are hard to remove. In addition, some reviewers claim the capsules are hard to pull apart without spilling the powder.
Pros
Differentiates colors invisible to the naked eye
Very fast results
Cons
Components can be hard to use (caps, bottles, and capsules)
Top Pick For Soil Test Kit – Pro Lab Testing
Soil Savvy Soil Test Kit
This kit from Soil Savvy is professional-grade and provides a very simple fertilizer recommendation based on the results of your particular soil. This product does require you to send in your soil. So, you fill your jar with soil and ship it in with the pre-paid postage envelope provided with the kit. The results are available in 7-10 days and can be accessed through your email or the web.
The report you receive includes the levels of 14 nutrients, as well as pH, in your soil. These nutrients include nitrate and ammonium, nitrogen, phosphorus, potassium, magnesium, calcium, sulfur, iron, sodium, zinc, manganese, copper, aluminum, and boron. Once you receive your report, you can find a fertilizer that matches the recommendations given to you. It makes purchasing a fertilizer a bit easier and more straightforward.
This product is also reviewed as having good customer service which is a benefit if you have questions or concerns related to your test kit. This can be a great option for those who are beginning their journey in gardening. Not only do you not have to test your own soil or read the results, but you also have customer service available to you for questions.
Pros
Professional grade
Tests for 14 nutrients and pH
Cons
Must mail in the sample
Need to wait 7-10 days for results
Top Pick For combo of soil moisture and pH meter
Gain Express Soil pH & Moisture Meter 295mm Long Electrode
This probe measures two things in your soil, pH and, moisture. It does not measure light or nutrients. Given the length of the meter, 295mm, it is possible to measure deeper into the soil all the way past the root zone.
This product is self-powered and does not require batteries. It is waterproof and measures pH from 3 -8. It measures soil moisture levels from 1 – 8. The accuracy of this product is +/- 0.2. The set comes with 1 soil pH and moisture meter and an English instruction manual.
This probe is sturdy so it is likely to last for some time, meaning that this might be a good investment if you plan on keeping up with your garden for some time to come and are only interested in measuring pH level and moisture. The instructions are reviewed as being very easy to read and understand, and the pH results are reviewed as being similar to those produced from a soil testing kit but without the mess.
Pros
Probe can measure deeper soil
Self-powered and waterproof
Cons
Only measures moisture and pH
Other Good Soil Test Kits
Environmental Concepts 1662 Professional Soil Test Kit with 40 Tests
This product contains a total of 40 tests, 10 each for pH, Nitrogen, Phosphorus, and Potash. There are a number of other accessories included as well including a durable case, easy-to-follow instructions, tips and tricks for gardening and changing soil conditions, and a pH preference list for hundreds of different plants. This product is reviewed as being very easy to use which might make this a good option for a new gardener.
This Environmental Concepts product provides detailed guidelines for using the best plants for your particular soil environment, so you can individualize your planting. Some reviewers have commented on the ease of using this kit, so if you are new to gardening or soil testing, this might be a good option for you. The results are noted as being very easy to read, though they are generalized and come back as "high", "medium" and "low" for each chemical.
Other reviewers commented that they could only complete the pH test and not the others, most specifically the Nitrogen test, stating that tests other than the pH did not produce reliable results. It also seems that it may be challenging to find replacement chemicals for this set.
Pros
Very clear instructions
Easy to read results
Cons
Potentially unreliable testing for non-pH test
Difficult to find replacement chemicals
Rapitest Premium Soil Test Kit (80 Test Kit 1663)
This kit provides materials for a total of 80 tests and measures for soil pH, Nitrogen, phosphorus, and Potash levels in the soil. The 80 total tests account for 20 each for all four measures. You can expect a result that states either deficient or sufficient for each nutrient. You do not receive an actual measure of the concentration. The 80 tests may last you quite some time, so this option might be a good investment if you plan on testing frequently or over the course of a lengthier time.
This product comes with a plastic carrying case for ease of transport and includes instructions for use and recommendations to transform soil based on the results produced by the test. If you are new to gardening, you may want to follow the recommendations in the event you are unsure of how to transform your soil independently.
This soil test kit produces reliable results, but some users have remarked that reagents cannot be purchased. This means that you ultimately may have to continue to re-purchase the entire product over again if you use the tests for one nutrient more often than others. This can be a drawback if you aren't interested in purchasing the same product multiple times.
Pros
Very easy to read instructions
Yoyomax Soil Test Kit
This product can be used straight out of the box and measures three different conditions. The 3 in 1 design measures pH, light, and moisture. It does not measure any nutrients.
This provides you with a different picture of the state of your lawn when compared to products that measure nutrients in your soil. You will know if the pH is off for your plants as well as if they are getting enough moisture and light. You will not know the level of nutrients in your soil so you will not be able to make any adjustments based on nutrients and you will not receive a recommendation on appropriate fertilizer.
This kit is portable, so it isn't just for using on your soil. It can also be used on houseplants as well. It also means that it can be used in classrooms or you can lend it out if friends or families need to use it.
To use this product, you simply switch it to pH/light/moisture as needed and put the probe into the soil. You then adjust the probe and check the pH/light/moisture after ten minutes. Then remove the probe and wipe it clean. The Yoyomax Soil Test Kit comes with a 100% satisfaction guarantee. There is a 12 months warrant in addition to a 30 days money back guarantee available with the purchase of this product.
Pros
3 in 1 design to measure pH, light, and moisture
Cons
Does not measure any nutrients
KKmall 3-in-1 Soil Meter with Moisture Light and pH Test Function
This soil meter measures moisture, light and pH levels in your soil and can be used both indoors and outdoors. It does not measure the level of nutrients in your soil. It is self-powered and does not require batteries, so you really do not need to invest in any accessories to use this probe. Likewise, you can easily use this product right out of the box with very little setup or learning.
To use this product, you simply switch it to the feature you want to measure. Then, you stick the probe into the soil about 2-4 inches deep and adjust the position of the probe. Leave it for 10 minutes and simply read the results. Remove the probe and clean after each use.
The measurements are quite sensitive to this product and give accurate results. The pH range this product will measure is 3.5 – 8 and the moisture range is 1-10. The light range it will measure is 0-2000 lux. This product does not come with any accessories and as such only includes the soil meter.
This is a great option if you are only concerned with moisture, light, and pH in your plants. If you are interested in the concentration of other nutrients or have other concerned related to your garden or houseplants, this may not be the best option for you.
Pros
Wide measuring range for pH, moisture and light
Sonkir Upgraded Moisture Tester
This kit provides a 3-in-1 function to measure soil moisture, sunlight level, and pH value. It does not measure any nutrients in the soil. This product is an upgraded model that took the manufacturer two years to research and create. The probes have been improved, and the detection technology has been upgraded to produce quicker and more accurate readings. It is reviewed as being very accurate and easy to use.
You will see readings on an enlarged screen which provides an easy-to-read display. The improved probes are more sensitive which means higher sensitivity to changes in soil and the upgraded light-sensing receiver is more sensitive to light, all to produce more accurate results. And given the ease of use and instructions, those results are also easy to decipher.
Users of this product remark on its ease of use and many states that the results are delivered almost instantly, rather than the 10 minutes advertised. This is very quick to use so if you are looking for almost immediate results, this might be the right product for you.
This tester is easy to move and is lightweight so you can use it around for both indoor and outdoor use. Use it outside in your garden or indoors with your houseplants. This product comes with a 12-Month Hassle Free Money Back or Free New Replacement guarantee. So, if you have any concerns, you should be able to have the product replaced or receive your investment back.
Pros
Results almost instantly
Easy-to-read display
Highly sensitive readings
Money Back/ Free Replacement Guarantee
Cons
Does not measure any nutrients in the soil
Dr.meter S10 Soil Moisture Sensor Meter Hygrometer
This sensor measures moisture in plants both indoors and outdoors. This sensor will prevent you from underwatering or overwatering your plants, and it requires no batteries or electricity. This product does not measure any other nutrients which can be a drawback if you are concerned with other conditions of your soil. However, this could be the right option for you if you are only worried about the moisture level of your plants or garden. This product does not measure access to light either.
The easy-to-read instructions are printed on the back of the pamphlet included with the sensor. The moisture range with this product is 1-10.
There is a 30-day money back guarantee that comes with this product as well as customer service that responds within 24 hours of your request. There is also an 18-month replacement guarantee and lifetime support guarantee. This is a strong positive for this product, particularly if you are new to gardening and may have questions that can be addressed by customer service.
Pros
30-day money back guarantee
Customer service with 24 hour response time
Easy-to-read instructions
Conclusion
We find the Soil Savvy Soil Test Kit to be the most reliable option of those outlined here. While this list includes some of the best soil test kits, either chemical, digital or hybrid currently available, the Soil Savvy kit provides a professional-grade assessment of soil that requires very little work on the part of the soil collector.
While it does take some time to receive the results, approximately 7-10 days, the results measure a total of 14 different nutrients along with pH. It also removes any user error as you only have to gather the soil and mail it in rather than reading any results or measurements independently. If you are interested in ensuring you have the very best soil available for your plants and garden, this is likely the best choice for you.