The Best Grow Tents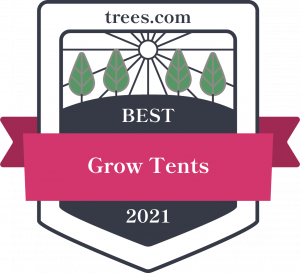 The Best Grow Tents to Buy Now
We reviewed over 50 grow tents to find the top 8 picks. Take a look at our reviews of the top grow tents and read our buyers' guide to learn about the features and costs to consider.
8 Top-Rated Grow Tents

Grow Tents Buying Guide
What to look for
When choosing the best grow tent for your needs, a few standout features are important to consider.
Light blocking. First and foremost, a good grow tent has at least a 90% light blocking capability. Not having a high light block rating can cause inefficient plant growth and wasteful power consumption.
Heavy-duty construction. This is important for both the tent's material and the supporting frame. Since most users are hanging heat lamps and fans, it's critical to get a tent that can support at least 100 pounds of weight.
Adequate ventilation ports. This feature is especially necessary if growing plants that may produce an odor.
Zipper construction. Since the zipper components will be used frequently to enter and exit the tent, a sturdy design with multiple stitch points helps to promote long-term tent reliability.
Cost
Most smaller indoor grow tents should range between $79.99 and $299.99, depending on the brand, tent construction, and total footprint or size. Some smaller tents may cost more than larger tents, especially if the smaller tent uses better materials, such as 600D Oxford cloth tent construction or steel supporting poles. Some tents also contain two or more grow rooms, which can affect the cost. There's also a potential price increase for weight capacity — cheaper tents may not be able to hold as much hanging weight for items like heat lamps or fans.