The Best Grow Tents of 2023
The Best Grow Tents of 2023
Explore Our Categories
Kiwi Plants

Kiwi plants offer a delicious fruit that tastes of summer and warm tropical breezes. The two types of vines — kiwi and h...

Flowers

Almost all plants have flowers, but there are select ones we grow for glorious blooms. To brighten up your home and land...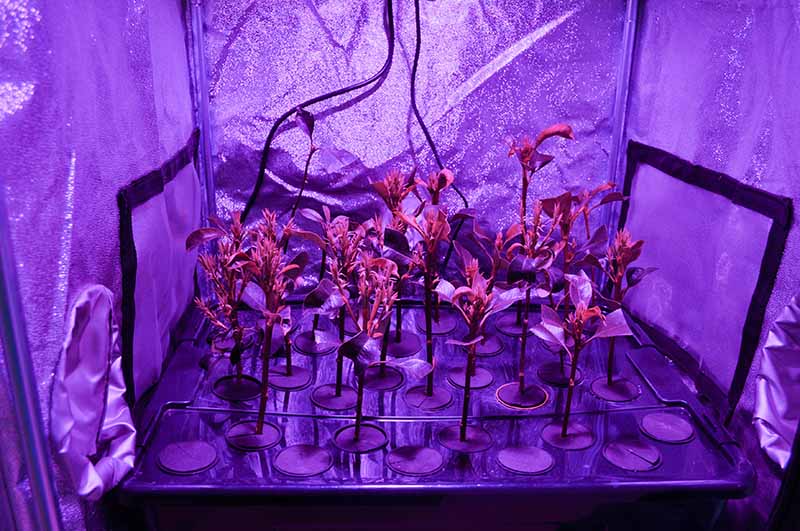 If you don't have a permanent structure for your garden or you want total control of your indoor growing environment, getting a grow tent is the best idea. It is very easy to set up and provide a safe and secure way for growing plants.
But when you're in the market for professional or budget grow tents, you'll soon find that there are lots of choices out there. It's such a painful feeling when having to look for the suitable tent you want among so many chaffs.
That's why we put together this list of the best grow tents for indoor growing on the market.
Critical Grow Tent Considerations
Although you should put quite a bit of thought into purchasing a grow tent, it's not a challenging process as we have laid out the most important criteria below.
Price
In all cases, you don't have to spend a great fortune to own a great grow tent. That's the reason why in this list, 'll provide various options with different prices based on sizes and needs.
Size
Aside from your budget, this is one huge focal point. If your grow tent is too small, it just won't work. Pay special attention to the height of the tent. Remember that you may need to hang lights above your plants at specific distances.
Also, consider what plants you are going to grow later and do you any intention to extend your growing spaces. If yes, you should get a larger size tent that you can comfortably use now.
Brands
Believe it or not, lots of growers as well as any other consumers will choose the products just based on the brands in their industry. The top and well-known brands are trusted, and often their quality has been proven by the buyers/users before you. So on our list, we also choose the top-end brands with the highest quality. We also give you budget options from other less common manufacturers as well.
Design
That's the tent that you're going to use for several grows. So the design can be a part of your criteria in choosing. A great grow tent must not only be simple, but it also can accommodate adequate spaces, doors, an air ventilation holes/systems to create an ideal growing environment for your plants.
Canvas durability and solid construction
The thickness of the canvas is a significant indication of its durability. Thinner fabric tends to rip easily, while thicker variations tend to be stronger. I'm sure you don't want you tent to get torn and damaged in the middle of your growing season. The thickness of the canvas may also help to indicate how warm your tent will be.
The reflectiveness of the material
Lighting is one of the most crucial aspects of an indoor garden. So, the more reflective the tent material is, the better it will be to enhance lighting. The reflectiveness of the materials used to make the tent will vary by brand. But, be on the lookout for thicker canvas.
Ventilation
Even though your plants are in a controlled environment, proper ventilation of the space is encouraged. Not only will this help your plants to get the gases they need, but it will also help to aerate the area and even cool down space if it gets too hot.
Cord ports and ducting ports
It is highly unlikely that all the equipment used in your tent will be operated by battery. As such, you'll need to run wires to the tent for electricity. Make sure that your tent will have enough cord ports to run these wires if you'll be requiring a lot of them. Also, there must be at least some ventilation ports and exhaust ports to vent the hot airs from the tents.
Frame strength
When you build a high building, the higher it is, the stronger its base and frame need to be. For a grow tent, the frame and poles make the base and the body construction of your tent to withstand its weight.
With that said, the poles and frame must be made of materials strong enough to hold the tents and other equipment inside. In all cases, steel is preferred, then metal, and lastly plastic.
Heavy-duty zippers
Some grow tents use heavy-duty zippers; some are not. Good zippers like the heavy-duty ones stand the test of time and prevent light from leaking out of the tent. So make sure you choose a durable one because zippers are the thing that you use on a daily basis. It's also the one that can wear off fast, hence making some holes on your grow tents.
Height adjustability
The ability to flexibly change the height could be one handy feature to add to your grow tents. It means that the tent can raise their height 1′ to 2′ by adding a height extension kit to its vertical poles.
You'll find this very useful when your plants may grow higher than expected.
Other helpful features
There are many other features that you can get in a grow tent. Some include viewing windows, a flood tray, tool pockets and even a net trellis. If you find a tent with these features at a reasonable price, it may be worth considering.
Top Grow Tent Reviews
Best Grow Tents By Sizes
If you are in a hurry, here are our recommended grow tents based on size. I list two options per size here.
Best overall for growers who would prefer a grow tent that is high-quality and long-lasting to a mediocre budget one.
Best bang for the buck for growers who put cost-effectiveness on top of their buying criteria but still have an acceptable quality product.
Detailed Grow Tent Reviews
1. Gorilla Grow Tent LTGGT22 Tent, 4′ x 4′ x 6'7″
Features & Specs
Size 4′ x 4′ x 6'11"
Stell interlocking poles and corners
Holds up to 500lbs
Diamond Mylar reflective material
Thick 1680D canvas
Heavy-duty zippers
Height adjustable
Multiple ports
Removable flood trays
Any seasoned indoor growers will know that Gorilla Grow Tents are the top-end brands on the market.
They just came into the grow tent market since 2011, but from then on they have become the top choices. These are primarily because of the high-quality grow tents they manufacture.
They are known for their high quality grow tents with a great build, durable zippers, height extensions, lots of oversized ports.
They use a thick 1680D canvas, much higher than other competitors. Also, Gorilla grow tents are known to be able to hang heavy stuff, probably up to 500lb – the highest standard on the grow tent market. Their adjustable poles make them more attractive to buyers.
But these all make their price super high.
Even though these tents are not cheap (they are often 2 – 3 times more costly than other products), they are favored by many senior indoor growers. These people put quality as their top priority when choosing a tent that will last several years above everything else.
After all, you get what you pay for.
The Gorilla 4′ x 4′ x 6'11" grow tent is the medium-size product that enables you to grow a variety of plants for many years.
Gorilla has other size options based on your needs as well.
---
2. Apollo Horticulture 48" x48" x80"
Features & Specs
Size 4′ x4′ x6'8″
Steel interlocking poles and frames
Double-stitching canvas and zippers
400D fabric density
Removable flood tray
Apollo is a reputed brand in the Hydroponic market. The manufacturer has a massive base of Hydroponic loyal customers. In fact, many of their grow tents are the best seller products and have vast positive reviews and feedback from users on the grow tent market as well.
They gain such popularity, mostly, because their price is sweet, probably a deal sealer when compared with the Gorilla.
But this is not to mention lots of the incredibly useful features. Their structure and interlocking frame are made of metal. There are heavy-duty zippers that have been carefully double-stitching to ensure light cannot enter. Inside canvas is tear-proof reflective Mylar lining. The Mylar floor tray can be removable at once.
The 48"x48"x80" hydroponic grow tents are their most popular tent sizes sold online. They are not too large, and not too small, which can be suited to various hydroponic growing.
Overall, these are the best for value grow tents that meet all indoor growers' needs immediately. But it's not for heavy duty or long-term use like the Gorilla.
---
3. iPower 60″x60″x80″ Hydroponic Grow Tent
Features & Specs
Size 5′ x 5′ x 6'8″
Heavy-duty frame and interlocking poles holding at least 110lbs
95% reflective mylar lining
Removable floor tray
Another sweet price product for budget growers as well. And iPower products tend to be cheaper than most of grow tents on the market. Just like Apollo buyers, there are lots of other buyers who value price more than a very expensive grow tent. Above all, as long as you have a durable tent that owns all necessary features, the satisfaction has been met.
Others also would prefer the iPower's design more than other budget brands. All these reasons make iPower still one of the most popular grow tents sold online as well.
There are some downsides such as decreased zipper quality and small light leaks around the zipper after some time. But if you're not too strict on your growing environment, these are not a big problem to be concerned.
iPower offers a wide range of sizes for their grow tents. Among them, their iPower 60″x60″x80″ product is highly prevalent. They boast their heavy duty zippers, tear-proof canvas, a sturdy frame (which can handle at least 110 lbs), etc.
Overall, another good-for-value grow tent to add to your shopping list.
---
4. Quictent SGS Approved Eco-friendly 24″ x24″ x48″
Features & Specs
Size 2′ x 2′ x 4′
Made of 0.8mm net poles
Oxford cloth fabric
600D canvas
Removable flood tray
If you are short on money and think that you cannot have an indoor grow tent in your tight living space, think again.
This Quicent tent is a compact one with just 2′ x 2′ x 4″ in dimension and 11lbs in weight.
Even though it is not solidly built like other premium grow tents, there are some great features to contemplate, including a reflective Silver PET Mylar lining, 600D Oxford Canvas, 0.8mm-thick metal frame, a heavy-duty metal zipper. And best of all a 2-year warranty does make buyers feel satisfied.
Who is this tent for?
The 2′ x 2′ x 4″ grow tent is perfect for tight-on-budget and space-limited indoor growers. It can fit virtually any small places.
But growers should consider that with this size and height they can only grow limited small plants. If they want to grow more or save for future use, it's better to upgrade to a larger-size tent. There are other product ranges to choose from Quicken
---
5. Amagabeli Hydroponic Grow Tent (4'x2′)
Features & Specs
4′ x 2′ x 5′ size grow tent
600D Nylon woven fabric, with steel tube frame
Light-proof mylar coated interiors
Large observation window
Five circular vent holes, double sleeved
Tool-free installation
Comes with adjustable rope hangers and removable tray
This is a standard grow tent that measures four feet by two feet. It is compact enough for most apartments and rooms.
It is made from 600D nylon fabric, which is a very popular material in this category. The tent is light proof, thanks to the thick fabric, light-proof zippers, and cloth lining on all openings
There is a convenient observation window on the Amagabeli tent. It is very large, allowing you a full view of the grow system inside.
The window can be opened and closed at will, using a flap of thick fabric secured using heavy duty zippers.
The interior is lined with reflective mylar linings, which maximizes the amount of light inside the tent and reduces the chance of leakage.
The design has vent holes large enough to house a full-fledged venting system. You will find five separate vent holes in this grow tent, ranging in size from 4 inches to 8 inches.
On the whole, the Amagabeli tent looks and feels very durable. It is easy to install and maintain, according to most users.
One of the highlights of this system is the superior light-proof ability it offers, along with a compact size.
This product from Amagabeli, on the whole, is a good affordable indoor tent for your buy list.
---
6. VIVOSUN Hydroponic Grow Tent/tent, (2'x4)
Features & Specs
4′ x 2′ x 5′ size grow tent
Uses 600D Nylon canvas, with a metal tube frame
Heavy-duty metal zippers
Easy access door with a small observation window
Multiple circular vents, measuring 8, 6 and 4 inches in size
Ventilation fan opening has a dual layer with a sealing mechanism
Comes with removable tray and carbon filter belts
Quick tool-less installation
Vivosun is also a favorite manufacturer in the hydroponic market. The sellers are from China, hence making their product prices reasonably affordable.
Their tent has a black exterior, with subtle green lines. Like other tents on this list, this one also uses 600D nylon fabric.
The fabric interiors are coated with light reflective mylar. This material ensures that at least 98% of the light emitted by the grow lamps stay inside the tent.
The canvas is thick enough and has secure double stitching. The frame of the tent is also rather well put together, using metal poles.
Heavy-duty metal zippers are another stand out feature on this grow tent as well. They keep the door flap securely fastened to the rest of the tent.
That door is easy to access and has a small window for those instances when you need a quick peek. The window has a transparent plastic panel, with a flap of the nylon fabric on top for optimum light proofing.
The tent is easy to install as it requires no tools. User feedback online also confirms this.
There are at least seven different vent holes on this tent, all of which are circular. So if you want to install some species of the ventilation system, you should have no problems with this Vivosun grow tent.
Barring a minor issue regarding small pinpricks of light escaping, the user feedback about this tent has mainly been positive. It is compact, well built, and ideal for growing all sorts of plants indoors.
---
7. CoolGrows Small Indoor Hydroponics Grow Tent (24″ x 24″ x 48″)
Features & Specs
Size 2′ x 2′ x 4′, other larger sizes are available
600D nylon fabric exterior, with a metal tube frame
Reflective interior lining made from mylar
Easy-to-open door, with a green-tinted observation window
Uses heavy duty zippers
Comes with six circular vents in different sizes
Tool-free installation
Comes with water resistant spill tray (removable)
CoolGrows grow tents are available in five different sizes. The one highlighted here is the smallest version, the 2 x 4 one.
Regarding overall design and construction, the CoolGrows tent is comparable to the best in the business.
It has the same 600D nylon fabric construction, supported by tubular metal frames. Interiors get the usual reflective mylar coating, along with a removable mylar tray that is spill-proof.
The exterior is plain black and looks very discreet and subtle. The secure construction prevents light from escaping.
It also ticks almost all other tents, with dual ventilation socks and heavy duty zippers among the feature list.
Another stand out feature is the observation window with green transparent plastic. The green shade gives you a better view when your hydroponic LED system is going through the purple (dark) cycle.
There are multiple vents and ducts, with the smaller 2″ holes for cords, and the larger 6″ ones for your ventilation system.
CoolGrows gets a lot of praise for the wide range of size options they provide for this grow tent. According to most users, this is a value for money product with easy installation, ideal for different hydroponic systems.
---
8. Oshion Large Mylar Hydroponic Grow Tent (48″ x 48″ 78″)
Features & Specs
Size 4′ x 4′ x 6'5″, other sizes also available
600D Nylon fabric, with a metal tube frame
Interior coated with reflective mylar
Uses heavy duty zipper closures with privacy flaps
Comes with removable mylar tray, hanging bar, filter straps
Comes with two cable socks and three passive intake vents, with mesh bug screen
Easy installation, tool-free
Like CoolGrow, Oshion also provides their customers with multiple size options when it comes to indoor hydroponic grow tents. There are four different models to choose from, and the largest variant I tested measured 4 x 6.5 feet.
Despite its massive dimensions, this tent doesn't let out any light once entirely covered up. The exterior is all black, and you could easily mistake this tent for a wardrobe closet.
It uses 600D fabric, with metal tubes held together using tool-free connectors. The grow tent is tear proof and looks reasonably sturdy when assembled.
The fabric walls are secured using sizeable heavy duty zippers. Privacy flaps over the zippers keep light inside.
The interior has mylar coating and has hanging bars and filter straps. There are vents aplenty in this tent, for everything from fans to ducts and cords.
You also get a spill-proof mylar tray along with this tent. Users found the system easy to clean. It is also very versatile, according to online reviews.
---
9. TopoLite Full Range Indoor Grow Tent
Features & Specs
13 sizes to choose, from 16″ x 16″ x 48″ to 120″ x 120″ x 80″
Available with and without metal corners/windows
Multiple vents for fan, exhaust, and cords
Heavy-duty 600D nylon fabric, with a metal tube frame
Interiors coated with a reflective mylar layer
Heavy-duty zippers and double stitches
Tool-free installation
Removable tray (water-proof), and filter straps provided
Regarding essential features, TopoLite is almost identical to other grow tents in this list. It has 600D thick fabric with double stitching, draped across a frame made from durable metal tubes.
The frame is connected using tool-free connectors, and the interior of the tent is coated with reflective mylar. There are zippers, vents galore, and removable tray as well.
So what makes the TopoLite tent stand out from the rest? It has to be the sheer range of size options available.
At first glance, there are at least 13 different tent sizes, ranging from tiny 16″ x 16″ 48″ tents to behemoths that stand 120″ x 120″ 80″. And at all these sizes, you also get to choose whether you need an observation window.
User experiences regarding TopoLite grow tents seem to be overwhelmingly positive. The build quality is excellent, and the tents hold up well to extended use.
---
Wrapping it up
Thanks for reading the grow tent buying guide. I hope this list has given you some useful information to choose the best products that fit your needs.
To sum it up, before choosing a grow tents, you need to factor the sizes, features, the budget you're willing to pay beforehand.
There are some top-of-the-line tents like Gorilla and Secret Jardin tents that stand against of the rest regarding price and quality
Jardin Secret tents have become less popular these days, so I ignored it from the list. If you can spend, I would recommend the Gorilla tents. You have to pay for quality these days
There are many other best-valued tents for budget growers, including the Apollo, iPower, Vivosun, etc. These will still make you enjoy your growing experiences but save some money as well.
Whatever you choose, I believe the indoor grow tent will make life as an indoor gardener become much easier and more enjoyable.
Happy growing!