Top 7 Fertilizer Spreaders for Your Lawn and Garden in 2023 – Buying Guide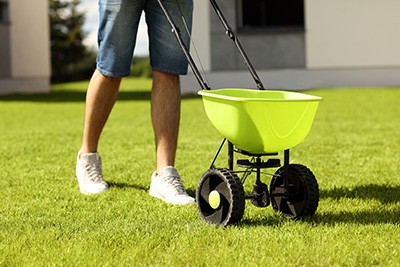 The main benefit of lawn spreaders is that they ensure an even application of granulated lawn products, which is essential if you want a perfectly healthy and flourishing lawn.
Without the help of a spreader, lawn seed is commonly laid in a haphazard manner, which can result in a patchy lawn with some areas being dense where others have a definite lack of lawn growth. Uneven fertilizer spreading can also cause problems, particularly if it is spread too heavily, where it will cause burning of your lawn.
There are many types of spreader available, including manual, handheld, push-along and tow-behind options. I have reviewed a selection of the top-rated spreading products to help you decide which are the best fertilizer spreaders for your lawn and garden.
Product Details
Best Value; Best Push-along Spreader
Scotts Turf
Builder Pro EdgeGuard Deluxe Broadcast Spreader
The very popular broadcast spreader from Scotts Turf. Able to fertilize 18,000 sq. ft. Great build quality and deliver accurate coverage for medium to large sized lawns.
Best Tow-Behind Spreader
Agri-Fab
45-0463 Tow Behind Broadcast Spreader
The best tow-behind broadcast spreader with a capacity of 25,000 sq. ft. of material. Great for the large yards using a tractor. Sturdy built and work perfectly great for many years. 3-year limited warranty.
Good Choice For Large Lawn
Titan
Professional Broadcast Spreader
Push-along spreader with an adjustable handle, good quality gearbox, and axle. Can contain 50 lbs of materials; so do not worry about refills during fertilizing.
Good Choice For Small Lawn
Scotts Turf
Builder EdgeGuard Mini Broadcast Spreader
Smaller version of the Scott Broadcast Spreader Builder Pro with fewer features. Able to handle 5,000 sq. ft. of material.
Best Hand-Held Spreader
Scotts Wizz
Hand-Held Spreader
Cheap, lightweight battery-powered hand-held spreaders with ergonomically design. Contains enough material to fertilize 2,500 sq. ft.
Buying Guide
Looking for a fertilizer spreader for your piece of land? Here's what you should know.
Advantages of Fertilizer Spreaders
Avoid Fertilizer Burn
Anyone who has tried to manually disperse fertilizer across their lawn by simply scattering or throwing it will know that the distribution is far from even, and can result in patchy looking grass and even fertilizer burn. Spreaders eliminate this issue by evenly distributing any granular lawn products.
Increase Accuracy
Another big advantage spreaders provide is efficiency. Why would anyone choose to manually fertilize or seed their lawn in an inaccurate way when a spreader can complete the job to a much better standard in a fraction of the time?
Save Time
Lawn spreaders, whether you opt for a handheld, push-along, or tow-behind product will significantly cut down the time you spend laying the product on your lawn. They are easy to use, effective at even spreading, and will give you the best results for your lawn and garden.
Types of Lawn Spreader
There are three main categories that lawn spreaders fall into. These are handheld spreaders, push-along spreaders and tow-behind spreaders. All have various pros and cons depending on what you are looking for in your spreader.
Handheld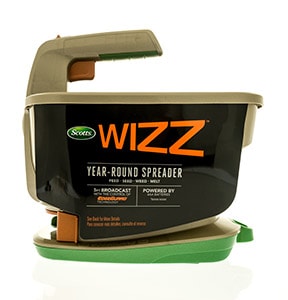 These are best suited to smaller yards where buying a larger piece of equipment would be simply unnecessary. They come in entirely manual or battery-powered varieties and are ideal for anyone with a lack of storage or a smaller budget.
Push-Along
These are aimed at those with moderate to large lawns or pieces of land and come with various sized hoppers to accommodate the users differing levels of product needed. They are easy to operate, requiring little effort to seed or fertilizer a lawn in a short space of time. Finding a quality push-along is key because many poorly made models will not last longer than a season.
Tow-Behind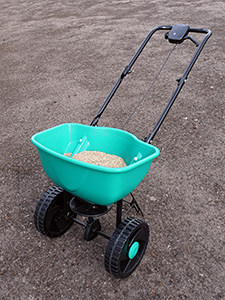 Do You Need a Fertilizer Spreader?
If you are currently fertilizing your lawn by hand, then using a spreader would likely be a much more preferable option. Handheld spreaders can be picked up very inexpensively, and they pay for themselves in what you will save on fertilizer by having it spread in a more effective fashion. Hand spreading can result in product wastage if it is applied too thickly, as well as causing damage to your lawn.
Fertilizer spreaders are essential for crop growth. "Research indicates that when one area of the field is over-fertilized, and another is under fertilized, the total yield typically will be less than if the correct amount of fertilizer were spread evenly over the entire field" (University of Maryland).
What to Look For in a Lawn Spreader
What you need in a spreader will depend mostly on your lawn, as well as your own personal preferences for how you like to work in your yard.
Size of Lawn
Small lawns are best suited to handheld spreaders or mini push-along spreaders. Handheld spreaders are favored by many users because they are so simple to use and take no time at all to prepare. There's no assembly required and very little storage space needed. They are usually also the most budget-friendly choice of spreader.
Battery-Powered?
Battery-powered spreaders may be a better option for anyone who enjoys a more automated style of tool. The manually operated spreaders will appeal to users who prefer to have more personal input.
Weight and Balance
Look for lightweight and ergonomically designed hand-held spreaders. which will be comfortable to carry and not induce any stress on your shoulders or back. Balance is also important to ensure that the spreader does not tip once the heavy product is loaded into it.
Capacity
Medium to large sized lawns may also appreciate hand-held spreaders, though it will obviously take slightly longer to complete the spreading, and may require several top-ups of product because a handheld spreader can only comfortably carry so much. Some users with larger gardens prefer a push-along spreader, where a large hopper with no need to refill is a benefit.
Durability
If you like the sound of a push-along spreader, look for a solidly built model that will not buckle under pressure or fall apart after a few uses. A lightweight option will also make spreading more enjoyable, but the weight should not be prioritized over quality or sturdiness.
Tow-Behinds
For anyone with an acre or more of land, a tow-behind spreader will likely be the obvious choice. Look for a quality build that will stand the test of time because they can be quite an investment in terms of cost. Choose a tow-behind spreader with a hopper that has a capacity in line with the size of your land. Check that the connector that will adjoin the spreader to your tractor or mower will fit. And, probably most importantly, reflect on user reviews of a product before you purchase it.
How to Use a Fertilizer Spreader
The type of spreader you choose will affect how you use it, though you should always follow a single directional pattern, such as east to west, continuing in striped lengths until all of the areas are covered. This is unless the manual of the spreader dictates otherwise. Be sure not to overlap your lengths, and take care around edges.
Top Fertilizer Spreader Products Reviews
There are a variety of models available, but whichever type you're looking for, these are the best you can get.
The Top 7 Fertilizer Spreaders – How Do They Compare?
The Brinly BS36BH Tow Behind Broadcast Spreader has a larger capacity hopper than its rival, the Agri-Fab 45-0463 Tow Behind Broadcast Spreader. It can hold 175 lbs of product compared with Agri-Fab's 130 lbs.
The Brinly tow behind outperformed the Agri-Fab tow behind in user reviews with the Brinly benefitting from superior assembly instructions and a straightforward build compared with Agri-Fab's inferior assembly instructions which resulted in a lengthy and frustrating build for many. The Brinly struggles on rough terrain or steep inclines compared with the Agri-Fab, which benefits from a wide wheelbase and pneumatic tires to increase stability on uneven ground.
The Titan Professional Broadcast Spreader is comparable to the Scotts Turf Builder Pro EdgeGuard Deluxe Broadcast Spreader and its smaller brother, the Scotts Turf Builder EdgeGuard Mini Broadcast Spreader. The Titan has the advantage of a steel frame, making for a sturdy build, compared to the Scotts spreaders, which users found to be poorly constructed.
The Titan model has an adjustable handle while the Scotts spreaders feature EdgeGuard technology for precision around the perimeter of lawns.
The Scotts Wizz Hand-Held Spreader and the Earthway 2750 Hand-Operated Bag Spreader/Seeder are two of the most popular handheld spreaders available. The Scotts model is held by your side like a suitcase while the Earthway spreader hangs over your shoulder like a bag.
The Scotts handheld spreader is battery operated compared with the Earthway spreader, which works by manually rotating a lever. Both spreaders are lightweight, weighing a little over 2 lbs, and both, according to users, have an impressively even spreading pattern.
Best Value; Best Push-along Spreader
Scotts Turf Builder Pro EdgeGuard Deluxe Broadcast Spreader
This push-along broadcast spreader by Scotts is useful for evenly spreading seed or fertilizer on large lawns, usually of around 5,000 sq ft in size and above. The substantial hopper holds up to 15,000 sq ft of lawn product, reducing the amount of time you will have to spend refilling the hopper.
This spreader will work with any granulated substance, including grass seed, fertilizer, and even salt to melt ice and snow on driveways. It comes fully assembled and pre-calibrated so you can get straight to work with no unnecessary time wasted.
Scotts promises more even coverage with this spreader, thanks to the control panel which allows you to precisely set the rate at which your product is released. The EdgeGuard technology prevents any product from getting spread onto non-lawn areas by blocking off the right side of the spreader when this feature is in use.
Users of this broadcast spreader are impressed with how lightweight and easy to push it is. Many users complained about the hollow wheels on the spreader, which filled up with product during use and crumbled out in lumps, causing problems on the lawn. Some users felt the spreader worked efficiently while others commented that it was poorly made.
Pros
Large hopper
No assembly required
Various spreading settings
Lightweight
Cons
Ineffective wheel design
Poor build quality
Best Tow-Behind Spreader
Agri-Fab 45-0463 Tow Behind Broadcast Spreader
This tow behind spreader has a hopper capacity of 130 lbs, which will cover around half an acre of land before needing to be refilled. The hopper is rustproof. A hopper cover is available to purchase separately to prevent the product from spilling out over bumps and to protect the product from natural elements.
The on-off switch can be activated from the tractor seat, and the gears are enclosed in a box for increased longevity. Adjustment settings mean the user can precisely choose the level of spread required for consistent and even coverage.
The wide wheelbase on the spreader and the pneumatic tires help to maintain stability on uneven terrain, and is recommended for lots of lands sized one acre and above.
Users of this product commented that assembly was particularly tough and instructions inadequate, with assembly frustratingly taking around two to three hours. That being said, users were happy with the build quality and the coverage offered by the spreader.
One repeating concern from users was the weak spring on the hopper handle, but this was considered to be a minor issue.
Pros
Good capacity hopper
Extra accessories available
Sturdy build
Cons
Difficult to assemble
Weak hopper spring
Also Good For Tow-Behind Spreader
Brinly BS36BH Tow Behind Broadcast Spreader
This extra large spreader is targeted at gardeners with substantial areas of land to cover. The hopper holds up to 175 lbs of product, giving it the ability to spread over at least one acre of land without needing to be refilled.
Fitted with a universal hook, the spreader can be attached to the back of any tractor or ride-on mower and towed behind. The patented Directional Spread feature ensures an even spread coverage with extra wide patterns spreading at maximum widths, reducing the number of lengths you need to drive.
Suitable for use in all seasons, this proudly American made spreader can be used with any granular product, including fertilizer, lawn seed, lime, salt, and ice melting agents. At 47 lbs, this is a solid piece of equipment with a fully enclosed gearbox to avoid corrosion and stand the test of time.
Users of this spreader were most impressed with the solid build and quality workmanship. They were confident that it would last many years and were generally happy with the spreading coverage achieved.
The majority of users were pleasantly surprised with the easy to understand assembly instructions, with product assembly taking around an hour on average. The large capacity and sturdy build of this tow-along spreader meant that most users would happily recommend this product.
Pros
Large capacity hopper
Easy to assemble
Solid build
Easy to use
Good pattern coverage
Cons
Top heavy, doesn't handle hills well
Good Choice For Large Lawn
Titan Professional Broadcast Spreader
This push-along spreader features an adjustable handle for varying heights and positions to suit any user and minimize back or shoulder pain. With a 50 lb capacity drum, the spreader gives even coverage of seed, fertilizer, ice melt, insecticide, and herbicides.
Constructed mainly of steel, this sturdy spreader is almost indestructible, with a high-quality gearbox and durable axle. The 13-inch tires make this spreader easy to push, giving the user the ability to complete lawn product spreading efficiently. The tires are wide and filled with air, which makes them much gentler on soft surfaces than some other spreaders that can leave unsightly wheel marks on lawns.
Users of this spreader love how durable it is, and how even the spread coverage is. They were also impressed with the included hopper cover, which protects the product from troublesome weather.
Users of this product overwhelmingly agreed that the assembly instructions were impossible to follow, making assembly very difficult. It is recommended that anyone purchasing this spreader look online for tutorial assembly videos to help the build process.
Pros
Solid build
Large capacity drum
Even spread coverage
Hopper cover included
Adjustable handle
Cons
Poor assembly instructions
Good Choice For Small Lawn (5000 Sq. ft. Coverage)
Scotts Turf Builder EdgeGuard Mini Broadcast Spreader
This product is Scotts smallest walk behind spreader, designed to make spreading lawn products quick and easy for even smaller yards. Able to hold up to 5,000 sq ft of granulated products, this spreader is ideal for anyone who has a compact yard but still wants precise and even coverage. It also works well for spreading ice melt on paths and driveways.
Featuring exclusive EdgeGuard technology, the right side of the spreader is obstructed to prevent products from reaching non-lawn areas where they are not wanted. The control panel also helps to ensure coverage accuracy.
Some users of this spreader were disappointed with the build quality, commenting that it was manufactured with insubstantial materials and that they would not be expected to last very long. Some users also noted that although the spreader was lightweight and easy to push, the light frame and the angle of it meant that it easily tipped over.
Users were happy with the EdgeGuard technology, though noticed that it was more difficult to operate than the larger versions of this Scotts spreader.
Pros
Compact
Fully assembled
EdgeGuard feature
Lightweight
Cons
Poor design and construction
Not sturdy
Best Hand-Held Spreader
Scotts Wizz Hand-Held Spreader
This battery powered handheld spreader is designed to cover areas of up to 2,500 sq ft. It has a five-foot spreading range and benefits from EdgeGuard technology, allowing you to shut off one side of the spreader to prevent lawn products from getting onto paths or flower beds.
Suitable for year-round use, this spreader is compatible with fertilizer, lawn seed, pesticide, and snow melt. At 2.1 lbs, this lightweight spreader is easy to carry and makes quick work of a previously grueling task.
Users love the simplicity of this spreader and how well the design has been executed. Users commented that they experienced no clogging of product. They said the spreader was easy to hold and carry and that all of the features worked as they should. Some users were also impressed that 3AA batteries were included and pre-installed with the purchase, though noted that rechargeable batteries would have been preferable.
Some users believed that this was a good compromise between a manually operated hand-held spreader, which can be too much physical work, and a walk behind spreader, which can be overkill for a smaller property. Users reported that this product spread evenly and effortlessly.
Pros
Lightweight and easy to use
Batteries included
Even spreading
EdgeGuard technology
Also Good For Hand Spreader
Earthway 2750 Hand-Operated Bag Spreader/Seeder
This spreader is worn as a shoulder bag and manually operated by spinning a rotating lever. Clumping is prevented due to an oscillating shut off the plate while the gearbox ensures smooth and even spread.
Able to hold up to 25 lbs of product, the bag features a zip closure and a molded base. The adjustable shoulder strap allows the length to be customized to fit any user.
Users of this product generally agree that it does its job well. The product doesn't clog; The seeds are spread evenly, and it is easy to operate.
Some users claimed that it was the best spreader they had ever tried, appreciating the ability to spread at your own pace with the height from the ground increasing the distance that seed could travel before hitting the ground. Several users did experience a poorly designed shoulder strap, which broke after only a few uses. They found this disappointing because the other components of the spreader worked so well.
Pros
No clogging
Even spread
Easy to use
Adjustable
Cons
More effort required than battery handheld spreaders
Weak shoulder strap
Conclusion
For anyone with a considerably larger piece of land, the Scotts Turf Builder Pro EdgeGuard Deluxe Broadcast Spreader and the Agri-Fab 45-0463 Tow Behind Broadcast Spreader are great buys, both being solid, sturdy, and expected to last for many years.
If you're looking for a small portable fertilizer spreader, the standout spreader has to be the Scotts Wizz Hand-Held Spreader due to its even spreading and being practically effortless for the user to operate. This spreader will be suitable for the majority of gardeners' needs, able to cover up to 2,500 square feet before needing to be refilled with the product. Being small and light, the Scott Wizz product is easy to store, and, aside from making sure you have charge left in your batteries, it requires no assembly and no setup time or preparation.