Home >
30 Walkway Ideas For Inspiration
30 Walkway Ideas For Inspiration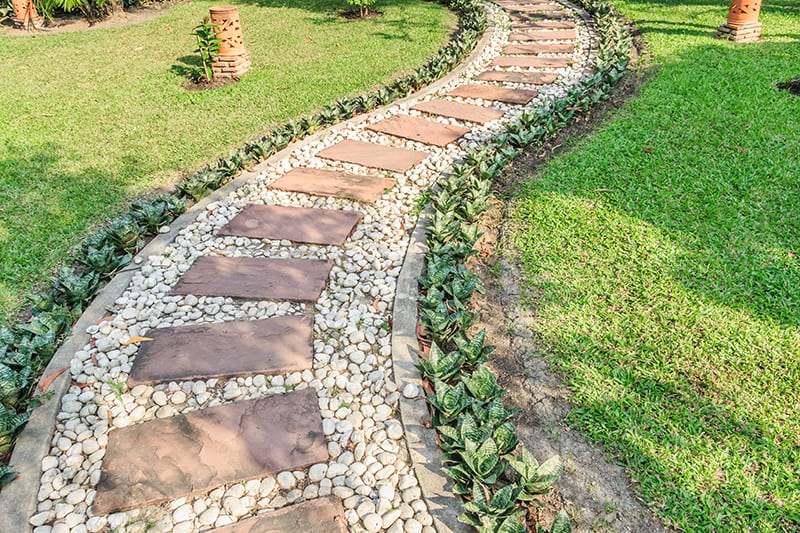 Walkways in your back yard or approaching the front of your property are both functional and visual in purpose. They help to guide people along the path you have chosen and kept them away from other areas, as well as create attractive features to boost the curb appeal and overall look of your home. Whether you're looking to update your existing walkway or create a whole new path on your property, these 30 walkway ideas will be sure to offer some inspiration and guidance.
Walkway Ideas
1. Textured Trail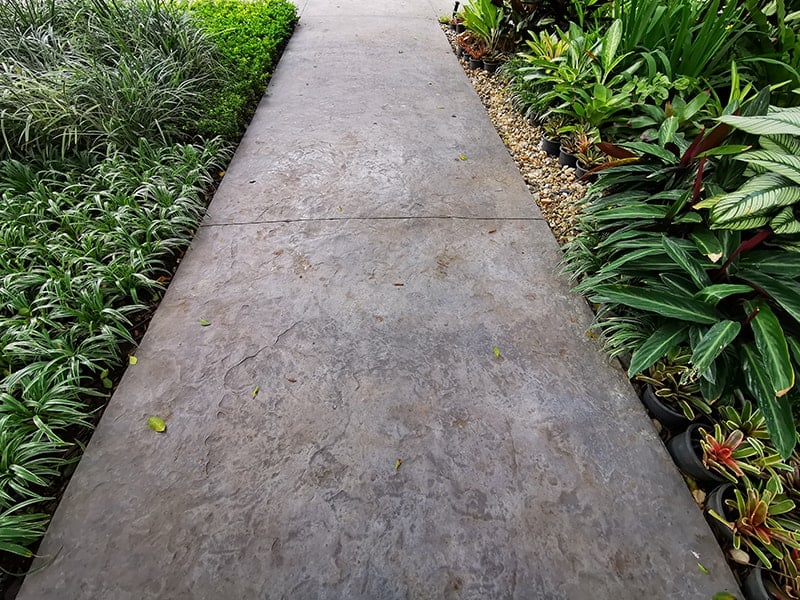 This walkway has been constructed from concrete slabs and given a rough, almost dappled looking, texture. There are several benefits to creating a textured surface on your walkway, namely that it will be slip-resistant, which is especially important if you have children who might be prone to running and falling over. As well as creating a safer surface to walk along, this type of textured surface looks attractive in a natural and unassuming way. The mottled effect, which features various shades of grey and brown, also means that footprints and other marks won't easily show up, so the path will stay looking cleaner for longer without constantly needing to be swept or washed.
2. Paved Patterns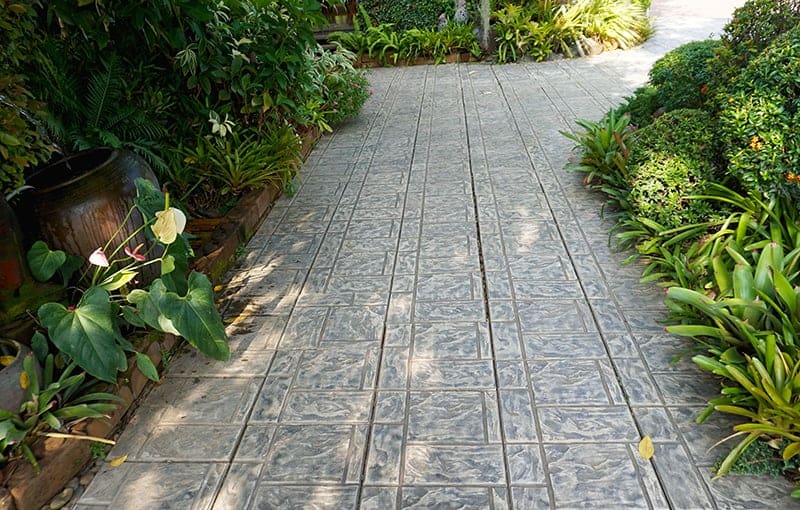 If you want a decorative patterned look on your walkway, there is a wide variety of paving slabs available to choose from, which typically come in square shapes so that they are easy to lay. The attraction of paving slabs is that you can use them to create a complex pattern with relative ease. Anyone with a little experience in DIY should be able to lay paving slabs, making them a good choice if you want to overhaul the look of your walkway without spending a lot of money on a landscaper.
3. Modern Monochrome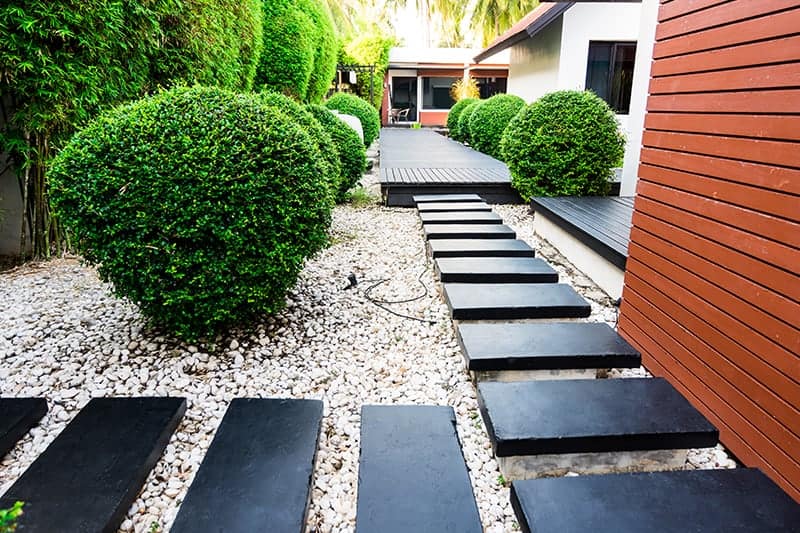 The stepping stones in this image have several features going on, which make a big statement, but you could choose to use this for inspiration and copy just one or two of the elements. The most impact comes from the monochrome coloring, which makes a stark contrast with the black stones set against the white pebbles. This is an inexpensive but impressive design, which can be achieved by just painting your paving slabs. Another interesting element of this walkway is the way the stepping stones are raised. This will encourage people to step from one stone to the other without standing on the pebbles beneath, keeping them from dispersing.
4. Red Herringbone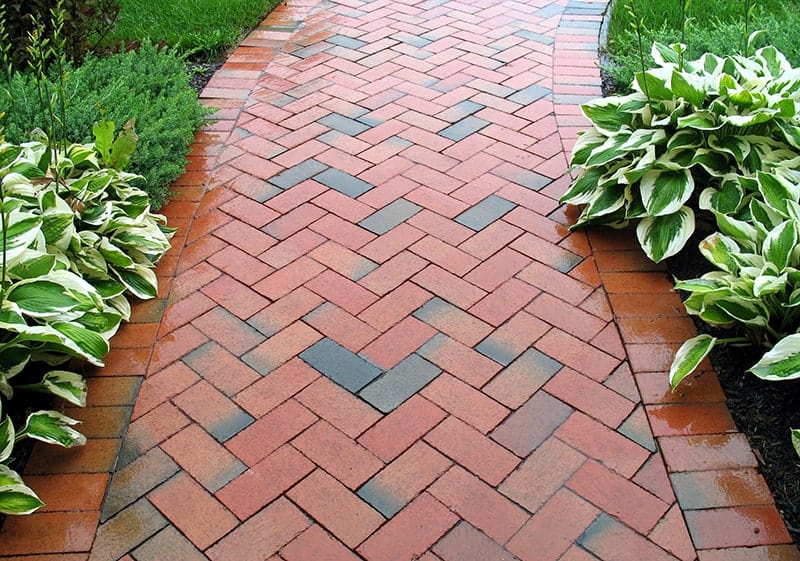 This herringbone pattern has been created with red bricks, making an interesting and sophisticated looking feature out of something very simple. In order for this pattern to work, it has to be properly measured out and laid with precision, as any bricks which are out of place would ruin the overall look. The color of the bricks contrasts well against the lawn, so red might be a good option to use if you want your pathway to stand out against plants or grass running along each side.
5. Circular Steps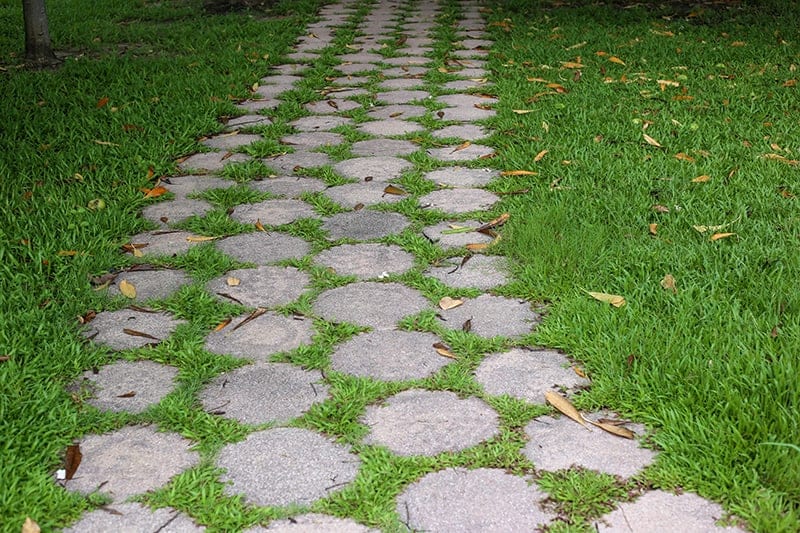 Round paving stones lined up in neat rows gives a pretty and unusual pattern for a walkway. This is a simple idea which can be achieved very easily on lawn surfaces, by simply digging circles out of the lawn and setting in the stones. The drawback of this is that maintaining the lawn around the stones can become more difficult, and people may walk on the patches of the lawn itself, which fall in between the stones, and this may wear it back to bare patches of soil.
6. Neat and Neutral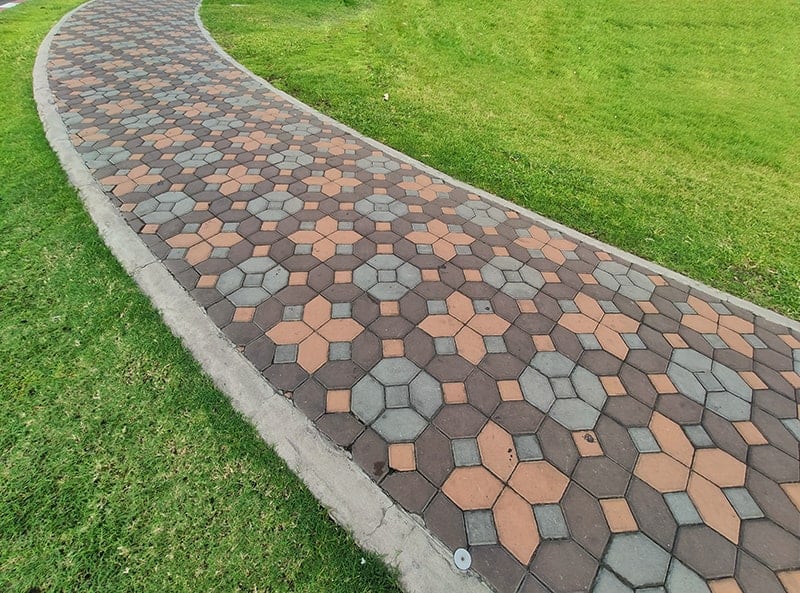 This path creates an interesting characteristic which stands out amongst the background of the grass lawn. This sort of patterned walkway works well in gardens, which are otherwise quite simple and plain, so that it can be the central feature, to prevent it from becoming too busy. The bricks used in this walkway are different colors from a neutral palette, which creates a colorful and decorative look while still having a natural and earthy feel. Patterned walkways such as this give a professional-looking finish to a property, and can greatly improve curb appeal and potentially increase the value of your home.
7. Painted Planks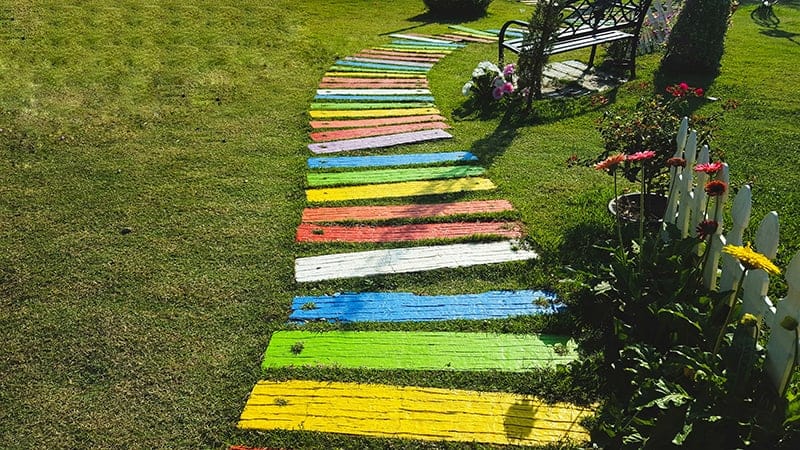 If you want to create a new walkway on a small (or non-existent!) budget, then laying down wooden planks amongst the lawn is a cheap and easy solution. If you have some pallets lying around, or an old bookcase you can disassemble, then you have got yourself a free DIY walkway. Dig holes in the lawn the same shape as the wooden planks, and tuck them in. This walkway has opted for a bright rainbow effect by painting their planks in different striking colors, but you could choose a color theme that matches your garden decor or use any leftover paint you have taking up space in the garage.
8. Stepping Stone Murals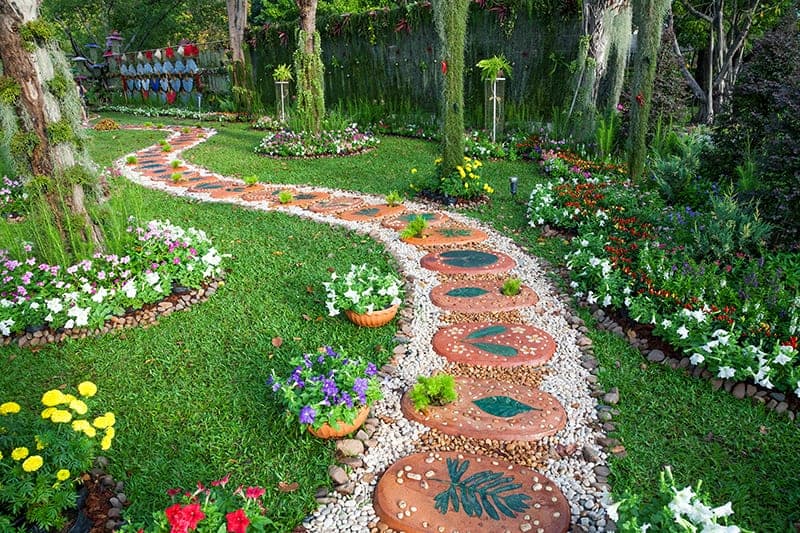 This whimsical walkway is centered around large pebble-like paving stones that have been hand-painted with murals of flowers and foliage. These give a cute and country cottage feel to the yard, along with an abundance of flowers and smaller pebbles surrounding the stepping stones. The curved and winding nature of the walkway also adds to the magical feel, making the whole space reminiscent of a fairy tale or an enchanted garden. This type of walkway would be a great project for artists and anyone with a flair for creativity. By painting murals on your stepping stones, you can create a truly unique walkway customized to your own interests.
9. Tortoiseshell Inspired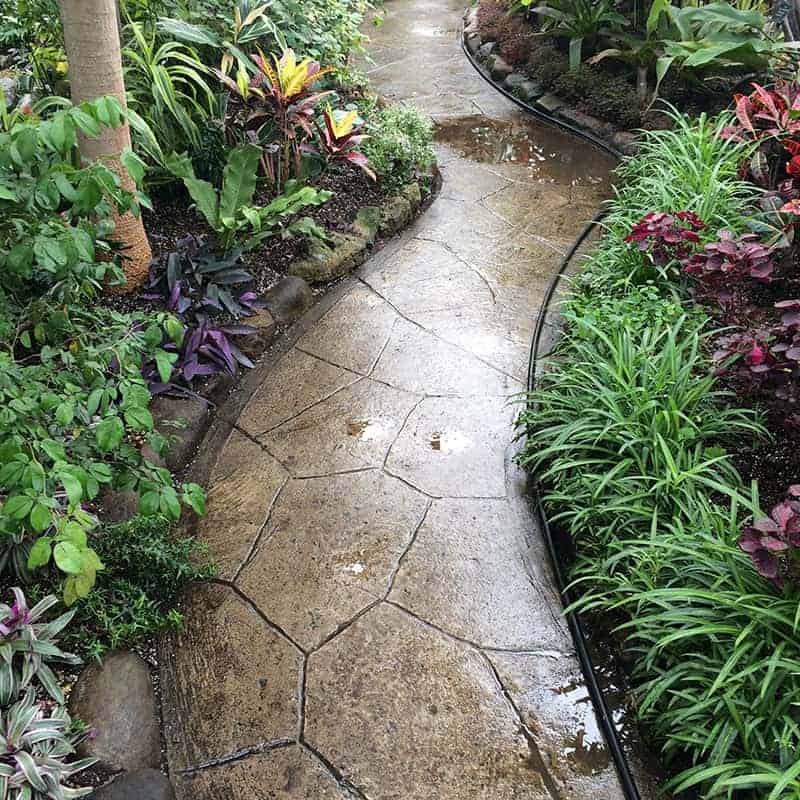 This walkway has been made by pouring concrete along the path and then drawing in a pattern just before the concrete sets. This pattern is like that of a tortoiseshell and creates a wild and natural vibe for this space. You could draw any pattern into the concrete by using a sharp tool or the back end of a pencil. Just be sure to finish your creation before the concrete goes off.
10. Tucked-In Tiles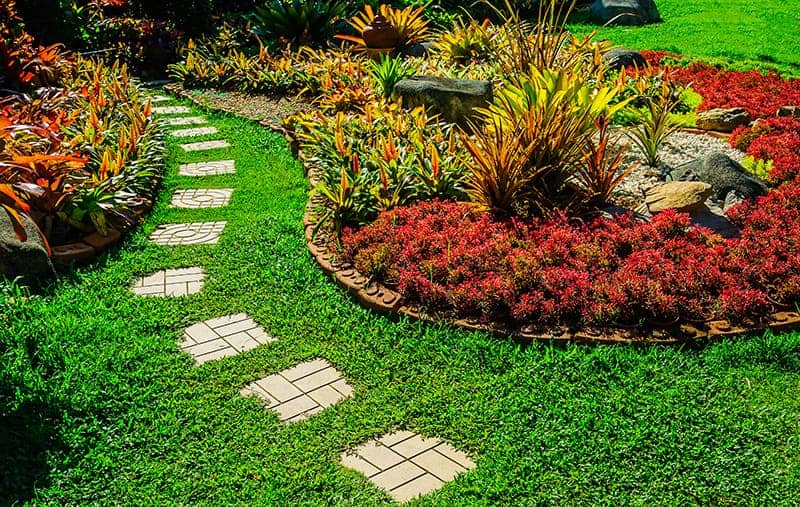 This easy to achieve walkway has been created by digging square holes into the lawn and then filling them by tucking in tiles of the same size. This simple solution for a path through your garden can be completed in the space of just a few hours, and on a fairly tight budget (depending on the tiles you pick). These tiles dotted along the lawn will encourage people to tread on the tiles rather than the grass, helping to keep your lawn in the best condition.
11. Contrasting Concrete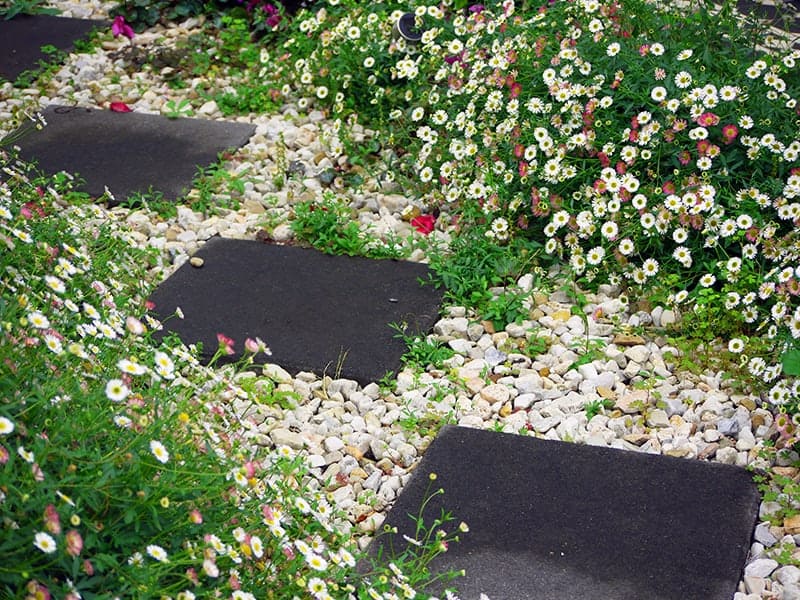 To make a feature out of your walkway, the easiest way to accomplish this is by using bright or bold colors. In this example, a path has been created using dark concrete tiles set against contrasting white gravel. To recreate a similar style, you could use a material that is naturally dark, such as slate or concrete, or you could even paint some paving tiles you already have with dark-colored paint to give them a new lease of life.
12. Irregular Brick Patterned Path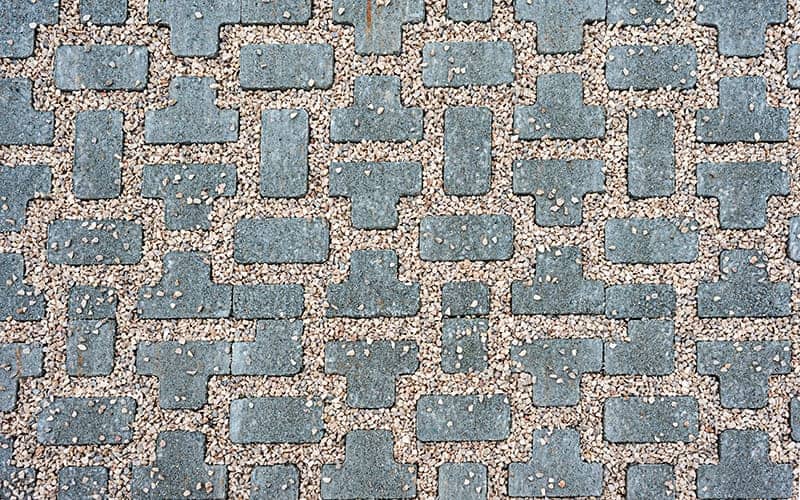 The bricks in this walkway are an unusual shape and have been laid in an intentionally haphazard fashion which creates a series of irregular angles and patterns. You could use regular bricks positioned in a non-repeating pattern to achieve a similar look, or create a geometric style with bricks laid out in an irregular style. The fine gravel filled between the bricks helps to give a dainty and elegant look to the walkway, which is modern in design without being futuristic or minimalist.
13. Brick Mosaics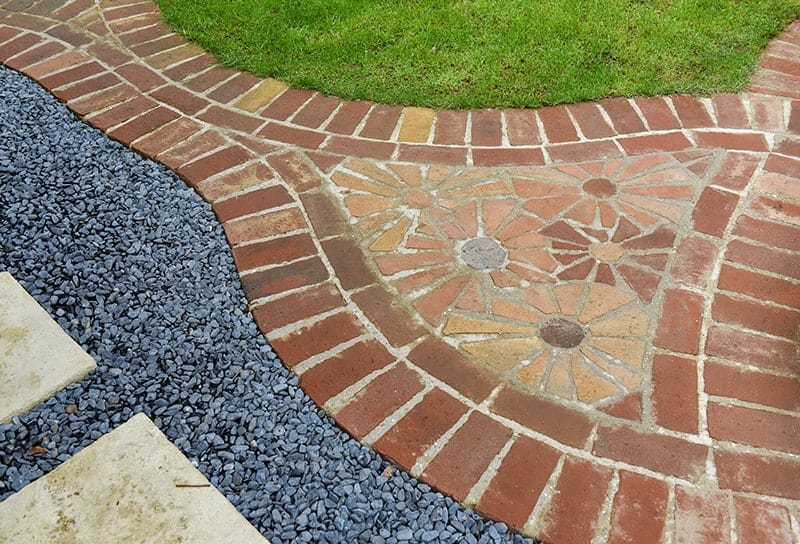 The patterns you can make with bricks are only limited by your imagination. One interesting way you can unleash your creativity on your pathway is by producing a mosaic design. You can use bricks of varying sizes, or even just standard bricks, to create unique and unusual patterns. This walkway has used red bricks to make flower symbols along the ground. This sort of design provides points of interest on your property. You could create one large brick mosaic at a pivotal point in your walkway, or have mosaic designs dotted along at intervals in the path.
14. Walkway Levels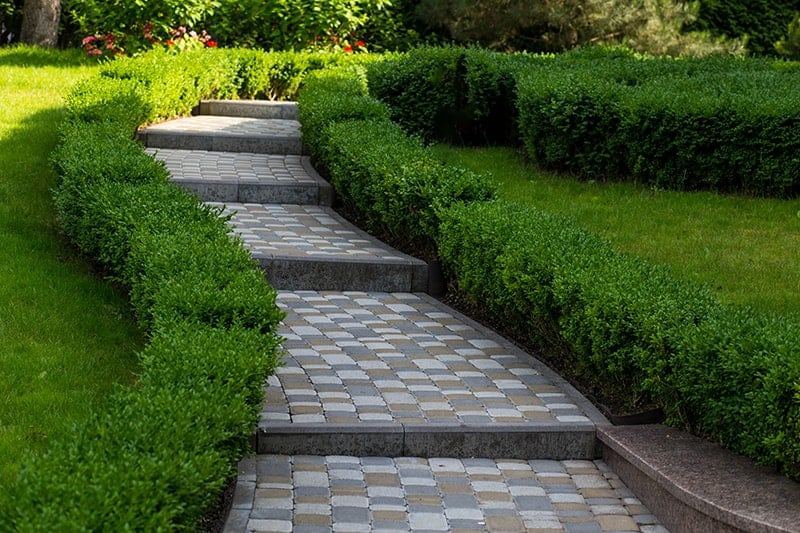 If you have an uneven landscape, rather than having a sloped pathway, you can create spaced out steps to help the walkway gradually increase or decrease in height. These levels will create a feature in the walkway while also adding to the functionality of it. This particular walkway has lined the path with hedges, which helps to create a barrier around the steps so that nobody can inadvertently tumble off the side of them. The hedges also further add to the structured feel of the path and give it a clean-cut finish.
15. Diagonal Direction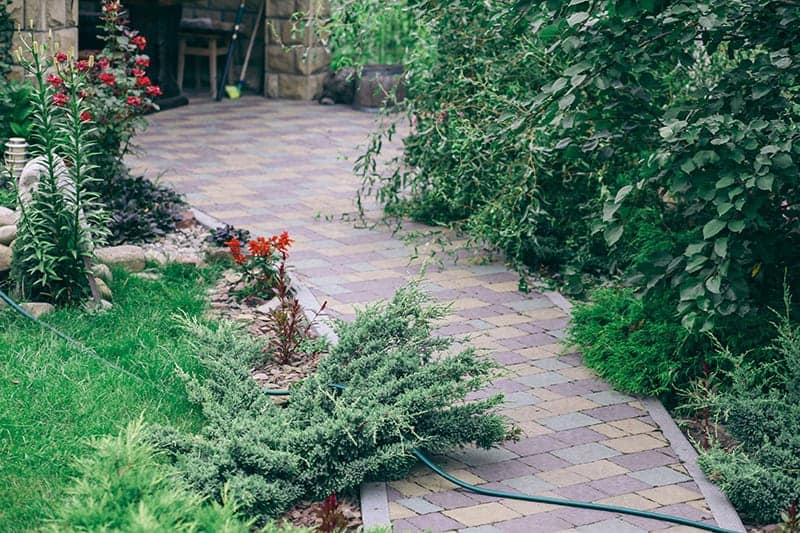 These paving stones have been laid in a diagonal direction, which helps to create a less formal feel along the pathway. Some structured walkways can seem rigid and intimidating, which wouldn't fit with the style of this relaxed garden. By laying the paving stones at an unusual angle, the walkway has a more playful and laid back feel. The way that the edges of the path are curved and winding around the bend, rather than taking the form of a straight-edged corner, further adds to its relaxing appeal. The neutral colors of the paving stones help it to blend seamlessly with the rest of the yard. If this is the look you are trying to achieve, choose earthy colors like those shown in the photo, rather than striking or contrasting colors that are more appropriate for when you wish to make a statement.
16. Oriental Slate Stones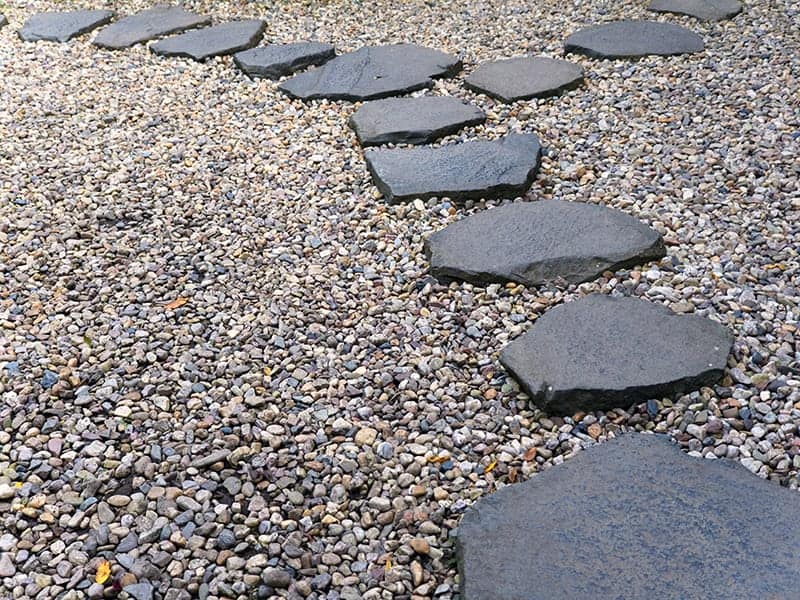 These slate stepping stones have naturally cut edges, which are sometimes jagged and un-uniformed, as opposed to clean-cut slate tiles. This intentional design feature evokes an oriental style, which is synonymous with calm and relaxation. To achieve this look, the secret is in the simplicity of the materials you choose and sticking to just a few key colors and textures. Black slate is able to blend a traditional look with a contemporary feel, making it suitable for a wide range of garden walkways. It is typically more costly to buy than other garden path materials, but it is long-lasting and has a classic appeal that defies time.
17. Rustic Route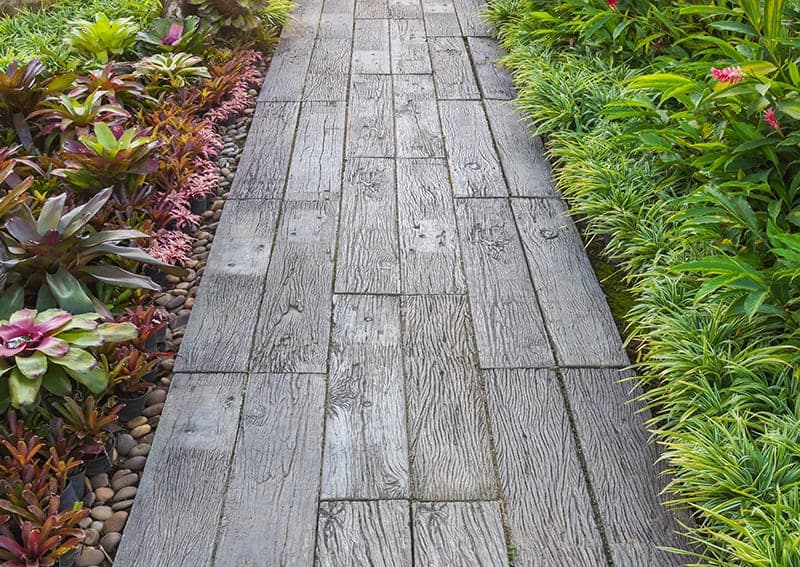 This straight and simple path has become an interesting feature with the use of aged wooden boards. These planks have been joined at the seams to create a continuous route with a rustic feel. A similar look could be achieved with tiles that have been made to look like wood. The benefits of wood-style tiles are that they are more long-lasting compared to real wood, which will rot over time when in contact with wet ground.
18. Terracotta Track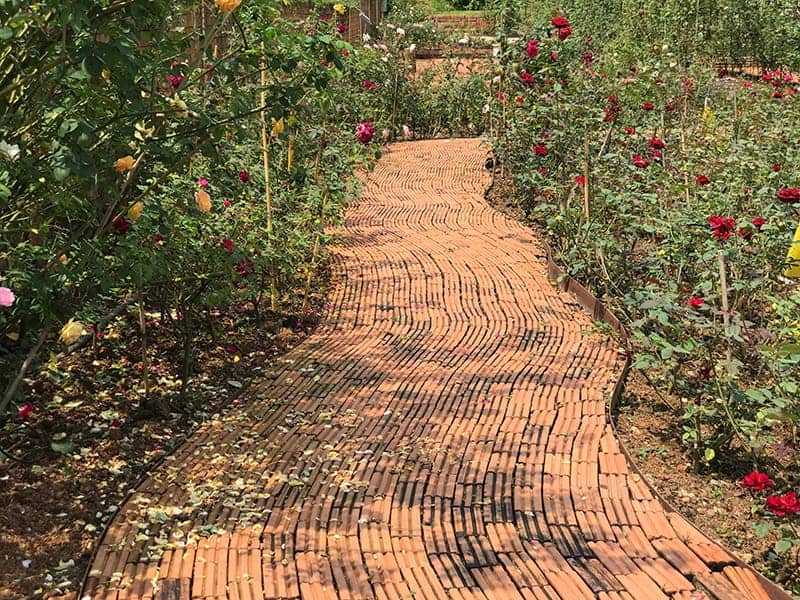 This wavy walkway has made use of a collection of heavily ridged terracotta tiles. Terracotta, in general, is synonymous with the Mediterranean and helps to evoke a feeling of European rustic farmhouses, so it can be utilized in gardens which are longing for this sort of vibe. Terracotta blends well with warm and dusty climates, so it is ideal for desert locations. The curved nature of this walkway gives it an informal feel, which is added to with the way the tiles are laid in a slightly imperfect fashion. The ridges in the tiles add further interest to the pathway, but be warned that debris such as berries and fallen leaves could get stuck in the ridges and make them difficult to keep clean.
19. Tiled Trail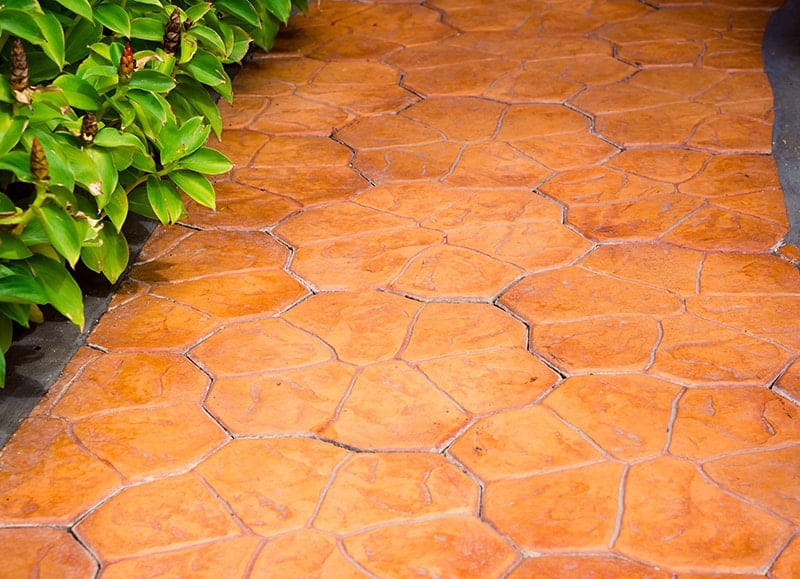 Outdoor tiles can be procured in a huge number of designs, shapes, and sizes. These tiles have a vaguely floral style, in a color that is halfway neutral and halfway bright, which allows them to be a point of interest without hogging all of the attention in the garden. If you want to achieve a similar look, choose large tiles which give the impression of expansive space, over small tiles which can look busy. Large tiles such as these in the photo will also save you time and frustration when you are installing them.
20. Curved and Cobbled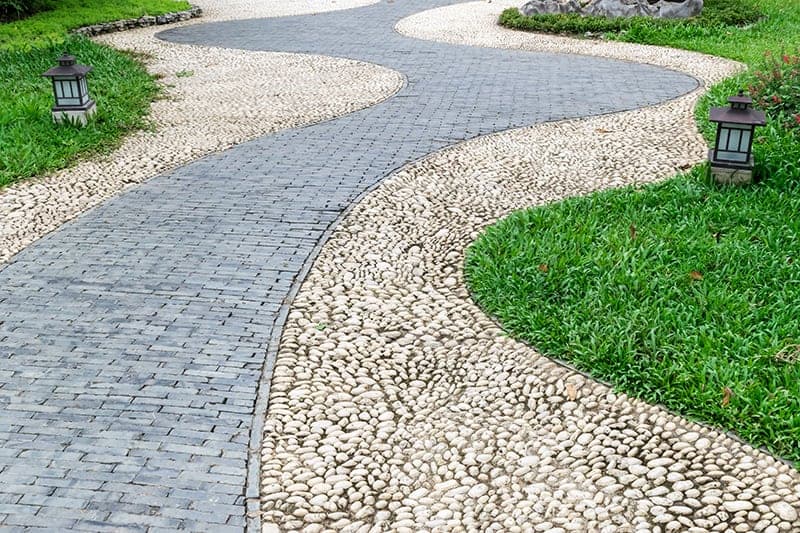 This unusual walkway comprises one brick path running down the center of a cobbled path. The cobbled part of the walkway is achieved by laying pebbles amongst setting concrete, and it gives the path a very quirky look when teamed with the large and unpredictable curved edges. This cobbled effect is relatively easy to achieve, though be warned it is very difficult to walk over. The inner path is of a slightly more standard design, using bricks to create a paved walkway. The brilliance of this eccentric look is in the simplicity of the materials and colors used, which enables the walkway to look playful without being wacky.
21. Mis-Shapen Mosaics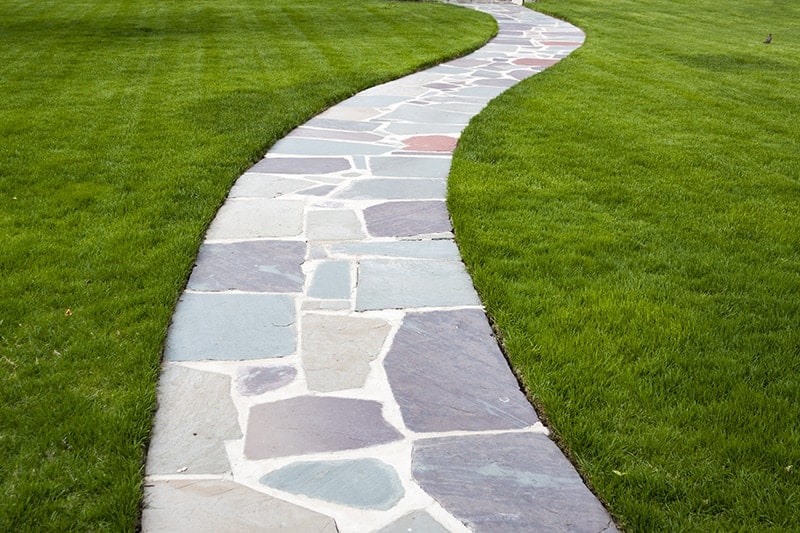 This walkway has utilized various shapes and sizes of irregular paving stones. These have been laid out to form a large mosaic pattern, with smaller stones fitting snugly amongst larger stones. This could be a good way to use up old paving stones that do not all match, giving you an inexpensive revamp of your walkway. To make a feature out of this look, use a contrasting color of concrete or grout between the tiles to help them stand out.
22. Recycled Route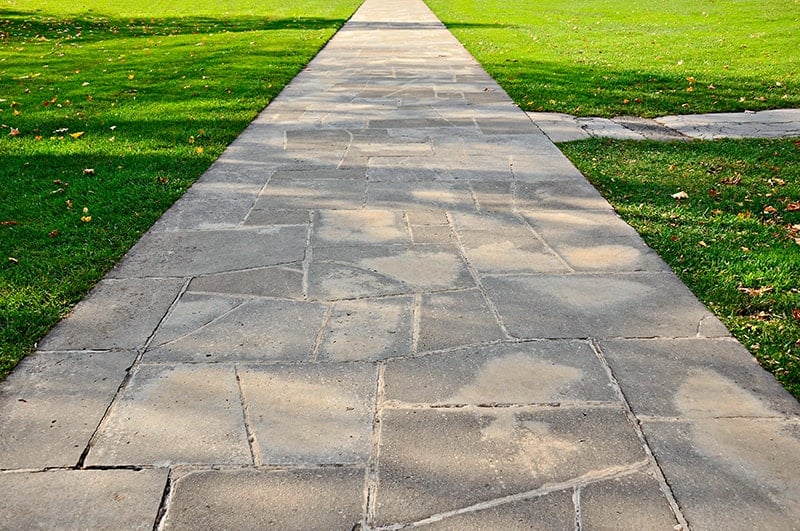 This walkway has been made from a selection of recycled concrete in an array of shapes and sizes. It has a rough and industrial look, which is a contrast against the well kept, uniform lawn. This sort of walkway is a good way to recycle old materials, using up slabs of concrete that might otherwise go to waste.
23. Chunky Stepping Stones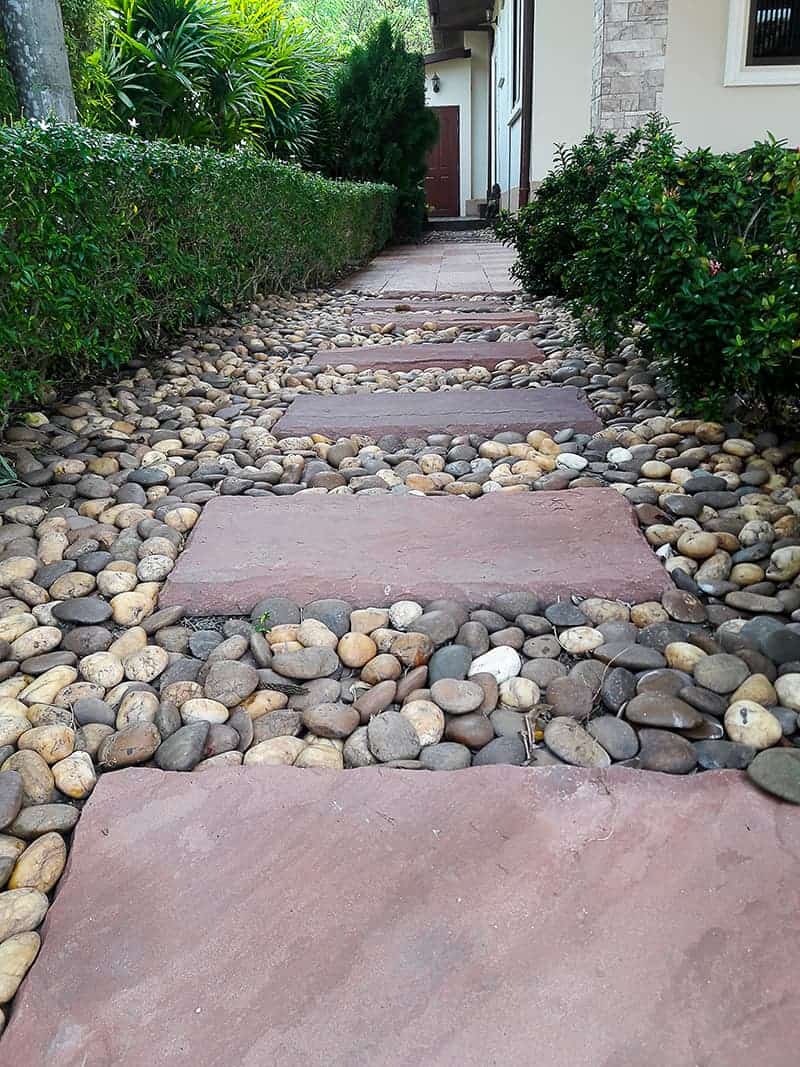 These chunky stepping stones have been laid out with gaps between which have been filled with large pebbles. Typically, gravel or stone chippings would fill a space like this, but the use of big pebbles is very clever if you want to encourage people to only stand on the stepping stones. Large pebbles like these are tricky to walk on, and people will automatically opt to step on the flat stones instead. The choice of pebbles against the slate stepping stones gives the pathway a coastal feel, which will be popular among many gardeners.
24. Plant-Lined Passageway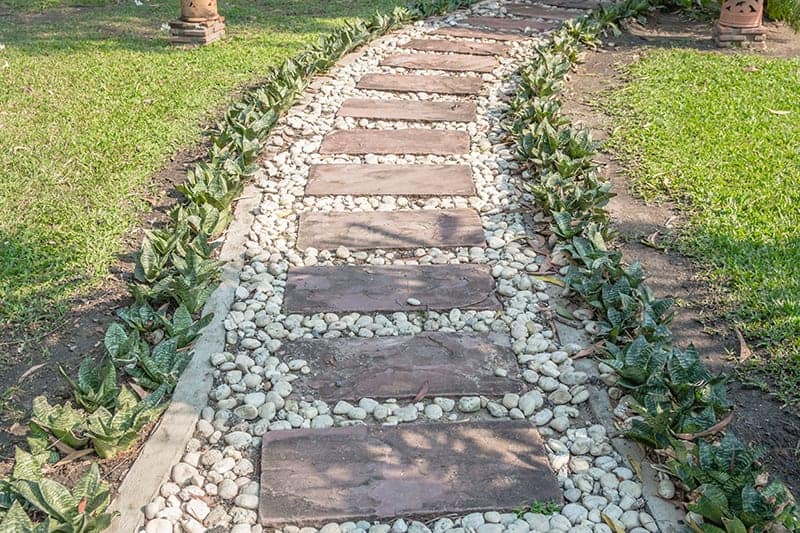 This curved path has been bordered on each side with a neat row of matching plants. This is aesthetically an attractive choice, but it also serves as a barrier between the path and the lawn, which will encourage people to stay on the walkway and discourage them from walking on your lawn. This low border, though it could be easily stepped over, provides an almost mental block that will deter people from standing on the grass, thereby preserving your lawn and keeping it in better condition for longer.
25. Bamboo Bridge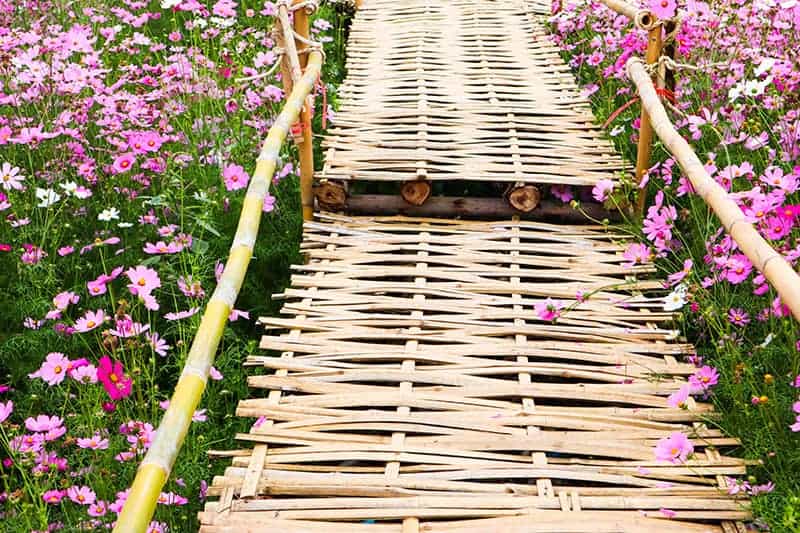 This bamboo walkway has been built like a low bridge, for traveling over the wildflower meadow. Creating a bridge as a walkway in your garden is an alternative for digging up a pathway if you'd prefer to minimize the disturbance of your lawn and plants. This bamboo bridge could be knocked up by a DIY enthusiast, or you could commission a local carpenter to build you something similar. If the surface of your bridge is slightly uneven, like this one, then the addition of handrails are a good choice to help prevent anyone from taking a tumble on your walkway.
26. Painted Passage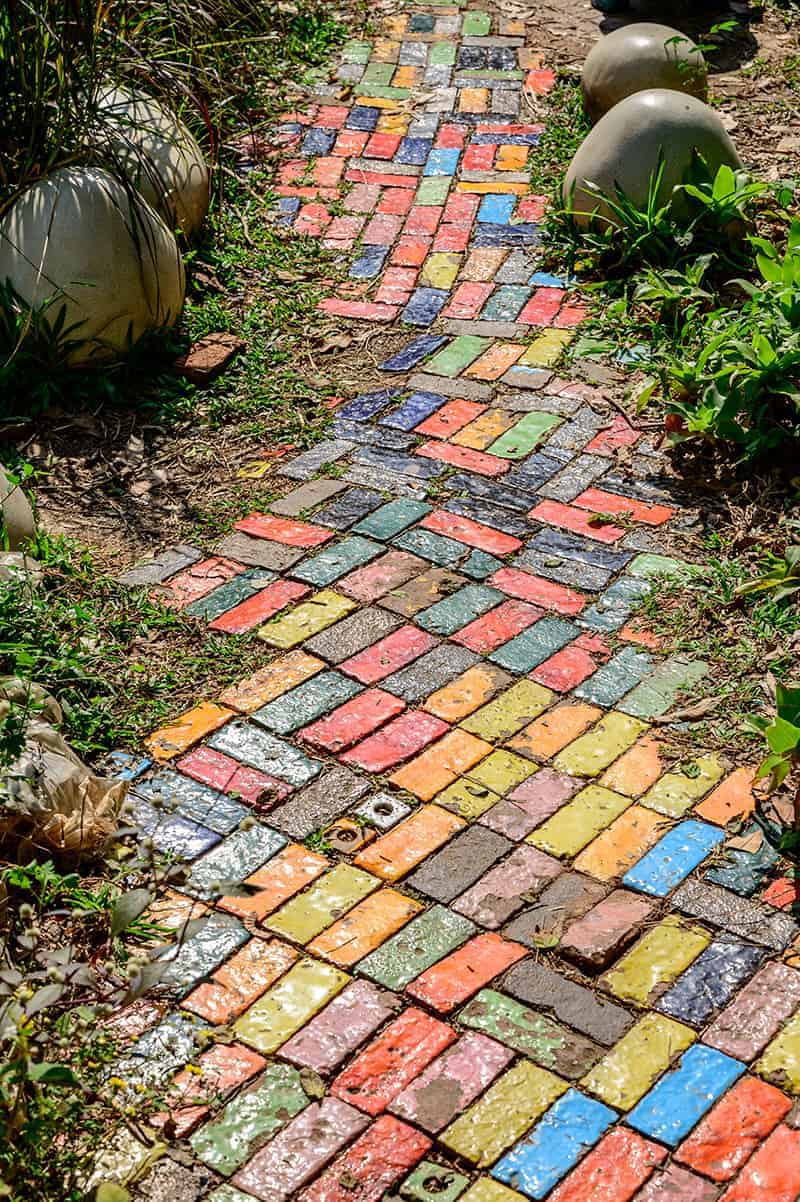 If you want to improve the look of your walkway, then completely removing it and laying a new one isn't your only option. If you have a tired-looking walkway that is still structurally sound, consider revamping the old walkway to give it a new lease of life. This walkway has been renovated with just a lick of paint. You could use brightly colored paints in a repeating pattern, one single color throughout, or a few colors in a sporadic and random design. Before painting, it's best to wash the old bricks, ideally with a pressure washer, to remove any build-up of garden debris and dirt. This will help your paint to have a smooth and even finish, and ensure it holds well.
27. Japanese Walkway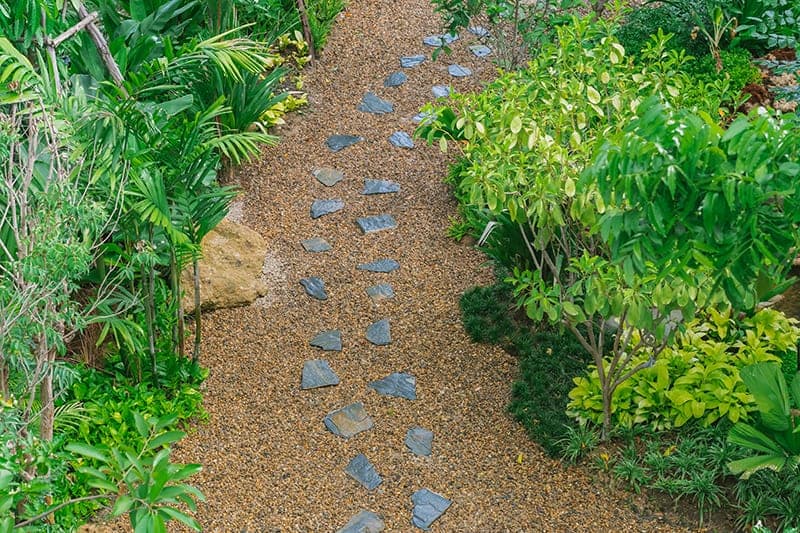 As seen from overhead, this walkway in a Japanese garden is very simple yet effective. It is made from a number of irregular black slate tiles that have been set amongst very fine gravel. The contrast between the two materials is evident in a number of ways; the colors contrast, the shapes contrast, and the sizes contrast. The walkway design has a contemporary feel and could be easily replicated in your own landscape with a few choice materials.
28. Chequerboard Lawn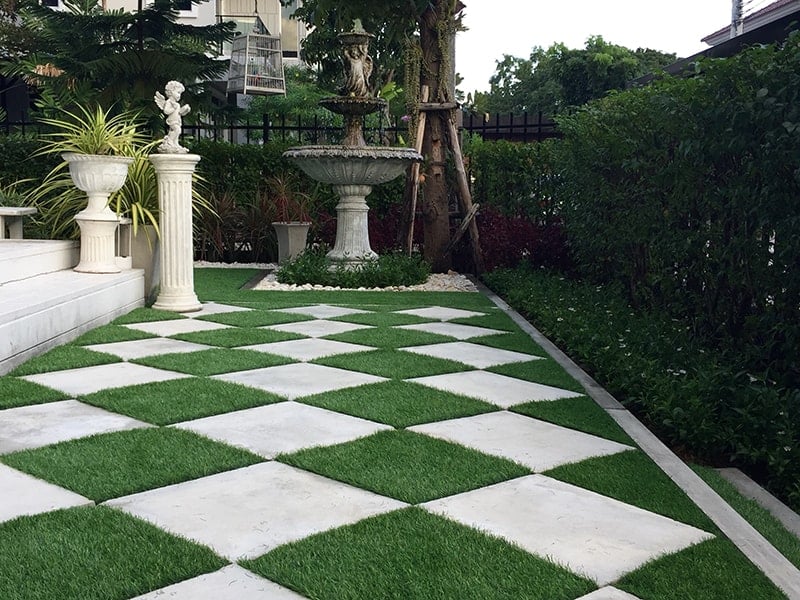 This regal looking landscape is quite simple in design, though it must be carried out with complete accuracy for a professional finish. The chequerboard look is achieved by setting square paving tiles amongst the lawn to create a surface of perfectly positioned squares. These tiles must be lowered at a precise measurement so that the lawn and the tiles are at the same level. In keeping with the fancy design, maintenance of this look is important. The lawn should be kept lush and trimmed, while the tiles will need to be kept clean and free from debris.
29. Double Decks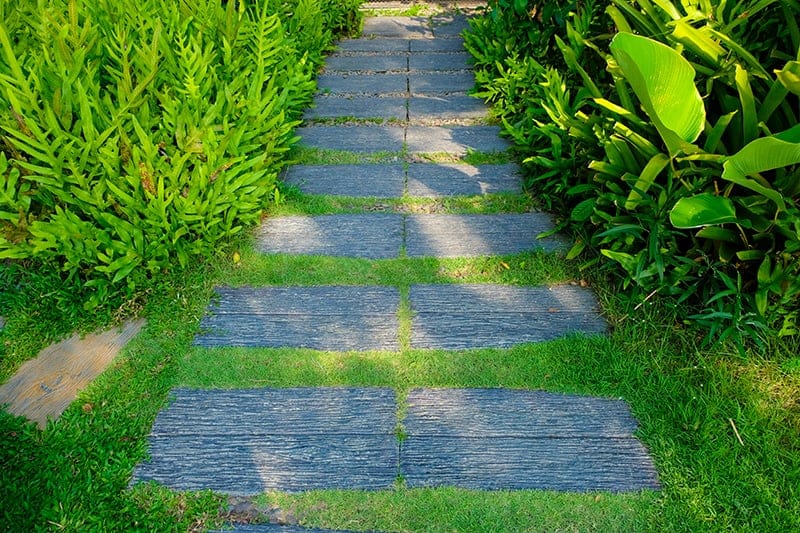 This walkway has been created using deck planks that have been grouped into twos and set amongst the lawn. You could recreate this look by using any number of materials, from old wooden boards to tiles, or slate slabs. It's a good idea to group the planks into twos if they are not wide enough by themselves to accommodate the length of an adult foot. This will help to prevent any overstep on your lawn and keep it in good condition.
30. Contemporary Wooden Walkway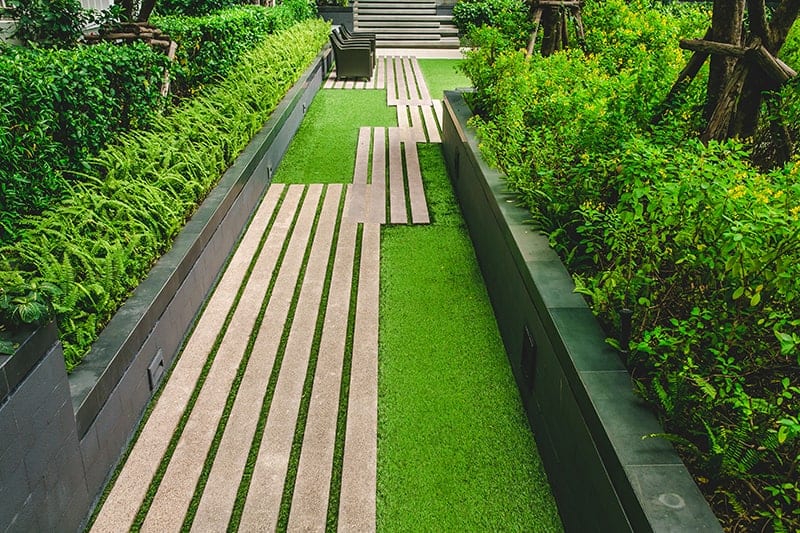 This walkway is the ultimate in contemporary walkway design. It uses long planks of wood set amongst the lawn in an unusual pattern to give it a modern feel. The simple angles, shapes, and colors further add to the minimalist design. The linear pattern of the planks creates the illusion that the walkway is longer than it actually is, which is a concept you could borrow in your own landscape to maximize space.