5 Best Hydroponic Grow Trays – Buyer's Guide & Recommendation
5 Best Hydroponic Grow Trays – Buyer's Guide & Recommendation
Explore Our Categories
Mango Trees

Few fruits represent the tropics as much as a ripe mango. Mango trees feature a sweet harvest, and they are attractive t...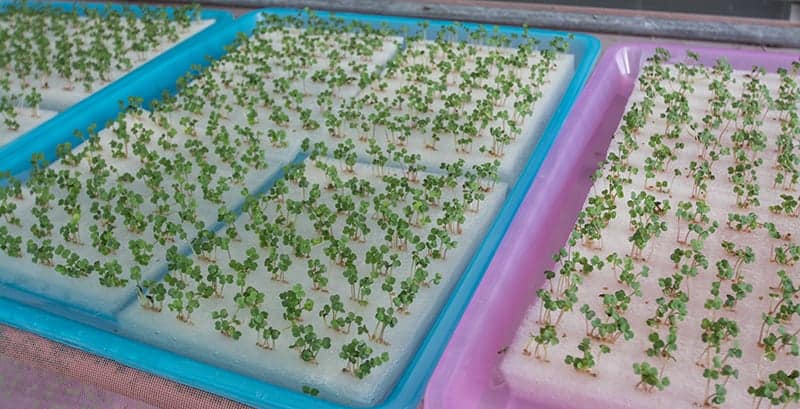 Hydroponics is quickly becoming popular as an alternative to the traditional method of growing plants, thanks to its reputation for producing the highest quality plants with a greater yield than other methods. Hydroponic gardening also claims to produce faster-growing plants.
If you're interested in starting up your own hydroponics garden or looking to replace old hydroponics equipment, one of the essential pieces of equipment you'll need is a hydroponic grow tray. To find out which hydroponic grow trays on the market outperformed their competitors, read our guide to the best hydroponic grow trays.
Product Details
Top Pick For Seedlings, Seed Starting, and Small Plants
Bootstrap Farmer
1020 Trays
Measure 21″ x 10.75″ x 2.5″ in size. Durable Food-grade BPA Free Polypropylene #5 plastic
Top Pick For Drip Tray Or Small Flood Tray
Botanicare
GTLT12X48X4B Tray
Measure 48 x 14.2 x 4 inches in size. Strong and durable trays used as a drip tray or a small flood tray.
Top Pick For Shallow Flood Tray, Flood Tables
Botanicare
Square Tray
Measure 36 x 36 x 6 inches in size. Ideal for use as a shallow flood tray
Tray Stand For Hydroponic Trays
Fit and Fast LTD
706120 Tray Stand
Buying Guide
When looking for a hydroponic grow tray, there are several things you should consider, which will help you make the best decision for your situation. Among these considerations are:
Space
If you have plenty of space to house your hydroponic garden, then there's no reason why you can't go big and opt for a larger, more substantial grow tray to grow your plants in. However, if, like many people, space comes at a premium for you, then you'll want to look into more compact options.
As well as selecting a compact grow tray, you need to research whether the tray will fit snugly in your grow tent. Some trays have the problem that despite being described, for example, as 2ft x 4ft, they have slightly larger exterior dimensions and therefore won't fit well into a tent measuring 2ft x 4ft. If you buy a tray which doesn't fit snugly into your grow tent, you will end up having to use a tent that is too big for the tray to fit it in and will, therefore, waste space as not all space inside the tent will be utilized. To ensure you don't end up with this problem, research your tray to be sure its exterior dimensions will fit well into your grow tent.
Longevity
There are so many benefits to having a grow tray that offers longevity. By using a grow tray that lasts many years, you eliminate the annoyance of having to replace your trays with new purchases every season. This is not only an inconvenience, but it's also an unnecessary cost. As well as offering cost-savings, products that offer longevity also help us to save the planet. By not having to throw out broken grow trays, you will prevent more garbage from ending up in landfills and reduce your carbon footprint by not having to purchase more new plastic trays.
To ensure your grow tray offers longevity, it will need to be made from strong and durable plastic. The plastic should be quite thick so that it can withstand impact and resist cracking under the weight of water and plants.
Cost
It is possible to buy hydroponic grow trays fairly cheaply, but this is typically for inferior plastic, which is weak and will only last for a single use. If you are trying hard to stick to a budget, you might be tempted to go for the cheapest option, but this will inevitably end up costing you more further down the road when you have to replace all of your cracked and broken trays.
To keep costs down, the best solution is to buy a high-quality tray at the beginning that will last you a long time. While the initial cost might be more than the cheaper trays, you won't need to replace high-quality trays for many years, and so, will end up spending less overall. If possible, opt for trays that offer manufacturer guarantees, because then, in the event that you do encounter a problem, you can get your tray replaced for free.
Growing Food?
If you are growing edible plants in your hydroponic garden, then you need to consider what your grow trays are constructed from. Some plastics, such as PVC or polystyrene, can leach harmful chemicals into your water, which will then be absorbed by your plant's roots and dispersed throughout the body of your plant.
To ensure you're not producing toxic plants that could contain carcinogens and other harmful poisons, you should research what your grow tray is made from. Many food-grade grow trays are available, and these will be the best option if you plan to grow food in them. If your plants are for decoration rather than consumption, your choice of grow tray material will be less important to you, though it should be noted that many food-grade plastics are better for the environment than toxic plastics and are therefore a good option even for those growers who won't be growing edible plants.
Environmental Impact
If you're keen to reduce the environmental impact you have on the planet, you might feel cautious about buying more plastic products. However, not all plastics are created equal, and if you need to purchase a plastic grow tray, you can find some that are more environmentally friendly than others.
Research the composition of your grow tray and find out if you can purchase one that is made from recycled materials. Another way to contribute to a greener planet is by making sure the grow tray you buy is made from a plastic that can be recycled when you are finished with it. Some plastics to look out for are recycled polypropylene, which can be recycled many times over and doesn't release as many toxins into the environment as some other plastics.
Compatibility
Most manufacturers design grow trays in standard sizes so that they can be used in conjunction with hydroponics products from other brands, but you shouldn't take this for granted and should always check the exact measurements before you buy to ensure that it will fit with any other equipment you already have.
Some people find fitting trays and stands inside their grow tents a particular issue because the footprint of a product may fit into their tent, but a lipped edge may mean that the tray or stand won't fit snugly into their tent. If you're concerned about getting a perfect fit, you could buy all of your equipment from one manufacturer to guarantee that it will all work well together.
Product Comparison
All of our reviewed best-selling grow trays are made from plastic (the tray stand is made from metal). Both of the Botanicare trays and the Bootstrap Farmer tray were found to be very sturdy and durable, while the plastic of the Living Whole Foods trays is much thinner and therefore more susceptible to cracking, warping, and even melting. Due to this weakness, the Living Whole Foods trays are more suitable for single-use, whereas all of the other products we reviewed are ideal for multiple uses.
All of the plastic grow trays are black in color, while the tray stand has a glossy white finish. All trays are made from food-grade plastic, which means they are more environmentally friendly than other plastic alternatives, and they are safe for growing edible plants in.
Both the Bootstrap Farmer and Living Whole Foods trays are 10 x 20" and ideal for seedlings and germination. The Botanicare trays are both much larger and suited for later stages of plant growth. All of these trays are suitable for use in hydroponics gardening.
The Fast Fit tray stand doesn't come with a tray included but instead is meant to hold grow trays up from the floor. You will need to purchase a separate grow tray to be used in conjunction with the tray stand.
Product Reviews
Small Trays for Seedlings
Top Pick For Seedlings, Seed Starting, and Small Plants
Bootstrap Farmer 1020 Trays
These 10 x 20" trays have no holes and therefore work well as hydroponic systems or drip trays. They have been designed to solve the problem of single-use trays. Single-use trays are a hassle to replace continually when they inevitably crack or break, they create a continual expense, and they are a problem for the environment. Bootstrap Farmer developed these trays made from strong and durable food-grade recycled Polypropylene so that they will last for several years and have a less harmful impact on the environment. They contain no harmful additives, so you can grow edible plant seedlings in these trays safe in the knowledge that they haven't been exposed to harmful chemicals that can leach out of some plastics.
These trays come in a pack of 5, with a 2-year manufacturer's warranty, which guarantees the trays against breakage. A single tray is strong enough to hold the weight of a 35lb. concrete block and Bootstrap Farmer believes these are the longest lasting trays you will ever own. They are injection molded for shape consistency and stack easily for storage. They are a standard size that can be used with other products from Bootstrap Farmer, as well as with tray inserts from other companies.
Users of these trays love everything about them. They were found to be incredibly strong, durable, and well-designed. Users commented on how high quality the trays were, and though the initial cost of the trays was more expensive than comparable trays on the market, these trays turned out to be more cost-effective in the long run as they don't need to be replaced often. Some users noted that the trays were so strong they expect that they won't need replacing until they eventually get lost or accidentally driven over!
Users love that the trays can be picked up and carried without bending or warping, even when they are full of heavy soil or water. Users in hot climates were impressed with how well the trays coped under the strong summer sun without showing any signs of deterioration or weakening like typical plastic trays.
Pros
Strong
Long-lasting
More environmentally friendly than other brands
Food-grade
Recycled
Cost-effective
Cons
Initial cost higher than competitors
Living Whole Foods 10 Plant Growing Trays
These growing trays are a standard 10 x 20" size and come in a pack of 10. They have no drainage holes, therefore making them ideal for use as drip trays, hydroponics, or to sow seeds. They are made from black recycled polypropylene, which makes them safe for use in growing food. They are designed to be used several times, as the manufacturer states they are constructed from strong plastic. The trays can also be stacked inside one another for easy storage.
Opinions from users of these trays vary greatly. Many users were disappointed with the quality of the trays and found that they cracked easily or melted when left out in the sun. Lots of users commented that the trays were not as described, as they were clearly not built from strong plastic, and, in fact, some users noted that the trays were paper-thin in some areas, particularly the corners.
Some users received defective trays, which arrived with holes in. Users who rated the trays highly suggested that the trays be doubled up to give them extra strength. It was found that when doubling up the trays, there was less incidence or cracking and breakage, and some users were able to get a few seasons of use out of them. Some users also suggested that for the price, you should not expect to get more than one use out of these trays, while others believed they were too pricey to be considered single-use trays.
Pros
Relatively low cost
Food-grade plastic
Cons
Crack or melt easily
Thin and weak plastic
May arrive with holes
Large Trays for Large Hydroponic Plants & Flood Tables
Top Pick For Drip Tray Or Small Flood Tray
Botanicare GTLT12X48X4B Tray
This long rectangle tray from Botanicare measures 1ft x 4ft and is ideal for use as a drip tray, or it could also be used as a flood tray. It has been specifically designed with hydroponic gardeners in mind, with a diagonal drainage grid. The manufacturers, Botanicare, pride themselves on supplying premium hydroponics equipment to growers for over 20 years. They are based in Phoenix, Arizona, and are popular within the hydroponic gardening industry.
Users of this tray describe it as being sturdy and of high quality. It was found not to be flimsy or break easily and should be suitable for use for several years without cracking or breaking. Some users noted that the tray was too shallow for use as a flood tray, though others were happy with the dimensions of the tray sides. Users also found that the tray was too big to fit into a 3ft x 3ft tent, and instead recommend that this tray be teamed with a 4ft x 4 ft growing tent.
The biggest complaint among users of this tray was the packaging it arrived in. The sticky labels indicating what the trays were had been stuck on the inside of the trays and were very difficult to remove. Users found this to be incredibly annoying, and could not understand why anyone would have chosen this spot to place the stickers. Some users also found the tray to be a little too costly, though agreed it did its job well.
Pros
Strong and durable
American designed and manufactured
Reusable
Top Pick For Shallow Flood Tray, Flood Tables
Botanicare Square Tray
This 3ft x 3ft square tray is ideal for use as a shallow flood tray. It features a diagonal drainage grid that encourages water to run off in the direction of drainage pipes. It is constructed from superior ABS black plastic to offer durability and a long lifespan without cracking or warping. These trays have been specifically designed to offer a solution to hydroponic gardeners who are mindful of space. This 3ft x 3ft tray has an exact footprint that will fit perfectly inside a 3ft x 3ft tent, with no space wasted. You could also double up and use two of these trays inside a 3ft x 6ft tent. The tray is easy to clean and is designed and manufactured in the USA.
Users of this tray love how well it fits into their growing tents. The measurements are so exact that it fits perfectly into the appropriate tent with no space wasted, making it ideal for space-conscious growers. Users noted that the tray is very well designed, enabling it to flood well and drain easily, unlike comparable trays they used in the past, which required corner shims to help the water drain away.
At a little over $120, some users found this tray to be overpriced, but most users agreed that it was worth the money to have such a well-performing tray that fit so snugly into their grow tents. One recurring complaint among users was the labels that were stuck down to the inside of the tray. These were particularly difficult to remove and proved to be an annoyance among users.
Pros
Fits perfectly in grow tents of the same size
Drains well
Easy cleaning
Strong and durable
Tray Stands
Tray Stand For Hydroponic Trays
Fast Fit 706120 Tray Stand
This 2ft x 4ft stand is designed to be used to hold grow trays of the same size. It is constructed from glossy white coated steel for durability as well as a stylish minimalist look. As implied by the manufacturer's name 'Fast Fit,' this table requires no assembly tools and can be constructed in under five minutes. It will probably take you more time to get the table out of the packaging than it will do to actually assemble it, so you can get right onto the fun part of growing plants. The overall height of the table is 25 inches without casters. Casters can be purchased separately if you require your table to be portable, and these will also add a little height.
Users of this table love how robust it is, and how easy it is to assemble. They found it to be of high quality and expect that it will last a long time. One aspect of this table that users appreciated was how well 2ft x 4ft trays fit into the table. Users also recommended that you could use two 2ft x 2ft trays side by side, though depending on the brand, you might have to trim some of the sides off of the trays.
The main complaint among users was that the exterior measurements of the stand itself were greater than 2ft x 4ft. This meant that it was not of any use of those wanting to use the stand inside a 2ft x 4ft grow tent, as it was simply too big. This presents a problem for those growing in tents, as to fit this tray stand in a tent, you would need to go up to the next tent size, which would waste a lot of space around the stand. Some users also believed that this stand was overpriced, though others were happy to pay the price to have a solid long-lasting tray table.
Pros
Durable
Stylish
Fits corresponding trays well
Cons
Expensive
Too big for grow tents
Conclusion
The must-have a product for your hydroponics garden is the Bootstrap Farmer 1020 Trays. At a little over $7 for each tray in a pack of 5, these trays are not the most inexpensive to buy, but when you consider that they will last for many years and that you won't have to repeatedly buy new trays, this product will actually save you money in the long run. Not having to continually buy new single-use trays will also save you the inconvenience and help to save the planet at the same time. The trays are not only robust and long-lasting, but they are also well designed and fulfill their job as they should, as well as being made from recycled food-grade polypropylene, making them suitable for use when growing food.
If you're looking for a larger tray, either of the Botanicare trays work very well, as attested by the user reviews, and we don't consider the labeling to be an issue for growing. They are a bit expensive, but they also last for a long time, making them worth the investment.
Finally, the Fast Fit Tray Stand is a good buy as long as you have the room for it in your growing area.