Hydroponics > Systems >
8 Best Hydroponic System Reviews – Ready-made Hydroponic Kits To Grow Strong and Healthy Plants
8 Best Hydroponic System Reviews – Ready-made Hydroponic Kits To Grow Strong and Healthy Plants
Explore Our Categories
Purple Flowering Shrubs

Purple is an elegant color that symbolizes royalty, mystique, creativity, and spirituality. It brings a sense of calm, m...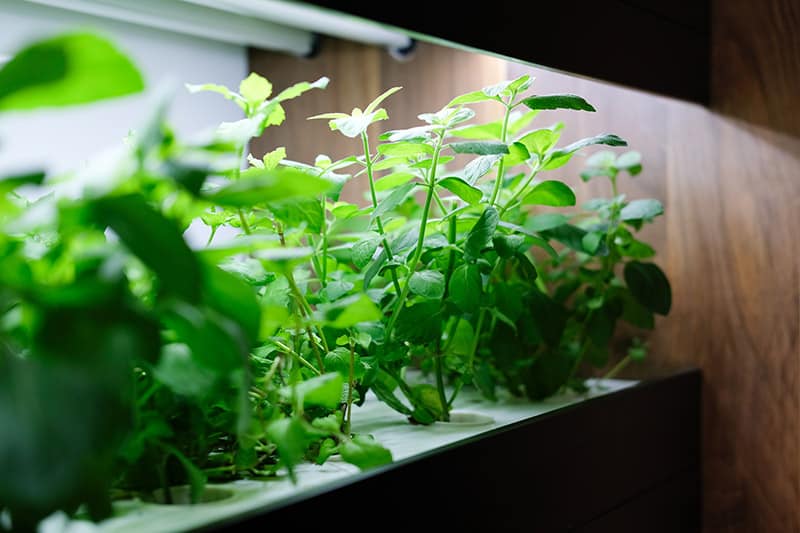 If you don't have the time, patience, or confidence to build your own DIY hydroponic grow system, there are other options available on the market just for you.
Ready-made hydroponic kits are a fast-growing niche. Check out our hydroponic systems reviews to figure out which one suits your needs the best.
In case you don't know different types of hydroponic systems, please read our past post. Or you can skip it and read below to find our reviews of the best hydroponic systems. We'll choose the products among the 4 main hydroponic techniques. These can be used to install immediately.
Aeroponic System Reviews
1. General Hydroponics 706705 Rainforest 66 Medium to Large Size Plants Aeroponic System
Features & specs
Measure just 22.9 x 19.1 x 26.1 inches approximately
Can grow six plants maximum
Suitable for growing medium to large-sized plants
Includes 17L reservoir with lid, inserts, 6 plastic cups, Vortex Sprayer, CocoTek liners, CocoTek Caps, and 3-Part Flora Hydroponic Nutrient
Easy-fill reservoirs with a light barrier to prevent algal growth
Requires only minimal setup and installation
While many of the Aeroponic Hydroponic machine on the market is for cloning plants and seedlings, the General Hydroponics 706705 Rainforest 66 targets at medium to large-sized plants. It is able to grow 6 plants maximum . If you want to grow more, you should look for the bigger version – General Hydroponics Rainforest 318 , which can accommodate 18 sizes.
This a whole aeroponic system built out of the box, including all necessary items you can use to run immediately – inserts, sprayer, CocoTek Liners, CocoTek Caps, and hydroponic nutrient kits.
The design also gets plus points with a very great look and thoughtful touches. But a white design can attract algae. So whether or not, you should occasionally clean and wash the system – say at least every 2 weeks.
Overall, the Aerostar is a well-rounded aeroponics system. It is a very nice aeroponic system to grow large plants and easy to set up and maintain.
---
2. CloneKing Aeroponic Cloning Machine
Features & Specs
A complete aeroponic cloning kit for indoor gardeners
Contains reservoir, submersible pump, manifold with misters, and individual inserts
Capable of housing anywhere from 1 to 36 plant cuttings
Able to produce string root growth within two weeks
Ideal for users who want a cloning nursery for gardens and hydroponic grow systems
Constructed from durable black BPA plastic, with neoprene inserts
Does not use net pots to hold plants
One area where Aeroponic techniques fare much better than hydroponics is in cloning of plants for wider cultivation. Cuttings from your mother plant will have a much better chance of successful propagation in an aeroponic cloning machine.
Clone King has several aeroponic machines specifically for the propagation of a high volume of saplings. The particular model reviewed here has 36 separate sites for individual plants.
The system uses 13 spray heads to deliver the water and nutrients in mist form to the root area of the clones. This is a complete system, requiring minimal setup and assembly. It does not include any grow lights as usual.
This particular version of the CloneKing does not have net pots. Instead, it uses neoprene inserts to hold the plants in place. If you want a system with net pots, you should check out the CloneKing 25 machine.
The neoprene inserts are reusable, and you can continuously use this cloning machine to create clones of your favorite plants for your garden or hydroponics system.
CloneKing is a very popular option for both experts and beginners alike due to its overall efficiency and accessibility. It also has a very compact footprint.
Deep Water Culture System Reviews
1. PowerGrow DWC Hydroponic Bubbler & Bucket Kit
Features & Specs
DWC system with 4 growing sites
Has industrial grade air pump and air lines
Air stones for improved oxygenation
Uses 4 FDA food-grade plastic buckets, 5-gallon size
6″ net pot lids on the bucket for growing mature plants
Blue water level indicator and drain on each bucket
System is easy to install, maintain, and expand
Measure just 30 x 12 x 12 inches
Weigh 18 pounds
The PowerGrow DWC system uses large 5-gallon buckets for their deepwater system. The buckets are made from FDA-rated food storage plastics.
The system contains eight individual buckets, each capable of growing one plant to full maturity. The buckets are all connected to a central air pump using separate air lines.
The PowerGrow system tries to distinguish itself from the competition by adding air stones to each bucket. These stones further oxygenate the water, in addition to the oxygen pumped in by the industrial air pump.
The system is complete and requires only grow lights to start nurturing your plants. The bucket lids contain large 6-inch net cups capable of housing fully mature vegetable and fruit plants.
Assembly and maintenance of the PowerGrow system are largely hassle-free. The buckets are armed with water level indicators and drains, which make reservoir refills and cleaning easier.
Due to the simple and scalable design, you can easily expand this system by adding more buckets. Space is obviously the limiting factor here, due to the size of individual 5-gallon buckets.
---
2. HTG Supply Bubble Brothers DWC Hydroponic System
Features & Specs
Simple DWC system with six individual grow sites
Uses six plastic buckets, 3.5-gallon capacity
Has a commercial grade air pump, with six separate air lines
Each bucket contains a 2″ air stone for oxygenation
Grow sites are 6″ net cups on the lids of the buckets
Package includes a 10L bag of growing medium (clay pebbles)
Measure 30 x 15 x 15 inches
Weigh 31 pounds
The Bubble Brothers is a slightly smaller DWC system from HTG Supply. Its overall design is quite similar to the other system from PowerGrow.
This one has a slightly smaller profile, with six individual grow sites, housed inside opaque plastic buckets. The buckets are smaller, at 3.5-gallon capacity, and have a lower profile.
The system includes an air pump that is connected to the six buckets using separate air lines and a six-way divider. The air lines use ¼" tubing.
The lids of the buckets contain 6″ net pots capable of growing plants to full maturity. You will need a growing medium, and HTG Supply has got you covered with clay pebbles (10L bag worth).
The opaque surfaces and lids on buckets deter the growth of algae. And the presence of large 2″ air stones inside the reservoir ensures that the nutrient solution is adequately oxygenated.
The system is easy to assemble and maintain. This is a practical option for beginners and growers who want a quick-assembly DWC hydroponics system.
Drip System Reviews
1. General Hydroponics WaterFarm Module
Features & Specs
Completely autonomous drip water hydroponics system
Each module is capable of growing a single plant (small, medium or large size)
Uses square plastic buckets as reservoir (4-gallon size)
Each bucket module contains pumping column, drip ring, air pump, nutrients and growing medium
Available in different specifications – Individual, Module, 8-Pack
The WaterFarm module is an interesting choice for beginners looking at a compact drip hydroponics system. It has a very small footprint and can be housed pretty much anywhere.
Despite its diminutive size (15x10x7 inches), this is an entirely autonomous standalone unit. It requires minimal assembly, and you can start growing your plant within a matter of minutes.
The central unit is a four-gallon square plastic bucket, with a two gallon growing chamber inside. The system uses a built-in pumping column drip ring to handle the watering of your plant.
Each module can house a single plant. A complete system would include the bucket, drip pump, air pump, growing medium (hydroton pebbles), nutrients, and water level indicator.
There are two options from General Hydroponics when it comes to components included in the package. The WaterFarm system is the complete package, while the module has only the bucket, growing chamber, and pumping column drip ring.
The module is a good choice if you want to string together multiple grow sites into a single, sophisticated system. Or you can even hook each one up separately as this design gives you that freedom.
The module is for seasoned growers who want to configure their own drip system. If you are a beginner, look for the WaterFarm Individual, or WaterFarm 8-pack from the same manufacturer.
---
2. General Hydroponics EcoGrower Drip Hydroponic System
Features & Specs
Complete drip water hydroponics system
Can house six individual plants
Has a single large 17-gallon reservoir
Grow sites are 6″ net pots housed in reservoir lid inserts
Uses an air powered spider drip system
Nutrients and growing medium are included in the package
Dimensions: 26 x 23 x 18 inches
Weigh 31 pounds
The EcoGrower opts for a design philosophy that is the opposite of the modular system found in the WaterFarm series from General Hydroponics.
Here, you get a single structure that has multiple grow sites integrated into it. The hexagonal structure has six grow sites, built into the lid inserts that sit on top of the reservoir.
And to provide enough water to six growing plants, you need a pretty large reservoir. The EcoGrower reservoir is up to that task, with a maximum capacity of 17 gallons.
The nutrients are delivered to the individual grow sites using a spider drip system. This is an air-driven system, powered by an Elite 800 air pump.
The lid inserts have 6″ net pots, each capable of growing a plant to full maturity. General Hydroponics provides clay pebbles as part of the package.
The EcoGrower is a complete system, with a reservoir, drip assembly system, air pump, lid inserts, liners, air pump, growing medium and nutrients all included in the package.
You only need to add the seedlings, water, power and grow lights. The system has very few moving parts and is easy to install. The large reservoir will need frequent maintenance though.
The EcoGrower is a good option for folks who wanted to upgrade from smaller beginner hydroponics systems.
Ebb & Flow System Reviews
1. Active Aqua Grow Flow Ebb & Gro Hydroponic System
Features & Specs
Flexible Ebb & flow system
12 pot ebb & flow hydroponic system
Expandable to 48 pots
Comes with a programmable ebb & flow controller
Package includes all fittings, tubings, and even sample nutrients
Easy & quick setup
This is a very flexible and efficient ebb and flow system from Active Aqua. The base variant has 12 individual pots, but you can expand it all the way to 48 pots if necessary.
The system uses a small reservoir and controller unit to run the system. The controller unit is capable of running up to 48 pots.
You can set the fill and drain cycles in the programmable controller and let it handle the rest. This autonomous unit has fail-safe systems, with overflow protection and LED indicators, and emergency shut off valve.
The modular nature allows you to expand the Grow Flow system as you please. Active Aqua sells expansion packages that include anywhere from 6-12 extra growing modules.
The package is pretty comprehensive and includes everything you need to get started, including the modules, fittings, tubing, controller, and reservoir. You even get small 1 quart bottles of nutrient systems.
---
2. ViaGrow Complete Ebb & Flow Hydroponic System
Features & Specs
Complete ebb & flow system available in four different sizes
Can hold between 9 and 25 plants, depending on the size of the system
Available in size: 2×2, 2×4, 3×3, 4×4
Individual pots are sized at 5.25 inches
The reservoir has between 10-20 gallons capacity.
Includes programmable timer, pump, reservoir, tray, growing medium and pots
A bit heavy with 41 pounds
Unlike the highly scalable Active Aqua system, the Via Grow is a more static structure available in several size options. These models can house anywhere from 9-25 nursery pots.
Each ViaGrow system has a tray with 5.25″ pots inside. The reservoir is housed beneath this tray. The system has a built-in programmable timer to control the flow cycles.
The smallest model is very compact at 2×2 feet. Other options include 2×4, 3×3, and 4×4 variants, each with a higher number of nursery pots.
The reservoir has a max capacity of 20 gallons on the smallest model. ViaGrow also sells grow lights and nutrient packages separately.
The ViaGrow Complete is a very affordable ebb & flow system for beginners looking to get their hands on a full-size hydroponic system. It is easy to install and maintain.
---
Conclusion
Thanks for reading our best hydroponic system reviews. We hope this article has given you enough information and knowledge about choosing the top ready-made hydroponic products on the market.