5 Best Humidifiers For Grow Rooms & Grow Tents
5 Best Humidifiers For Grow Rooms & Grow Tents
Explore Our Categories
Terrarium Plants

A terrarium is a unique environment that allows you to grow plants that would otherwise never grow in your area. Terrari...

Bathroom Plants

Although it may not be the first place that comes to mind, the bathroom is a great area to add some humidity-loving plan...

Low Light House Plants

Succulents are our favorite houseplants. That's because they're relatively easy to care for. But that ease of maintenanc...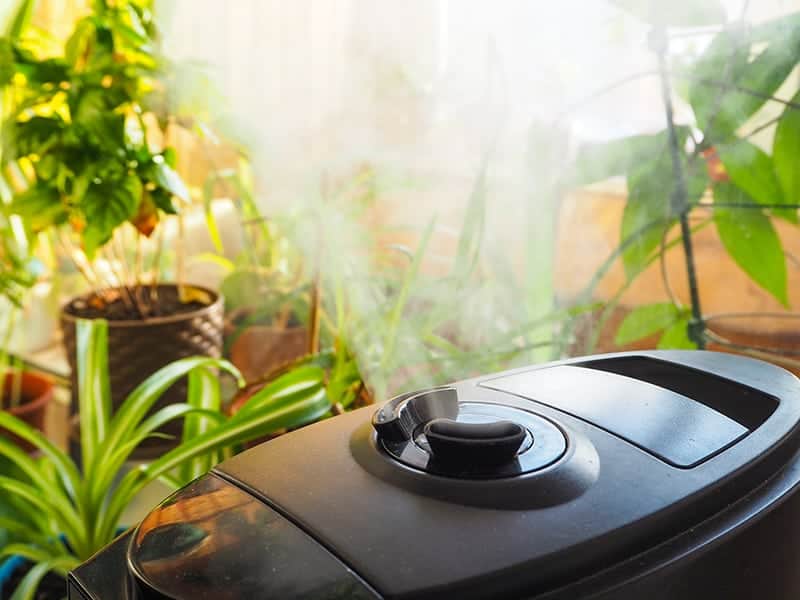 If you have a collection of tropical plants that thrive in high humidity in your grow rooms, you might be wondering what the most effective way to increase the moisture levels in your air is. While there are a handful of ways to increase humidity, hands down, the most effective way to consistently maintain a higher level of humidity is with an electric humidifier.
As an added bonus, humidifiers aren't only good for your plants; they're good for you too.
To find out which humidifier will work best for your grow space, check out our buying guide and reviews of the top-selling humidifiers available right now.
If you don't have the time to read the whole article, here are our highlights.
Products Details
Product Details
Our pick for large grow rooms | Best Value
AIRCARE
MA1201 Whole-House Console-Style Evaporative Humidifier
Evaporative type. 13.6-liter capacity. Can be used for room up to 3,600 square feet. Portable and automatic shutoffs included
Our Pick For large grow rooms | Best Overall
AIRCARE
EP9 800 Digital Whole-House Pedestal-Style Evaporative Humidifier
Evaporative type. 13-liter capacity. 9 fan speeds. For space up to 2,400 square feet. Stylish humidifier with
Hybrid humidifier (humidifier & air purifier)
Venta
LW25 Airwasher 2-in-1 Humidifier and Air Purifier
Evaporative type. Also include an air purifier. 15-liter capacity. Designed to work in spaces of up to 400 square feet. Costly product with a 10-year warranty and an automatic shut off.
Honeywell
HCM350W Germ Free Cool Mist Humidifier
Ultrasonic type. 3.78-liter capacity. 3 humidity levels, which can last for 24 hours of use when set low.
Buying Guide
Besides grow room ventilation, your job as a hydroponic or indoor grower is to take care of the humiditity levels of your space. Depending on the types of plants grown, mostly, they require a humidity level of 60% or higher.
Humidifiers work to increase the moisture content of the air, which is a dream come true for tropical plants and other humidity-loving plants which thrive in such environments. High humidity helps plants grow more vibrant leaves and encourages better plant health, resulting in more lush foliage and a better-growing plant.
While some plant owners increase humidity with pebble trays or misting their plants, these methods do not consistently increase humidity, and they require continual human participation. The easier option, which will result in a more measured level of humidity, is an electric humidifier. High humidity also results in warmer air, which will also benefit your tropical or subtropical green friends. But not all humidifiers are created equal.
What to Look for in a Humidifier
Type
Cool mist humidifiers fall into three categories: ultrasonic, evaporative, and impeller.
Ultrasonic models release water by using a vibrating nebulizer. The main benefit is this is the lack of a fan, which means ultrasonic humidifiers tend to be among the quietest.
Evaporative humidifiers utilize a fan that blows air over a moisture-retentive wick, thereby blowing moisture out into the room. These humidifiers are effective and prevent dust from being created, though they can be noisy depending on the fan level you select. They also tend to become noisier as they get older.
Impeller humidifiers work by using a disc rotating to produce mist. All of these types of humidifiers have their own pros and cons; the type you choose will be down to personal preference.
Room Size
The size of the space you need to increase humidity in will largely dictate which humidifier you get. A large whole house humidifier will be unnecessary if you just want to increase moisture content in a small room or grow tent. First, measure your space and look for a humidifier that will work adequately for your room.
Noise Level
Humidifiers can be noisy. If you want to use a humidifier in a grow tent where there won't be any people, then the noise level won't be an issue. However, if you are going to utilize the humidifier in a living area or bedroom where you grow several houseplants, then you will want to make sure it doesn't produce a lot of noise, which may irritate you or other family members.
Filter Replacement
Most, though not all, humidifiers use filters. These need to be replaced, though the length of time each filter lasts is different for each humidifier model. Some humidifiers need filters replacing every few weeks, while others last up to six months. Washing your filter will help to extend its life, but you should factor in the cost of filters and the frequency with which they need replacing when you choose a humidifier.
Cleaning
Due to their nature of producing moisture, humidifiers tend to suffer from mold growth. To prevent mold particles from being dispersed into your air, your humidifier will need regular cleaning. This is one of the most inconvenient aspects of some humidifiers. Some models have been poorly designed when it comes to cleaning, and they require being dismantled every week to keep them in good order. Ensure you choose a humidifier that is easy to clean. Otherwise, it will end up unused in a kitchen cupboard and forgotten about.
Portability
If you select a large humidifier, you will need to ensure it has wheels so that it can be easily moved to another room, should you need to move it. As humidifiers also need to be regularly refilled, the water container should be easily portable, preferably good for refilling directly at the sink.
What to Look For
Style and Design
For humidifiers to be used in a grow tent, you won't be too concerned about how the unit looks, though you will need to make sure it is the right dimensions and shape to fit in your space. If you plan to use a humidifier in your home, you might be more interested in looking for one which will suit your decor. You can find humidifiers in a variety of designs and colors so that it won't look too out of place in your living room or bedroom.
Product Comparison
There are 2 ultrasonic humidifiers – the TaoTronics & Honeywell while the others use evaporative humidifier technology. The Venta Humidifier is also packed with an air purifier; hence, it is not cheap.
Among the quietest humidifiers are the TaoTronics Cool Mist Humidifier, the Venta LW25 Airwasher 2-in-1 Humidifier and Air Purifier, and the Honeywell HCM350W Germ Free Cool Mist Humidifier. The remaining humidifiers are all fairly quiet when used on the lowest fan settings, but they can get very loud if you select a higher setting.
For a cost-effective humidifier, look to the TaoTronics and Honeywell models, which retail at around the $50 mark. All of the other best-selling humidifiers in this review range from $125 to $300.
Of all of these humidifiers, the only one that is filter-free is the Venta humidifier, which makes for less involved maintenance, and no replacement filter costs.
The most stylish of these humidifiers is probably the AIRCARE EP9 800 Digital Whole-House Pedestal-Style Evaporative Humidifier, though this is a matter of taste and opinion. In a dark color and with customizable tile design, this humidifier is the least functional-looking and should fit in easily with most home decors.
Product Reviews
Best Value
TaoTronics Cool Mist Humidifier
This ultrasonic humidifier features an LED display for instant information, as well as a night light, and a large 4-liter capacity. The humidifier has three humidity levels, which the user can select, and depending on the option chosen, the humidifier will run for between 12 and 30 hours before it runs out of water. As a safety feature, the humidifier will automatically turn off once the water runs out, and the LED display will indicate that the water needs to be refilled.
The humidifier is petite yet powerful. It will fit in easily in smaller rooms without looking like an eyesore, but will vastly improve humidity levels. It is designed for use in rooms ranging from 107-322 square feet in size, making it ideal for grow rooms, grow tents, bedrooms, and living rooms. The standout feature of this humidifier is that it runs incredibly quietly, making it a good choice for use in the home if you want to increase humidity levels for your plants without disturbing your everyday life.
Users of this humidifier found it to be very effective. It adequately increased the level of moisture in the air with almost no noticeable noise. Users were particularly impressed with the customer service from the manufacturer, who sent out replacement parts quickly without charging the customers. (It's also worth noting that the replacement parts needed were for parts of the humidifier, which broke after several years of use.)
Users were also pleased with the packaging the humidifier came in, which included lots of polystyrene and several boxes for added protection. An overwhelming percentage of users recommend this humidifier, claiming that it has worked efficiently and reliably for many years. Lots of users of this product went on to buy a second unit for other rooms in their homes after being so pleased with their original unit.
One repeat complaint among some users is the 'white dust' that is found in the room where the humidifier is used. However, this is not caused by the humidifier itself and is instead a result of the minerals found in the water used. If filtered water is used instead of tap water, this problem would be eliminated. The humidifier does contain a filter that should prevent some of the white dust, but in many cases, this was found to be ineffective. Some users also found that the unit becomes slightly noisy after many years of use, but this is likely down to lack of maintenance.
Pros
Runs very quietly
Automatic shutoff
LED indicator when water is low
Three humidity levels
Large water capacity
Good customer service
Good packaging
Long-lasting
Cons
Filter doesn't adequately filter minerals from water
May become noisy after extended use
Our Pick For Large Grow Rooms | Best Value
AIRCARE MA1201 Whole-House Console-Style Evaporative Humidifier
This humidifier has an extra-large 3.6-gallon capacity (over 13.6 liters), which works to increase humidity levels in up to 3,600 square feet of space. The unit has several humidity levels you can choose from, and this will affect how long the water will last and how often you have to fill up the water container, though replacing the water every day is a reasonable expectation. Due to the large capacity of this humidifier, the unit is, therefore, quite cumbersome. However, the design is simple and should fit well with most interiors. It also features wheels, allowing for easy portability between rooms. The humidifier will automatically shut off when water runs out, for safety and peace of mind. It also automatically shuts off when the desired level of humidity is reached.
Users of this humidifier found it to noticeably increase the quality of the air, noting that it felt fresh and healthy. Users love that the humidifier constantly displays the humidity level in the LED screen and that it turns off automatically when the chosen humidity level is reached. Some users noted that the highest speed settings on the humidifier made it run very loudly, but the lowest settings were of a reasonable noise level. If you plan to keep this humidifier constantly running for the benefit of your plants, it would be advisable to keep it away from the area you sleep to prevent any noise disturbance.
The filters in the unit work effectively, preventing white dust from appearing in the air, which happens with some humidifiers, though these need to be regularly replaced. Some users found that the wick in the unit developed mold very easily, which would then be dispersed into the air within the home.
Users also noted that the unit needed to be cleaned and maintained regularly to continue running effectively. Some users cleaned the unit as frequently as every day to prevent mold from growing. While some users agreed that the maintenance was worth it, others found that this made the humidifier too labor-intensive to own. The occurrence of mold growth led to some users recommending that this humidifier not be used by people with allergies or sensitivities.
Pros
Extra-large water capacity
Whole-home humidity levels increased
Automatic shutoffs
Portable
Filters effectively prevent 'white dust'
Simple design
Cons
Requires frequent cleaning
May develop mold problems
Large unit requires space
Highest settings quite loud
Our Pick For Large Grow Rooms | Best Overall
AIRCARE EP9 800 Digital Whole-House Pedestal-Style Evaporative Humidifier
This humidifier has a 3.5-gallon water capacity and 9 fan levels. When running at around level 3 or 4, you can expect to have to refill the water container twice each day. This humidifier is designed to increase humidity throughout a whole home of up to 2,400 square feet.
Unlike many other humidifiers, it has been designed with attention to style. It comes in a matte graphite shade, which is somewhere between gray and black. Most people will find that its design easily fits in with the decor of their home, and as an added touch, it features stylish tile design on the top of the unit.
This 12 x 12-inch tile can be taken out and replaced with any tile of the same size, enabling you to coordinate the humidifier with the decor of your home. The humidifier features a digital display that shows the current humidity level, as well as your desired humidity level. The unit will shut off when the desired humidity is achieved, and it will also shut off when the water is empty.
Users of this humidifier have varied opinions of it. Some users found it to be easy to use, reliable, and aesthetically pleasing. Aside from effectively increasing air moisture levels, what many users love about this unit is how easy it is to clean. A quick vinegar spray or a wipe over of the filter is all that is required to clean the machine and keep it running effectively.
Some users were disappointed with the LED display, which permanently gave an incorrect humidity reading (in most cases, it indicated that the humidity was 20% higher than it actually was, as verified by several external calibrated hygrometers). This was not a malfunction of the humidifier, but instead, a design flaw that resulted in the wrong reading.
Some users found that the unit was stylish and well-designed from a decor point of view, while others felt that it looked like it was built from cheap plastic and was therefore unappealing to look at. One issue uncovered by some users was the poor customer service supplied by the manufacturers, who were slow to respond to problems if they responded at all. Most people found that if the unit was set to anything over level 5, then it was too noisy to have in the home, though most people agreed that it was effective enough even at lower quieter levels.
Pros
Stylish design
Customizable with replaceable tile
Easy to clean
Large capacity
Automatic shutoffs
Cons
Inaccurate humidity level reader
Higher settings are very noisy
Poor customer service
Looks cheap
Expensive compared to comparable humidifiers
Hybrid Humifier (Humidifier & Air Purifier)
Venta LW25 Airwasher 2-in-1 Humidifier and Air Purifier
This humidifier works simultaneously to increase the moisture content of the air, while also cleaning it by removing pollen, dust, and other allergens. Designed to work in spaces of up to 400 square feet, this unit is ideal for use in a living room or large bedroom. Its revolutionary technology cleans the air without the use of a filter, meaning less maintenance and expenditure for the customer. The dual humidifier and air purifier prevent the problem of white dust, which can occur with some humidifiers. This unit also benefits from a capacity of 4 gallons, a 10-year warranty, and an automatic shut off.
Users of this unit disagree about how effective it is. Some users declared that it was the best humidifier they have ever owned, while others believed that it didn't increase humidity levels in the air at all. One thing that all users could agree on is how quiet the humidifier is. It doesn't have a fan to blow air around, and so is incredibly quiet to use.
Users also agreed that cleaning this unit is very easy. It only requires cleaning once every week or two, and the cleaning process is much less involved than traditional style humidifiers. Users also loved that they didn't have to be continually buying replacement filters. At just under $300, this is a costly purchase, but some users believe this price is justifiable because it lasts longer and performs better than other humidifiers they have used.
Pros
Quiet operation
No filters
Easy cleaning and maintenance
Purifies air
10-year warranty
Cons
High price
May not work effectively
Honeywell HCM350W Germ Free Cool Mist Humidifier
This humidifier is equipped with UV technology, which kills 99.9% of bacteria in the water, resulting in germ-free water being misted into your home to increase humidity levels. This unit has three humidity levels: low, medium, and high. It has a capacity and 1 gallon, which will last for 24 hours of use when the humidifier is set to low and is recommended for use in small to medium-sized rooms.
The unit has been designed for easy portability with a tank handle, which is useful for transporting it to the sink. The container has a wide neck so that it can be refilled straight from the faucet, and the wide neck also means you can reach your arm in to scrub the inside of the container when cleaning.
Users of this humidifier found it to be long-lasting, easy to clean, and quiet to use. When set to 'low,' the unit emits very little noise but adequately increases humidity. Users found that filters needed to be replaced every 3 to 6 weeks, which was quite an expense given that each filter costs between $10 and $30. Users also noted that the unit needed to be cleaned thoroughly at least once a week. Otherwise, mold and slime would develop inside it. Though cleaning the unit needed to be completely frequently, most users found the cleaning process to be easy.
Some users found that the UV light stopped working after a few years, though they didn't believe it made a significant difference to the effectiveness of the humidifier. In fact, some users believed that the UV light contributed to the deterioration of the unit because it is made from plastic, in the same way that plastic furniture deteriorates under the sun when left outside.
Pros
Easy to clean
Eliminates germs
Quiet to run
Easy to re-fill
Cons
Frequent cleaning needed
Filters need replacing often
Built-in UV light can cause damage to the unit
Conclusion
The standout humidifier for use in a grow room or grow tent is the TaoTronics Cool Mist Humidifier. It is ideal for small to medium rooms, with a compact size that won't take up too much space. At around $50, it is also one of the most cost-effective best-selling humidifiers, with filters only needing to be changed once or twice a year. Users rate this humidifier very positively, and as an added bonus, the manufacturer offers excellent customer service should you encounter a problem with it.