The Best Carbon Filters For Grow Rooms
The Best Carbon Filters For Grow Rooms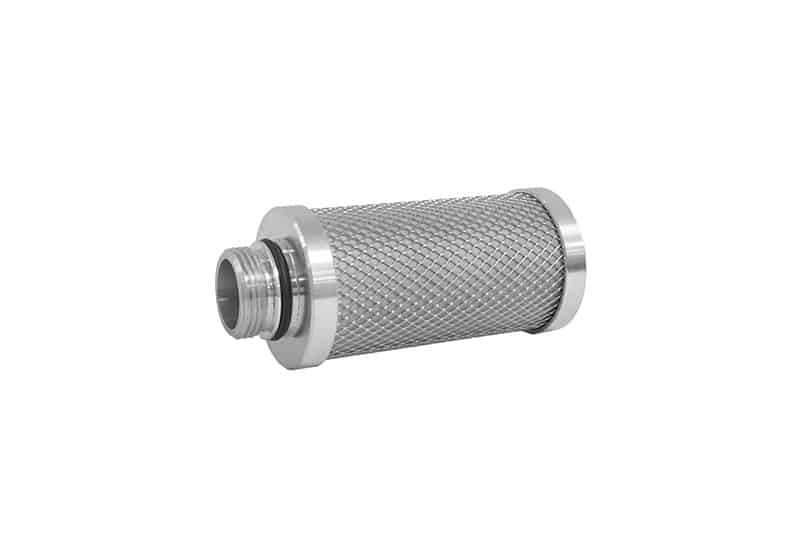 If you are sensing some foul smells around your household, your grow room might be the culprit.
Often, the lingering odor can be a huge concern for many growers, other people in the house and may cause some health issues. One of the easiest yet efficient solutions to bring down the carbon emission is to get a carbon filter.
So in this article, we'll show you how to pick the right carbon filter to scrub the air in your indoor grow room.
If you are interested, here are our recommended carbon filters. Navigate to the end of the article for a full review of each product.
What to Look for In a Carbon Filter
It's not easy to choose the right carbon filter considering the abundance of options on the market.
However, when you put the following into consideration, your chances of choosing the right one is significantly upped:
Pre-filter. Many carbon filters now come packaged with pre-filters that you put outside of your carbon filter. This pre-filters helps in reducing particles like dust from getting into the carbon filter. Not only will this improve the lifespan of the carbon filter itself, but also the inline fan or other equipment you use with your carbon filter.
Carbon Thickness. When the carbon is thicker, the absorption will be greater, which makes the carbon filter more effective in controlling odor. Because thicker carbon filters are more efficient, you should expect a higher price tag for them.
Portability. With compact carbon filters, you get lesser noise and vibration during operation. These kinds of carbon filters are better at absorbing odor and smell and transporting them into the carbon granules. Unlike those with air pockets in between, this type can catch odor more effectively.
Durability. While it might be tempting to go for inexpensive models, it's better to buy expensive, higher quality carbon filters than for you to choose lower quality ones that may not last long. Sturdy carbon filters have better performance and generally last longer, and their maintenance is lighter compared to their counterparts.
How to Choose the Right Size for Your Carbon Filter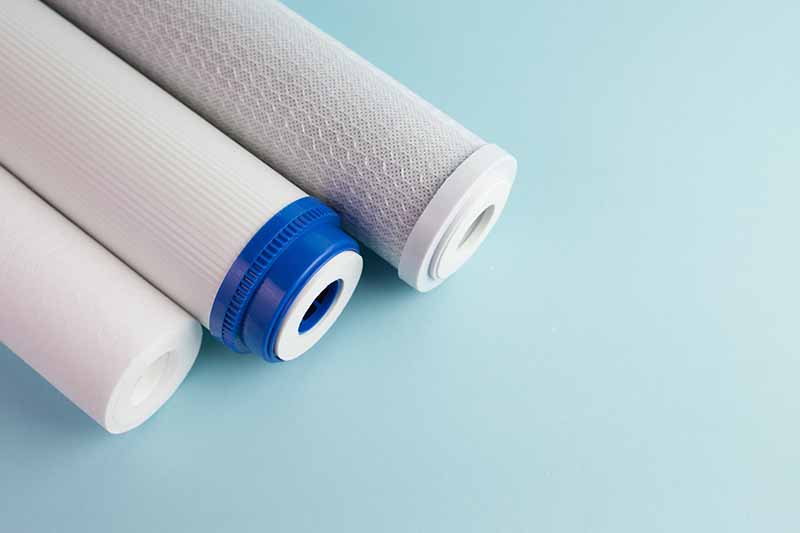 When choosing the size and filter to go with, you'll have to calculate how much cubic feet is in your grow room. You can do this by multiplying the length by the width and the height.
If you're a gardener, then you can usually find these specs on your order, but if you can't find it, you can always measure it with the tape measure.
In an ideal situation, you want to exchange all your air every minute. To do that, your fan CFM has to match the cubic feet of your grow room.
If you're using a carbon filter, you'll want your fan CFM to be 20% more than the square feet of your room. In smaller tents, you'll most likely only need a single 4-inch fan to move enough air.
When using a single fan, we recommend using it as an exhaust fan instead of an intake fan so that you can use a carbon filter.
Since carbon filters are used as part of an exhaust system, this will cause negative pressure inside your tent which plants don't typically like.
So to counter this, you can open one of the screen meshes. Exchanging the air of your room every minute is only if you're not picky. There are a lot of growers who get away with just oscillating fans.
If you are a casual grower, exchanging your air every two or five minutes is usually good enough and from our experience hasn't affected a yield all that much.
It's more important to stay at the right temperature, and humidity range, then change your air every minute. Your ideal temperature is between 70 to 85 degrees Fahrenheit or 20 to 30 degree Celsius when the lights are on and slightly cooler.
When the lights are off, it's recommended not to have a temperature drop greater than 15 degrees. The ideal humidity for cutting and seedling stage is 70 to 80%.
Relative humidity for vegetable stages is 40 to 70%, and for flowering, it's 40 to 50%.
In general, it's okay to have a filter to be oversized for a fan or grow room because it's not particularly important to exchange the air at a fast rate.
However, it is generally not okay for a fan to be oversized for the filter because we won't be able to scrub odors fast enough for most people's standards.
If you do have a huge fan for small gross space, you can always install two carbon filters around your exhaust fan. However, keep in mind it's not conventional but it works.
Reviews of the Top 5 Carbon Filters
---
How do they compare?
The Phresh Filter in this list is the top high-end carbon filter on the market. There are some users complaining that it doesn't have the capability to withstand frequent usage. But this is countered with better customer service , so you get replies to your inquiries faster.
Unlike the Phresh Filter, the iPower 4-Inch Carbon Filter is a much more affordable model for arresting nasty odors. It is built for long-term usage, even with heavy usage. Overall, a good-valued product for budget user.
Other affordable product you should consider is the Amagabeli 4 inch Carbon Filter. Of all the models on this list, it's the only unit that doesn't have any complaint regarding durability. Many users also commend it for its strong capacity to eliminate odor better carbon filters like the Phresh and iPower.
The VIVOSUN Air Carbon Filter is cheaper but doesn't promise a better usable life like the Amagabeli carbon filter, and is less popular than the iPower one. Many customers reported that the filter breaks down after a short period of using it.
As for the TerraBloom Premium Carbon Filter, it is the only one that doesn't do an excellent job of cleaning the air of pungent smell. Although, it is manageable as some of the users find that it serves their purpose quite well.
In-depth Review of the Top Carbon Filters for Grow Room
---
How Do Carbon Filters Work?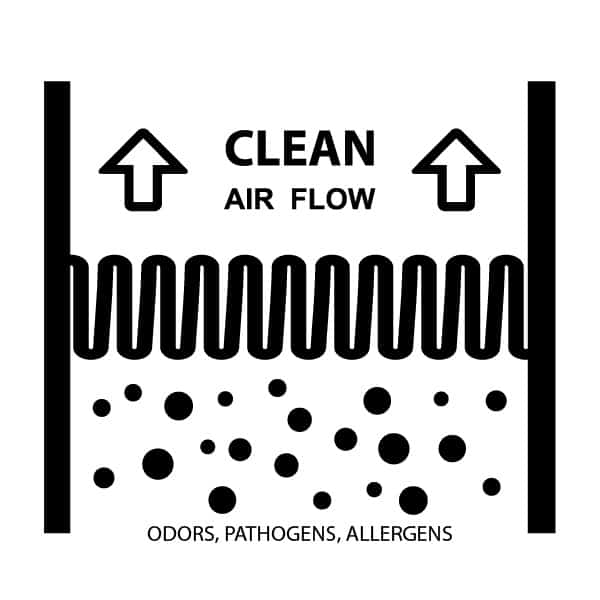 Carbon filters are widely used in reducing odor and control the emission coming from growing applications.
They are particularly useful for eliminating air contaminants such as allergen, pathogens, and other unpleasant odors that come out of a grow room/tent.
Ambient air is passed through the carbon filter, and the carbon content captures the vapors in the air – which are responsible for the pungent smell – and take them out of circulation.
While the air is in the filter, the carbon reacts to any contaminant and traps them into the screens out the impurities so that the air that goes out is clean and free of foul smells.
This effectively lowers odor-causing chemicals, which in turn reduces the odor in the grow room.
As long as your carbon filter is of a good grade and fitted into a strong ventilation system that can force air into the filter, you should be able to prevent any odorous smell from escaping into the air.
You should expect to change them a few times depending on how much you are growing and how often you do that.
Benefits of Carbon Filters
Here are some of the benefits of carbon filters:
Carbon filters help you eliminate odor you'd otherwise find difficult to eliminate without the help of one.
Not only are they safe and reliable, but they are also very efficient and effective in controlling the odor in your grow room. So, if you are a serious grower, it's a must to have one in your grow room.
They are generally easy to use and install. And they can last for a very long time, depending on how much you are growing. Carbon filters have minimal maintenance that once installed; they can last until you need to change them.
They are better than other forms of odor control because they're not going to present a risk of damage to what you are growing.
Conclusion
If you are looking for an established product that has been used and proven by lots of seasoned grow room users, the Phresh is your best choice. Even though their prices are a lot higher than other counterparts, it's hard to deny that you have to pay extra for quality products these days.
For those who are on a budget but still look for a popular and good carbon filter, go with the iPower product.
It comes with pre-filters, which enables it to last longer. As mentioned in the review above, it is sturdy and well-constructed such that you get a higher value for your money.