Save Up to 40% | View our Best Sellers
Free Shipping on all orders over $150
30-Day Healthy Plant Guarantee | Learn More
Stargazer Lilies for Sale - Buying & Growing Guide
Where to buy Stargazer Lilies
American Meadows - 28-36 Inches tall - Stargazer Oriental Lily Bulbs
See Deal
Direct Gardening - 10-12 Inches - Stargazer Lily
See Deal
Lowes - 12 Inches - 1-Pack Stargazer Oriental Lily Bulbs
See Deal
Find this product near you
Enter your zip code to find nearby stores that may carry this plant.
If you've ever passed by a garden or cut flower arrangement that included stargazer lilies, you probably noticed both the spicy, sweet fragrance and striking appearance of this Eastern Asian species. Grown from bulbs that bloom every summer, each stem of a stargazer lily produces between four and 12 large, showy flowers that get their name from the way that they tilt upwards towards the sky. Here are some other reasons to love stargazer lilies:
Grow to a height of two to three feet tall and spread nine to 12 inches wide.
Thrive in full sun but will tolerate partial shade.
Require very little care once they have been planted.
Planting and Care
Planting instructions
Stargazer lilies are perennials grown from bulbs and do best in USDA hardiness zones 3 through 8. Stargazer lilies are sturdy, tall plants that thrive in almost any type of soil as long as they get sufficient sun. They do as well in containers as in gardens. Bulbs are best planted in groupings to create focal points and an attraction for butterflies and hummingbirds. Because the plants grow to nearly three feet tall, they can be planted at the back of a garden behind other plants, and because their stems are so sturdy they require no staking or support.
Stargazer lily bulbs can be planted in either the early spring or the fall. To plant stargazer lily bulbs, choose a spot that gets direct or partial sun and that has soil that is moist but not saturated. If planting in a container, make sure that there is enough room for the roots to grow and that drainage holes are present. If your bulbs are frozen, allow them to thaw out for a few hours before planting. Dig a hole six to eight inches deep and eight to 12 inches apart for each bulb, then plant with the pointy end facing upward. Fill in the hole with loose soil, ensuring that the bulb is fully covered. Your bulbs will do best if you provide them with a dose of fertilizer immediately after planting and then cover with a few inches of mulch.
Watering and nutrients
Stargazer lilies need about one inch of water per week after they have been planted. They will do well in moist soil, but too much water can lead to the bulbs rotting, so do not water until the soil feels dry, and then do not oversaturate. Water at the soil level rather than from overhead, as pouring water from overhead can harm the flowers. A layer of mulch applied over the dirt will help keep the bulbs cool and help retain moisture.
The lilies will flower heavily if they are provided with a high-potassium fertilizer when they are first planted and every two to six weeks throughout their growing season. Make sure to provide water after fertilizing.
Pruning
When the stargazer lily bloom is exhausted, cut it off of its individual stalk in order to prevent seed pods from forming. Leave the foliage alone as long as it stays green because the bulbs gather energy from them as they die back. Once all of the greenery on the plant's stem has died it can be cut at the soil level.
Pests, diseases, and animals
The bulbs, stems and flowers of stargazer lilies are generally hardy and resistant to pests, though they can fall prey to fungal diseases if they are too moist. If your lilies show signs of lily mosaic virus, Botrytis or bulb rot it should simply be pulled and thrown away before the fungus spreads to other nearby plants.
Light
Stargazer lilies should be grown in a full sun position for the best results. With around 8 hours of full sun each day, these plants will produce large luscious blooms. They will tolerate partial shade, but this can be problematic.
As the plants stretch out to seek more sun, their stems become leggy. If this happens, the stems will not be able to hold the weight of their large flowers and will droop over unless they are staked. Stargazer lilies grown in full sun will have much sturdier stems and will not require staking (Gardenia).
Temperature
Stargazer lilies are hardy throughout USDA hardiness zones 3 to 9. They grow easily in all of these zones but do particularly well on the warmer end of the scale, where summer temperatures are consistently between 80 and 90º F.
These plants are truly sun lovers and like to have their foliage, stems, and flowers bathed in the sun and heat all day long. They thrive in the hot temperatures that come along with this. However, they do like to have cool roots. In order to keep the bulbs and root systems cool, apply a layer of mulch over the soil. This insulates the soil, keeping it cool in summer and warm in winter. Mulch will also help the soil to retain moisture.
Propagation
Stargazer lilies produce offshoots from their bulbs, which are essentially baby bulbs. These can be removed from the main bulb and planted up separately to create a new set of lilies. To do this, you can dig up your original stargazer lily during any time of year that the plant does not have leaves or flowers, though early spring or late fall is preferable.
You should avoid digging the plant up when it is in the growing season, as this can affect its ability to produce future flowers. Carefully lift the plant out of the ground and brush away the soil so that you can clearly see the bulbs. Use a sharp knife to separate the bulbs and replant them where you wish. The baby bulbs may take a few years before they are strong enough to produce flowers, so propagating this plant does require extra patience.
Stargazer lilies, like most hybrids, do not reproduce as readily as many other bulbs, and their success rate when it comes to propagation can be hit and miss.
Flowers
These plants produce stunning flowers that are large and showy. They are bowl-shaped, with a distinct spicy fragrance that some people find unpleasant. The flowers bloom from mid to late summer, with up to 8 blooms produced on each stalk. The petals of the flowers are a brilliant white, with a flushed pink center and dark pink spot. The vibrant colors of the petals are contrasted by the mustard yellow of the anthers.
Unusually for flowers which are so large – typically measuring more than 6 inches across – stargazer lilies do generally not need staking. They are among the easiest of all lilies to grow, and some would argue, the most rewarding. Stargazer lilies are commonly seen in bouquets, as they make excellent cut flowers.
Indoor growing
Stargazer lilies can be grown indoors in containers. These will grow to a much smaller size than outdoor-grown lilies, but they still make beautiful gifts or houseplants. Grow them in a warm environment, ideally between 70 and 80ºF, and put them in the sunniest spot in your house.
Stargazer lilies are sometimes 'forced' to bloom at a particular time of year, for example, Valentine's Day or Mother's Day, so that they can be given as gifts. You can achieve this at home by first chilling the bulb before you plant it. To do this, put your bulb in a refrigerator and leave it there for 12 weeks. You can then plant the bulb when it is 90 days before your desired blooming date.
Toxicity
Like many other lilies, stargazer lilies are extremely poisonous to cats. Consumption of just a small amount of the plant can be enough to cause liver or kidney failure in a cat, which sadly is often fatal. Cat owners should avoid growing this type of lily in their garden or having cut flower stargazer lilies in their homes.
Even if your cat has never shown any sign of being interested in nibbling plants, you should still refrain from having this plant around your home, as it is so toxic that it is not worth the risk to your pets. Stargazer lilies are safe to have around dogs and other animals, and they are also not toxic to humans.
Stargazer Lily Varieties
There are many varieties of stargazer lilies that have been created, but they typically all fall into three main categories. These include the following.
Pink Stargazers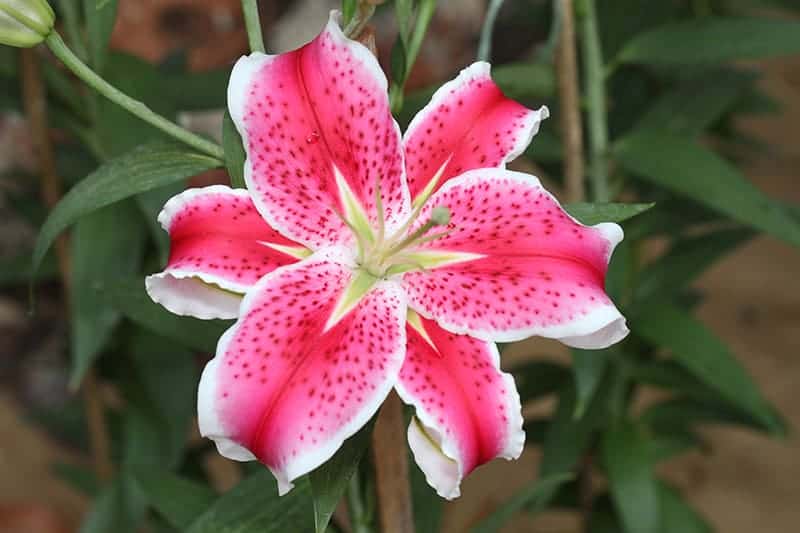 These are the stargazer lilies which most people are familiar with. It is the most compact of all stargazer lilies, growing to around 2 and a half feet tall. These plants produce pink colored flowers with bright white edges, which are dotted with dark spots. They are hardy through USDA hardiness zones 3 to 8, and though they prefer full sun, they are tolerant of some shade, especially in warmer climates.
Golden Stargazers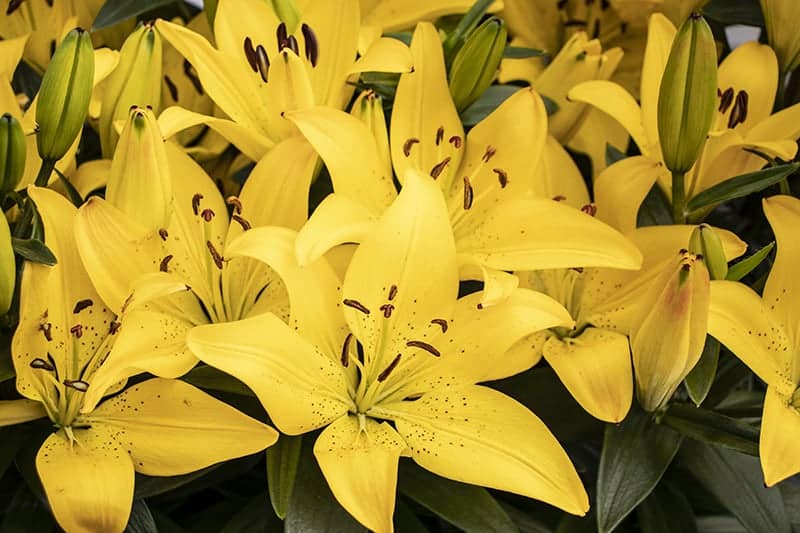 These lilies were developed as a hybrid between trumpet lilies and oriental lilies. They produce deep mustard-colored flowers with contrasting red spots. Their petals curl underneath themselves at the tips to create a dramatic look. These stargazers can be grown in full sun to partial shade, and are among the tallest of all stargazers at 4 feet in height. They are suitable for growing in USDA hardiness zones 3 to 9.
White Stargazers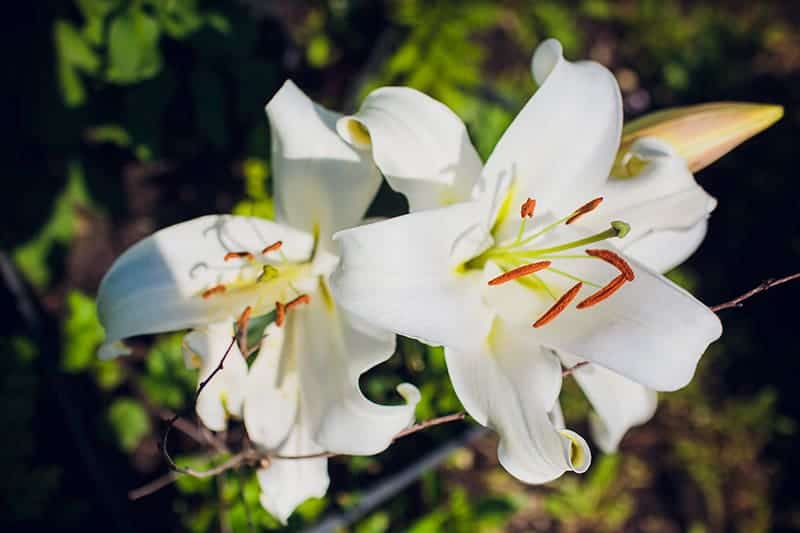 These plants produce pure snow-white flowers, which contrast nicely against glossy leather-like strappy foliage. White stargazers can be grown in warmer climates, with suitability for USDA hardiness zones between 3 and 10. They are true sun lovers and should only be grown in a position of full sun. White stargazers are also a tall variety of lily, growing to a maximum height of 4 feet.
FAQs
Are stargazer lilies toxic?
Though stargazer lily bulbs are not poisonous for humans or dogs, they are quite toxic for cats, and homes with felines should be cautious when storing them or growing them indoors.
How long is the blooming season for stargazer lilies?
Though stargazer lilies make a brilliant splash in your garden when they're blooming, once each stem produces flowers, no more will grow back. They will last in the garden or in a cut flower arrangement for up to two weeks. Take care when cutting or handling them, as the pollen on the stamens stains clothing or any fabric that it comes into contact with. For the most enduring blooms, cut the stems when buds have just barely swelled and begun to flush with color. Cut with the sharpest shears you have on a 45-degree angle and submerge the stems in water with cut-flower food or a mix of 1 quart water, 2 tablespoons lemon juice or apple cider vinegar, 1 tablespoon sugar, and a half teaspoon of bleach.
Compare Similar Products