Pussy Willow Tree - How To Care For This Deciduous Shrub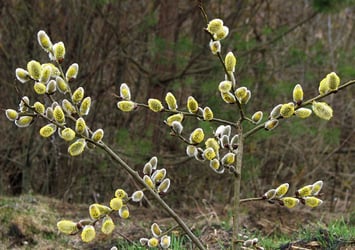 This plant is most commonly grown as a shrub, though it also works well as a tree. Its main feature is the flowers it produces, which have a furry quality. As such, each flower is said to resemble a kitten's paw, which is why the flowers are typically referred to as catkins (Brooklyn Botanic Garden). The appearance of catkins vary between different types of Pussy Willow tree, with some being dainty with silky fur, and others being large and wispy.
As a dioecious tree, the male and female plants are easily distinguishable from one another. Pussy Willow trees with male flowers typically bloom earlier, making them more sought after than the female trees. It is the male flowers which produce pollen, so as they mature, they take on a deep yellow color. Meanwhile, the female flowers remain pale shades of white or gray and maintain their furry appearance.
The fact that these trees bloom so early makes them very popular among gardeners. Their flowers are produced before their leaves, and they are usually the first sign of color in most gardens. Pussy Willows are easy to care for if you know a little about them and work to meet their needs. They are not high-maintenance, but they do require a lot of water as in the wild they are inhabitants of wetlands, found in moist soil conditions along riverbanks, streams, or marshland. Once you are accustomed to their needs, they are a joy to grow, and their unusual blooms are very rewarding.
The potential drawback to look out for in Pussy Willows is their strong and far-reaching roots, which can become invasive, particularly in more mature plants. Avoid planting Pussy Willow anywhere where it might cause underground damage, such as near wells or septic tanks.
Pussy Willow has historically been used for pain relief as it contains salicin, a key component of aspirin. It is now widely used in floral displays, both dried and fresh. If you harvest your Pussy Willow stems for use in a fresh floral bouquet kept in a vase of water, the stems will readily form roots while they are being displayed. You can then go on to plant these to grow more Pussy Willow trees, giving you both beautiful floral displays as well as an abundance of new trees.
Pussy Willow Overview
Pussy Willow Quick Facts
| | |
| --- | --- |
| Origin | North America, Europe, and Asia |
| Family | Salicaceae |
| Scientific Name | Salix discolor, Salix caprea, Salix cinerea |
| Common Names | Pussy willow, Goats willow, Great sallow, Goat sallow, Glaucous willow, Gray willow, Gray sallow |
| Type | Evergreen shrub |
| Light | sun with partial shade in hot climates |
| Watering | Maintain moist soil |
| Humidity | Tolerates humidity |
Caring for your Pussy Willow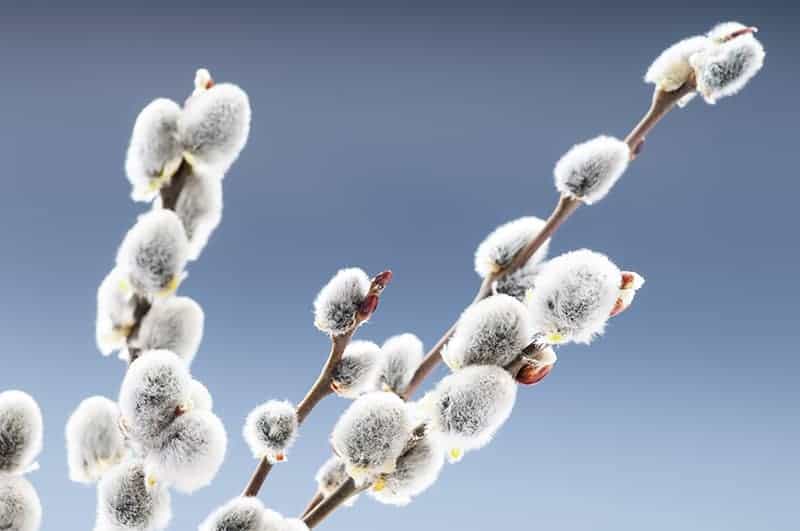 Water
Pussy Willows love moisture, and in their natural habitat thrive along the banks of streams where wet conditions are typical. They need consistently moist soil and will not tolerate drought. They should be heavily watered a few times a week during periods of little or no rainfall to ensure they get their required amount of moisture.
Soil
These trees grow as wetland plants in the wild, and so they are used to boggy conditions and consistently moist soil. If you have areas of your garden that are poor-draining, most plants will struggle to survive here. However, the Pussy Willow will be in its element and will benefit from the continuous supply of moisture. These plants will also do just fine in other types of soil, including well-draining soil, as long as they are supplied with high levels of water.
If you struggle to keep the soil around your Pussy Willow moist, there are some tactics you can use to help this. One easy way to improve the moisture content of your soil is to apply a top layer of mulch. The mulch acts as insulation for the soil, helping to prevent moisture evaporation and helping the soil to retain water.
Light
This tree thrives in full sun, though it will survive in partial shade. In hotter climates, Pussy Willows will grow in shaded conditions, but they do prefer full sun where possible. Remember that the more light the tree gets, the more water it will require.
Temperature
Pussy Willows grow well in the range of climates found across the US and Canada. They like moderate temperatures with distinguishable seasons and cold winters. They can tolerate cold temperatures better than hot temperatures and will slow in growth when grown in hot climates.
Humidity
These trees can tolerate humidity, but they do not need it to grow well. They will thrive in both moist air and dry air, so humidity won't be a factor you need to give much consideration to when caring for your Pussy Willow.
Repotting
Pussy Willows should not be grown in pots past a certain point, as they grow so large and it makes repotting very tricky. They have strong and searching roots that can become rootbound quite quickly in a pot, so reserve container growing for just young Pussy Willows.
When repotting Pussy Willows, choose a pot double the size of the previous pot. Pack the bottom of the new pot with soil before transplanting the tree. Try to separate the root ball gently without damaging the root system, as this will help the plant to adjust better to its new pot. This is especially important for plants that have become very rootbound, which is common with Pussy Willows, although it will be more difficult it is important for the healthy survival of the plant. Once they outgrow a medium-sized pot, it is best to plant them directly into the ground to allow their roots to spread.
Fertilizer
Pussy Willows growing in the ground won't require any fertilizer at all. Their roots are so good at spreading out that they will search out more fertile soil to meet all of their nutritional needs. At most, add a top layer of compost to the soil around your Pussy Willow occasionally. The nutrient-dense compost will improve the quality of the soil over time, providing extra nutrients to the Pussy Willow.
However, if your Pussy Willow is growing in a container, then, obviously, the roots will be confined to the pot and the nutrients contained within the pot's soil, and therefore, the use of fertilizer will be necessary. Use any balanced fertilizer, paying extra care not to allow the fertilizer to come into contact with the trunk of the tree.
Pruning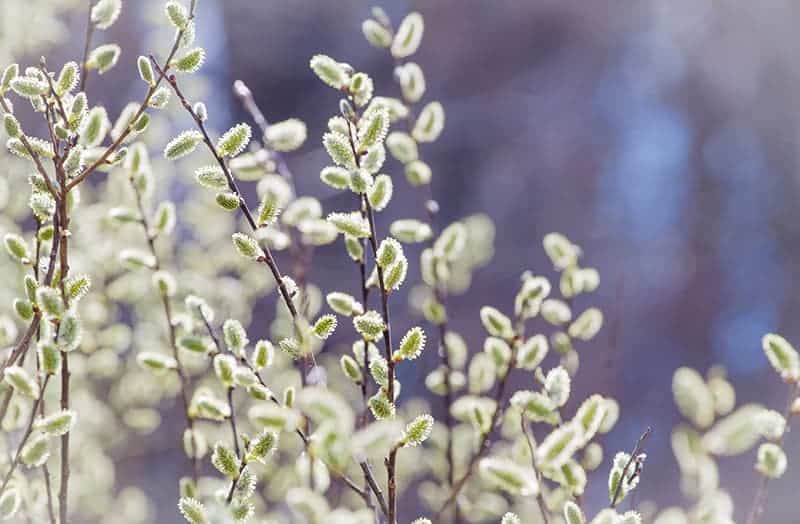 There are two types of pruning suitable for Pussy Willows; coppice pruning, and shape pruning. The type of pruning you will need to engage in depends entirely on your desired outcome. Coppice pruning will result in long and straight branches, which are ideal for use in vases as dried flowers or in fresh floral arrangements. If you are not interested in harvesting your Pussy Willow, then shape pruning will probably be preferable. Shape pruning encourages fuller and bushier growth and results in a neat and tidy shrub.
Coppice Pruning
To coppice prune your Pussy Willow, wait until all of the blooming catkins are fading away. You will then need to drastically cut back your Pussy Willow using sharp pruning tools until there is only between 6 and 12 inches of it left remaining above the ground. After the pruning has taken place, the tree will respond with rapid growth over the next few seasons. The new growth will be in the form of long and straight stems, usually flooded with new catkins. Once these reach the desired size, you can harvest them for your floral displays and then repeat the coppice pruning process to produce more straight flowering stems.
Shape Pruning
Shape pruning requires a little more patience than coppice pruning, and you will need to pay more attention to exactly what you are doing. That being said, it is not particularly difficult to shape prune a Pussy Willow, and it should be easily achievable with some care and concentration.
You can shape prune your Pussy Willow at any time, but the best time is in early spring when the catkins are blooming. This is the best time because it is before the plant has entered its phase of active growth, and the appearance of the catkins will ensure you don't accidentally trim away any new branches where the catkins are growing. To begin shape pruning, remove any branches you wish to harvest for floral arrangements and put these to one side. Next, locate any dead branches and completely remove them. Follow this up by locating any old branches and reducing their size by around a third.
To identify the older branches, look for thicker stems that have turned a shade of gray. This completes the shape pruning, which serves the purpose of encouraging new growth. However, if you want your Pussy Willow to look really spectacular, you should continue pruning from a purely aesthetic angle. This will involve trimming back any new growth on the tree which doesn't fit within the tree's shape. Any stems that are sticking outward from the main bulk of the tree, or are jutting out at an odd angle can be trimmed away. This will help keep your Pussy Willow neat and looking in its best condition. As the seasons pass your shape pruning will result in a much fuller looking tree with a greater abundance of catkins.
Propagation
If you have a Pussy Willow tree, then you essentially have a lifetime's supply of new Pussy Willows. These are one of the easiest plants to root from cuttings, so if you want to grow more Pussy Willows from your original tree, then you're in luck.
Pussy Willows, like all willow trees, contains a natural rooting hormone. This increases their likelihood of successful rooting without the need to make any special measures. To propagate a Pussy Willow, take a cutting of around 12 inches in length from some new growth on the tree. Try to use the straightest branch you can find and remove the lower few inches of leaves, if there are any. At this point, you have two options: to plant the cutting directly into the soil in the ground, or root it in water. Both options have good success rates, so it is simply down to personal preference.
Planting directly into ground soil might be the easier option as you won't need to transplant the cutting or repot it. To do this, simply select an appropriate spot for your cutting to grow and plant it a few inches deep into the soil. Bear in mind when choosing a position that Pussy Willows enjoy full sun and wet soil conditions but also that they have strong and potentially invasive roots. Their roots will spread far and wide in search of moisture, so don't plant your Pussy Willow cutting anywhere near underground pipes or septic tanks, as the roots could become very troublesome and cause damage in a few years' time.
After planting, keep the soil continuously moist, and within around a month, you should start to see new growth on the cutting. If growth appears on the cutting above ground, it is a sure sign that growth in the form of roots is taking place underground.
Some people prefer to root their cuttings in water, often because they like to be able to witness the progress of the roots developing. To propagate in water, simply sit the cutting in a jar of water and wait for roots to appear. When roots are a few inches long, you will need to then transfer the cutting to a container of soil or plant it directly into the ground.
The benefit of rooting Pussy Willow in water is that it also creates a natural rooting hormone tea. Once your cutting has moved on to its new home, you can use the Pussy Willow tea to help encourage cuttings from other plants to grow. Either use the tea to water the soil where other cuttings are rooting, or place cuttings directly into the jar of tea to help them root in water.
Types of Pussy Willow
Salix Discolor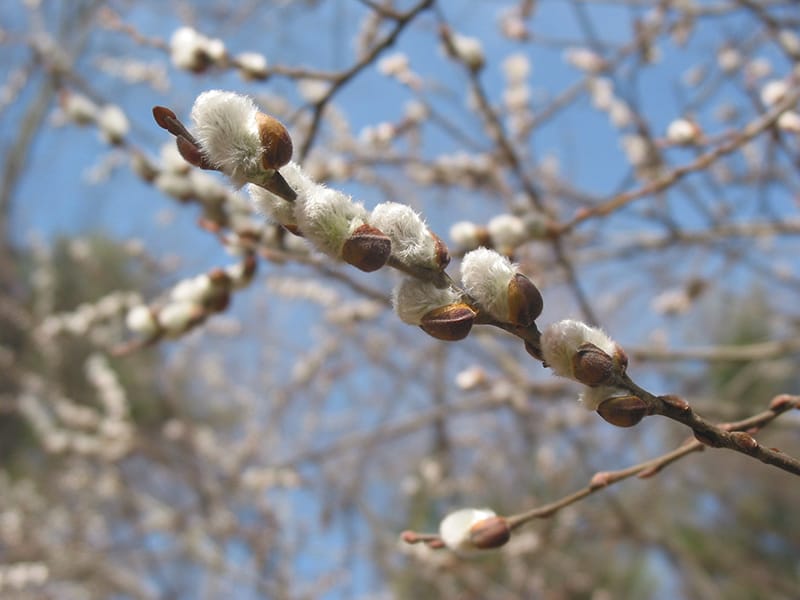 This variety of Pussy Willow is also commonly known as American Pussy Willow and Glaucous Willow. It is the type most commonly found across the US and Canada, as its origins are in North America. This variety of Pussy Willow has furry catkins in a white color tinged with gray, which are produced from red or dark pink buds. As they mature, male catkins will turn yellow, while the female catkins remain soft and white. The fluffy pale catkins emerging from the deep red-pink buds have a playful appeal, which for many gardeners, signals the beginning of spring.
Pussy Willows are one of the earliest blooming plants, which bring a much-needed splash of color and life to gardens across Canada and the eastern US in early springtime. This type of Pussy Willow tree typically grows to around 8 feet, though it is capable of growing to more than double this size, maxing out at around 20 feet. It can grow anywhere across the US but will fare better in cooler climates. In particularly hot temperatures the growth of this plant will be slow and stunted, often with a maximum height of around 6 feet.
Salix Cinerea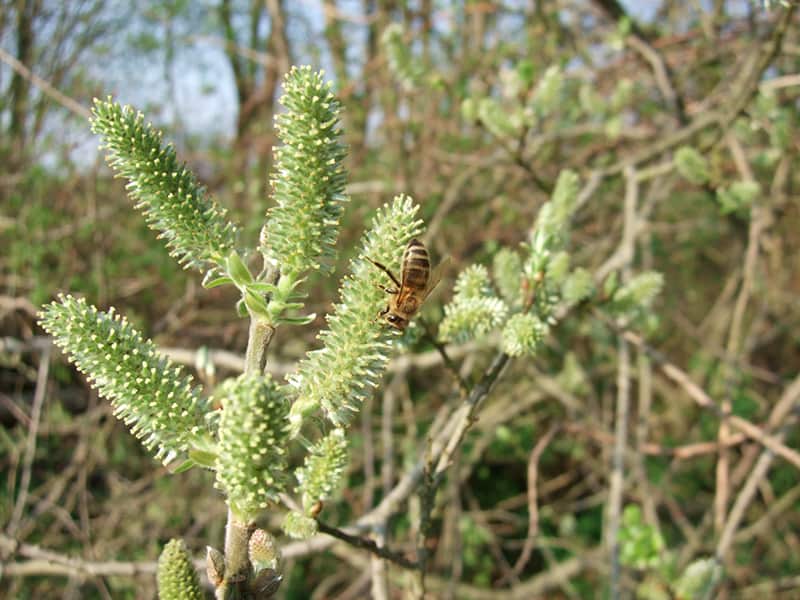 This Pussy Willow variety is also known as Gray Sallow or Gray Willow, due to the color of the fine silver silky hairs which can be found on the underside of the leaves. The leaves of this willow variety are a stretched oval shape. The female catkins of this tree are furry and gray with a hint of green and are longer than the male catkins. Once mature, they produce seeds which get distributed by the wind to aid in the propagation of the tree. They are slightly less fluffy than the catkins on an American Pussy Willow but still have a quality that begs to be stroked. The male catkins will appear in deep shades of yellow when they are ripe with pollen.
Native to the UK and other parts of Europe, as well as western Asia, this variety of willow is important within nature. The early blooming catkins are a vital source of pollen for early pollinators, such as bees (Woodland Trust). This variety of Pussy Willow is the tallest, with mature trees reaching heights of around 50 feet.
Salix Caprea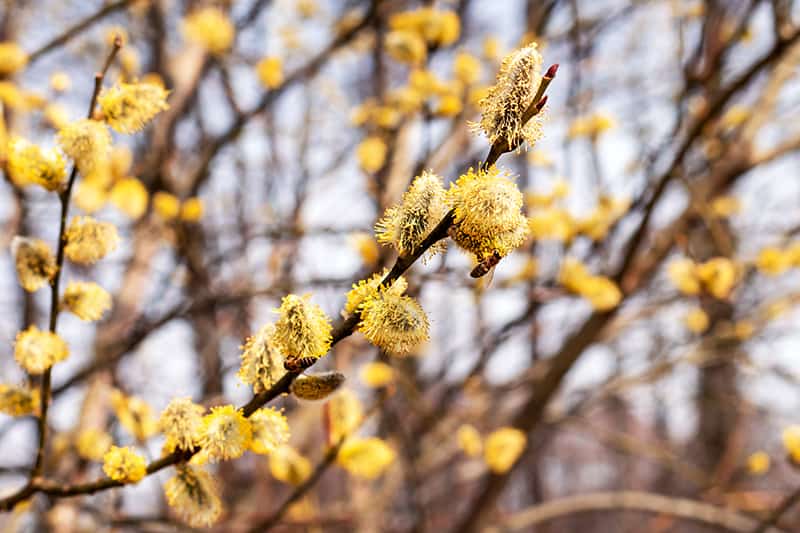 This variety of Pussy Willow is often confused with Salix cinerea. It is similar in terms of looks and is also native to Europe and Asia. It is commonly known as Goat Willow, Goat Sallow, or Great Sallow. It has a dwarf habit, growing to a maximum of around 30 feet, though it does have a long lifespan, living for around 300 years. Its leaves are oval, with a point at the tip which curves to one side, and a coating of fine silver hair on the underside. The catkins of this Pussy Willow variety are larger than the others, and as they mature, they develop into ringlet-like blooms. The male catkins are yellow on account of the pollen, while the female catkins are pale gray with a green hue.
Salix Caprea Pendula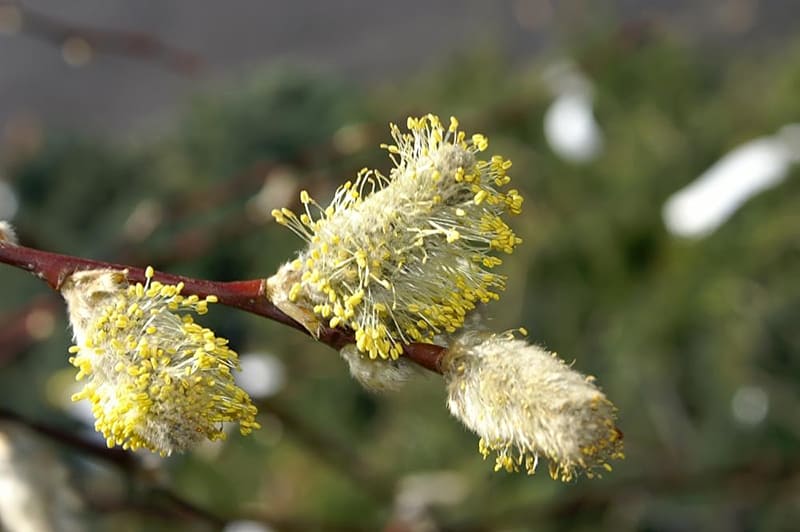 This is a sub-variety of the Goat Willow and is commonly known as the Weeping Pussy Willow. It grows to around 8 feet tall and has a very unusual look thanks to the curving branches which drape down to the ground. This variety looks much like the Goat Willow in terms of its leaves and flowers, with the only defining feature being the pendulous branches. This tree will require continual pruning to prevent its branches from sitting on the ground and becoming messy, and it may also need a stake for support until its roots are very strong.
Common Problems
Nutrient Deficiency
Plenty of people will grow Pussy Willows for years without fertilizing them and never encounter a problem. However, there are some instances in which the tree will struggle to grow because of a nutrient deficiency. If your Pussy Willow is struggling to thrive in spite of plenty of water and sunshine, the best thing to try would be to add fertilizer to the soil. There are signs of nutrient deficiency you can look out for, such as yellowed leaves which usually indicates a lack of phosphorus. Most nutrient-deficiency problems will be sorted out with an application of balanced fertilizer. However, if you are trying to grow long, straight stems for floral displays, then you should use a fertilizer high in nitrogen. The nitrogen encourages rapid stem and foliage growth and will result in longer and more impressive stems.
Winter Damage
Cold weather can cause damage to these trees, so it's wise to keep an eye on them over winter. Their branches do have a tendency to struggle under the weight of snow, especially if they are brittle from the cold. To prevent the stems snapping under the weight of snow, remove snow buildup as it accumulates by tapping or scraping it off. Continual changes in temperature can also damage Pussy Willows. The branches can crack from the stress of freezing and thawing, and the cracks are perfect weak spots for an infection or infestation to take hold. After cold snaps, you should prune away any damaged branches or stems to eliminate the possibility of insects or disease attacking these weak spots.
Pests
The common pests that affect many plants are also known to be problematic for Pussy Willows, such as aphids, scale insects, leaf beetles, sawflies, and caterpillars (Royal Horticultural Society). These can be brought under control with the use of neem oil, Pyrethrin sprays, and bacillus thurigiensis, though take care when using bacillus thurigiensis as it cannot discriminate between good caterpillars and harmful ones, so be careful not to endanger your butterfly population. In rural areas, other pests may prove more difficult to contend with. Pussy Willows fulfill the dietary needs of many wild animals, including deer, beavers, and squirrels, who will feast on the branches and the leaves.
---
Are you a grower of Pussy Willow? Share you experiences below, and don't forget to share this page with other Pussy Willow enthusiasts!