Home >
15 Different Types of Lawn Mowers Explained
15 Different Types of Lawn Mowers Explained
Lawnmowers are an essential piece of kit for yard maintenance and lawn care, and whether you merely want to keep your lawn from becoming an overgrown wild meadow or you want a neat and manicured lawn, the neighbors will envy, there are several things you will need to consider before making a purchase. To learn all about the different types of lawnmowers and which type will be best suited to your yard, your budget, and your specifications, read our comprehensive list of all of the types of lawnmowers available.
1. Ride-On Mowers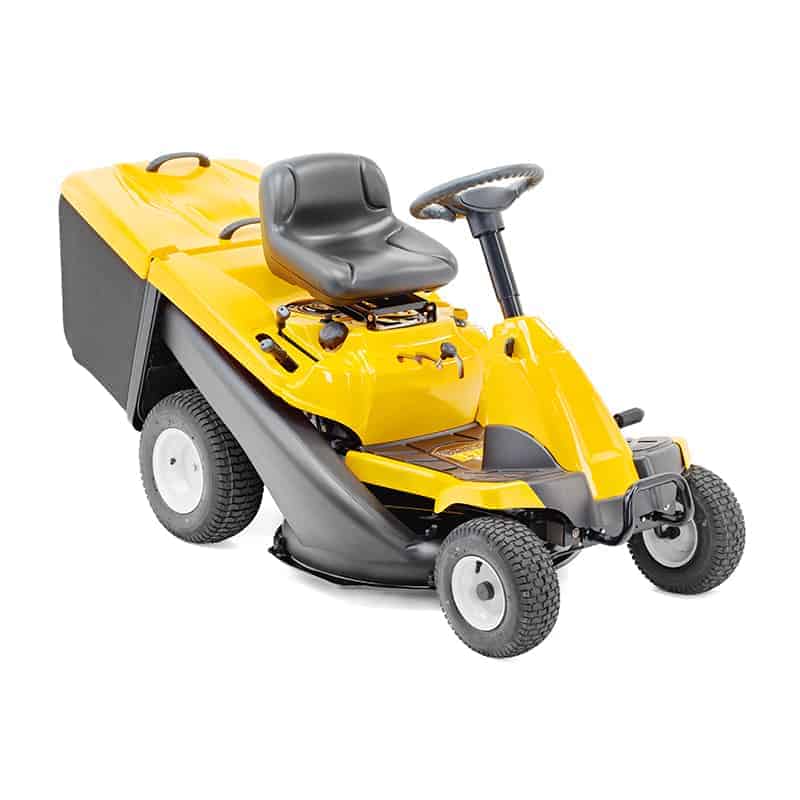 If you have a large lawn to cut, you might want to treat yourself to a ride-on mower. These make light work of mowing lawns, significantly cutting down the time it takes you to cut your grass, and usually making it an easier and more enjoyable experience. In terms of efficiency, ride-on mowers are far superior to walk-along mowers, but they have a price tag to match. There are also many different types to choose from, but most of these can be broken down into three categories. These are:
1.1. Lawn Tractor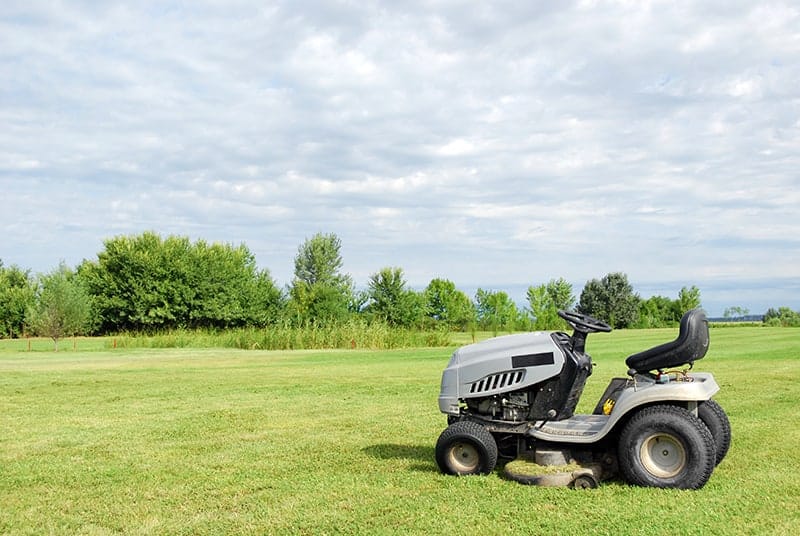 Lawn tractors will be familiar to most people, and these front-mounted engines will be what many of us visualize when we think about ride-on mowers. They are a good choice of mower for large lawns, with deck widths typically ranging from between 42 and 54 inches. A good way to work out which size lawn tractor you need is to divide its deck width by 12, and the answer will be the maximum size of lawn it can handle. For example, a 42-inch deck width will be suitable for lawns of up to 4 acres.
When it comes to engine size, lawn tractors range from 18 to 25 horsepower, with entry-level models having a single cylinder and some pricier models benefitting from twin cylinders. Basic lawn tractors will have lever-operated gear transmissions, while upgraded models may have continuously variable transmission, which is a pulley drive powered automatic transmission managed by a shift-on-the-go hand lever.
If you want to really push your budget boundaries, you could choose a lawn tractor with a hydrostatic pedal transmission. Lawn tractors generally range in price from around $1000 to $3000, making them quite reasonably priced compared to other types of ride-on mowers. They are good all-rounders for large lawns, though their main drawback is limited maneuverability. They struggle to turn easily and can not tackle obstacles well, which often results in patches of grass that remain uncut when a lawn tractor has been unable to get tight enough to an edge or an obstacle.
1.2. Zero Turn Mower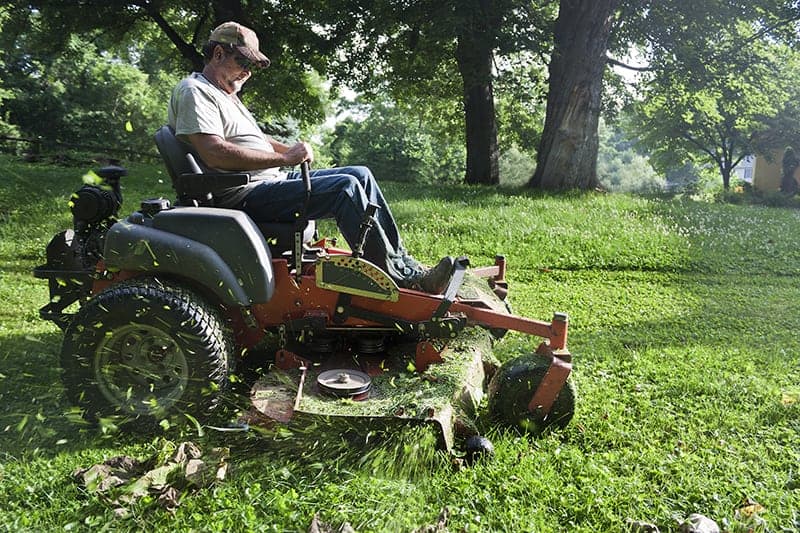 Zero-turn mowers, over the last few decades, have become the Ferrari's of the lawn mowing world. They are controlled by lap bars in the front seat, which operate the dual hydrostatic transmissions at the rear wheels. Their design means that unlike other ride-on mowers, they offer unsurpassed maneuverability. They can pivot, make sharp turns, and give an excellent all-round cutting performance. Zero-turn mowers can get much closer to obstacles than other ride-on mowers, being able to cut tightly against landscaped edges, which will result in a better finish on most lawns. Their steering ability makes for a more efficient mowing experience, especially on lawns of irregular shapes. They typically offer the easiest mowing of all lawnmowers, with the capacity to cut the most grass in the shortest space of time.
Deck widths of zero-turn mowers generally range from 32 inches to 60 inches. They have estimated horsepower of between 12 and 25, from engine sizes ranging between 452 to 700 cc. The cost of a zero-turn mower varies depending on model and specification, with a price range of between $1000 and $6000.
1.3. Rear Engine Riding Mower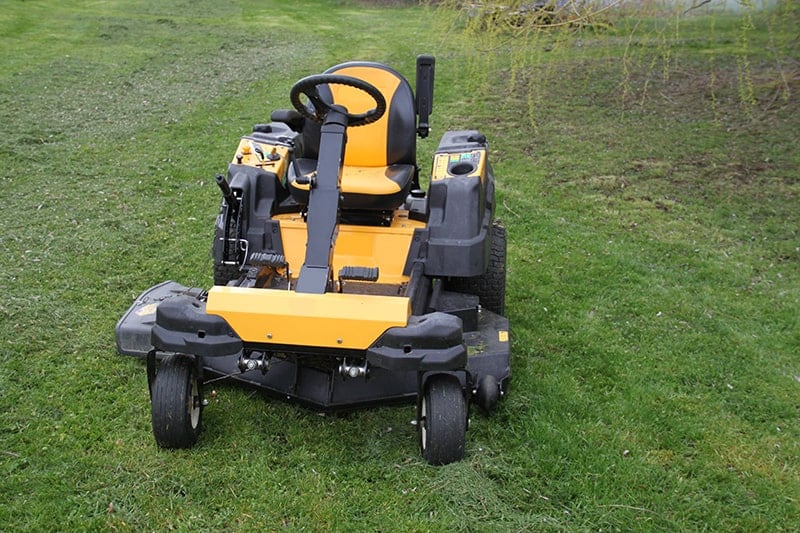 These ride-on mowers are a good choice for moderately sized lawns, which may be too small to warrant a lawn tractor, but too big to comfortably use a walk mower. These mowers, as the name suggests, hold the engine at the rear of the machine, underneath the driving seat, and the deck is under the driver's position. They are typically controlled with a shift-on-the-go hand lever, which operates the continuously variable transmission, and has single-cylinder engines, which can range from 344 to 38 cc, with horsepower estimated to be between 10 and 11.
Deck sizes of rear engine riding mowers tend to range from 30 to 33 inches, making them most suitable for lawns, which are less than 2.5 acres in total. A lawn of this size would cause a fair amount of wear and tear to the mower over a season, so a good maintenance regime would be important, but the rear engine riding mower would be able to handle it. For a lawn much larger than 3 acres, you would need to be looking at a lawn tractor or zero turn mower.
2. Walk Mowers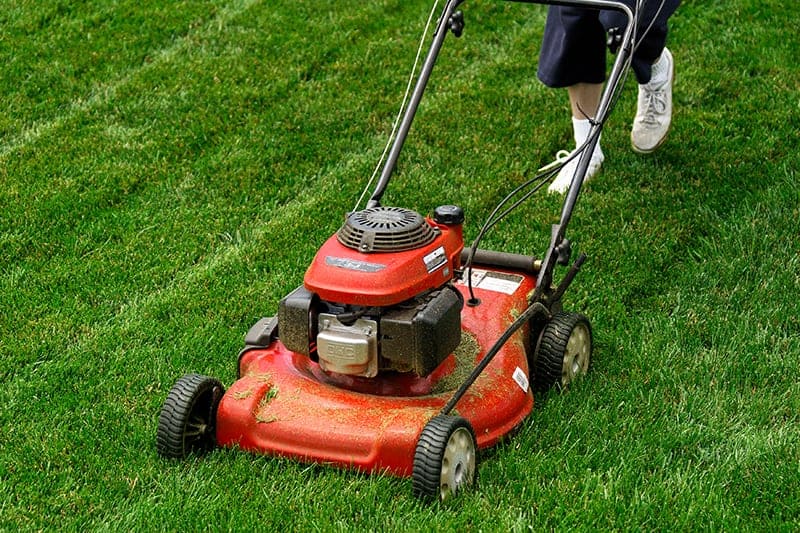 Walk mowers encompass a range of lawnmowers that the user walks along behind. They are best suited to smaller lawns, generally anything up to half an acre in size (although a half-acre lawn might take you a good few hours to mow with a walk mower and you'd be forgiven for choosing a ride-on to tackle a lawn of this size.)Walk mowers offer the greatest variety and versatility when it comes to lawnmowers. They can vary wildly in price, quality, and offer numerous different features. Most walk mowers can be broken down into the following categories.
2.1. Cylinder Mower
Cylinder mowers, also known as reel mowers, have vertically rotating cylindrical blades at the front of the mower, which slices against a fixed blade. They trap the grass between the blades and slice it off, with action not dissimilar to scissors. The vertical blades on a cylinder mower can range in number from three to twelve, with a higher number of blades usually signaling a more precise cut. They are designed for use on flat lawns and don't cope particularly well with uneven or rough surfaces. They give a neat cut, which works especially well for creating defined stripes on a lawn if this is a look you would like to achieve. They are best suited to soft grass types, as they don't handle coarse grass well. They also struggle to cut long grass, so if you opt for a cylinder mower, you will need to keep on top of your mowing and cut your grass regularly, as the mower won't perform well on grass that has become overgrown.
During the growing season, this will mean mowing your lawn at least once a week, ideally twice a week. These types of mowers have blades that are less accessible, making them more difficult to sharpen than a rotary mower, which is unfortunate because they do tend to require the most maintenance. If a cylinder mower is not serviced regularly, it's blades will start to chew the grass, giving a very poor cut. For this reason, cylinder mowers are best suited to those who are mechanically skilled. They also tend to be less adjustable than other mowers, giving you fewer options when it comes to grass cutting height. They are also generally less common, so if they go wrong, you might struggle to find replacement parts. That being said, these mowers can be affordable and efficient when paired up with the right type of lawn and are enormously popular among those gardeners who take pride in a neat and short lawn cut. They also often come equipped with a roller on the back, offering the user a two-in-one tool. The grass box on a cylinder mower is usually at the front.
2.2. Rotary Mower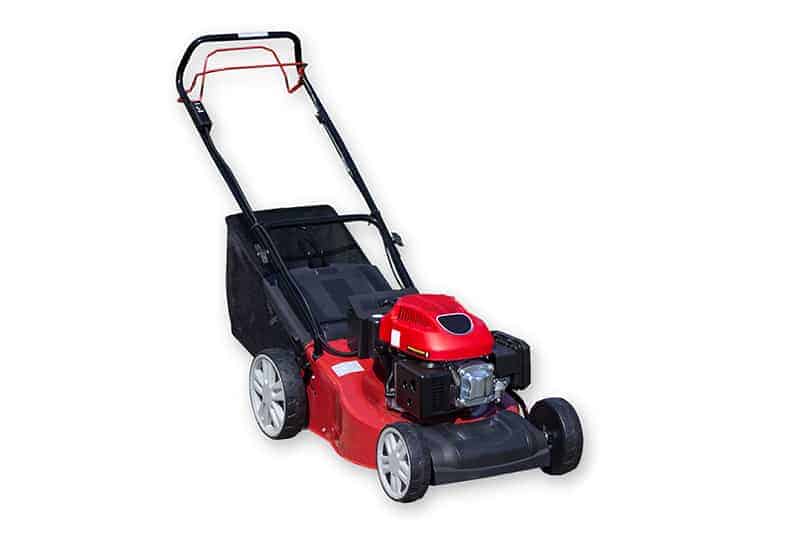 These are the most common types of walk-along mower you will find. They have a single blade that rotates at very high speed in a horizontal motion, cutting grass as it comes into contact with it, a lot like a food processor or blender. These mowers work best on medium to long grass, meaning you can leave longer in between mowing sessions without any negative impact. The cut you get from a rotary mower is less precise than a cylinder mower. It tends to bash and thrash the blades of grass around, slicing them on impact due to the high speed of rotation, which results in a less accurate and more uneven cut than you would get from a good cylinder mower. The difference of cut, however, probably wouldn't be that noticeable to most people, especially on an average lawn with its slopes, bumps, and color and thickness variations. A more manicured lawn, however, may be able to tell the difference between the two cuts, with the cylinder mower offering the more superior cut of the two.
2.3. Push Mower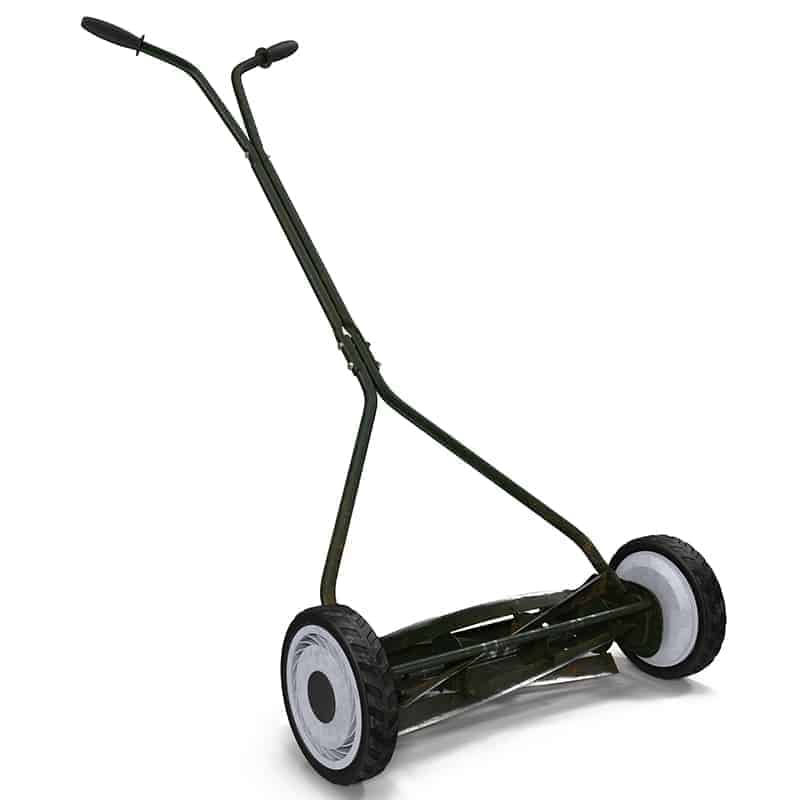 Push mowers, as the name suggests, requires the user to manually force the machine across the lawn. The motor turns the blades, but the wheel action is all you. These mowers are popular because they are usually the most inexpensive, and they are also lightweight and easy to handle. A push mower offers good maneuverability, allowing the user to direct exactly where it goes, steering around obstacles and corners, and even reversing. The fact that it is lightweight may be useful if you need to lift the mower into a trailer or truck bed, or if you need to carry it up and down steps.
These mowers take some physical exertion, which is great if you're keen to add some extra exercise into your schedule, but may not be good for people with health complaints or anyone who doesn't want to get a sweat on. It should be noted that push mowers work best for level lawns because having to push it up a hill can be very labor-intensive, as can chasing it down a hill! They are best suited to small yards due to their strenuous nature and are probably the most simple type of lawnmower you can get. For anyone concerned about the environmental impact of mowing their lawn, push mowers are the best option as they produce no emissions. They also don't make noise pollution like powered lawnmowers.
2.4. Self Propelled Mower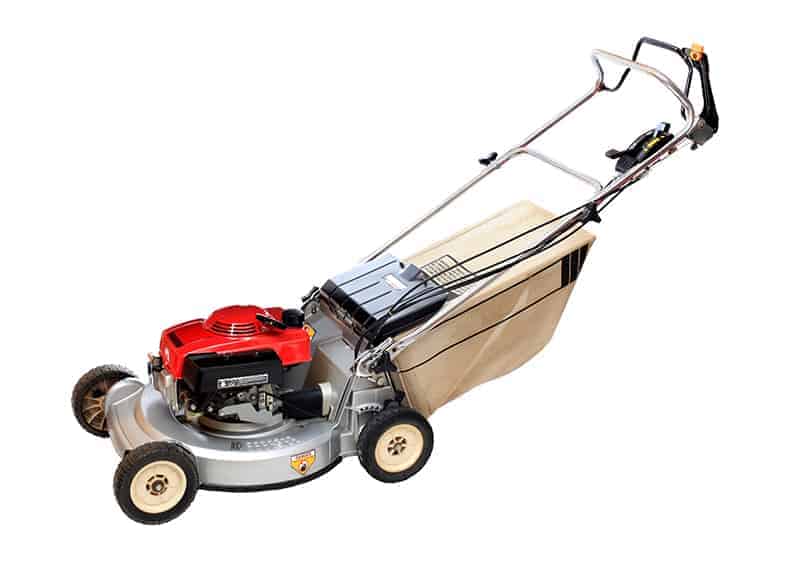 Self-propelled lawnmowers have a transmission that propels the machine forward, so the user does not need to push it, and instead guides it. These mowers are generally simple to operate and make mowing a lawn a much easier and quicker job, even in small yards. The main advantage of a self-propelled mower is the fact that it doesn't require any manpower, but there are other advantages too. These mowers tend to give a more consistent lawn cut compared to push mowers, as they are able to maintain a constant speed. Self-propelled mowers are more mechanically technical than push mowers, so they require more maintenance and can be more difficult to fix when things go wrong. These mowers are typically more expensive to buy than push mowers, but many people find that the extra expenditure is worth it to avoid having to manually propel a push mower.
2.5. Hover Mower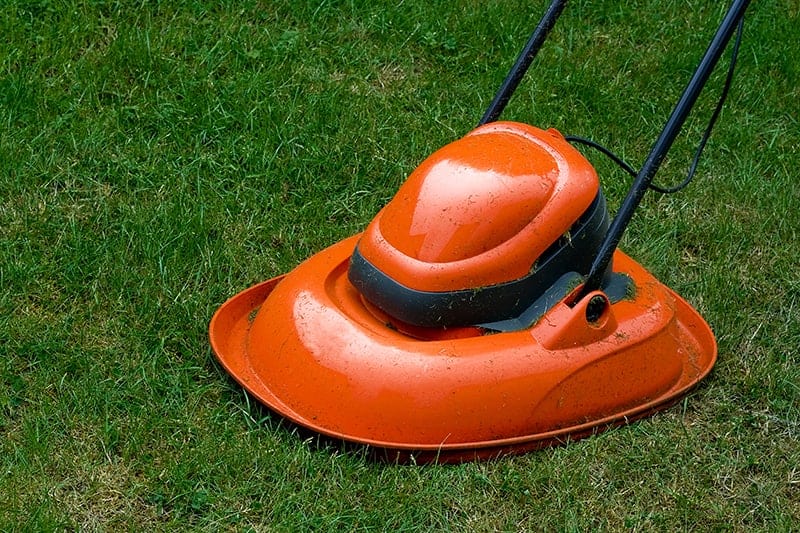 These lawnmowers hover a few inches above the ground, sitting on a cushion of air. Due to their reduced contact with the ground, and therefore reduced friction, they are very easy to guide around the lawn. They are able to move in any direction, including sideways, which makes them particularly useful for yards, which are awkward shapes, or for maneuvering around obstacles such as planters, trees, and garden features. They also give the user more control when it comes to edges of the lawn. Hover mowers tend to be fairly inexpensive, which is another factor that makes them quite popular. Though these types of mowers do have their advantages, they also have drawbacks. The main problem with hover mowers is that they lack power, presenting an issue for anyone with a larger sized lawn. They are most often electric-powered, and they are best suited to small lawns.
3. Power Types
The type of power source most appropriate for your mower will depend on the size of your lawn, your strength, and your own personal preferences. The options to choose from when it comes to lawnmower power types are:
3.1. Manual Powered Mower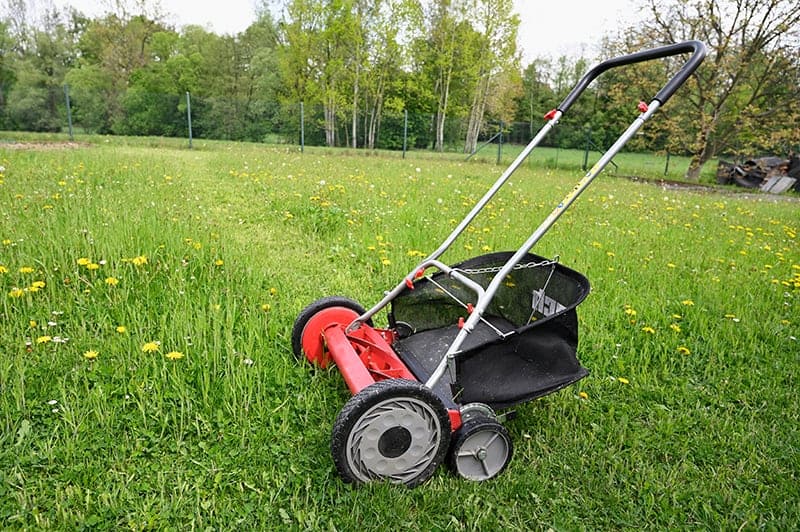 Manual powered mowers essentially push mowers. Though they may have an engine, this only operates the blades and doesn't provide any momentum. The user is the source of momentum with muscle power, as opposed to an electric, battery, or gas-powered mower, where the momentum is supplied by the engine, and the user just provides directional guidance. These mowers are the quietest, most environmentally friendly, and the most inexpensive. They are also the hardest to use, requiring a good amount of strength and energy to operate. They are best suited to small lawns.
3.2. Electric Powered Mower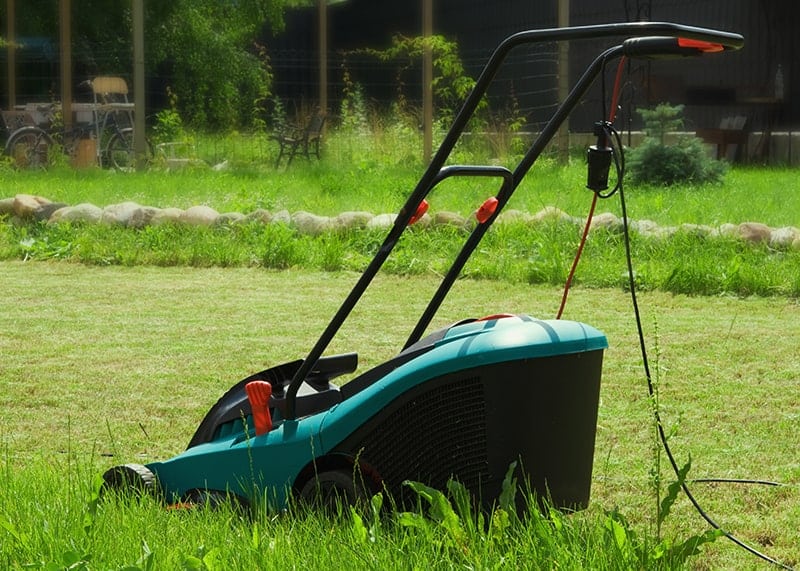 These corded mowers are powered by electricity through a cable attached to the mower. They are enormously popular and account for the majority of lawnmowers purchased each year, being especially common in small to medium-sized yards. Their popularity is due to their many advantages. They are lightweight, therefore easy to handle and maneuver. They are smaller than gas-powered mowers, making them easier to store when not in use. They never have to be charged like battery-powered mowers, and they won't run out of gas. This means that so long as you have electric power, you can run these mowers whenever you like, giving the user ultimate convenience. Electric mowers are simple to use and give good, consistent results. They are also very affordable, typically ranging from around $100 to $250.
The biggest disadvantage of electric mowers is the fact that they are tethered to an electrical outlet. This presents a few problems. The main problem is that if you have a yard that is longer than your cable, then the furthest part of your lawn is not going to cut. It's vital you measure your lawn and compare it with the cable length of a mower before you buy it to avoid this issue. The second problem, which can be worked around, is having a cable trailing behind you everywhere you mow. You'll need to be careful not to bring your mower blades into contact with the cable, and take care not to get tangled along the way. This is a minor inconvenience that can be worked around with a bit of practice, but many people find corded mowers too restrictive.
3.3. Gas-Powered Mower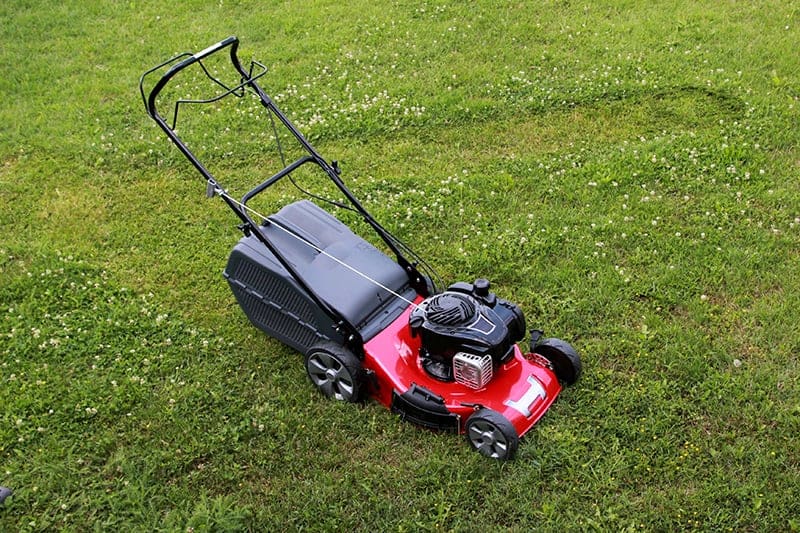 Gas-powered lawnmowers have engines that run on petrol. They aren't restricted by a cable and therefore are great for mowing large areas where corded mowers can't reach. They are more powerful than electric mowers and will cut grass faster, resulting in shorter mowing time. Their power means they are suitable for cutting even dense, thick, or tall grass with ease. Gas-powered mowers are easy to steer and maneuver reasonably well around obstacles. In terms of use, one of the biggest differences you will notice when operating a gas mower is that it is much heavier and larger in size.
There are a few drawbacks of gas-powered mowers. Firstly, they have engines which, much like vehicle engines, are a cause of pollution. They also need to be regularly maintained and serviced to prevent them from going wrong. You will also need to keep on top of oil and fuel levels. Gas mowers are also very noisy and are typically the most expensive type of walk mower you can get. They generally range in price between $200 and $800.
3.4. Battery-Powered Mower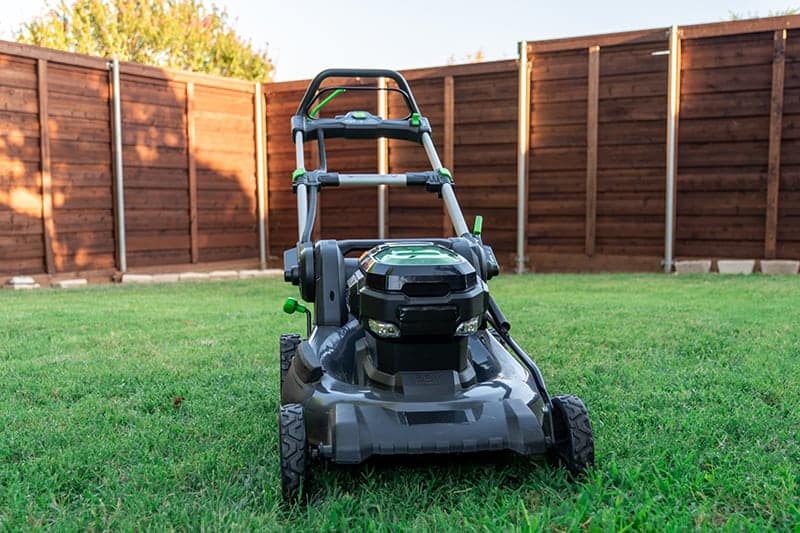 Battery-powered mowers run off a battery, usually, a lithium-ion battery, which is lightweight and long-lasting. These mowers give the user all the benefits of an electric mower, without the restriction of cable length. As these mowers are not tied down to a power source, they are well suited to gardens of any size. They tend to be slightly heavier than an electric mower, but much lighter than a gas-powered mower. These mowers offer excellent convenience, but this comes at a cost. They are more expensive than electric mowers, usually costing in excess of $500 for a good quality model.
The main drawback of a battery-powered mower is its run time. Many of these mowers will run for about an hour before they need to be re-charged, which could prove quite frustrating if you're only halfway through mowing your lawn when the battery runs out. Batteries also do not last forever and will need to be replaced every few years.
4. Drive Types
The drive of your mower is an important consideration that can impact performance, depending on your terrain. Mowers will either be rear-wheel drive (RWD), front-wheel drive (FWD), or all-wheel drive (AWD), with each having pros and cons.
4.1. Rear Wheel Drive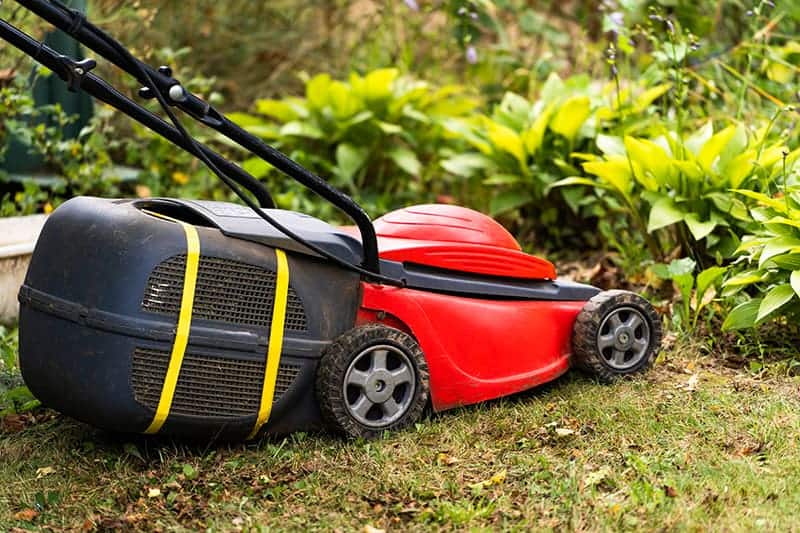 These mowers are pushed forwards by the motion of the back wheels. They work well for wide-open spaces as they can be difficult to maneuver, and therefore you may struggle in small or awkwardly shaped gardens. They can be difficult to turn in order to change direction, and particularly struggle to reverse. However, they are excellent on rough or unsteady terrain, as they will push forward across any bumps or steep inclines.
4.2. Front-Wheel Drive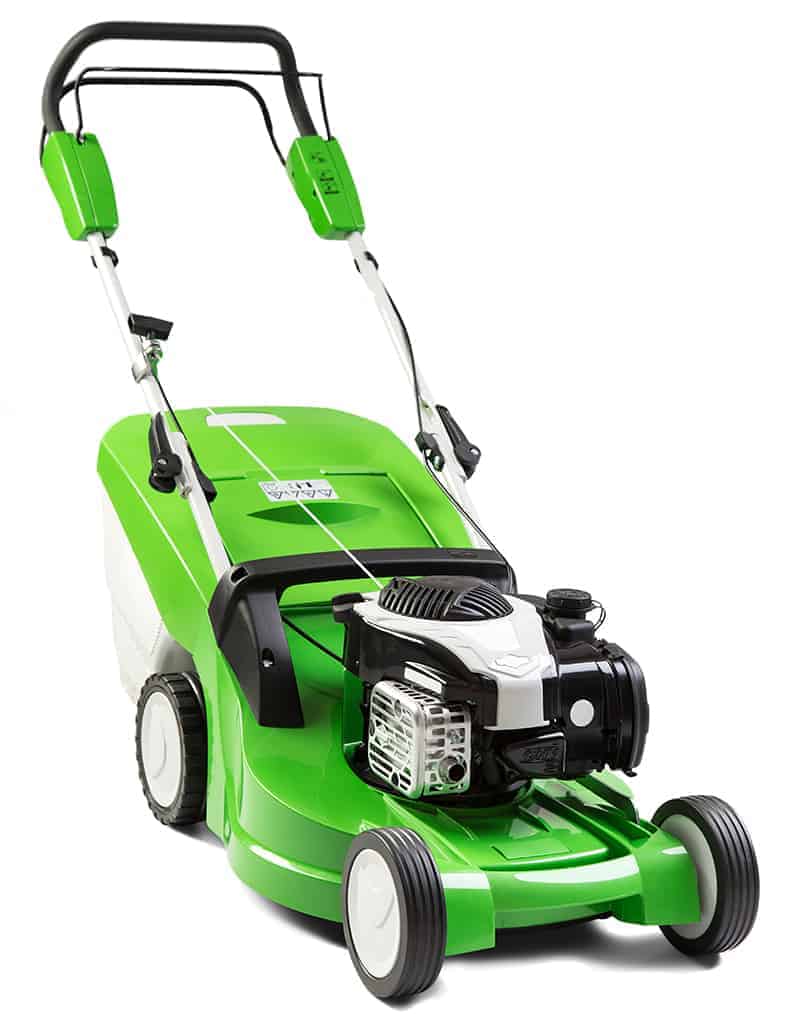 FWD mowers are propelled by the front wheels, which pull the mower along with their turning motion. These types of mowers work best for level lawns that don't feature slopes or hills, as they don't perform well on inclines. Front-wheel drive mowers are easy to steer, and they can be maneuvered well around obstacles or irregularly shaped lawns.
4.3. All Wheel Drive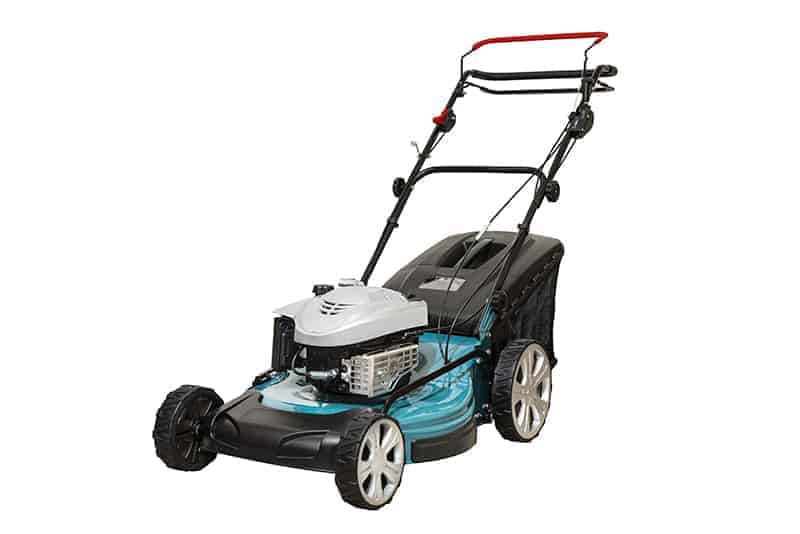 These mowers have all four wheels connected to their source of power and are all propelled equally, moving together in unison. The main benefits of an all-wheel-drive mover are its speed and power, though it does lack the maneuverability of front-wheel drive mowers.