Home >
22 Practical and Pretty Retaining Wall Ideas
22 Practical and Pretty Retaining Wall Ideas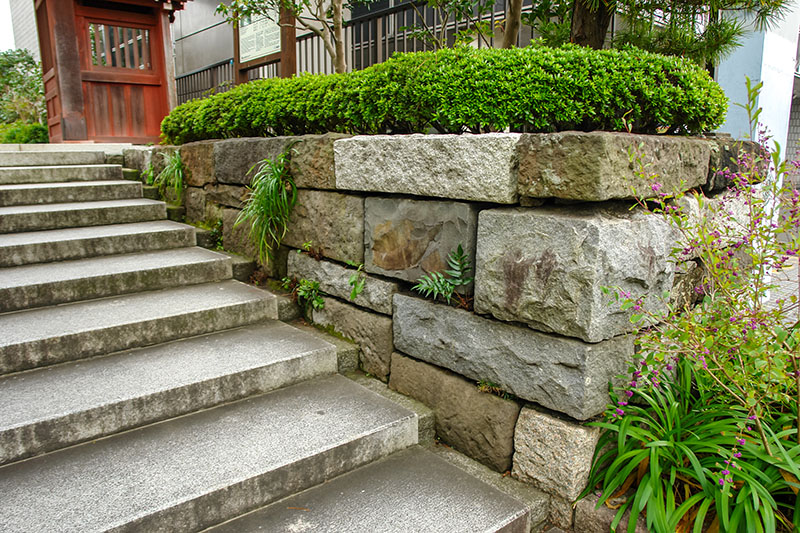 If you have uneven ground around the outside of your home, then it's likely you have the need for a retaining wall. Retaining walls keep soil on one side of the structure, allowing for a lower floor level on the other side of the wall. In the past, they were often made from concrete, which works well because it is strong and long-lasting, but concrete is not very pleasing to the eye. Though they serve a very practical purpose, there's no reason retaining walls shouldn't look good at the same time. For inspiration on how your wall could look, check out our list of 22 retaining wall ideas.
1.Irregular Flagstone Wall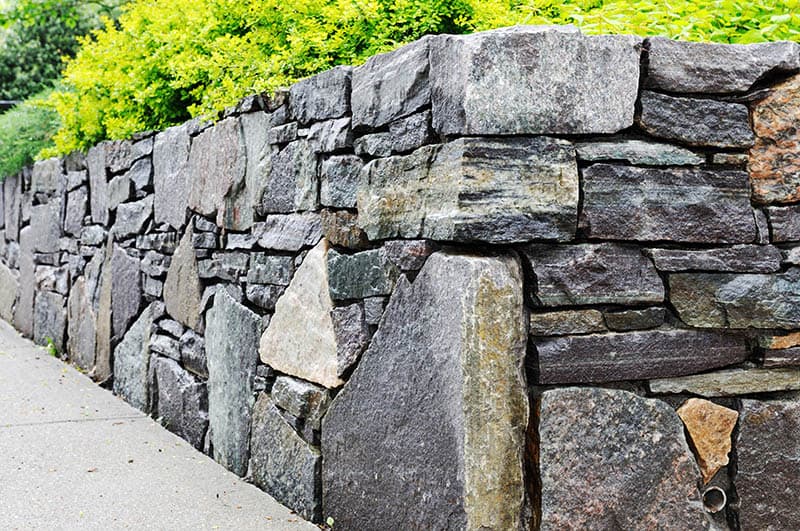 This flagstone wall with a mass of irregularly sized and shaped pieces looks spectacular. Rather than being seen as a functional retaining wall, it is more of a dominating feature in the landscape. The natural flagstones give a rugged look, with the lack of uniformity making it feel more earthy and rustic. In spite of these elements, the wall still manages to look modern and stylish. The color is a key factor in this achievement, as gray lends itself perfectly to a contemporary style. The sheer size of the blocks and the wall is very impressive and will certainly become a talking point of your property. While the irregularity of this build may make you think you could tackle this yourself, it would certainly require a specialist to complete.
2. Decorative Block Work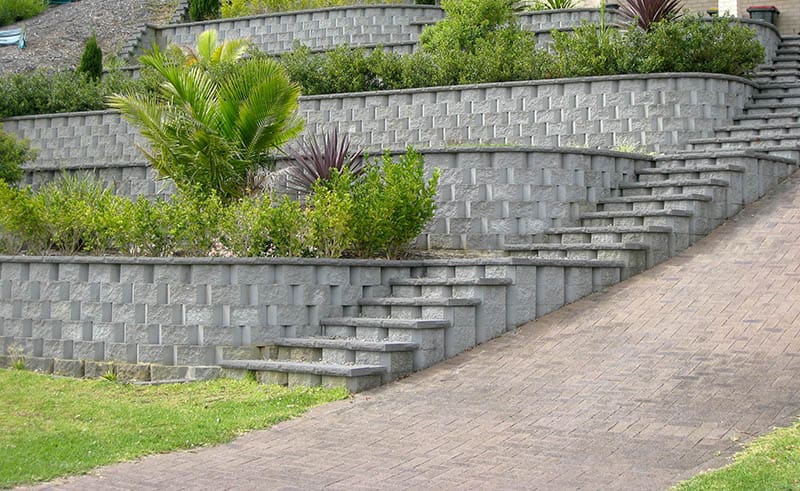 This retaining wall is meticulously built with a repeating pattern and precise measurements. The resulting effect is something that looks almost futuristic, as if it would fit in perfectly well amongst flying cars and robots! Though the wall is undoubtedly a design feature in and of itself, the way that it is so repetitive means it can also work well as the background for your landscape. In this example, the design works well on a grand scale, but it would also look equally impressive when used for a small retaining wall.
3. Patchwork Stone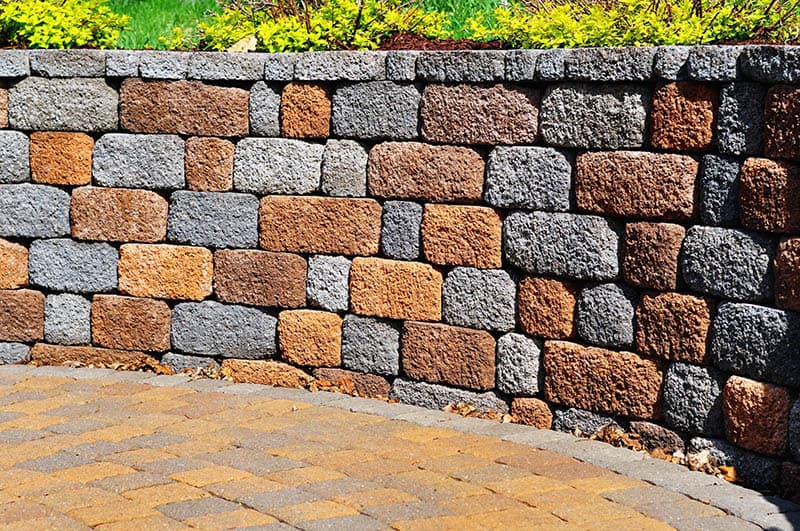 The decision to use a few select colors of blocks in this retaining wall results in a pattern that looks almost like a patchwork blanket sewn together lovingly by your grandma. The colored blocks are intentionally not placed in a pattern, but instead have a haphazard style, which makes the wall design feel a little more relaxed and comfortable. Using slightly round edged bricks such as these helps to give the impression of a cozy and warm home, while more angular bricks in comparison would give a harsher feel. Trying to match the style of retaining wall to the style of your home is a good idea to ensure continuity throughout your property.
4. Sturdy Fence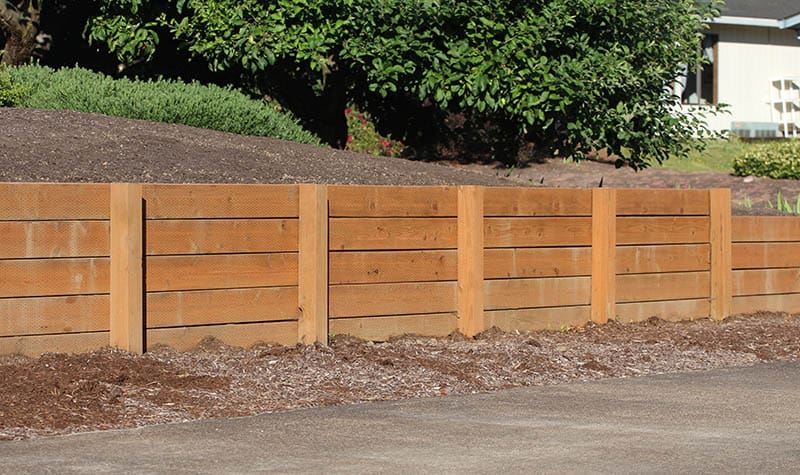 A wooden fence is generally a much more cost-effective option when it comes to building or replacing a retaining wall. If the budget is one of your main priorities, then a wooden fence will probably work well for you. As well as being cost-effective compared to concrete or stone solutions, timber fence panels look neat and tidy, giving a uniform look to your landscaping. One thing to consider is that the construction of the fence must be especially robust in order to withstand the weight of the soil on one side. Another consideration is that fences typically have a shorter lifespan than their stone counterparts, so you may find yourself having to replace your retaining wall more frequently.
5. Integrated Steps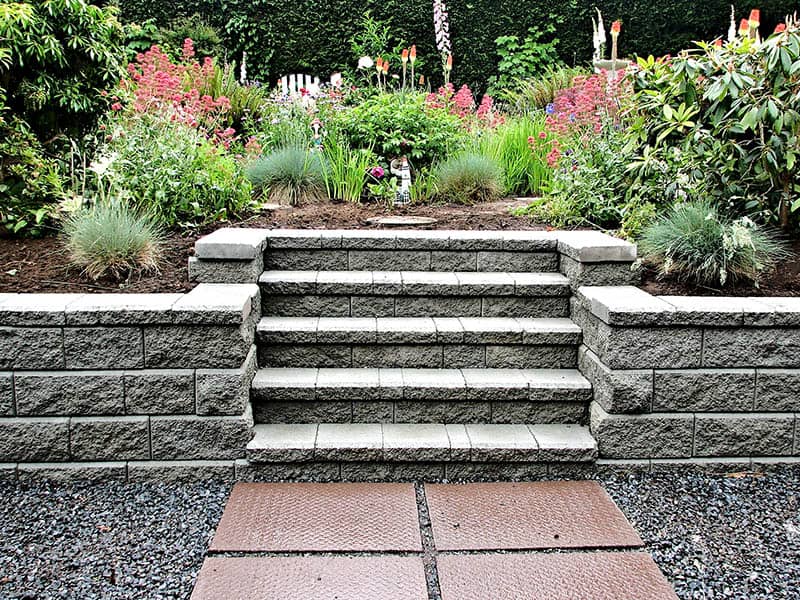 Incorporating a stone staircase into the design for your retaining wall gives the effect that the wall is more design based and less necessity-based. These decorative steps add interest to what would otherwise be a fairly plain retaining wall. They also make more practical use of the space, as a staircase obviously gives you easy access to the upper level created by your retaining wall. Integrated steps help to bring your two levels together, making the contrast between a high and low level seem less harsh.
6. Sandstone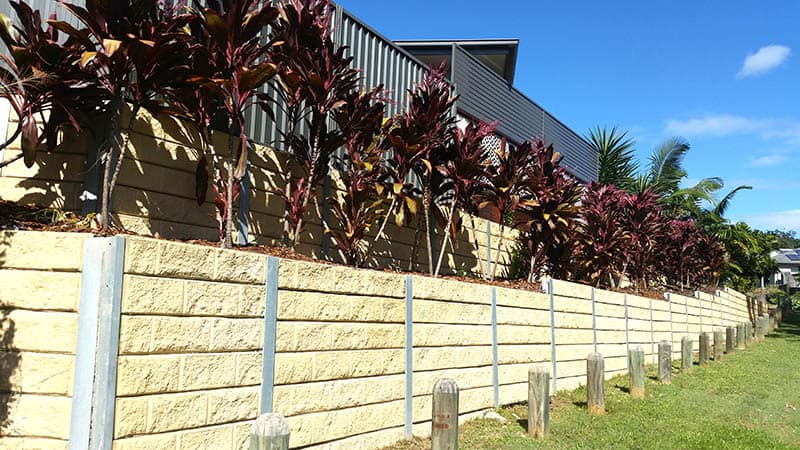 This pale sandstone in a consistent block pattern is the perfect balance of a modern design with a hint of heritage and history. It evokes a feeling of old-world luxury without seeming pretentious or fussy. These sandstone bricks are quite costly to buy, so expect a large retaining wall to come with a hefty price tag if you like this style. However, these natural bricks will last at least a lifetime, so if you're keen on quality and longevity, then a retaining wall like this would be a sound investment.
7. Tiered Terrace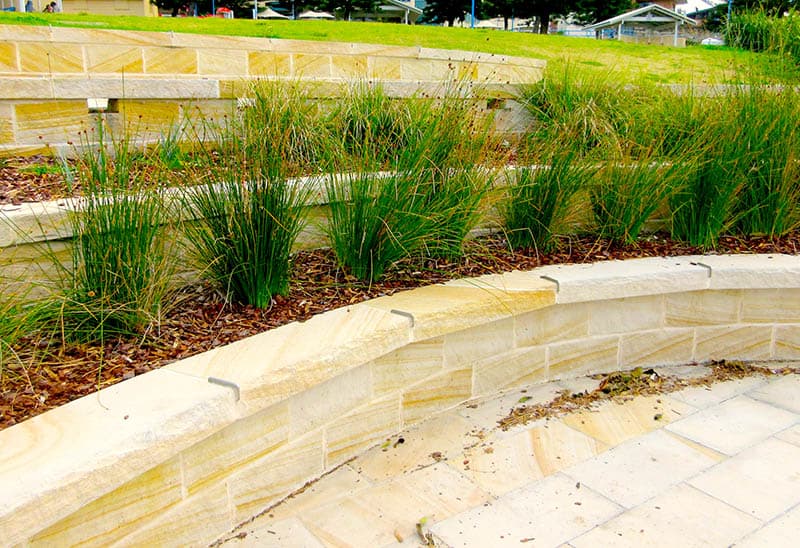 Multiple low retaining walls coming up from this block terrace are a great way to stagger the look of your retaining wall so that it appears more gentle within the landscape. The tiered levels also provide you with an opportunity to create rows of flower beds on each level or areas you could fill with decorative pebbles and solar lights. As a more complex and time-consuming project than one single retaining wall, this build will likely require an increased budget when using a contractor.
8. Gabion Wall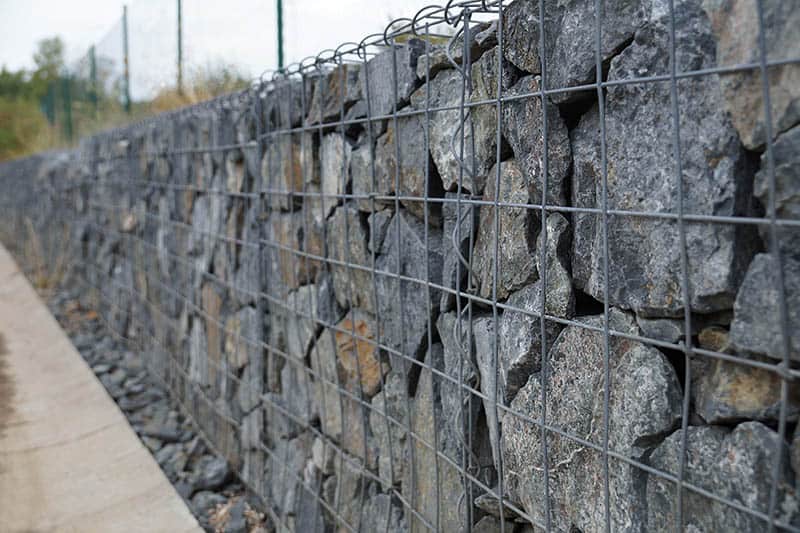 Once a structure used primarily in civil engineering or on military bases, gabions are now a popular way to build walls or edges around your property. Gabions are essentially wire cages filled with bricks or stones. The size of stones you can use in your gabions will depend on the type of wire cage you have chosen, with more tightly woven wire being able to contain much smaller pebbles. These gabions look edgy and cool, bringing an element of industrial style to your landscape. They tend to be quite large, so they do require a yard that isn't too tight on space.
9. Multicolor Mosaic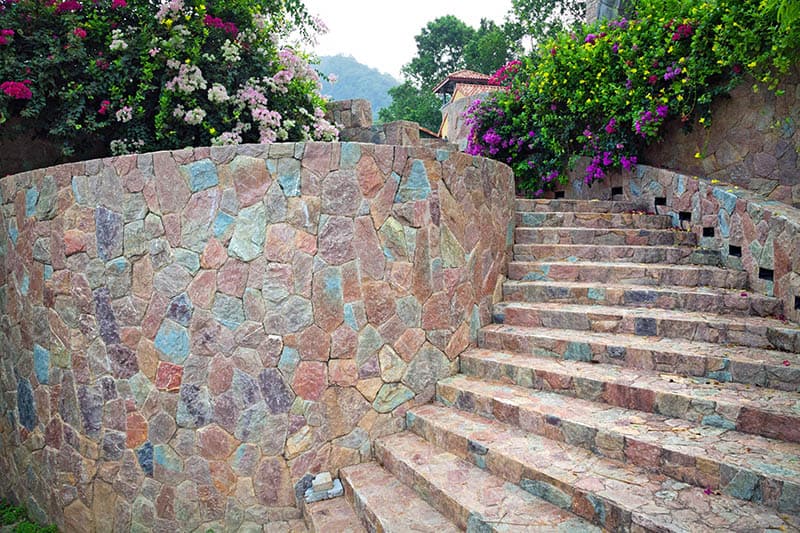 This retaining wall is made up of natural stone pebbles in a variety of colors. The pastel shades look fun and quirky without being too bold. This would be a great feature wall to choose for your yard if you want to bring in a splash of color but aren't a particularly keen gardener and therefore don't want to have brightly flowering plants. The integrated staircase is built from the same type of stone as the retaining wall, giving a feeling of continuity and helps to blend the features seamlessly into the landscape.
10. Concrete Cylinders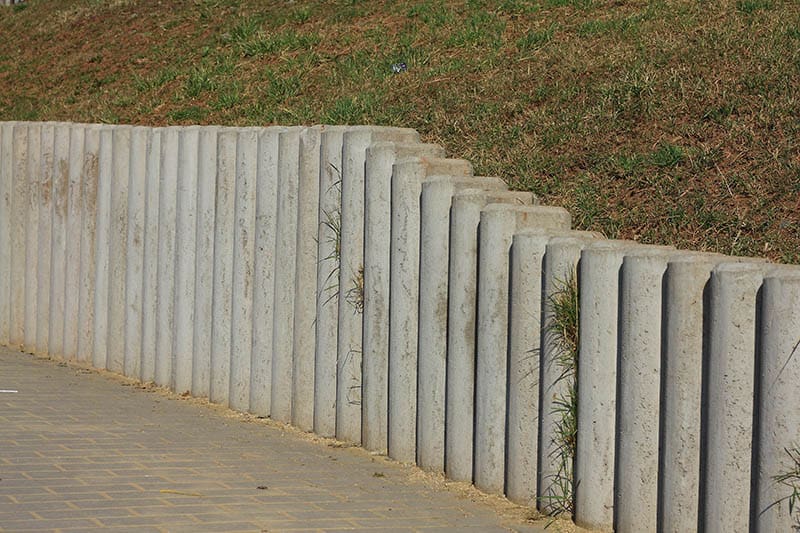 This clever use of cylindrical concrete palisades gives an ultra modern and industrial style to the landscape. It would work well with unusual minimalist homes that are architecturally individual and contemporary. This style of retaining wall could also be used in more mainstream properties, as it is so simple that it doesn't necessarily need to be a key feature and so, can work as a plain background in a landscape.
11. Living Wall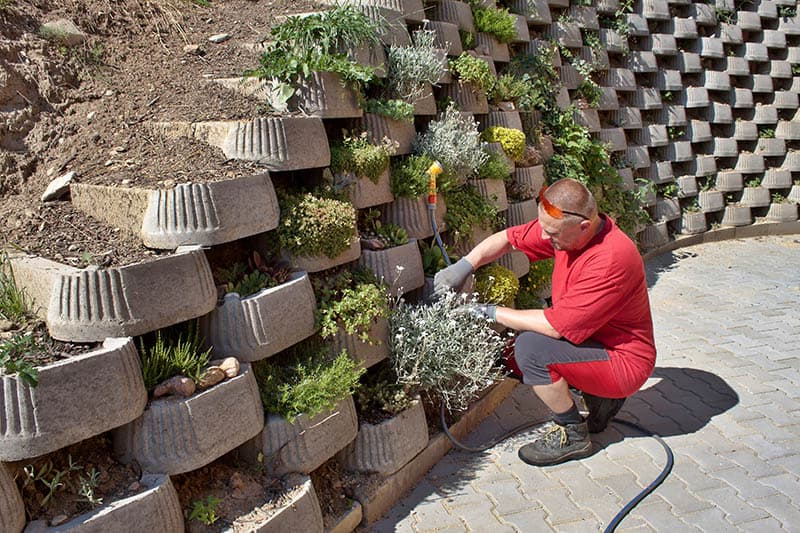 This retaining wall is built from concrete slabs in a brickwork pattern, which alone would be quite a strong feature. But the most interesting element of this wall is the gaps left between the concrete, which have been filled with plants, creating a living retaining wall. This retaining wall solution is ideal for anyone who likes plants and greenery. The wall itself would need to be built by a professional, but if you're an avid gardener, you could fill all of the gaps yourself with your favorite plants. As the plants grow, you may reach a point where they entirely take over the concrete until it can no longer be seen, giving the impression of a solidly green wall.
12. Tiered Hedge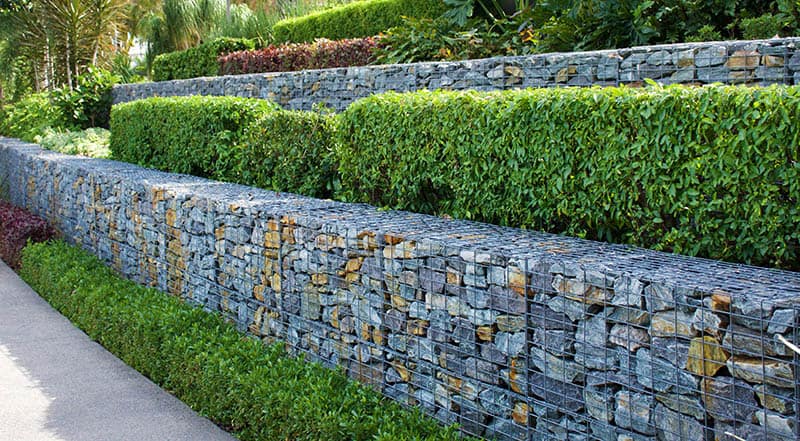 This design is a different take on a tiered retaining wall. The use of gabions interspersed with rows of hedges looks sleek and stylish, providing a perfect balance between modern design and lush greenery. To achieve this look, be sure to leave enough space between each tier to grow a thick hedge and keep on top of hedge pruning as a messy hedge or one which has grown too tall will very quickly ruin the design. Use dark or very pale pebbles in your gabion to contrast against the bright greenery of the hedges foliage. A medium-colored pebble in these gabions would not look as striking or impressive.
13. Boulder Stack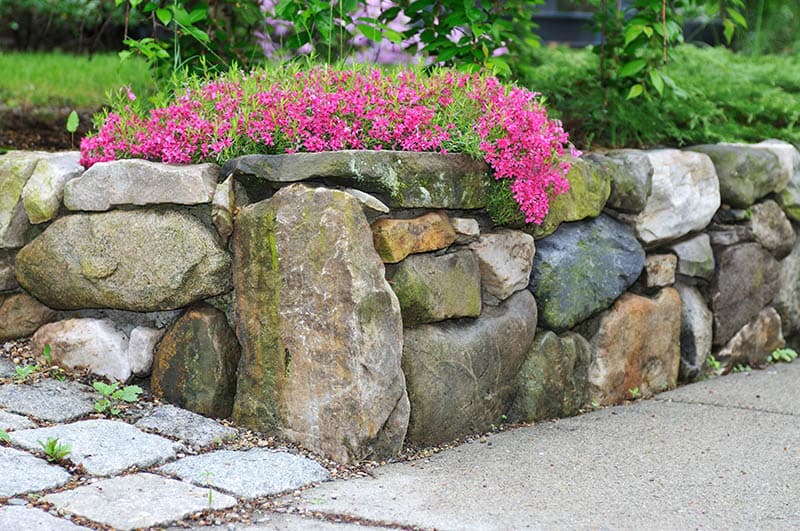 Providing your retaining wall is only a few feet high, this is a design which many people could probably achieve on their own without the help of a professional, making it one of the most affordable retaining walls to complete. Source some boulders from a garden center or DIY store in a variety of medium and large sizes and then, stack them up on top of each other trying to fill gaps with appropriately sized boulders. Adding a layer of builders sand or concrete between the boulders will make the wall more robust and long-lasting.
14. Wooden Walls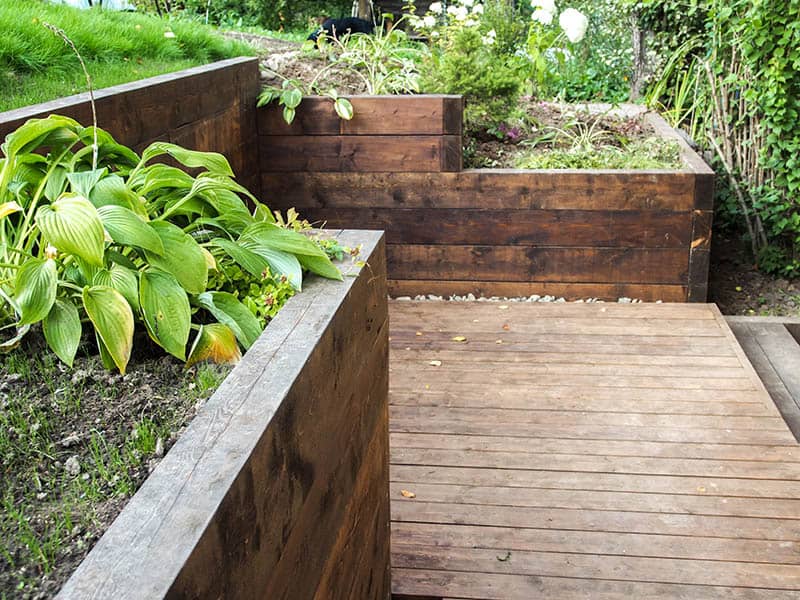 These wooden retaining walls are a more unusual take on fence panels. They will be more time-consuming to construct than a wall of timber fences, but they also look more stylish and contemporary. If you are good at carpentry, you could create your own wooden retaining wall, using any lengths of timber you can get your hands on. If you like to upcycle, then you could break down old pallets and use this wood to build your own customized timber wall. This retaining wall, if you have access to leftover timber, would be a very budget-friendly option.
15. Low Block Wall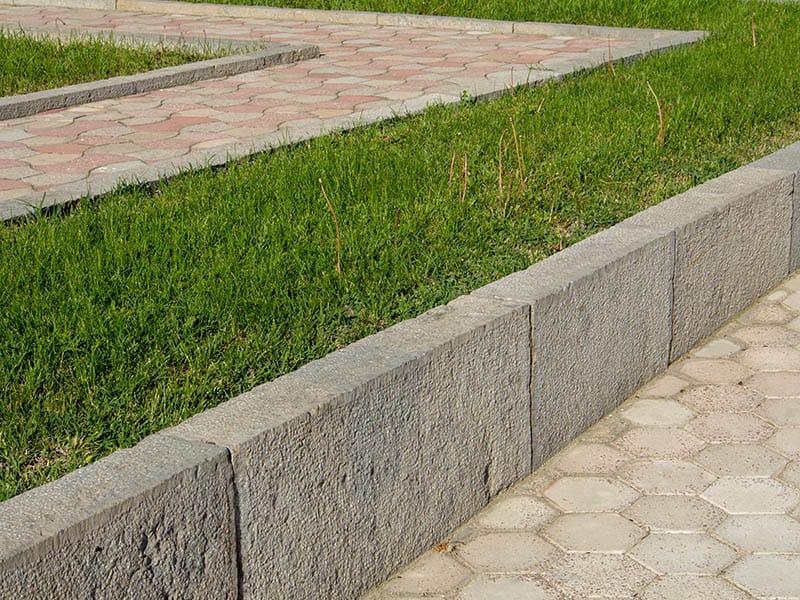 If your retaining wall is low in height, then it opens up many more options to you in terms of materials you could use to build the wall. This low retaining wall is constructed from breeze blocks, also known as concrete masonry units. They are inexpensive to buy and simple to lay. There was a time when this design would have looked too basic, but it now works perfectly with the current trend of industrial style. This is another retaining wall concept you could try to complete yourself if you're looking to save money.
16. Wall Cladding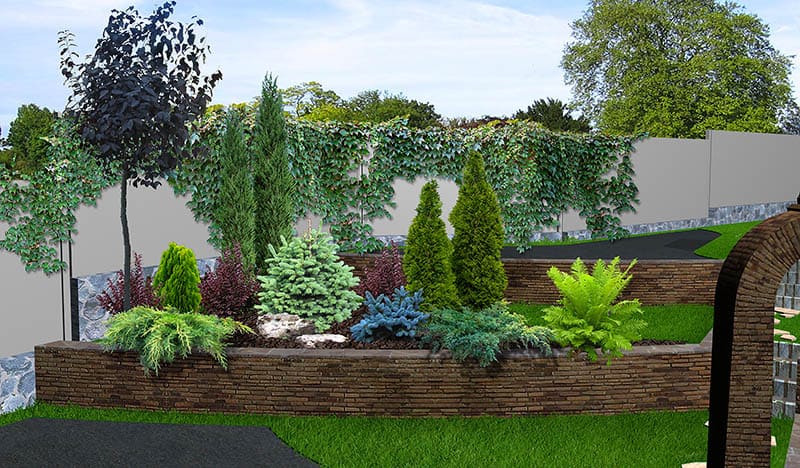 This illustration shows retaining tiered walls which have been clad to give the effect of stacked natural stone. Cladding your retaining walls is a great option to get the look you want with a smaller price tag than using the real thing. You can find wall cladding options in a huge variety of styles, but this particular look works perfectly for the traditionally landscaped garden, giving a classic and elegant style to the walls. If you have concrete retaining walls already around your property, you could freshen up the look of them by applying cladding. This would completely update the style without having to actually remove and rebuild your current walls.
17. Camouflage Wall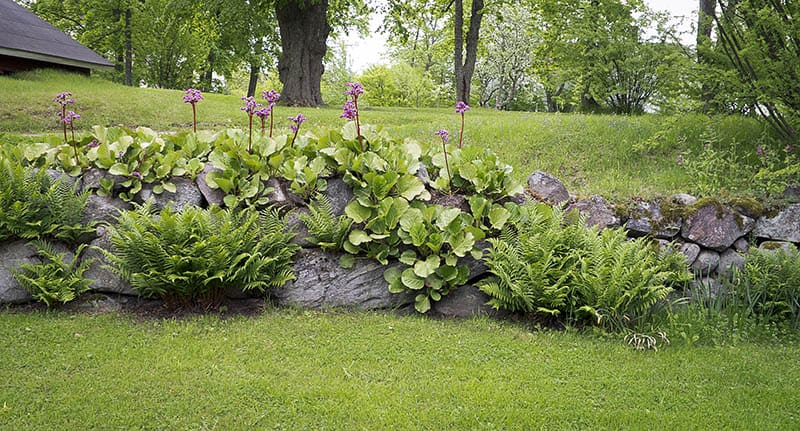 If you already have a retaining wall but aren't happy with the look of it, you can improve on this without actually doing anything to the wall at all. Growing plants in front of the retaining wall will hide the wall and also draw attention away from it. Use large decorative plants such as tropical varieties or shrubs. Climbing plants could also be a good option as these tend to grow quickly and will cover the surface of your retaining wall in just a few months if taken care of properly.
18. Render and Paint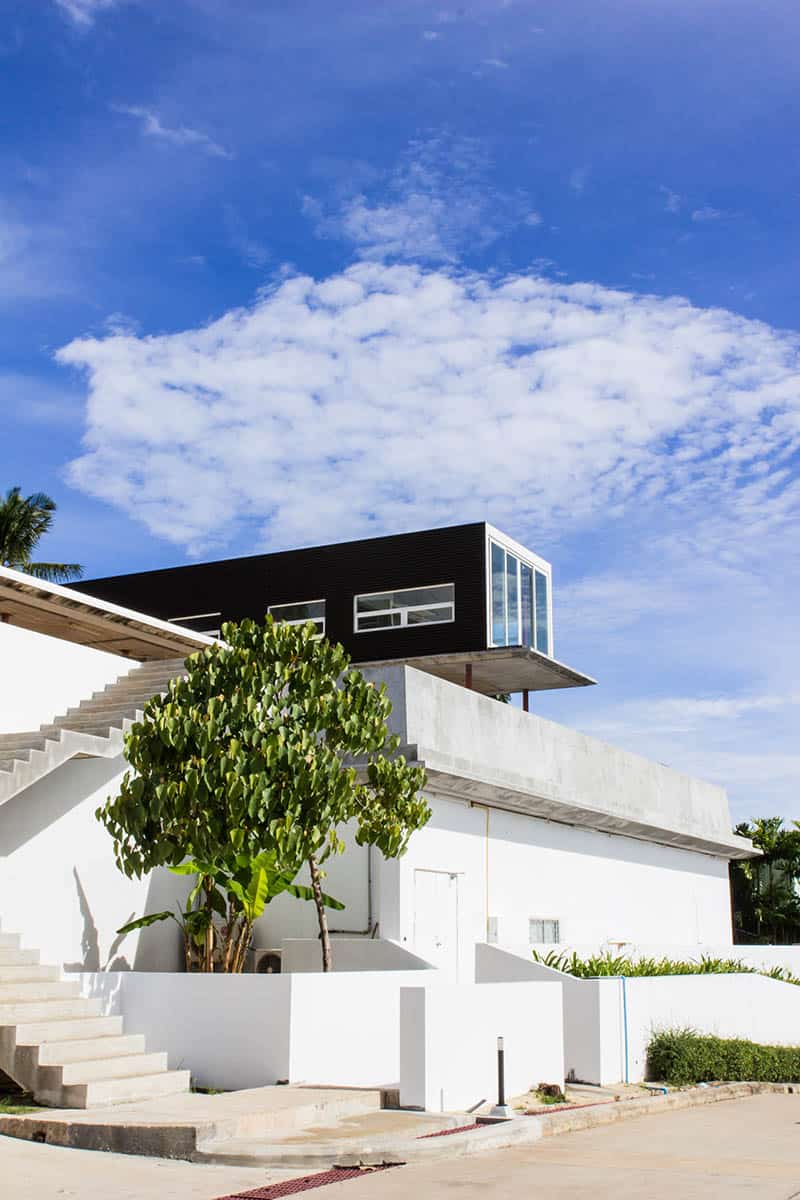 Rendering a wall gives a sleek and crisp look to your landscape, especially if you paint it white. This style is particularly popular in Mediterranean countries, such as Spain, as well as in warmer climates in the US. Due to this, a rendered retained wall will give a tropical style to your design. However, there's no reason you need to paint the render white; instead, you could make a statement by choosing a bold paint color, or a more natural toned paint color would help the wall blend into the background. Remember that painted walls do need to undergo maintenance, with a fresh coat of paint needed every two years to keep it looking good.
19. Flowerbeds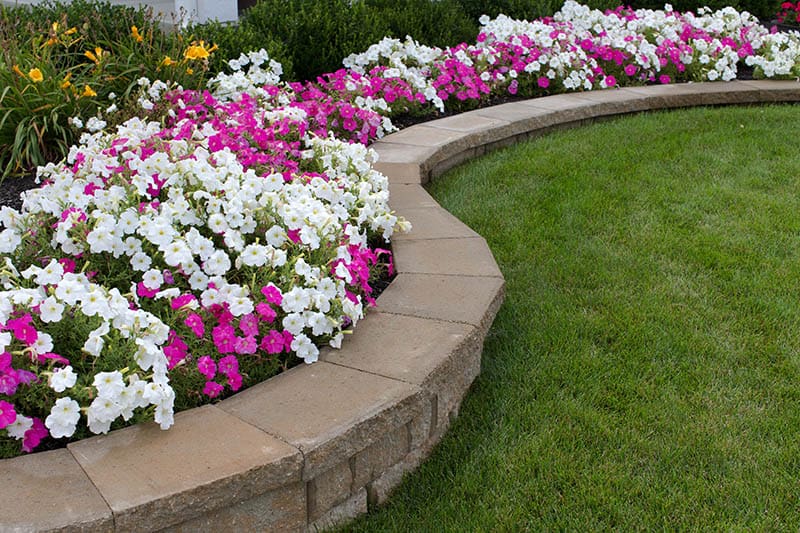 One side of your retaining wall will have a higher ground level than the other. Fill the highest level of soil with an abundance of flowering plants, and it will look like an intentional design rather than a necessary one. A brightly colored flower bed will distract from the wall itself, so it's a good way to freshen up the look of your landscape without having to replace your existing retaining wall. Trailing plants would also be useful to use as they will cascade down over the wall, creating a romantic look.
20. Traditional Brick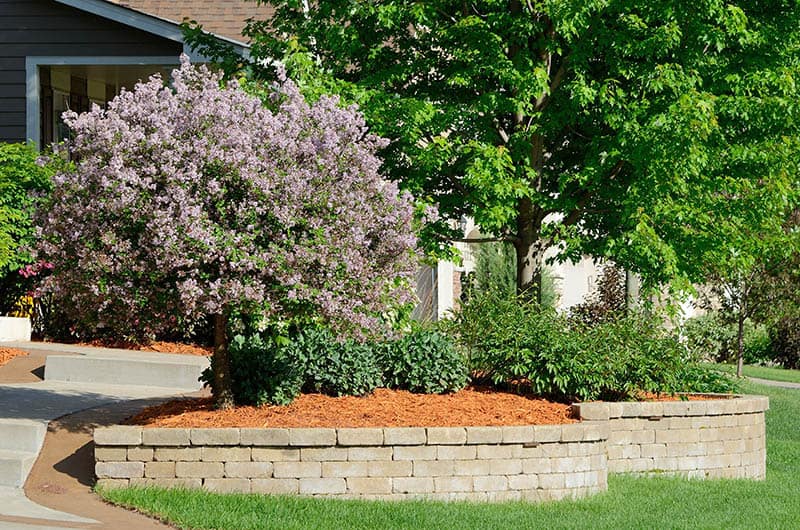 If you're on a tight budget but need to construct a retaining wall, there's nothing wrong with a classic brick edifice. Building a standard brick wall will look traditional and tidy and cost considerably less than using natural stone options. Bricks are a commonly used product for a reason; they're affordable, robust, and easy to work with. If you're competent in handiwork, then you might like to try to build the wall yourself to cut costs even further.
21. Light Up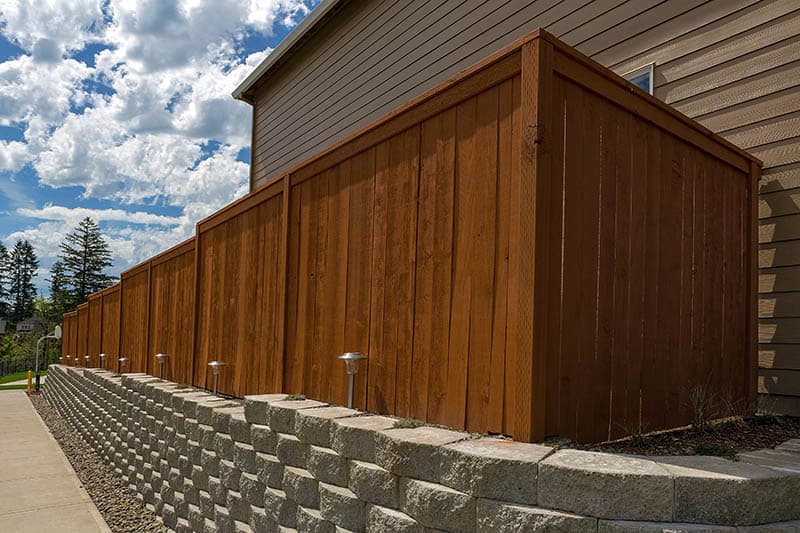 Though a retaining wall might be a practical necessity, that doesn't mean it has to be ugly. This cement block retaining wall is constructed in an attractive uniform pattern, which is further highlighted by the use of solar lamps placed at intervals along the top of the wall. Solar lights are an inexpensive way to add some personality and interest to your outdoor landscape, and a retaining wall provides a perfect opportunity to use them. Being solar powered, they cost nothing to run and don't require any maintenance.
22. Irregular Layout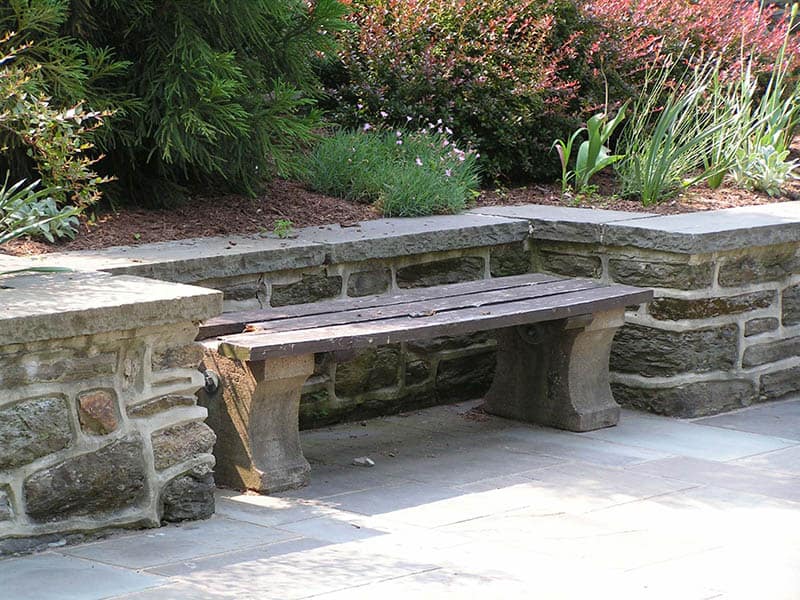 Retaining walls are typically built in straight or curving continuous lines, but you can actually create new spaces in your garden by building a retaining wall with unusual angles. This retaining wall build has created a seating nook by cutting out a potting of the wall and setting it a few feet back. By doing this, you could create small areas along your resting wall for benches, water features, or planters to be placed.
Making the most of your retaining wall so that you enjoy looking at it can really change how you feel about the exterior of your home. By choosing a design option, you can transform an ugly retaining wall into a feature showcasing your style and personality. Having an attractive retaining wall might urge you to spend more time outside enjoying nature with your loved ones.
And, of course, when you create a functional or nice-looking retaining wall to improve your property, you not only gain the benefit of enjoying it yourself, but you can be confident that you're raising your property value. That way, when you want to sell your home, you'll be able to ask for a higher price. The cost involved in building your wall should, therefore, become an investment that will pay itself off and then some.
Has this list inspired you to begin a transformation of your own retaining wall? If you have enjoyed browsing this list, then please feel free to share it with friends or let us know your thoughts and ideas in the comment section. We'd love to see photos of your finished projects!
Explore Our Categories
Ground Cover Plants

The workhorses of the garden might just be groundcover plants. These sturdy, carefree plants cover awkward spaces, elimi...

Succulents & Cacti

Succulents and cacti are extremely popular indoor plants. Both of these plant groups have similar growing characteristic...

Ferns

Ferns are one of the most popular types of plants used for shaded areas, as they thrive in low light conditions, bringin...