Home >
12 Best Online Gardening Stores to Bookmark Now
12 Best Online Gardening Stores to Bookmark Now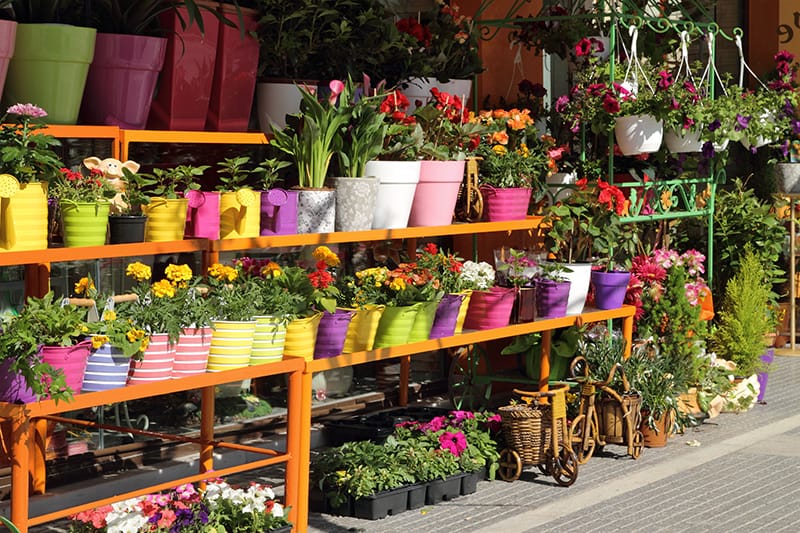 Gardening has always been a popular hobby, but in recent years it is an area of interest that has absolutely exploded. Houseplants have come back in style in a big way, and as we learn more about the benefits of getting in touch with our environment and growing our own produce, home growers are becoming much more commonplace.
As you will know if you have already begun your gardening journey, there are a number of tools or accessories you will need to make your growing experience easier, more enjoyable, and more fruitful. Whether you are looking for live plants, seeds, gardening equipment or searching for gifts to your fellow gardeners, turning to an online gardening store is an increasingly good idea in this current climate, as it means you can purchase almost anything from the comfort of your own home.
Searching through gardening websites can be useful if you are looking for a specific product, or you want to know you are getting the best possible deal. However, there are such a huge amount of online gardening stores in existence now, and it can be tricky to know which are reputable and which are worth your time browsing through. To save you time, here is a list of some of the best online gardening stores operating today.
1. Plow and Hearth
This company has racked up four decades of experience in supplying customers with home and garden ware, since it began as a small country store back in 1980, diversifying to a mail-order operation in 1982. It was launched in Madison, Virginia, and the company still operates out of this location, with a further warehouse facility in Ohio. They are a company with a strong environmentally conscious program, which has seen them donate over three million trees to local Virginia based forestry commissions.
Plow and Hearth now operate a popular online store, as well as 26 physical stores across the United States, which sell everything from bedding to stoves to pest control. They have a wide range of garden equipment available, which can be easily browsed through on their website that is broken down into useful categories, such as 'outdoor fire pits,' 'garden furniture,' and 'garden tools.' They have a wide range of products to suit a selection of budget requirements and an intuitive website that is user friendly and easy to navigate. Their website also benefits from an extensive review system, where customers who have bought a product are able to upload their photos of the product and share their opinion on it, which is very helpful for prospective customers ordering products online. This online gardening store offers home shipping for a charge, or in some cases, you can have it shipped to a local store for free where you can collect it yourself.
2. Gardener's Supply Company
This gardening store was founded in the early 1980s as a catalog mail-order company, which has evolved into the top online resource for gardeners in America today. It is now a completely employee-owned company, owing to the Employee Stock Ownership Program that allows all employees to earn stock shares and benefit from the company's profits. The company prides itself on its sustainable and ethical attitude, and they engage in several initiatives and programs to encourage and promote these values. Examples of this include the community farms it has set up that donate produce to people in need and the 8% of pre-tax profits that are donated to gardening charities and organizations across the country. When you make a purchase from Gardener's Supply, you can feel good about the fact that you are helping to support people who are less fortunate and helping to use gardening to positively influence numerous communities around the US.
Gardener's Supply sells everything a gardener could possibly need or want, such as pond care items, vegetable grow bags, irrigation systems, and greenhouses. They also sell kitchen equipment to help you make the most of any produce you have grown in your garden, as well as home and garden-related gifts. They specialize in supplying ethical and sustainable products and offer a wide variety of gardening equipment at various price points. Garden lovers will easily lose hours at a time browsing through the categories of products on this website, as well as the many articles that assist in helping people make the most of their yards, with useful advice and ideas.
3. Greenhouse Megastore
This company started out in 1993, building commercial greenhouses across the United States. This experience and knowledge was built upon in the early 2000s when they launched an online store providing home growers with all of the greenhouse equipment they would need to cultivate plants and grow fruit and vegetables. Since then, the company has grown to become one of the leading suppliers of greenhouses and gardening equipment to both individuals and businesses. As well as offering a wide range of products, Greenhouse Megastore prides itself on excellent customer service. They offer a one-year unconditional guarantee on every single item purchased from their website and a knowledgeable and experienced customer care service for any questions or issues. This company also offers a price promise so that customers can be sure they aren't paying over the odds. If you find the same product for sale at a lower price anywhere else, Greenhouse Megastore offers to not only match that price but beat it by 2%.
In this online store, you will find anything you could ever need to grow plants. They stock everything from heat pads to help seeds germinate, to potting benches, and insect nettings. Their greenhouse range is vast, from budget pop-up fabric greenhouses to luxury greenhouse structures. Each product benefits from an in-depth description, with many items having numerous user reviews so that prospective customers can get unbiased opinions on a product before purchasing. Many items also benefit from free shipping in the US.
4. Park Seed
This is one of America's largest and oldest seed distributors, supplying seeds through mail order for over 150 years. The company was started by George Watt Park, who in 1868, at the age of 15, sold seeds he had harvested in his garden to neighbors, friends, and customers he found through advertising in 'The Rural American.' From there, Park Seed began publishing catalogs to sell their seeds and developed a nationally successful mail order service. The company remained family-owned and ran until 2005and is now a division of Jackson & Perkins Park Acquisitions.
They have branched out from just seeds, and now also sell bulbs, live plants and trees, and gardening accessories. While they remain a mail-order business, they also have a strong online presence. Their website offers everything from fertilizer to plant seed trays, to vegetable plants. It has a bright and aesthetically-pleasing layout that makes it an enjoyable online shopping experience. The website also benefits from many articles and blog posts with tips and ideas for the home gardener. Park Seed prides itself on its customers' satisfaction, remaining true to George Park's original motto, which "your success and pleasure are more to Park than your money." The company offers comprehensive customer service, with the website having an online chat function so that you can talk to an advisor with ease, eliminating telephone waiting times and expensive phone bills.
Amazon is clearly not a specialist garden products supplier, but it does sell an enormous amount of gardening stock, along with books, clothing, tires, nutritional supplements, and almost anything else you can think of! This American multinational company is considered to be one of the biggest economic influences in the world, which began as an online book marketplace in 1994, and rapidly developed into the world's largest online marketplace, which is now run out of Seattle, Washington and Arlington, Virginia. It is enormously popular with a huge customer base for obvious reasons, but it has also faced criticism in some areas, such as for tax avoidance, and for unethical practices that result in the collapse of small and local businesses.
The great thing about buying gardening products from Amazon, especially if you are a Prime member, is the free and fast delivery you will benefit from, even on small-ticket items. Products on Amazon also tend to have multiple, lengthy reviews from existing users, which can be a huge help in guiding customers to buy the item that is best for them. Amazon will be the first stop on many customers lists when they are looking for gardening equipment, but for others, it will be avoided in favor of supporting more ethical businesses with an interest in sustainability and the environment. Ultimately this comes down to personal preference.
6. Burpee Seeds
This company dates back to 1876 when Washington Atlee Burpee founded a mail-order chicken company in Philadelphia, Pennsylvania. Following the demand from customers to provide gardening supplies and seeds, the business branched out into the areas it would soon become famous for. In the late 1800s, Burpee began traveling to Europe to collect seeds that were not native to North America, but that would be appropriate for growing in US climates. He created a test farm and research facilities, growing plants that were rare or unknown to the US market, and from there was able to sell all kinds of seeds his customers had never seen before. Burpee Seeds throughout the 1900s became a center for innovation, producing best-selling hybrid vegetable varieties, and seed-starter kits for home growers. The company remained family-owned until 1970 when it was sold to General Foods.
Burpee Seeds now operate predominantly through their website, selling an enormous variety of seeds to the public. While their focus remains on seeds, they also sell a range of gardening equipment, including rain barrels, fertilizers, and sprinkler systems. They also sell live plants, including houseplants. If you're in the market for seeds, then Burpee's is one of the most popular and extensive collections of seeds you can browse through, though in terms of gardening products, their ranges are quite limited, with just a few options to purchase in each category.
7. Plants Express
Plants Express started out in 2009, selling and delivering plants to California customers. They cherry-pick live plants from growers on the West Coast, to ensure unrivaled quality at competitive prices. They offer over 2000 varieties of plants, trees, and shrubs, which you can select specifically by scrolling through their extensive catalog, or you can select a plant package. Plant packages are themed, for example, 'tropical,' 'Mediterranean,' or 'cottage garden.' You simply select your preferred package, and a selection of suitable plants in your chosen theme will be shipped out to you ready for planting.
This is a great system for those who struggle to have the vision to landscape their own garden, or for anyone who simply wants the hassle taken out of shopping for plants. If you are unhappy with any of the plants when they arrive, the delivery driver can take them away, and you will be immediately refunded. If any plants show signs of struggling within 30 days of being delivered, you can send photos of the plant in question and claim a refund or credit note. Plants Express offers free delivery on a minimum spend of $349, with estimated delivery times of between 2 and 5 days. They have also teamed up with Home Depot so that you can place your orders in-store if you don't feel comfortable using their website.
8. Aerogarden
This is an online resource providing information for best gardening practices, and selling essential gardening equipment to home growers. Probably the biggest draw to this online store is the numerous offers it has on, which can change on a daily basis. They are a great way for saving money on gardening basics, but where this store falls down is its minimal product range. This may suit some people who aren't interested in spending hours trawling through pages of products to find what they are looking for but may be disappointing to shoppers who enjoy having a wide range of options to choose from. One of the things Aerogarden does really well is seed kits, whereby the customer can choose what sort of plant or vegetable they'd like to grow, and the website provides an entire kit of essential equipment that will allow the customer to grow their plants from scratch, eliminating the need for shopping around for multiple items, or the confusion surrounding what a starter-gardener will need to start sowing seeds. The online store also stocks a limited supply of kitchen accessories, harvesting tools, and grow lights.
9. Monster Gardens
Monster Gardens is one of the largest hydroponics stores in the United States and is based out of California. It is an entirely online commerce store, with an extensive product range that includes just about anything the home hydroponics grower could need or want. Product categories it covers include fans and filters, nutrients and additives, and climate control. This is a rapidly growing gardening technique that is gaining popularity at an impressive rate.
To help introduce new customers to hydroponics, or advise existing hydroponics gardeners on best techniques or new products that have hit the market, the team behind Monster Gardens routinely upload videos to their website and to YouTube. These videos help to grow Monster Gardens not only as an online gardening store but also as a supportive and informative community for hydroponics enthusiasts. This online store prides itself on good customer service and satisfied customers, which have earned them an enviable reputation. They have a Trustpilot star rating of 4.5, and loyal following of hydroponics customers. They offer free shipping on continental US orders, which is also promised to be fast and discreet.
10. Bloomscape
This online gardening store supplies ready to go houseplants and plant accessories to customers through the mail. They offer a large inventory of all of the most popular houseplants of the moment, promising the highest quality from plants raised in their own greenhouses. The company was founded by a family with several generations worth of gardening history, and it prides itself on delivering outstanding quality houseplants. Bloomscape also sells accessories to help with houseplant maintenance, such as trowels, planters, watering cans, and propagation kits. It has a limited but high-quality selection of accessories, which may not be your first port of call if you are looking for a budget-friendly gardening tool, but it is an ideal place to shop for special gifts for garden-loving family members, or to purchase quality tools that stand the test of time.
For anyone just starting out on their plant journey, this website has helpfully created categories of plants so that it is clear that plant is best suited for a customer's particular needs, for example, easy-care houseplants, and pet-friendly house plants. Bloomscape is not just an online gardening store, but also a plant community with a plethora of information and advice for raising houseplants. You can sign your email up to the online community for free and receive updates with relevant tips and hints for caring for your plants.
11. Wayside Gardens
Wayside Gardens was founded in 1920, selling unusual and rare plants and bulbs to a rapidly growing, sophisticated clientele. The company expanded to become one of the highest regarded mail order companies in the United States and was taken over by the Park Seed company in 1975 and relocated to South Carolina. It continues to operate today, primarily through its online gardening store, selling interesting and uncommon plants to serious gardening enthusiasts. This is a company whose customers understand that when shopping with Wayside Gardens, they might not be getting the cheapest or most cost-effective plants, but they are getting the highest quality plants, backed by a guarantee that the plants will thrive given adequate opportunity.
This online gardening store also sells a range of gardening accessories and equipment, including tools, pest control, and irrigation equipment. The range of gardening equipment offered by Wayside Gardens cannot compete with the larger stores when it comes to the number of options and pure numbers of items available, but it is competitive in that it only offers outstanding, tried and tested products. When you purchase from this company, you have the peace of mind of knowing that your products will be of the highest quality and craftsmanship, and that should any problems arise, you will experience the best customer service. Many items stocked by this store are also exclusive to them, so if you are keen on acquiring unique gardening items, then this could be the online store for you.
12. Garden.com
This is a lesser known online garden store that is well worth a look if you love to save money (who doesn't?!). This website is not as well designed as some of its competitors, and it doesn't have that glossy, finished feel, but it does have an extensive stock range at some unbelievable prices. Their products include everything garden related, from trellis, sheds, and arbors, to gardening footwear, bird houses, and water features. They also have an impressive selection of outdoor furniture, including dining sets, sofas, and hammocks.
Each product has a lengthy write up describing its dimensions, material, and features, though what this website does lack is a good selection of reviews. If you are someone who likes to read through customer reviews before you decide to make a purchase, then you might struggle with this website as many products will require you to take a chance and order them without reading any recommendations. However, considering the very reasonable prices, you may just be inclined to take a chance. This online store also invites you to join their mailing list, and in doing so, you are given a discount code to deduct further dollars from your purchase. You will also be updated by email with any future sales or special promotions. They have a customer care service center that can be reached by telephone or email, though this is only open on weekdays.
Explore Our Categories
Purple Succulents

There are many interesting succulents worth growing in your home. Some of the most compelling ones are the succulents wi...

Mini Succulents

If you are gardening indoors and have minimal space, you have no choice but to grow small plants. Thankfully, there are ...

Succulents & Cacti

Succulents and cacti are extremely popular indoor plants. Both of these plant groups have similar growing characteristic...