Home >
25 Awesome Garden Trellis Ideas
25 Awesome Garden Trellis Ideas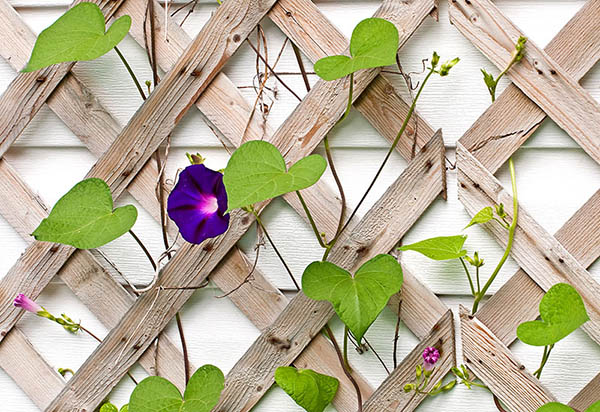 If you plan on growing any climbing, creeping plants – whether it's the heavy-duty creeping roses, wisterias or grape vines, medium-sized Virginia creeper or the just the delicate morning glories – all will need a structure to hang on to, something to appropriately support their growth.
That "something" is the garden trellis.
What Types Of Garden Trellises Are Out There?
There are many shapes and sizes of garden trellises. They can differ drastically in their design, material, and the ease of construction. Tall, gate and tunnel-like trellises are called arbors and pergolas.
In tune with their diversity, in this article I've covered a large variety of garden trellises – from the primitive, ancient designs such as the teepee pole trellis, to elaborate metal trellises.
Since these days garden trellises are often factory-made and store-bought, I haven't discriminated against them – I included them along with the DIY projects. Some of us lack the time or the skills to make our own trellis – and it shouldn't stop us from finding out all the options. And for the sworn makers out there, commercial designs are always a perfect opportunity for DIY hacks!
How To Navigate This Article
To make navigating through the world of trellises easier for you, I've divided our best trellis ideas into three categories: "Simple," "Medium" and "Advanced", which I'll explain along the way.
Now, let's get down to trellis business!
Here are 25 examples which will give you an idea about the diversity of trellises.
Category: Simple
These trellises are easy to make from readily available materials or are affordable to buy. Among them, there are many simple DIY designs that were used in gardens for centuries.
However, the "Simple" category can't cover it all – there are practically no simple arbor trellises or the ones that would be strong to support tall creeping plants such as wisteria.
Let's explore the basic trellis designs, ancestors of all other modern trellises!
Pole and Wire Trellis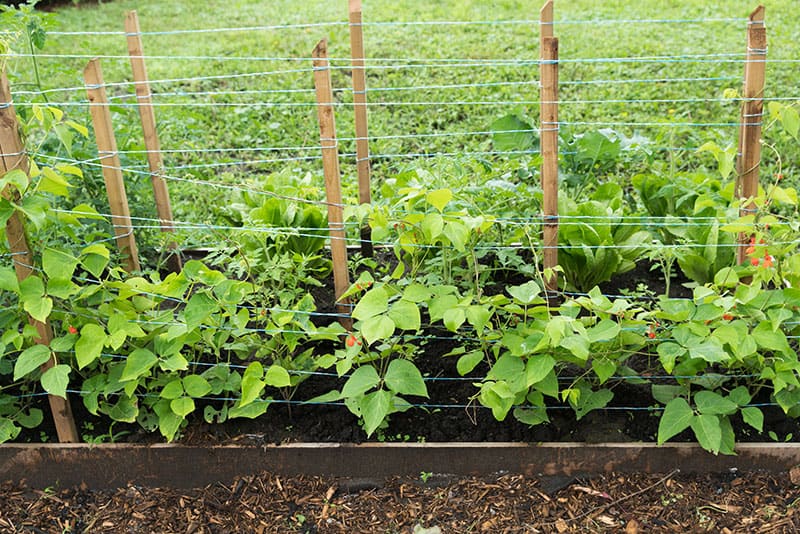 If you are not looking to achieve aesthetic perfection, the simplest forms of trellis will do the job. Yes, they will be unsightly until the vines grow over them, but there's your additional motivation to nurture healthy, lush plant growth.
Trellis made of poles and vertically stretched rope or wire are traditionally used to support grape vines. For something that takes little effort to build, they are very lasting – the old vines on my family property still grow over the pole & metal wire trellis my grandfather made!
"TeePee" Pole Bean Trellis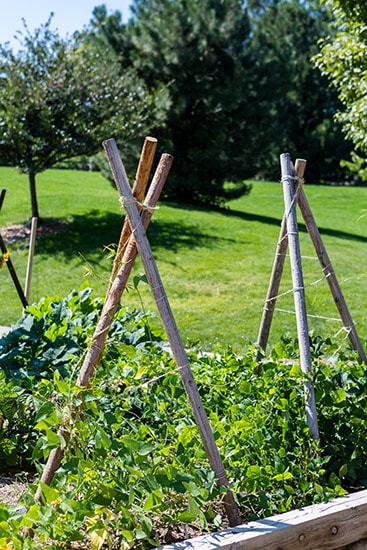 The same as the example above, these trellises are not here for looks, but for function – although their shape itself has a certain charm. They are a classic for growing beans and peas, but naturally, can be used to grow any other gentle creeper.
As you can judge by the photo, they are very easy to make – three sturdy poles are dug into the ground in a triangular pattern. Then the tops are leaned towards one another and tied together with a wire or a rope. The wire then descends towards the base of the trellis by being wrapped around the construction – providing horizontal lines for plants to latch onto.
"Tent" Veggie Support Trellis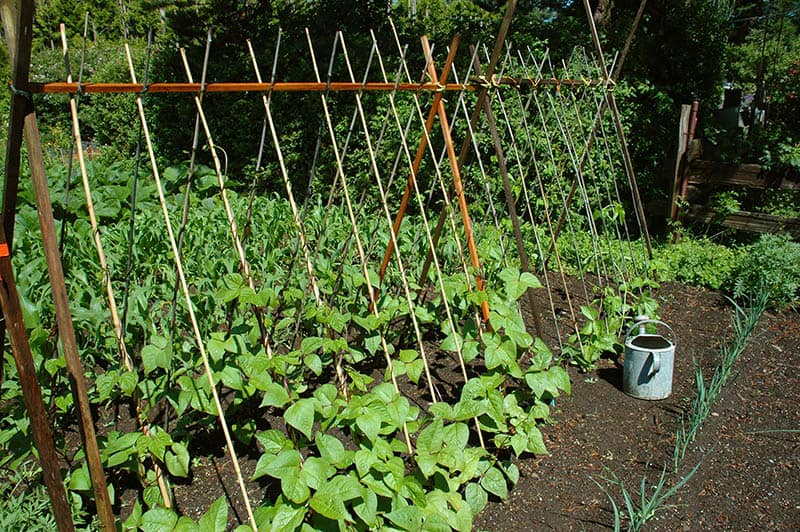 If you have more climbing crop plants, consider this one. An "upgrade" of the previous design, these "serial" triangular trellis use similar logic, but in a more organized, space-saving way.
A lot like a tent base, it has wires coming down from the upper wooden pole axis along the entire length of it, creating a larger surface for vertical plant growth.
The Two-Side Garden Trellis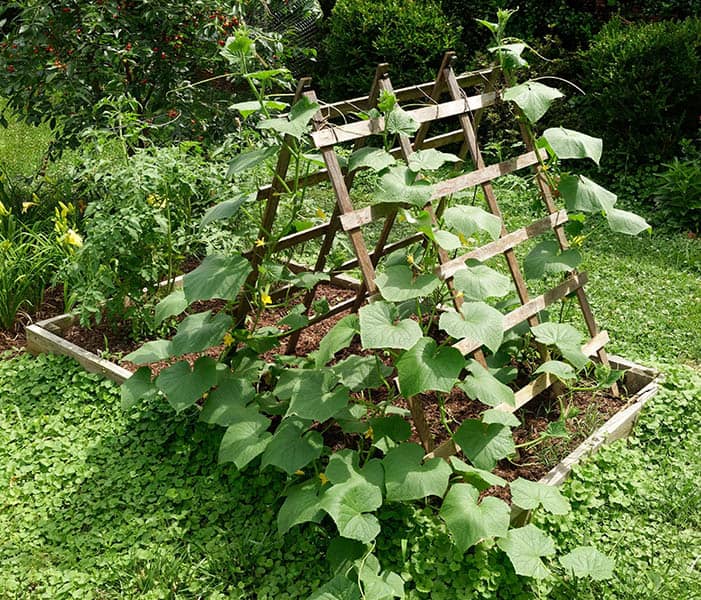 This one is also a garden classic. Made to fit the raised bed, the two-part tent-shaped wooden trellis will provide to support for whatever creeper you are growing beneath it.
The design is simple – if you want to make it yourself, it will likely be a one-day project. These trellises are often used in vegetable gardens.
Mesh Trellis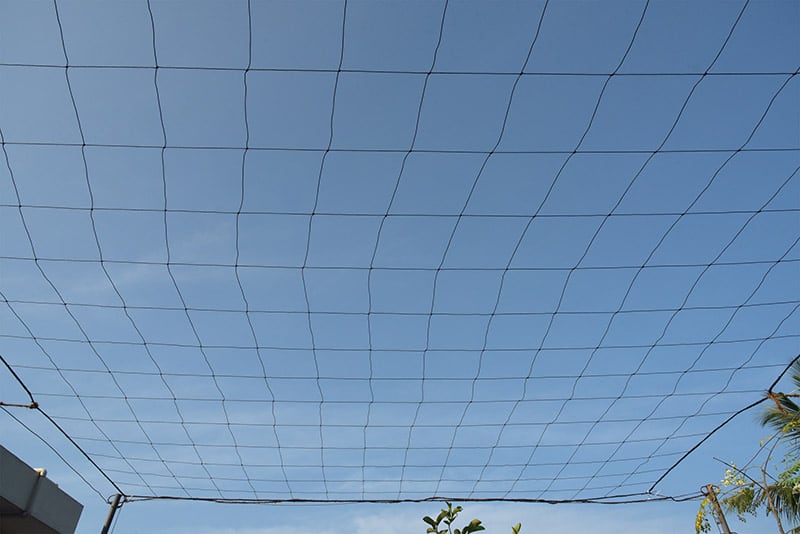 Because of their banality, wire mesh trellis is probably the most unsightly on the list – when bare. However, they can turn into a beautiful spectacle if you are growing dense creepers to grow over the entire construction.
Mesh can be used to imitate pergolas for very little money – and they can look awesome when they are overgrown with greens!
Repurposed Curtain Rod Wall Trellis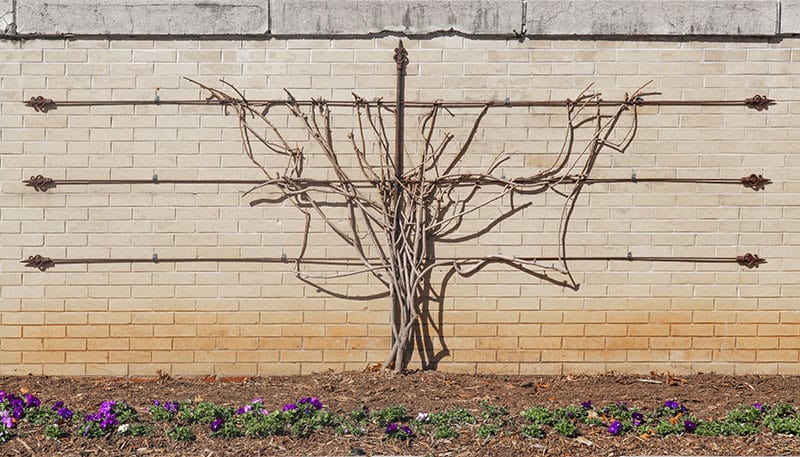 This trellis was created by crossing a few old, antique-looking curtain rods and fixing them to an outer wall. Really simple right?
The espalier vine that it will support looks happy with it. And as you can see, even when bare, the entire composition looks charming.
Rustic "Spider Web" Wall Trellis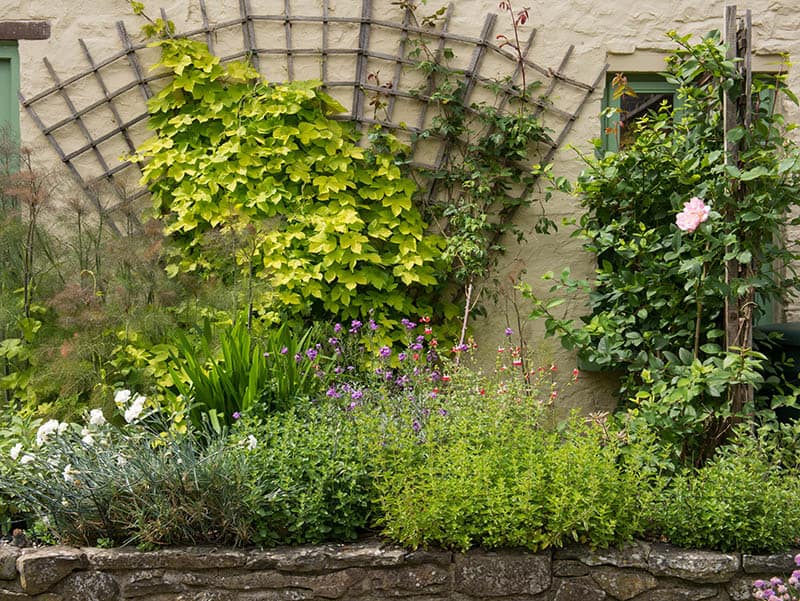 Located above a grow bed next to a charming rustic English cottage this plant bed is simple to construct. Unlike a regular square shape, this one is shaped like a piece of a spider web.
The trellis doesn't span over the entire wall. That is useful in two cases – when you want to limit the growth of your creepers, or when you are growing vines that are annual and not particularly dense (e.g., morning glory) and you don't want to look at an entire wall of bare trellis for many months.
Wagon Wheel Trellis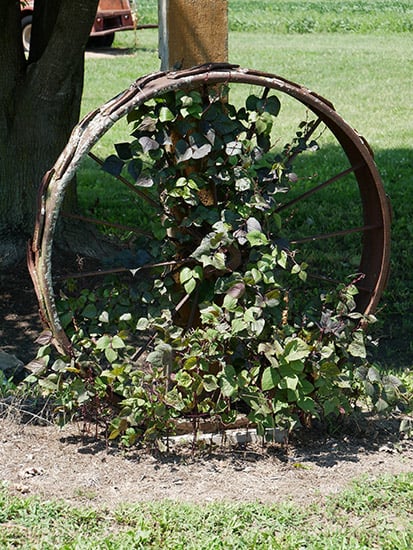 Here's one fully upcycled trellis – it is actually a cleverly repurposed antique wagon wheel, attached to the ground in the middle of the growing surface.
If you can't find a wagon wheel, you can use a much more easily available bike wheel – or a combination of several bike wheels.
Repurposed Garden Tools Trellises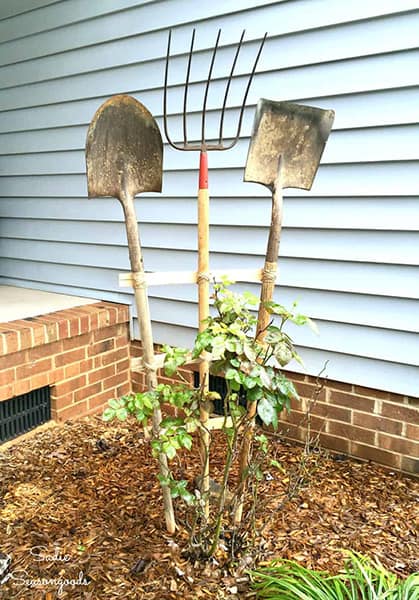 This project by Sadie Seasongoods is charming, affordable and easy. Besides the cute looks, there is more wisdom to using old garden tools – they often have high-quality poles which will make a sturdy base for your plants.
Since vertical boards are tied with a rope to connect the garden tools, this project doesn't require use of tools – not even a hammer.
Circular stand-alone Trellis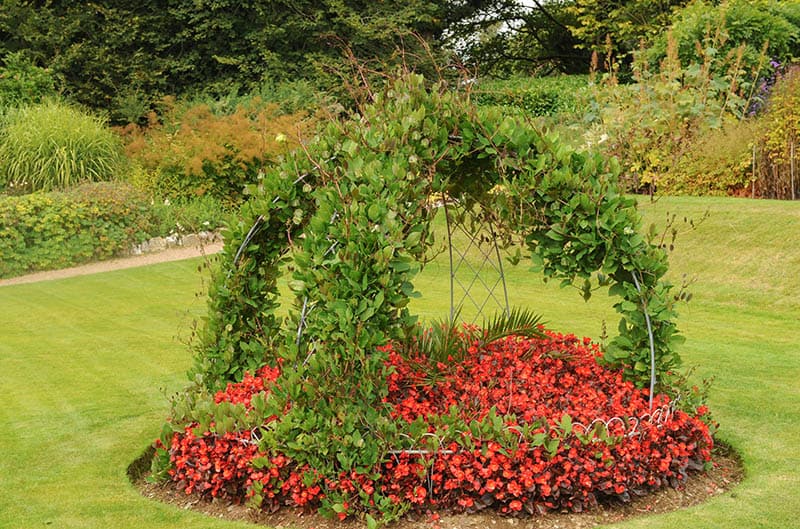 Trellis don't always have to lean against bigger surfaces or be straight. This circular garden trellis is a simple metal stand-alone structure – and refreshingly it creates an arrangement in the midst of a lawn.
This particular arrangement consists of clematis vine climbing the trellis, with red begonias in full bloom beneath them in the middle, providing both rich green and colorful appearance. The looming clematis plant borrows some unusual lushness to common begonias, and in return, begonias with their vivid reds in non-stop bloom throughout the season make up for the currently flowerless clematis.
Bamboo Grid Trellis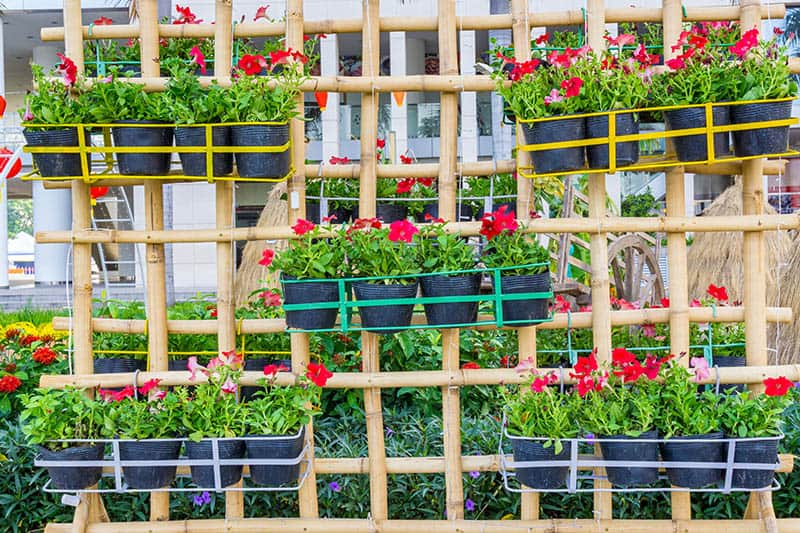 Bamboo Trellis will provide the same function as the classic wooden grid square trellis (check out the next section). However, it is easier to do-it-yourself, because it uses knots (instead of drilling, sawing, and hammering) to secure the bamboo poles in place and create a shape of the trellis.
Category: Medium
Our "Medium" category will showcase trellises that can be both bought for a reasonable amount of money, or made with a bit more effort, depending on your resources and preferences. There are many classic designs, as well as some unusual ones.
Classic wooden lattice trellis around windows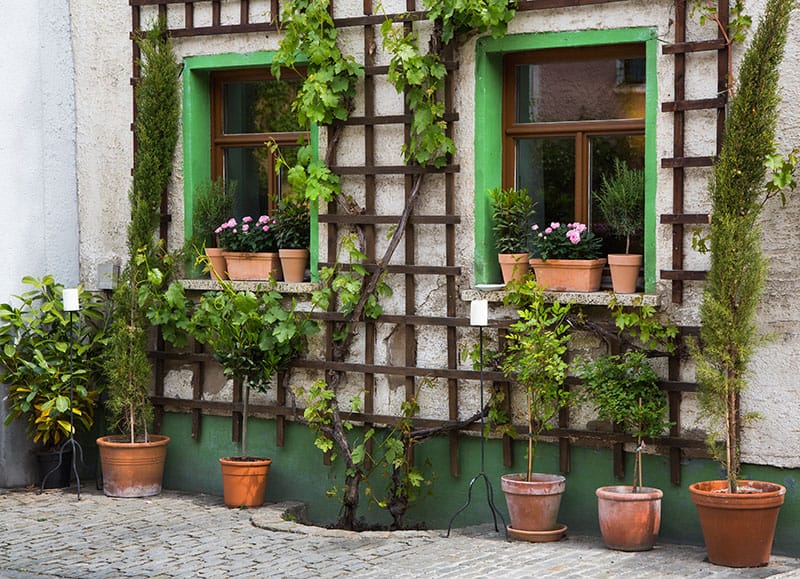 This is probably one of the most classic images of trellis – simple square grid surrounding the windows, promising a stunning view once the vines cover the entire trellis.
This type of classic trellis is commonly bought, but it can also be made with a bit of patience, right tools, and proper measurements.
French Tuteur / Obelisk Trellis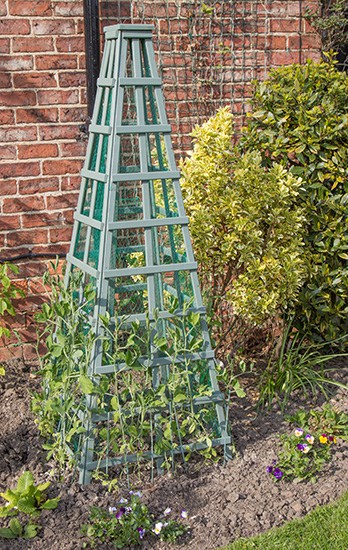 A crossover between the teepee pole trellis and the two-sided trellis – only slightly more sophisticated. Although it has more elements, the French tuteur "obelisk" is still compact enough to become a part of smaller garden space, giving a lot of vertical growth space for a relatively little piece of ground.
It is not very difficult to do the DIY version of this trellis either.
Trellis Fence, 2-in-1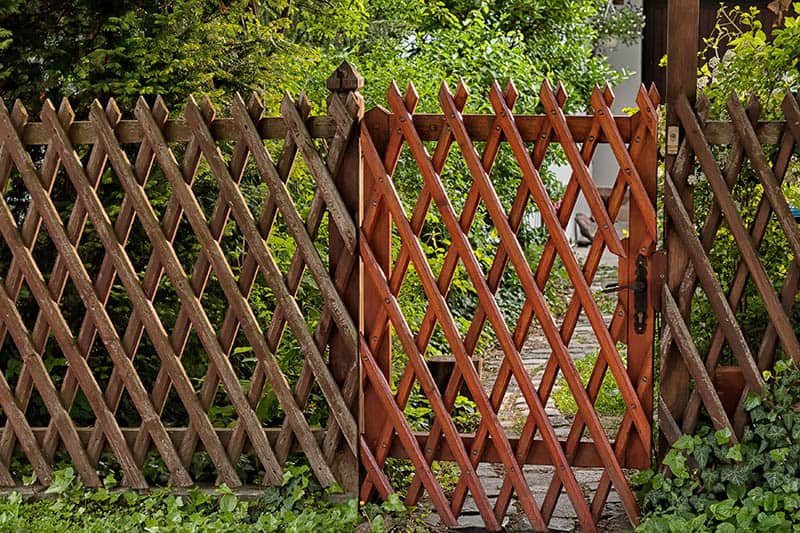 Making an entire fence out of trellis (lattice) gives you an excellent opportunity to create completely unique fencing for your yard. The sturdy construction can is excellent for supporting roses, blackberries, English ivy or other medium vines.
Just one catch – don't let your vines grow over the lattice-type gate – if you happen to be absent for long enough, you won't be able to get into your property!
Artistic Welded Metal Trellis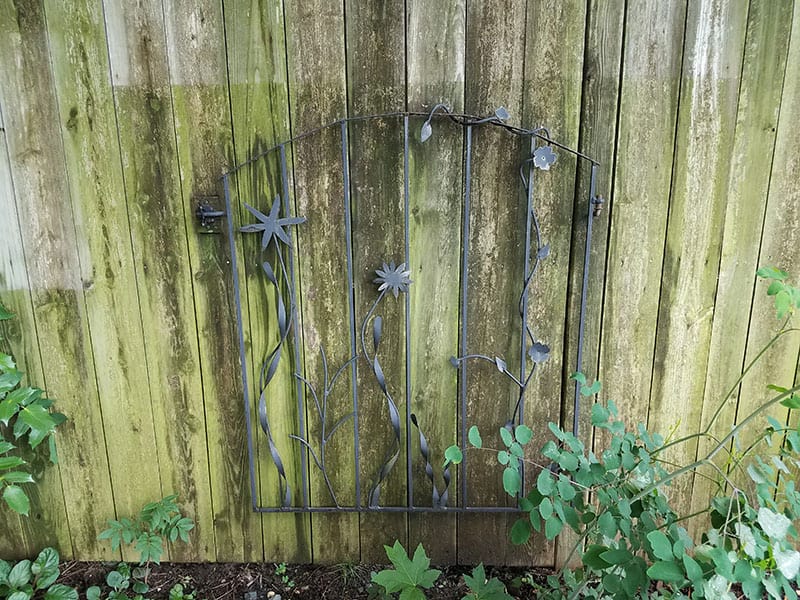 This beautiful artistically welded metal trellis, fixed to a tall wooden fence is a beautiful addition to a garden – especially the one with a rustic feel. Even if nothing ever grows over them – they are worthy on their own.
You can have similar pieces custom-made by an artistic welder (or do it yourself if you are one). The other option is to look at the second-hand ones in ads, garage sales or junkyards. Other welded objects can be repurposed to become trellises. This particular one in the picture quite looks like a piece of a small, old gate.
Non-Square Trellis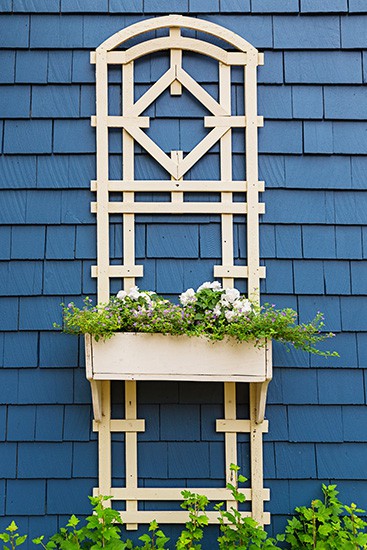 Since square and rhomboid trellises are a gold standard, as anything so typical, the shape can get a bit boring for some people.
Fortunately, you are not limited to typical designs only. Here is an example of combining different geometric shapes to create an extraordinary trellis, which will support your plants equally well.
Another popular option is to make angled trellises, such as this "chevron trellis."
Arched White Trellis/Arbor with Roses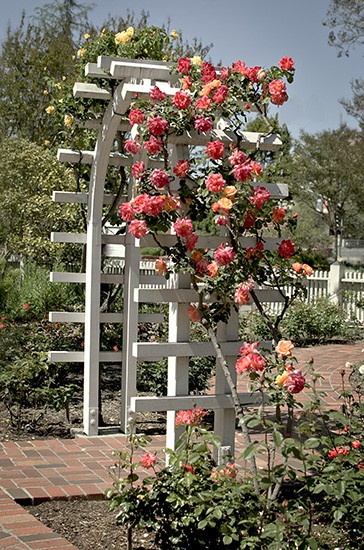 Arched "gate" trellis is a classic for supporting creeping rose variety. The white color of this trellis perfectly corresponds to the gentle nature of rose flowers.
Contrary to its looks, this type of trellis doesn't have to be located on the entrance to the garden. It can be used to visually.
Because of the height, many straight lines and the arches, the complexity of making a trellis like this one would land it in our Advanced category. The price in the range of $100-$150 is not out of range for most garden owners.
Birch Tree Wedding Trellis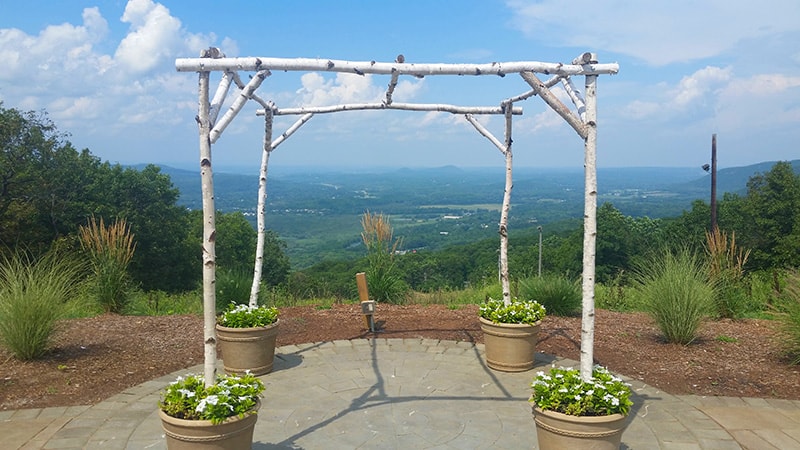 Besides support for plants, trellises are commonly used as centerpieces in weddings – a structure below which a lucky couple will take its precious vows.
Although wedding trellises can get complex, here is one simplistic, natural, rustic idea – a minimalist construction made out of raw birch trees and branches, "rooted" in flowerpots.
The natural white color of the birch tree makes the trellis look special and in tune with the wedding tradition of using white color for decoration.
Just be warned: this design may not be perfectly suitable for windy locations!
Simple Metal Trellis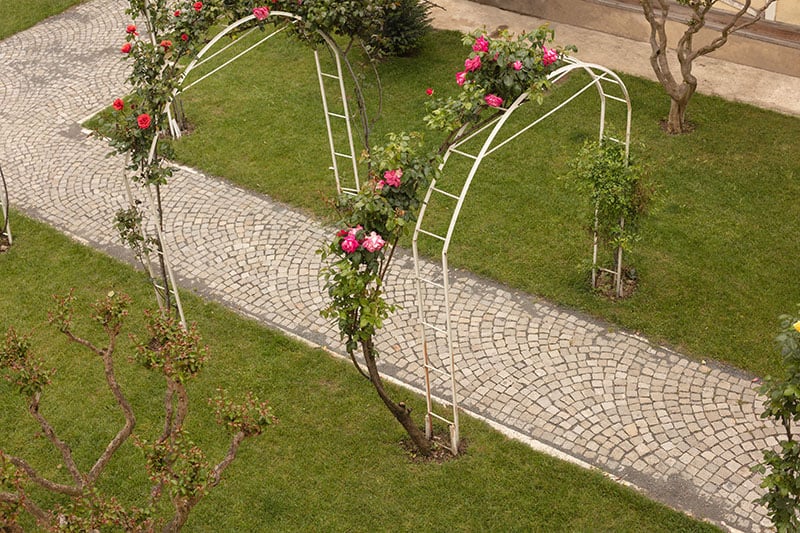 Commercially made metal trellises are now commonly available at garden centers, larger stores such as Wallmart, or online. Over the years they have become quite affordable.
This design is really minimal, with no standard art-nouveau vine-like curves – although there are many of those available as well if you prefer those.
Category: Advanced
The size is a big part of what makes these trellises "Advanced." Within this category, you will find arbors and pergolas, trellis gates and tunnels which represent a major investment, but also a striking, long-lasting decoration which will shape your entire garden.
Because of their complexity, these trellises are often bought or professionally custom-made.
Large Trellis Fence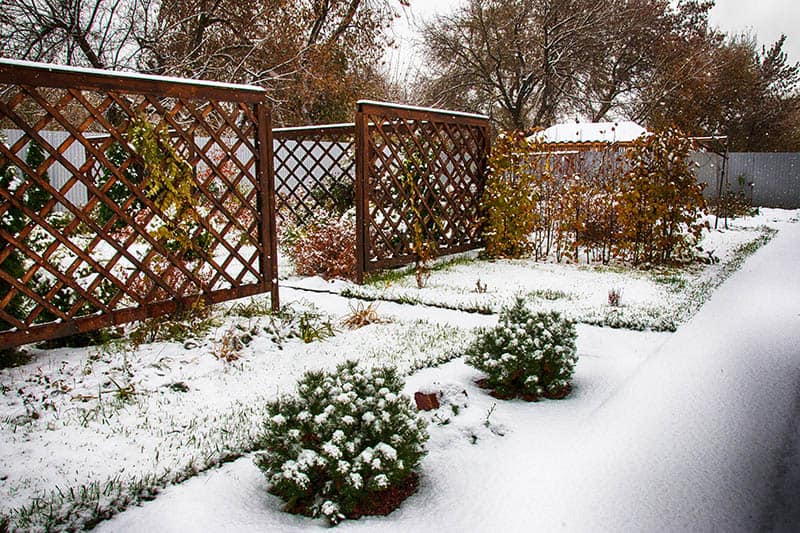 This garden has been entirely fenced out by a large trellis, giving its owner an opportunity to create a living wall that divides the garden from the rest of the yard.
The only thing to be careful about is the sun – if you have a tall, dense wall surrounding your garden, that might decrease the exposure for your plants, especially in the months when the sun is low.
Bamboo Garden Trellis / Simple Pergola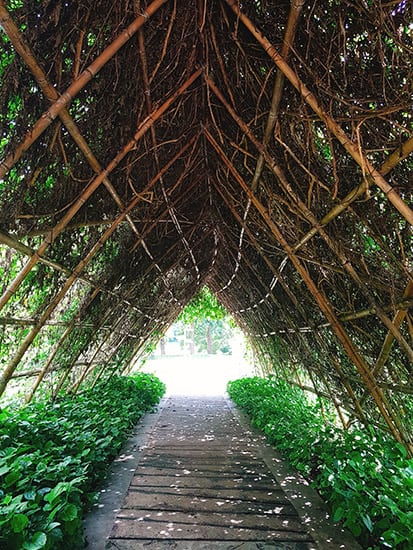 Here is the simplest trellis arch (or pergola), that because of its sheer size still has to be in the Advanced category.
This trellis is not truly arched but creates more of a roof-like structure over the garden walkway. It sort of reminds of the giant version of a simple two-sided garden trellis I've described earlier. Because of that, it easier to make by yourself and a group of friends that most other trellises/pergolas on the list (though it's still not easy!).
White Arched Wooden Trellis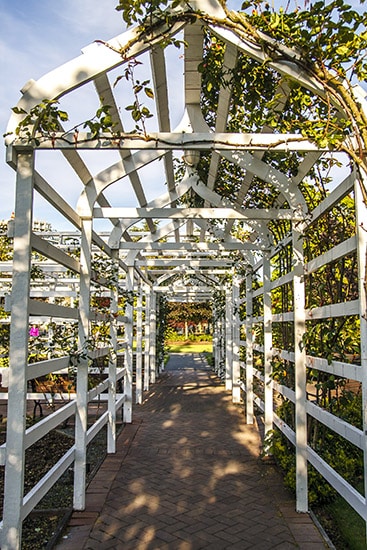 The image of this arched trellis going over the garden patio was taken in a public rose garden, which says enough about what it's fitting for. It can stand heavy vines creeping over it, plus it has a very elegant aesthetic – just like a rose.
Because of its size and craft, building a trellis like this one is expensive; however, because of the same features be sure it is something that will last for more than a generation, making it a wonderful gift for future generations in your garden.
Asymmetrical Wooden Trellis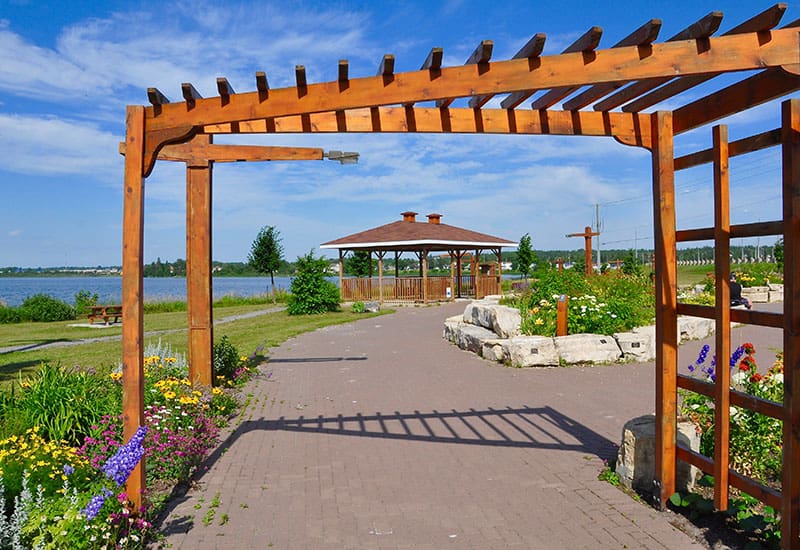 This custom trellis/arbor is interesting because of its atypical, asymmetrical shape. If you imagine it with vines over it and compare it with standard square shaped or arched arbors, you will easily realize how this design brings some originality into trellis and landscape design.
The shape makes it suitable for modern, minimalistic, Japanese, or other Asian-style gardens.
Japanese-Style Bamboo Trellis or Pergola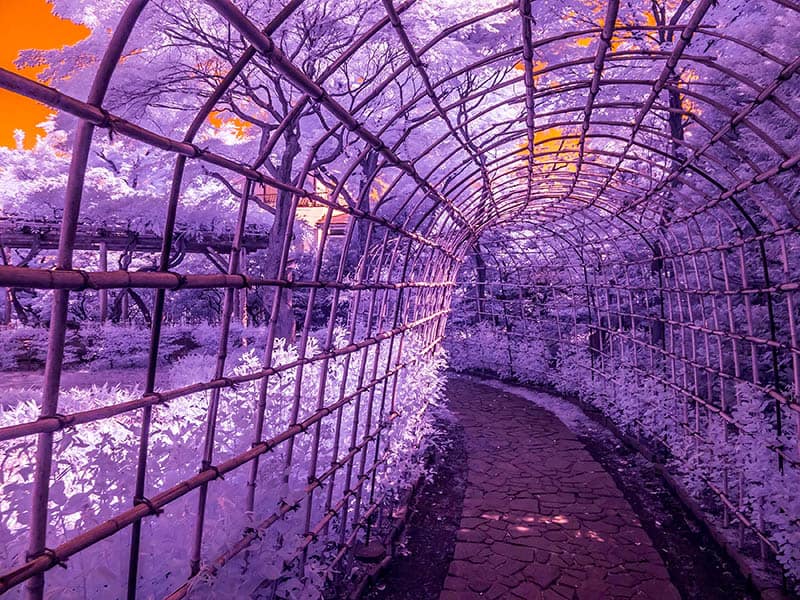 Unlike our first example in the Advanced category, this complex natural bamboo is truly arched and wraps an entire path through the garden, creating a wonderful tunnel. In the picture the construction is bare, but it's not difficult to imagine how impressive would it look when covered in vines.
Needless to say, a trellis of this size is very complicated, or expensive, to construct. Still, if you are short on resources, be it money, time, or skill, it can provide an inspiration to create a smaller, gate-like version using the same natural materials.
The picture is taken by using the infrared technique, so don't worry – in reality, this trellis won't make your greens purple!
Antique Iron Trellis and Arbors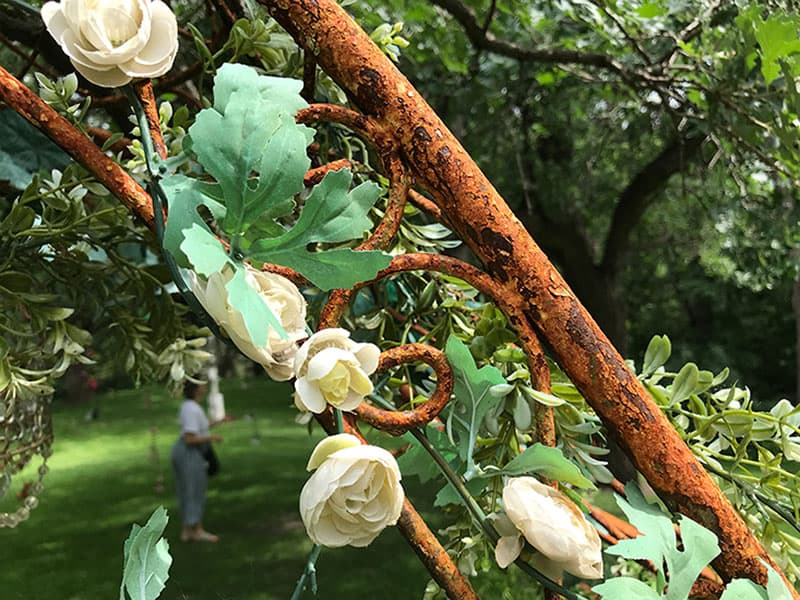 Since trellises and arbors have been around for a long, long time, with some luck, you might be able to find antique wrought iron trellis that doesn't cost a fortune. How?
Well, sometimes the owners are not really aware of what are their old trellis is really worth, or they don't have time to find the right buyer, or they have assessed that the construction is in really bad shape. That is why it might end up in a junkyard.
Finding your trellis at the junkyard can be a real adventure. If you don't find a classic like the one in the picture, you may come across other interesting objects (see the wagon wheel idea above) that can serve as a trellis.
---
Conclusion
Big or small, metal or wooden, home-made or store-bought, one thing is sure: besides providing support for your beautiful creeping plants, trellises will shape your entire garden. They can add the finishing touch that will make your green space stand out from all others.
Was my trellis list useful to you? Has it broadened your perspective when it comes to understanding the garden trellis universe? What kind would you like to have in your garden? Feel free to drop a comment – we would love to hear your thoughts on it!
Explore Our Categories
Trellis Plants

At times, a plant's growth habit alone is enough to add interest to your garden. Such is the case for trellis plants and...

Wisteria Vines

Wisteria vines produce impressive dangling flowers and can grow on nearly any structure. This vigorous vine grows quickl...