Home >
23 Cheap & Amazing Garden Edging Ideas You Can Try
23 Cheap & Amazing Garden Edging Ideas You Can Try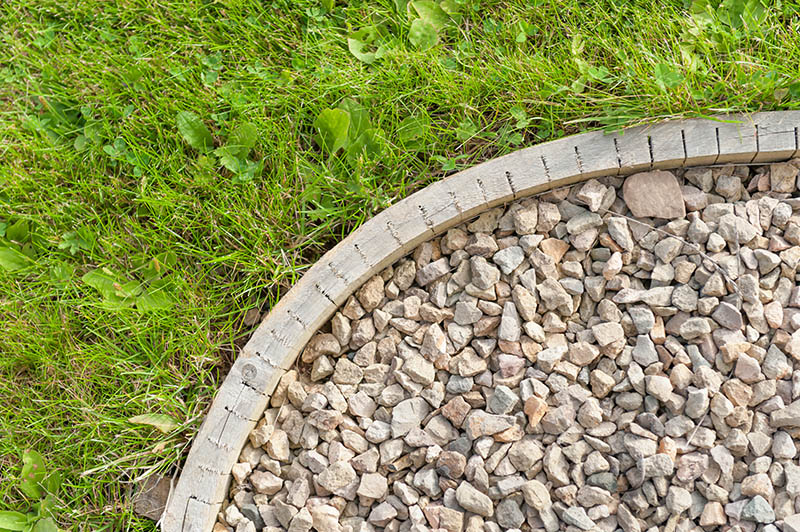 Stuck for inspiration on ways to tidy up the perimeter of your garden? A neat edge can provide the finishing touch to a lawn and add definition between different areas of your yard. But unless you're a landscape gardener, it's hard to know where to begin.
This list of 23 garden edging ideas you can try is a good place to start, giving you a base point for options available and suggestions to spark your creativity. Ready? Let's get edging!
1. Sharp-Edged Lawn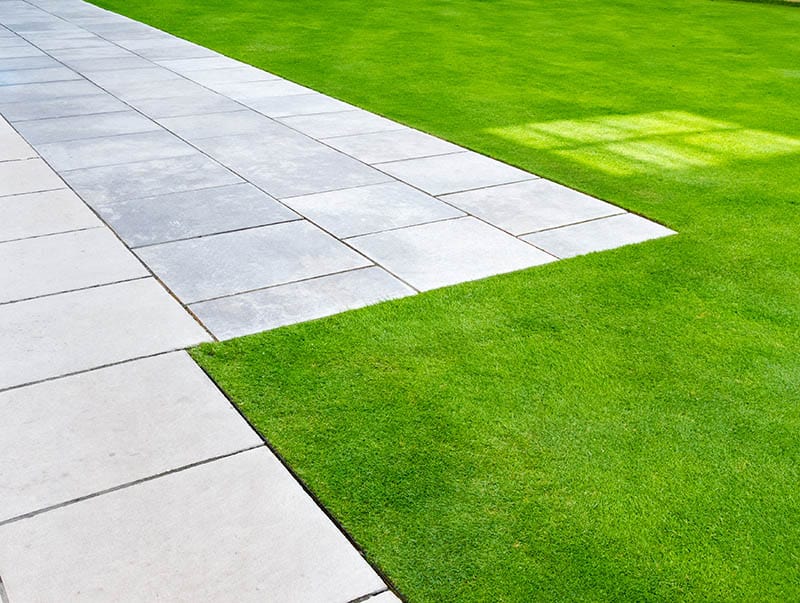 The straight edges and angular corners of this design are very simple yet give a very strong look. The style is modern and minimalist, using just turf and stone slabs to create this sleek appearance. You could use either artificial turf of real turf to achieve this look, though if you want a real lawn, it will have to be in excellent condition.
The fullness and lushness of the grass is an important part of this design, and it would not look so blunt if the lawn was thin or patchy. To gain the impeccably neat edge between the lawn and the stone slabs you will likely need to use a lawn edging tool.
2. Gray Gravel Border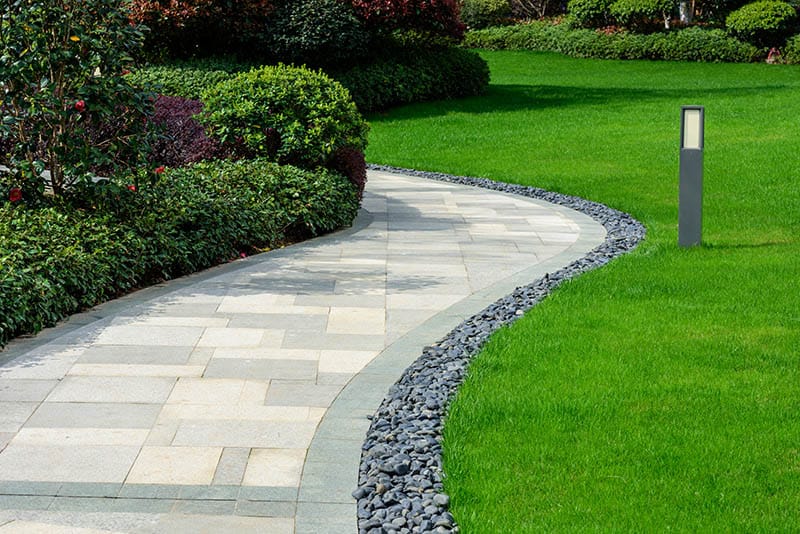 This design is more decorative, using gray gravel pebbles to make more of a distinction between the walkway and the lawn. While it is nice to look at, this design also has a purpose; the pebbles act almost as a barrier, discouraging people from walking on the lawn and keeping them on the path. Any keen gardeners who spend hours working on their manicured lawn will know this is key to good lawn maintenance, and the gravel is far more attractive than a sign saying "Keep off the grass"!
To achieve this look, you will need to dig a shallow trench between your lawn and path, line it with some protective sheeting to prevent weeds from growing through, and then, fill the top with pebbles of your choice.
3. Curved Stone Path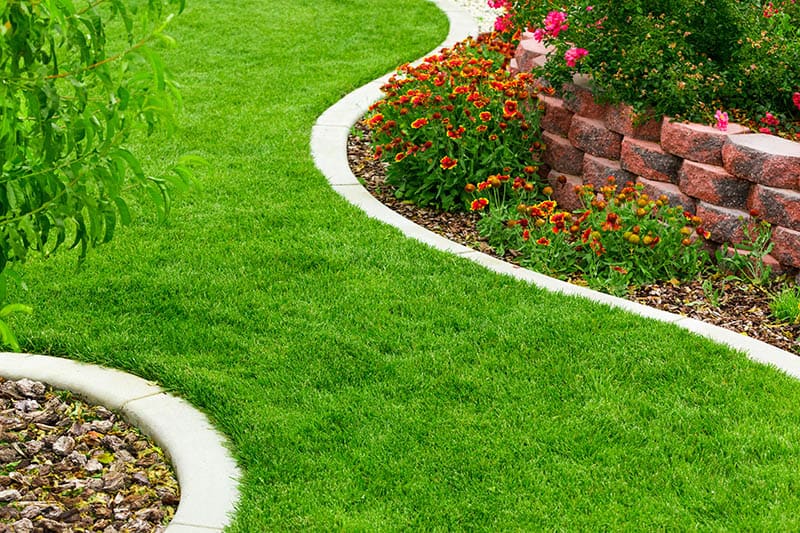 This quirky look is a bit different from the norm of straight edges typically found around the perimeter of gardens and creates an interesting design. This style relies upon you finding curved edging bricks to buy, which should be available in most big DIY stores or garden centers, though you will likely pay a premium for the unusual shape.
If you don't mind sourcing the materials and aren't too worried about your budget, then this edging design will be straightforward to achieve. Simply dig a trough around the edge of your lawn with the same width as the edging bricks, then lay them on top of builders sand.
4. Budget Brick Edge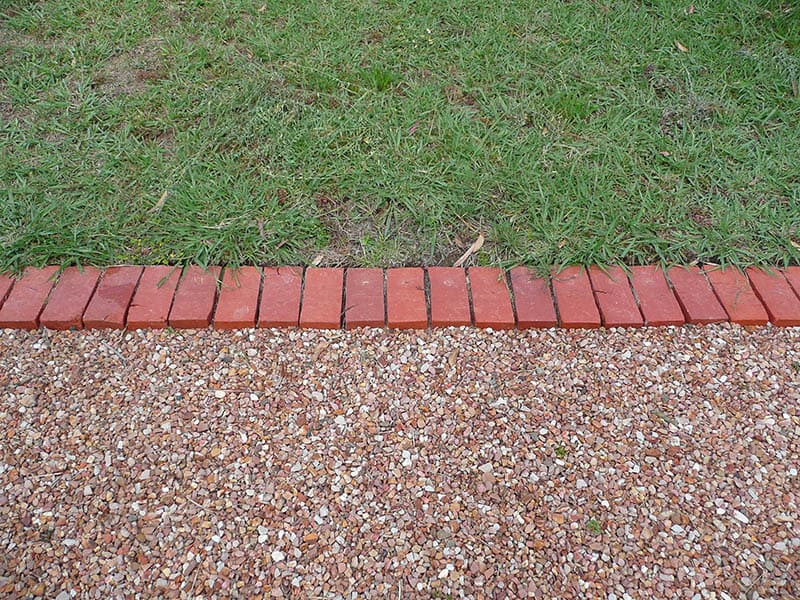 This brick edging is an excellent solution for adding definition between areas of your garden on a budget. Bricks can be bought very cheaply, and the only tools required are ones that you probably already have in your garage.
Minimal skill is required to achieve this look, so you can complete it yourself over the space of a weekend, saving money on hiring a contractor or landscape gardener to do it for you. Dig a brick-sized trench around your lawn, fill the bottom with a layer of cheap sand, then set the bricks down next to each other, keeping them as level as possible.
5. Pebble Moat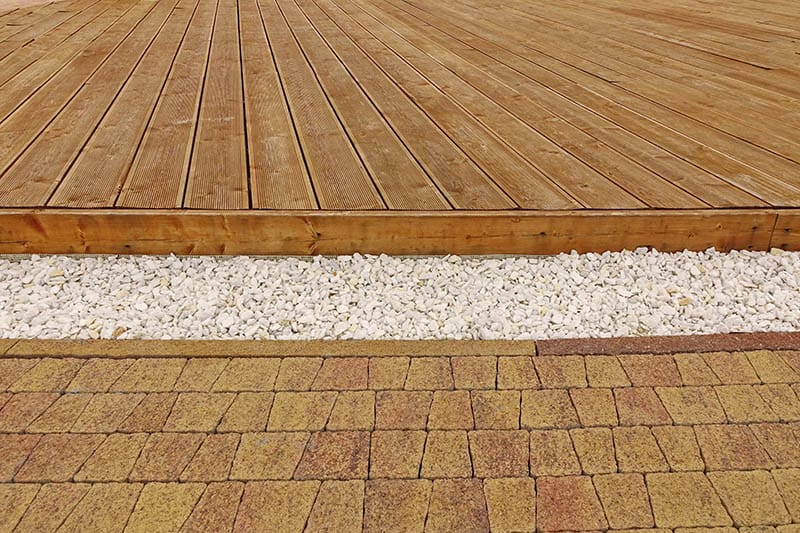 The use of different levels in this design is what makes it so eye-catching. The deck rising out from the surrounding pebbles gives the impression of a pebble moat, with the sleek lines and simple palette of colors making it contemporary and almost artistic.
If you want a similar look in your garden, create levels at different heights, filling the lowest trench with a stylish pebble selection.
6. Contemporary Block Edge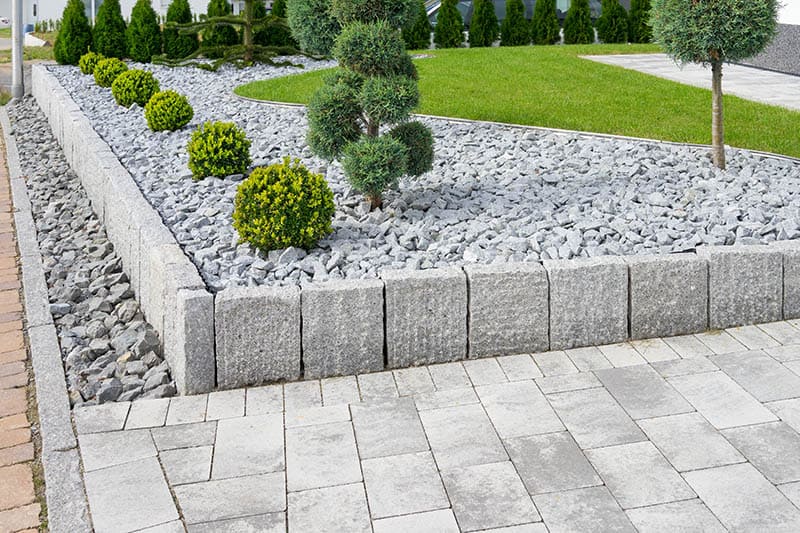 These large gray blocks serve the dual purpose of providing a neat border around the garden but also enclosing the crushed rocks within to avoid any messy overspill. The clean lines and simple style of the blocks give this design a contemporary look.
Due to their size and modern design, blocks like this won't come cheap, but they are a real feature in a garden and will stand the test of time.
7. Boulder Border
This look is incredibly easy to achieve and could be tackled by even the most novice landscaper. Creating an edge made of large rocks is simply a case of sourcing the rocks and then, piling them on top of each other along the perimeter of your garden.
If you happen to have boulders on your property, then this will be an excellent way to make use of them; otherwise, buying rocks of this size could turn out to be quite a large expense.
8. Concrete Corner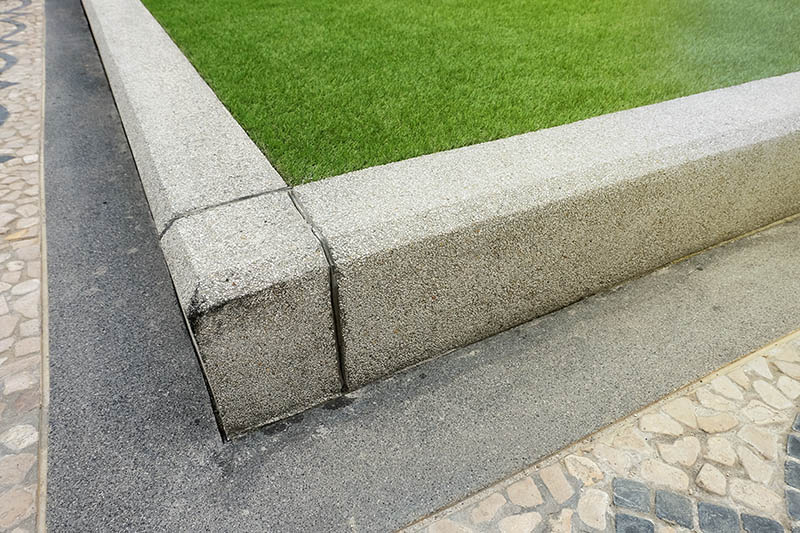 This concrete curb creates an industrial look that has become popular over the last decade. The uncomplicated design of the curb and the use of concrete as the material evoke a feeling of minimalism.
People who are quite handy with tools and DIY might be able to create this unpretentious look themselves by making a mold and filling it with concrete. Otherwise, you could look into purchasing some curb lengths or commission some to be made for your property.
9. Mini Fence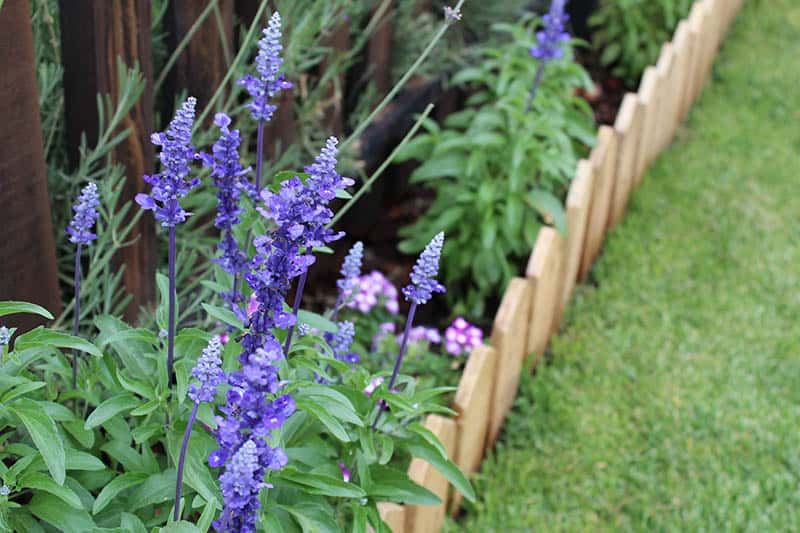 This cheap and cheerful solution for creating an edge in your garden is popular for good reason. It is so easy to do, transforming the edges of your lawn or flowerbeds in a matter of minutes. It is inexpensive and easy to find in any garden or hardware store. Be sure to buy a fence which has been treated for outdoor use, as this will greatly elongate its lifespan.
10. Rustic Paving Slabs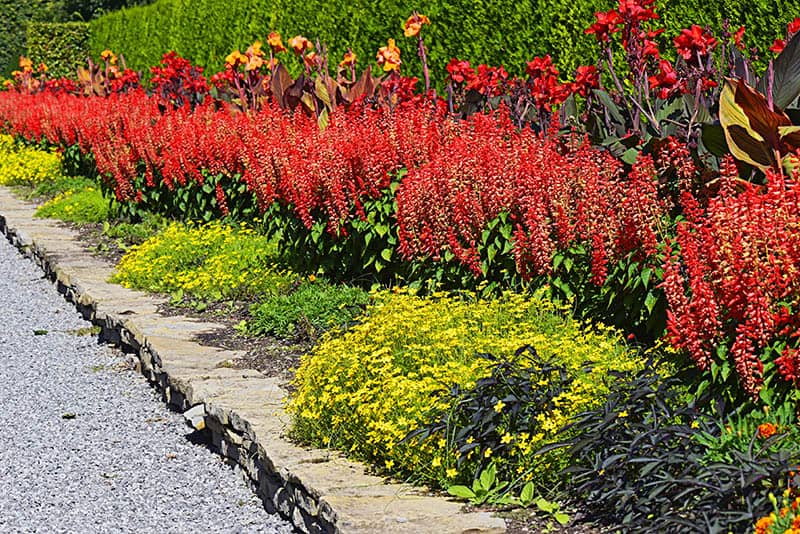 Placing paving slabs around the edge of your garden is a nice idea if you have a lot of space. They create quite a grand yet rustic look, with their size making a real feature out of the edging. The drawback here is that they aren't well suited to smaller gardens as they're an inefficient use of space. It's also a good idea to keep rustic slabs such as these away from areas where children play, as they can have sharp and jagged edges.
11. Hedge Edge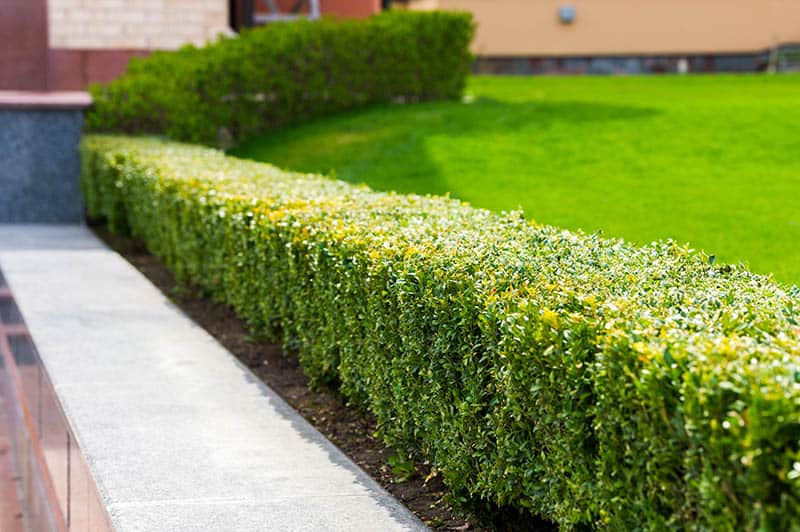 A manicured hedge along the edge of your garden is the sign of a true gardener. A petite and well-trimmed hedge such as this looks impressive and quite luxurious. Fortunately, even those without green fingers can have splendid hedges with the help of a regular gardener or landscaper who will tend to your hedge for you. While this is a stunning way to edge your garden, it may be time-consuming to grow a hedge if you don't already have one.
12. Stepping Stones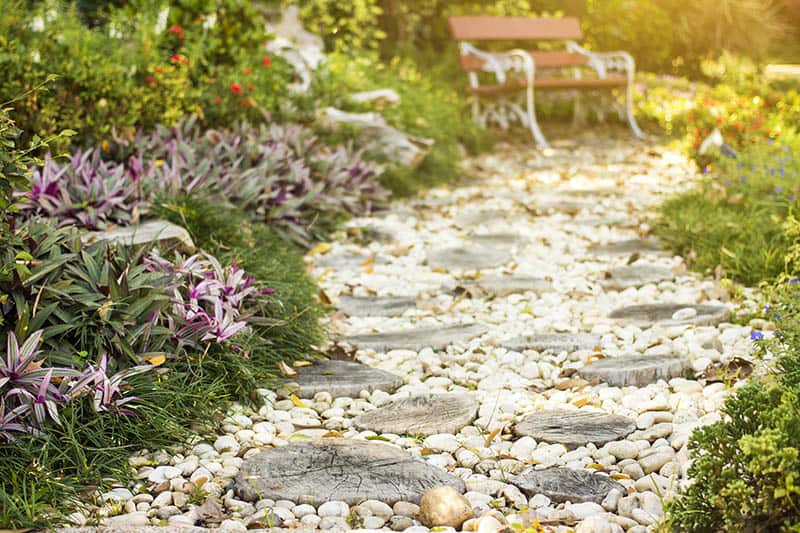 Stepping stones are a pretty way to create a divide between sections of your garden, and they also serve the purpose of being a walkway to save people from walking on your lawn. These stepping stones were created with the use of sliced tree stumps set amongst pebbles, but you could get creative with your stepping stones, using traditional slabs, bits of old wooden pallets, or anything else with a flat surface that can live outside.
13. Wood Edged Raised Beds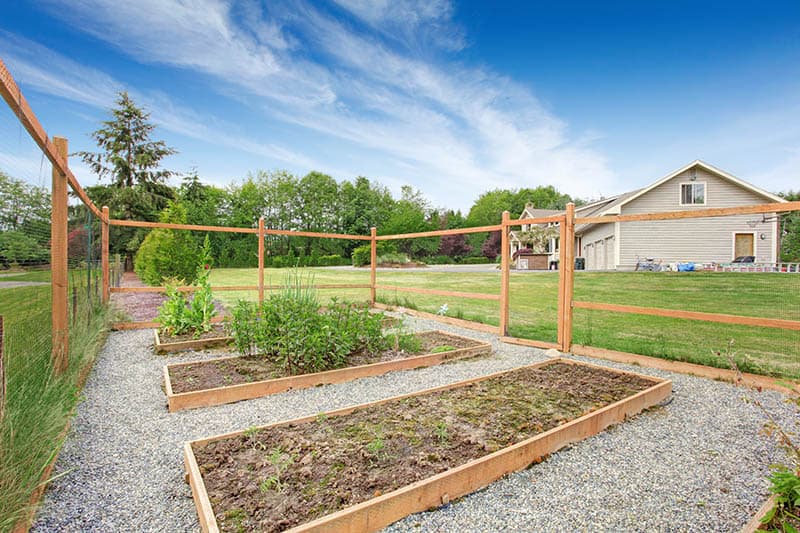 The edges around these raised garden beds are simple yet stylish. The use of thin lengths of wood looks quite pure and unassuming, and they provide a neat border. This design would be very easy and inexpensive to achieve, ideal for anyone on a budget who wants to attempt to edge their own garden. Simply create a frame with lengths of timber and nail or screw them together in place. You could even personalize the look by painting the timber in a color of your choice.
14. White Picket Fence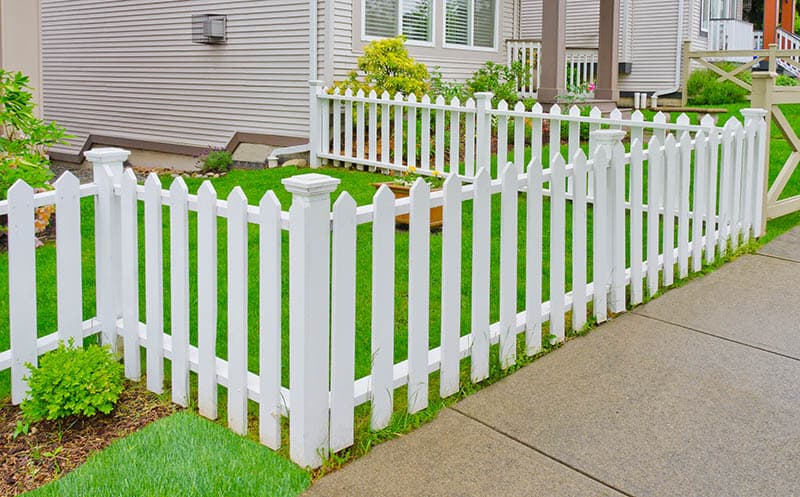 This traditional way to edge your garden gives a wholesome look to your home. A white picket fence makes your garden appear well kept and gives your property great curb appeal. This conservative style won't be for everyone, but if you're after a classic look around the edges of your garden, then this is an unfussy yet classy option. You can buy white picket fences pre-made, or for a more cost-effective option, you can buy a low wooden fence and paint it white.
15. Think Pink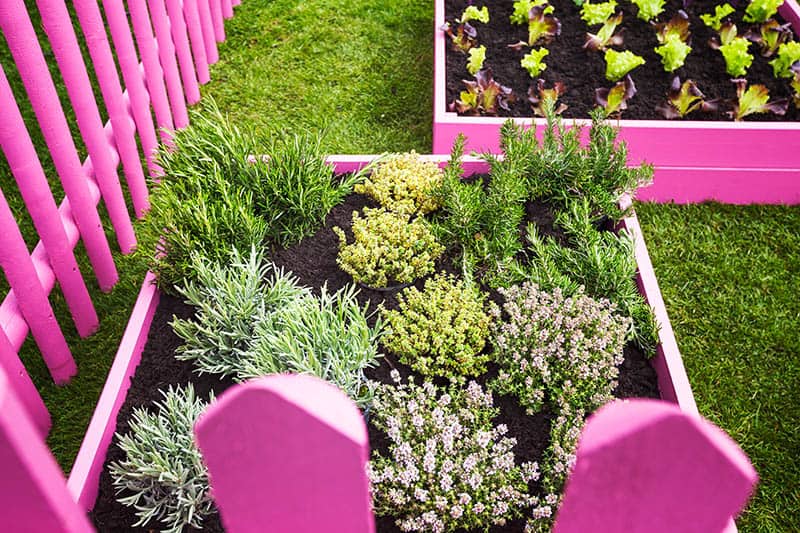 Paint is, in most cases, the easiest and most inexpensive way to update your home. Don't forget that the use of paint doesn't need to be confined to the interior of your home; you can use it in your garden too. There are now an array of exterior paints available which are weatherproof and intended for use outside.
If you don't want to create an entirely new edge for your garden then painting what you already have is a great way to spruce up the look of your space without spending much time or money. Vibrant colors like this hot pink can liven up your garden, making it bright and cheerful even on a dull day.
16. Paved Pattern Path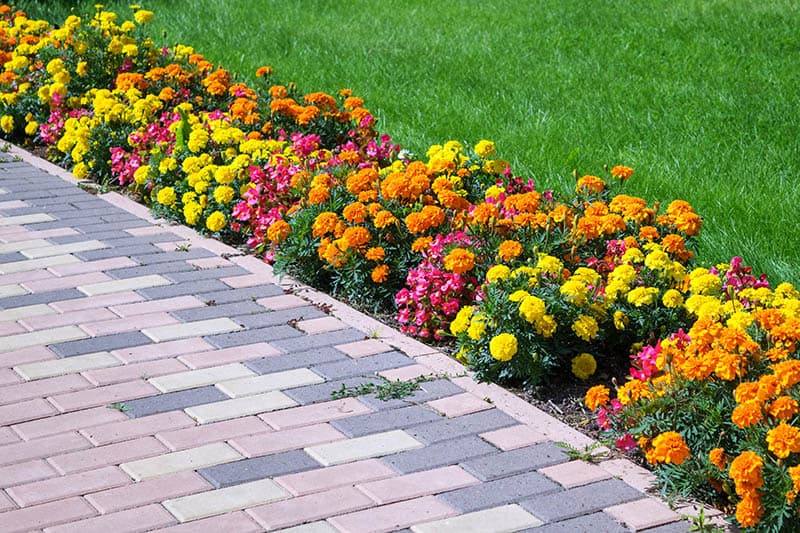 This walkway looks very smart set against the lush display of flowers that operate as an edge to the lawn. This design works so well because the perimeter of the path is a perfectly straight line, providing a contrast against the texture of the flowers.
To achieve this look, use plenty of flowers in the space between your walkway and lawn to create a look of fullness and abundance. This design will be perfect for keen gardeners who like to tend to their plants and keep them well maintained, as otherwise, it could soon start to look messy and unkempt. Also, remember that this look will be fabulous during spring and summer but may look somewhat sad when winter arrives and the blooms die off.
17. Decorative Plants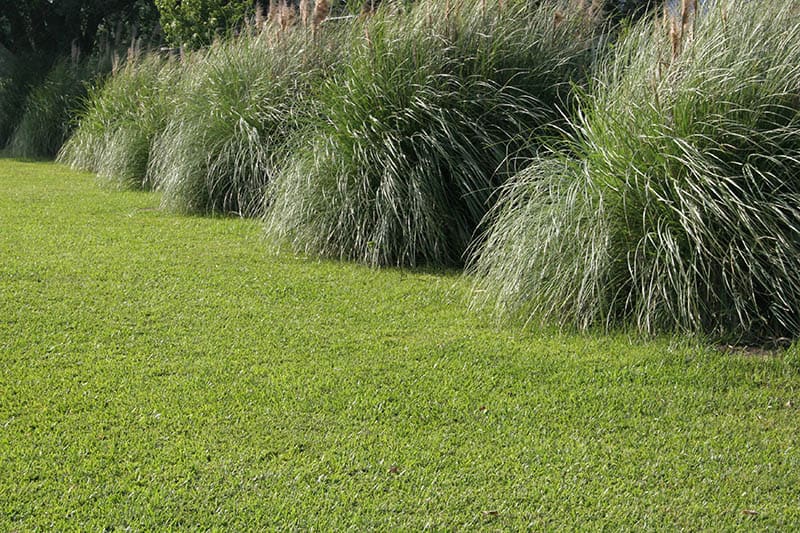 A row of decorative plants is an excellent way to edge your garden, and they can even become a focal point in your yard if the rest of the space is left fairly bare. These decorative grasses work well as they cover quite a large area, meaning you don't have to plant too many to make an impact. You could also use shrubs or other small plants to decorate the edge of your garden. Choosing evergreen plants would be wise as this means they will look vibrant and healthy all year round.
18. Electric Lawn Edger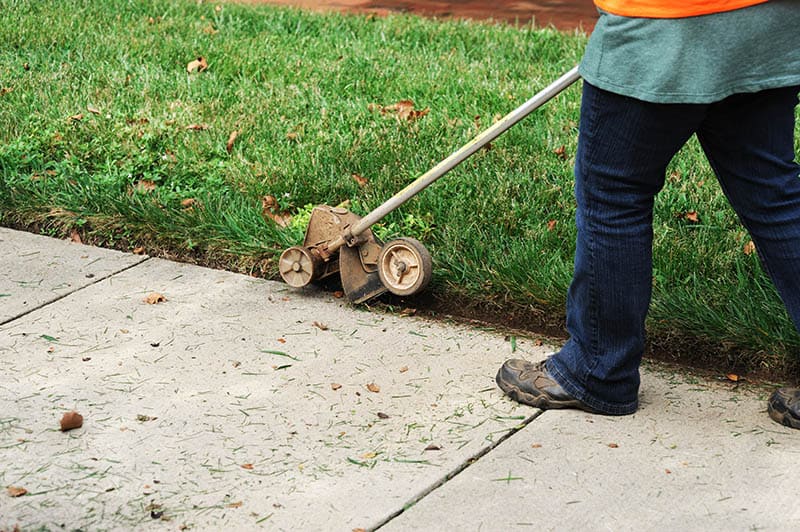 You don't need to add borders to your garden to create an edge. A neat edge can be created simply by tidying up the boundary of your lawn. The most effective way to get a sleek line around your lawn is with the use of an electric lawn edger. These are fairly inexpensive compared to other garden tools and are a breeze to operate. They take all the hard work out of gardening but give results that will make your neighbors think you're a pro.
The downside to this idea is that it does require maintenance to keep it in good shape, but it isn't time-consuming if you're happy to spend an hour in the yard every now and again.
19. Curb Appeal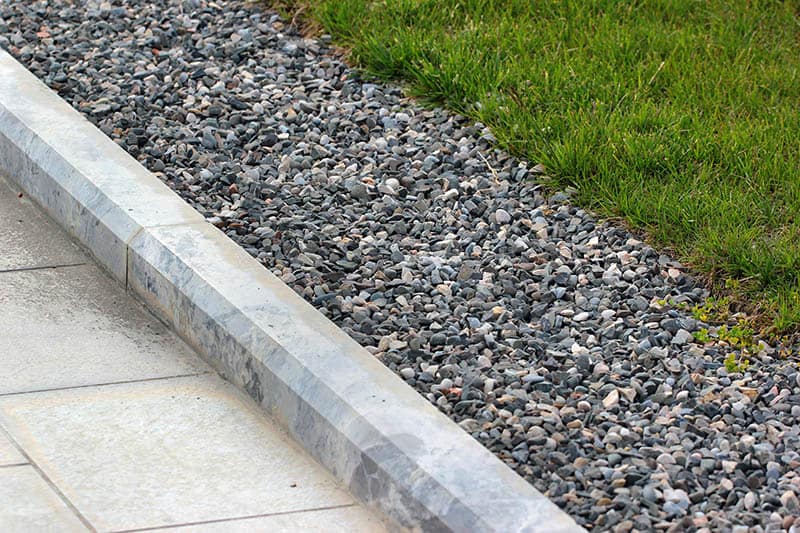 This marble curb is a piece of art. It has been polished until it shines, showing off all the natural character of the stone. To showcase a feature like this, choose understated pieces to run alongside it, such as plain paving or pebbles in similar colors.
This type of garden edge will usually require the help of a professional, who will be able to source a custom curb to your liking and install it. There are many different types of stone you could choose from, or a polished concrete curb would work equally well at a fraction of the price.
20. Planter Positions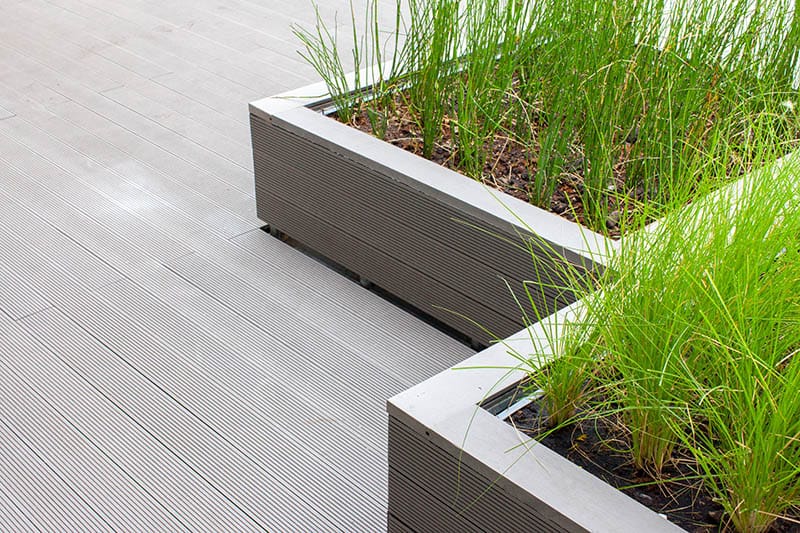 Strategic positioning of garden planters is a great way to create an edge around your lawn with minimum effort. This can be seen as the cheat's method of gardening; just buy some large planters and place them on the rough edge of your lawn to hide any untidy edges.
The other great thing about this edging solution is that it can be achieved on almost any budget and can be personalized to suit your style. You can buy elaborate designer planters or thrift store planters, whatever suits your style (and wallet!)
21. Potty for Pot Plants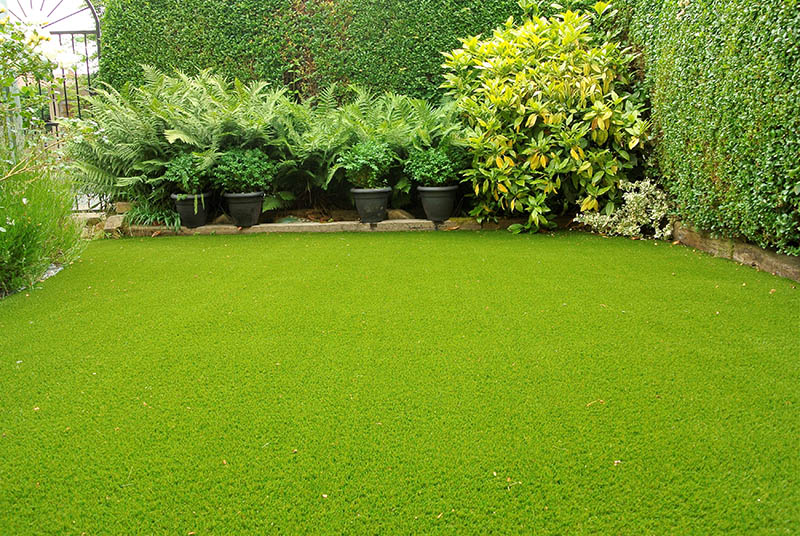 Potted plants around the perimeter of your garden can bring some interest to a dull edge. If your garden lacks character, then a simple brick or timber edge may not be enough to make your backyard shine. Potted plants look stylish and add an element of order to a garden. Choose low maintenance evergreen shrubs to ensure your garden is a haven you want to spend time in without it requiring too much hard work.
22. Caged Rocks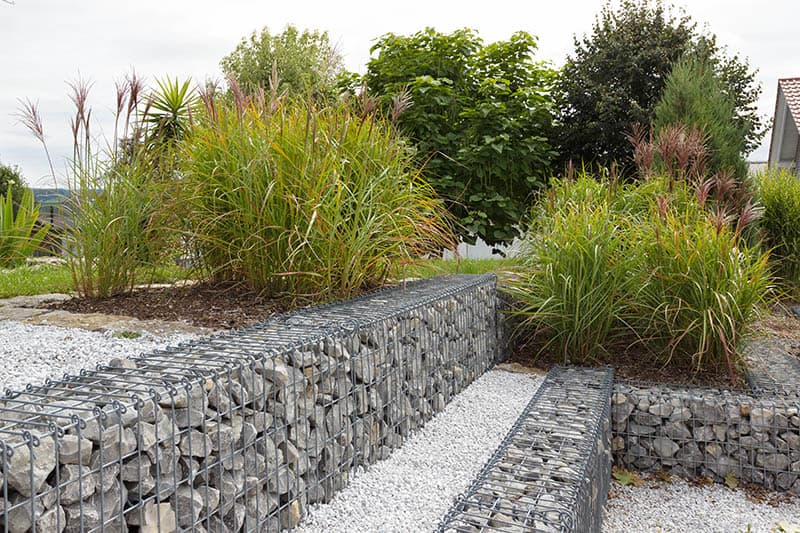 Rocks held into place by a wire cage have become a popular way to form a border or barrier around gardens and properties. In gray stone, these gabions give a modern and ultra stylish look. It's definitely not a budget option for your garden edge, but if you're looking for a contemporary way to add curb appeal and value to your property, then this will be a good investment. The gabions require no maintenance, so once you have them, you should be able to enjoy them for a long time to come without any further work or expenditure.
23. Paved Pattern
If you have a large space on your property without grass, such as a paved terrace or decked area, you could edge it with a contrasting design like the raised border shown here. The juxtaposition of two such different textures makes a strong visual impact and design statement. The bark used in this image looks more appealing than soil and actually serves to help retain moisture so that you won't need to water your plants in the raised bed as often as usual. You can select low-maintenance shrubs or flowering perennials; let your personality show through in your design choices.
Did this list give you some inspiration to get to work in your garden? Edging your garden is a great way to increase the curb appeal and value of your home. It's also important to many people to make the most of their home, creating a neat area where you want to spend more outdoor leisure time. Having a haven you enjoy relaxing in with family and friends can have a positive impact on your life.