7 Best Orchid Pots & Containers – Buying Guide & Recommendation
7 Best Orchid Pots & Containers – Buying Guide & Recommendation
Explore Our Categories
Flowers

Almost all plants have flowers, but there are select ones we grow for glorious blooms. To brighten up your home and land...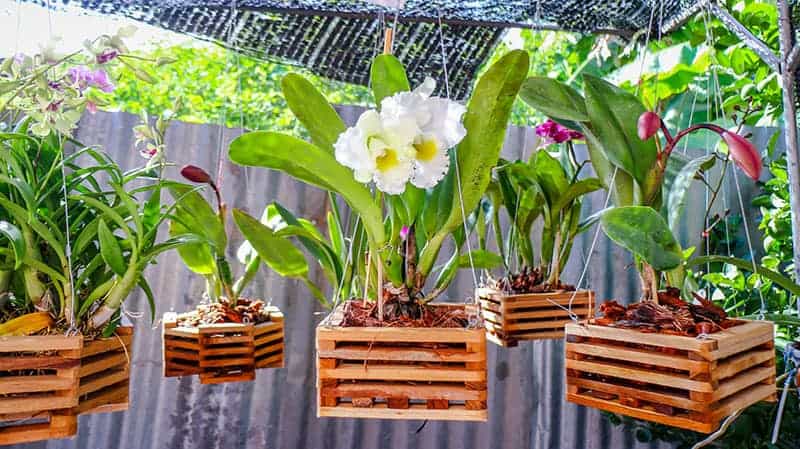 Orchids can be tricky plants to care for. They like specific conditions to help them thrive, including ventilation around their roots, excellent drainage, and space for roots to spread out. Regular pots and planters can't always fulfill these needs, so a specialist orchid pot is preferential if you want a happy plant.
With so many on the market, it can be overwhelming trying to decide which is the best one for you and your orchid types. That's why we've prepared this helpful list of the best orchid pots on the market to narrow down your search.
Here are our recommendations for each type of orchid pots. Keep reading until the end of the article for more in-depth reviews.
Product Details
Our #1 Rated | Clear UV Resistant plastic
rePotme
Blue Sapphire Baby Orchitop Carousel Orchid Pot
Plastic Mesh Pot
Mkono
Plastic Planter Pots, Orchid Pots with Holes
Cedar / Wooden Basket
Sun Bulb
51720 Better GRO Octagon Cedar Basket
Budget-Friendly | Clear Plastic
rePotme
Slotted Clear Orchid Pots
Glass
Flowersea
Glass Plant Pot
Terra Cotta / Clay
HomArt
Rustic Terra Cotta Orchid Pot
Ceramic
TRENDSPOT
5-Inch Orchid Pot Taper
Buying Guide
How to Use
Orchid pots can be used like any other plant pot. You simply fill the base with your growing medium. In the case of an orchid, a bark mix works well. Set your orchid's root ball into the pot and fill around the roots with more growing medium. The only difference you might encounter is with an orchid pot that has very large ventilation holes. In this case, it may be necessary to use a liner to prevent your bark mix from spilling out of ventilation holes. Once your orchid outgrows its pot, you can gently slide it out of the pot and rehome it in a slightly bigger planter.
Benefits
The benefit of using a pot specifically designed for an orchid is simply to meet an orchid's care requirements better and therefore have a healthier, more flourishing orchid. Many people turn to specialist orchid pots to help bring a dying orchid back to life if it has been deprived of light or air circulation in a standard pot. An orchid pot is so good for the health of an orchid that it can have the effect of reviving a previously struggling plant.
What to Look For
Drainage
Orchids don't like a lot of moisture, and if kept in soggy soil will quickly die. It's therefore important to take every precaution you can to avoid overwatering, and one of the best ways to combat this is with good drainage. Drainage holes in the bottom of your orchid pot will allow water to run through your growing medium and out of the pot, where it can then be disposed of so that your orchid isn't sitting in water. Always make sure your orchid pot has sufficient drainage as a priority when buying a pot.
Transparency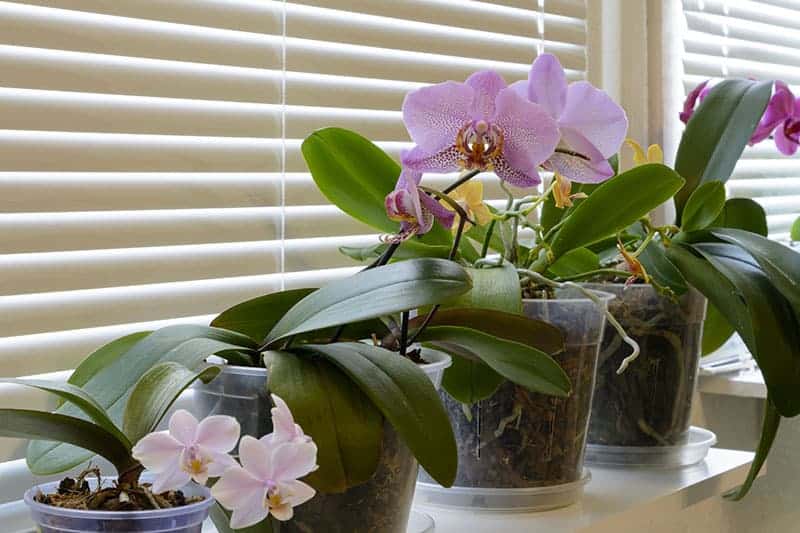 Orchids love to have sunlight on their roots, which is why when you buy an orchid, you will often find that it is supplied in a transparent plastic pot. If you want a transparent pot, you will be limited to those made of plastic or glass, but transparent pots can really help your orchid to thrive.
As well as allowing the roots to benefit from sunlight, a transparent pot has other advantages. If you can see the roots, you can keep a check on their health and quickly identify and resolve any issues. If roots start to become compacted, you will be able to easily notice and repot the plant in good time before it has any adverse health effects. Over time, a growing medium such as a bark mix can break down and suffocate the roots. With a transparent pot, you will be able to recognize this happening and refresh the bark.
Size
Getting the right sized pot for your orchid is essential to its health. If the pot is too small, then the plant will not be able to produce new growth. However, if the pot is too big, then the roots will be overwhelmed with growing medium and could get lost inside, struggling to find access to air or light. You should only ever repot your orchid to the next size of pot up from its current pot, so take note of dimensions when buying a new pot.
Quality
Good-quality pots are available at a range of price points, so even if you're trying to stick to a budget, it shouldn't mean you have to sacrifice on quality. To ensure you're getting a good-quality pot, take note of reviews from people who have used the product.
Cost
Orchid pots can be found to suit almost any budget. Plastic pots specifically designed for orchids can be purchased for just a few dollars per pot, but you can expect to pay more if you want a pot made from a more robust material or a pot with an interesting design. If you're looking for an orchid pot to slot inside your own decorative pot, then spending a lot of money shouldn't be necessary. If you're looking for a pot that is both functional and decorative, then your budget may need to be a little higher.
Types of Material
Last but not least, we cannot miss mentioning the materials used to make the pot. The types of substance can affect the pot's design, drainage, transparency, cost, and durability.
Glass and clear plastic are transparent, making it easy to see through your orchids' root. However, glass is more expensive, heavier, and harder to create ventilation than plastic. Net pots are also made of plastic mesh; they are easy to use, inexpensive but are not stylish. Terra cotta and wooden baskets are more environmentally-friendly and are easier to hang, to create ventilation but they are not the most budget options. Ceramic add great beauty to your orchids but they are heavy and hard for the roots to ventilate.
So after all, depending on your liking, cost, aesthetics and etc, choose the types that suit you the most. That's why we have listed many types of orchid pots used below to make your purchase decision much less hassle.
Product Comparison
Orchids can be quite finicky. They like humidity, good ventilation around their roots, good drainage, warmth, and plenty of light. Whether or not you can meet these needs will be dependent on the pot you have.
Of these popular orchid pots, those which provide good ventilation are the Mkono Plastic Planter, the TRENDSPOT 5-Inch Orchid Pot Taper, the Sun Bulb 51720 Better GRO Octagon Cedar Basket, the Slotted Clear Orchid Pots by rePotme, the Blue Sapphire Baby Orchitop Carousel Orchid Pot, and the HomArt Rustic Terra Cotta Orchid Pot.
Orchids also like to have light on their roots, so a transparent pot is useful to allow this. Transparent pots also help you to keep track of what's going on with the roots of your plant. Of the reviewed pots, those which are transparent are the Slotted Clear Orchid Pots by rePotme, the Flowersea Glass Plant Pot, and the Blue Sapphire Baby Orchitop Carousel Orchid Pot.
Product Reviews
Our #1 Rated | Clear UV-Resitant Plastic
Blue Sapphire Baby Orchitop Carousel Orchid Pot
This unique pot is made from UV resistant plastic, with 33 upright tines configured in a circle to replace the shape of a traditional pot. The pot sits in a matching saucer that can be removed to empty excess water which has drained through the pot. As the pot is made from transparent colored plastic, it is ideal for orchids, which like to have light on their roots. The gaps between the tines also provide excellent ventilation and drainage to ensure happy root systems for your plant. The plastic tines are slightly flexible and can be pushed in any direction, so they will not restrict the roots growing.
At 3.75 inches in diameter, this pot is suitable for mini orchids. It is available in a series of vibrant jewel colors.
Users of this pot highly recommend it. It is beautiful to look at and also works very well on a functional level. Users have rescued ailing orchids thanks to this pot that encourages them to flourish. The main complaint from users about this pot is the high price. However, the vast majority of users agree that they are happy to pay the price to have such a great pot.
Pros
Attractive design
Perfect functionality for orchids
Good quality
Plastic Orchid Pot – Mesh Pot
Mkono Plastic Planter
This is a double planter, which includes a solid matte white finished outer planter, and a transparent inner planter to sit comfortably inside it. Both planters have drainage holes on the underneath to prevent overwatering, but the inner planter is specifically designed to cater to an orchid's needs with its slotted sides for ventilation.
The benefits of the slotted planter are that it improves aeration, which in turn increases the plant's ability to take in water and nutrients, making it much more likely to thrive. The inner planter is also designed in such a way that it encourages exposed roots to dry out, which is a natural pruning method. This prevents roots from circling within the pot and becoming tangled or strangling each other. This set includes two of each planter, and two saucers, for a total of four planters, for use with two orchid plants. They measure 4 inches in diameter and are 4.5 inches tall.
Users of these planters are pleased with how well their orchids are growing and note that they perform their job well. Users appreciate that these planters are good quality for the money, and they are a plain and simple design, so they fit in with any decor.
Some users expressed disappointment in how many ventilation holes were in the inner pot, as they expected more. Some users also would rather that the pots were sold as individuals rather than in a set of two, as they only had the need for one.
Pros
Good quality
Improve orchid health
Simple design
Cons
Not able to purchase separately
Could use more ventilation holes
Cedar/Wooden Basket
Sun Bulb 51720 Better GRO Octagon Cedar Basket
These wooden baskets can be used as hanging baskets or as regular planters. They are designed with lots of gaps between the slats to allow for the airflow that orchids require and also have a slatted base. Because of these slats, you will need to use a liner if you intended to grow your orchid in soil or bark, as otherwise, the growing medium would fall out of the gaps.
At 8 inches across, these handcrafted baskets are a substantial size. They feature wire hooks around the upper edge that you can use to attach a wire to hang the basket up, though no wire is included with the basket itself.
Users of these cedar baskets love the way they look and how well made they are. Many people noted that the baskets haven't broken even when they have been knocked over, and they seem durable and long-lasting. Users also appreciate the versatility of being able to display the baskets on a solid surface or as hanging baskets.
The main drawback users found was that the wire hangers for these baskets were not included and needed to be purchased separately. However, they still consider them to be a good value for money and would buy again.
Pros
Well-made and durable
Versatile display options
Large size
Inexpensive
Cons
Wire hangers not included
Clear Plastic
Slotted Clear Orchid Pots by rePotme
This set of pots contains a total of eight pots. There are two 3-inch pots, two 4-inch pots, two 5-inch pots, and two 6-inch pots, ideal for anyone who grows orchids or a variety of different tropical plants. These pots are designed to fit the growing needs of orchids, succulents, and African violets, although they could be used for almost any plant. They feature 46 slots around the sides of the pots and at the base for maximum drainage and airflow. This helps the root structure of the plant by increasing its ability to take in nutrients and ensuring that it isn't sitting in too much moisture.
The pots are available in a variety of different colors, including purple, red, blue, and orange. They are constructed from plastic and can be inserted inside a more decorative solid pot, or they could be used alone on a saucer. The slots are small enough that you can use your usual growing medium without any of it falling out of the slots.
Users of this set of orchid pots rate it very highly. They found the quality of the plastic to be very good. It is sturdy and not flimsy like many other plastic pots. Users appreciate that these pots are transparent so they can easily monitor the roots, but they are also UV protected so that the roots won't get damaged from the sun. As well as being high quality, these pots are also inexpensive, which makes them very good value for money. Each pot works out to be just $2.50. Users enjoy the convenience of being able to purchase a variety of sizes in one set, although some users found the smallest size of pot to be so small that it wasn't very useful.
Pros
High-quality plastic
UV protected
Transparent
Inexpensive
Good value for money
Different color options
Cons
3-inch pot too small for most plants
Terra Cotta / Clay
HomArt Rustic Terra Cotta Orchid Pot
This rustic orchid pot is hand made from all-natural materials, using traditional pottery methods. Once molded, it is left to dry outside to give it a very unique finish. Every pot will be slightly different and have its own variations due to the individual way in which they are made. The terracotta pots have holes around the sides to provide the needed ventilation for your orchid. The pot measures 6 inches in diameter and 5 inches in height.
Users of this product love the natural distressed look of it and believe their orchids are happy in the pot. However, many users found the pot to be smaller than they expected, with the interior diameter of the pot measuring under five inches. Some users also noted that the underside of the pot was very rough and didn't have feet. They struggled to get the pot to sit well on a flat surface and worried that it would scratch their table. Some users also found it difficult to control the moisture levels in this pot.
Pros
Unique
Made from natural materials
Cons
Smaller than expected
Bottom of pot not level
Hard to control moisture in the pot
Glass
Flowersea Glass Plant Pot
This glass planter features a contemporary design that will fit well in almost any interior. The planter has a drainage hole in the bottom and comes with a matching saucer, which is removable, so that any excess water can be emptied easily. The planter is designed for use with orchids among other plants because the glass is transparent so that the orchid can enjoy light reaching its roots. The transparency also means you can easily keep a check on the roots and prevent it from becoming rootbound. The planter is available in a variety of colors to suit different tastes and is well packaged in Styrofoam to prevent breakages.
Users of this planter love the look of it. The planter looks very high end and like it cost much more than it actually did. Users believe their orchids are happy in the planter, having good drainage and sunlight on their root zone. Users noted that the pots are very heavy to prevent the plants from toppling over, and the saucer has feet to prevent slipping or other accidental movements.
The pots were found to be very well-packaged, and lots of helpful information from the manufacturers were included with the purchase. Users who had contact with the company experienced excellent customer service. The main drawback of this planter for orchid growers is that it has no ventilation to help with root health.
Pros
Looks expensive
Transparent
Removable saucer included
Well packaged
Excellent customer service
Ceramic Orchid Pot
TRENDSPOT 5-Inch Orchid Pot Taper
This handcrafted planter has ventilation holes strategically incorporated into the design to help your orchid thrive. It is a ceramic pot with a pale green artisan glaze, intended to fit seamlessly in a variety of interior styles. It features an attached saucer that catches any overflow water and prevents spilling, protecting surfaces from water damage.
The design of the planter allows you two options for watering your orchid. You can water it overhead in the traditional way, or you could submerge the planter in a large bowl of water and allow the water to reach the roots of the plant via the cut out holes around the edge of the pot. The planter measures 5 inches in diameter and has a slightly tapered shape.
Users of this planter love how heavy and substantial it is. It also has a non-slip surface on the bottom of the pot to prevent it from moving, which some users found useful. Users loved the color and the finish of the glaze on the pot and expressed a desire for the manufacturer to produce this pot in a variety of sizes to fit other orchid plants. Users found that their orchids were happy in these planters and that they were a good value for money.
Some users did receive cracked pots, but this is likely a shipping rather than manufacturing problem, and replacement pots were quickly sent out.
Pros
Attractive design
Good quality
Good customer service
Good value
Cons
May break during shipping
Conclusion
The standout product among these best-selling orchid pots is the Blue Sapphire Baby Orchitop Carousel Orchid Pot. It meets every requirement of an orchid's care, while also being attractive. The only downside to this pot is the cost, which is a little pricey but definitely worth it if you want the perfect pot for your orchid.
If you're after something a little more budget-friendly, you can't beat the Slotted Clear Orchid Pots by rePotme, which are a very good value for the money and can be used alone or inside a pot you already have.