The Best Grass Shears For A Neat And Tidy Garden – Buyer's Guide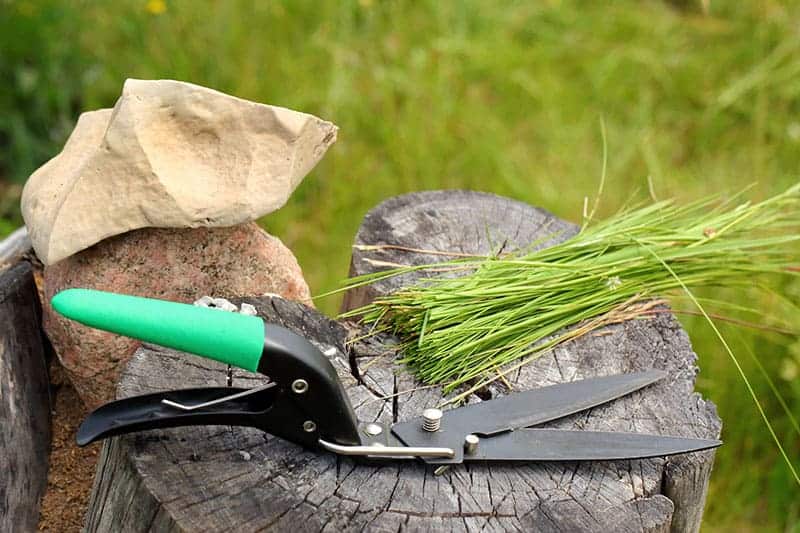 If you like your lawn to be well maintained with a neat and tidy edge, then you'll no doubt find grass shears to be an invaluable tool. Grass shears are ideal for tidying up hard-to-reach areas that mowers can't access, such as flower bed edges, against fences and walls, and around the base of trees.
If you're looking for the perfect grass shears for your garden, our handy review rounds up the best available right now.
Buying Guide
How to Use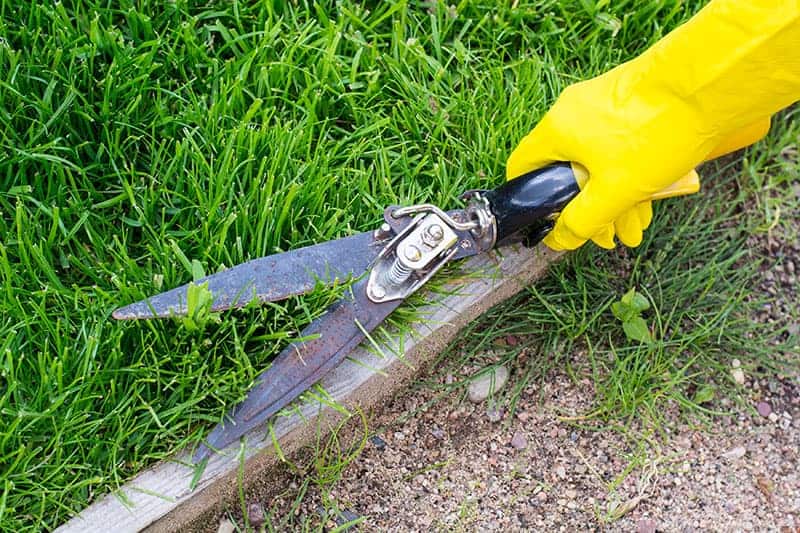 Grass shears are for use around the edges of your lawn, along flower beds, pathways, around the base of trees, or anywhere your lawnmower struggles to reach. Grass shearing is a part of your lawn care process by giving a neat and manicured look to a lawn by ensuring a uniform line surrounds the edges of a lawn. Some people use a weed whacker to trim the edges of a lawn, but this gives you less control and results in a more haphazard look. Grass shears can also be used to trim small shrubs.
How you use grass shears will depend on which type you opt for. Some work in a scissor motion, while others have rotating blades, and some are battery operated. Grass shears should be an easy tool to operate, but read your instructions for guidance.
Benefits
Versatile
Grass shears are a versatile garden tool. They can be used to trim plants and shrubs as well as the grass they were intended for. Grass shears are typically very sharp and can slice through small stems with ease and accuracy.
Ease of Use
Grass shears are generally very easy to operate and don't require the maintenance associated with weed whackers, such as changing the string. Grass shears don't need to be plugged in a while using, eliminating the inconvenience of having a cord trailing behind you, and you won't need to power them with gasoline.
Reach Anywhere
The main benefit of grass shears is that they can trim grass in even the hardest to reach areas. Any narrow spots that can't be accessed by your lawnmower will be easy to cut with grass shears, as well as grass growing against walls and fences, near flower beds, or around the base of trees. By being able to trim the grass you can't reach with a mower, your lawn will look well-maintained and manicured.
Saves Money
Grass shears can be purchased for a low price, and using them is very simple and can even be relaxing and enjoyable. By buying and using your own grass shears, you will save money by not having to pay a gardener to complete the lawn trimming for you.
Improve Curb Appeal
Trimming your lawn with grass shears gives a very professional finish and will give the impression that your property is well-cared for. A manicured lawn can improve curb appeal and even improve your chances of selling your property.
What to Look For
Before starting your search for grass shears, you'll need to assess what you want from your shears so that you can make the right decision for you. Here are some things to consider.
Battery or Manual?
Both battery-powered and manual grass shears have benefits and drawbacks. Battery operated shears are more likely to go wrong as rechargeable batteries are not always reliable. However, they do offer greater efficiency than manual shears. Manual shears offer more precision, though if used for long periods of time the manual motion can cause blisters or hand sores. Manual shears are typically cheaper to buy and have a longer life expectancy.
Handheld or Standing?
Whether you want handheld shears or shears that can be used while in a standing position will be down to personal preference. Standing shears reduce pressure on knees from kneeling and the back pain associated with gardening while bent over. Handheld shears enable you to get closer to the ground to see better what you are doing.
Quality, Construction, and Price
The standard of quality and materials used to build the shears will be affected by your budget. To equip yourself with shears which last a long time you should expect to spend a little more money, though a good pair of grass shears should be achievable for a reasonable price. Look out for steel blades that are durable and can be resharpened, as well as gripped handles for comfort and ease of use.
Product Comparison
If you're specifically looking for a battery-operated cordless grass shear, then look to the Gardena Cordless Lithium-Ion Grass Shears, the Sun Joe 2-in-1 Cordless Grass Shear, and the Sun Joe Cordless 2-in-1 Grass Shear + Hedge Trimmer.
For a user-powered option, there are the Fiskars 36-Inch-Long-Handle Swivel Grass Shears, Fiskars Power-Lever Hand Grass Shears, and the Corona ClassicCUT Grass Shear.
A tool that can be operated while standing will be most comfortable and convenient for some, and these include the Fiskars 36 Inch Long-Handle Swivel Grass Shears and the Sun Joe Cordless 2-in-1 Grass Shear + Hedge Trimmer.
Product Reviews
Best User-Powered Grass Shear – Long Handle
Fiskars 36-Inch-Long-Handle Swivel Grass Shears
These shears are designed to trim and edge grass around hard-to-reach areas such as flower beds, trees, or paths. The 36-inch long handle means you can trim your lawn edges while standing comfortably, preventing you from having to kneel or bend over.
The blades have the capacity to swivel a full 360 degrees, so trimming can be achieved at any angle. The 5-inch carbon steel blades are precision ground to ensure clean cuts and long-lasting sharpness. The shaft is constructed from aluminum so that it is both durable and lightweight. The blades lock for safe storage, and the product comes with a lifetime manufacturer's guarantee.
Users of this garden tool love how precise it is and how comfortable it is to use. They are able to use this for hours at a time without strain or injury and find the process more peaceful and enjoyable than using an electric equivalent. Some users found the shears to be slightly on the flimsy side, but they would still recommend them.
Pros
Comfortable to use
Easy to use
Long-lasting
Lifetime guarantee
Long, lightweight handle
Blades swivel
Cons
Slightly flimsy quality
Can be time-consuming to use
Best User-Powered Grass Shear – Edging & Topping
Corona ClassicCUT Grass Shear
These shears operate with a traditional scissor-cutting action, featuring forged steel alloy blades that have been heat-treated for additional strength. The vinyl-coated handles offer comfort as well as a nonslip grip. The tool comes with a limited lifetime warranty from the manufacturer.
User reviews of this product are very positive. The shears are found to be heavy-duty, high-quality, and very sharp. Users note that the blades do not lose their edge very quickly, but they are easy to sharpen when they do eventually dull. Users also believe that the shears will last a lifetime due to how robust and well-made they are, and many found they were the best shears they'd ever had.
There was some minor negative feedback on these shears, including that they are quite heavy and so, may require two hands to operate for some people. The blades also stick sometimes, but users remedied this with regular cleaning and WD40 lubrication.
Pros
Heavy-duty
High-quality
Durable
Limited lifetime warranty
Fiskars Power-Lever Hand Grass Shears
These power-lever shears utilize compound lever technology to equip the user with greater cutting power, taking roughly half as much effort as traditional shears. The shears feature 5-inch rust-resistant steel blades that are fully hardened, precision ground, and have a serrated edge. The handles are built from aluminum to offer durability while maintaining a light weight which is easy to operate. The nonslip grip feature on the handles adds comfort. The shears also benefit from a lock to ensure they can be stored safely. The product also comes with a lifetime manufacturer's warranty.
Users of these shears are impressed with how sharp they are, and indicate that they are good for trimming grass and compact shrubs but are too small for trimming large bushes. Many users complained that the blades regularly seize up, making using them very time-consuming and inconvenient to use. Many users also found the shears to be awkward to hold, noting that they felt uncomfortable and that it resulted in blistering on the hands.
Pros
Sharp blades
Lifetime warranty
Serrated blade
Lever technology
Cons
Small
Uncomfortable to hold
Top Pick For Cordless Grass Shear – Best Overall
Gardena Cordless Lithium-Ion Grass Shears
These battery-operated shears can be used on both grass and shrubs thanks to the interchangeable blades. The shears run on a rechargeable lithium-ion battery to give you cordless power, with a run time of approximately 45 minutes after a six-hour charge. The shears are ergonomically designed to fit comfortably in hand and come equipped with a blade cover for safety.
User reviews of this product are mixed. Some people hail it as the best grass shears they've ever used, while others experienced multiple problems with it. Happy users noted that it is lightweight, easy to use, comfortable to hold, and allows them to get up close to grass edges without any safety wings in place like some other shears.
Unhappy users experienced problems with getting the battery to recharge and found replacement parts impossible to source. Many users also found that the shears stalled if they met resistance, so be sure to only use this product on grass without any sticks or other debris in it.
Pros
Lightweight
Cordless
Easy to use
Ergonomic
Cons
Battery unreliable
Discontinued replacement parts
Expensive
Budget Pick For Cordless Grass Shear
Sun Joe 2-in-1 Cordless Grass Shear
This lightweight handheld shear weighs just 2.2lbs, making it easy to use. It is cordless thanks to the 3.6-volt rechargeable lithium-ion battery, and it can switch between shearing grass or trimming shrubs as it comes with two interchangeable blades. It also has a two-year manufacturer's warranty.
Users of this tool found it to be lightweight and efficient for cutting grass. It charges quickly and trims grass easily. Problems that users found with this tool include the hedge trimmer being weak and not fit for the purpose. Some users found the shear difficult to operate because two buttons had to be pushed in different directions simultaneously. Users also commented that the tool seemed to be cheaply made and wouldn't expect it to last long.
Pros
Inexpensive
Efficient at trimming grass
Charges quickly
Lightweight
Cons
Low quality
Hedge trimmer inadequate
Difficult to operate
Budget Pick For Cordless Grass Shear – Standing
Sun Joe Cordless 2-in-1 Grass Shear + Hedge Trimmer
This multipurpose garden tool converts from a grass shear to a hedge trimmer thanks to the interchangeable blades. The shear blade is 4 inches, while the trimmer blade is 6 inches, and both can be swapped out quickly and easily. The tool also comes with an extension pole so that you can switch between using the tool standing or as a handheld trimmer. This runs on a 7.2-volt long-life lithium-ion battery, which is rechargeable, giving the user a cord-free experience.
Users of this product were impressed with the power of it and loved how it could be changed between being handheld or for use standing. Some users noted it was lightweight and cut very precisely. However, many users found that the product was not long-lasting and had problems with the battery no longer charging.
Pros
Inexpensive
Easy to use
Lightweight
Precise cutting
Multifunctional
Cons
Unreliable battery
Hedge trimmer function weak
Conclusion
The standout product amongst these best-selling grass shears is the Corona ClassicCUT Grass Shear. The shears are heavy-duty and work exactly as they should. They are the sort of tool that will see you through a lifetime of gardening and maybe even get passed down through generations. They are of a classic design constructed from high-quality materials, ideal for all grass trimming and edging needs.