Save Up to 40% | View our Best Sellers
Free Shipping on all orders over $150
30-Day Healthy Plant Guarantee | Learn More
Pumpkin Plants for Sale - Buying & Growing Guide
Where to buy Pumpkins
GrowJoy - 2.5-Inch Pot - Batwing Mix Pumpkin Plant
See Deal
GrowJoy - 2.5-Inch Pot - Bunch O Warts Pumpkin Plant
See Deal
GrowJoy - 2.5-Inch Pot - Connecticut Field Pumpkin Plant
See Deal
Find this product near you
Enter your zip code to find nearby stores that may carry this plant.
Pumpkins are a type of winter squash that grows on a vine that can range from a compact 2 feet to a lengthy 20 feet long, so depending on the variety of plant, you can find one that is suitable for any sized garden. These plants have a long growing season of around 100 days, so they will grow in any region that has at least this many frost-free days. You can get a head start by sowing seeds indoors a few weeks before the expected final frost. Pumpkins are good for use as decorations during fall, and they are also tasty and nutritious when enjoyed in soups, pies, and other baked goods. Different varieties of pumpkin have different qualities. Some are best for carving, while others are best for eating. Learn about the many different types of pumpkins here.
Jumbo Pumpkins
Large pumpkins are most often grown to put on display as jack o lanterns or as a fall decoration on a porch or in a store window. They are also commonly hauled along to county fairs by keen growers who are hopeful of coming home with the winning ribbon. The largest recorded pumpkin weighed in at a hefty 2300 lbs. These pumpkins are rarely grown for consumption, as they tend to lack the flavor that smaller pumpkins offer. The task of scooping out the flesh can also be time-consuming, and most families have no use for such a large amount of pumpkin flesh all at one time, so buying such a large vegetable for eating doesn't make practical sense.
1. Atlantic Giant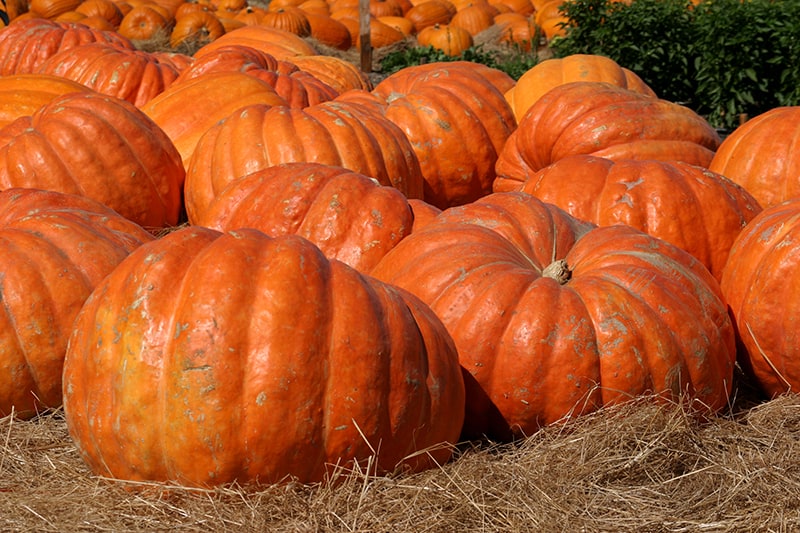 This is the type of pumpkin plant to choose if you want to win a pumpkin growing contest, as it regularly produces pumpkins weighing over 300lbs. To ensure good growth, routinely feed the plant with a high potassium fertilizer.
2. Big Moon
This plant produces huge pumpkins that typically weigh around 200lbs. You should prune the plant so that it grows one vegetable per vine in order to ensure the biggest growth.
3. Big Max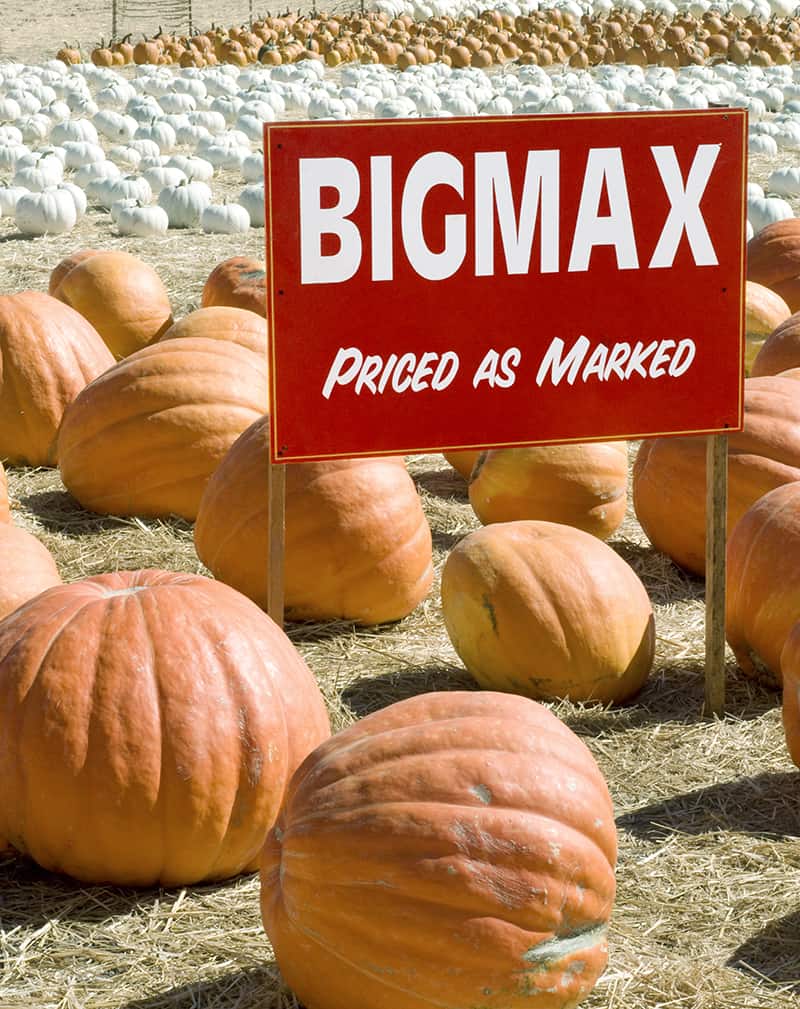 These pumpkins are able to grow up to 300lbs, but they more commonly reach 100lbs. They can vary in color from bright orange through to pale salmon.
4. Prizewinner
This is a hybrid plant that produces pumpkins weighing between 75 and 150 lbs. They have a uniform, symmetrical shape, and have a vibrant, bright orange-colored skin.
Blue-Green Pumpkins
The blue-hued skin of blue pumpkins gives it a spooky feel that works well when on display for Halloween. Blue is also the perfect color to contrast next to orange, so these pumpkins help to really set off traditional-looking pumpkins when they are grouped together.
5. Blue Lakota
This heirloom variety of pumpkin hails from the midwestern United States. These pumpkins have pale blue-green skins and slight ribbing. They have a flattened ball shape and come to a point at the stem.
6. Jarrahdale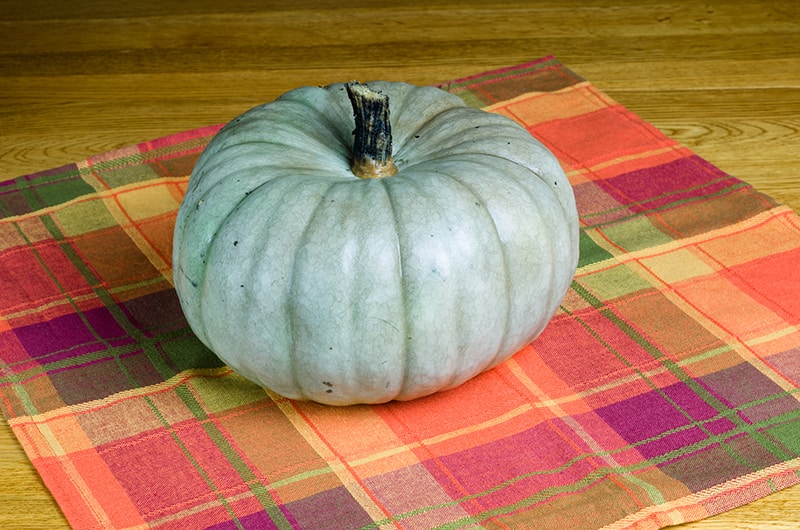 This pumpkin has steel blue-colored skin and bright orange flesh. It is deeply ribbed in the shape of a classic Cinderella pumpkin. It is an heirloom variety that is native to New Zealand and is named after the town of Jarrahdale where it hails from. These pumpkins typically weigh between 6 and 10 lbs.
7. Kakai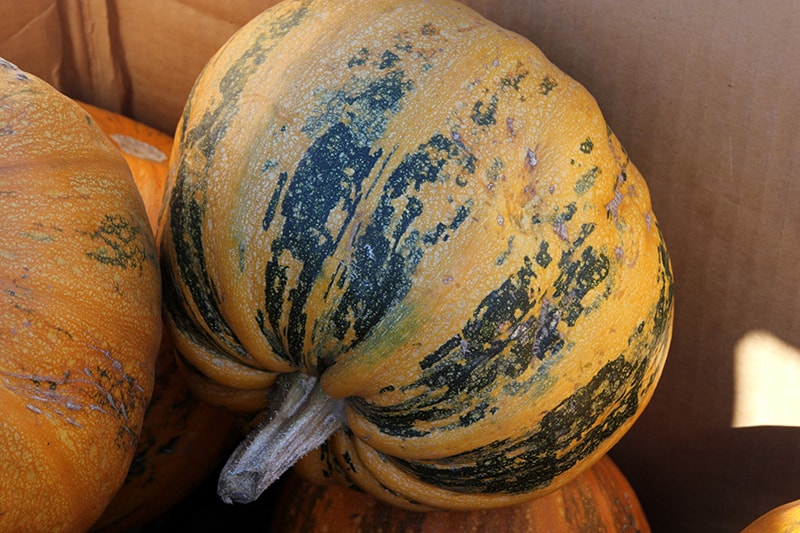 This is a blue-gray pumpkin with thick orange stripes on the skin. One of the most interesting things about this pumpkin is its seeds, which are a bright and startling blue color. It comes from Japan and is not a popular variety for eating, but it carves very well. These pumpkins typically weigh in the region of 6 lbs.
8. Kabocha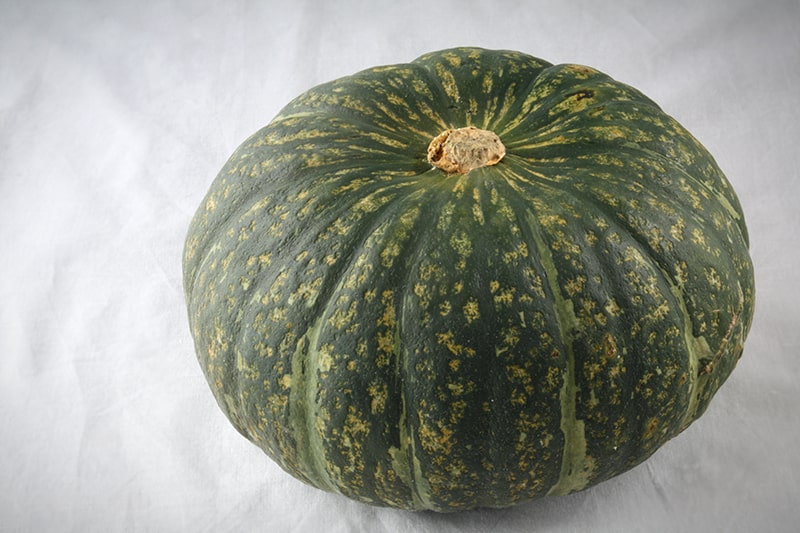 This is another Japanese pumpkin that is popular in the kitchen. It has dark green skin and yellow inner flesh that is sweet and firm. The flesh holds its shape even when cooked and is perfect when roasted or pureed into a soup, and you can also stuff the pumpkin.
9. Crown Prince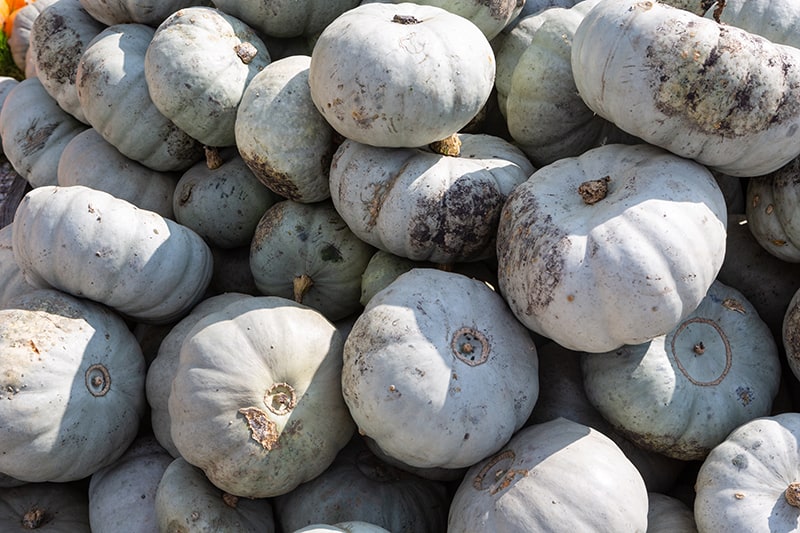 This is a great all-round pumpkin because it is so versatile. It has glossy gray-blue skin, and a sweet-tasting orange flesh, making it great for displaying and also for eating. It stores well and can last for up to a year in a cool and dark place. Try the flesh cut into wedges and roasted with olive oil.
White Pumpkins
These pumpkins have white skins that give them a ghostly attraction. They offer a great alternative to regular orange pumpkins if you're getting bored of the norm. They also work well in monochromatic displays for anyone who wants to put a modern twist on their fall decorations.
10. Casper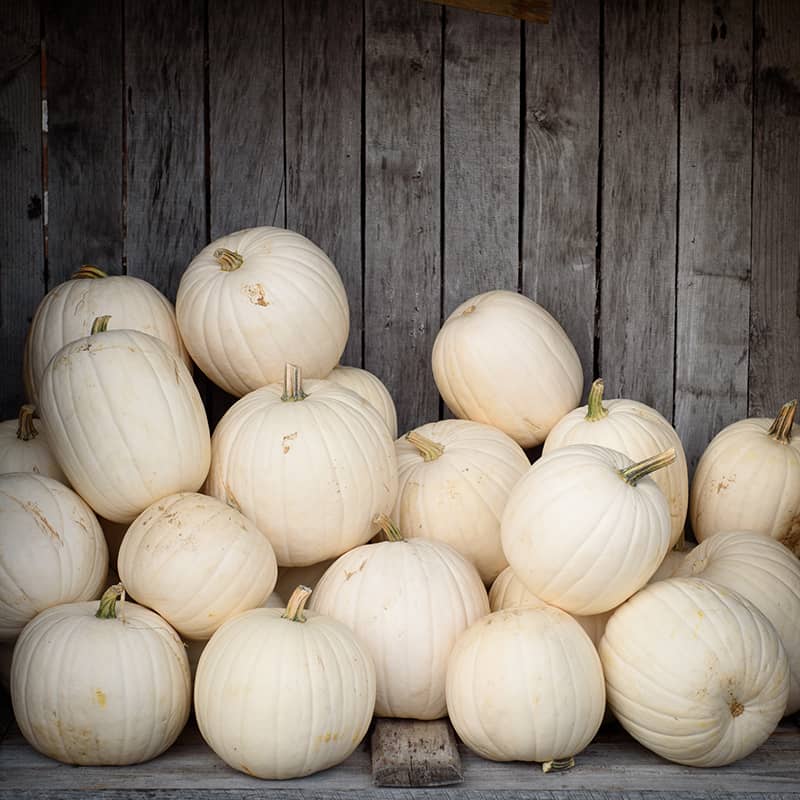 This is a pure white pumpkin with a dense orange flesh that is great for eating. These pumpkins grow to a good size, between 10 and 16 lbs, and are good for displaying. They have a rounded shape and minimal ribbing. When it comes to cooking, this pumpkin flesh is best enjoyed in baked goods and pies.
11. Lumina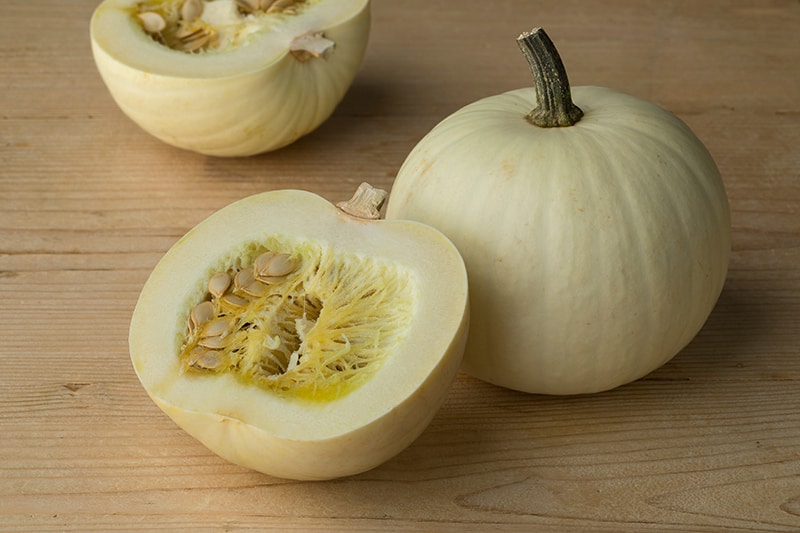 This pumpkin has a bright white skin with a smooth texture that is great for carving or painting. The vegetables grow up to 12lbs in weight and have a tasty flesh that can vary from very pale orange to bright yellow. These pumpkins don't keep well, so be sure to use them soon after they've been displayed.
12. White Pie
This is a round or oval-shaped pumpkin with a slightly off-white skin. It has a smooth and sweet flesh that is best utilized in pies. It is also good for carving.
13. Crystal Star
Many other types of white pumpkins will take on a blue or green hue as they age, whereas this pumpkin will stay pure white for its whole life. This is great if a white-skinned pumpkin is important to you for display purposes. This round pumpkin has moderate ribbing and carves well.
14. Flat White Boer Ford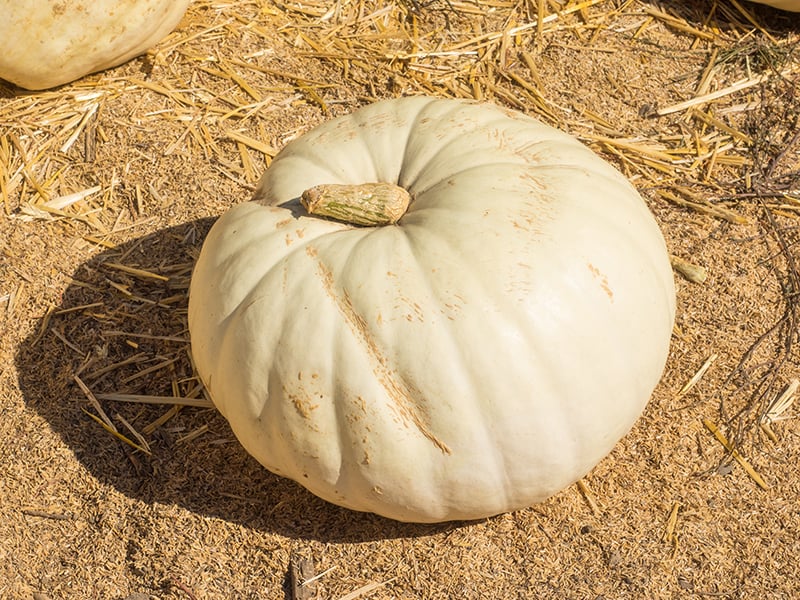 As the name indicates, this is a flat pumpkin that looks as though it has been squashed under a heavy weight. It grows wider than it is tall and often has an unconventional asymmetrical shape. These pumpkins add interest to a fall display, and they also keep well so that you can use them for cooking afterward. They have a very small seed cavity and dense flesh that is ideal for making pies.
Red-Orange Pumpkins
This category encompasses traditional orange pumpkins as well as those that have a more striking, red hue. This is the type of pumpkin most people associate with when they think of the vegetable. They come in various shapes and sizes and are hugely popular to display during fall, and for carving at Halloween.
15. Cinderella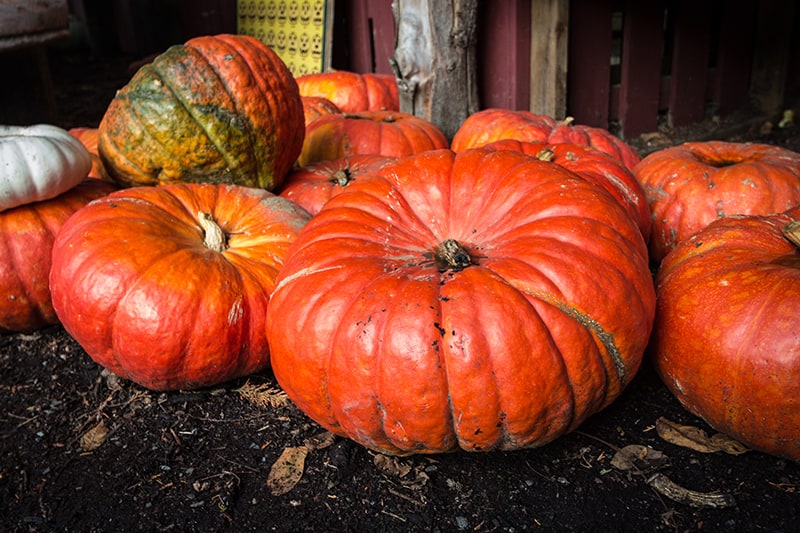 These striking pumpkins are very popular for displaying, with a fairytale look about them that is reminiscent of Cinderella's pumpkin carriage. These pumpkins have a rounded shape with a flat top, which means they can be stacked on top of each other. They have deep ribbing and bright orange-red skin. They are also great for eating after you are done with your display, as they have moist flesh that is ideal for use in pies.
16. Lakota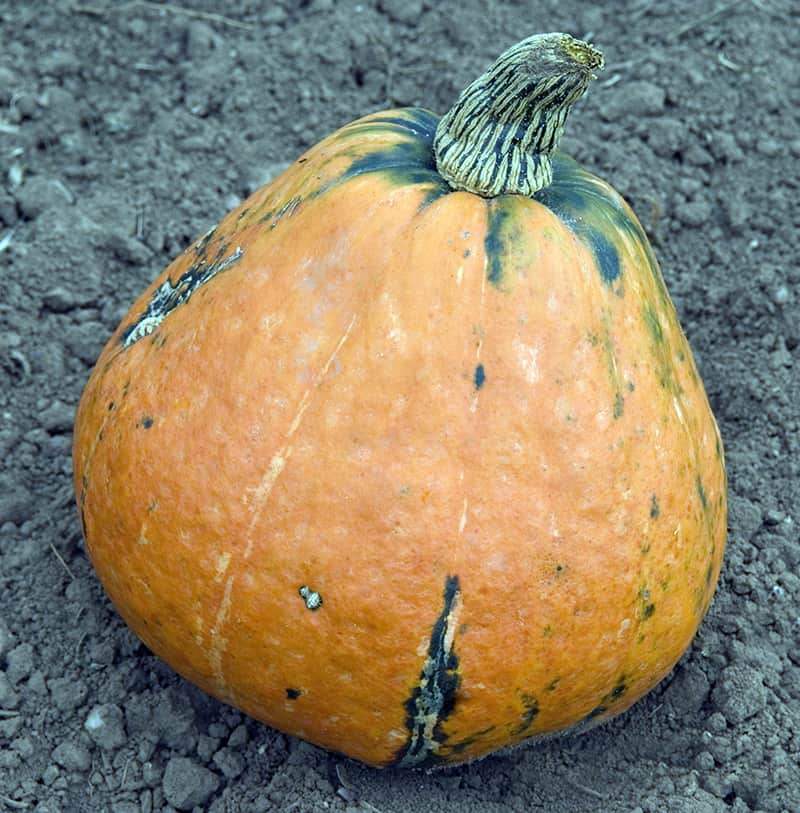 This is a pear-shaped pumpkin that is an heirloom variety originating in the midwestern United States. It has red skin and black-green striping along with the mild ribbing. These pumpkins weigh in at around 6lbs when fully grown, and they have a sweet taste similar to butternut squash.
17. Blaze
These attractive pumpkins are appropriately named 'blaze,' as they have pale orange skin with deep orange markings that make them look as though flames are blazing up around their base. This is a popular plant to grow as it is very productive and has excellent resistance to disease.
18. Winter Luxury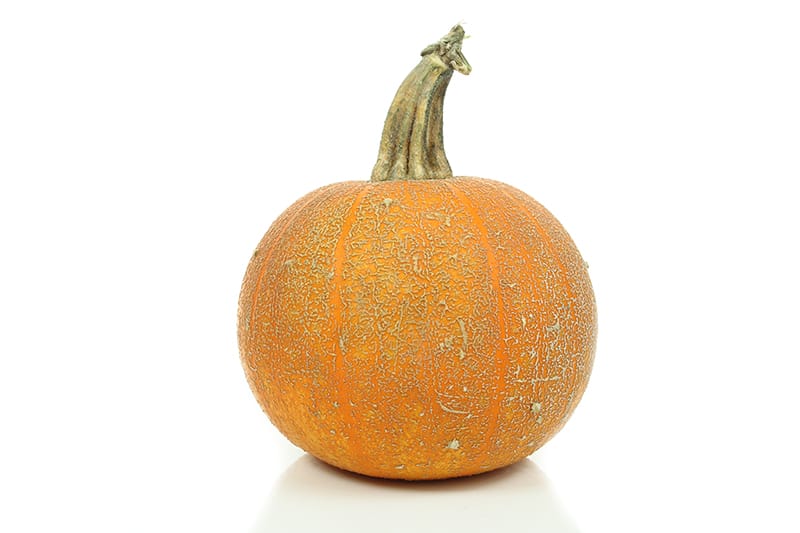 This is an heirloom variety that dates back to the late 1800s. It has a lace-patterned pale orange skin and is regarded as one of the best tasting pumpkins you can grow.
19. Autumn Gold
This is an award-winning pumpkin with bright orange flesh, a spherical shape, and slight ribbing, which make it look like a basketball. It is popular for carving at Halloween and also cooks well.
20. Harvest Moon
This is a compact plant producing pumpkins that mature early. These vegetables are a bright orange color, are fairly small in size, and make ideal lanterns at Halloween.
Mini Pumpkins
Miniature pumpkins have a cute look that suits a sweet fall decorative design if you are trying to steer clear of the scary vibe. They have a small size that makes them difficult to carve, so they are most commonly displayed as they are. They look good when grouped amongst larger pumpkins for a size contrast, but they also look adorable on their own. These work especially well if you have a small display space, but still want to join in with the fall festivities. If you lack a porch or balcony, you could display these tiny pumpkins in your front window.
21. Baby Bear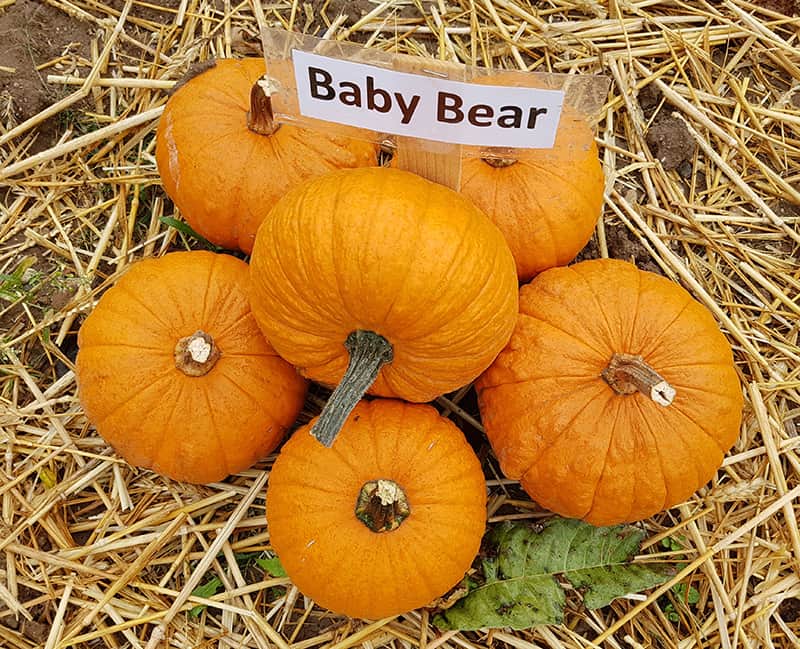 This is a great culinary pumpkin. The seeds have no hulls, so they're easy to snack on, and the flesh is sweet and moist.
22. Orangita
This adorable pumpkin grows to a maximum weight of 1.5lbs and looks good paired with larger pumpkins in a fall display. It has deep yellow-orange skin, medium depth ribbings, and smooth skin.
23. Munchkin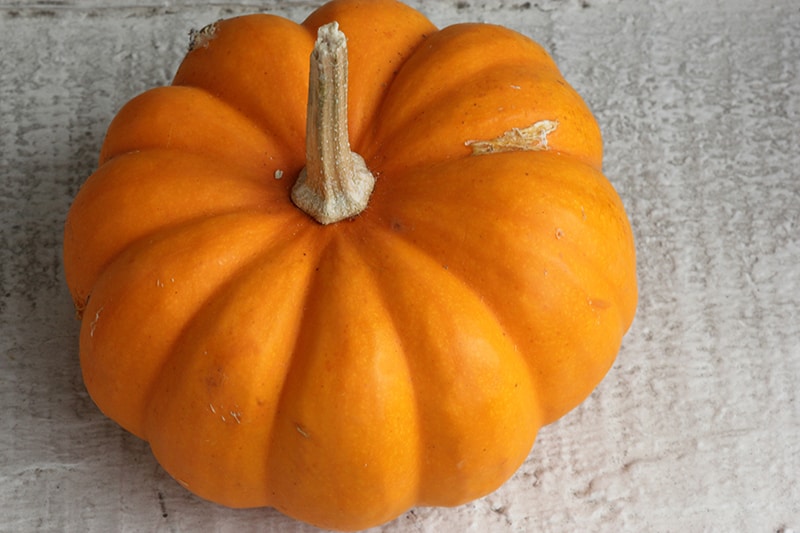 This plant produces a high yield of small orange pumpkins that have a flattened shape and flesh that stays firm for a long time. These have deep ribbing and are popular for crafting.
24. Baby Boo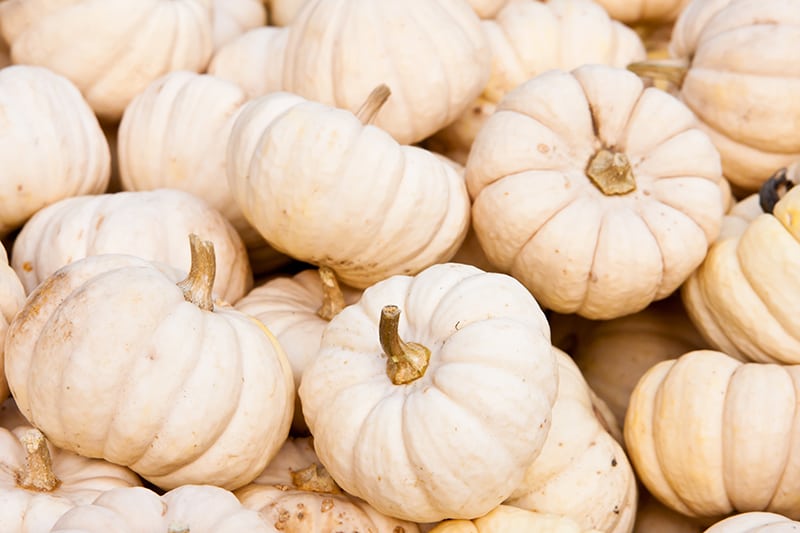 This is a tiny white pumpkin that was produced in Pennsylvania and released in 1990. These pumpkins grow to a maximum size of around 3 inches across and grow on a compact vine that has a maximum length of 2 feet. This makes the plant ideal for growing in small gardens or even on a balcony. They are popular as Halloween decorations or used as a dining centerpiece.
Novelty Pumpkins
These pumpkins have a quirky appearance that can make for an unusual fall display, and be an interesting talking point. They may benefit from an unconventional shape or have curious-looking skin that lends them perfectly to be used as creepy Halloween props.
25. Musquee de Provence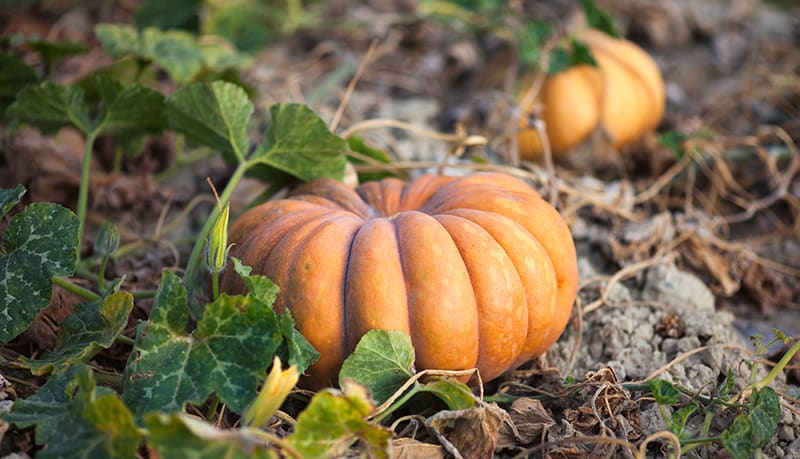 This is a traditional pumpkin from the South of France and resembles a large cheese wheel. It has tan skin when mature and a severe flattened shape. The extra-deep ribbing makes the pumpkin look as though it has been carved into wedges. The flesh is dark orange and has a pleasant taste.
26. Fairytale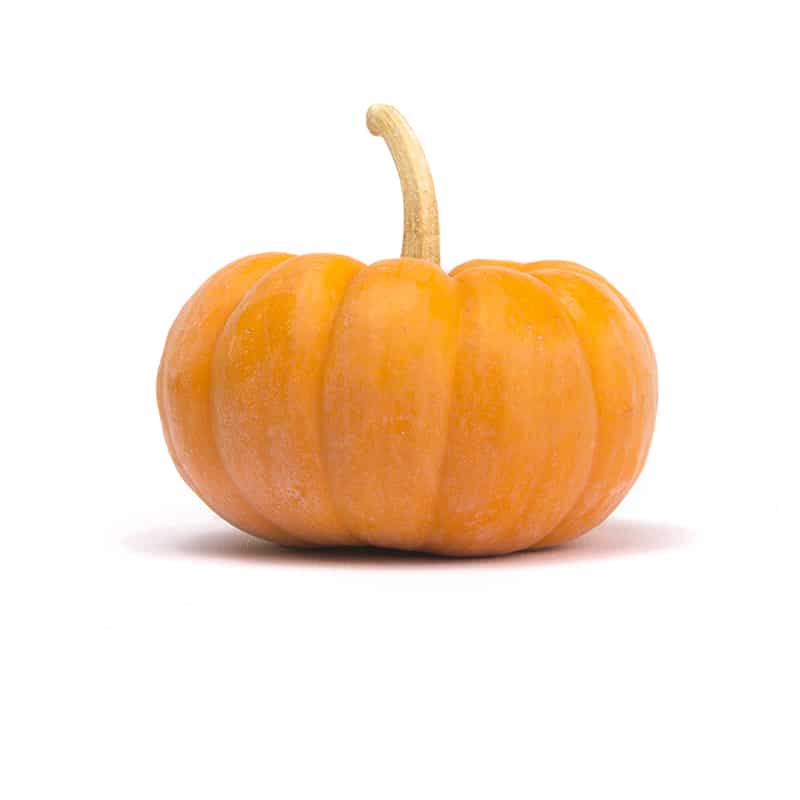 These medium pumpkins reach mature weights of around 15lbs. They are orange, deeply ribbed, and have a flattened shape. They work well in any baking recipe that calls for pumpkin.
27. Long Island Cheese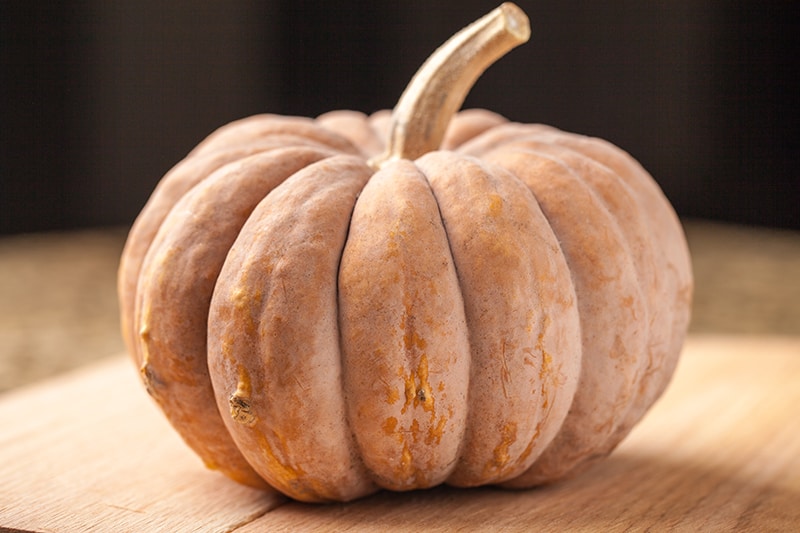 This is another pumpkin that looks like a flattened cheese wheel. Its name is a reference to the region it natively grows in. The skin is pale orange, and the flesh is deep orange and popularly used in pumpkin pie.
28. Knucklehead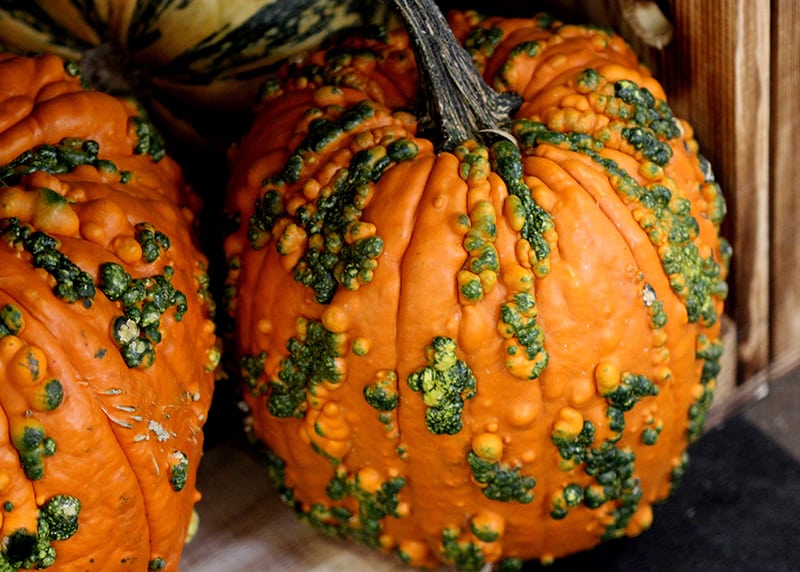 These pumpkins grow to up to 16lbs in weight and have a long oval shape that stretches upwards. The standout feature of this pumpkin is its green and blistered skin, which gives the effect of warts. This can make the pumpkin look quite gruesome and add a touch of creepiness to Halloween decorations.
29. Blue doll
Despite its name, the skin of this pumpkin actually looks green, and it has a spooky vibe that lends it perfectly to a Halloween display. These pumpkins grow to between 15 and 20lbs in weight. It has a deep orange flesh that tastes good in pies and soups. The plant has moderate resistance to disease such as powdery mildew.
30. Warty Goblin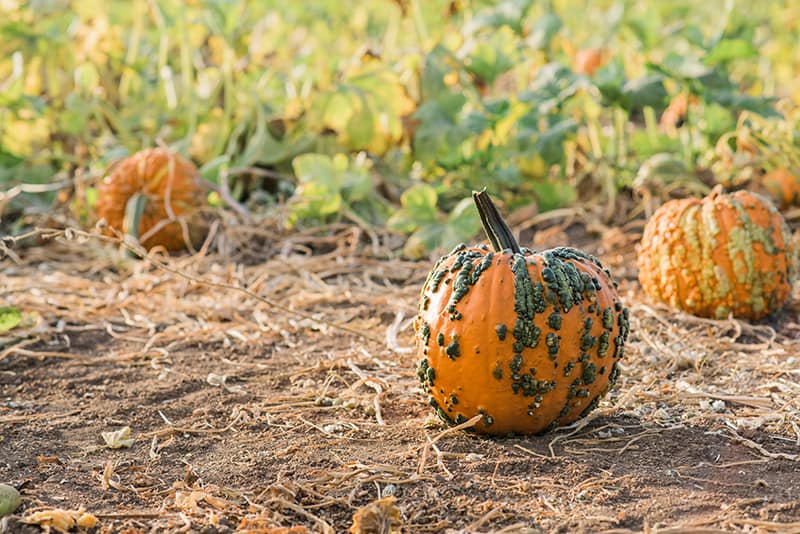 This is another blistered-skin pumpkin with a frightening look. It has orange skin and deep green warts that retain their color for several weeks after harvest. This pumpkin has a hard skin that makes it difficult to cut, so it is not ideal for carving.
Compare Similar Products