9 Types of Lavender - A Visual Guide
Often associated with the French fields of Provence, lavender is now popular all over the world. There are five main varieties, which all have common traits typical of lavender plants, though some have different climate requirements, and some have interesting or unusual aesthetics.
Within these varieties, there are many cultivars, so if you're keen to grow lavender in your garden, you should be able to find a cultivar that fits your requirements. With an instantly recognizable scent and typically purple flowers, this traditional shrub has been used for centuries in many settings. Most notably, lavender is bred for its essential oil, which has healing properties and is also renowned for being a natural sleep aid. If you grow your own lavender, you can dry out selections of the cut flowers to use as potpourri or fill up sachets to place in drawers to give a nice fragrance to your stored clothing.
Caring for Lavender
All varieties of lavender are very low maintenance easy care plants, providing they are growing in an appropriate environment. Choose your variety of lavender carefully, based on the climate conditions of where you live. English Lavender can generally tolerate much colder weather, while Spanish Lavender prefers its environment to be hot and humid. The hybrid lavender, Lavandin, is a good choice for climates that experience both high and low temperatures throughout the year, as it is tolerant of both cold and hot weather.
Soil, Watering & Fertilizing
Planting your lavender in the correct soil is the most important thing you can do to ensure your lavender thrives. Lavender likes to be in poor soil conditions, and will not do well in rich and fertile soil. For these reasons, you must avoid using fertilizer on your lavender, and don't try to improve soil quality by adding compost or other organic matter. Lavender likes the soil to be dry, so it is rare that you will need to water your lavender. In most regions that experience a fair amount of rainfall, you may never need to water your plant. In exceptionally long and dry summers, you can water your lavender moderately, but never allow the soil to become soggy or too moist. Allow extended periods of drought in between waterings, as lavender much prefers this to excess moisture.
Due to the fact that lavender requires dry soil, you will need to ensure that your soil is well-draining. This will prevent the soil from becoming too wet in times of heavy rainfall. To increase the soil's ability to drain, mix plenty of sand into your soil before planting the lavender.
Light
Lavender enjoys full, direct sun, so be sure that you aren't planting it in a position that will experience too much shade. Lavender is typically quite a hardy shrub and can withstand wind and rain, so it does not need to grow in a sheltered spot.
Pruning
Lavender can become overgrown and straggly if left to its own devices. Prune it heavily once or twice a year, usually in early spring or fall (or both). Lavender responds well to pruning, and cutting it back will encourage it to grow in a full and bushy habit. Pruning your lavender is easy to learn. If you are new to pruning, do not be afraid of making mistakes as lavender grows quickly and will recover well if you unintentionally cut away too much. Annual pruning is likely to be the only care you need to give your lavender plant, making it the perfect low maintenance shrub. Lavender is very rewarding despite its easy-care quality and can fill a garden with visually stunning flowers and a strong and beautiful scent.
Propagation
To grow more lavender from your existing plant, you can easily propagate from stem cuttings. Propagating lavender is quite simple and usually fairly successful. It's a good plant to start with if you are new to propagating. You can propagate from both softwood and hardwood cuttings. The softwood is the fresh and tender parts of the plant, which are typically abundant in spring. Hardwood stems are more mature and brittle, likely to snap under pressure rather than bend like softwood.
If you are propagating in the spring, it will be easier to find a softwood stem to use, while propagation during fall or winter will require hardwood stems. Both types of stem cutting can be rooted; softwood tends to root more easily, but hardwood will be more reliable at long-term growth, so they both have their positive attributes. The type of lavender you have will affect the stem cutting you can take. For early blooming lavender that flowers heavily, you may find it difficult to select a softwood cutting in spring that is free from flowers or buds.
It's important to get a stem that isn't in the process of blooming, as it will be using all of its energy in its attempt to flower and will struggle to root. Choose your stem and slice it free from the mother plant just below a leaf node with a sharp knife. It will need to be around 4 inches in length. Remove all foliage from the lower portion of the stem and slice away some of the skin on one lower side. You can coat this part of the stem in rooting hormone to encourage growth if you wish, but lavender roots so easily that this step is not essential.
Plant the stem into well-draining potting mix, about 2 inches deep. Press the soil firmly around the base of the cutting to secure it. Moisten the soil and then, cover it with a plastic bag to create humidity and replicate a glass house environment. Within 2 to 4 weeks, a softwood cutting should have rooted, with hardwood cuttings taking a little longer.
You can check to see if roots are growing by gently tugging on the stem. If it lifts out of the soil easily, then it needs more time to root. If there is some resistance, it means roots have formed. When you are happy that the plant has rooted, remove the plastic bag, and place the pot in a bright location. Maintain a moderately moist soil, watering it when the soil is dry to an inch in depth. It can be transferred to a larger pot or directly into the ground in your garden after a few weeks.
Types of Lavender
English Lavender (Lavandula angustifolia)
In spite of its name, this variety of lavender is not native to England and actually hails from various regions of the Mediterranean. This is the most common type of lavender that people typically associate with the plant and is the same lavender seen to create a sea of purple across the Provençal fields in France.
This lavender is very fragrant, with the recognizable aroma being released into the air when your legs brush past it, or when you crush the flowers in your hand.
The cluster of flowers adorning each stem is known as inflorescences, and they appear in a range of purple hues, depending on the cultivar. This variety of lavender sees color variations ranging from violet to a blue-toned purple, pale lavender, or dusky pink. The inflorescences bloom in early summer and last for most of the season.
English Lavender is a semi-evergreen perennial, with foliage of a silver-green shade in summer and transforms into a gray or bronze shade in winter. Typically growing to two or three feet in height, this lavender is ideal for creating low hedges and borders around gardens or walkways. English Lavender is known for producing the best essential oils. It is also widely used in potpourri and cooking.
Like most varieties of lavender, English Lavender prefers sandy soil that is low in nutrients and salt, and mostly void of organic matter. However, good drainage is key for this poor soil-loving plant.
Types of English Lavender include:
1. Hidcote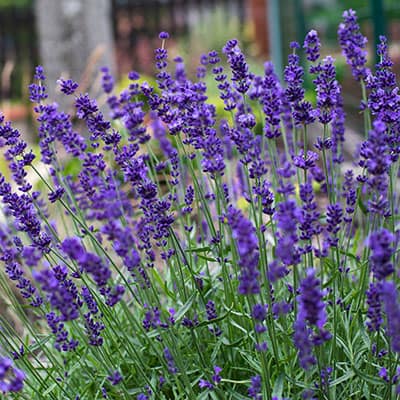 Gray-green foliage
Attracts bees and butterflies
Resistant to rabbit, deer, and drought
Prefers full, direct sun
Enjoys medium-dry, poor soil
Evergreen in warm climates
Grows to 20 inches in height
Spreads to 24 inches in width
Heavily fragrant flowers
This vibrant violet flowering lavender has won the prestigious Award of Garden Merit from the Royal Horticultural Society. It typically blooms once in late spring or early summer, with a shorter second flush the following season. If you prune back the lavender early enough, you may be fortunate to enjoy a third season of flowering. Especially good for making dried flowers, this type of lavender keeps its vibrant color even once dried out.
2. Jean Davis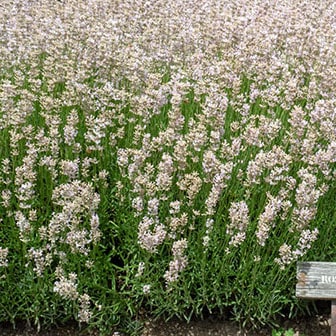 Bright green foliage
Attracts bees and butterflies
Resistant to rabbit, deer, and drought
Prefers full, direct sun
Enjoys medium-dry, poor soil
Evergreen in warm climates
Grows to 30 inches in height
Spreads to 36 inches in width
Heavily fragrant flowers and foliage
Since its introduction in 1937, this cultivar has been a popular choice. The flowers are more blossom like than a typical lavender plant, in a delicate pale pink with a hint of lilac. One benefit of this lavender is that both the flowers and foliage are very fragrant. Pruning is encouraged with this type of lavender to achieve a fuller look. Cut it back in the spring and ensure you deadhead any spent flowers to allow new buds to bloom. This cultivar also goes by the name of "Rosea."
3. Portuguese Lavender (Lavandula latifolia)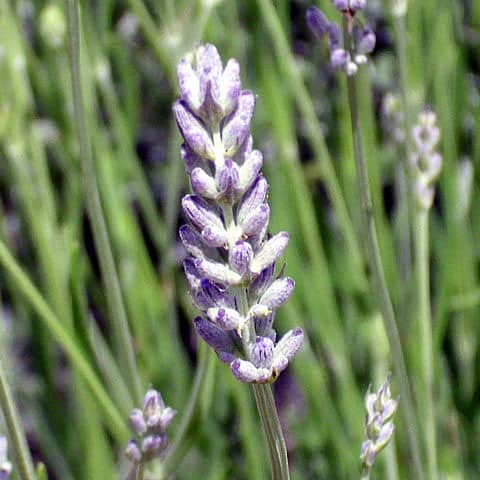 Credit to Javier martin
Green, furry foliage
Attracts bees and butterflies
Resistant to rabbit, deer, and drought
Prefers full, direct sun
Enjoys medium-dry, poor soil
Evergreen in warm climates
Grows to 3 feet in height
Heavily fragrant flowers, higher in camphor than English Lavender
This hardy shrub is native to the western Mediterranean, throughout Portugal, Spain, and some regions of France and Italy. It blooms continuously throughout spring and summer, producing flowers in a subdued shade of purple, and stems in a contrasting stark green. This variety of lavender is known for having the strongest scent, and also goes by the names "Spike Lavender" and "Broadleaf Lavender."
Lavandin (Lavandula x intermedia)
This popular hybrid is a cross between English Lavender and Portuguese Lavender. It has inherited the best traits from both varieties, and so has the cold tolerance of English Lavender and the heat tolerance of Portuguese Lavender. The resulting Lavandin is therefore suitable for almost any climate, meaning gardeners around the globe can enjoy the beauty and aroma that lavender brings to a garden. This variety of lavender, like the two varieties it hails from, is extremely fragrant. Both flowers and leaves give off a heady scent. Blooms appear throughout summer in various colors ranging anywhere from creamy white to vibrant purple. Lavandin is bred for use in essential oil production, but the quality is not as high as the oil drawn from English Lavender.
Types of Lavandin include:
4. Grosso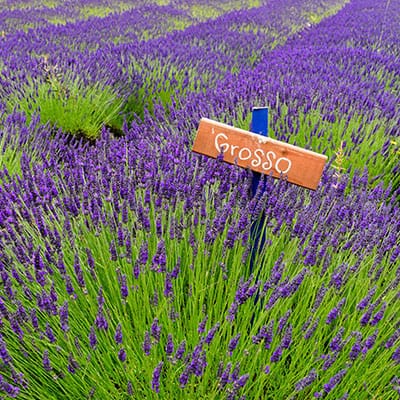 Prefers full, direct sun
Enjoys medium-dry, poor soil
Evergreen in warm climates
Grows to 3 feet in height
Heavily fragrant flowers and foliage
Also going by the name "Fat Lavender," this fast-growing shrub produces unusually large flower spikes of up to six inches in length, which are heavily scented. This variety retains both its color and scent when dried and is therefore popularly used in dried flower bouquets or lavender sachets used to fragrance drawers. The blooms of this plant are a deep purple color and appear later than other lavender varieties, in mid to late summer.
5. Impress Purple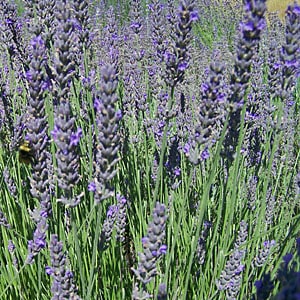 Credit to goodwincreekgardens
Prefers full, direct sun
Enjoys medium-dry, poor soil
Evergreen in warm climates
Grows to 3 feet in height
Spreads to 4 feet in width
Heavily fragrant flowers and foliage
This cultivar has flowers in a deep purple and is the darkest color of lavender available. The spikes feature dense blossoms on tall stems, making them a stunning addition to fresh cut flower bouquets. They bloom late in the season, typically flowering from mid to late summer.
6. Provence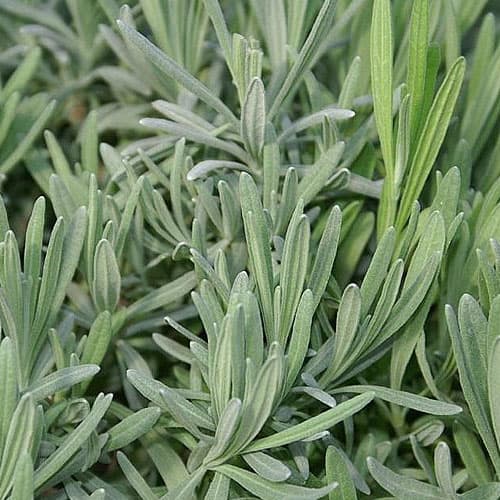 Credit to David J. Stang
Silver- green foliage
Prefers full, direct sun
Enjoys medium-dry, poor soil
Evergreen in warm climates
Grows to 3 feet in height
Ideal for hedging
Suited to high temperatures and humidity
Heavily fragrant flowers and foliage
With extra large blooms and an intense scent, this cultivar has plenty going for it. It is also renowned for being one of the best types of lavender for forming thick full hedges, so look out for this cultivar if you intend to create edging or low hedges. This lavender is particularly tolerant of moisture in the air, so it may be well suited to you if you live in a naturally humid climate.
In a medium shade of purple, this plant's flowers form chunky inflorescences at the end of each lengthy stalks. Flower heads can reach lengths of up to 3 inches, which explains its other commonly used name of "Fat Lavender."
Spanish Lavender (Lavandula stoechas)
This variety of lavender can be easily identified by the petals sprouting from the top of the flowering spikes. They are known as "ears" among some gardeners for obvious reasons, though they also bear a resemblance to pineapple fruit.
Spanish Lavender is also commonly known as Butterfly Lavender, hailing from North Africa and regions of the Mediterranean.
Deep purple flowers adorn each spike in a pine cone pattern, while the sprouting petals shooting out of the top can be seen in various colors depending on the cultivar. This plant blooms for a long period, producing an abundance of flowers throughout spring and summer. Unusually for lavender, the foliage of this variety is heavily scented, while the flowers do not carry any fragrance.
Spanish Lavender loves hot, dry weather but is much more tender than other varieties. It can tolerate humidity.
Types of Spanish Lavender include:
7. Anouk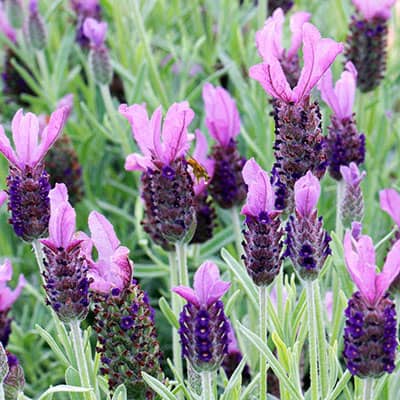 Silver foliage
Attracts bees and butterflies
Resistant to rabbit, deer, and drought
Prefers full, direct sun
Enjoys medium-dry, poor soil
Suited to warmer climates
Grows to 2 feet in height
Spreads to 2 feet wide
Heavily fragrant foliage
This cultivar features deep purple-blue flower bracts that are topped with vivid violet petals in an upright habit. The silver foliage is heavily aromatic and is used in potpourri and cooking. Prune it back heavily after summer to encourage a bushier style.
8. Fathead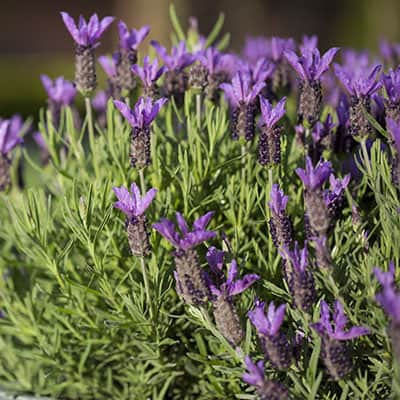 Silver foliage
Attracts bees and butterflies
Resistant to rabbit, deer, and drought
Prefers full, direct sun
Enjoys medium-dry, poor soil
Evergreen in warm climates
Grows to 2 feet in height
Spreads to 2 feet in width
Fragrant foliage
The bloated flower bracts of this cultivar are an easy giveaway to where this plant gets its name. The deep purple, oval-shaped heads of this shrub are plump, topped with dainty petals in a pink-purple shade. This cultivar forms quite a compact mound, making it ideal for use in containers or border edges.
9. Fringed Lavender (Lavandula dentata)
Gray-green foliage
Prefers full, direct sun
Enjoys medium-dry, poor soil
Evergreen in warm climates
Grows to 36 inches in height
Mildly fragrant foliage
The name of this lavender variety comes from its toothed leaf margins. The scientific name "dentata" is derived from "dentate," which means "teeth." Native to Spain, this scented plant is not as heavily fragranced as the other lavender varieties, but its foliage does give off a rich smell that is thought of as a cross between lavender and rosemary.
Though the fragrance of this plant is not as pungent as others, its benefit is that it has brightly colored flowers, which will bloom all year long in the correct environment. To achieve this, provide your plant with plenty of light and warmth.
Though lavender is typically found in hedges or occupying large areas of gardens, it can also be grown in pots. This is great news for any lavender fans who have little outside space. You can grow lavender in containers either outside on a terrace or balcony, or inside on a bright windowsill. If you propagate lavender from seed or cutting, you can create your own small plant to house in a pot inside.
They tend not to grow a lot in their first year, though the chance of flowering is high. After the first year, when the plant has become acquainted with its setting, potted lavender tends to grow well and will need to be pruned to be kept at a manageable size.
Don't waste the cut parts of the lavender; these can be used in plenty of ways, including for potpourri, scented sachets, in cooking, and in crafts.
Sources: