Best Gardening and Landscaping in Tucson, AZ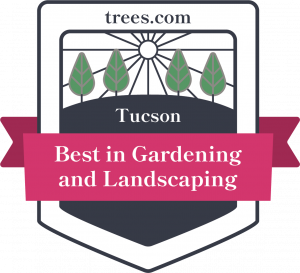 Best Gardening and Landscaping in Tucson, AZ
To help you find the best gardening and landscaping in Tucson, AZ, we gathered information on over 24 landscapers and narrowed them down to the top 20 landscaping services based on their client reviews, available services, and professionalism.
Our goal is to connect homeowners with the best gardening and landscaping experts in the area. To find the top picks in Tucson, we scored companies on 25 criteria across five categories and hand-picked a list of the best.
Availability

Responsive communication and convenient scheduling for customers.

Credentials

Years of experience in the field, plus appropriate licensing and awards.

Reputation

A track record of positive customer reviews and outstanding service.

Services

Offers the most important services popular with customers.

Professionalism

A reputation of reliable and honest business practices.
Top Rated Landscapers in Tucson, AZ
All Terrain Tucson
All Terrain Tucson is a licensed and insured landscaping business serving residential and commercial properties throughout Tucson. Backed by a team of well-trained artisans, its concierge of outdoor home improvement solutions incorporates installing, repairing, and retrofitting various types of irrigation systems, including sprinklers and water harvesting fertilizer injector systems. The landscaping experts also offer customized lighting options, which cover underwater accent lighting, outdoor living spaces, and architectural illuminations. The company works with property owners in need of landscape designs generated from scratch and customers seeking tailor-made patio designs or outdoor grills and fireplaces.