Home >
14 Awesome Tire Planter Ideas For the Garden You Try Today
14 Awesome Tire Planter Ideas For the Garden You Try Today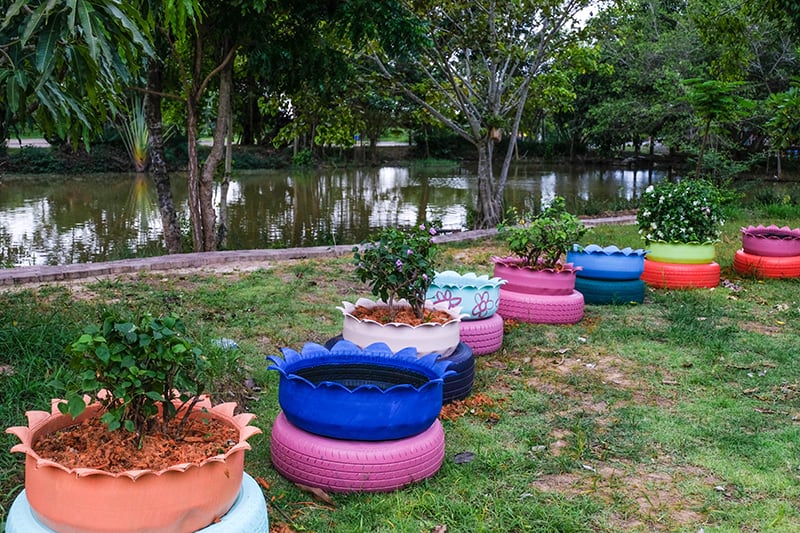 If you're keen to recycle and help out the environment by repurposing your old belongings that no longer have any use, then you might be interested in learning about the many ways you can re-use old tires to help decorate, your garden. This is a fun and thrifty craft that you can complete by yourself or engage in with children. It gets the creative juices flowing and also gives you an excuse to spend more time outside with loved ones.
Whether you have a small or large garden, there will be a way to utilize your old tires within your space. For an industrial look, you can leave the tires as they are in their original state, or to jazz them up and create a more striking look, tires can be painted. You can choose colors to complement your outdoor decor color scheme or select shades that contrast, your plants, to help show them off.
Tips for Using Tires as Planters
Clean Your Tires
Chances are, as you're using old tires, which they will be a bit grubby. Paint won't stick to dirty or dusty tires, and your finish will look poor if, you haven't properly cleaned, your tires. Hose them down and give them a good scrub with washing up liquid and a rough sponge.
Line Your Planters
Depending on what sort of planters, you are creating, you might want to consider lining them and creating drainage holes. This will help to keep all of the soil in place and prevent any spillage, and it will also help excess rainwater to drain out and make sure that the plants aren't sitting in soggy conditions.
Choose the Right Paint
Tire planters are predominantly kept outside all year round. This means they are subject to heat, cold, wind, and rain, and therefore need to be coated in a paint that will be hard-wearing. The best type of paint to use will be acrylic-based. Look in your hardware store for paints that are specifically intended for use outdoors, and are suitable for all materials.
Secure Your Tires
If you're using more than one level of stacked planters, you need to be sure you have secured them properly. They will make a huge mess and potentially cause a dangerous hazard if someone accidentally crashes into one and knocks, your plants and soil all over the ground. Stick your tires together using superglue or screws and nails.
1. Flower Power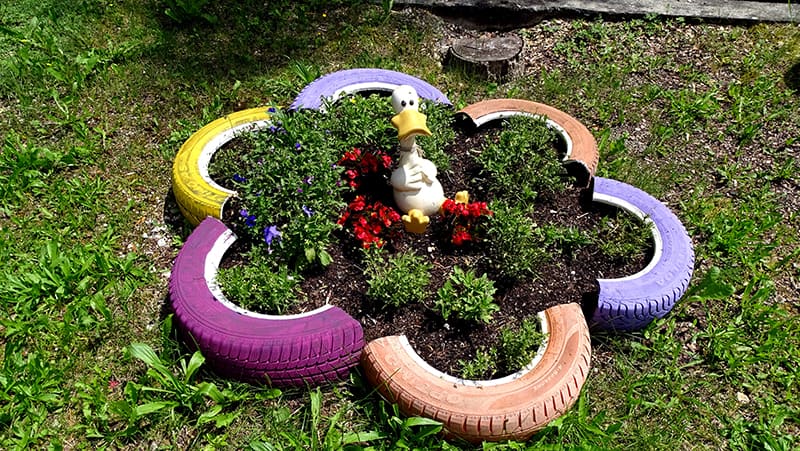 This floral planter design has been constructed using old tires that have been cut down into halves and painted in a variety of different bright colors. By arranging them in a large flower shape, you can create a larger raised flower bed than is usually achieved by using individual tires. The look that this creates is fun and whimsical, which is at odds with the hard and industrial ordinary character of the tires. A flower bed like this would look lovely filled with annual blooms, or flowering perennials, to match its floral design.
2. Tire Stack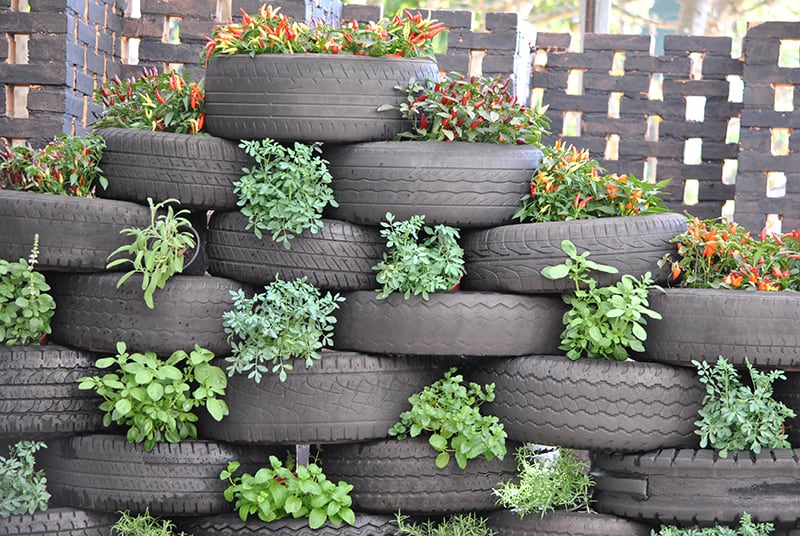 This large stack of tires has so many benefits. It's a great way to use up a large selection of old tires that would otherwise have no use, and it creates a feature in the garden that can be filled with plants. The many separate planters it creates throughout its layers are an excellent place to house a wide range of plants. You could stack tires like this in a short and shallow wall or as tall as you can like, ensuring they are stable and not liable to fall down. You could create a privacy screen with stacked tires like this, or use a wall of tires to section a larger garden into different areas. To brighten up this design, you could paint the tires, or fill them with flowering plants. Trailing plants would also look great in the higher up tires, with flowers or foliage tumbling down the front of the tire wall.
3. Tire Fountain Feature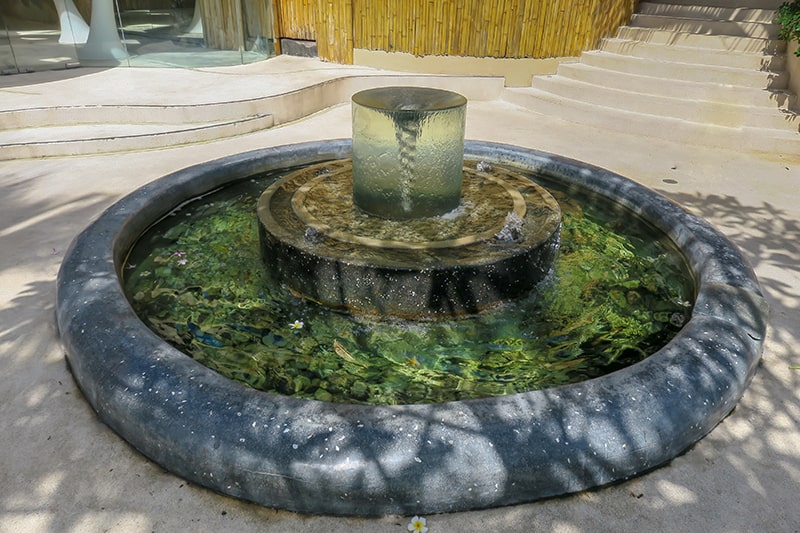 This is a great example of how old tires can be used to create stunning water features. If you're looking to create a water feature on a budget, then consider using old tires for the basis of your design. You could use various sized tires, such as oversized tires from trucks or regular-sized tires for more compact water features. As well as being low cost, creating a water feature using old tires is also an easier option than building a water feature, as it will require very little construction.
4. Layered Tire Flower Bed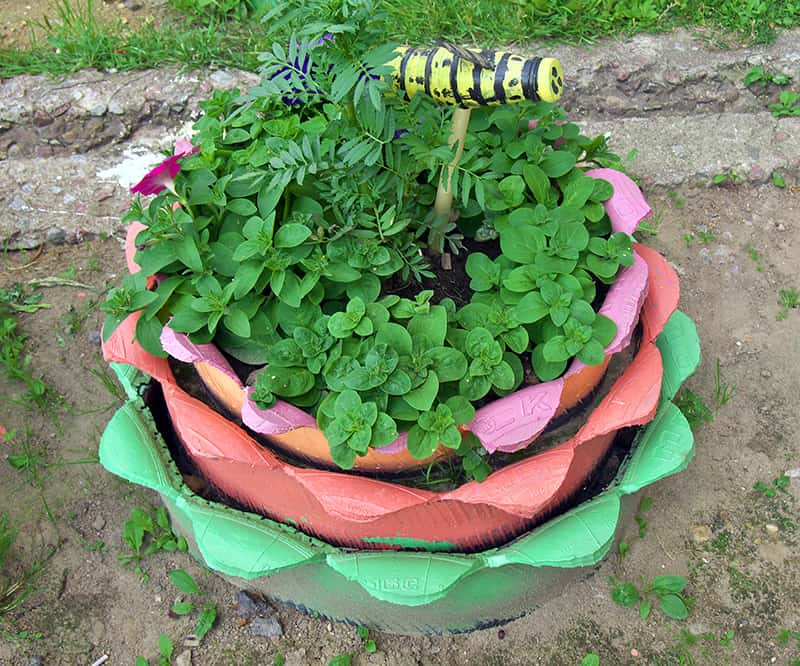 This creative flower bed has utilized a selection of different sized tires that have all been slotted inside each other to create an interesting layered effect. These tires have been positioned at different levels to create a raised planter. By cutting the top edge of each tire and then turning the tires inside out, you can achieve a completely different look. This makes the cut edge of the tires point outwards in a fluted fashion, and it also means the tire treads are inside the planter so that the outside of the planter has a smoother finish. You could paint all of the tires in one color for a uniform look, or paint each layer in a different color for a quirkier style.
5. Hanging Tire Planter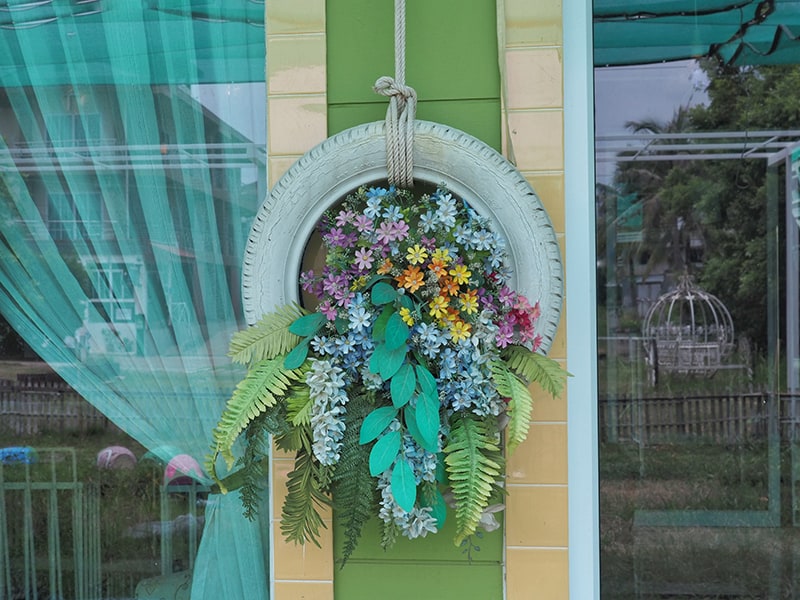 This hanging planter made from an old tire is incredibly easy, but also surprisingly effective. To achieve this, simply paint a tire in a color that matches the outer decor of your home, tie it securely to a rope, and hang it outside, your property. In this example, the creator has used fake flowers to fill the tire. If you would prefer to grow real plants in your tire, you'll need to fix a back wall to the tire to prevent soil from spilling out. You could use a piece of plywood cut into a half-circle and nailed to the back of the tire, or a piece of plastic cut to size and secured with glue. Fill the lower half of the tire with soil and plant some popular trailing plants inside it, such as fuschias or ivy. Alternatively, you could use a hanging tire like this to create a festive wreath. Simply wrap cuttings of evergreen branches and stems around the tire, such as holly, and hang it out over the holidays.
6. Mosaic Tire Wall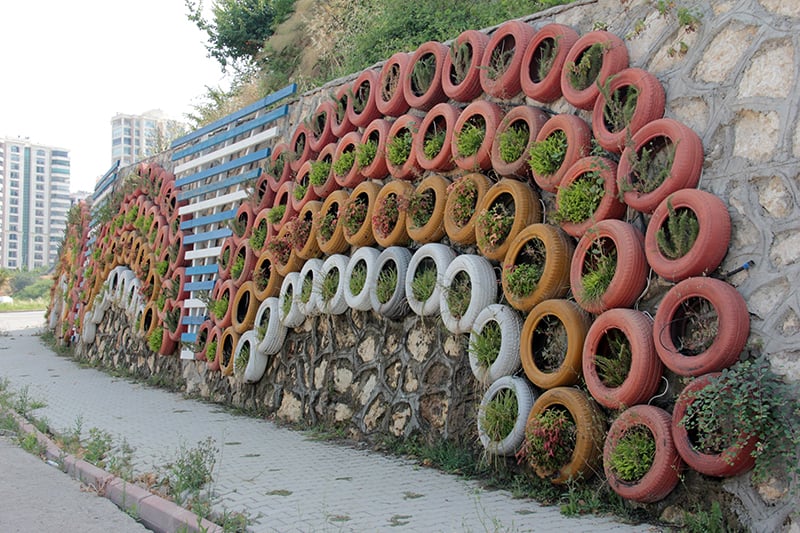 If you have a large vertical space to cover, such as the side of a garage or an old wall around the perimeter of your garden, you could spruce it up by fixing old tires to it. Tires fixed to the side of a wall can hide a multitude of sins and make your space more appealing. You could paint the tires, like in this image, and arrange them in a pattern. This tire wall has opted for a rainbow-like mosaic pattern, but, you could choose any variation, you like. You could paint all of the tires a shade of orange-gold and arrange them to look like a giant honeycomb. Once fixed to the wall, you could leave the tires as they are, or double them up as planters. Choose plants that thrive in shallow soils and don't need lots of root space, like annual flowers.
7. Giant Sushi Roll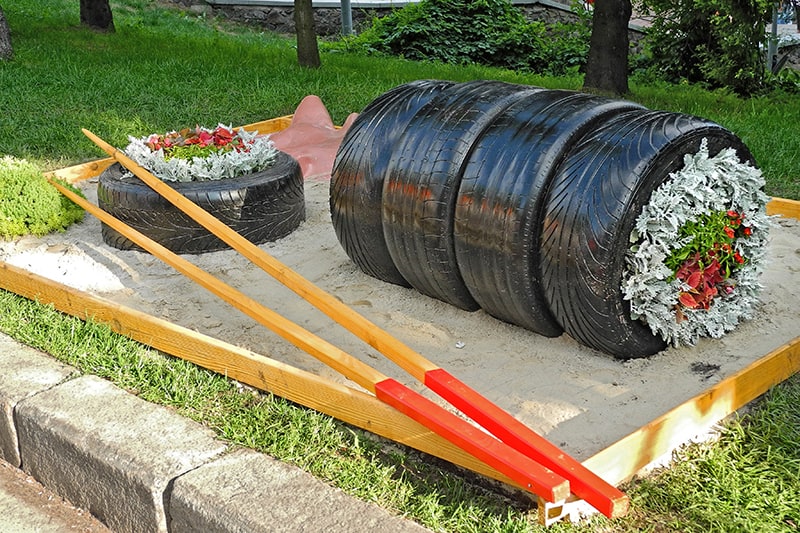 If you want to have some fun with your tire planters, try out an unconventional feature by using tires to create items of food. In this image, the gardeners have designed a plate of sushi, using a sandbox for the plate, and two long lengths of wood with the ends painted red to act as the chopsticks. The tires have been left black to look like the seaweed that wraps up the sushi roll, and then they have cleverly selected types of plants in particular colors and arranged them in circles to signify the inside of the sushi roll. This is a quirky and interesting way to create tire planters, which is sure to be a talking point with any visitors that stop by. You could get creative and imitate all sorts of food, such as burgers with tires for the burger bun.
8. Camouflage Planters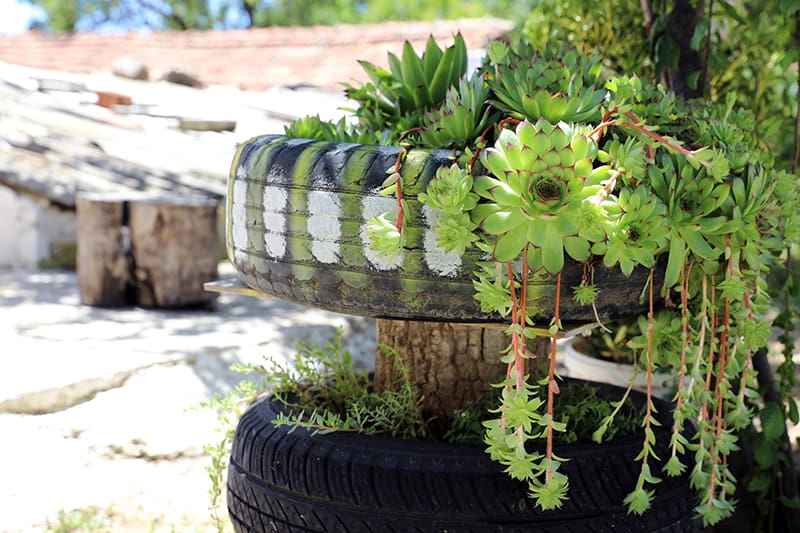 Tires have been used here to create planters for succulents. The tires have been spotted with green and white paint to help them blend in with the colors of the plants and the background colors of the garden. This helps to disguise the tires and ensure the plants are the main feature, rather than the planter itself. For this particular planter, the gardener has chosen trailing succulents that drape down around the outside of the tires, also helping to camouflage them and distract from the tire. If you have tires hanging around that are no longer useful, this is a good way to repurpose them. Some people don't like the look of tire planters, so by using paint to camouflage them and trailing plants over the edge, you are able to create a free and easy planter using surplus materials, without it being obvious that, you have used tires.
9. Coffee Cup Planters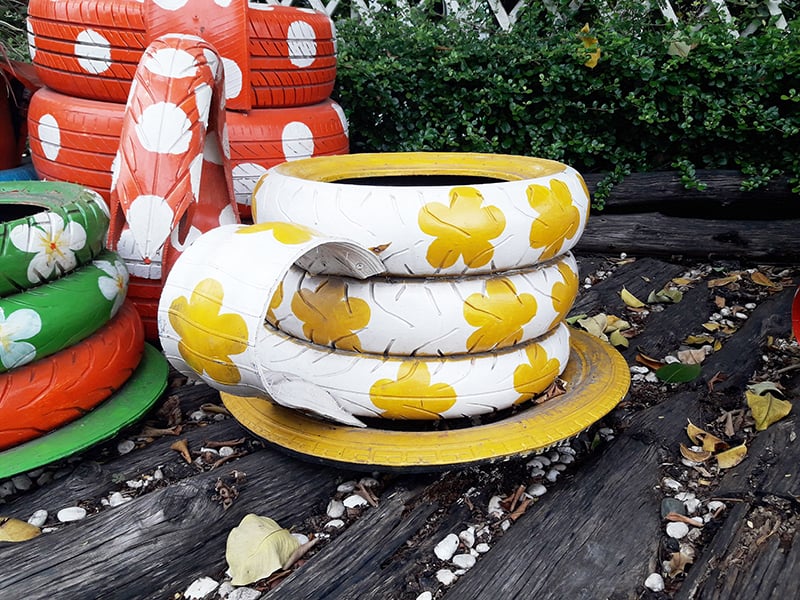 If you have a selection of tires to put to good use in your garden, you could use them to create themed planters, such as these tire planters that have been made to look like cups and saucers for tea or coffee. To achieve this, the saucer has been made from a tire that has been sliced in half all the way around the widest part of the tread. It has then been turned over and the edges flared out to resemble a saucer. It has been painted to match the color scheme of the 'cup' that it sits underneath. The cups themselves are slightly less involved and simply require you to stack three tires on top of each other to form the main section of the cup. The handle is made from a tire that has been chopped in half across its diameter and turned inside out, then painted and secured on the side of the cup. These tire creations can then be filled with soil and used as planters to house your plants. You could get creative with your painting skills and paint the cups in plain colors or try out strips, polka dots, or other patterns.
10. Contrasting Brick Pattern Planter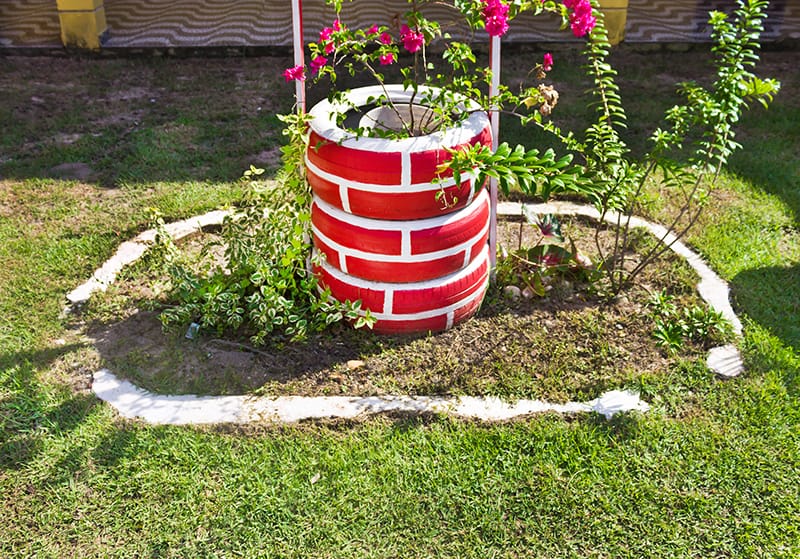 Three tires have been stacked on top of each other to create a garden planter for a flowering shrub in this image. They have been positioned in the center of a flower bed as the main feature and surrounded by other plants growing in the ground. To make the planter visually stand out, paint it in your chosen colors or patterns. In this instance, a brick pattern has been used to make the tires look like a brick planter. The contrasting white paint in between the dark red brick color really helps to make the bricks pop, and gives them a bright and summery, yet neutral feel.
11. Low Tire Wall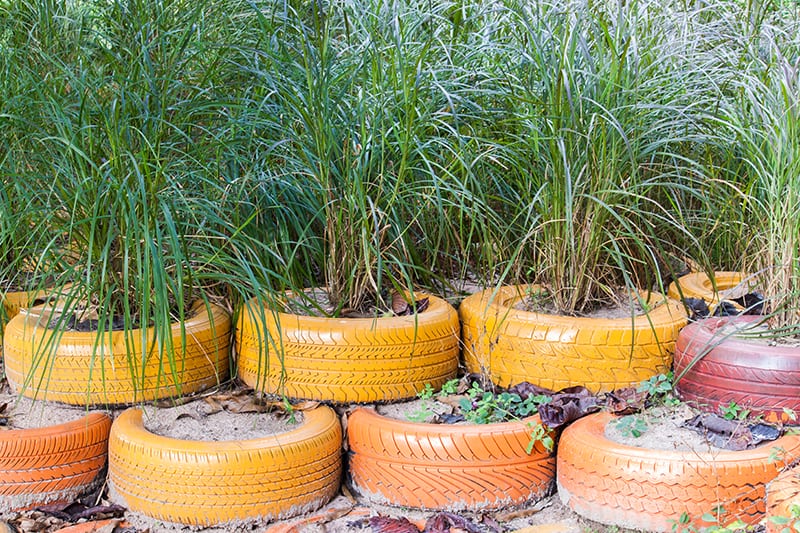 These tires have been assembled to form a low wall with just two layers of stacked tires. They have been painted in various shades of orange, which contrasts against the green color of the plants they contain, helping to set off the foliage. Painting a collection of tires in various shades of the same color helps to tie them all in together and creates a more unified look than painting them in an array of different colors, which sometimes looks messy. These tire planters have been filled with ornamental grasses that grow tall and create a good privacy screen.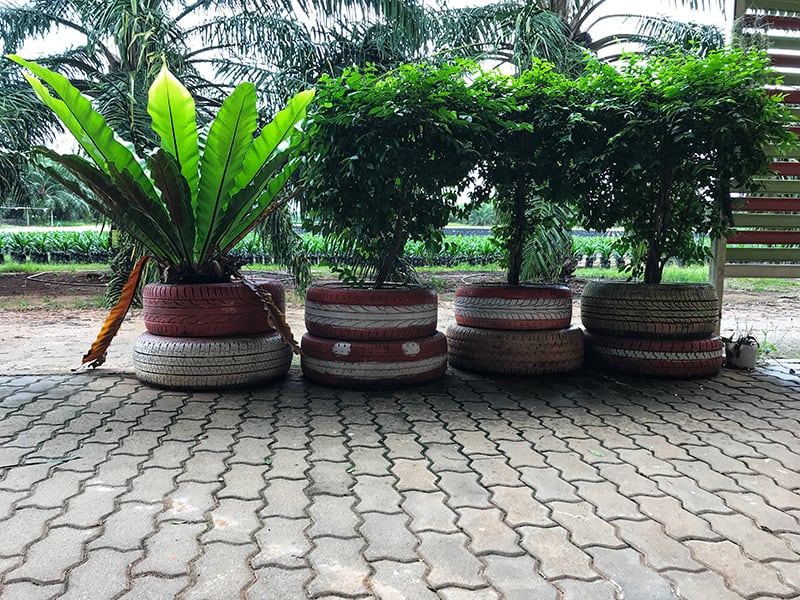 Tires have been used in this image to form planters for trees. Most examples of tire planters, you will find typically contain a variety of plants, but actually, the size of tires lends them perfect for use as tree planters. Simply stack a few tires and grow one tree specimen inside. This is an especially good idea if you want to plant a tree that needs deep soil, but the soil on, your land is shallow. You can fill the tire planter with a good depth of soil to ensure the tree's roots have plenty of space to spread and thrive. Just ensure you water the soil more regularly than you would water ground soil, as the soil in a planter tends to dry out more quickly than ground soil.
12. Colorful Hanging Planters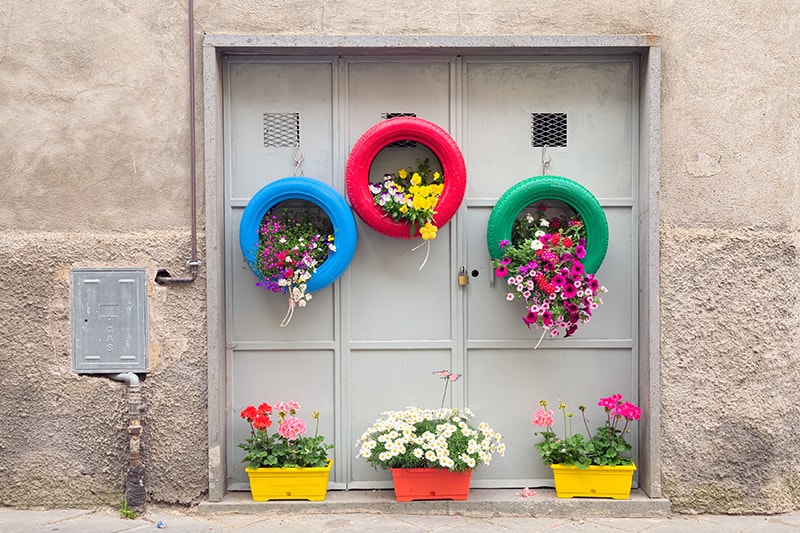 To make use of old tires and simultaneously brighten up an otherwise dull wall, string up a few tires, fill them with plants, and hook them up high. These tires have been painted in bright primary colors that complement the other planters situated on the ground below. You can use any plants that you would ordinarily grow in hanging baskets, such as these vibrant annuals that burst out of the front side of the tire planters and drape downwards. As well as brightening up a plain space, you could also use hanging tire planters like this to hide an unsightly wall or cover up blemishes such as siding that is damaged, or bricks that are crumbling away.
13. Double Tire Planter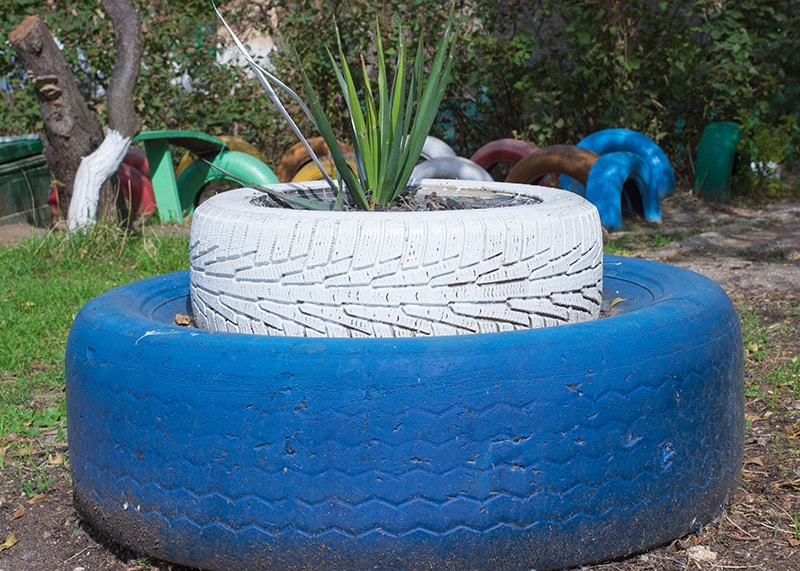 This planter has been made by stacking a small tire on top of a larger tire. The two tires have been painted in contrasting colors, but, you could use any color, you like. Match the tires to your existing color scheme, or to keep costs low, you could use any paint you have hanging around in your garage. You could also choose to paint both tires the same color to make the planter more uniform and so that the two tires blend into one structure. By stacking two tires, you create a raised bed to plant your flowers or small shrubs in. You could use this as a herb garden to grow a selection of herbs, or choose trailing plants to hang down the side of the planter. If you have toxic plants that you need to keep away from children or pets, you could house them in a raised planter like this to keep them out of reach.
14. Pyramid Planter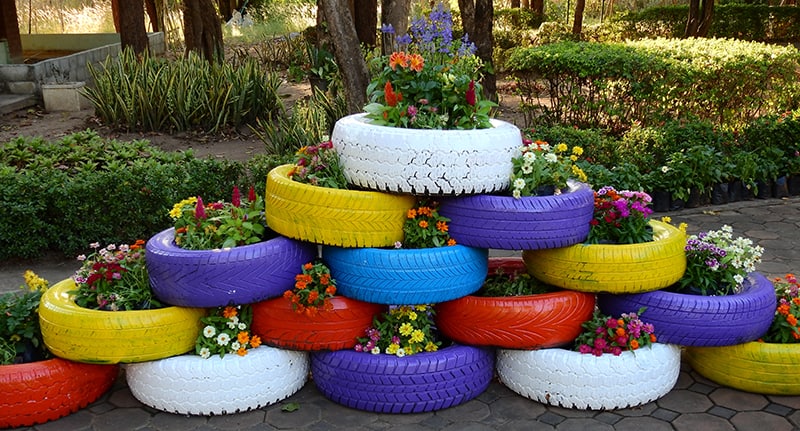 These tires have been used to create a pyramid shape that can house plenty of flowers in the gaps between each ring. Stacking tires like this creates an attractive barrier, which you could use as a privacy screen, or help to divide up a larger garden into smaller sections. These tires have been painted in a handful of bright colors, which helps to add a splash of joy and vibrancy to the space. By choosing a small selection of colors, these planters look both fun and whimsical, but also stylish and coordinated. If you choose too many different colors for your planters, you run the risk of them looking chaotic. When constructing a stack of tires like this, you should consider creating a base on each tire, either using plastic or wood. This will prevent the soil you put in the planters from falling through onto the plants below and making a mess. It will also help to reduce soil wastage.
Explore Our Categories
Ornamental Grasses

Ornamental grasses are often overlooked when people are buying new plants for their garden; however, ornamental grasses ...

Poisonous Houseplants

Houseplants can offer so many benefits to a home. They help improve air quality, add color and vibrancy to the décor, ca...