Home >
Top 6 Free Landscape Design Software Tools
Top 6 Free Landscape Design Software Tools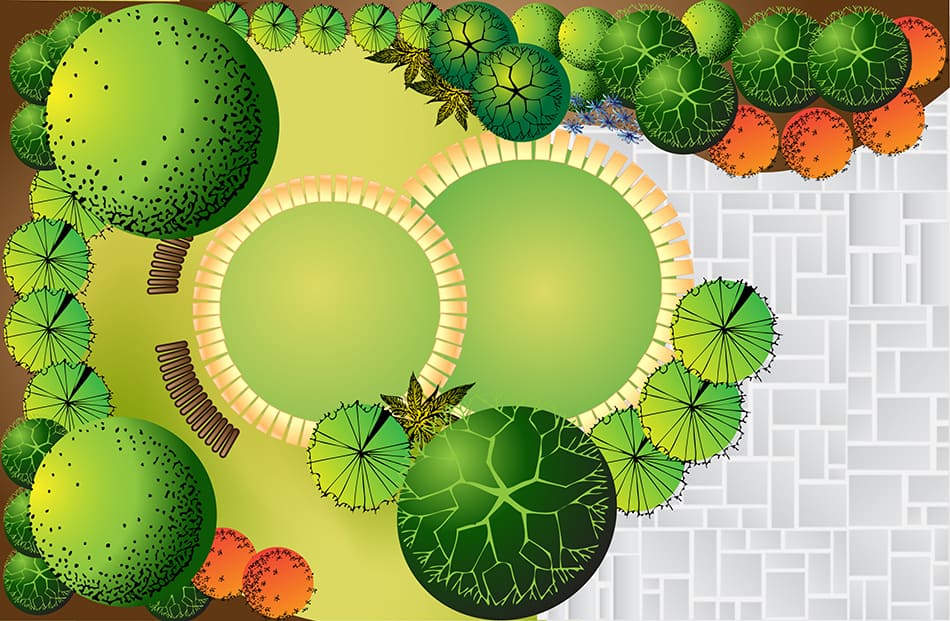 If you've ever fancied yourself as an amateur landscape designer, or you're thinking about making changes to your yard but are unsure if they are a good idea, getting yourself acquainted with some free landscape design software might be the best thing you do this year.
In this article, we'll go into details the best landscape design programs that are free on the market so that you can do the design job for your garden right away.
What is Landscape Design Software?
Landscape design software can be a downloadable program, an app, or a browser-based tool that facilitates the design of an outdoor space, such as a backyard, a driveway, or a deck. These can be aimed at different markets, from homeowners and DIY enthusiasts to professional landscapers and architects. A landscape design tool seems to be much more complex than a garden planner tool. And many landscape programs can be used to plan a garden as well.
How Can Landscape Design Software Help You?
The purpose of landscape design software can vary depending on the user. Some people will use these tools to accurately transfer an idea from their mind onto a screen or a printed piece of paper, as a means of helping them visualize what their garden might look like before they commit to making any permanent changes. This is a huge help because it means you can make design decisions virtually rather than in reality, which could save you time and money compared to if you jumped straight in to physically landscaping your garden and made a mistake. Similarly, for a homeowner, a landscape design software gives you the opportunity to fully consider all of your design options and allows you to maximize your space.
Depending on the software you use, there will be an inventory of items available that you can place in your landscape to see how they look and fit. With everything being properly proportioned, this allows you to properly see what will work well in your space, and what sort of changes you realistically have the space for. Some programs also have pre-designed templates, which can give you a starting point for your design if you're unsure of what sort of look you want, and these templates can also be useful for inspiring ideas.
If you plan to complete your landscaping project yourself, a landscape design program can help you to stay organized and on track. Some software is able to direct you to online or local stores that stock the items you will need for your project, which can be helpful in terms of saving you the time and frustration of searching around for products. Some software will also print an entire list of the items you included in your design, which is helpful for when you go shopping so that you don't forget anything, and these lists will also help you to fully understand the extent of what you will need for your project, as well as helping you to draw up a likely budget.
If you are not a DIY enthusiast, you might instead prefer to employ a contractor to complete your landscape project. Landscape design software can be helpful in this instance as a means of accurately conveying to your contractor exactly how you would like your garden to look. Anyone who has tried to describe a hairstyle to a stylist rather than take a photo to the hair salon will know that it is easy for spoken descriptions to get lost in translation, and the same can be said of landscape design.
You might think that sketching up a quick idea with pencil and paper would work just as well, but proportions can be incorrect and spaces not accurately represented. If you want a guaranteed way of ensuring your contractor fully understands what you want your finished outdoor space to look like, then a model created using landscape design software is your safest bet. Most programs will allow you to print your designs, while some also have sharing capabilities so you can forward designs to contractors via email, or share them on a community platform. These features are also helpful as they enable you to share designs with friends and family to get feedback and suggestions before you proceed with any real changes.
Landscape design software is also enormously helpful for professionals in the design industry, including builders, gardeners, and architects. In fact, many of these professions rely on good landscape design software to be able to share their ideas with prospective clients. Being able to easily produce models of what a client's space will look like if they proceed with plans helps to sell their design and accurately convey ideas to clients. Landscape design software is also able to save designers a huge amount of time, as they can enable users to quickly pull together designs in a much more rapid fashion than drawing designs with pencil and paper.
While considering the usefulness of landscape design software, it's also important to understand its limitations. Free software is unlikely to offer the plethora of features that a paid-for design tool will include, and there are some things that free software just won't be able to achieve, but for many people, free landscape design software will have many benefits.
Key Benefits of Landscape Design Software:
See immediate results
Landscape design software allows the user to accurately visualize what their finished project will look like in a matter of minutes, so they can see what will or will not look good in their space without making any real changes.
Easier decision making
By seeing what their finished landscape will look like, the homeowner will more easily be able to decide if they want to go ahead with their project.
Inspire ideas
Landscape design software encourages the user to try out different options that they may otherwise have never considered. It can also offer templates if you are struggling with inspiration.
Maximize space
By entering the square footage of your garden and drawing out its shape, you can see on an accurate scale what changes would be possible. You can also move things around and try things at different angles to see what will give you the best use of your space.
Stay organized
By having a plan to follow and a list of items you will need, your project is more likely to run smoothly, making for a less stressful experience that gets completed on time.
Best Free Landscape Design Software Options: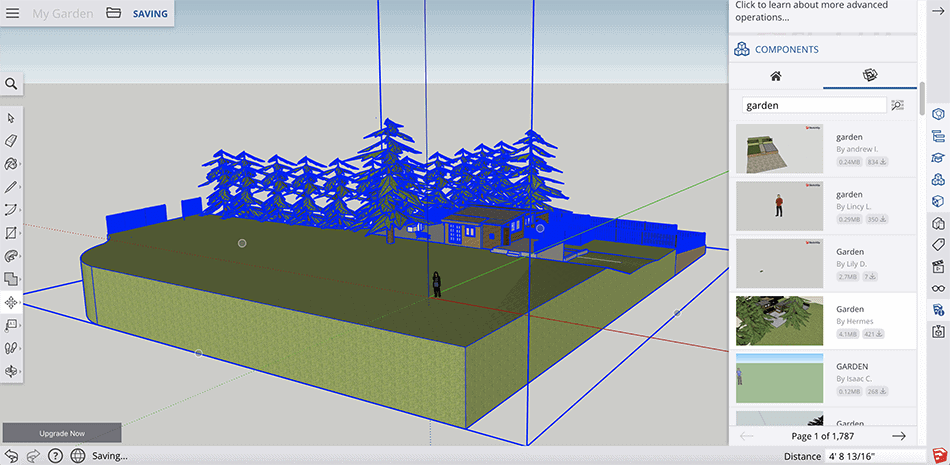 This is a free version of the popular program targeted at architects, landscape designers, and construction professionals. It is designed to work as an extension of the drawer's hand, allowing the user to draft their ideas and see them right through to design completion. Designs can be mapped out in 2D or 3D models, using any web browser. Designs can be saved at any point or shared between accounts to aid with collaboration. Some of the things this program is able to include 3D modeling, editing, and rendering.
Though this software will be predominantly used by industry professionals, it is available to anyone to use for free and can be easily accessed and played around with. One of the best things about this program is how simple and user-friendly it is. Many users of this tool found it easy to navigate, even if it was their first time attempting 3D modeling. However, the simplicity of this program is also its greatest downfall, as it lacks the capability to produce more complex designs. Some users found this inhibited their creative abilities and meant they had to go elsewhere to fully realize models of their designs, or upgrade to the full version to unlock more complex features.
Users of this program, for the most part, are very impressed with it, with many claiming it is an essential tool when working in graphic design, landscaping, interior design, architecture, or engineering. Its shareability is unrivaled, with the capability to import and export designs in a wide range of different formats. The program itself requires a powerful processor to function as it is intended. Slower systems may find the software slow and clunky. One of the main complaints amongst users, aside from limited features on the free version, is the program's inability to work well with curved designs. Rather than use one single curved line, it creates curves from many tiny small lines, which confuses the design and causes it to struggle to comprehend what you are trying to achieve. It also makes the saved files significantly bigger and more difficult to load or send.
SketchUp is globally known as one of the best landscape design software; however, to get the best out of this program, you will need to upgrade to the paid version, which costs $695 for a lifetime license. The free version is a great way to try out the software before you commit to the subscription, or for students or small businesses to create impressive 3D models. Designers looking for more complex tools will probably need the full version.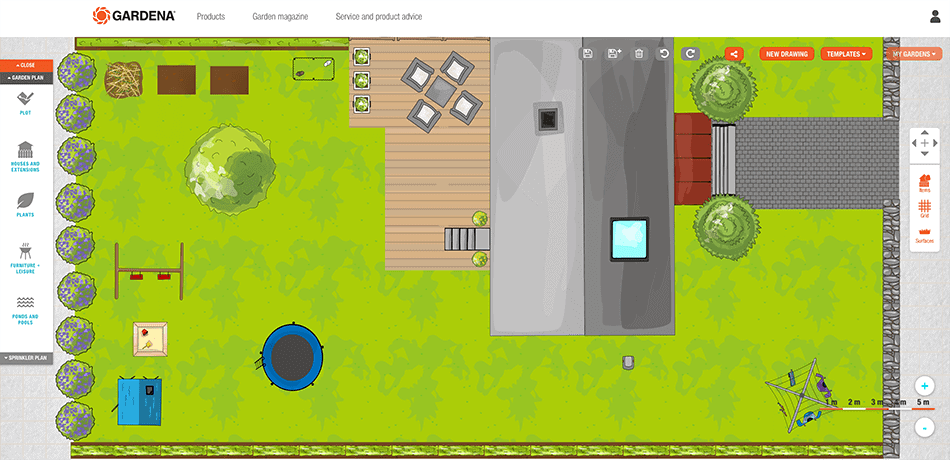 The garden planning web-based app by Gardena is a functional landscape designing tool that is also fun and easy to use. To start off, you can draw the size and shape of the area you want to design, such as your backyard, or you can choose a pre-designed template to work with. You can then select your surface material, for example, lawn, decking, or gravel. From there, you can drag and drop numerous items into your design, such as trees, water features, planters, and outdoor lighting. One of the key features of this software is its ability to help you plan out an irrigation system to keep your plants and lawn happy and healthy. This is a useful tool, as it customizes a suitable system based on the size of your space, but it's also a handy way for Gardena to encourage you to buy their garden care equipment such as water hoses and sprinklers.
One of the main advantages of this software is how easy it is to use, and should be simple to navigate for anyone who is at ease with basic technology. It has an intuitive interface that is user friendly and requires no training or practise. This program will be ideal for anyone looking to get a rough idea of what they could do with their landscape and an idea of what the finished design will look like. It lacks a great variety of plants and doesn't come with the care information that many other garden design software comes with.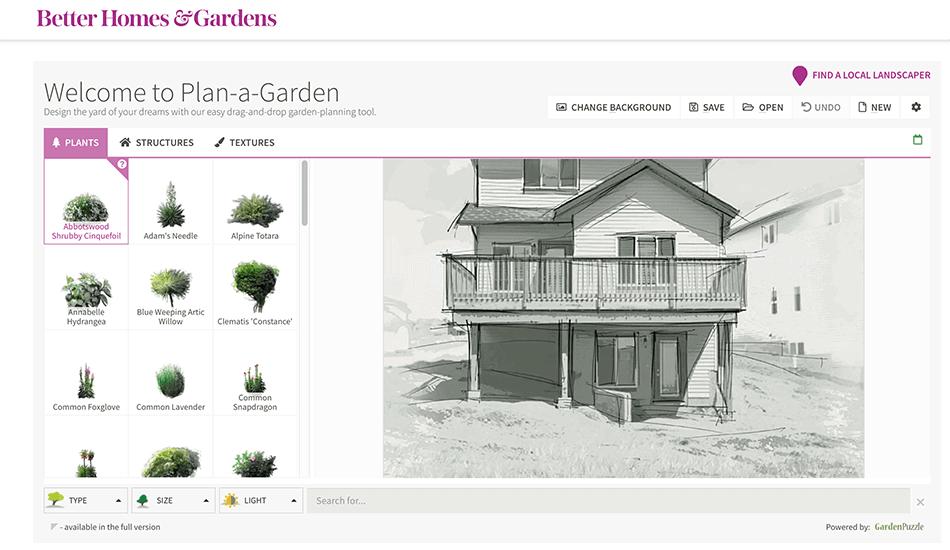 This landscape design software from Better Homes and Gardens is targeted at homeowners and DIY enthusiasts more so than landscaping professionals. It's a completely free tool to use; all you need to do is sign up with your email address on their website. The tool runs through a wizard with the user as soon as you get started, so that all of the features of the software are explained and shown how they can be used. This is great for anyone new at using this type of design software, but it's also a great feature for experienced designers so that you know exactly what the tool is capable of before you get to work. To begin, you can choose a background from a selection of stock images that most closely resembles your home. You can then select from a number of surface coverings, and add objects into the space using a drag and drop method, with items such as fire pits, sheds, and swing sets.
One of the best things about this designer is the sheer number of different types of plants it includes, making it especially useful to anyone who wants to be specific about the trees, shrubs, and flowers they have in their design. It also features care information for plants, which will help the user keep their garden in excellent condition once they have carried out their physical design. Another great feature of this app is that you can adjust the climate settings to fit in line with your own local climate. In doing this, the planner will then only suggest to you plants that are appropriate for growing in your climate, taking the guesswork out of planting for anyone who is less experienced with plants or unsure which species will grow best in their area. The planner operates in 3D design, but you can, at any time, switch the planner to a birds-eye view to see the design from a different angle.
The biggest drawback about this planner is that when in 3D mode, you can only see your model from one angle and cannot navigate sideways or around to see how your space will look from a different standpoint.
One of the things users love about this app is its ability to print not just the design model, but also a list of all the items you will need to complete your design in real life. This is especially handy if you want to landscape your garden yourself, as you will have an instant list to take with you when you go shopping. Alternatively, you could give the print outs to your hired landscaper to make sure that they fully understand exactly what you want from your new garden.
Showoff.com the Visualizer
The Visualizer is a free downloadable program offered by Showoff.com, which is suitable for Windows operating systems. This tool allows the user to upload a photo of their current property and make changes to it in order to visualize what their landscape might look like after a redesign. This is a great tool for homeowners to use to try out different looks before they make any real changes to their yards, but it's also great for real estate agents as they can show prospective buyers what a property might look like if they were to buy it and renovate the exterior and landscape.
The software is easy to use, and in fact this is one of the best elements of the tool. Users love how intuitive it is, and how quickly they can see and understand what possible changes would look like on their very own property. The software has a large library of items you can add to your landscape, such as plants and garden furniture, and it also has a number of pre-designed plans to help you get ideas and inspiration if you are struggling with knowing where to start. Where this program excels compared with similar design software, is its strong online community. Once you have designed your landscape you can upload it to the community forum where other like-minded people can comment or make suggestions on your design. This is great if you are looking for potential ideas or adjustments on your design, or even if you are just wanting some reassurance that your design looks good and is practically feasible before you start making physical changes in your yard.
The only minor problem that some users have found with this tool is that some model renderings don't look realistic, and it can be hard to actually visualize what the real finish will look like. The main drawback of this program is that it is only compatible with Windows systems, and therefore not available to everyone.
ISCAPE App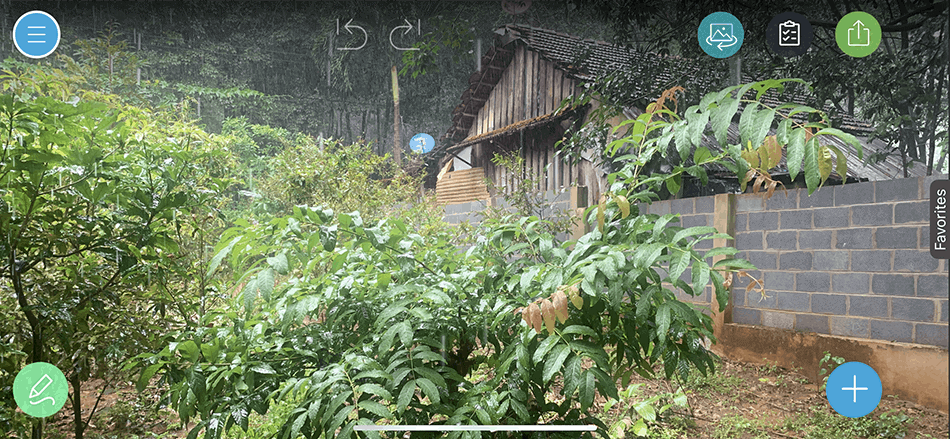 This is a free downloadable app that is only available on the Apple App Store, making it only accessible to those with iPhones or iPads. It is very straightforward to use and is intended for homeowners and DIY enthusiasts as a means of enabling them to get a rough idea of what their landscape could look like, before committing to actually starting any work. It is a great tool for people who want to give their landscapers or builders a clear idea of what sort of design they would like to achieve in their yard, as a visual plan is much more effective at conveying design ideas than trying to describe it with words.
The app has sharing capabilities so that you can easily forward your design to your contractor, or share it with friends to get their opinion. This app will also tell you which retailers sell the items you'll need to embark on your landscaping project, which could be a useful timesaver to prevent you from trawling the internet or local shops.
Users of this app love how easy it is to use, and being able to throw together some landscaping ideas in a short space of time. It has a limited collection of plants you can use in the design, which may prove frustrating if you wanted to precisely plan out which plants you wanted to put where. The app is best for anyone who just wants to put a rough draft together of their landscape design, without spending too much time getting into specifics. As it is only compatible with mobile Apple devices, the app isn't available to everyone. It is completely free to download; however, it may offer in-app purchases.
DreamPlan Home Design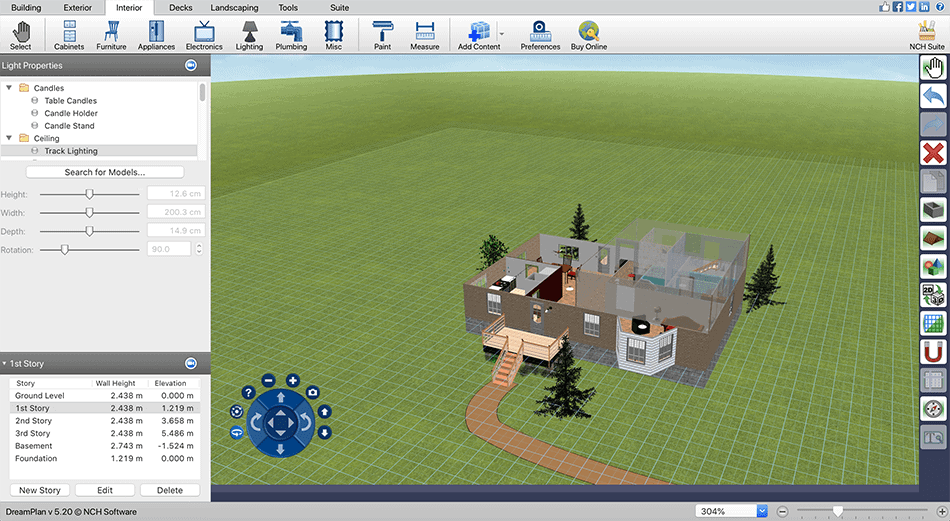 This is a free downloadable design software that is compatible with Mac and Windows operating systems. It allows users to create designs for both the surrounding landscape and the interior of their homes, with 3D modeling along with floor plans and blueprints. This is an intelligent piece of design software that is self-explanatory to use, making it suitable for even people who are not experienced with technology. It offers a range of features, including importing models to work on and customizing terrain.
The software helps the user figure out how to best use their space, and provides them with an accurate look of what they can expect their actual garden to look like after the work has been completed. Users can add various features to their landscape, including swimming pools, plants, and trees. This is a basic program targeted at homeowners and lacks a lot of more complex functions that may be required for design professionals. The minimal features of this tool are what helps to keep this software simple to use, but a commercial version is available to buy, which would be more appropriate for those in the landscaping or property design industry, or anyone wanting to produce a more detailed and complex design.