5 Best Small Greenhouse Kits – Buyer's Guide & Reviews
Explore Our Categories
Maple Trees

Maple trees are ubiquitous in the continental U.S., found in countless back yards and lining urban streets. There's a go...

Willow Trees

Willows are excellent landscape trees that do well in moist areas where they get good sun. Few trees can rival the elega...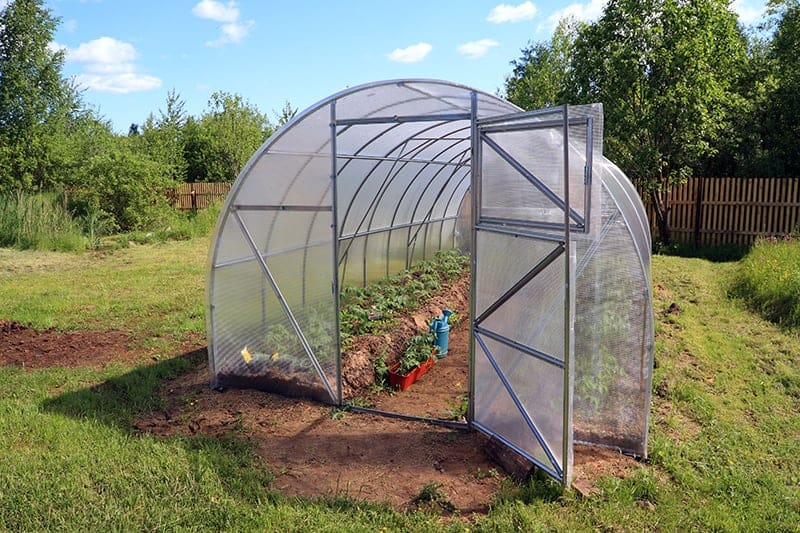 A greenhouse is a brilliant addition to a garden as a place where you can get a head start on sowing seeds, seedlings, and small plants, as well as an ideal place to propagate new plants and overwinter more tender plants. For the keen gardener, a greenhouse is essential.
If you're looking for a new greenhouse, you will quickly find that greenhouses dramatically range in price, and you could find yourself spending anywhere from $50 to several thousand dollars. But which greenhouse is really the best for your circumstances? Read our buying guide and reviews of the bestselling greenhouses currently available to find out.
Product Details
Our #1 Rated | Best Overall
Palram
Nature Series Mythos Hobby Greenhouse
Budget Pick
Abba Patio
Large Walk-in Garden Greenhouse
Mini Greenhouse
Gardman
R687 4-Tier Mini Greenhouse
Buying Guide
If you are beginning your exciting journey of finding a greenhouse for your garden, first stop to consider a few things which will help make choosing your greenhouse an easier experience.
Price
As with most purchases you make in life, your decision on which greenhouse you buy will likely come down to the cost of what you can afford. Greenhouses vastly range in price, and if you don't mind a smaller option, you can pick one up for under $100. The materials your greenhouse is made from will also affect the cost, so just be sure to look for one that is reliable and long-lasting. Otherwise, you will end up paying out twice, which is not cost-effective in the long run.
Size
You can find greenhouses in almost any size, and the size you need will be largely dependent on the space you have available. If you have a balcony or small terrace, you can absolutely fit your own mini greenhouse into the space, whereas a full-sized garden greenhouse will be more appropriate if you have more space to play with. Measure your space before looking for a greenhouse and ensure it will fit in your desired area. You should also consider the amount and size of plants you hope to grow in your greenhouse, and be realistic, thinking about the amount of space you will need to accommodate your plants. A very large greenhouse will be a waste of space if you only plan to sow a few trays of seeds.
Glazing
There are a few options when it comes to the glazing material of your greenhouse. Traditionally, greenhouses are made with glass panels, as these are the best for letting in light, and they are long-lasting. The biggest drawback of glass is that it can break or shatter. If you have kids, then toughened glass is advisable because this won't be as dangerous if it does break.
An alternative is polycarbonate panels, which are more lightweight than glass, less expensive, and won't break. However, it typically doesn't let in as much light as glass and is slightly malleable and, therefore, can pop out of the greenhouse frame in bad weather.
There are also greenhouses available that have no glazing at all and, instead, have plastic covers. The durability of these differs vastly depending on the quality of the plastic cover, but overall, these are an even more affordable option, so they are useful for anyone on a tight budget. The plastic covers do not usually last as long as glazed greenhouses, but in many cases, replacement covers are available. The type of plastic used affects how much light can penetrate the cover, with clear plastic allowing the most light in.
Structure
The frame of a greenhouse will either be built from metal or timber. Metal frames, usually aluminum, are less expensive than timber frames and require no maintenance. A high-quality metal frame won't rust and withstands adverse weather very well. Timber frames are typically more aesthetically pleasing, but they are more expensive and require ongoing maintenance to keep them in good shape. They are liable to rot in wet conditions and will need time and money spending on them each year to ensure they remain weatherproof. However, timber frames are better at regulating the temperature within a greenhouse.
Ventilation
Ventilation in a greenhouse is an essential consideration. In summer, temperatures will soar in a greenhouse, and if it gets too hot, the plants will likely wilt and die. Ventilation will help to increase airflow and keep temperatures stable. Ventilation is also important so that the greenhouse is a comfortable temperature for you to work in during the summer months. Seek out greenhouses that have adjustable roof vents or roll-up windows that can be fixed open.
Extras
Some greenhouses are equipped with extra features that might appeal to you, depending on your circumstance. If you have had experience with greenhouses not lasting as long as expected, you should buy a greenhouse with a warranty. This is always helpful in giving you peace of mind against any unexpected problems.
Some greenhouses benefit from lockable handles, which may be useful if you live in a built-up area where you don't know your neighbors well. Some greenhouses also feature built-in guttering, or mosquito nets over the windows. Also, consider how you will assemble your greenhouse, as in some cases, this may take many days or even may prove too difficult for you by yourself. Search out a greenhouse that sounds realistic for you to build, or consider paying a contractor to build it for you and avoid the stress of construction.
Product Comparison
Both of the Palram greenhouses we have reviewed benefits from polycarbonate glazed panels, which are lightweight, UV-resistant, strong, and durable. They also claim to transmit light almost as effectively as glass, making them an ideal safer and less expensive alternative to glass. All of the remaining greenhouses reviewed below feature plastic covers instead of glazing, which makes them more cost-effective, though you may sacrifice on light penetration.
The opaque covers featured on the Abba Patio Large Walk-in Garden Greenhouse and the King Canopy GH1010 Fully Enclosed Greenhouse would be a good solution if you have plants that could suffer from scorching in the direct light of the sun. These opaque covers let some light in, but also help to protect plants from scorching in direct sunlight.
The Gardman R687 4-Tier Mini Greenhouse is a shelving unit equipped with a plastic cover to give the plants inside the effect of a greenhouse. It is suitable for balconies and patios or anyone who is limited on space. The remaining four greenhouses reviewed below are all full-size greenhouses intended for use in a garden. They range in size from 6' by 8' to 10' by 10', all providing ample square footage for most enthusiastic gardeners to grow an array of plants, fruits, and vegetables.
Product Reviews
Top Pick | Best Overall
Palram Nature Series Mythos Hobby Greenhouse
This 6-foot by 8-foot greenhouse offers 48 square feet of growing space. It features a rust-resistant aluminum frame in a brushed silver finish, along with a galvanized heavy-duty steel base. The polycarbonate panels are doubled up to create twin walls, resulting in a 4mm thickness, which offers supreme durability.
The polycarbonate panels block out over 99% of UV rays but let in 70% of light. This is good for plants that enjoy bright light but are at risk of scorching in too much direct light. The roof is also made from polycarbonate panels and features adjustable vents and rain guttering. The single door can be locked for safety, and the whole structure comes with a 5-year limited manufacturer's warranty.
Users of this greenhouse found that they were able to build it fairly easily, in spite of the lengthy instructions which were found to be confusing. The instructions contained no words, just pictures, making construction a challenge but not impossible. Most users were able to construct the greenhouse over the course of a few days, with some doing it single-handedly.
Once constructed, the majority of users were very pleased with this greenhouse. It is sturdy and well designed, standing up well against high winds and hail storms. Some users commented that the roof vents were not as useful as expected, but overall, they would still recommend this greenhouse to friends.
Users noted that a level spot to build this on is essential, and you will also need to stake it to the ground. After growing plants and vegetables in this greenhouse, users were extremely happy with the results, noting that their fruit and vegetables had grown rapidly to impressive sizes.
Pros
Can be built by one person
Durable
Well-designed
Long-lasting
Budget Pick
Abba Patio Large Walk-in Garden Greenhouse
This greenhouse structure measures 6 feet by 8 feet and has a powder-coated steel frame and a polythene cover. The polythene cover is reinforced for added durability and is UV-resistant, allowing light to penetrate through while protecting your plants.
The cover features roll-up windows that are fitted with mosquito nets, so you can adjust the ventilation in your greenhouse without being subjected to pests. The doorway is wide for easy access and has zips along each side so you can easily secure the structure or open them quickly for extra ventilation. The frame is designed to be built by the average gardener and can be constructed without the use of any tools. Large foot plates make for added stability, and these can be fixed to a base or directly to your ground.
Users of this greenhouse love almost every aspect of it. It was found to be easy to construct, though some users did comment on the lack of instructions provided. Once built, users found the greenhouse to be very sturdy and able to withstand a variety of weather. Users particularly like the six windows, which make climate control easy, and the addition of mosquito nets is a useful touch for those living in areas affected by insects.
The main issue users of this greenhouse found were that a part of the cover was melting in the sun. The cause was that the metal frame itself would become very hot in the summer heat, and the part of the polythene roof that was resting on the metal frame would burn to a crisp from the contact heat. Some users resolved this problem by adding protective layers to the frame of the roof, preventing the cover from coming into contact with it. Users who had their greenhouses ruined by this problem found that contacting the manufacturer on their website was very difficult. Contacting them via social media was more successful though, and the customer service they offered was excellent, replacing damaged greenhouses free of charge.
Pros
Easy to assemble
Functional
Good customer service
Cons
Faulty design may melt polythene cover in hot weather
Palram Snap & Grow Greenhouse
This greenhouse has a footprint of 6 feet x 8 feet, giving you 53 square feet of growing space and 6 feet 8 inches of head height. It features a snap system to allow for easy construction using only a few tools, and the polycarbonate roof and window panels simply slide into place. The polycarbonate panels act similarly to glass, allowing light into the greenhouse and giving 100% UV protection while being both lighter and stronger than glass.
The greenhouse benefits from a galvanized steel base, an aluminum frame, a single door with a lockable handle, built-in guttering, and adjustable roof vents for ventilation. The greenhouse is also backed by a 5-year limited warranty.
Users of this greenhouse love how sturdy it is and attest to how well it fares even in storms and high winds. Some users found that strong winds caused the frame to rattle but no parts to blow or become loose.
The most common problem users found was the construction of the greenhouse. In spite of the alleged easy snap-together construction, most users found that building this greenhouse was a mammoth task. Most users took several days to put this together, and note that you will need at least two people to construct it. Some users paid for professional builders to construct the greenhouse for them, which would be a wise move if you are not experienced in construction. Most users recommend that this greenhouse not be built by amateurs and comment that the instructions, in particular, are very difficult to follow. Once the greenhouse was built, though, they were very happy with it. It is strong, sturdy, and has all the features you would need in a small to medium-sized greenhouse.
Pros
Metal frame won't rot
Roof vents allow ventilation
Strong and sturdy, will withstand harsh weather
Lockable door
Cons
Frustrating and time-consuming to build
Construction instructions difficult to follow
King Canopy GH1010 Fully Enclosed Greenhouse
This 10-foot by 10-foot greenhouse benefits from a steel frame that has been white powder coated. It comes with a fully enclosable fitted cover made from reinforced clear plastic. The cover is opaque, allowing in a reasonable amount of light while also protecting plants from getting scorched. The cover is water-resistant, fire retardant, and also has UV inhibitors to protect against the sun's harmful rays. The roll-up door of the greenhouse can be zipped closed along both sides and along the bottom for complete closure against the elements and unwanted pests.
Users of this greenhouse were happy with how easy it was to assemble, with construction time taking just an hour or two for one person. Upon assembly, most users were satisfied with the greenhouse, noting that it was durable and seemed to be made from high-quality materials. However, over time, some users were unimpressed with how the greenhouse fared.
The main complaint among users was that the zipper, which closes the door, ceased to work. In many instances, it broke after a few months of use, making it impossible to enclose the unit fully. Some users also found that the material of the cover shrunk over time. This could have been down to temperature changes or rain, but users noted that the cover became very tight on the frame, and they were no longer able to close it as they were before, as there was a gap of a few inches where the fabric wouldn't meet.
The other problem users encountered was that the cover was not opaque as described by the manufacturers, and from the outside, you could not see anything that was being housed on the inside of the greenhouse. This may be a bonus if you are wanting to hide what you are growing from neighbors, but it may well mean that your plants are not able to get enough sunlight.
Pros
Easy to construct
Durable fabric
Spacious
Cons
Weak zipper liable to break
Fabric cover may shrink
Cover is not opaque
Mini Greenhouse
Gardman R687 4-Tier Mini Greenhouse
This mini greenhouse is perfect for small spaces such as balconies or terraces, measuring 27 inches long, 18 inches wide, and 63 inches tall. It features four shelves that are ideal for seedlings and young plants to get a head start on the growing season.
The tubular steel frame is powder-coated and benefits from push fittings so that it can be assembled quickly and easily without the need for any tools. The mini greenhouse includes a polyethylene cover, which is completely clear for maximum light exposure. The cover can be zipped shut of rolled up and secured in an open position for easy access, or to protect plants against bugs.
The unit comes with metal stakes and ropes so that the greenhouse can be anchored in place to hold it secure against strong winds. In the event that you do wish to move the greenhouse, it has wheels for easy portability. The clear cover is completely removable, so you can use the greenhouse as an outdoor shelving unit during other seasons if you wish. Replacement covers can also be purchased separately should you need a spare cover.
Users of this mini greenhouse found assembly very easy and were pleased with the finished product. Most users noted that the shelves didn't feel very secure, so they fitted them in place with the addition of some zip ties. Some users also found that the frame was lightweight and liable to tipping over, so they weighed it down with some bricks on the bottom shelf.
Users were happy with how the mini greenhouse looked, describing it as modern and expensive-looking, so it wasn't an eyesore on their balcony. Users were also happy that it took up very little space but provided plenty of storage for seedlings and small plants. Some users found that the shelves were warped when they arrived, likely from the delivery process. It may be that this item needs more appropriate packaging to minimize the likelihood of this problem. Some users were disappointed with how lightweight the unit was and found that it easily wobbled or leaned over. However, most users were thoroughly pleased with the mini greenhouse and would recommend it to friends.
Pros
Inexpensive
Easy to assemble
Space-saving solution
Cons
Too lightweight
Shelves needed to be fixed in place
Poor packaging
Conclusion
While all of these reviewed greenhouses are best-selling products in their own right, the one that stands out to us as the best buy is the Palram Nature Series Mythos Hobby Greenhouse. This greenhouse offers durability combined with clever design and relatively easy assembly. It is sturdy enough to withstand any adverse weather and should safely house your plants for many years to come.
If you're looking for a smaller solution for seedlings, consider the Gardman R687 4-Tier Mini Greenhouse. It is an excellent option. With a minor addition of some zip wires to increase its stability, this mini greenhouse offers a good solution to anyone with a challenging space who is wanting to grow plants. But always be sure to anchor down your greenhouse to prevent it from moving in the wind.