5 Best Rain Barrels For Your Home & Garden
There are so many benefits to owning a rain barrel (or several!) that it's not hard to see why more gardeners are turning to these products, and they are seeing a huge boost in popularity. But which features are important in a rain barrel, and which is the best rain barrel for your yard? We reviewed some of the best rain barrels on the market to save you the trouble.
Buying Guide
What is a Rain Barrel?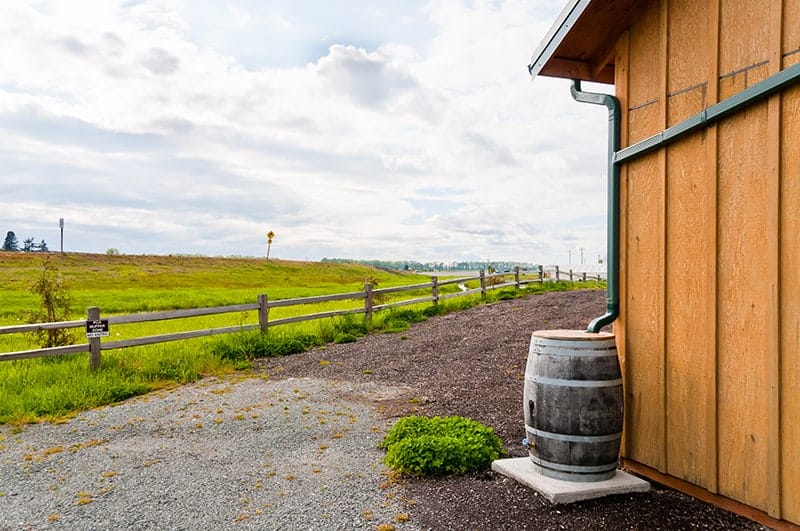 A rain barrel is a large container that collects water runoff from roofs and downspouts, which can then be used for a variety of things such as watering plants or cleaning vehicles.
Benefits of Using a Rain Barrel
Reduce water bills
Collecting rainwater, which can then be used to water plants, means you will be using much less water from your household, reducing your water bills. Some studies have shown that people who utilize rain barrels can reduce their water bills by as much as 40%.
Save the planet
Conserving water helps to preserve the earth's natural resources. Rain barrels allow us to use water in a much more effective way, which helps prevent water wastage.
Promote plant health
Rainwater is actually much more healthy for your plants than the water coming out of your faucets. Rainwater does not have salts, fluoride, and other inorganic minerals, which can cause problems for your plants and soil. By irrigating your landscape with rainwater, plants will be healthier and better able to withstand drought, pests, and diseases.
Reduce runoff
Rain barrels catch runoff, which otherwise finds its way into local waterways and, eventually, the ocean. Water runoff carries with it fertilizers, pesticides, oils, and other contaminants that it picks up along the way. These harmful pollutants cause an increase in algae growth and alter the natural balance of habitats for aquatic wildlife. By catching runoff, rain barrels can help to prevent or minimize this problem.
Survive drought and water bans
By collecting water in a rain barrel, you will always have access to water even when water bans come into effect. This means you can legally water your landscape and keep your yard looking healthy, even in times of drought.
What to Look for in a Rain Barrel
Size
The size of the rain barrel you need will depend on the size of the yard you have and how much of it is taken up by lawn, plants, and trees. Consider your landscape water usage; if you just have a few pots and hanging baskets to water, then you won't need a huge rain barrel, whereas if you like to have a sprinkler running on your lawn throughout summer than a large rain barrel would be much more beneficial. Also, consider the space you have available for the placement of your rain barrel, and which size will fit best into your space.
Construction
What a rain barrel is made from will determine how long-lasting it is, but this can be affected by your local climate. Look for a rain barrel that is sturdy, and if you experience extreme weather, then a weatherproof material is recommended. Most rain barrels are plastic, but the quality and durability can vary hugely. Rain barrels spend most of their time outside and can be subjected to extreme heat, cold, wind, and storms. Poor quality plastic rain barrels will crack or warp under these conditions, so be sure to choose a high-quality construction for your rain barrel to prevent having to replace it often.
Features
The features you want in your rain barrel will be personal to you, so take a moment to consider which features you consider a priority. Possible features include the ability to connect multiple rain barrels together, mosquito screens, multiple spigots, included accessories, and stands.
Aesthetic
The visual appeal of a rain barrel is an important consideration if you spend a lot of time in your yard and don't want to be sat staring at a big ugly container. There are many very attractive rain barrels available now, which range from modern contemporary designs to rustic traditional styles. Find a rain barrel which you like the look of, but remember a nice looking barrel is pointless if it doesn't also offer the practical components you are looking for.
Product Comparison
The FCMP Outdoor Rain Catcher and the RTS Home Accents Collection Barrel have the smallest capacity of our reviewed rain barrels, at 50 gallons. The Good Ideas Rain Wizard Urn is slightly bigger at 65 gallons, the Gardener's Supply Company even bigger at 75 gallons, and the largest is VINGLI Collapsible Rain Barrel at 100 gallons capacity. They can also all be linked up to other barrels to increase capacity. All of these are of solid plastic construction except for the VINGLI barrel, which is made of fabric.
Product Reviews
Top Pick | Best Overall
FCMP Outdoor RC4000-BRN Catcher 4000 Rain Barrel
FCMP Outdoor have been producing Rain Catcher's for over 25 years, and have plenty of experience in designing and manufacturing high-quality rain barrels with a traditional look but modern features. This rain barrel has a capacity of 50 gallons and measures 32 inches in height and 24 inches across at the widest point. It is constructed from brown plastic to mimic the style of a traditional wooden barrel. It has a flat back design to make placement easier, as it can be fitted flush against a wall.
Features include an aluminum mesh to prevent mosquitos and debris from getting into the water, and a spoke pattern at the top of the barrel to make it child and pet safe. The barrel comes with accessories, including a 40-inch garden hose, a shut-off thumb valve, an overflow hose, and a connector kit for adding other rain barrels to increase capacity.
Users of this rain barrel love how sturdy it is, and comment that it has lasted very well even when left outside during winter in below-freezing temperatures. Users also note that it is a simple system, making it a breeze to set up and easy to use. The main complaint amongst users about this rain barrel is that the overflow hose is poorly designed and doesn't work well or doesn't work at all.
Users who experienced this problem solved it by adding their own plumbing, and would still recommend the rain barrel in general, but feel this part of the design needs work. Users also commented that the mosquito mesh wasn't fine enough, as they had masses of mosquitoes breeding in their water after just a few days of rain. Some users suggested that this could be remedied by replacing the mesh with a finer screen, or by using mosquito dunks.
Sturdy
Easy setup
Easy to use
Attractive design
Can be attached to other barrels
Hose included
Overflow system doesn't work well
Mosquito mesh does not filter out mosquitos
Best Value
RTS Home Accents 50-Gallon Rain Water Collection Barrel
This rain barrel is made from food-grade polyethylene, with a realistic molded oak barrel texture, giving it the look of an authentic wooden barrel. It is designed to offer the most realistic looking barrel on the market, as it is hand sanded and painted and cast from actual whiskey barrels. This sturdy material will not fade or rot and is resistant to pest infestations. The barrel has a 50-gallon capacity and measures a little over 33 inches tall and 24 inches wide. It has a flat back so it can sit flush against your outside wall, and a front-side overflow to prevent flooding against the wall.
This barrel can be linked up to other rain barrels to increase water capacity, and it features a brass spigot shut off valve with standard hose thread, so it can be attached to any standard garden hose. It also has a rust-resistant aluminum screen to prevent mosquitos and debris from getting into the collected water.
Users of this rain barrel love the rustic look of it, claiming it looks just as good in real life as it does in the promotional pictures. As rain barrels are often a bit of an eye-sore in a backyard, users were pleased to find one that was attractive and had the authentic look of a real whiskey barrel. The barrel itself seems sturdy and well made, though some users encountered problems with it.
When at full capacity, some users found the barrel itself became distorted. The back of the barrel, which is usually flat and sits nicely against a wall, swells out and becomes bowed. Some users found that the back part of the barrel extended outwards by as much as 4 inches, meaning it would no longer sit flush against the wall. It is expected that this was caused by excessive heat, which could make the plastic become pliable, making this a potentially poor choice of a rain barrel for people in hot climates.
Some users also complained about the brass spigot, which had to be screwed onto a plastic fitting. If not attached perfectly the first time, the threading would become a complete mess and cause the spigot to leak. Many users found this to be a serious design flaw, and believe that metal should not be screwed on to plastic in this way.
Authentic rustic aesthetic
Can be linked to other barrels
Poorly designed spigot causes leakage
Barrel may swell in the heat
Large Storage
VINGLI 100 Gallon Collapsible Rain Barrel
This rain barrel is made from a PVC frame and PVC mesh fabric. It has a 100-gallon capacity, measuring 38.6 inches tall, with a diameter of 27.6 inches. This barrel, being made predominantly from fabric, folds down for easy storage when not in use. Due to this feature, it will need to be assembled, from the seven PVC support rods, and the PVC mesh fabric. It features an outflow valve which can be used to connect the barrel to other barrels for increased capacity, or as an overflow outlet for when the barrel is full.
It also has a lower spigot with a switch that can be connected directly to a garden hose. Both spigots have rubber rings to be installed on either side to help prevent leakage. The water inlet has a mesh cover that will prevent insects and debris from entering your stored water.
Users of this rain barrel report mixed experiences. Some believe it is the best rain barrel they have ever owned, far superior to traditional solid barrels that can crack during cold weather or become warped. The fabric of this collapsible rain barrel does not corrode, and many users have found it to be very sturdy and long-lasting. Users also note it is easy to assemble and works efficiently. Some users found that the barrel has a tendency to tip over when it is full, though it is possible that these barrels were not level in the first place, or were sat on soft ground.
A few users also complained that the fabric was not strong enough and had a tendency to rip, but most users contested this and said the fabric was easily strong enough to hold water, and any rips must have been down to misuse of the product.
Collapsible design makes for easy storage
Easy to assemble
Works effectively
Can be linked to other barrels
Won't crack from cold
Sturdy
Extra-large capacity
Fabric could rip/tear
May tip over
Not as visually appealing as other barrels
Heavy Duty
Gardener's Supply Company 75-Gallon Rain Barrel
This rain barrel is made from durable brown UV-polyethylene, which is molded to look like stone. The manufacturing of the plastic means it is weatherproof, even in extreme climates. It has a 75-gallon capacity, and measures 45 inches in height, with a 22-inch diameter. The barrel features three feet, which make it extra sturdy and contribute to its superior balance. Hidden in one of the feet is a threaded fitting which allows you to connect a garden hose, while there is a separate brass tap at an elevated position for filling a watering can.
Unlike many rain barrels, the design of this product means it does not require an additional stand or need to be set on a raised surface in order to work. Features include a child-proof top, which has a screen to keep leaves and debris out of the clean water. There is also an overflow spout to prevent flooding, and this can also be used to connect the item to other barrels for increased capacity.
Users of this rain barrel love the look of it. It has a traditional stone urn aesthetic, so looks attractive in any area of the garden. The biggest appeal of this rain barrel, according to its customers, is how good looking it is. The main complaint amongst users concerns the spigot, which is described as almost useless. Users believe it is of poor quality and design, and barely allows a dribble of water through it, making filling up a watering can a very long and frustrating event.
Another common problem of the rain barrel is the lid, which doesn't always seem to fit properly. In some cases, it is warped or misshapen and won't stay on when the weather is windy or is very difficult to fit into place. Users feel that if a little more attention to detail could have been paid during the manufacturing process, then this could have been the perfect rain barrel. As users are so fond of the look of the barrel, many made adjustments to improve its effectiveness, such as fitting a new spigot or fixing a mesh cover over the lid to hold it in place.
Beautiful aesthetic
Can be linked to other barrels
Large capacity
Doesn't require a stand
Weatherproof
Sturdy
Disappointing water pressure through the main spigot
Lid may not secure well
Aesthetic Design
Good Ideas RWURN Rain Wizard Rain Barrel Urn
This rain barrel is made from BPA-free plastic, which is styled to look like a Grecian urn. It is available in a range of colors, including terracotta, black, green, sandstone, khaki, and light granite. It has a 65-gallon capacity and measures 36 inches in height and 26 inches in width. The stylish rain barrel has a flat back so that it fits seamlessly against a garden wall, and it also features a planter on time to help the barrel have a more decorative function. The planter automatically drains excess water away so that the plant is prevented from sitting in soggy soil and suffering from root rot.
Behind the planter is a slot where a downpipe can direct water straight into the barrel. It also has a mesh screen so that debris does not get into the stored water. It has a brass spigot which is resistant to rust, in a standard size so it can be hooked up to a garden hose. This rain barrel can also be connected to other Rain Wizard barrels to increase capacity. It has a diverter channel routed out around the planter section, which directs overflow to the front of the barrel so that water isn't flooding around the base of your wall. It is made in the USA and benefits from a one-year manufacturer warranty.
Users of this rain barrel love how it looks, with many noting that they get plenty of compliments on the barrels and that they look like real clay pots from a short distance away. Many users found that they liked the rain barrels after some adjustments were made, and commented that these barrels need to be continually serviced, they cannot be left to just work like many other barrels. One issue is that the mesh does not keep out mosquitoes, so to prevent a mosquito breeding ground, you will need to use mosquito dunks. To drop the mosquito dunks into the barrel, you will need to unscrew the lid and potentially move your downspout, which makes something that should be a simple job quite complex.
Another issue is that by having the planter on top, soil, and organic matter drains into the barrel. This wouldn't be a problem, except that the barrel is very difficult to clean out properly. Users report that it is impossible to clean the barrel because it is solid except for a small 3-inch hole on top, meaning algae and scum accumulate inside the barrel. Users also noted that a stand is essential because the spigot is too low down to be of any use unless the barrel is elevated.
The final issue is that the barrel lacks an overflow spigot, and instead has a channel that sends water to trickle down the front of the barrel. In heavy rain, this means that water will still pool around the foundations of the property, potentially causing serious future problems.
Visually attractive
Good water capacity
Can be hooked up to other barrels
US-made
One year warranty
Planter feature
Requires elevating
Mesh doesn't prevent mosquitoes
Hard to clean
Poor overflow design
Conclusion
The standout best buy of these popular rain barrels is the FCMP Outdoor RC4000-BRN Catcher 4000 Rain Barrel, which performs best right out of the box. It has a good 50-gallon capacity which will work for most peoples landscaping needs but can also be attached to other barrels to increase capacity later on if necessary. The aesthetic is clean and attractive and will blend easily with most exteriors.
If you don't mind making some adjustments to your barrel, the Gardener's Supply Company 75-Gallon Rain Barrel is a stunning and functional option, but it will likely need a replacement spigot to satisfy your water pressure needs. This rain barrel is one of the most visually appealing on the market today, so it will be a good option if aesthetics are a priority for you.