10 Best Rain Barrels for Your Home & Garden in 2023
10 Best Rain Barrels for Your Home & Garden in 2023
We reviewed over 60 rain barrels to find the top 10 picks. Take a look at our reviews of the top rain barrels and read our buyers' guide to learn about the features and costs to consider.
10 Top-Rated Rain Barrels
Algreen Products Cascata Rain Barrel 65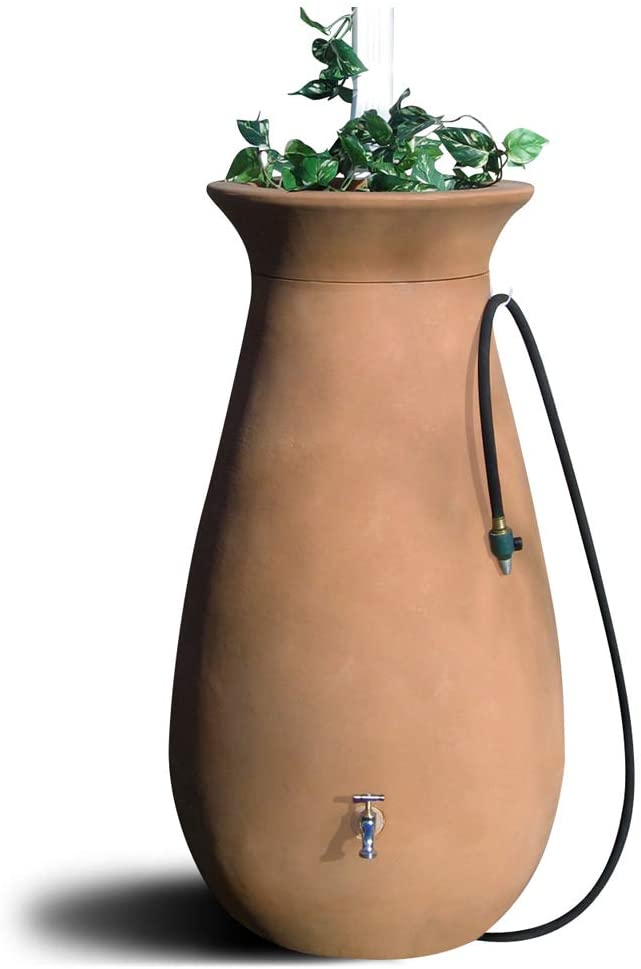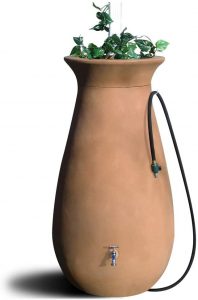 The Algreen Products Cascata Rain Barrel 65 is perfect for people looking for a stylish addition to their yard that's highly functional. It has an elegant terracotta design topped with a crown planter for an added decorative touch. Molded from plastic, the rain barrel isn't overly heavy when empty, and the materials are BPA-free, meaning chemicals won't leach into your water. The Cascata Rain Barrel has a brass spigot and hose attachment, with one connector at the bottom of the barrel so you can access all the collected water. People looking for more storage can link multiple Cascata Rain Barrels with an Algreen's linking kit to expand their water harvesting system.
Food-grade materials
Crown planter
Overflow valve
Brass spigot plus hose attachment
Pump kit available
Low faucet makes it hard to fill a watering can
Top dish collects water and debris if not used as a planter
Enviro World Rain Barrel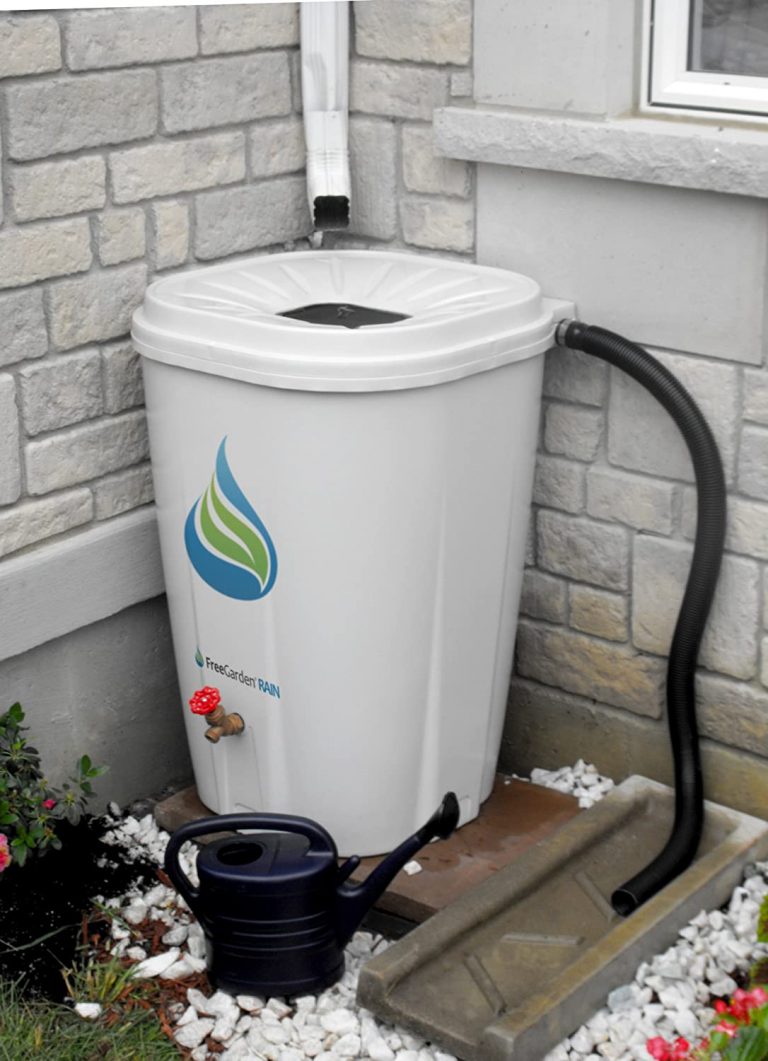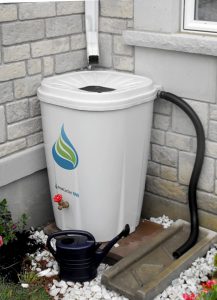 The Enviro World Rain Barrel features a flat back, square design, so it's easy to fit against a wall or in a corner. It holds 55 gallons of harvested water and can be linked to other barrels if you need more storage. Made from high-density polyethylene that's easy to clean, the Enviro World Rain Barrel comes complete with a brass spigot, extension hose, and steel screen that protects your water from debris and insects. Parents will appreciate the screw-on lid that stops young children from accessing the barrel. The overflow valve directs extra water away from your house, and the spigot's high position means you don't need a stand to fill a watering can or bucket.
Can be linked to other barrels
Lid can be secured for child safety
Mosquito-proof screen included
Flat back design is easy to position
Very high spigot means a lot of water is inaccessible
Water can become stagnant if not used
FCMP Outdoor Catcher 4000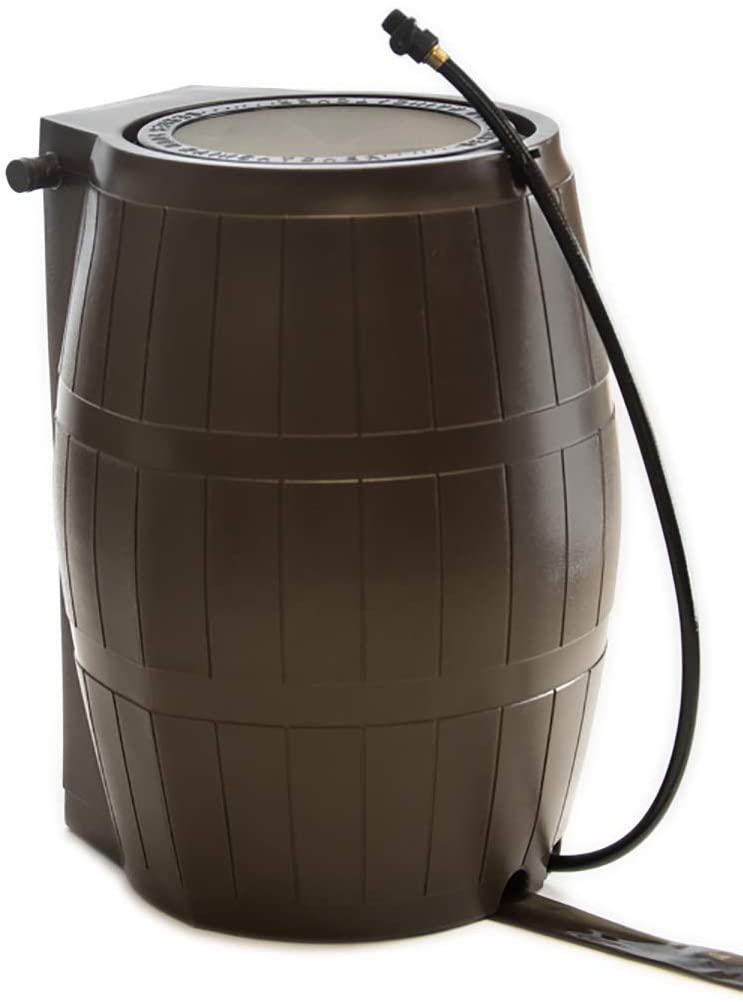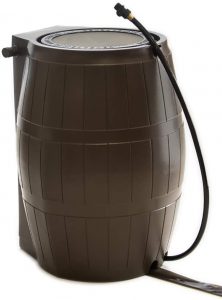 The flat back of the FCMP Outdoor Catcher 4000 makes it easy to install, yet it still has an appealing wooden barrel design to help it blend in with your garden. The lid's spoke-and-wheel pattern helps keep children and pets safe. The barrel is made from recycled, BPA-free propylene, which is also UV-inhibited, a feature that helps stop algae from forming in your water. The Outdoor Catcher's overflow connection lets you attach a hose to direct water to your garden, protecting your foundation. It has a 45-gallon capacity and spigots on either side that allow it to be connected to multiple barrels. It comes complete with a debris screen, garden hose, hanging hose clip, overflow hose, and linking kit.
BPA-free plastic
Can connect multiple barrels
Appealing design
Made from recycled materials
Small storage capacity
Screen mesh has large holes, which might not deter mosquitos
G Rain Barrel Water Collector Collapsible Tank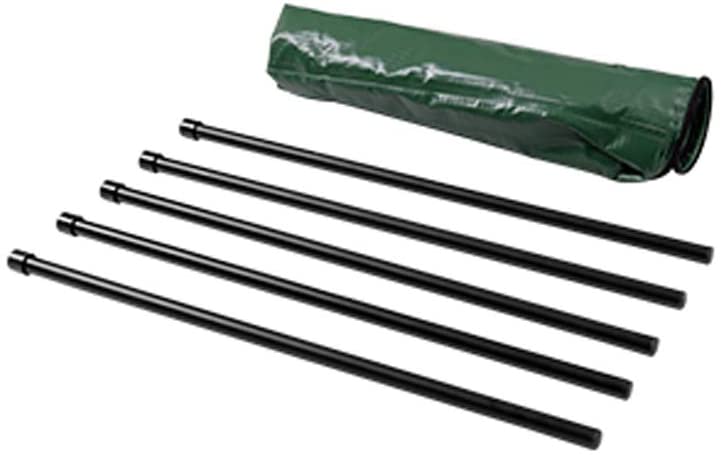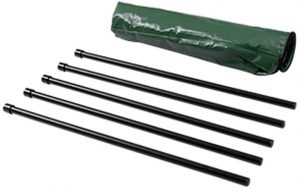 The G Rain Barrel Water Collector Collapsible Tank is perfect for people who need temporary water storage capabilities or those who live in cold climates and need to store their barrel over the winter. This barrel is made of durable, yet flexible, plastic and can be easily folded and stored in a small space. Five rods stabilize the barrel, keeping it upright as it fills with water. It holds 50 gallons of water, and the top zips up to keep out mosquitos and debris.
Collapsible for easy storage
Easy to move when needed
Durable material
Difficult to keep upright when full
Easier to damage than molded plastic
Gardener's Supply Company Rain Barrel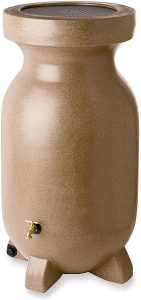 The Gardener's Supply Company Rain Barrel is made of UV-stable polyethylene, which helps prevent algae growth in the water and protects the barrel from the sun. With its 75-gallon capacity, this rain barrel is big enough for many gardeners' needs, but it can also be connected to a second barrel if required. There's a brass tap included so you can fill a watering can and a threaded fitting that allows a garden hose to be attached. The childproof top helps keep the family safe, and a screen catches leaves and debris. The stone-look barrel comes with decorative feet to enhance its visual appeal in your backyard.
Secured top to keep children and pets safe
Can be connected to a second barrel
Visually appealing
Easy to move when empty
Small nozzle means poor water flow
Spigots had issues with consistent quality
Good Ideas IMP-L50-OAK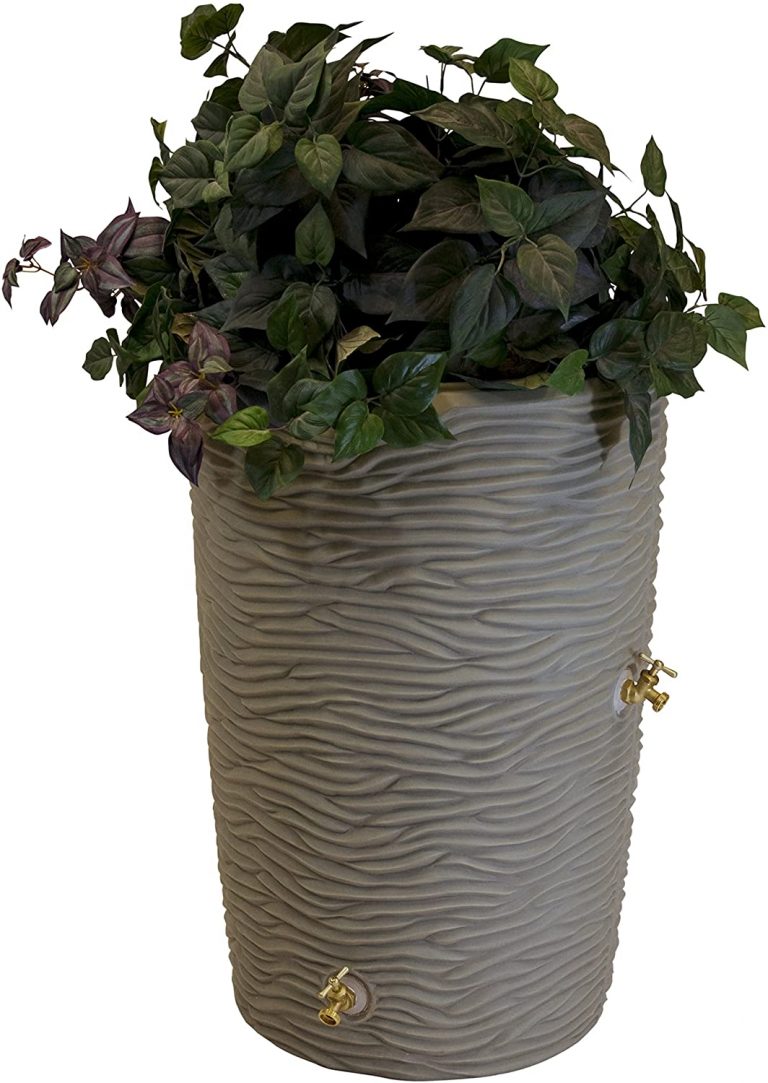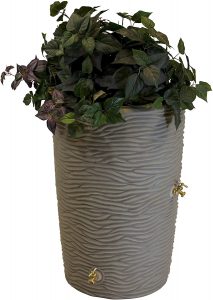 The Good Ideas IMP-L50-OAK has a palm trunk finish, making it an attractive addition to any backyard. The molded plastic barrel holds 50 gallons, is BPA-free, and comes with a planter top for added visual appeal. There are two spigot locations, so you can use a hose and fill a watering can at the same time. The built-in overflow system diverts water to the front of the barrel to keep it away from the house, and there's an anti-debris and bug screen. These rain barrels are made in the U.S.A. and come with a manufacturer's warranty for peace of mind.
Manufacturer's warranty
Anti-debris and bug screen
Attached lid for the safety of children and pets
Lid doesn't come off completely, making it hard to clean
Overflow occasionally floods out the planter
Good Ideas Rain Wizard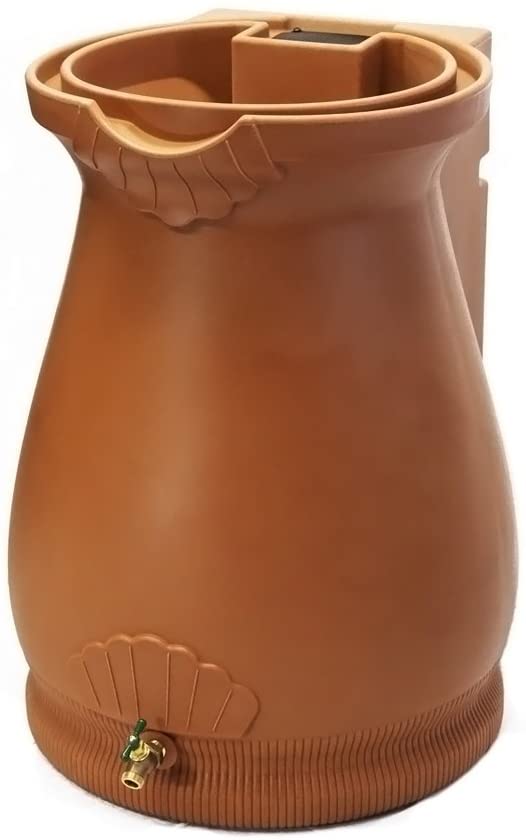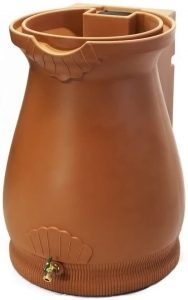 Constructed to look like a terracotta urn, the Good Ideas Rain Wizard can blend into your existing garden. The top planter self-drains, helping any plant you place there to stay healthy. Made from BPA-free plastic, the Rain Wizard has a 65-gallon capacity and can be connected to any other Rain Wizard barrels. It has a flat back design to sit flush against a wall, and the molded top helps keep out children, pets, and wildlife. A routed channel diverts overflow away from your house, helping protect your foundation from water damage. The Rain Wizard comes with a mesh screen to keep out debris and a sturdy brass spigot so you can easily access water.
Flat back design optimizes space
Overflow is diverted away from house foundation
Visually appealing
Can't remove lid, so difficult to clean
Must be raised off the ground to use spigot
Good Ideas Rain Wizard 50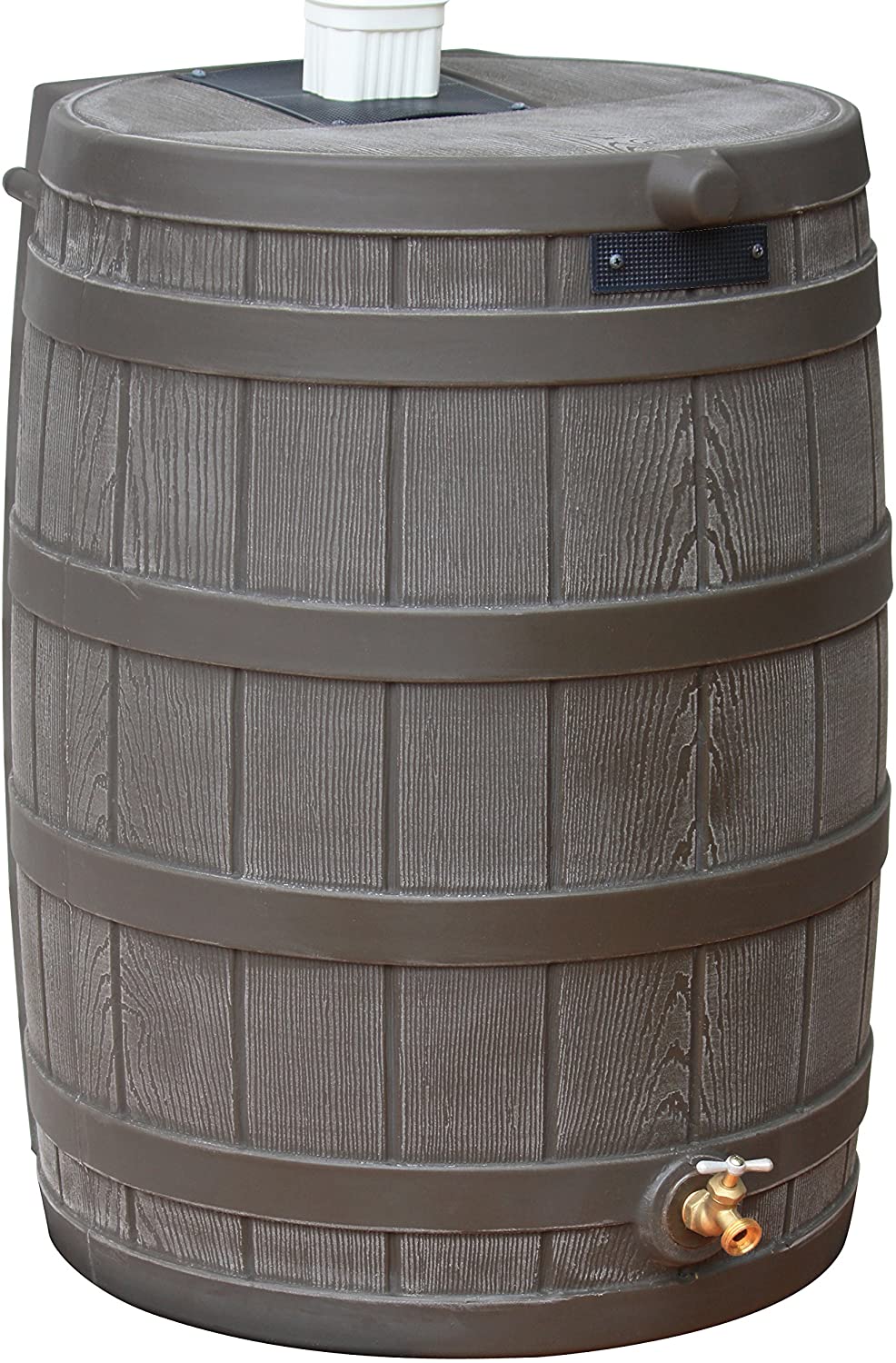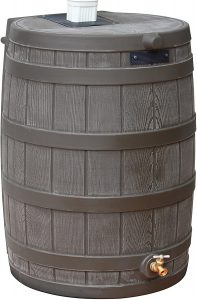 The Good Ideas Rain Wizard 50 is designed to look like a classic wooden barrel, making it a stylish addition to any yard. It's made of UV-resistant polyethylene resin, which resists mold, rust, algae, and mildew, keeping your water as clean as possible. The plastic is durable, so it can stand up to cold weather. There's a flat back, allowing the barrel to rest against your house and collect water from the downspout. A front overflow ensures excess water flows away from your foundation, and the brass overflow spigot can be connected to a hose if you want overflow to go to a specific garden area.
Made from recycled materials
Plastic mesh screen keeps out debris and wildlife
Can connect multiple barrels
Low spigot placement requires a stand to access water
Top can't be removed for cleaning
Mirainbarrel Rain Barrel, DIY Kit, Used Food Grade Barrel, Upcyclzed, 58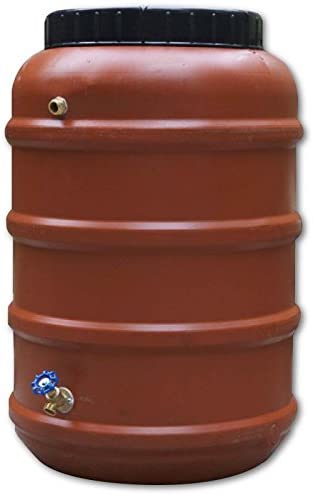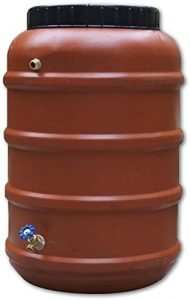 The Rain Barrel, DIY Kit, Used Food Grade Barrel, Upcycled, 58 is made from a repurposed, previously used plastic barrel that's been sealed with waterproof, 100% silicone caulk, meaning it can stand up to harsh winters. This 58-gallon container is made from food-grade plastic, so you don't need to be concerned about chemicals entering the water. A twist top lid allows the entire barrel to be cleaned to ensure mildew and algae doesn't build up, and a plastic mesh screen catches debris and deters mosquitos. The barrel comes with a brass spigot, overflow valve, and downspout adapter.
Environmentally-friendly design
Food grade plastic
Twist top lid for easy cleaning
Not designed to connect with other barrels
Valve consistency may be a problem
RTS Home Accents Rain Barrel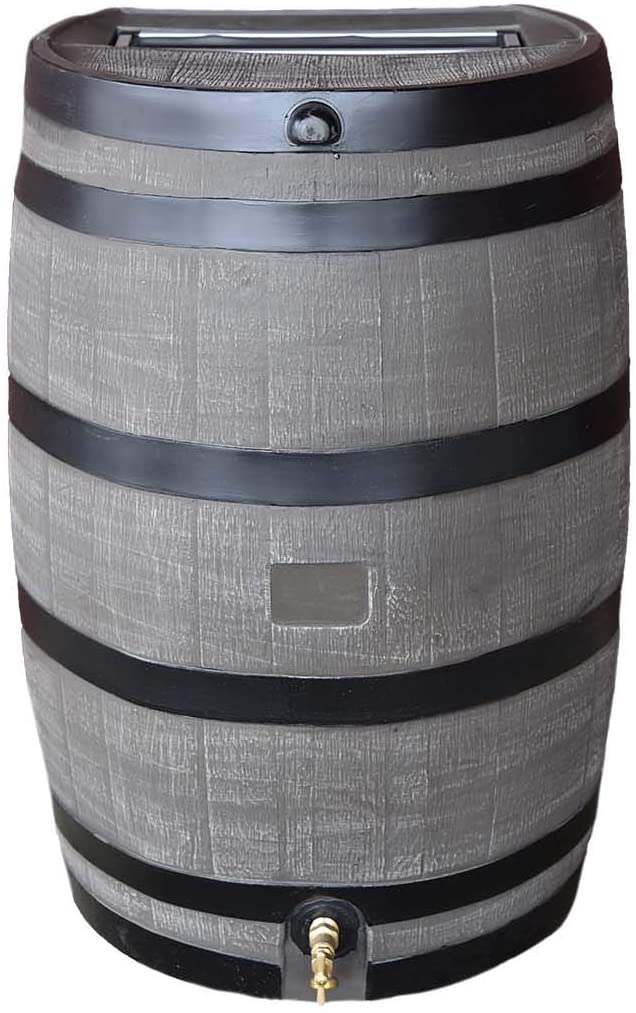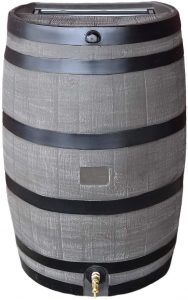 The wood grain finish on the RTS Home Accents Rain Barrel makes it an attractive addition to a home. The flat back ensures it sits against a wall, and an optional stand can lift the barrel to make it easy to access water. The aluminum screen keeps out debris and insects while keeping the barrel child- and pet-safe. If the Home Accents Rain Barrel's 50-gallon capacity isn't large enough, you can link it to other barrels to increase your water storage capacity. The dual overflow valves release to the front of the barrel to protect your foundation, and the high-quality spigot can be attached to any standard garden hose.
Easily links to other barrels
Overflows away from house
Attractive wood grain finish
Lid not removable, so difficult to clean
Back bows slightly when the barrel is filled with water
Rain Barrel Buying Guide
What to look for
There are many types of rain barrels available, but buyers have common considerations when deciding on the right system. Here are some features to think about when choosing your rain barrel:
Size. Determine how much water your garden needs and how much your roof can collect when choosing a barrel size. If you're just starting out with water harvesting, consider buying a barrel you can link to others so the system can be expanded in the future.
Tight lid. Rain barrels are often attractive to kids, pets, and wild animals. A tight lid helps keep your water secure and your loved ones safe. A good-quality, secure mesh screen prevents mosquitoes from breeding in the barrel.
Materials. Rain barrels come in plastic, earthenware, concrete, and other materials. Whichever you choose, make sure it's durable and easy to move if needed. Look for UV-protected materials to help prevent algae formation, and if you choose plastic, make sure it's BPA-free, so chemicals don't leach into the water.
Overflow system. Once your barrel is full, the water needs to go somewhere, and you don't want it to run toward your house where it may cause damage. Look for a system that directs excess to the front of the barrel or lets you attach a hose to redirect overflow to your garden.
Cost
The cost of a rain barrel depends on the material it's made from, the size, and any added features, such as pumps or filters. A basic, ready-made barrel can cost around $70, and you might pay $250 to $300 for a well-designed, visually appealing system. You can expect to pay $120 to $160 for everything you need in a starter barrel. Spending some extra money can give you a better-quality system that isn't prone to cracking during the winter months and has extra features, such as an overflow valve and good-quality spigots and screens.